Image credits: Bernard Gagnon
Meeting the wild (now tamed) Asian elephants at Pinnawala Elephant Orphanage is a must-do activity for visitors of Sri Lanka. Located at Pinnawala village, northwest of Kegalle town in Sabaragamuwa Province of Sri Lanka, this 25-acre site serves as the nursery and captive breeding ground for abandoned and disabled elephants. Since its establishment in 1975, it has long been providing love, care and shelter to orphaned baby elephants that were found in the wild.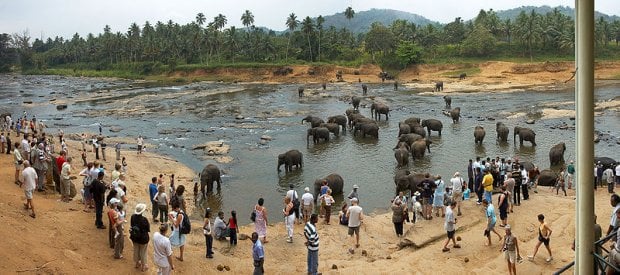 Image credits: Wouter Hagens
Known for having the largest herd of captive elephants in the world, the Pinnawala Elephant Orphanage has become a significant tourist draw of Sri Lanka. While subjecting wild animals to tourism is condemned by wildlife advocates, the income generated from tourists helps in maintaining the orphanage. Let's just all be responsible and careful when interacting with these creatures.
7.300942, 80.388797,Pinnawala Elephant Orphanage, Kegalle-Rambukkana Road, Rambukkana, Sabaragamuwa Province, Sri Lanka
Head down to Sri Lanka to see these elephants before they're gone