As a teen, I used to think that skincare was just as simple as keeping my face clean by rinsing it with facial wash and applying toner right after. Why would I bother when my face is my face, and there's really nothing I could do to change the way I look? I'll sprout some acne every now and then (like everyone else), and my dark spots will fade over time. As for Asians who look poreless? Born that way, I thought.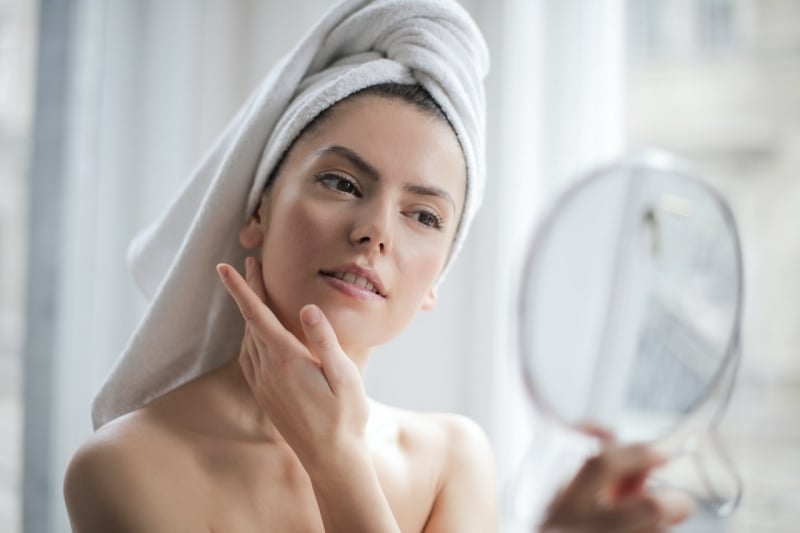 Well, I wasn't exactly wrong in that regard. But, I was definitely wrong in thinking that skincare was a quick two-step procedure. As I grew older, I learned more about how to properly treat my delicate face with additional steps such as exfoliating and moisturising. Lo and behold, there were actually better skincare techniques we could do at home to keep the acne, blackheads, and wrinkles at bay. And these hallowed secrets to skincare, no one knows better than the Koreans and Japanese! 
Now here's the tricky part. We've all heard about Japanese and Korean skincare. But what exactly are the differences when both methods seem like they produce the same baby-skin and pore-minimising results? More importantly, which one should you try? Allow me to break it down for you. 
What is Japanese skincare?
Japanese skincare is all about achieving that ultra-soft skin texture, which the Japanese call mochi-hada (rice-cake skin). With a focus on softness, their skincare routine has a lot to do with layering on moisturising and smoothening products that nourish the skin. I know that this is still a bit similar to Korean skincare, but what's good about the Japanese skincare routine is that there are fewer steps to follow.  
You're likewise encouraged to adjust or skip some steps according to what you think your skin needs. Apart from that, Japanese skincare products are known for their natural, time-trusted ingredients compared to Korea's innovative and ever-advancing products. 
So if classic and effective skincare is your cup of tea, this is how the Japanese get it done!
Also read: 11 Beauty Products I'm So Glad I Bought in Tokyo
Steps to Japanese skincare
1. Double cleanse. Start with applying an oil-based cleanser to remove grease and makeup from your face. Then wash your face with a foam cleanser. Japan's best cleansing oil is said to be Shu Uemura Blanc: Chroma Oil. And I personally love pampering my face with Senka's Perfect Whip foam cleanser. It leaves my skin feeling neither dry nor too sticky and squeaky from the moisture!
2. Exfoliate one to two times a week, but don't use products with microbeads; opt for gel-like formulas that you can gently massage into your skin instead. The most-trusted Japanese exfoliator? You've guessed it — Cure Natural Aqua Gel! 
3. Apply lotion or kesho-sui. Not to be mistaken as moisturisers, skincare lotions in Japan soften and hydrate your skin with a watery formula — similar to toners. These types of lotions are patted on the face after cleansing. Affordable lotions in Japan's market include the Kikusasamune High Moist Lotion and the Gokujyn Hyaluronic Acid Lotion, just to name a few. 
4. Apply essence (optional in the morning). This will prime the skin to absorb serums and moisturisers better. Beauty enthusiasts swear by the SK-II Essence!
5. Use a face mask at night. No need to do this every day, and only apply when you think your skin needs it. Face masks feed your skin with healthy nutrients that have been stripped from your face over a period of time. So, pack on more moisture and bring back the glow to your face with Japan's leading face mask brands such as Minon, Lululun, My Beauty Diary, and Kosé!
6. Put serum (optional in the morning) after the essence. Serums have different functions such as lightening of uneven skin tone and softening fine lines. If you don't have such concerns, skip this step. Popular Japanese serum brands include SK-II, Hada Labo, and Pola. 
7. Lather on some moisturiser. Though you may think your face is moisturised enough, the routine isn't complete without applying a moisturiser, which will seal all the face-pampering ingredients into your skin. Aside from regular cream formulas, milk-based moisturisers are the fad in Japan. Check out brands like Sana and Hada Labo.
8. Apply sunscreen. Sunscreen is the pride and joy of Japan's beauty industry. Their market is ultra-competitive in releasing superior SPF and anti-ageing products, so much so that they've come out with the best fast-absorbing sunscreens like Biore and Canmake. Not to mention, the waterproof holy grail that is Shiseido. You'd be remiss if you ignored this as the last step to your skincare routine!
What is Korean skincare?
In the last decade, Korean skincare took the world by storm. From Asia all the way to America, beauty junkies were alerted to this new trend that more and more people were swearing by. Why? Because Korean skincare is all about meticulous routine and investing in products that are backed by scientific advancements. The goal, of course, is to achieve a flawless and youthful complexion. 
The catch? A lengthy 10-step skincare routine. But before you decide to back out, know that you don't need to do all 10 steps every day, because there are certainly products that you shouldn't be using on a daily basis. I know the idea of this routine initially sounds overindulgent, but when I tried it for myself, I noticed and felt the difference after a week or so. My skin felt more bouncy and my acne finally cleared out. 
To get the best results and emulate the immaculate complexion of Koreans, be diligent in following their fail-proof weekly regimen!
Also read: Top 10 Cult Korean Beauty Brands for Your Shopping Haul
Steps to Korean skincare
1. Cleanse thoroughly with a balm. Nowadays, using a balm to remove makeup and grease from your face is more preferable than a makeup remover that you have to rub on your face with cotton. A Korean balm that I can personally vouch for is Banila Co's Clean It Zero. It's extremely gentle on the skin and leaves it clean and hydrated. Other Korean brands known for their balms are Beauty of Joseon and Hanskin. 
2. Wash your face with a water-based cleanser. Water-based cleansers do a more efficient job in cleansing your face from impurities that your balm didn't pick up. I use The Face Shop's Rice Water Bright as my cleanser. The rice extract does wonders for my face because it never stings and never fails to make my face feel moisturised while leaving a subtle fragrance lingering in the air. Korean brands Innisfree and COSRX have neat cleansers you might wanna check out too!
3. Exfoliate one to two times a week. You need to exfoliate with physical and chemical exfoliators to clean your pores and get rid of dead skin cells. The difference between them? Physical exfoliators pertain to scrubs, peel-off gels, and peel-off masks, while chemical exfoliators can be found in serums, creams, masks, and essences that contain ingredients like AHAs (alpha-hydroxy acids) and BHAs (beta-hydroxy acids).
See which one works best for your skin, but either way, they're going to help your skin look brighter and more youthful! Scout for effective ingredients such as black sugar, salicylic acid, and lactic acid. Skin Food's Black Sugar Essential Scrub and Neogen Dermalogy Bio-Peel Gauze Peeling Lemon are cult favourites!
4. Use a toner. Toners help prep your skin for moisturising by removing leftover residue from everything you've applied thus far. It also allows your skin to absorb the succeeding products much faster. I'm currently using dear, Klairs Supple Preparation Unscented Toner, and I'm loving it so far because it doesn't break me out at all, unlike other toners I've tried in the past. Korean brands, Missha and Etude House, also top the list of the country's best toners. 
5. Apply essence. The essence is the heart of the Korean skincare routine because these products are concentrated with ingredients that are hydrating, anti-ageing, and complexion-enhancing. So no, you can't skip this step! The essence I've been using recently is COSRX Hyaluronic Acid Hydra Power Essence, which builds a barrier against impurities and protects my skin from dehydration. I strongly recommend this along with brands like Hanskin, Missha, and Huxley. 
6. If needed, apply your treatments. Treatments consist of boosters, serums, and ampoules that have several functions such as correcting hyperpigmentation, reducing fine lines, and warding off acne. Standout Korean brands for treatments are Neogen, Klairs, COSRX, and Mamonde, to name a few. 
7. Put on a face mask in the morning or night for 20 minutes. You'll either love this or hate it. But as essence is the heart of Korean skincare, so is the face mask the soul of the routine. The good news is, you don't have to use a mask every day. Once or twice a week will do. After all, you don't want to pound your skin with too many nutrients more than necessary.
Do try to enjoy applying masks at least once a week though. Go for masks that promote collagen, brightening, and detox. Check out the face masks of Mediheal, Make P: rem, and Dermal.
8. Use eye cream. Don't forget to give the skin around your eyes some TLC. The state of your eye area can actually make or break your youthful look. So use an eye cream to fight dark circles, puffiness, and crow's feet! Korean eye creams that beauty connoisseurs swear by are AHC, Mizon, and the Nature Republic, to name a few. 
9. Seal everything with moisturiser. Like in Japanese skincare, you'll need to use a moisturiser at the start of the day or overnight to lock in all the skin-loving ingredients infused to your skin. Look for moisturising ingredients such as green tea, snail mucin, and bamboo. Top-selling brands include Laneige, Nature Republic, and Belif. 
10. Finally, apply sunscreen. Skipping sunscreen is honestly a criminal offence to any kind of skincare routine; sadly, it's one that most of us are guilty of! But it's never too late to start. By definition, sunscreens with high SPF protect us from the sun's harmful UV rays, and applying SPF is the easiest way to prevent skin cancer and premature ageing. The go-to Korean sunscreen brands often include Missha, Etude House, Neogen, and COSRX. 
So, which skincare routine should you try?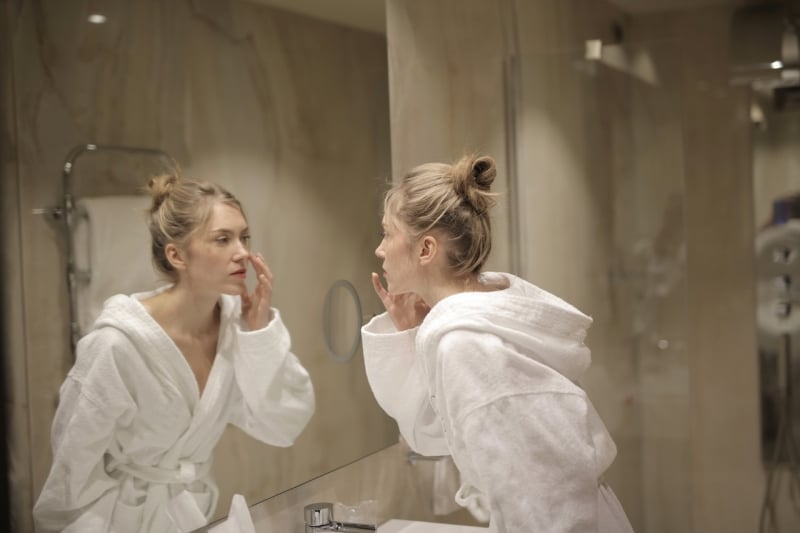 Experience and research undoubtedly back both methods, and they have produced satisfying if not similar results. Whether you pick Japanese skincare or the Korean skincare routine, you're most likely going to reap the benefits of regularly following a skincare regimen. 
Hence, the answer to the question will really depend on the combination of three things: your skin, preference, and lifestyle. Do you prefer to do a quicker routine to save you more time? Does your skin respond badly to too many products used in a day? Then the Japanese skincare routine is for you. On the other hand, if you think your skin needs something more intensive after long days at work, the Korean skincare routine will do wonders for your tired complexion. 
That said, you don't have to be exclusive to one method. You can flit back and forth routines if you think that's best for your skin. And don't worry, if your skin breaks out from testing the waters, you're not alone. It happens, but the most important thing is to listen to your skin and feel out what it really needs. From there, you're free to adjust the current skincare routine you're following. 
We all have different skin types and environmental conditions, so my advice would be to become more flexible in your routine, whether that means changing methods every now and then or switching between products. If you ask me though, once you find the right ingredients for your skin type, you can never go wrong with Japanese and Korean skincare products — so it's really a win-win scenario if you have an affinity for both! Now, go forth and spread the love of skincare!