It's common to see Singaporean teenagers go all out with funky hairstyles and bright hair colours as soon as they graduate from secondary school or junior college. So I, too, had that same thought of changing up my hair colour after scrolling through my Instagram feed full of friends who had stunning hair makeovers. I even discussed with a friend about dyeing my hair electric blue. But that never happened because — as my mother had told me — my hair was not in a great condition and dyeing my hair would make it worse.
Fast forward to 2022, I was a third-year student at a university in Singapore. As part of the school's summer exchange programme, I got to attend Yonsei University in Seoul, South Korea. During that one-month-long trip, I ended up getting my hair dyed at a hair salon in Seoul, miles away from home. 
Also read: 13 Best Stores in Seoul to Shop for K-Pop Merchandise
How I started to consider getting my hair dyed
So, what exactly spurred me to make such a bold decision? These were my two main reasons:
1. South Korea is the trendsetter for hair makeovers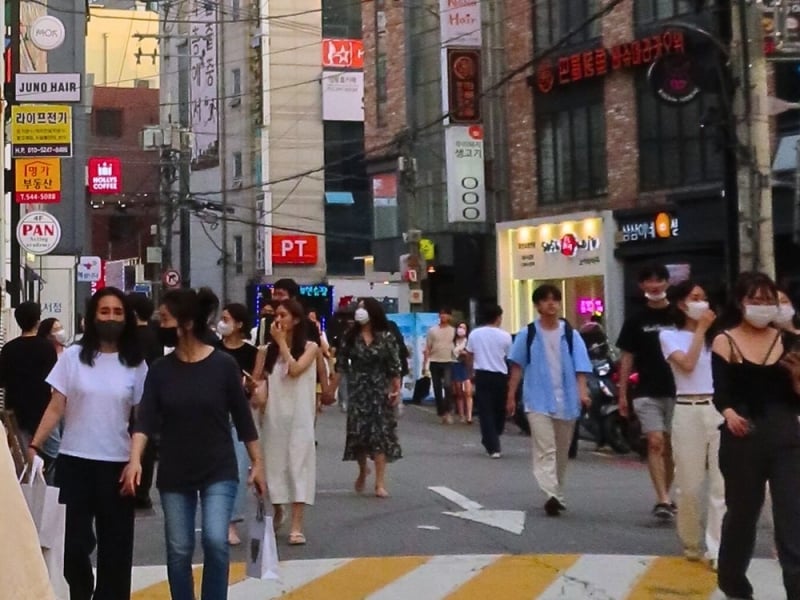 Recognised for its cosmetics and fashion trends, South Korea is the place you'd want to visit to get a cool hairstyle like your favourite K-pop star! Taking care of your appearance is an important part of the Korean lifestyle. I had never felt more underdressed while walking along the streets of Seoul, even in the middle of summer. Perfectly curled bangs, eyebrows on fleek; the young Koreans who walked past me donned outfits fit for runway models, while I stood there looking like a potato.
So, it's no surprise that salons in Seoul are known for their high standards and detail-oriented hair stylists. Hence, many travellers would recommend visiting a salon here to get your hair done during your trip. 
There are well-known hair salon chains around the city such as Juno Hair, Lucy Hair, and The Day's Hair. These salons in Seoul have English-speaking staff to bridge the language barriers.
The only downside is finding the most suitable hair salon in Seoul; one that can give you the hairstyle you want and works within your budget. Hence, I decided that the best way was just to ask around for recommendations.
2. Recommendation from a fellow exchange student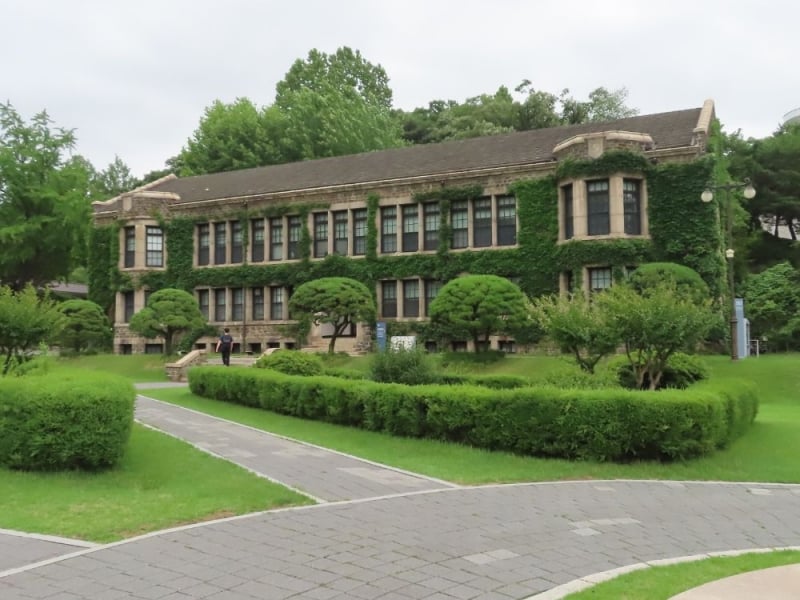 On the second week of classes, a senior at Yonsei strolled in with a new hairstyle that really suited her. That gave me the motivation I needed to get my summer glow up. I then approached that same senior for the address of the salon she had gone to. 
Also read: 5 Prettiest Universities in Seoul That Will Make You Want to Study There
The search for a salon
After making the trip down to the salon and enquiring about the price, I found out that it would be a whopping ₩200,000 (~S$200). That was way beyond my budget. Furthermore, I had an exchange of texts (with the aid of Google Translate) with the hairstylist. She explained that they could only give me my desired hairstyle by bleaching my hair, which was something I was absolutely against. 
By then, I had a specific hairstyle I was looking for: peekaboo highlights. It's a hair trend where only the inner layer is dyed, making it look like the vibrant colour is "peeking" through the darker, outer layer. Yes, this was one of the popular hairstyles amongst K-pop girl groups at that time, which was why I was determined to have it. 
I did agree with the hair stylist: A boring brown hair dye would not be able to give me that "idol look" I yearned for. But I was not ready to give up just yet. As such, I continued my search for a hair salon in Seoul that would meet all my preferences.
Finding a salon in my exchange university
On one of the school days after lunch at the school cafeteria, I chanced upon a salon within the school compounds. Not only did they provide discounts for students, but they also agreed to give me the hairstyle I wanted without bleaching my hair. All that for ₩73,800 (~S$73.80). 
As they needed two to three hours for the whole process, I had to make a reservation. With that, I booked an appointment for two days later.
My hair salon experience in Seoul
I entered the salon that afternoon feeling slightly nervous. It was, after all, my first time getting my hair dyed. (We don't count those times I attempted to dye the ends of my hair with lemon juice). Being the chronic worrier I was, I was afraid they would somehow give me a completely different hairdo. Or worse, bleach my hair because of a miscommunication.
Before getting my hair done
Thankfully, before I sat sit down, the manager found an English-speaking Korean student to run me through on what I had signed up for; down to the details of the style and colour. The manager also showed me the five-digit value on the calculator, confirming the final price. That certainly helped to calm my nerves.
During the session
The whole process was quite fun and memorable! As I mentioned earlier, South Korean hairstylists don't skimp on the details. My hairstylist was an experienced and friendly lady who started by getting me to show her the photo references, before proceeding with the haircut. 
I was also somehow able to strike up a conversation with her about K-dramas and my favourite celebrities. By some miracle, I got by with my broken Korean — a bunch of vocabulary I picked up after 10 years of watching K-dramas. The first part of the session ended with me being very satisfied with my haircut. 
Hair dyeing process
The second part was getting my hair dyed. To find the colour I wanted, my hairstylist showed me a chart with various shades of brown. As a first-timer, I did not have a specific colour in mind as I was more concerned about the hairstyle. As such, I ended up letting her pick the colour for me. 
The dyeing process was quite intriguing. The hairstylist separated my hair into layers, before applying the dye on the inner layer. Because the dye needed time to set, she was also able to attend to other customers at the same time. I was given a pillow and some refreshments while waiting. But then came a slight problem.
Dealing with a burning sensation on my scalp
You see, I had no idea how the dye was supposed to work on my hair. Within minutes, I felt a mild burning sensation on my scalp. Perhaps it was something I should have looked up before getting my hair dyed. But at that moment, I was confused about whether or not it was a normal occurrence. I couldn't push away the looming fear that the misunderstanding had indeed happened and my hair was being bleached.
I thought about how to communicate my thoughts to my Korean hairstylist. For instance, how should I go about asking if this burning sensation was normal? In the meantime, I was sending Telegram bubbles to my classmates who were cycling along Han River, and to my friends in Singapore who could enlighten me on the hair-dyeing process. 
Eventually, I signalled to the hairstylist and uttered a simple phrase while gesturing at my head: "Chogeum apayo (조금아파요)" ("It's a bit painful"). She quickly instructed her assistant to wash my hair. 
I desperately needed answers for why my scalp was reacting that way. But with running water impeding my hearing while I threw out ungrammatical Korean phrases, my conversation with the assistant fell flat. He eventually showed me a Google translation to explain that people have varying reactions to the dye. 
Afterwards, I looked up more explanations on the internet. Many sources point towards Paraphenylenediamine (PPD) being one of the hair dye ingredients that cause users to have mild reactions, such as irritation and swelling. Some people may also be allergic to PPD, leading to more severe reactions that go on for days. In hindsight, I should have done more research before heading to the salon. Nonetheless, it was a meaningful learning experience.
The result
Thankfully, my scalp stopped hurting after the wash. On the other hand, I was surprised by the colour of my hair dye. From the mirror in the salon, it seemed to be golden brown, but then under the sunlight, it was bright red. I felt like a chameleon, but in a good way!
My hairstylist did mention that she wanted to go with a lighter shade of brown as I did not want to bleach my hair, and she executed it flawlessly. Safe to say, my first hair salon experience in Seoul went pretty well. I had a hair colour that reflected my new-found love for Korean strawberry latte, too. 
Tips to have an amazing hair salon experience in Seoul
1. Work your way past the language barriers with translation apps
This may apply to any other country you visit where you don't speak the language. This is when you should rely on your trusty pal, Google Translate. While you can type out what you wish to translate, you can also press the microphone feature and speak to your phone. For even higher accuracy, you can use the translation tool in the Naver app, which is commonly used by South Koreans. 
Make sure you create a mutual understanding and agreement with your hairstylist by communicating clearly. You don't want to end up with a hairstyle you didn't ask for. But of course, feel free to practise your Korean skills when having a casual conversation with your hairstylist. It does bring a lot of joy. 
2. Be firm about the price
Always have an idea of your budget and check the final price. Getting the staff to show you the value with a calculator is also good practice. Being a broke student meant that I was not comfortable with anything over ₩100,000 (~S$100). So if the price range they quote is beyond what you have in mind, you'll have to find another salon that works for you. You can use the average pricing at hair salons in Singapore as a rough gauge. Do expect to pay a little more if you want your hair done at renowned salons in Seoul.
Moreover, based on my experience at salons in Singapore, some of them tend to be pushy. They may ask you to get a hair package or top-up some money for an additional hair service. Whether or not there are similar practices in foreign countries, you shouldn't give in if that's not what you want. 
Before I got my hair dyed at the Korean salon, the hairstylist asked if I wanted the entire inner portion of my hair dyed, or earloop highlights like in some of the references I had shown her. She also reassured me that there would be no additional costs if I wanted the former, which I ultimately went with. 
3. Show your hairstylist photo references to get your desired hairstyle
Don't be shy about wanting to look like a certain idol. Having a reference makes the job easier as they know exactly what you want, rather than having to work around a verbal description. Interestingly, the reference I had provided my hairstylist also prompted her to give me a colour that was close to the one in the photograph, which was how I ended up with the mesmerising reddish brown.
If you are unsure of what hairstyle or dye you should go for, ask them for their opinions. After all, they are the experts!                                                                                                                     
4. If you can, make a reservation
Getting your hair dyed takes hours, and even longer if they have to bleach it. Many hair salons in Seoul would prefer if you can make a reservation beforehand so that they can prepare the necessary equipment, too. While some salons allow you to book an appointment online, you can still head down to the salon to discuss your ideal hairstyle before agreeing to anything.
5. For first-timers, you may want to do a patch test
A patch test usually involves taking a small sample of dye and applying it to your skin. It helps the salon assess if you have any sensitive reaction to the dye before it goes onto your hair. The tests are usually done 48 hours before the process, so you can do so in the process of booking your appointment.                                                       
6. Be a courteous customer
This is a given anywhere you go. But it's always good to be extra polite when you are unfamiliar with the culture. The last thing you'll want to be is a demanding and unreasonable customer. But of course, don't be too nice if you find yourself in a threatening situation. That's when you need to fight for your rights.
Also read: All the Dos and Don'ts in South Korea That Locals Wish You Knew!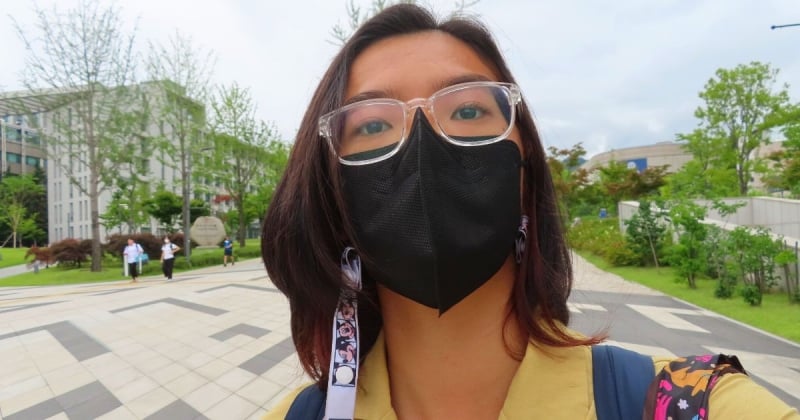 Looking back, my hair salon experience in Seoul was one of the highlights of my month-long stay in South Korea. And seeing how my first hair dye experience turned out, I might consider giving myself another makeover. Perhaps, even bleach my hair so I can rock those neon highlights. 
The next time you fly to Seoul for a vacation, consider getting your hair dyed at a salon, which doubles as a fancy souvenir! It'll be fun, I promise. 
Got a memorable travel experience you'd love to share? Tell us about it, and you just might be our next Featured Traveller!
---
Images credited to Jessie Lee, unless indicated otherwise.