Many of us are obsessed with Japanese food! From slurping a delicious bowl of ramen to eating fried pork chop and a vast array of sushi, we love it all.
Do you know that different regions, towns and cities in Japan have different specialities that were created there? Here are a few of the must-try specialities of this foodie paradise we call Japan!
Kantō region: Tokyo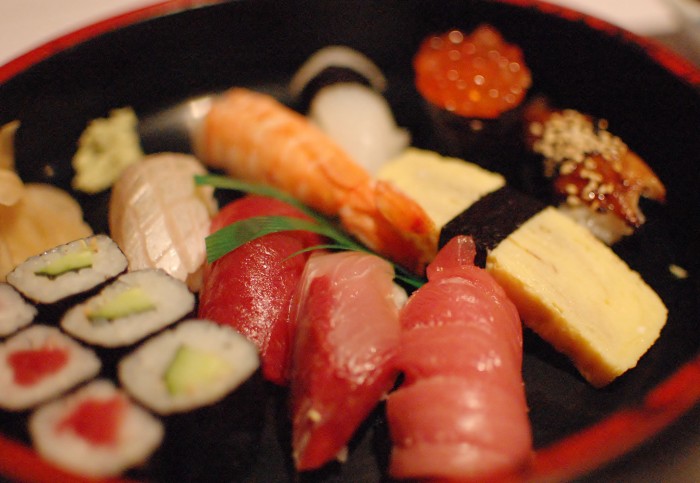 Image credit: Jen
Let's start with Tokyo, the capital city!
Tokyo became the hub for what we know as modern day sushi. Edo-mae-zushi, otherwise known as Edo Bay Sushi, developed towards the end of Japan's Edo period, in the 1820's. To try some of the freshest and most delicious sushi around, visit the world famous Tsukiji Fish Market in Tokyo. If you can get up as early as 5am, you'll catch the tuna auction and filleting. Then head to one of the many smaller sushi restaurants just outside and around the market for a real sushi treat.  Make sure you check public opening days on the market's website.
Also read: 8 Must-Try Japanese Street Food in Kyoto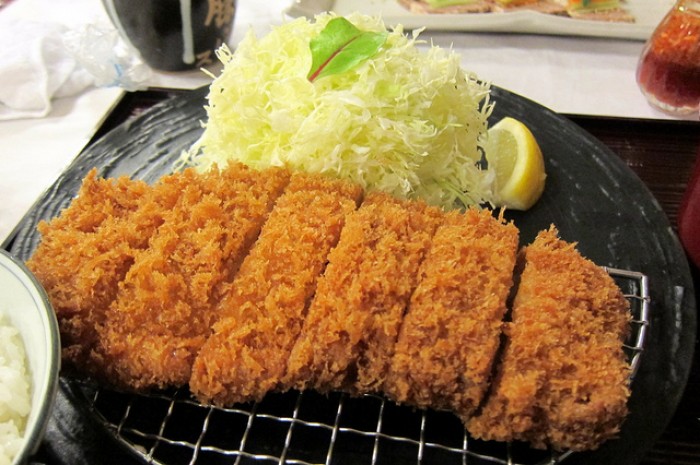 Image credit: Wally Gobetz
Another popular Japanese dish which comes from Tokyo is Tonkatsu, a breaded deep-fried pork cutlet. It is usually served with shredded cabbage. It was invented in 1899 and was a Japanese version of a popular European dish which Japanese calls katsuretsu (cutlet) or katsu. Miso-Katsu which is a katsu with a miso based sauce is popular in Nagoya and the surrounding districts.
Kansai region: Osaka
Other popular tourist cities in Japan, such as Kyoto, Osaka and Nara fall within the famous Kansai region. Tourists flock there to discover Japanese temples, gardens, deer and traditional houses. This ancient rural region is well known for producing some very fine sake. Take your time to explore one of the many tourist friendly breweries to discover how sake is made and to savour this delicious drink.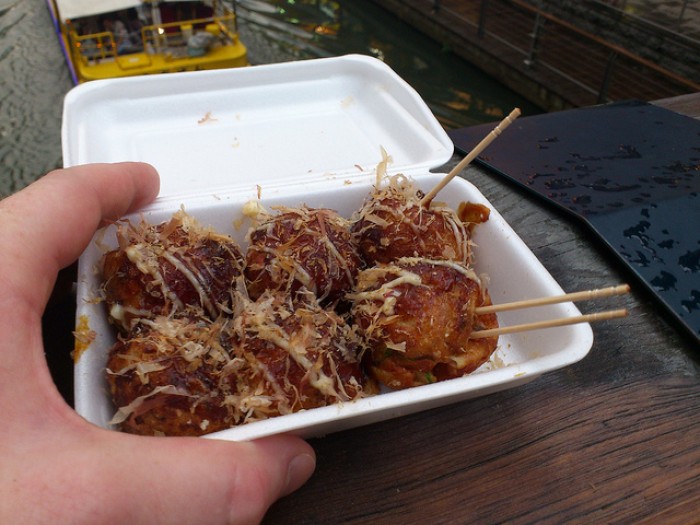 Image credit: Karl Baron
A very popular dish which hails from the city of Osaka is Takoyaki. These are grilled octopus balls made with a special batter and filled with diced octopus moulded into the shape of a little ball. They are covered in takoyaki sauce, mayonnaise and dried bonito flakes and are a really delicious snack any time of day!
Hokkaidō region: Sapporo
If you are heading to Japan in the winter months for some skiing and snowboarding, Hokkaido is becoming a popular place to go. But what tempting treats are there to eat and drink in this wintry, north island?
The city of Sapporo produces the famous Sapporo beer. If you are interested in factories and production, arrange a tour around Sapporo Brewery and sample the beer for yourself.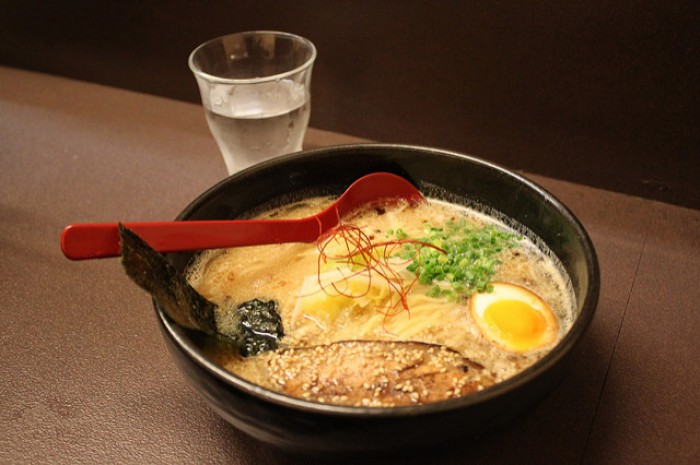 Image credit: MIKI Yoshihito
Sapporo is also famous for being the birthplace of miso-based ramen. Sapporo ramen is known throughout Japan. There is a place called Ganso Sapporo Ramen Yokocho, which is very popular with tourists, where you can slurp delicious bowls of ramen to your heart's content.  
Hokkaido also has a dish called the Ghengis Khan BBQ. It is a hearty BBQ lamb and vegetable meal named after famed Mongol warrior Ghengis Khan. The dish is often prepared and cooked at your table. Perfect for warming up on those cold nights.
Also read: 28 Japanese Food and Cool Souvenirs You Must Buy from Hokkaido
Kyūshū region: Okinawa
Okinawa in the south is known as the island of longevity with many of its residents reaching 100 years old. Could it be the fresh vegetables, clean air and simple living?
Interestingly, the food in Okinawa is very different to mainland Japan. Sweet potato became a staple food when it was introduced in the 1600's and bitter melon most likely was introduced from Southeast Asia. 
Surprisingly, a number of the dishes here use SPAM, a precooked meat product, usually pork shoulder meat, with modified potato starch! This is probably leftover from the days when American soldiers were a presence on the island.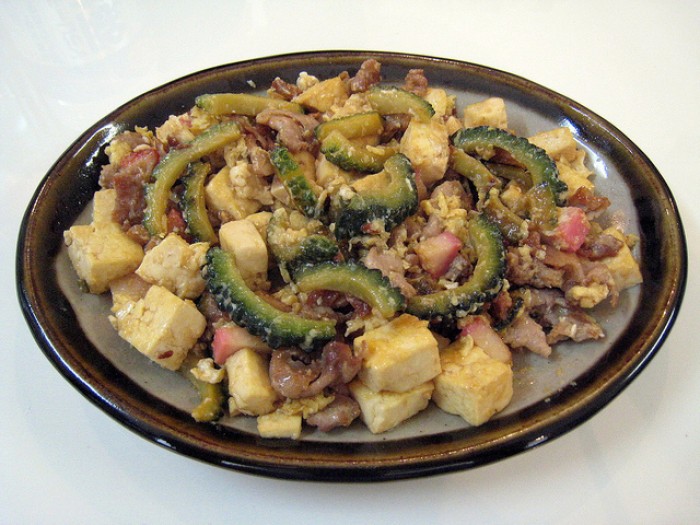 Image Credit: Ad Blankestijn
One of the signature dishes from Okinawa is Chanpuru, it is a stir fry dish. Goya Chanpuru is bitter melon stir fried with other vegetables, SPAM and even canned tuna! Tofu Chanpuru uses tofu instead of the bitter melon but includes all the other ingredients.
Taco Rice is a dish which is a mixture of influences; it is made up of beef, lettuce, cheese, tomato and rice. It is really popular among both locals and tourists! Rafute (stewed pork belly) and Soki (stewed pork ribs) are also popular dishes to eat on this unique island.
Image Credit: malavoda
Chūgoku region: Yamaguchi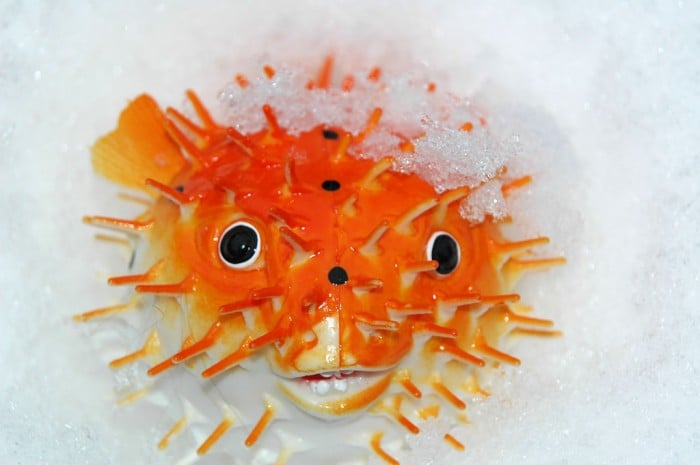 For the more adventurous among you, we come to our final dish! Fugu or Blowfish is a highly poisonous fish that only the very skilled and licensed can prepare. It is very popular in the Yamaguchi region. If you are travelling through this region, look for a registered and licensed blowfish provider so as to be sure you are in safe hands while eating it. Fugu can be prepared in a number of ways, in stews, hot pots, soups and other dishes or it is often prepared thinly sliced in sashimi style. Be warned, though – this fish is only for those willing to take on the risk of poisoning and death! Yikes!
We have touched on a few dishes and covered a few areas of Japan. However, there is a lot of other local cuisines that remain for you to try on your adventures in this amazing country! 
Ready to jump from city to city and sample all the delicious delicacies? Be sure to check out the various rail passes that are available in Japan before you go! They will definitely aid in your movements across the country.