Confession: At 20 something, I still don't know how to ride a bicycle.
Don't judge me! It has always been my insecurity since childhood. Whenever I see kids swiftly manoeuvring their bikes, I would always exclaim, "Maypa sila!", with so much envy. Then, I told myself, someday, someday, I will be as good as them. Well, here's the catch — that day hasn't come yet, but I'm positive it will, especially after surviving a 15km bike ride in Taipei during our spring trip last March 2017.
Also read: Our Taiwan Spring Trip: 4 Days with Just ₱16k (All-In) Budget
Let me share our whole cycling adventure and the mishaps I had along the way.
Renting a bicycle in Taipei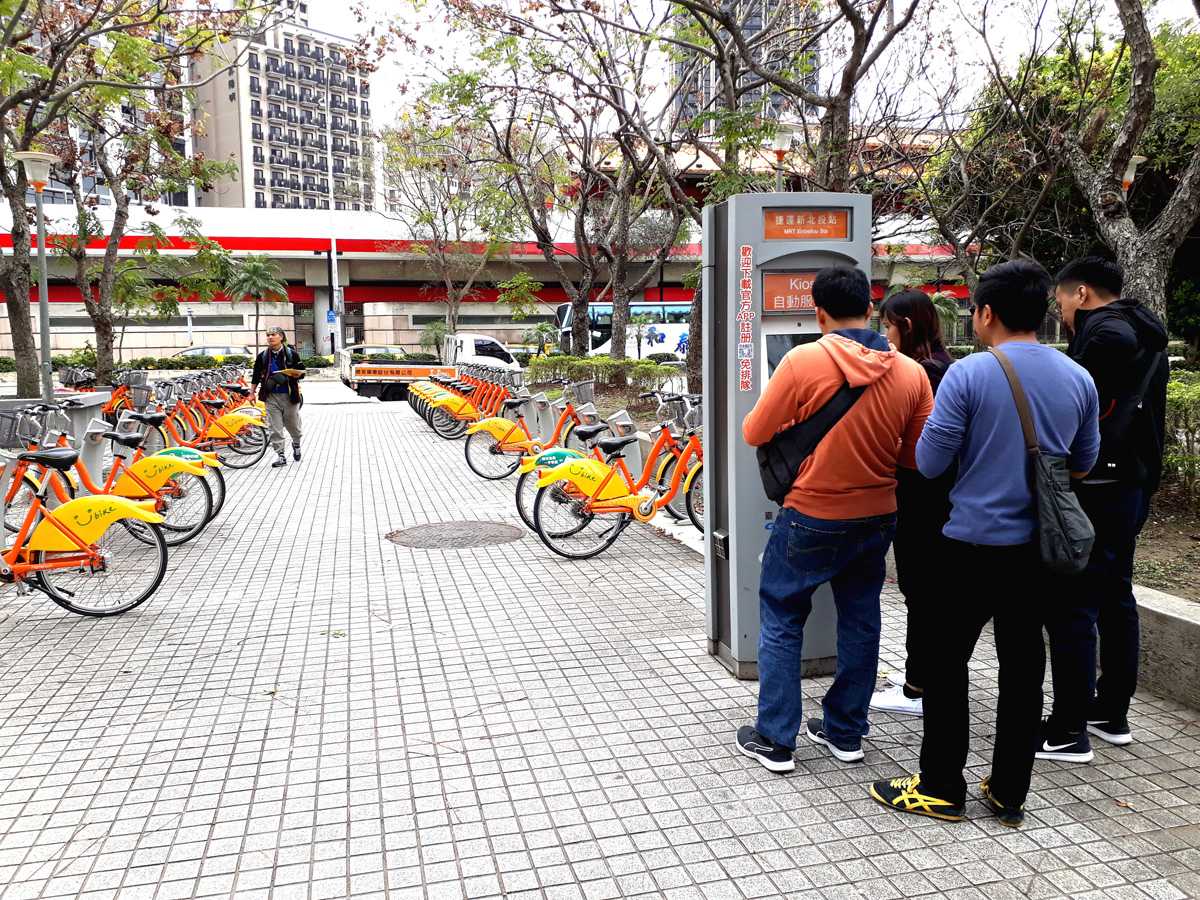 First things first — renting a bicycle. Instead of renting a bicycle from a private rental shop, we decided to use the YouBike, the official public bicycle sharing service in Taipei.
To rent a YouBike, you will need the following:
One (1) Registered Taiwan SIM card for up to 5 YouBike rentals
One (1) EasyCard
We purchased our SIM card for NT$300 (₱500) from Chunghwa Telecom. The SIM card already includes 5 days of unlimited mobile data. I recommend that you purchase one not only for the YouBike but also for connectivity. It's stable, reliable and will come in handy when navigating around Taipei. You will need to register the SIM card under your name so don't forget to bring your passport when you buy one.
To use YouBike, go to any YouBike station and register on the kiosks available. One SIM card can register up to 5 EasyCards. Just follow the instructions on the screen — they're pretty understandable for first timers — register the local number, tap your EasyCard, and you're good to go!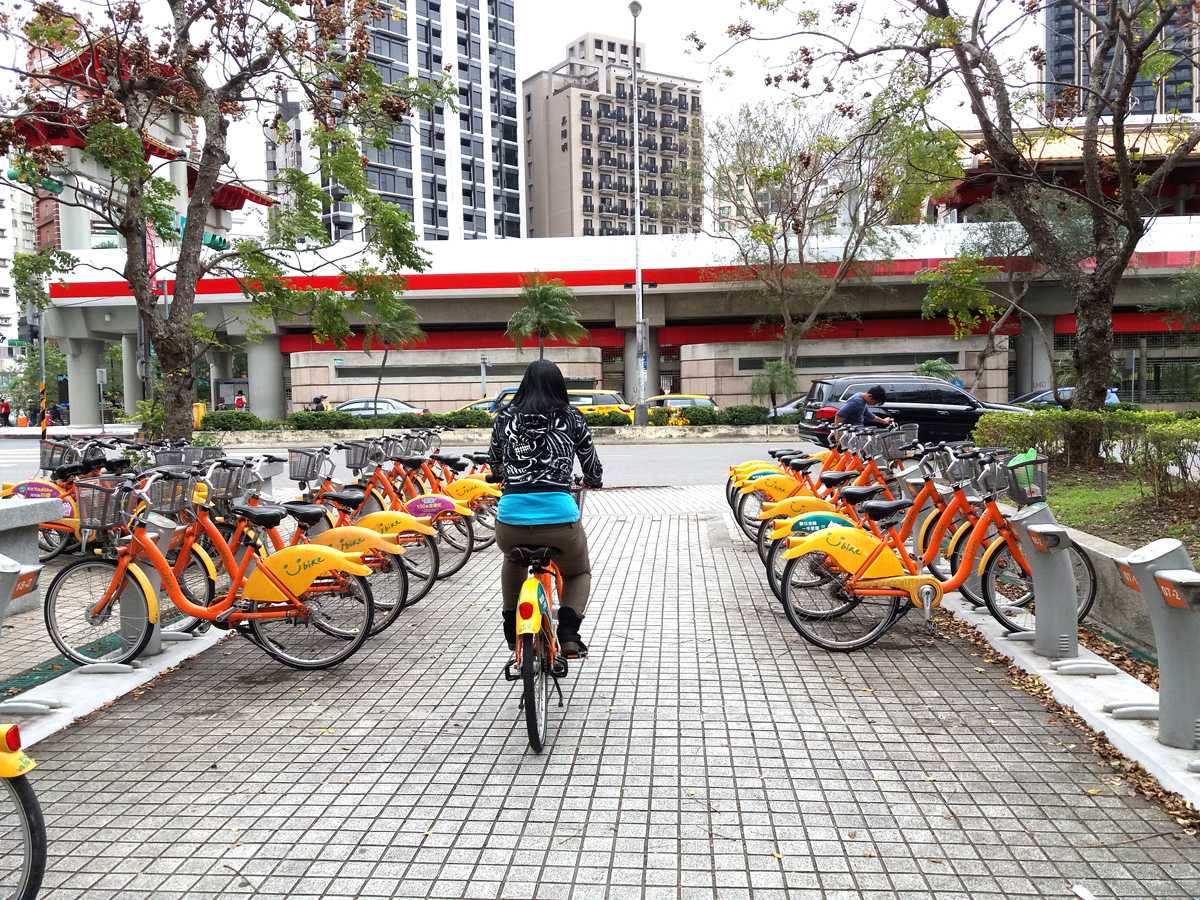 I would just like to mention that YouBikes are all well-maintained, but in the rare instance that you get a defective one, you can just put it back and take another one. Easy breezy.
Our Taipei cycling trail and my (mis)adventures

There are numerous cycling routes in Taipei, and the one we chose was supposed to be easy, said my biker friends. I was up for the challenge. While the trail was beginner-friendly for them, it wasn't for me. It was a lot more challenging than expected. See our detailed cycling route in Taipei.
Observations while cycling in Taipei
Okay, before moving on to my series of unfortunate events, I would like to mention some things that I noticed while cycling in Taipei:
Politely ringing your bike bell will only make pedestrians go "Ahhh… Bells sound so soothing" so don't be ashamed to do a lot more than polite ringing if you want to catch someone's attention.
Dogs rule the streets, so if they are blocking your way, do not expect them to move out. I'm sorry for the dog that I almost hit, again, because newbie.
The air is really fresh and the surroundings so scenic, making cycling the best and most breathtaking way to explore Taipei, at least for me.
The adventure begins..
Our plan was to start at the non-crowded sidewalks of Xinbeitou, end at Lovers Bridge and return the bikes at the YouBike station right outside the Tamsui MRT Station.
Also read: 1-Day Itinerary: How to Explore Taipei on a Bike
And so off we went. We started along Xinbeitou's sidewalks until our brilliant navigator Pogi told us to take a right down Lane 517, Daye Rd. This is a rarely used road where you will get to experience Taiwan's less travelled side.
We passed along rice paddies, which reminds me, I almost fell into one. So if you are not confident when the road becomes narrow, better get off the bike. Keeping your mouth shut in this route is also recommended if you don't want to have an early snack of flying insects before your meal.
After passing the scenic rice paddy portion, we reached Lane 257, Section 2, Zhongyang North Road. Stick to the bike lane and you will be fine. Vehicles, though not many, will use this road at moderate speed, but the most exciting portion will come after you pass through the tunnel under Section 1 & 2 Dadu road. This road doesn't have a bicycle lane, so you will have to cycle between passing trucks.
After surviving narrow roads, insects and huge trucks, we finally reached the start of the more established biking route along the Tamsui River. The road is for bicycles and pedestrians only.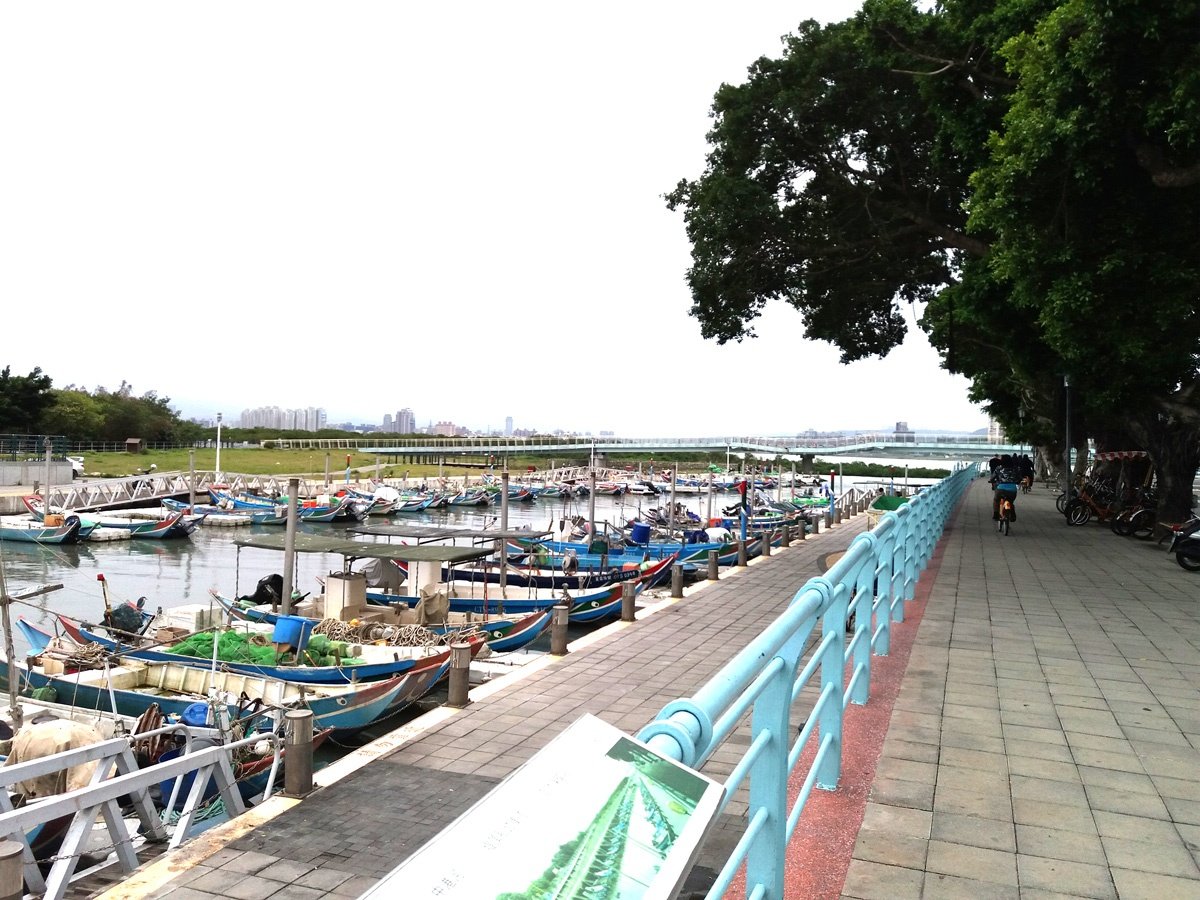 After this area, we leisurely cycled along the route and took our first stop at Guandu Riverside Park, where we had our much-needed lunch. There are stalls selling local food and drinks here.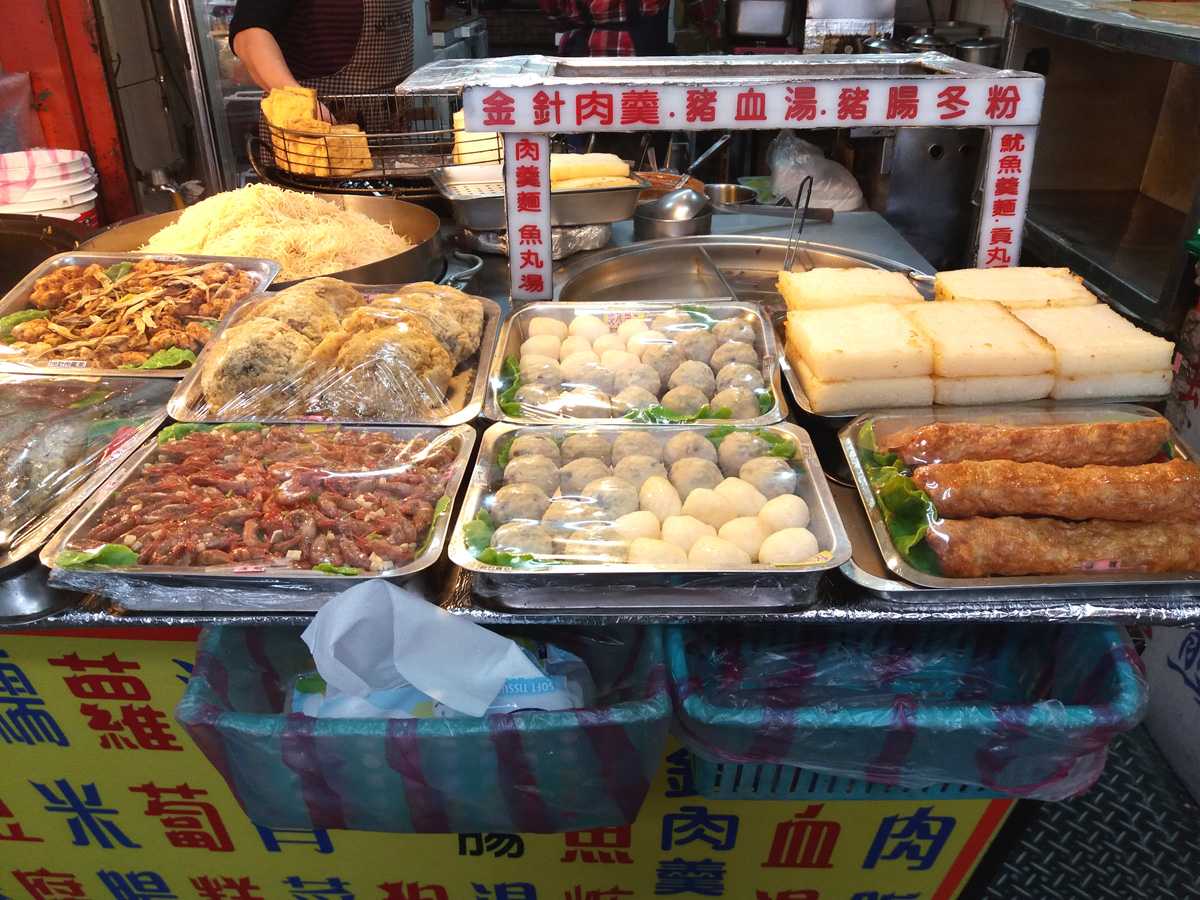 Opposite to where we had our lunch is the Guandu Temple, one of the oldest temples in Taipei. It is said to be dedicated to Mazu, the goddess of the sea. We didn't get to enter the temple, though.
After lunch, we proceeded with the trail, passing through stunning natural landscapes and landmarks until finally reaching Tamsui MRT Station.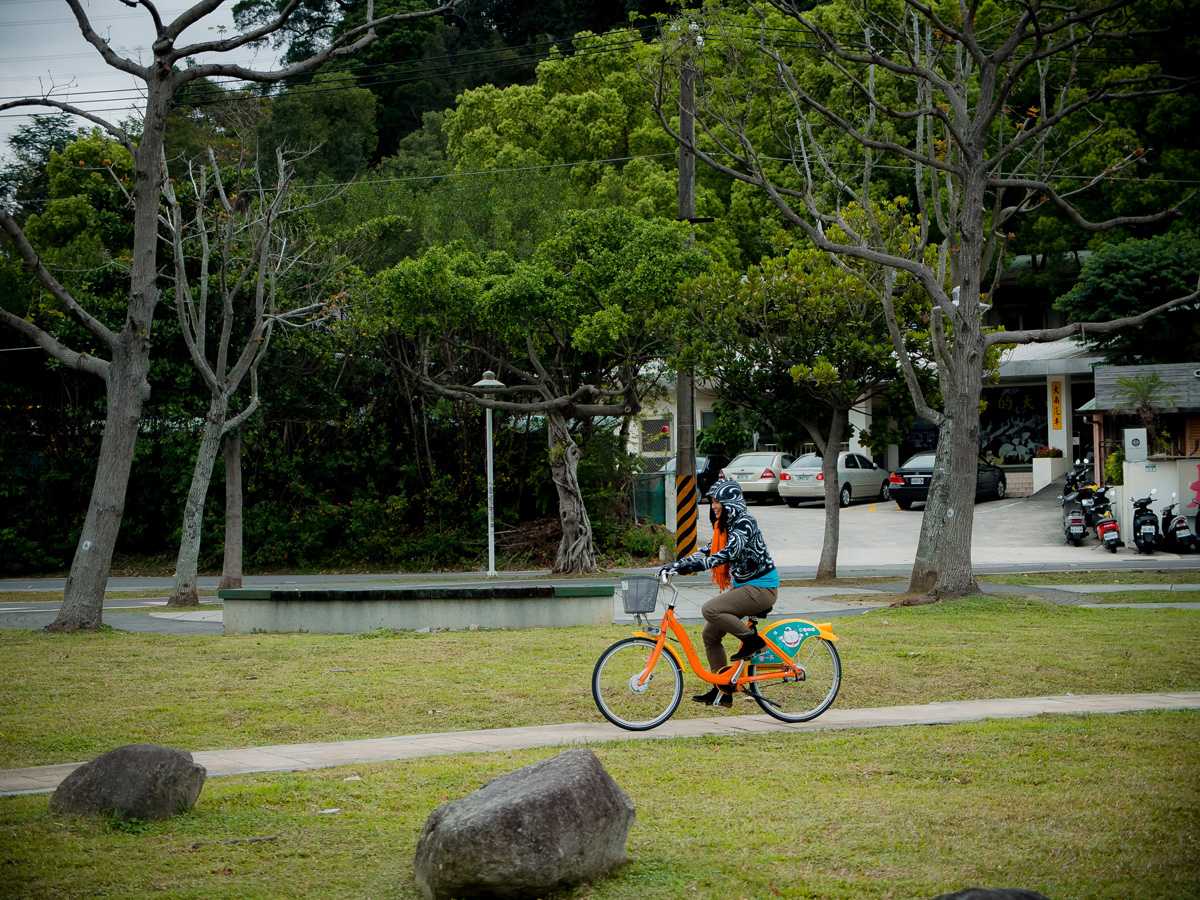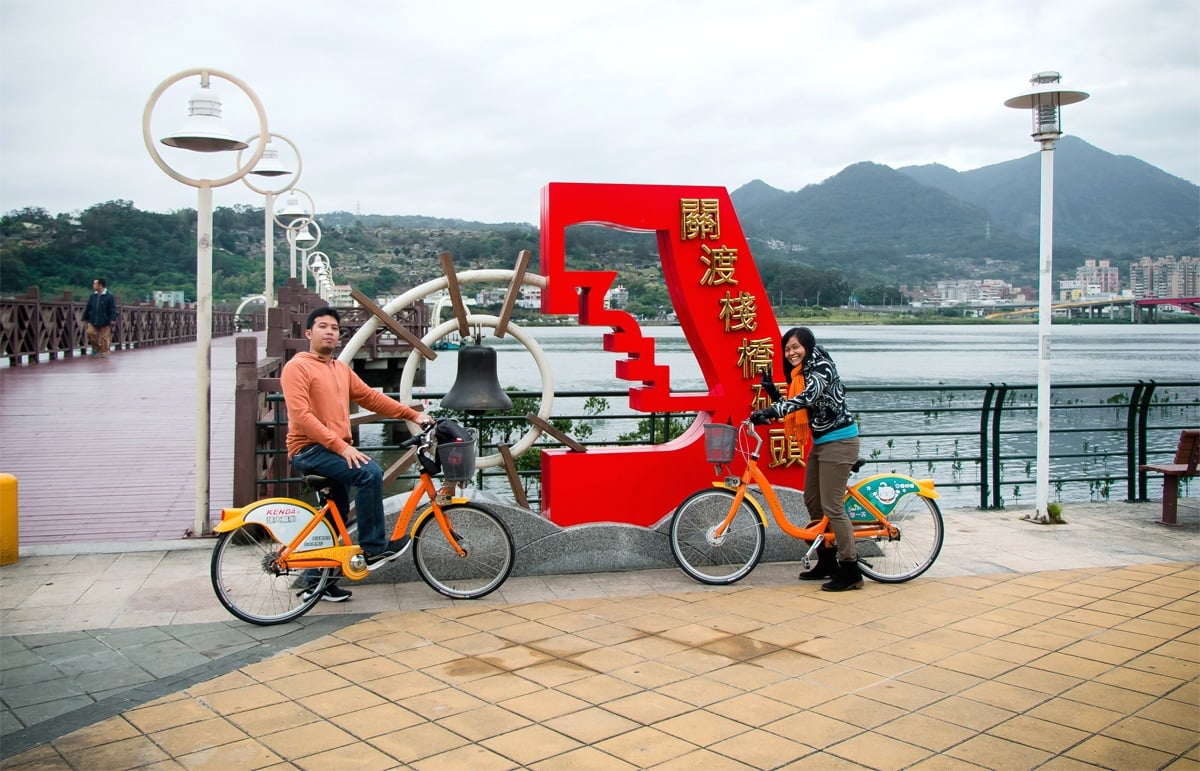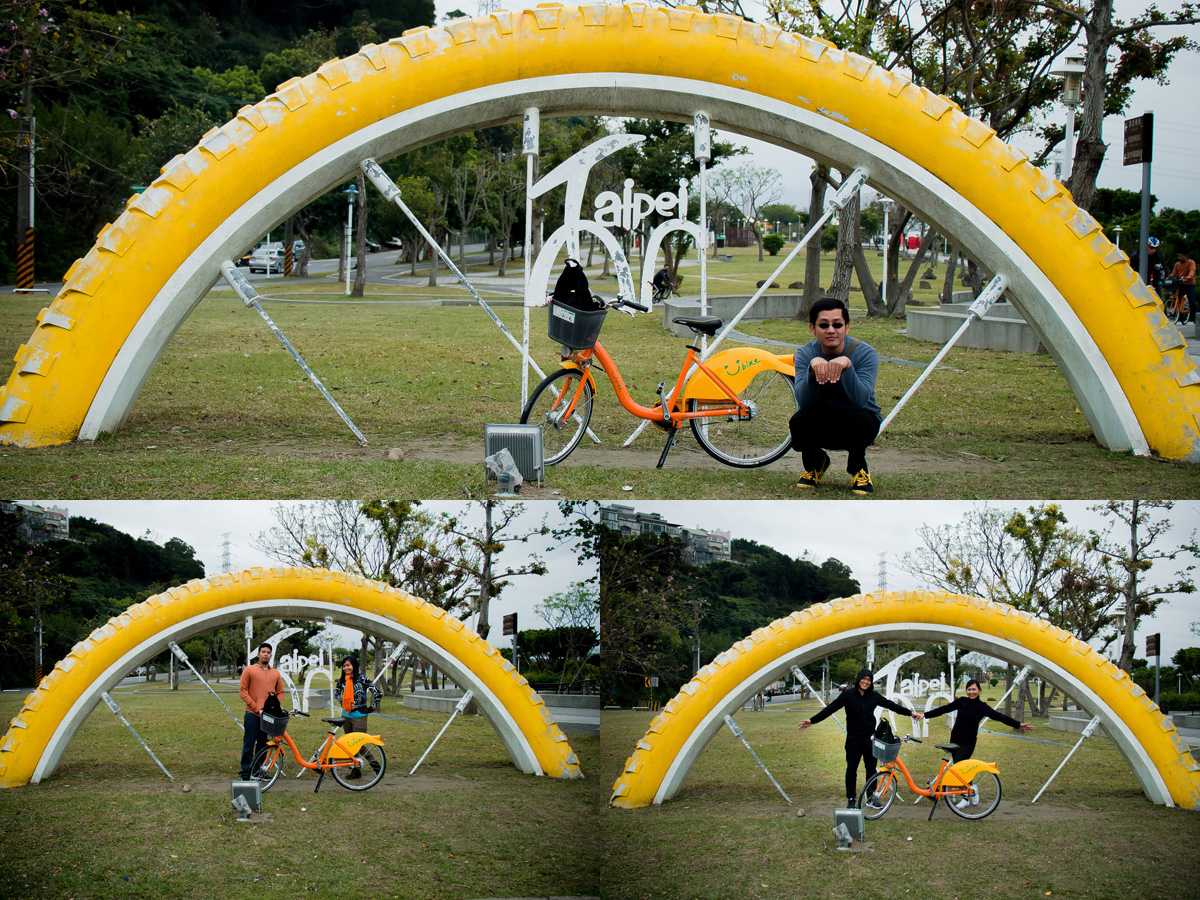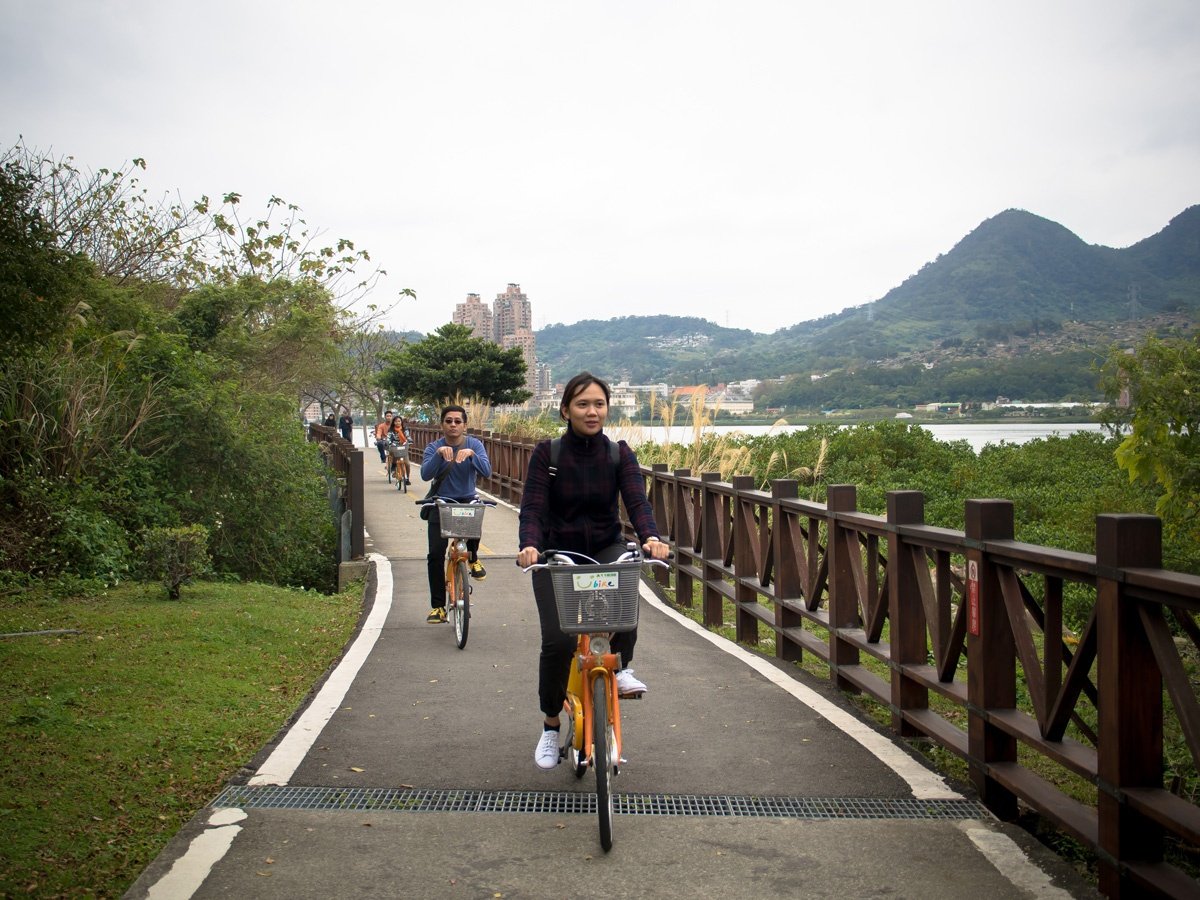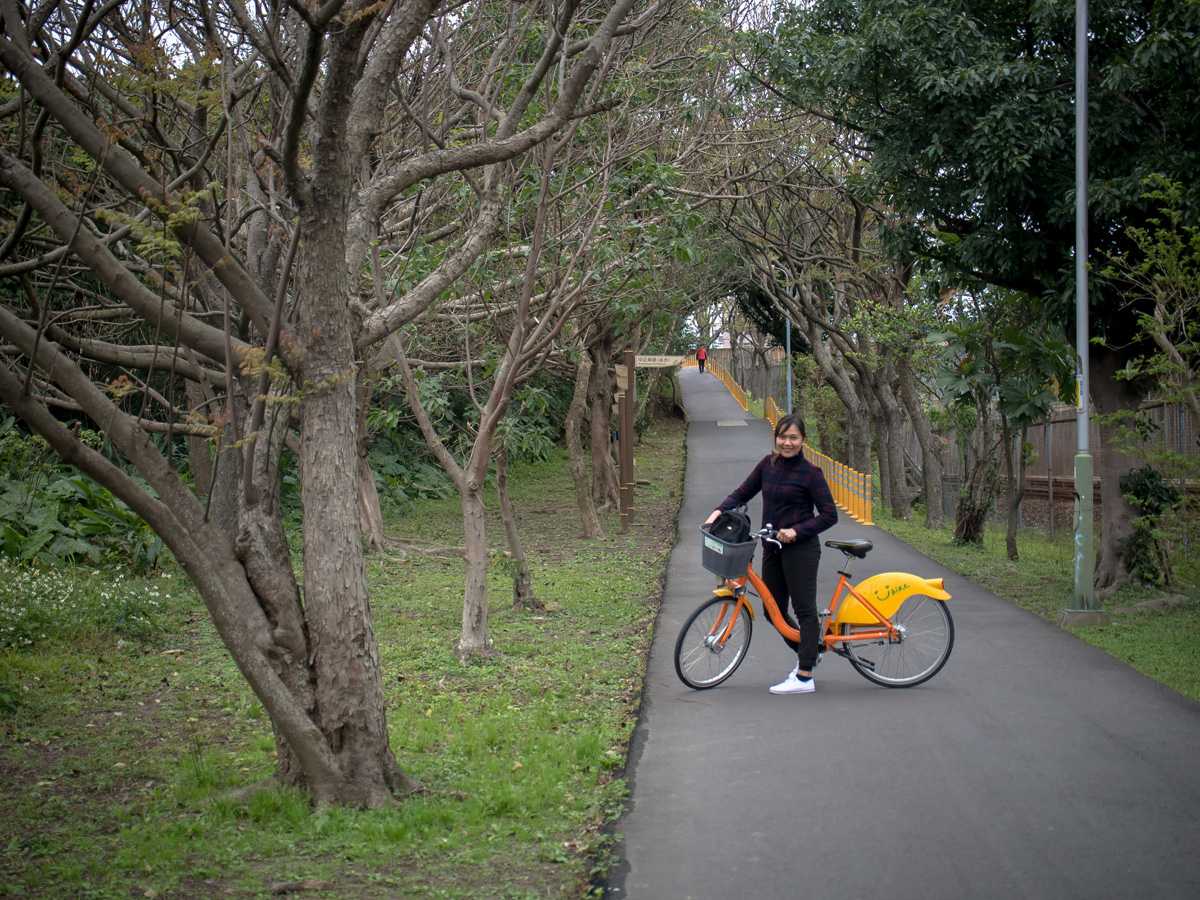 Our route, overall, is very doable for beginners — the air fresh, the road smooth, and the scenery so beautiful. Although it had some ups and downs, most of it had a slight decline so it's not very punishing for non-athletic types like me. I only had to apologise once to some tourists for bumping into them, got bullied by a small dog that didn't want to make way for me, and CRASHED into a river barrier and a flat road for no apparent reason at all.
Sadly, due to exhaustion and pain from the knee bruises I got after the last crash, I had to stop at Tamsui MRT Station while my friends continued to Lovers Bridge, following the original plan.
For those curious about the route from Tamsui MRT Station to Lovers Bridge, my friends told me that it was more or less the same, but they had to take a detour and use the part of the main road to get there. Also, it became a lot more crowded right at Tamsui, so ring the bell bikers — it's there for a reason!
Will I do this again?
This 15km bike ride was one hell of an experience, especially for a newbie and inexperienced biker like me. Despite the mishaps and injuries, I would still do it all over again when I get the chance to go back to Taipei. Of course, with more preparation and practise.
You see? I'm almost there. I hope the day would finally come when I could proudly say, I'm a pro biker, just like those kids I used to envy. Never say die! Fight!
I hope you're inspired by my story. What's the most unforgettable biking experience you've ever had? I'd love to hear it, too!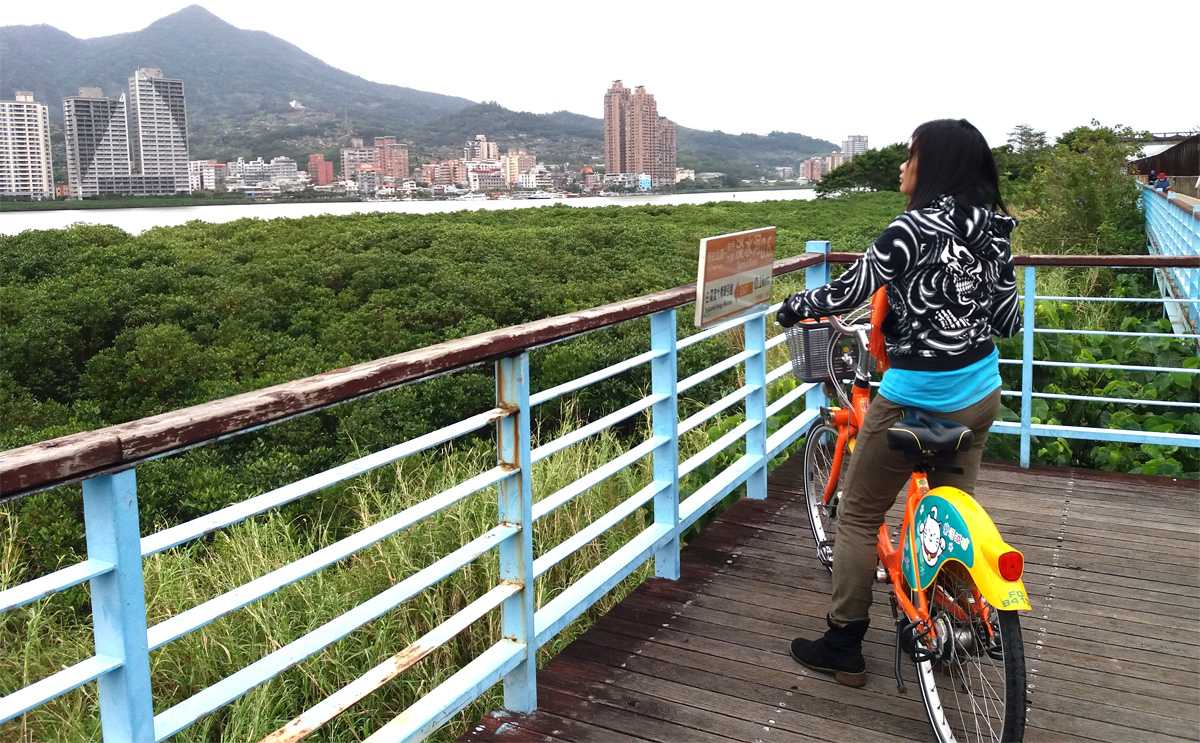 *Special thanks to Joey for planning our route, to Gale and Mickey, for patiently waiting for me whenever I get left behind, and of course, to my BF, for staying behind me, always looking after my welfare. Till our next cycling adventure guys!