If you have never been to Taipei before, you will probably not expect to find a bicycle-friendly city. Miles ahead of other metropolises in the region, such as Singapore, Taipei is perhaps the very first Asian bicycle capital.
Having lived in Amsterdam for many years, I admittedly love riding my bike through town to either get somewhere or just for the sake of it. The rental bike stations called YouBike in Taipei caught my immediate interest. Although I was skeptical at first, I was longing to explore the city from a different point of view. Only after half an hour on the bike, I decided to make a one-day cycling route around the city.
Also read: How I Travelled 3 Days in Taipei for Only PHP 9,620 (All-In)
Ride Along the River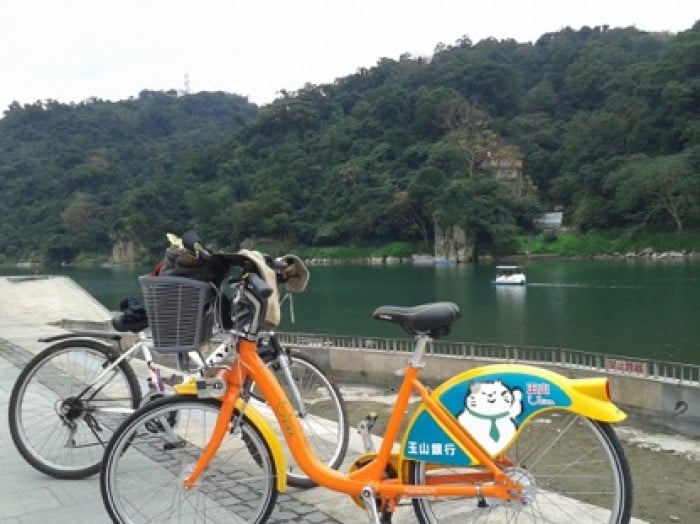 Image Credit: For The Words
As I was staying in Ximen, in the west of Taipei, I started my bike journey there. With the Tamsui river just being around the corner, I had found my obvious first destination. Although there aren't many parks in the middle of the city, Taipei has made an incredible effort to beef up its riverside parks.
Taipei city is more or less surrounded by two rivers, the Tamsui and the Keelung river. Both riverbanks of the two have cycle paths next to it. However, that isn't all. Besides plenty of open space, greenery, benches and bird-watching stations, one also finds other sports facilities, such as for basketball, tennis, football or even table tennis.
Heading north along the Tamsui River, I frequently saw airplanes flying closely overhead – it's a paradise if you are an airplane watcher (seriously). Although I continued all the way to where the two rivers split, one can take a shortcut to the Keelung river. (Tip: Taking the longer route will add about 5km to your itinerary.) Continuing along the river banks, one will evidently reach the Dajia Riverside Park, which offers itself as a perfect lunch break destination.
Stop to Smell the Flowers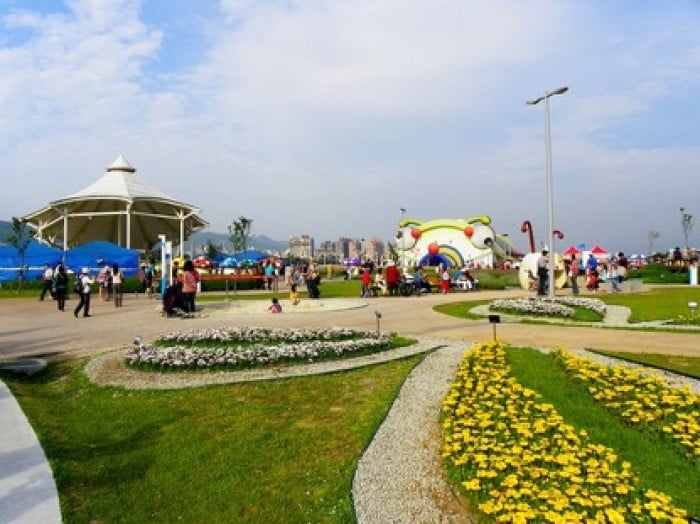 Dajia Riverside Park | Image Credit: 玄史生
The park continues for about further 5km. Continue until the colourful rainbow bridge and head into the streets.
Just a few minutes south of the bridge is the Wu Fen Pu market, which is the largest of its kind in Taipei for clothes, bags, jewellery, accessories and garments, all of which are very cheap.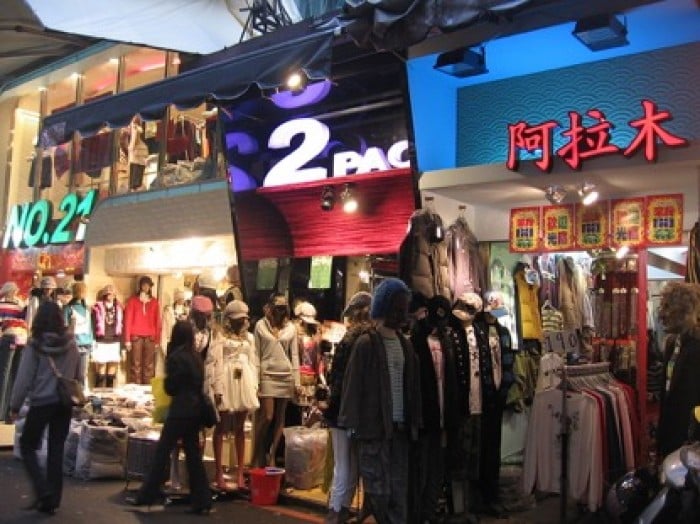 Wu Fen Pu Market | Image Credit: Sengkang
When strolling through the narrow alleys of the market, you can leave your bike either locked nearby or return it at the Songshan MRT station. If you feel like it, you should also visit the beautiful Chinese temple next to the station.
The market itself can be overwhelming, as there are over 1,000 different shops crowded into limited space. If you are a real bargain hunter though, you will love this market eternally. Don't worry about your shopping bags, as your bike is of course equipped with a basket in front.
Also read: 5 Day-Trip Itineraries Around Taipei that are Refreshing for the Soul
Get a View
Although Taipei is surrounded with mountains, I am not suggesting climbing up there with your bike. There is an easier way. As the market is in close enough proximity to Taipei 101, you can easily navigate your way through the smaller streets to the former tallest building in the world – just aim for the big building.
Tip: Reaching Taipei 101, just park your bike at the station and pick up another one later. You can either go up to the viewing platform or use a cheeky alternative, if you don't want to wait in line for too long or don't want to spend NT500 (SGD 21).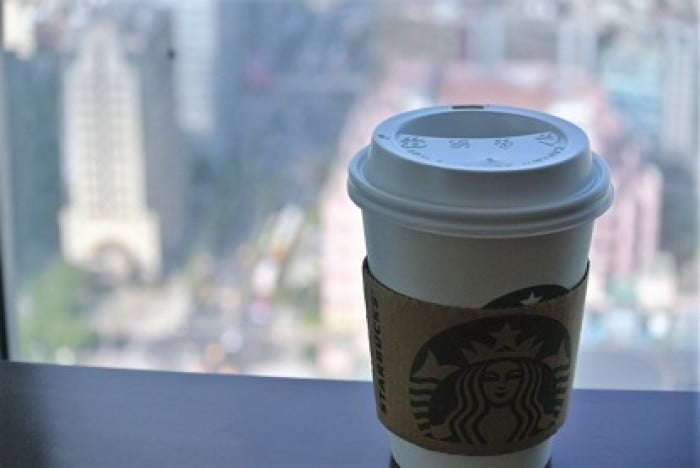 Starbucks at Taipei 101, 35th Floor | Image Credit: 簡単な絵
Go up to the Starbucks on the 35th floor. Although it is only about halfway up, you still have an incredible view over the city. But you have to make a reservation beforehand. Just call in the morning or the day before and choose your timeslot (+886 28101 0701). Getting a reservation isn't a problem, but you have to do it.
All-You-Can-Eat Hot Pot
After your lofty Starbucks adventure, you should be on your way to the last stretch of cycling for the day. If you are already too tired, you can also take the MRT from Taipei 101 to Ximen station (if that's where you are staying).
However, if you want to make the hot pot experience really worth it, you should paddle a little more. Just cycle alongside the big Ren'ai Road, which will lead you directly to Ximen. Don't worry there are separate cycle paths for your convenience.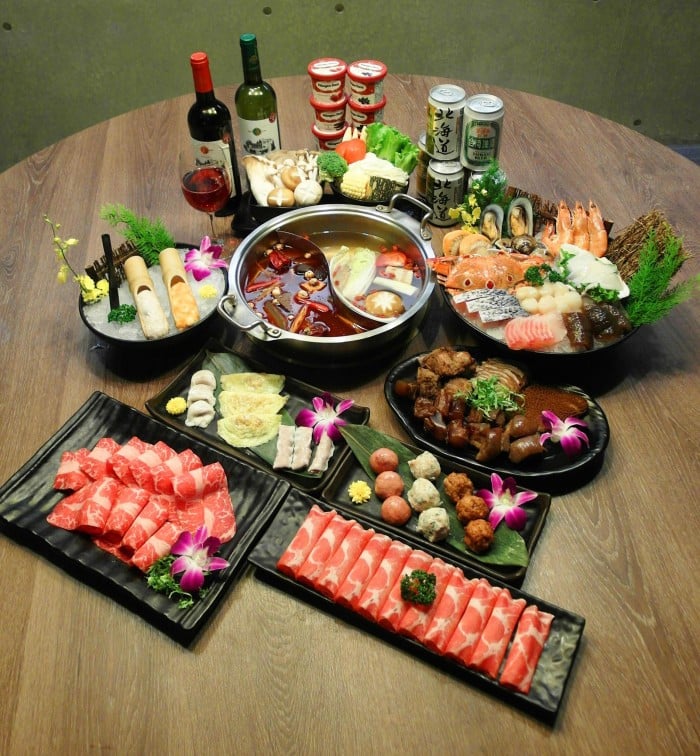 Image Credit: Mala Yuanyang Hotpot Facebook
The glorious conclusion of the day is back at Ximending – Mala Yuanyang Hotpot. For around SGD 25 per person you will get unlimited hot pot, including meat, seafood and veggies, as well as free-flow wine, beer and Häagen-Dazs ice cream.
After that I am sure you will just fall asleep gently.
Clunky Bikes?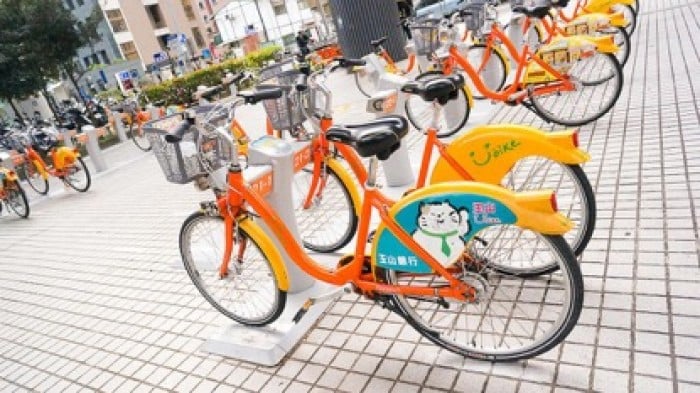 Image Credit: Antonio Tajuelo
Generally I like to cycle fast and definitely prefer a rather light bicycle. When I saw the clunky-looking bicycles at first, I wasn't expecting much. However, to my surprise the bikes cycle fast, brake properly and have gears that work.
First launched in 2009, 'YouBikes' were built for heavy use. Since then the city has extended the service to over 200 stations and more than 6,000 bikes spread all over the city. No matter where you are in Taipei, you are never really far from one of these bike stations, meaning you can always return it should you get too tired.
Also read: The Ultimate Guide to Taipei's Night Markets
Renting them takes only about a minute and is very affordable. The first 30mins will only cost NT5 (SGD 0.20) and every further half hour is between NT10 – NT40, according to progressive tolls.