There's nothing quite like having a meal in a restaurant that overlooks breathtaking scenery, and the Philippines never fails to give you that kind of gastronomic experience. From eating on top of the mountains to feasting afloat a river, here are restaurants in the Philippines with delightful food and incredible views that will leave you craving for more!
Also read: 10 Cafes in the Philippines with the Most Picturesque Views
1. Sanafe Lodge and Restaurant, Banaue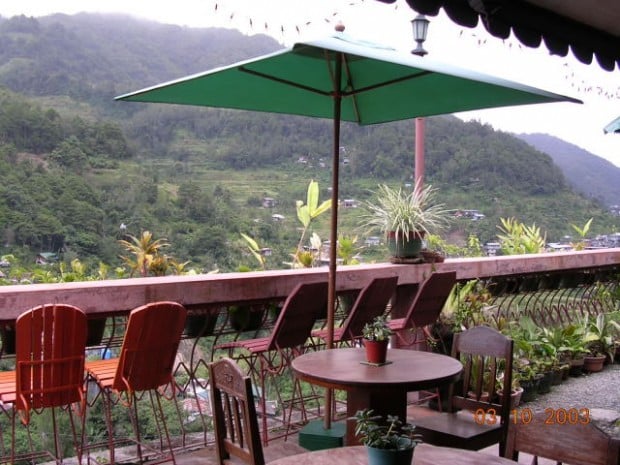 Image credit: Sanafe Lodge and Restaurant
Located right at the heart of the world-renowned Banaue Rice Terraces, Sanafe Lodge and Restaurant is definitely a feast for your eyes, body and soul! Enjoy their Mediterranean, Asian and other local dishes as you take in the beauty of the natural wonder right in front of you. Of course, you should complete the experience by staying a night or two in their well-equipped lodge.
Address: Banaue Trade Center, Banaue, Ifugao, Philippines
2. Leslie's Restaurant, Tagaytay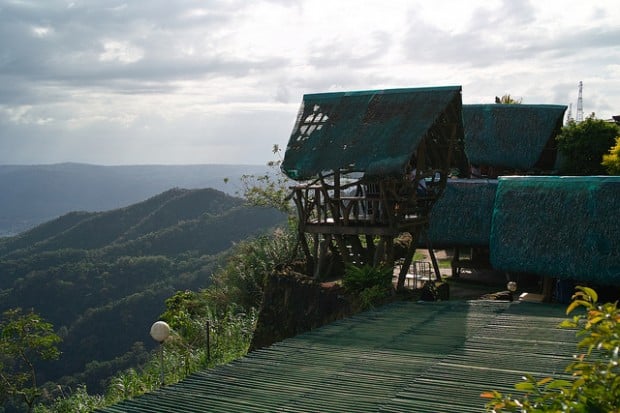 Image credit: Paolo
This restaurant is a personal favourite! Just a few hours away from the busy Metro Manila, Leslie's Restaurant is a food haven for hungry city dwellers like me. Try their best-selling bulalo (Filipino beef soup) to complement the cold weather of Tagaytay. After filling your growling stomach, don't forget to snap a photo of the majestic Taal Volcano.
Address: Tagaytay-Nasugbu Highway, Tagaytay, Cavite
3. Villa Escudero Waterfalls Restaurant, San Pablo City, Laguna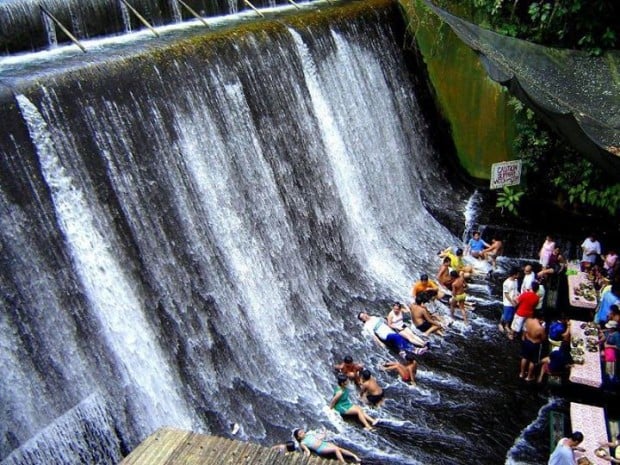 Image credit: Villa Escudero Plantations and Resort
Filipinos are so lucky to have this one-of-a-kind restaurant that allows guests to enjoy local food with natural spring water running over their feet. After eating, relax and have a quick waterfall massage just like what those people are doing in the photo above.
Address: Pan-Philippine Highway, San Pablo City, Laguna
Also read: 10 Quirky Accommodations in the Philippines
4. VASK Modern Tapas & Gastronomic Cuisine, Taguig City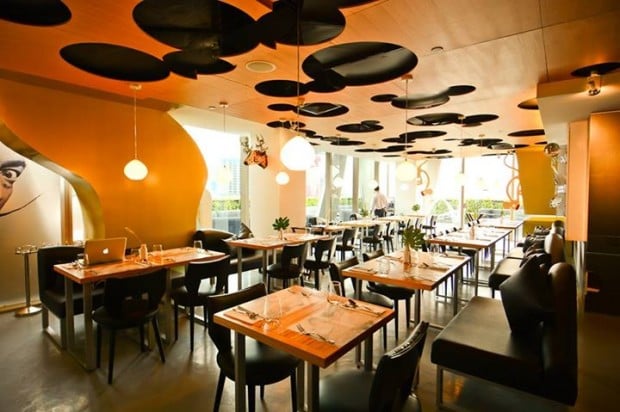 Image credit: VASK Modern Tapas & Gastronomic Cuisine
If you don't feel like going out of Metro Manila to have a culinary experience with a view, head to Modern Tapas & Gastronomic Cuisine in Bonifacio Global City, Taguig. It features different dining concepts under one roof. You can lounge at the Deck and enjoy a panoramic view of BGC or go to their dining room to have a taste of traditional Spanish tapas and other special cuisines. The restaurant is quite popular so you might need to book a table in advance.
Address: 5th Floor Clipp Center, 11th Avenue cor. 39th, Bonifacio Global City, Taguig
5. Badjao Seafront Restaurant, Puerto Princesa City, Palawan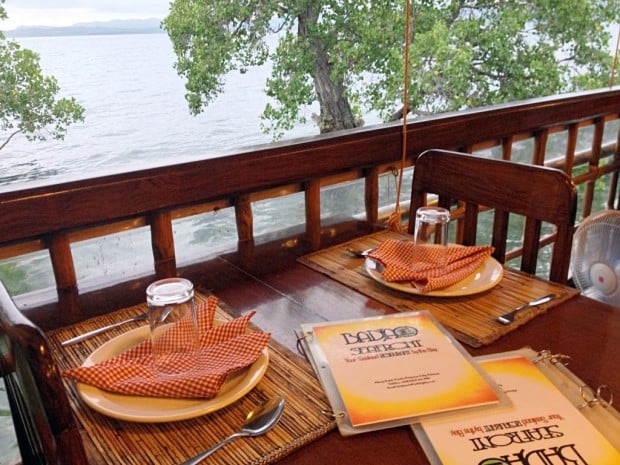 Image credit: Sheng Chua
Badjao Seafront Restaurant is a homey restaurant built on stilts above the waters of Honda Bay in Puerto Princesa, Palawan. Before reaching the restaurant, you'll pass through a narrow wooden walkway surrounded by mangroves – what a way to start your feast! The seascape, ambience and yummy seafood will surely make you love this restaurant.
Address: A.M. Abueg Road, Puerto Princesa, Palawan
6. Squidos Hilltop Restobar, El Nido, Palawan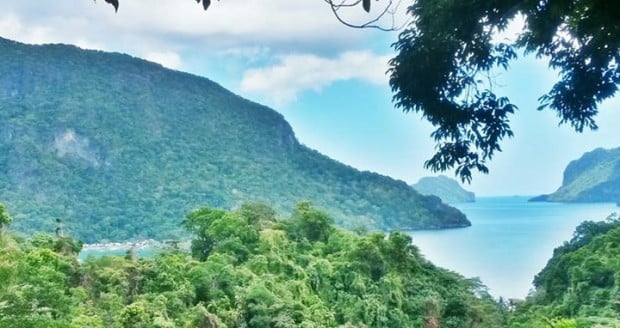 Image credit: Squidos Hilltop Restobar
There are two Squidos restaurants in El Nido so make sure you tell the tricycle driver to bring you to the one on the hilltop, which is a 10-minute ride from the El Nido town proper. Even if you're not into buffet eating, the views from this restobar are to die for! Just look at the one pictured above.
Address: Bacuit, 5313 El Nido, Palawan
7. Rio Verde Floating Restaurant, Bohol
Image credit: Via Tsuji
You have not been to Bohol if you have not experienced dining at Rio Verde Floating Restaurant. You will feast in local cuisine as you cruise along the scenic Loay-Loboc River. Plus, you'll get a chance to sing and dance with the locals in one of the riverbanks. This floating restaurant is certainly more than just a dining experience!
Address: Poblacion Loay Bridge, Loay, Bohol
8. Lantaw Native Restaurant, Cebu City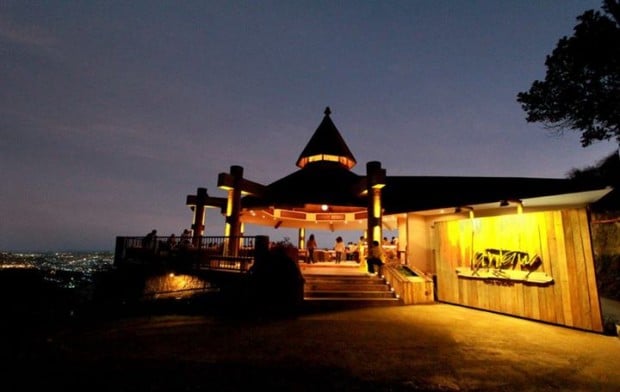 Image credit: Lantaw Native Restaurant
Lantaw Native Restaurant has three branches in Cebu – one in Cordova, another in South Road Properties (SRP) and one in Busay. I personally recommend you visit the branch in Busay. With its perfect setting, amazing ambience, stunning cityscape, cool breeze and delicious local food, what more can you ask for?
Address: Busay, Cebu City, Cebu
9. Casa Roca, Camiguin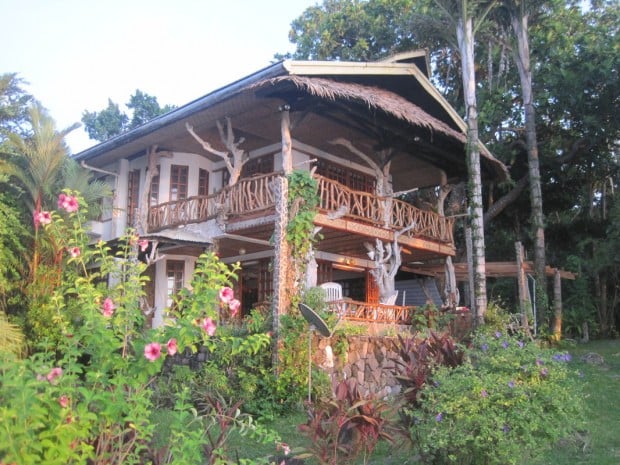 Image credit: Casa Roca
On top of its fantastic accommodation, Casa Roca has a restaurant that boasts of market fresh dinners, changing daily specials and a full service bar. Delight in Western or Filipino food as you relax in a quaint setting with an amazing ocean view. Their food is guaranteed to satisfy your tastebuds without burning a hole in your pocket.
Address: Baring, Naasag, Camiguin Island
10. Sarangani Highlands Restaurant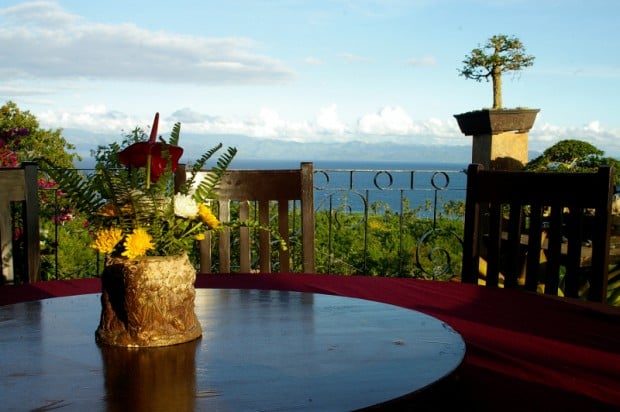 Image credit: Sarangani Highlands
Dubbed as Gensan's Restaurant in the Skies, the Sarangani Highlands Restaurant is definitely at the top of everything from food to setting and hospitality. The restaurant is proud to serve local dishes and fresh produce of the SOCCSKSARGEN region. Top your dining experience off with a short stroll around the awe-inspiring property.
Address: Purok Wal, Tambler, General Santos City
Did I miss any of your favourite scenic restaurants in the Philippines? Share your suggestions in the comment box below.