The mere mention of Taiwan draws you to instantly think of the iconic night markets that dot this bustling metropolis. The most popular one that has stolen the hearts of both locals and tourists alike: Shilin Night Market! Dubbed the biggest and baddest night market in Taiwan, Shilin Night Market offers an endless variety of budget-friendly street snack options such as oyster vermicelli, kick-ass bubble tea, and big fried chicken steak, and the trendiest apparels.
However, did you know that Taiwan's night market scene spans beyond just Shilin Night Market? For those who want to explore somewhere else, we've got you covered with a list of equally amazing night markets to visit! Ready to fill those bellies with glorious food?
1. Raohe Street Night Market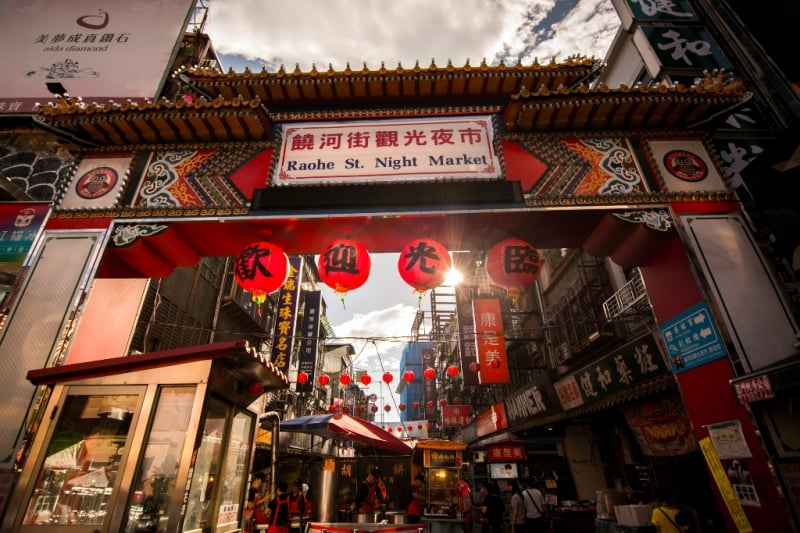 Raohe Street Night Market is located a stone's throw away from Taipei's largest clothing and accessories wholesale market, Wu Fen Pu. Locals and tourists love to flock to Raohe Street Night Market to unwind and indulge in scrumptious snacks after a long day of shopping.
Although this night market spans only around 600 metres, you will be surprised at the array of gourmet choices that will tempt you right from the get go. Must-try delicacies include the famous pepper meat buns that are freshly made, spicy stinky tofu that's bound to whet your appetite, sinful humongous fried chicken cutlets, and freshly-squeezed fruit juices to wash it all down.
Address: Raohe Street, Songshan District, Taipei City, Taiwan 105
Opening Hours: 5pm – 12am, Daily
Nearest Station: Song Shan Station
2. Feng Chia Night Market

If you're heading to Taichung City, you have to make a pit stop at Feng Chia Night Market to enjoy its bustling atmosphere! Spanning approximately 1km long, this market features rows upon rows of super affordable street snacks such as the legendary Feng Chia 4-in-1 (a wholesome mix of jelly fig, tapioca pearls, kumquat and lemon juice), as well as trendy fashion items.
As many as 30,000 people grace this night market daily, especially students from Feng Chia University that is situated right around the corner. Within Feng Chia night market, visitors can also find Wenhua Night Market which sells addictive clams in rice wine, and Xinjiang-style BBQ sticks, which uses cumin to give the meat an alluring and exotic flavour.
Address: Wenhua Road, Xitun District, Taichung City, Taiwan 407
Opening hours: 4pm – 2am, Daily
Nearest Station: Taichung Station
3. Tonghua Night Market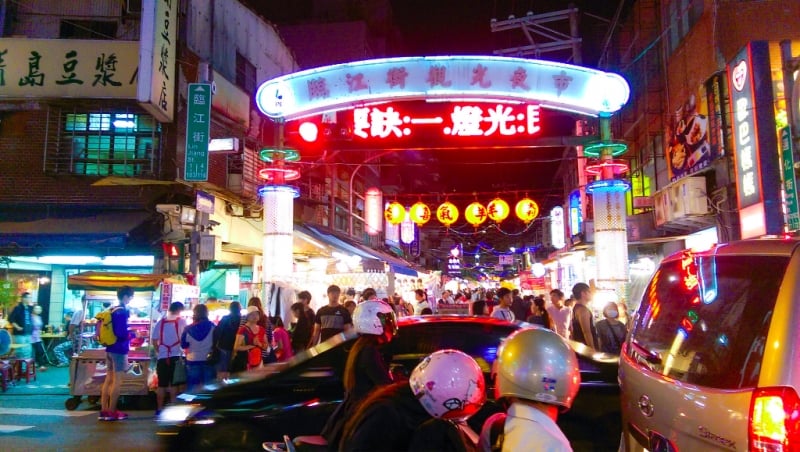 Tong Hua Night Market happens to be one of the lesser known night markets in Taipei. In fact, if you ever stop by this night market, you'll realise that majority of visitors are actually locals who come here for dinner and snacks! But ironically, that's how you know it's going to be an authentic night market experience. Tong Hua night market is also known as Lin Jiang Night Market since it is located on Linjiang street, so don't be confused if you stumble upon its other fondly-coined name!
This night market has literally everything! There are gourmet street snacks for the ultimate foodies, the latest fashion apparels for the trendsetters, homeware for the self-proclaimed home designers and quirky knick-knacks for the oddball. This makes for the perfect place to go with your family or a bunch of friends with varying preferences!
Address: Linjiang Street, Da-an District, Taipei 106
Opening hours: 6pm – 2am, Daily
Nearest Station: Xinyi Anhe Station
4. Gongguan Night Market
This is the night market to be if you are an avid food-lover or self-proclaimed food critic! You will be spoilt for choice when faced with the huge selection of local snacks! Gongguan Night Market is located near the National Taiwan University and boasts really affordable prices since most of its patrons are students and youths. The Gongguan Night Market is also situated within a business district, making it highly accessible by train.
Tourists have always vouched for the quality of food here. Must-try snacks include da chang bao xiao chang (Chinese sausage in a glutinous rice "bun"), scallion egg pancake, cuttlefish vermicelli with a thick soup base and the all-time favourite qing wa zhuang nai bubble milk tea which is a mix of dark brown sugar, tapioca, and fresh milk.
If you are feeling a little more adventurous, go straight for the kill and sample some pig's blood cake! The blood cakes are made fresh daily and cured in a steamer for more than three hours until they are chewy and soft. They are then topped off with a secret sauce and sweet peanut powder to counter the bloody taste, which can be pretty overwhelming for first-timers…
Address: Lane 90, Section 4, Luosifu Road, Da'an District, Taipei City, Taiwan 100
Opening Hours: 3pm – 11.45pm (closed on Wednesdays)
Nearest Station: Gongguan Station
5. Huaxi Street Night Market
More commonly known as "snake alley" due to the sheer number of stalls that sell snake-related delicacies, Huaxi Street Night Market is the place to be if you are game for an eating challenge. While Huaxi offers a fair variety of local street snacks, visitors come here mainly for the snakes. Shopkeepers are also seen enticing patrons through snake performances which end with volunteers drinking the snake's blood!
Aside from the blood, which is known to boost the male libido and the immune system, shops also serve snake venom and snake meat. Prices for these dishes are not cheap and can range anywhere from 740NTD to 4,420NTD (~S$33 to ~S$197)!
You will also be pleased to know that there is a wide selection of foot massage parlours located along Hua Xi Night Market. Once you're done indulging in some snake-tastic goodness, treat yourself to a pampering foot massage session.
Address: Huaxi Street, Wanhua District, Taipei City, Taiwan 108
Opening Hours: 4pm – 12am, Daily
Nearest Station: Long Shan Temple Station

Remember to grab a couple of friends to accompany you on this food hunt so you can share the snacks, and taste a larger variety. A gastronomic adventure awaits!
So, which night market will be your first target?