Although most Singaporeans have heard of Hainan Island, it's often forgotten as a travel destination. Travelling to China's outermost provinces is becoming increasingly popular – not only among the Chinese, but also the rest of the world.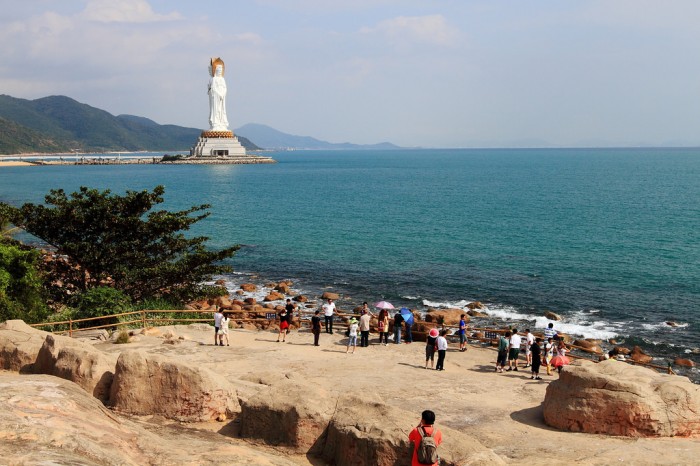 Image credit: Vincent Miao
Having discovered the magnificent beaches, rich coconut groves, and the fascinating extinct volcanoes of Hainan island, I wonder why there aren't thousands of travellers invading this little paradise. Neglected by the travel industry, Hainan island offers rich culture, incredible food, and beautiful nature.
Also read: 12 Totally Underrated Places of China That Will Blow You Away
Arriving in Haikou
Perhaps it's the island's history that keeps tourists from coming. During the times of imperial China, the island was most commonly used to exile offenders and their families. Although I am sure that it wasn't a pleasant experience back then, nowadays I can imagine worse things than being exiled to Hainan island.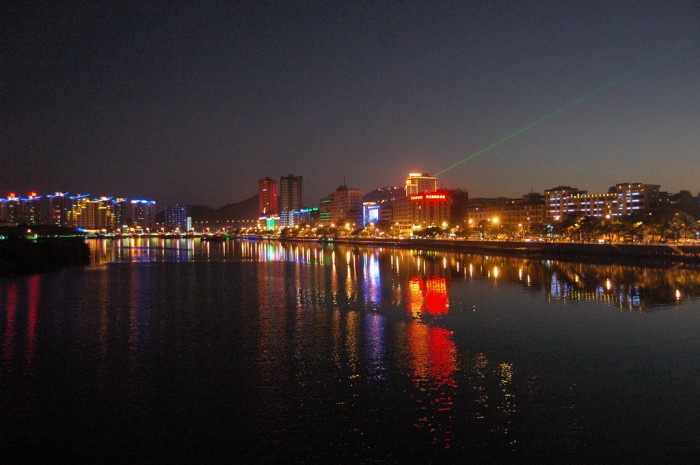 Image credit: Philip McMaster
When travelling to Hainan island, one will most likely arrive at Haikou, which is the island's capital inhabited by a quarter of its total population. Although the island's highlight is nature, it is worth spending a little time in Haikou (if your itinerary permits it). Also known as the city of coconut trees, I would recommend visiting the Temple of Five Lords or Wugong Temple (bus route 1, 11) and the Tomb of Hai Rui (bus route 2, 16, 19), who was an official and statesman during the Ming Dynasty. Both places are culturally and historically interesting – they are also oases of calmness.
Heading south to Sanya
Sanya is unfortunately on the opposite end of the island. However, you can opt to travel there directly via Hong Kong or Taiwan, as Sanya has its own airport. Alternatively, you can take a four-hour bus ride from the capital. I chose the latter and actually got a fairly good impression of the island's countryside. Most of Hainan's interior is occupied by forest, as all the major cities are spread along the coast.
Enjoying Sanya isn't very difficult, as a tropical coastline with 20km of sand beaches, lush and rich nature as well as a few cultural highlights offer plenty to see. If you only have time for one place of interest to visit, you definitely need to visit the golden beach of Tianya Haijiao. It is simply incredible. The crystal blue waters and the tall mountains on the other side of the bay had me instantly falling in love with Hainan.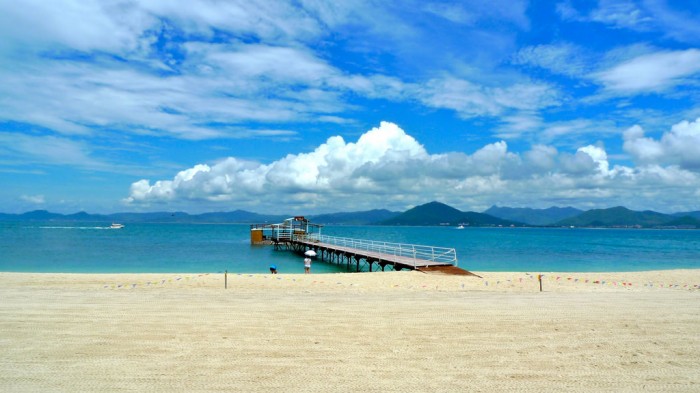 Image credit: kohseesu
Normally, you would expect crowds of people gathered at the beach, wanting to see the same thing as you. But that was not what I experienced in Sanya. I could almost count the people on the kilometre-long beach. As you might be easily spotted as a foreigner and tourist, you will probably be approached by some locals, wanting to sell you seemingly authentic pearls. Although I am not an expert on the subject and the pearls look real, they are not – so don't waste your money.
Get there before it's too late
A potential market never goes unnoticed in China. Although there aren't many tourists frequenting Hainan at the moment, the Chinese government has already established plans to develop the island into an international tourist destination by 2020. This will most likely include higher prices, more hotels, and a possible destruction of her beautiful nature.
Currently, the government encourages tourists to visit the island and provides a tax refund on luxury items. This offer is already leveraged by many Russian tourists that you will undoubtedly encounter during your stay in Sanya.
What else?
It is fairly difficult to cover all, but one of my favourite spots was the Guanyin statue, located directly by the sea. The Nanshan temple is home to the 108-metre high statue of the Goddess of Mercy – Guan Yin, who apparently guards the island from ever-so-present typhoons. You might even see the statue when you fly into Sanya (I didn't).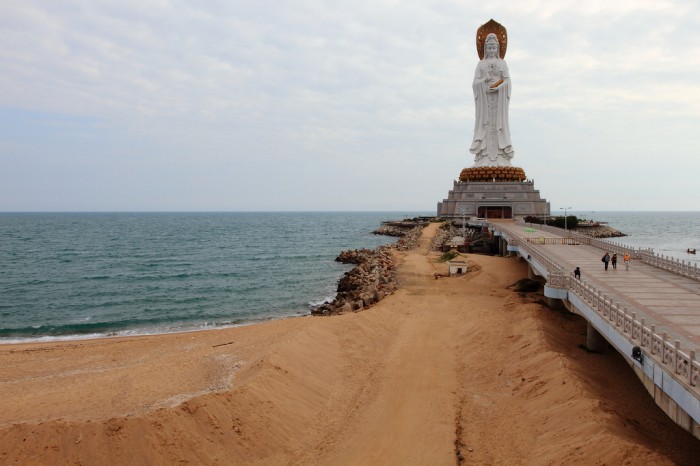 Image credit: Vincent Miao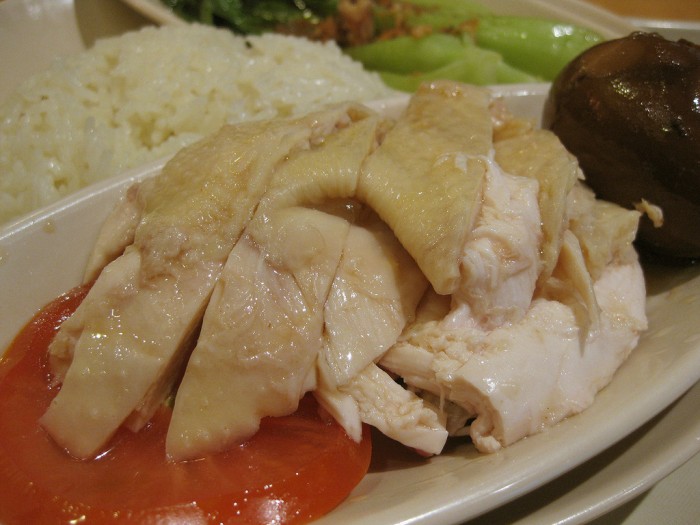 Image credit: Herman Saksono
Of course one has to also indulge in food while in Hainan. While both Haikou and Sanya (especially the hotels) offer plenty of choices, you should try some of the following specialities: Dongshan Mutton, Jiaji Duck, Wenchang Chicken, and the famous Hainanese Chicken Rice. No matter what kind you are used to from Singapore, the local version on Hainan island will be different, as the preparation method for the chicken stems from here, but the way of cooking the rice was actually developed by Hainanese people that migrated to Singapore and Malaysia.