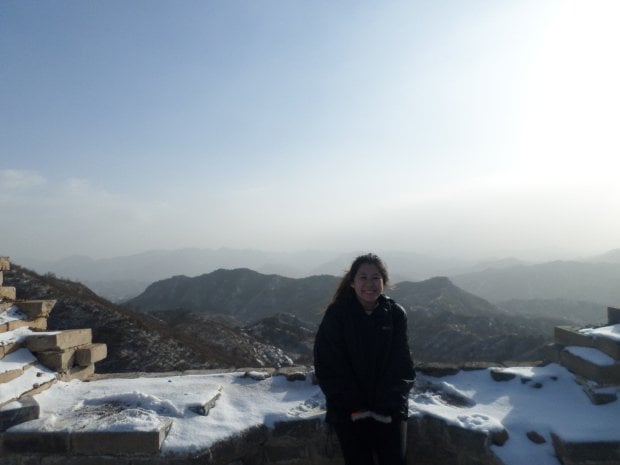 So I went Beijing and Hohhot (Inner Mongolia) last December with Nick for a short 9-day holiday.
Also read: Europe Destinations for the Budget Conscious in 2015
"WHY CHINA?!!!!"
This was the common response we received when we told everybody we were going to China. I can understand why. We, especially Singaporeans, always thought China is not fun, not clean, not cool, uncivilised, no Facebook, no Instagram, no Google, and everything bad. But seriously, ENOUGH OF THIS MISCONCEPTION!
China is interesting. It was more than just exciting. This place has the ability to make you absolutely mad. One moment you can fall in love with this place and another moment you can hate this place so much such that you promise yourself you are not coming back here again. I had so much fun here throughout my entire trip! So I truly hope people can come here with an open heart and open mind to fully appreciate what China got to offer. Why Beijing out of so many places in China? The answer is pretty simple. Because we want to climb the Great Wall. I think this is the strongest reason to justify why we came here.
But why Inner Mongolia? It was actually impromptu. We only thought of it on the day we were flying over to Beijing, emailed a Mongolian hostel we found on hostelworld and confirmed it. So hell yeah Mongolia, we just thought going to a desert and a grassland in a winter is cool so we went for it and DIDN'T REGRET IT AT ALL EVEN THOUGH IT WAS FREAKING COLD! I GOT SO MUCH TO SAY ABOUT THIS PLACE! Hold your horses!
1. Getting the right ticket
a. Flight
It was my first time booking an air ticket via Expedia and I loved it! I managed to book a 2-way ticket via Cathay Pacific at only SGD496! The market rate during that time was all above SGD500 and to get a ticket under SGD500 was definitely a steal! So if you are looking for cheap ticket, you can try Expedia.
b. Train
We took an 8-hour train ride to Hohhot, Inner Mongolia! It was my first time taking a hard sleeper and wow what an experience! The 2-way train ticket from Beijing to Hohhot cost us CNY335 (SGD67) which is super reasonable. I love train rides because they do not only bring us through the beautiful valleys and mountains that are usually inaccessible on roads, they also bring people together! Train rides are good platforms to meet new people and locals so don't be afraid to smile and say hi!
We had our fair share of amazing race moments and ran our lungs out with our backpack only to find out that we missed our intended train ride by only a few minutes! 🙁 Tip: PLEASE ARRIVE AT THE TRAIN STATION 30 MINS BEFORE DEPERATURE! I cannot emphasise how important it is to be early here. The crowd in train station during peak hours is insane! So carrying your backpack and making your way out of the crazy crowd is a life skill in China. Also, check which train station are you departing from. There are plenty of train stations in Beijing; Beijing West Station, Beijing Railway Station, Beijing North Station and Beijing South Station so make sure you double check the station! The security checks are very strict here so expect queues. And the boarding gate closes 5 mins earlier and the train officer will not let you in even if you beg and cry and tell him you need to board the train. Yes we tried. So be early!
But if you unfortunately miss your train like me, FRET NOT! You can change your train schedule to a later one in the ticket office (due to availability), not much additional costs required. We changed 2 tickets for additional CNY12 (SGD2.6) and ended up taking the 3.30pm train and reached Hohhot at 11pm. Lucky for us, our host picked us up from the train station so we don't have to find the hostel in the middle of the night. So I would say this is a blessing in disguise!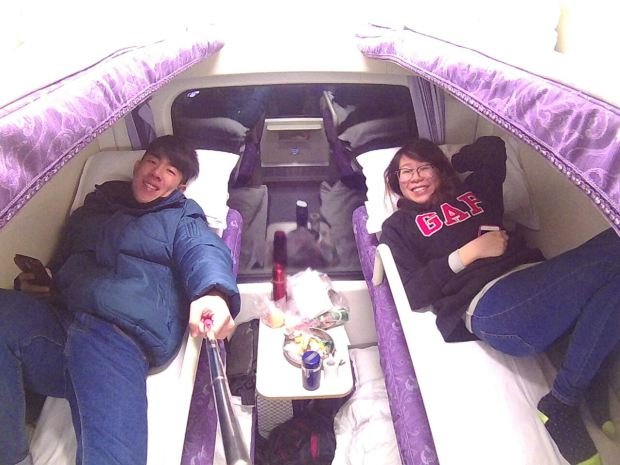 2. Getting a shelter
a. Beijing
So this time around, we decided to try out hostels! In Beijing, we stayed in Beijing Downtown Backpackers Accommodation. We love this hostel because it is:
1. Conveniently located along 南锣鼓巷(Nan Luo Gu Xiang) – It is a well-preserved ancient town in Beijing. It is also one of the most happening streets and has the best pubs/night scenes in Beijing. Also, it is relatively near to all the attractions like 后海 (Huo Hai) and 什刹海(Shi Cha Hai).
2. Affordable – For a double room, we paid CNY180 (SGD36) for one night. So staying there for 4 nights cost us ONLY CNY720(SGD144). One person only pays SGD72 for 4 nights which is pretty okay to me AND THERE IS FREE BREAKFAST SERVICE! I APPROVE!
3. Provides awesome travel consultations – We even booked our train ticket from the hostel at a very low admin fee. It really saves us a lot of hassles going down to the train station just to purchase the ticket. They also offer great tours like camping at the Great Wall etc.
4. Relatively well-facilitated – We have our own toilet YAY! The heater is quite a bitch sometimes but other than that, I can't find any fault about it. The common area is quite cosy and well-decorated! There's also a rooftop garden where travellers gather around with beers and chill out.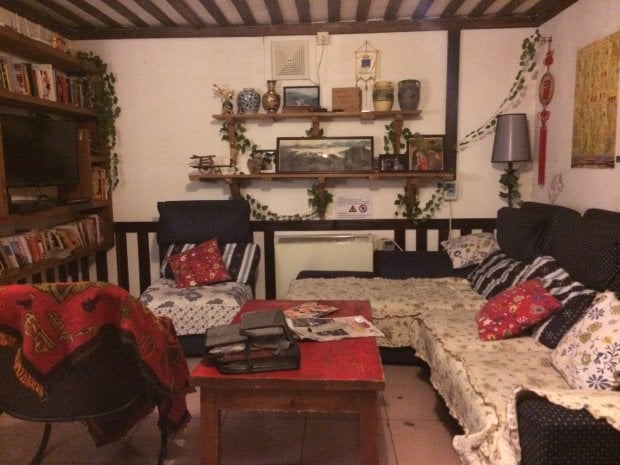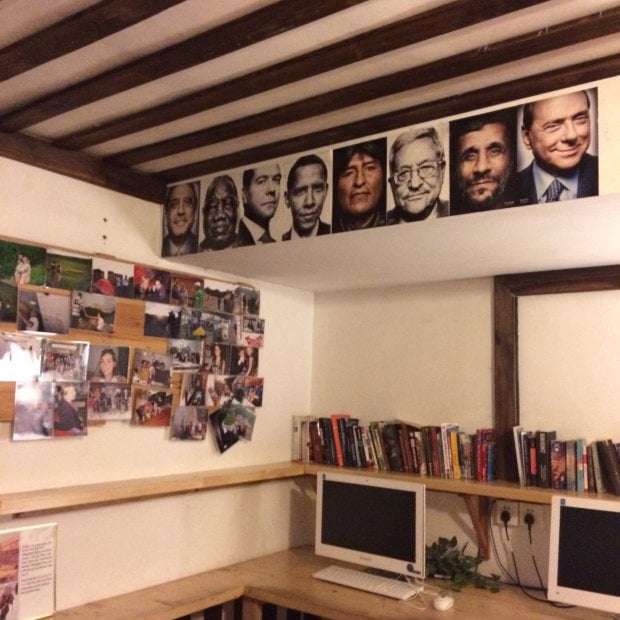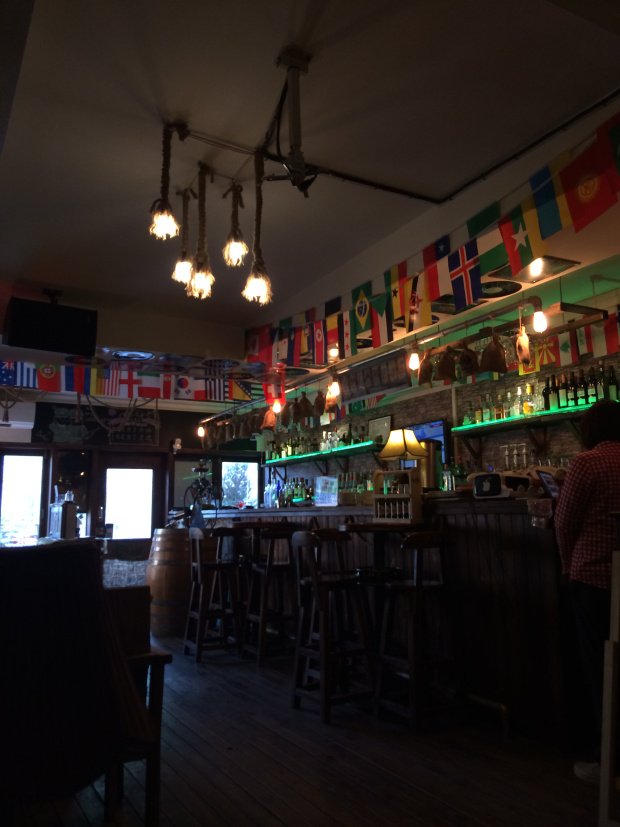 b. Hohhot, Inner Mongolia 呼和浩特
We stayed in Anda Guesthouse in Hohhot and this is by far the best hostel I ever stayed! *insert hearts*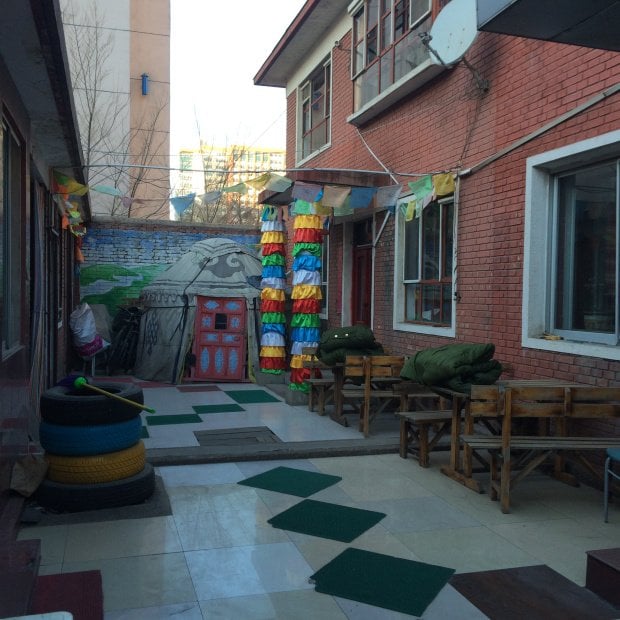 WE LOVE THIS HOSTEL BECAUSE
1. We felt at home – It is a family-run business and everything just feels really cosy and comfortable here! The friendly staffs and the boss live here too and this made our stay here really pleasant because we spent time interacting with each other! We couldn't decide if we should really travel to Inner Mongolia because of the weather condition so I emailed Yongli (one of the staff) who responded to my email promptly. Keeping in mind that we only have a few hours to confirm everything, her quick reply gave us so much assurance and information so we decided to go for it. We only booked everything just few hours before we flew, just how impromptu this Mongolian trip was but it was the one of the best decisions ever made. Our host which we called him 大叔 even invited us to drink with his Mongolian friends and bought us supper! Yes the drinks are legit Mongolian white wine (Baijiu) dayummmmm! 大叔 even promised to give us a FOC tour to grassland if we visited again!
2. Affordable – We paid CNY180 (SGD36) for a double room per night! Paying SGD18 per person to sleep in a super big room is absolutely worth it! The double room they offer is so huge that it can fit up to 4 people!
Not even kidding!

3. Well-facilitated – I love the common area here! It is super cosy which makes it a perfect place for people to hang out! Perfect kitchen! And perfect balcony to star gaze! Wifi is stronger here than the one in Beijing. The room is so cosy that it almost felt like my own room! Bike rental for free too!
4. AWESOME TOUR PROVIDED – Their tours are opened all year round! How awesome! You don't worry if it is available in winter because it is!!! AND GUESS WHAT, 大叔 AND YONGLI ARE OUR GUIDES FOR THE TOUR! They were the ones who drove us around, ate with us, played with us and even slept with us when we were in the grassland! It was like a road trip with friends! The tours they provide are authentic! Trust me, it is not the normal grassland tour travel agencies provided! I mean seriously, the real Mongolian Ger has no toilet. So if the one you visited has a toilet, it is probably catered for tourists and not so authentic.
5. I will want to go back again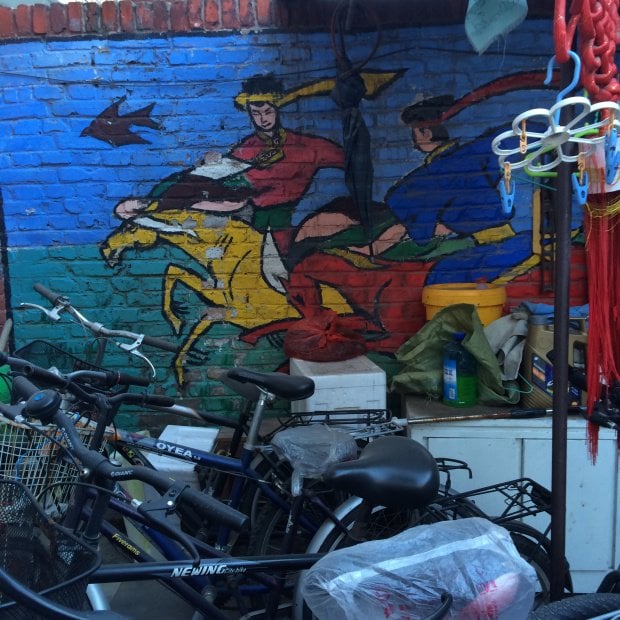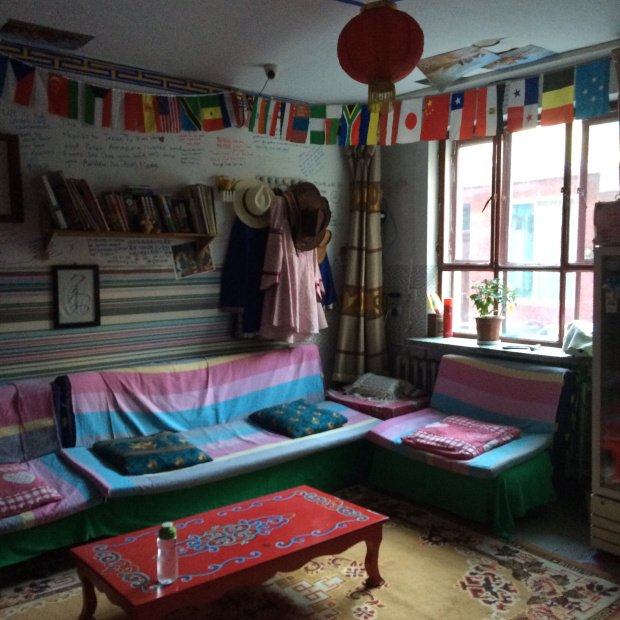 3. Getting around
YOU NEED VPN IN CHINA! SUPER ESSENTIAL! As facebook/instagram/google are banned in China, you need to download VPN (Virtual Private Network) so to gain access to these sites! It was so funny we got lost because we couldn't access Google maps. I had to resort to Baidu (Chinese Google) to research on how to climb over the Great Wall. Got to say my Chinese is not too bad after all 🙂 I used Onavo and it worked pretty well. Many of the VPN apps have free trials up to certain MB/days so download many VPN apps (5-6) just in case one fails, you still have another one. Download them before you are in China.
Getting around in Beijing is not as easy as we thought. We thought that we can get around by walking given that the attractions are clustered in one area on the map. But in reality, it can be quite far away. On the map, Jingshan Park and our hostel are really near but in reality we got lost and realised it was quite far away to walk. Tip: Take the subway. One way ticket costs CNY2 (SGD0.40) so just take. The subway in Beijing is one of the best in China; well-developed and quick. But the train can't seem to hold its massive population so it can be really squeezy! I MEAN PEOPLE REALLY SQUEEZE THEIR WAY THROUGH EVEN WHEN THERE IS OBVIOUSLY NO SPACE SO BE WARNED.
You might want to wear a mask because the PSI can go up to 800 in Beijing! It is known to the world that you can hardly see blue skies here in Beijing. It is always gloomy and grey but I guess we were lucky because there was only one day that the sky was grey when we were in Beijing!
a. What to do / where to go in Beijing
1. The Great Wall of China
"He who has never been to the Great Wall is not a real man." Nuff said. I can't think of any other reasons why you shouldn't climb the Great Wall. There are many sections of the Great Wall and I highly recommend Jin Shan Ling. It is 3 hours away from Beijing and we have to climb and hike our way up to the top! Unlike other sections of the wall that are crowded with tourists and vendors, this stretch of wall has very few people, and the stones that make up the ruins are hundreds of years old, in its original condition. The views are some of the most breathtaking that you'll see in all of China. We were lucky enough to see the first snow here and it was so beautiful! We took up the tour with our hostel and paid CNY280 (SGD56) each! In my opinion, I think the money was well-spent because the entrance fee, English-speaking guide and transportation (6 hours to and fro) are all paid for.
Also read: Unknown Secrets Behind the 5 Great Wonders of the World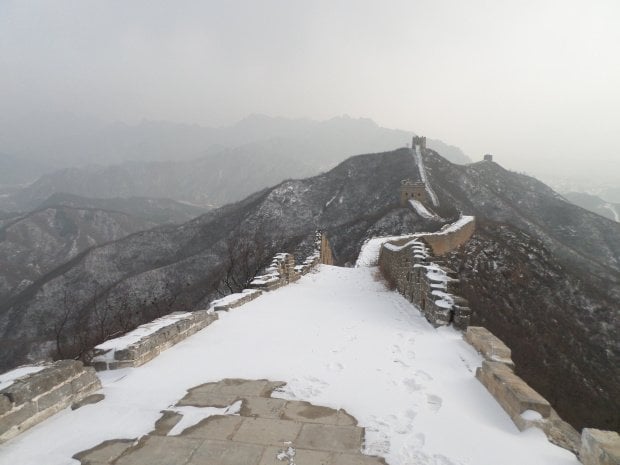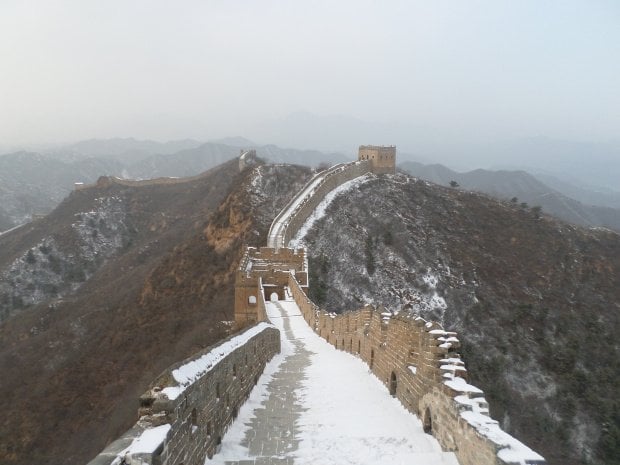 2. The Forbidden City 故宫
The Forbidden City was the Chinese imperial palace from the Ming dynasty to the Qing dynasty. Okay legit reason to pay the admission fee of CNY20 (SGD4) to go in. Tips: KEEP INSISTING THAT YOU ARE A STUDENT OR PREPARE TO PAY CNY40 (SGD9) TO GO IN. The Chinese are really smart! They built the Palace right smack in the middle of the entire Beijing so it is not hard to find. The entire palace is so big and massive but what was opened to the public is just the middle stretch. The sky was so gloomy that day yes that is Beijing for you. It was really rare to get blue sky here because of pollution so wear a mask. Stick behind a tour group to listen to explanation. This will help you save some money for more food.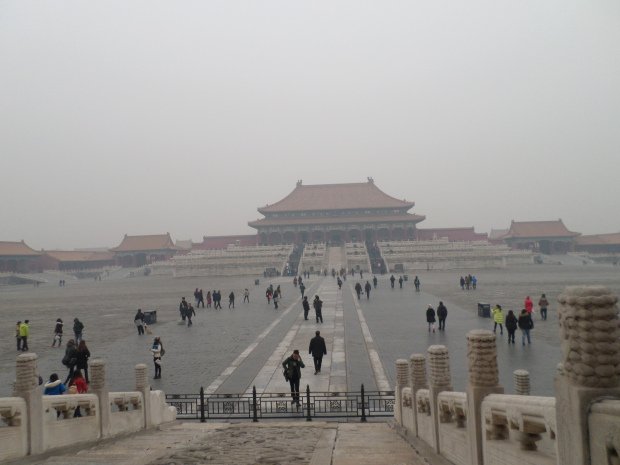 3. Jingshan Park 景山公园
Get the best view of Beijing up here! This hill overlooks the whole Beijing city so make sure you catch the sunset here! It is just directly opposite the exit of the Forbidden City so visit both on the same day. Admission of CNY2 (SGD0.40) REALLY BUMMED THAT WE CAN'T SEE THE SUNSET BECAUSE THE FOG WAS SO BAD 🙁 But making up to that, we managed to find a way to channel our disappointment. There is this little photo booth on top of the hill and we got to dress up in ancient Qing costume! The costume rental was only CNY10 (SGD2) so make sure you get some wacky shot!
Just look at how bad the fog was!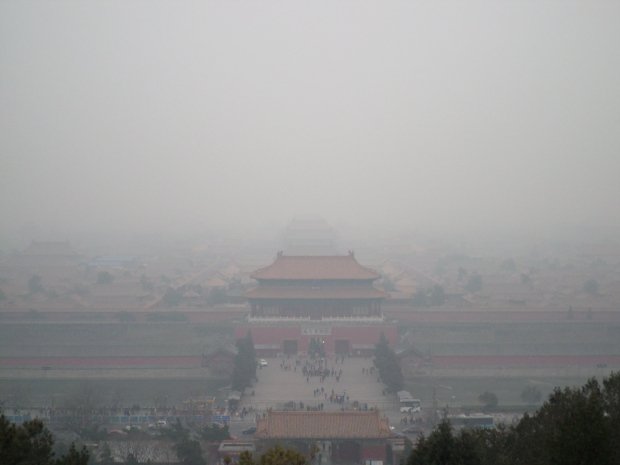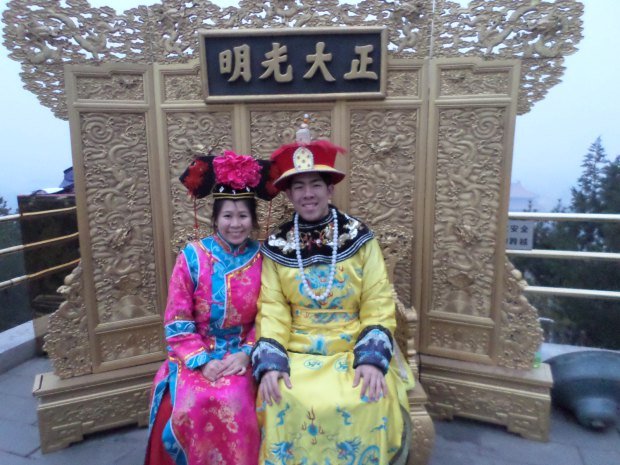 4. Tian An Men Square 天安门
The infamous Tiananmen massacre happened here in 1989 🙁 Even if you are not a history junkie like me, do visit this square because this is the world's largest city square! The square is surrounded by Soviet-style monuments and government buildings and also museums! There is a flag raising and lowering ceremony at dawn and dusk at the north end of the square. There will be security checks at the entrance of the square and you have to show your passport so bring your passport! Spot Mao in the square too!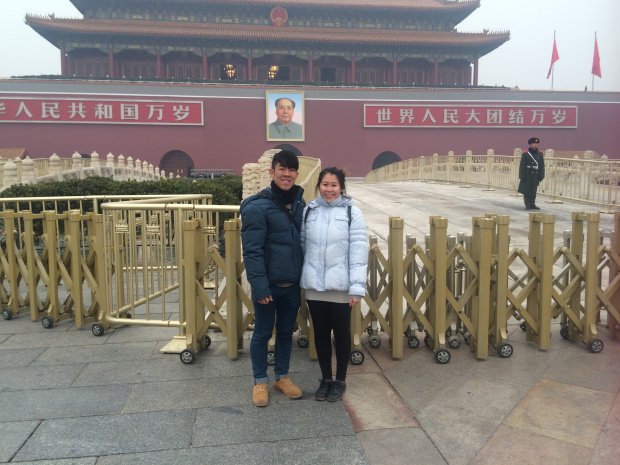 5. Temple of Heaven 天坛
The Temple of Heaven literally means the Altar of Heaven. The complex was visited by the Emperors of the Ming and Qing dynasties for annual ceremonies of prayer to Heaven for good harvest. Admission fee of CNY50 (SGD11). And yay for blue sky that day! *hearts*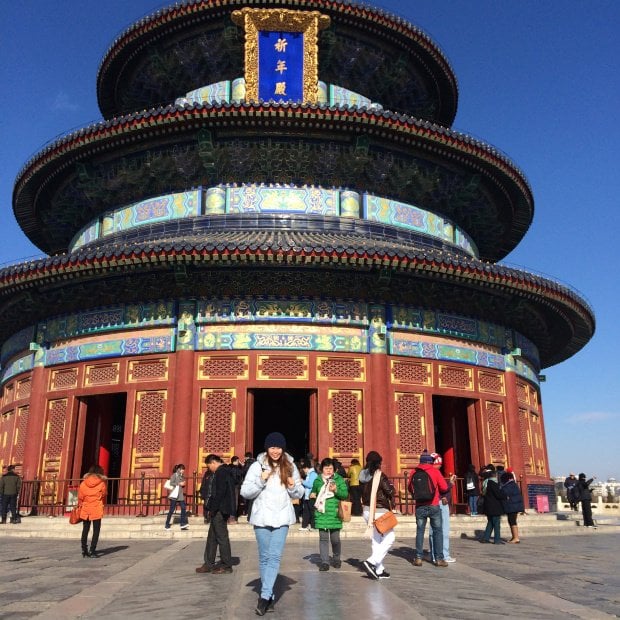 6. Yong He Gong (Lama Temple) 雍和宫
Lama Temple is a temple and monastery of the Geluk School of Tibetan Buddhism. Admission of CNY25 (SGD5.5)! It houses the 26m tall White Sandalwood statue of the Maitreya Buddha and was filed for Guinness World Record!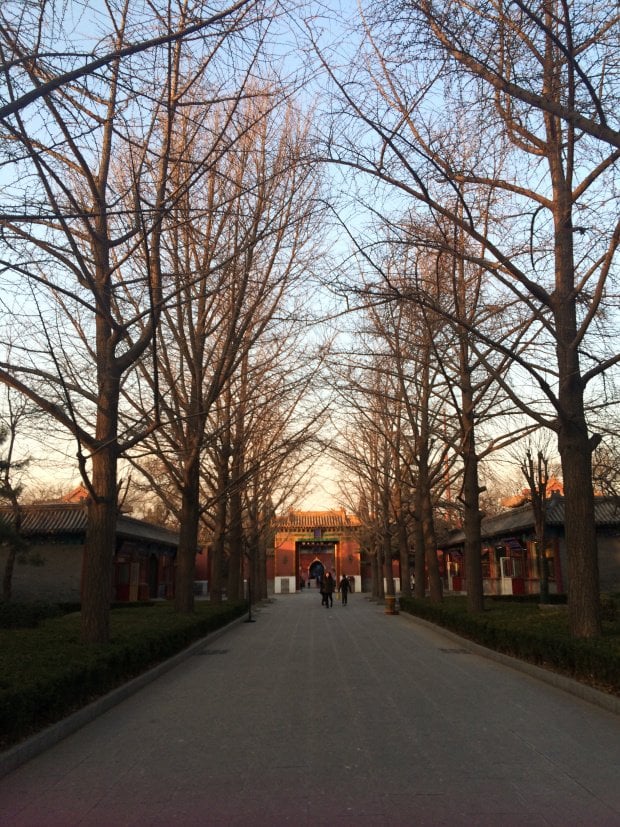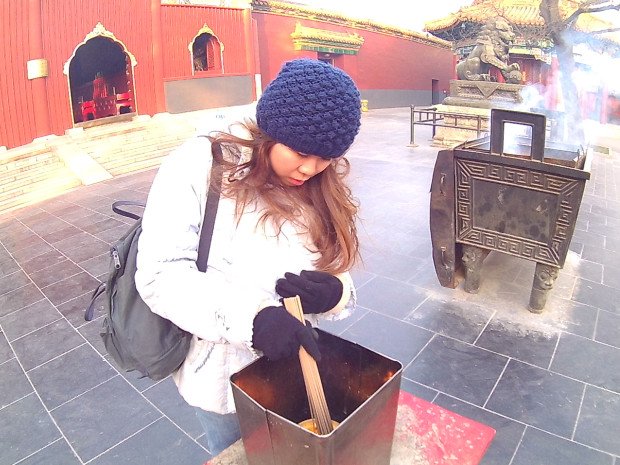 7. Hou Hai 后海
The hutong neighbourhood around Houhai has become known for its nightlife as many residences along the lake shore (frozen the time we were there) have been converted into restaurants, bars, and cafes. The area is especially popular with foreign tourists visiting Beijing and is also often visited by the expatriate community and the younger generations of locals. In the winter, the frozen lake is also opened up for ice-skating in the day!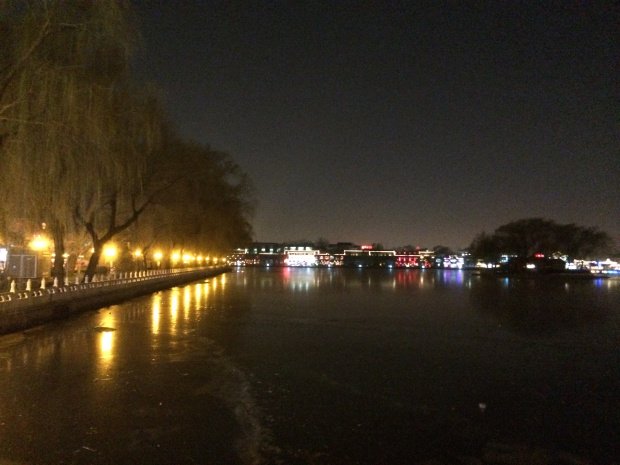 8. Eating street food and shopping along Dong An Meng 东安门, Wang Fu Jing 王府井, Gui Jie 鬼街, Nan Luo Gu Xiang 南锣鼓巷 & Shi Cha Hai 什刹海
ALL THE STREET FOODS CAN BE FOUND HERE! I personally recommend Dong An Men and Gui Jie! They are less touristy compared to Wang Fu Jing and Nan Luo Gu. Try the fried insect if you dare. I won't say it is very authentic though because it's pretty obvious it's built for tourists but then some foods are really good! Make sure you get your dose of 狗不理包子 (dumpling buns), 鲜爆肚 (boiled lamb tripe), 烤鸭卷 (duck roll), 烤冷面 (cripsy handwrap), 饺子 (dumpling), 炸酱面 (minced meat noodle) and all the foodies!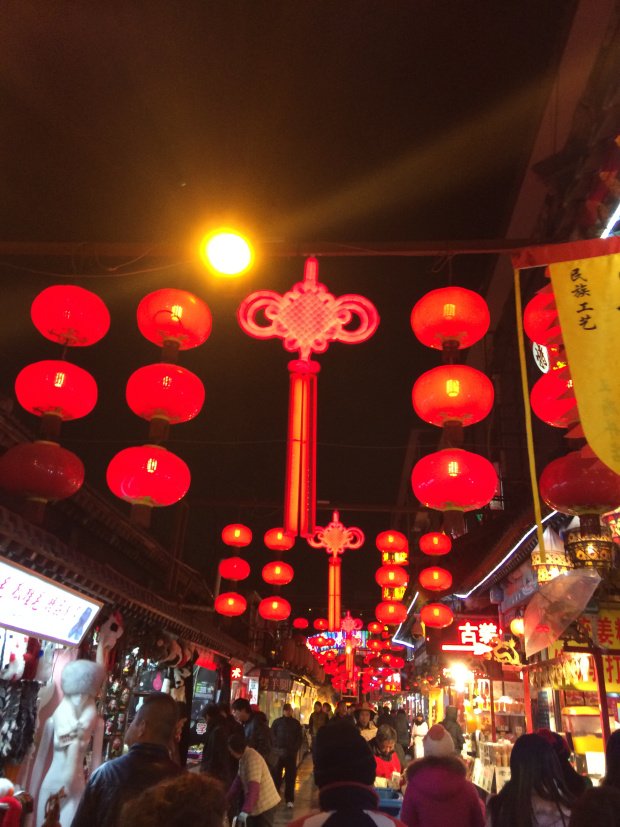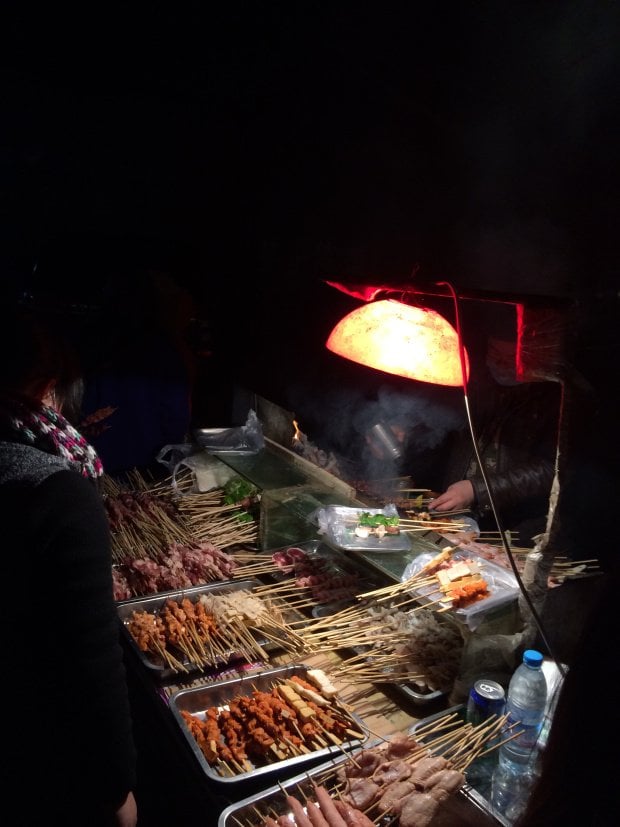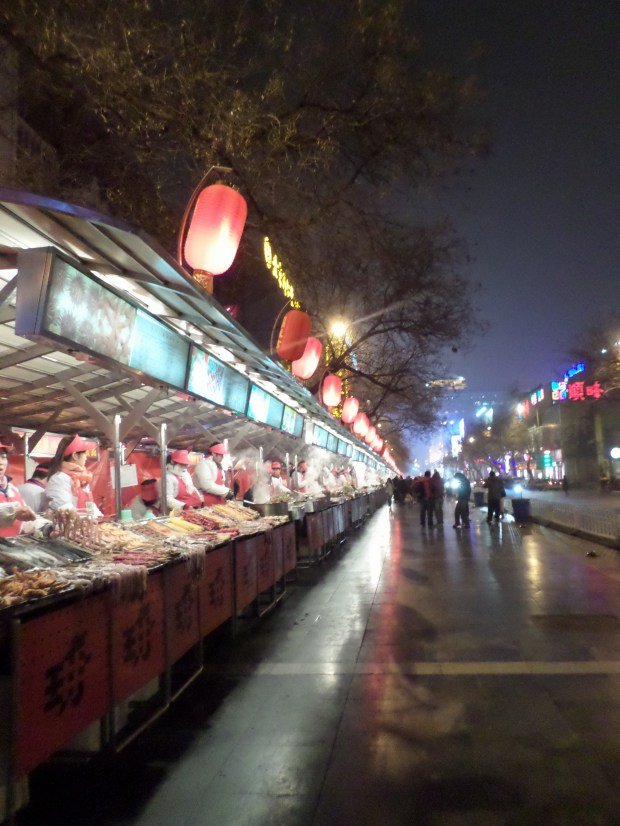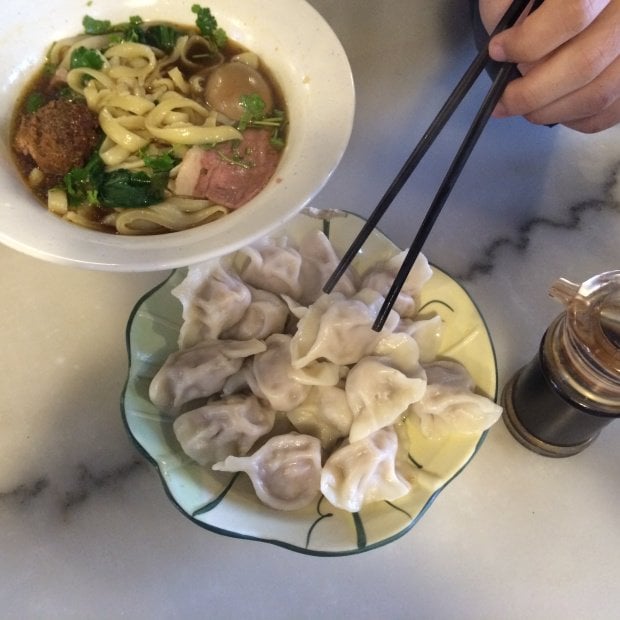 9. Strolling along Bei Hai Park 北海公园
Used to be an imperial garden and now a public park located near the Forbidden City in Beijing, it is among the largest Chinese gardens and contains numerous historically important structures, palaces, and temples. Admission of CNY30 (SGD7)! The structures and scenes in the Beihai Park are described as masterpieces of gardening technique that reflect the style and the superb architectural skill and richness of traditional Chinese garden art.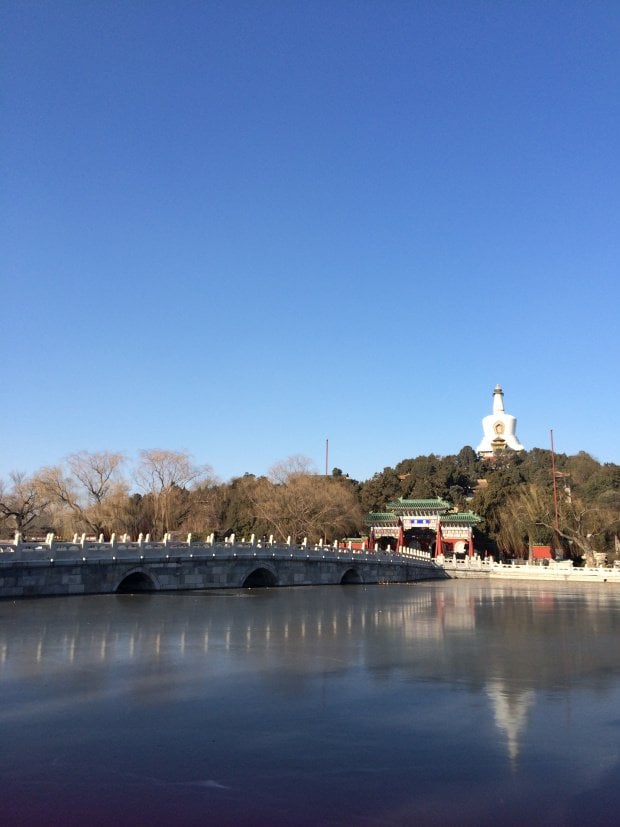 10. Getting lost in the cool Hutongs 胡同 and courtyards 四合院
Prepared to be amazed by what you can find in the hutongs! Graffiti, family-owned eateries, museums, gardens, vintage stores all between these amazing hutongs! There are also some ootd-worth taking spots here too! These hutongs are representatives of true Beijing culture that were built centuries ago. The lanes have their own layout and structure, and are closely linked. Because of the close proximity and high connectivity of every lanes, it makes it easy for local people to keep in touch with their neighbours. One can feel the community spirit; the deep and warm relationships among people. Make sure you check on your map when you are exploring the hutongs because it can get quite confusing.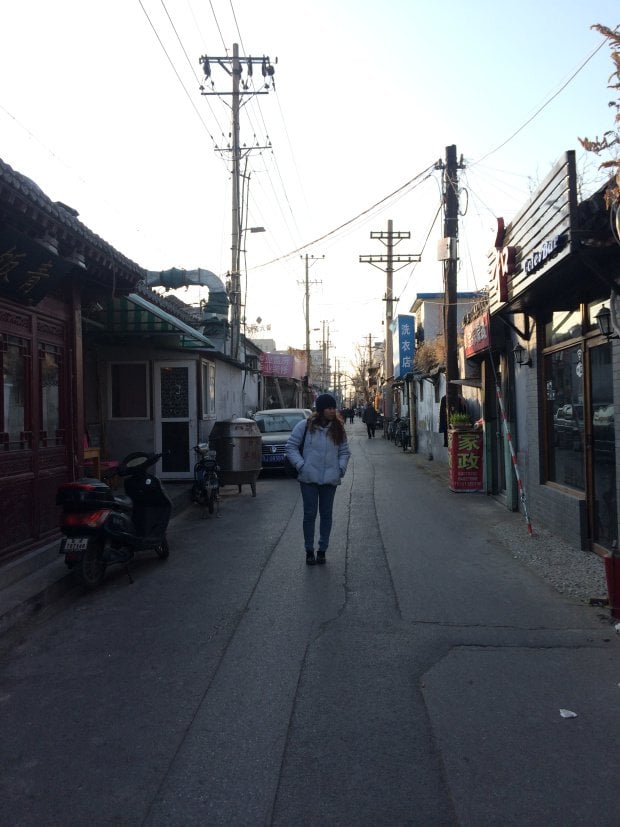 11. Eating Peking Duck / Beijing Kao Ya 北京烤鸭
It is almost a crime not to try the famous Beijing Roasted Duck here. Peking Duck is a famous duck dish from Beijing that is prized for its thin, crisp skin, with authentic versions of the dish serving mostly the skin and little meat, sliced in front of the diners by the cook. FYI Peking Duck doesn't originate from Beijing though. It actually came from Nanjing.
Two notable restaurants in Beijing which serve this dish are Quanjude and Bianyifang, both centuries-old establishments which have become household names, each with their own style.
Also read: Peking Duck Museum Opens at Beijing's Quanjude Restaurant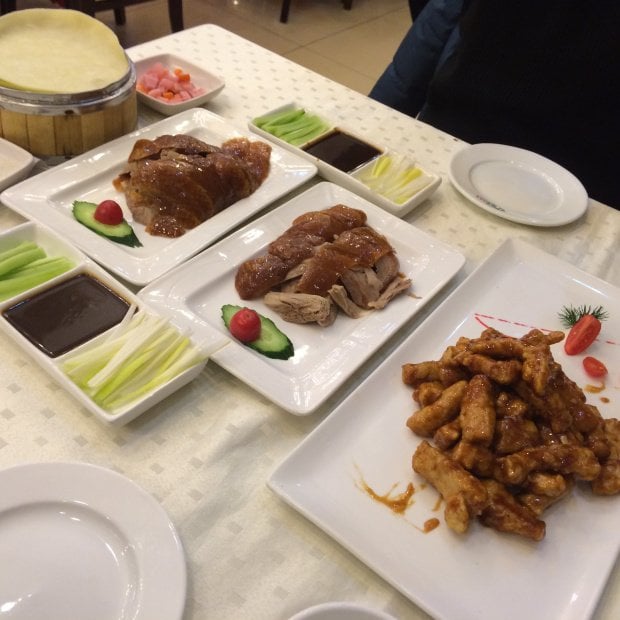 12. Artsy fartsy in 798 Arts distinct
I have to admit that I am not very appreciative of these art pieces but still impressive to look. There are plenty of art galleries and studios around this area. Cool graffiti too.
13. Long Qing Gorge 龙庆峡
Closed in winter! It is open from 09:00 ~ 17:00 (10 April to 15 November, and 15 January to the end of February) What a pity. We wanted to visit this place only to find it closed in the period we were there 🙁 This scenic spot is famous for its gorge. Many compare the scenery of the gorge to the Three Gorges of the Yangtze River, but its mountains are much steeper than those along the Yangtze. The scenery also resembles the Li River in Guilin, but the water here is much clearer.
There are many other activities for people to do here. Bungee jumping from a hill / taking cableway to appreciate the blue sky and the clean water / boating by yourself on the river. These items are charged independently for different prices. In addition, it is special for its ice lantern show in winter from January to February.
14. Xiang Shan Gong Yuan 香山公园
Catch the most spectacular autumn scene in Xiang Shan Gong Yuan. The red leaves blankets over the mountains in the fall. Didn't manage to catch the autumn here.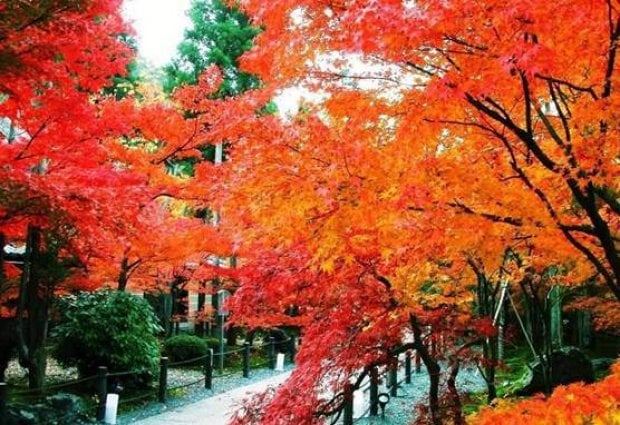 15. Shidu Nature Park 十渡镇
Another place we miss out this time! 🙁 Open from June 1st to October 10th only! It has the largest and most typical Karst valleys in north China and is the closest scenic spot of its kind to Beijing. The landscape here combines the majesty of north and the grace of south China so it is sometimes called the "Guilin of the North." Activities like extreme jumps, cliff parachuting, ropeway, crag climbing, sky gliding, drifting, boat pedalling, canoeing, vehicle surfing, motor boating, sand beach bathing, swimming, horse riding and boating are found here!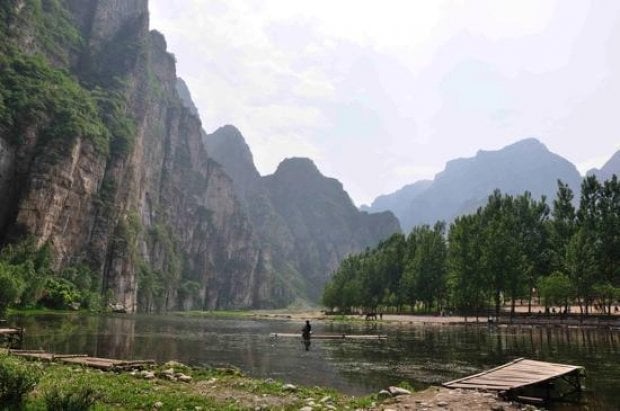 b. What to do / where to go in Inner Mongolia
1. Go to a grassland and desert tour
I am so excited to write this! We engaged our hostel, Anda Guesthouse for their tour packages. So we went for a 2D1N tour conquering Ximularen Grassland and Kubuqi Desert! We didn't know that the tour is open all season so we actually emailed Yongli (one of the staffs) to check! She replied really promptly and gave us all the information we need! The tour is priced accordingly to the amount of people in the tour. The more people there are in the tour, the lesser we have to pay! Thankfully for us, there was another guy (and coincidentally a Singaporean) who went for the tour. So 3 people and hence a lot cheaper. We only paid CNY1020 (SGD205) instead of CNY1170 (SGD230) if there is only the both of us going. If there are 4 people or more, it will be CNY870 (SGD174). Tip: Jio / get more people to go on the tour with you! This price is inclusive of the transport, accommodation, food aka everything.
What I like about this tour is that it is like a road trip! Our driver was the hostel's boss where we addressed him as 大叔 and Yongli tagged along too. They even brought us a thicker coat because they said our coats were almost useless in that climate. It was so cosy that it almost felt like a family trip. And off, we drove along the mountains and valleys and into the grassland.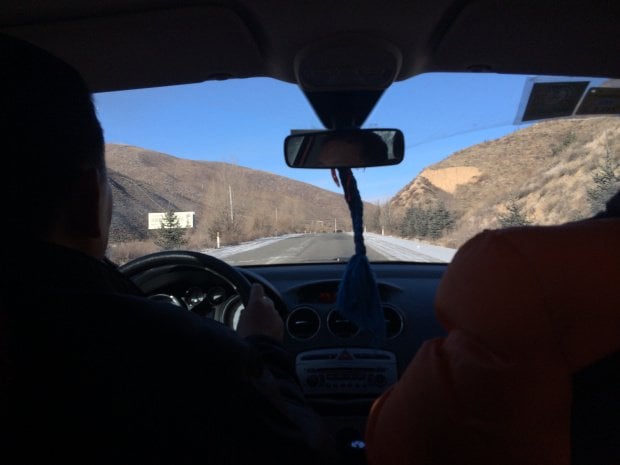 We heard some of the grasslands were covered with snow and we're really hoping the section of grassland we were visiting were not covered with snow but nooooo 🙁 It wasn't the smartest choice to go to the grassland in the winter because it was so cold; so cold that the water in the boot froze. All the grasses were dead so we couldn't see the lush patches of grasses. But nevertheless, the experience was amazing and we are definitely coming back in the summer where the grasses are healthy and the weather is much more pleasant.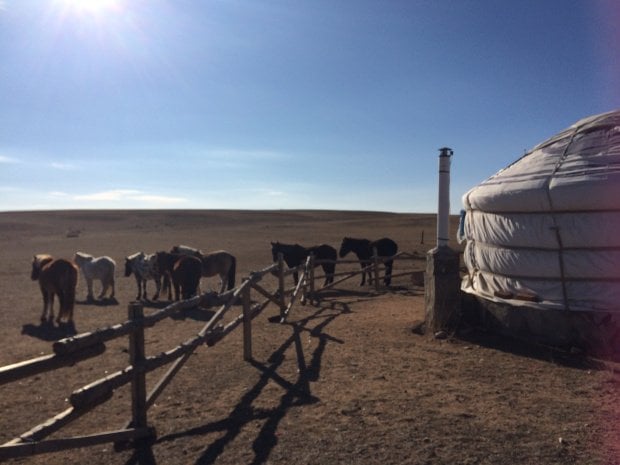 We slept in an authentic Mongolian yurt! I MEAN HOW COOL IS THAT! The yurt was heated up so when we were cold, we just rushed into the yurt for the warmth! And yes, it is open concept here. So if you need to do your business, you will have to find a bush and do it there. The portion of the grassland we were staying belongs to a Mongolian family so they were the ones who cooked our meals and explained their culture to us.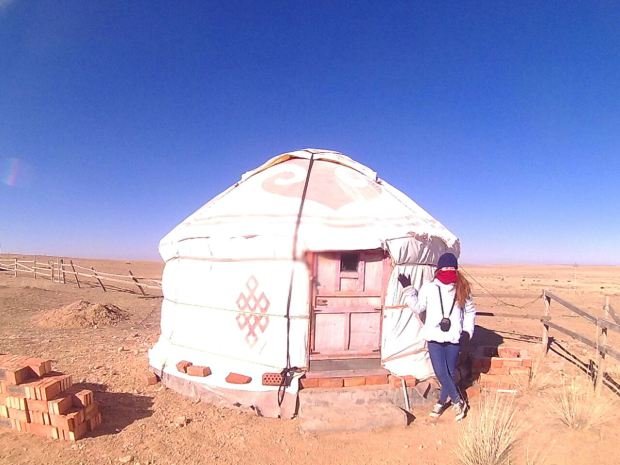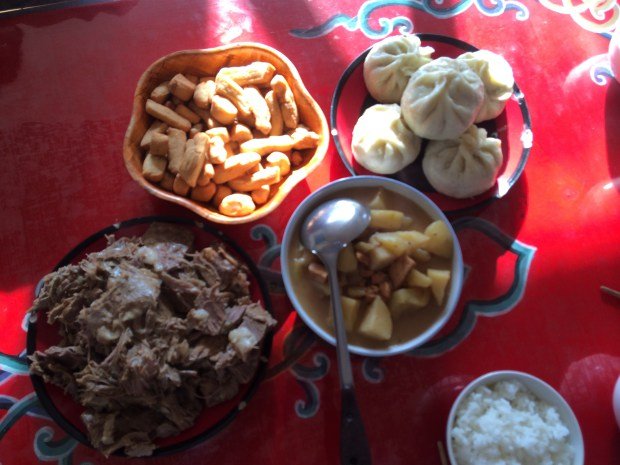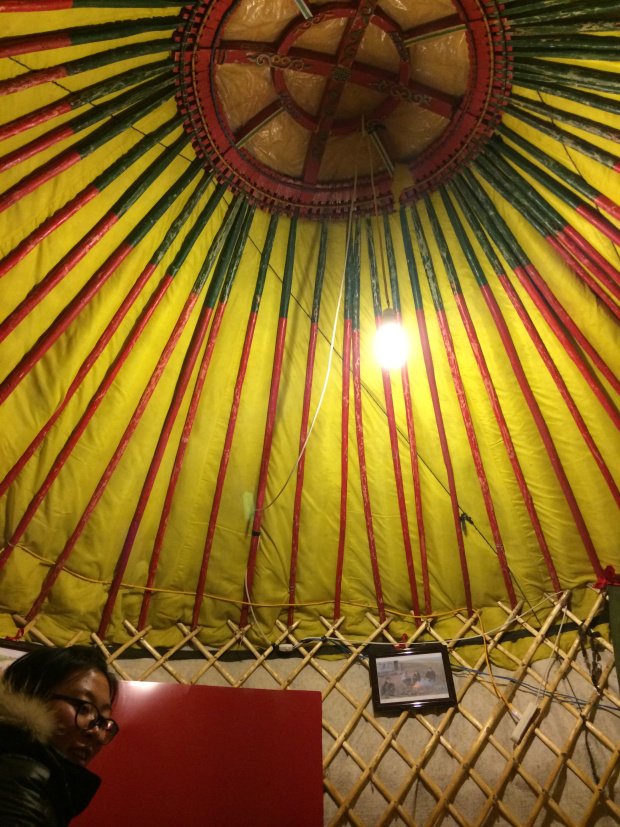 So basically we just spent our day pretending to be shepherds, gathering the pile of sheep dunks for fuels, playing what the Mongolians play and waiting for the sun to set. We basically have the whole grassland to ourselves and the grassland is endless; literally no end to it, just sky and the grass. It was so beautiful that I can just stare into the endless space and seek deep within myself. When the night fell in, the stars painted the sky. The sky was so clear and the stars so bright! We also spotted the sun not in the sky but across the horizon. It was so cold; almost unbearable but I was counting my blessing for every moment spent watching these beautiful stars dance. To be able to stargaze in the grassland was one of the bucket lists I set for myself and yes I did it 🙂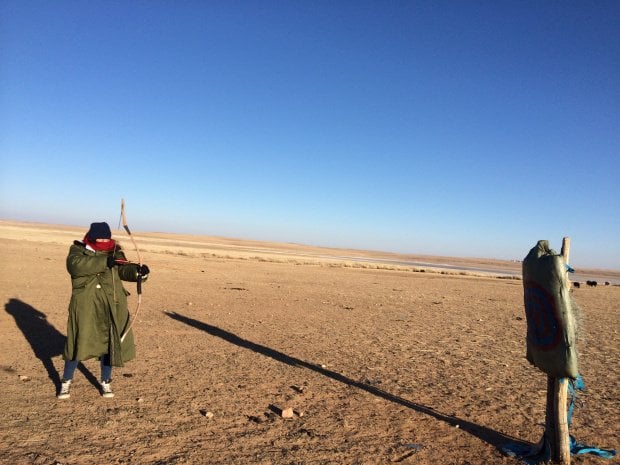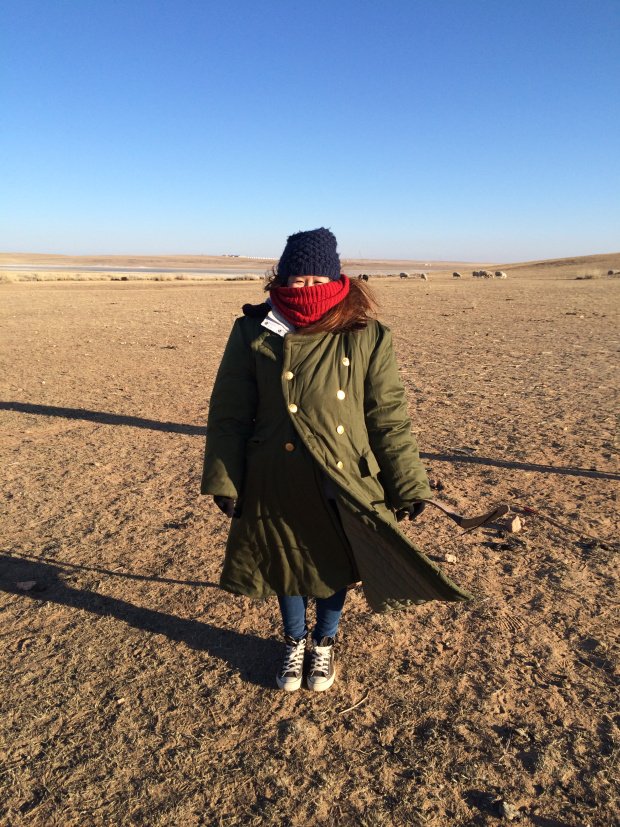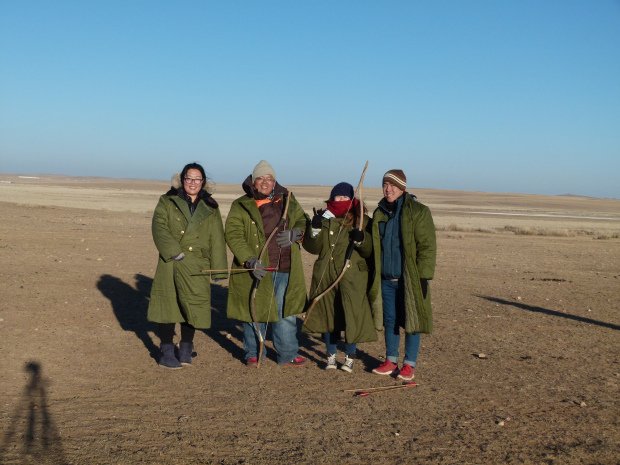 Then we woke up in the morning to catch the sunset and oh boy, the sunset was the most amazing thing I have ever seen. I was utterly speechless.
Also read: 15 Best Places to Watch Sunset in Asia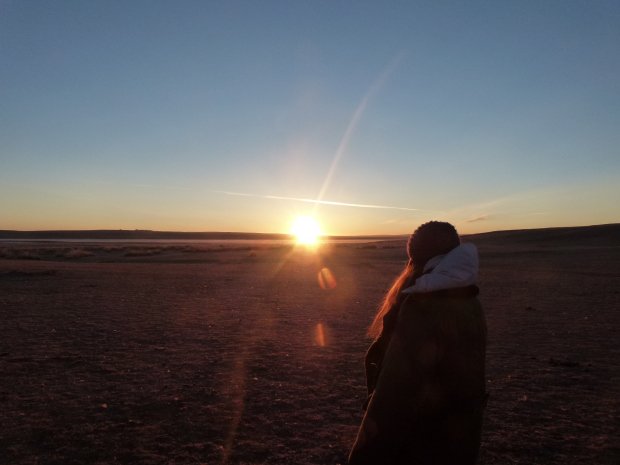 Then we set off for the desert! The desert was insanely windy so prepare your sunglasses because the sand will definitely fly into your eye. So plot set: cold and windy. I was a bit taken back by the sand because it flew into my pocket, my hair, my eyes and also my mouth. Not cool. But still, it was really cool to ride a camel and sliding off the sand dune. Remember to bring ziplock to protect your camera from the flying sand; it could damage your camera.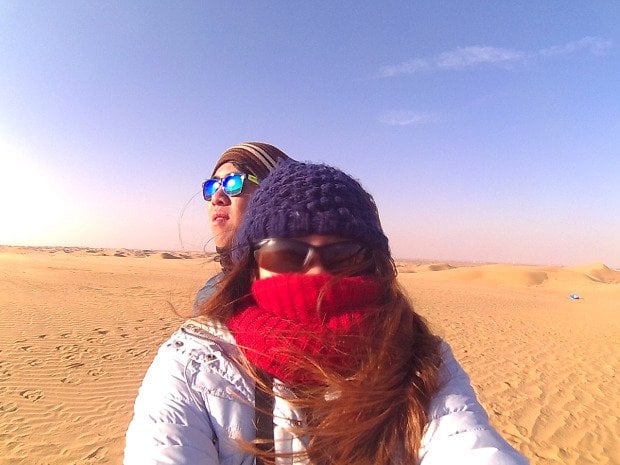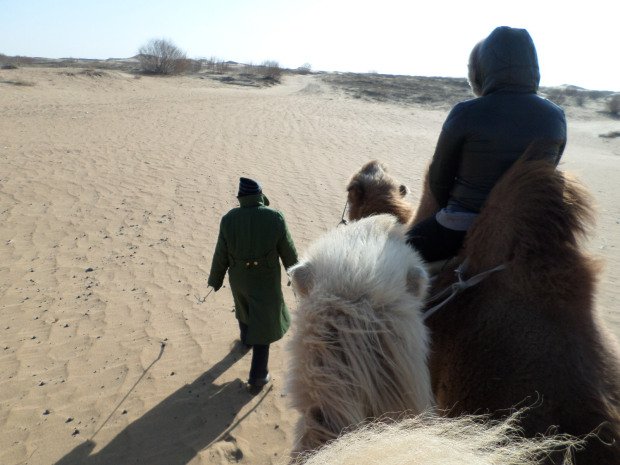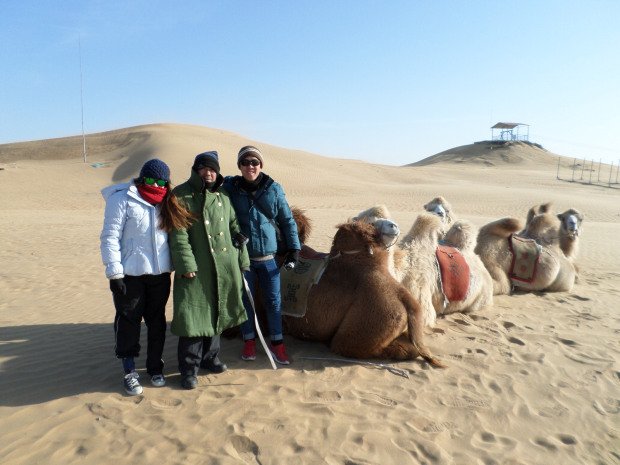 2. Eating the street food
Nuff said. In Mongolia, the main dish is meat; mainly lamb. The weather condition here is too harsh to grow vegetable so expect to see BBQ everywhere. The food here in Hohhot was ALOTTTTTTTT cheaper than the one in Beijing and best thing; it opened till midnight so we basically stuffed ourselves silly with all the awesome street food. Don't miss the grilled lamb chop and mutton! Honestly speaking, I don't really like mutton personally because there is this muttonish smell but I think the Mongolians handled the mutton really well. So I love it!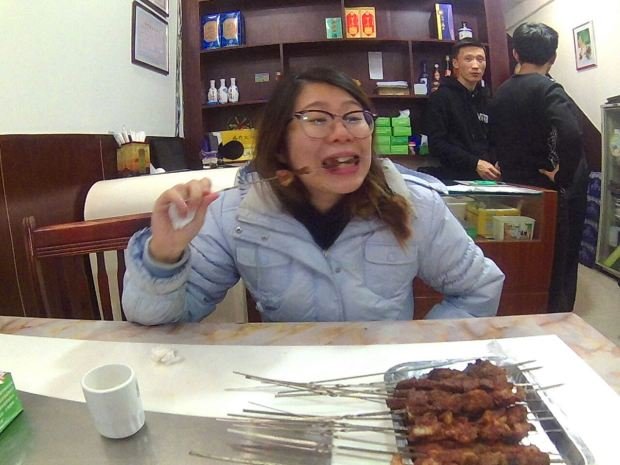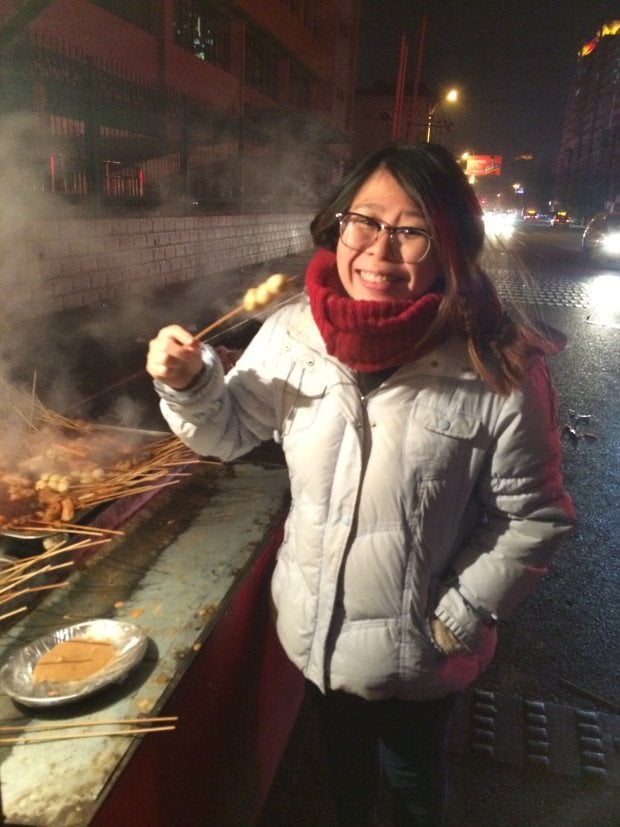 3. Mosques-visiting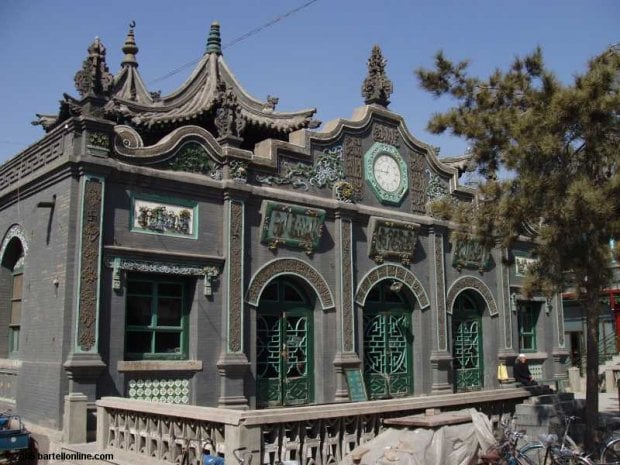 We didn't manage to visit one here because we were supposed to be here in the daytime if we hadn't missed our intended train ride. But the mosques here are definitely worth-visiting. Curious how Islam is spread to Inner Mongolia? Do check it out!
Yay finally finished blogging about this trip! This trip was one of the most exciting ones because we didn't do much planning beforehand but everything turned out well and we had so much fun exploring this part of China. As I said, China is really interesting so if you have the chance, do visit this place! There is so much of China to be explored and I am definitely coming back here for more! I love how astounding its history is and how every part of China has its own distinct identity, so really hoping to visit Xinjiang, Tibet, Yunnan and Chengdu next year!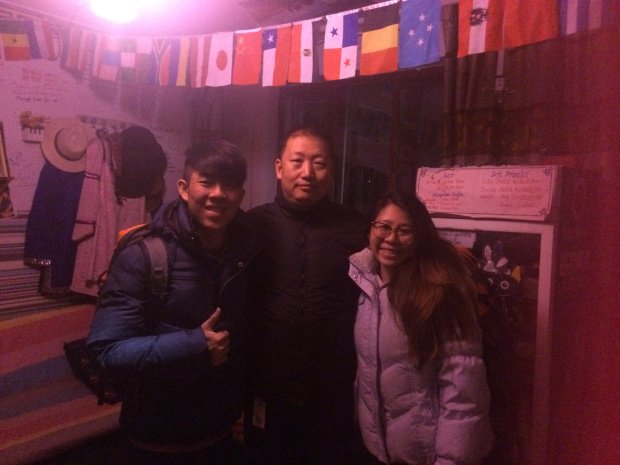 Chinese are one of the kindest and warmest people; their hospitality really made us welcomed. Our Mongolian hostel boss actually invited us to drinking session with his friends, treated us supper and promised us a FOC trip to grassland if we were to come back again. A simple 8 hours train ride earned us 3 handphone numbers from strangers who promised to be there whenever we need them. Hope this post does some justice to this interesting country and changes your impression of China 🙂
Also read: A General Guide to Turkey: SGD 1000 in 7 days
Contributed by buttergoesbudget.