Why stop at Tokyo when chasing cherry blossoms in Japan? Osaka, the vibrant metropolis of the Kansai region, has plenty of gorgeous sakura spots worth hopping on the Shinkansen for. Whether you're a first-timer who's clueless about where to find cherry blossoms in Osaka, or an experienced Japan-goer, this guide has something for you. Read on to learn where you can find the best Osaka sakura viewing spots, where to stay, and what to expect throughout your trip. 
Also read: 10 Best Airbnb Homes & Vacation Rentals in Japan for the Trip of a Lifetime
Top viewing spots for Osaka sakura
1. Okawa River
You might've already heard of sakura trains, but have you ever imagined sailing alongside rows of blush-pink sakura trees? The Okawa River is lined with more than 4,000 sakura trees, making it a prime spot for viewing cherry blossoms in Osaka. From Hachikenyahama Pier, you can take a 25-minute Sakura Cruise to admire these ephemeral beauties from the river, passing by famous sakura spots like the Osaka Castle and Osaka Mint. 
Best time to go: The 2023 Okawa River Sakura Cruise will operate from 25 Mar to 9 Apr. 
Opening hours: You can stroll by the river anytime, but the cruise will only run from 10am to 7pm. 
2. Kema Sakuranomiya Park
Kema Sakuranomiya Park stretches out along the banks of the Okawa River, so make this your next stop after taking the Sakura Cruise. Here, you can enjoy a tranquil riverside stroll under a dense canopy of cherry blossoms. Since the park is only a five-minute walk from Sakuranomiya Station, it's one of the Osaka cherry blossom spots you can't miss. 
Best time to go: Early April 
Opening hours: All day 
Also read: Cherry Blossom Season 2023: Must-Know Tips & Essentials
3. Osaka Mint
The Osaka Mint opens its garden to the public for one week every April, when the yaezakura trees on its grounds are in full bloom. During an event known as the Cherry Blossom Passage, a 560-metre-long walkway inside the garden will be adorned with over 130 varieties of cherry blossom. These varieties mostly fall under the category of yaezakura, which encompasses all cherry blossoms with more than five petals. 
Yaezakura come in many shades, from snow-white to dark pink, and resemble peonies with their lovely double-layered petals. Compared to the Yoshino cherry (Japan's most common variety), they bloom later in the year, from early to mid-April. So even if you come at the tail end of the Osaka sakura season, you can still catch these cherry blossoms in their full splendour. 
Best time to go: Early to mid-April 
Opening hours: 10am to 9pm (weekdays), 9am to 9pm (weekends)
4. Expo '70 Commemorative Park
The former grounds of the 1970 Japan World Expo, the Expo '70 Commemorative Park hosts one of the most spectacular Osaka sakura displays. Boasting more than 5,000 cherry trees of nine varieties, it's no wonder that the park draws crowds of picnickers every spring. In mid-March, you can already see the fuchsia kanhizakura here in full bloom. Soon after, exquisite Yoshino cherries transform the park into a pastel pink utopia. 
Those who come here for the cherry blossoms can also check out the park's iconic Tower of the Sun, a symbol of the 1970 World Expo created by Japanese avant-garde artist Taro Okamoto. Other landmarks include the Japanese Garden which showcases landscape styles from different eras, and the Expo 70 Pavilion, an original building from the 1970 Expo. There is also the Dream Pond, where visitors can paddle along while on a rental boat. 
Best time to go: Late March to early April
Opening hours: 9.30am to 9pm (during cherry blossom season)
5. Tsurumi Ryokuchi Park
Located in the city's Tsurumi ward, Tsurumi Ryokuchi Park is a botanical garden where you will find some of the most breathtaking scenes of cherry blossoms in Osaka. The park's scenic pond is surrounded by hundreds of cherry trees, which drop their pastel-pink petals onto its crystalline surface. While there, you can also stop by the park's Rose Garden, Windmill Hill, and Zen Garden. 
Best time to go: Late March to early April 
Opening hours: 9am to 5.30pm
6. Daisen Park
Just a 35-minute train ride from Osaka City, Daisen Park in Sakai holds 1,000 cherry trees which explode into full bloom in early spring. Complete your hanami session with a cup of matcha tea from one of the park's two teahouses, or wander around the park's charming gourd-shaped pond. 
Apart from its natural beauty, Daisen Park is home to many cultural treasures worth exploring. The park holds 49 tombs belonging to members of the elite from the Kofun era (300-538 AD). These tombs are known as the Mozu-Furuichi Kofun Group and are collectively recognised as a UNESCO World Heritage Site. The most famous of them is the Daisenryo Kofun, the tomb of Emperor Nintoku and one of the largest in the world. 
Best time to go: Late March to early April 
Opening hours: 9am to 5pm (March to November), 9.30am to 4.30pm (December to February)
Admission fee: ¥200 for adults, ¥100 for students (elementary & high school); Free for preschoolers. 
7. Osaka Castle Park
Osaka Castle Park is the go-to spot for hanami in Osaka, and it's easy to see why. Within the park's Nishinomaru Garden, visitors can enjoy an idyllic picnic while admiring the majestic 16th-century castle framed by dreamy sakura blossoms. 
But, of course, there's still plenty to see after viewing the Osaka Castle cherry blossoms. In addition to its 600 sakura trees, the park holds the Osaka Castle Museum, a plum orchard, the Osaka-jo Hall, and a shrine dedicated to Toyotomi Hideyoshi, the ruler who built Osaka Castle. 
Best time to go: Late March to early April 
Opening hours: 9am to 5pm (Nishinomaru Garden) 
Admission fee:  ¥350 for adults (Nishinomaru Garden); Free for children, elderly, and people with disabilities
Osaka cherry blossom festivals
During Osaka cherry blossom season, festivals celebrating the arrival of spring will be held across the city. These festivals are known as sakura matsuri and often involve food stalls, performances, and night illumination of the cherry blossoms. Here are some notable sakura matsuri you may want to check out! 
1. Osaka Castle Park cherry blossom festival
Every spring, Osaka Castle and the cherry trees in the adjacent Nishinomaru Garden are illuminated at night. Osaka Castle Park has been recognised as one of Japan's Top 100 Cherry Blossom Spots, and its cherry trees are used to determine the official spring blooming period in Osaka. Food trucks may be found around Osaka Castle Park, so you can grab a bite while admiring the cherry blossoms. 
2. Kema Sakuranomiya Park Festival
Sakuranomiya means "Temple of Sakura," and it's no surprise how the park got this name, being a stunning showcase of Osaka cherry blossoms. Kema Sakuranomiya Park boasts a stunning four-kilometre-long sakura tunnel that stretches along the Okawa River. During the sakura season, visitors here can find food stalls and plenty of picnic spots. 
3. Expo '70 Park cherry blossom festival
From late March to early April, the Expo '70 Park will extend its opening hours until 9pm, so that visitors can enjoy the cherry blossom light-up at night. During the day, there will be live shows and pop-up stalls selling food and traditional handicrafts within the park. 
Where to stay during Osaka cherry blossom season
1. This Airbnb that's a stone's throw from Osaka Castle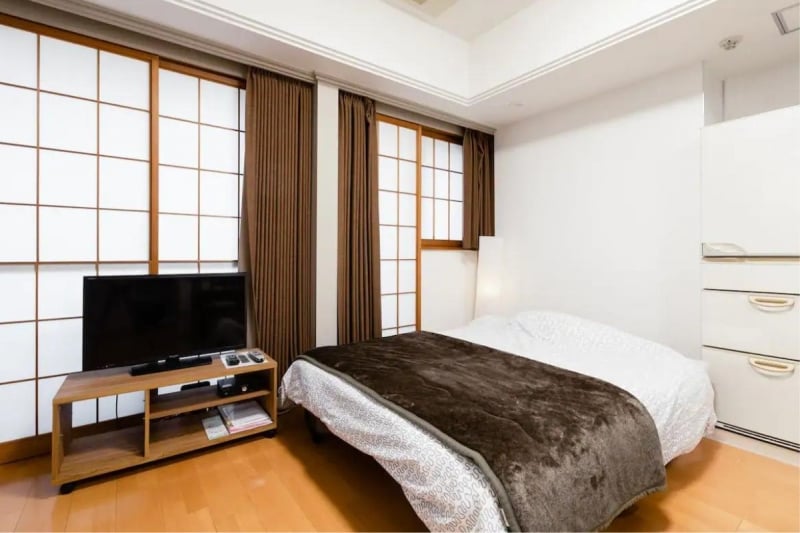 This minimalist Airbnb is just a 10-minute walk from Osaka Castle, which we've mentioned as a go-to spot to see cherry blossoms in Osaka. It is an entire rental unit that includes a free washer and dryer, access to the kitchen, and a private balcony. Decorated with a modern Japanese flair, the unit has sliding screen doors, tatami mats, and a futon. 
This accommodation can host up to four guests. It's also five minutes on foot from Tenmabashi Station, where you can take a train to Kyoto. 
2. This vacation rental in the heart of Osaka City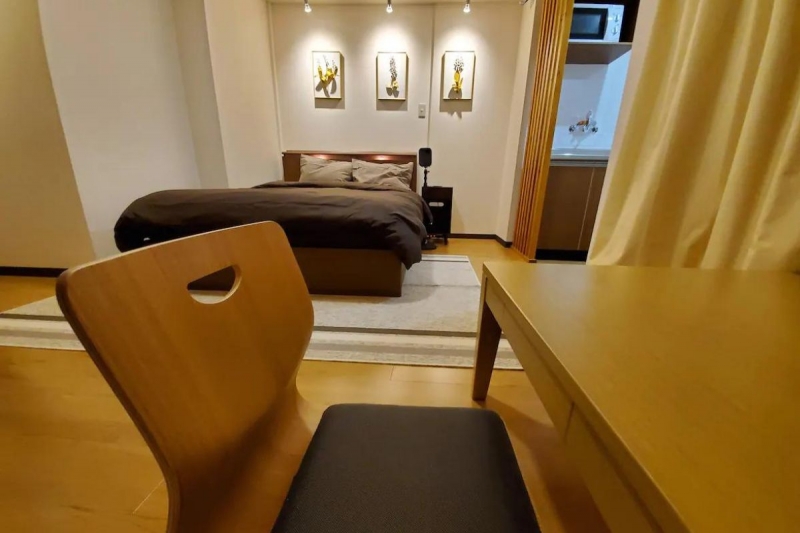 Just a six-minute walk from Kyobashi Station is this rental unit that makes it easy to get to the best Osaka cherry blossom spots. It can host up to three guests, and has a kitchen, projector, and heatable Japanese tables. 
From Kyobashi Station, you can take a two-minute train ride on the Osaka Loop Line to Osakajokoen Station, which is close to Osaka Castle. Meanwhile, to get to Kema Sakuranomiya Park, take the same line in the other direction and alight at the next stop, Sakuranomiya Station. 
3. This charming Japanese-style bungalow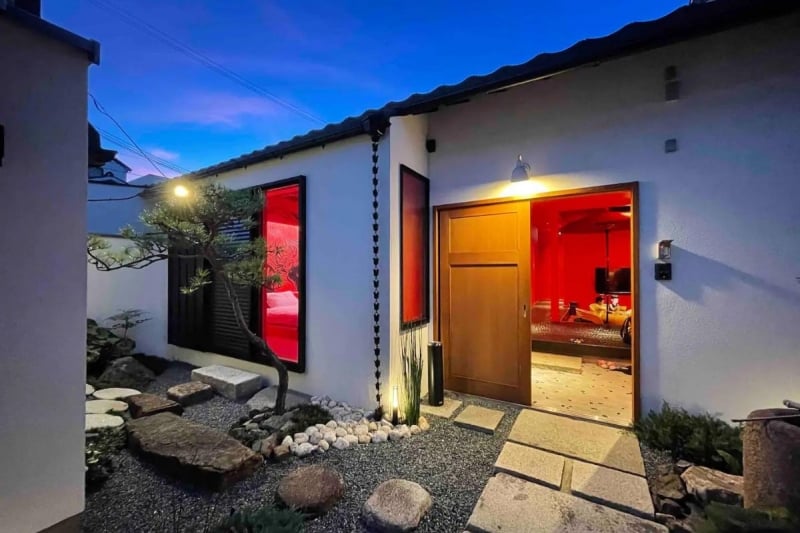 Here, we have a traditional Japanese house dating back to 1909 and has survived the air raids in World War II. It is decorated with ink paintings depicting scenes from the Warring States Period. 
Not only is it amazing to look at, but it is also only a three-minute walk to Gamo 4-Chome Station. From there, you can take a train to Kyobashi Station, one of the stops on the Osaka Loop Line. Gamo 4-Chome is also only three stops away from Tsurumi Ryokuchi Station, which serves Tsurumi Ryokuchi Park.  
4. Hiyori Hotel Namba Station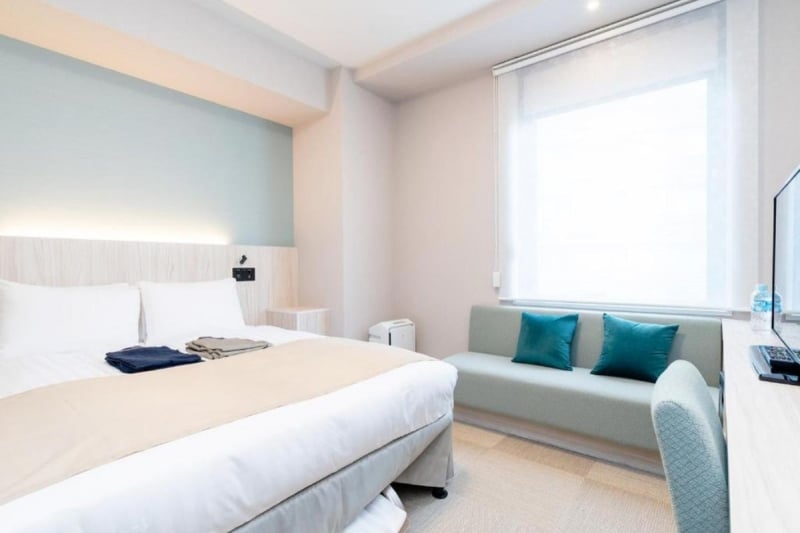 The Hiyori Hotel is a budget-friendly option that's only 200 metres from Namba Station. The hotel provides laundry and dry cleaning services, a front desk safe, and employs multilingual staff to cater to English, Japanese, Korean, and Mandarin-speaking guests. The hotel's restaurant also offers a cooked-to-order breakfast subject to a surcharge of  ¥1,650 for adults and ¥880 for children.   
It is less than two kilometres from Shinsekai, a retro district where you can try Osaka specialities like kushikatsu (deep-fried skewers) and horumonyaki (barbecue beef or pork offal). Osaka Castle is 4.9km away from the hotel, but you'll definitely have energy for the walk after that hearty meal in Shinsekai. 
5. W Osaka
W Osaka is a luxury hotel worth spending on for its comprehensive services and prime location. After a tiring day of chasing the cherry blossoms, you'll really appreciate a dip in the hotel's indoor pool or a relaxing massage at their premier spa. The hotel also has a 24-hour fitness centre and a bar that serves up fine cocktails made by their resident mixologists. 
It is only a four-minute walk from Shinsaibashi Station, where you can take the red line to Shin-Osaka Station. Once you get there, you can ride the Shinkansen to Kyoto, Tokyo, and other cities.  
Tips for viewing cherry blossoms in Osaka
1. If you've got time, don't just stay in the city
There are many places with incredible cherry blossoms located within a day-trip distance of Osaka City. 
The awe-inspiring Mount Yoshino in nearby Nara Prefecture is just a 90-minute train ride from Osaka Abenobashi Station. This UNESCO-listed mountain has been a favourite cherry blossom viewing spot for over a millennia, thanks to the 30,000 cherry trees on its slopes. The Yoshino Ropeway takes visitors up the mountain, allowing them to marvel at its magnificent carpets of sakura. 
Another popular day trip spot from Osaka is Himeji Castle. Situated in Hyogo Prefecture, it is accessible via the Sanyo Shinkansen Line. This 14th-century castle is also known as Shirasagi-jo (White Heron Castle) because of its graceful, wing-like facade. The cherry trees here make for an unforgettable sight when juxtaposed with the mostly snow-white castle. 
Also read: LOOK: Japan's New Luxury Sightseeing Train Cuts Across Osaka, Nara, and Kyoto
2. Catch the cherry blossoms after dark
Cherry blossom trees are lit up at night in some locations, creating an enchanting hanami experience. The Expo '70 Commemorative Park and the Osaka Mint illuminate their cherry trees during Osaka sakura season, making them perfect for a romantic evening stroll. 
3. Experience Osaka's food culture
Osaka isn't called the Nation's Kitchen for nothing! So, make sure to try all the city's delicacies while you're here. Signature Osaka dishes include okonomiyaki and takoyaki. For an even better experience, we recommend getting these to-go for a picnic under the shade of cherry blossoms. 
4. Check the rules in Osaka sakura viewing spots 
Some places enforce strict rules to ensure a smooth experience for all visitors. For example, the Cherry Blossom Passage at Osaka Mint only allows one-way foot traffic. Smoking, eating, and drinking are not allowed in the gardens. Pets, motorbikes, and bicycles are also prohibited. 
Another thing to note is that you may not be able to picnic at all Osaka hanami locations, so do familiarise yourself with the rules before visiting. 
5. Treat the parks with care
Clean up after yourself when you take part in hanami in the city's parks. Bring along a trash bag for any garbage you might need to dispose of, as not all parks will have garbage bins. Refrain from pulling on cherry branches or picking flowers. 
6. Check the official cherry blossom forecast
Japan releases an official cherry blossom forecast every year, so do check it out while planning your Osaka sakura trip. Do note that different cherry blossom varieties have different flowering periods. The forecasts are based on the flowering period of the somei yoshino (aka Yoshino cherry), the most common variety in the country. Meanwhile, yaezakura varieties bloom later in the spring, so the official forecast might not reflect their flowering period. 
Also read: Japan Cherry Blossom 2023 Forecast: When & Where to See Sakura
7. Respect the local culture
Etiquette is taken seriously in Osaka, as well as in the rest of Japan. When taking the subway, do not answer calls as this will disturb the other passengers. Put your phone on silent mode, and if you have to speak, do so quietly. On Osaka's Midosuji and Tanimachi lines, there are women-only cars to prevent sexual harassment. These cars are clearly marked on the platform, so do not board if you are a man. 
In Tokyo, people stand on the left side of the escalator, but in Osaka and other cities in the Kansai region, they stand on the right. Make sure to stay on the correct side of the escalator to avoid blocking others. 
Also read: 15 Don'ts You Should Know While Visiting Japan
Budget for an Osaka sakura trip
On average, travellers in Osaka spend approximately ¥10,000 (S$100) per day. This includes ¥3,000 (S$30) for meals and ¥1,800 (S$18) for transport. The average hotel price in Osaka for two people is ¥10,490 (S$81). Therefore, an ideal one-week Osaka trip budget for two people should be about ¥145,000 (S$1,450). 
How to get around in Osaka
By train
Two subway lines, the red Midosuji Line and green Chuo Line, crisscross Osaka City — taking travellers to most of the notable attractions. The easiest way to use the subway is by buying the Icoca prepaid card, which you can purchase from vending machines in Osaka's JR stations. 
The Osaka Loop Line is another major railway line that connects 19 stations in the Central Osaka Area. You can take this line to get to Sakuranomiya Station and Osakajokoen Station, both of which will take you to popular spots for Osaka cherry blossoms. To travel out of the city, you can take the Shinkansen from Shin-Osaka Station. This Shinkansen will take passengers from Osaka to Kyoto in 15 minutes, and to Himeji in 40 minutes. 
Meanwhile, for locations that are nearer to Osaka City, you can take the regional lines. For example, the Nankai-Koya Line connects Osaka's Namba Station to Sakai City's Sakaihigashi Station. 
Also read: These Trains in Japan Will Take You to a Random Destination in the Country
By bus
Buses in Osaka are not as easy to navigate for non-Japanese speakers, as they do not have English signs. However, should you choose to take these, note that passengers in Osaka board the bus from the front, and exit from the rear. 
A flat fare of ¥210 is charged for adults; children under 12 years old pay a flat fare of ¥110. You may pay the bus fare using a prepaid card or with cash. The exact fare is required if you are paying by cash at the front of the bus upon boarding. 
Also read: 15 Airbnbs in Osaka That Are Even Better Than Hotels
While Osaka may not be the first place that comes to mind when searching for sakura spots, the city sure has plenty to offer for enthusiasts. With the right knowledge and preparation — as well as a little bit of luck — you'll be able to experience the magic of cherry blossoms in Osaka. 
---
This article contains affiliate links. When you book through these links, we may earn a small commission at no additional cost to you. All Airbnb and Booking.com images courtesy of the respective property listings.