We've all heard about how great road tripping can be, right? Imagine hopping into a car with your loved ones, blasting music and singing along at the top of your lungs, or sharing deep conversations as you drive from one destination to the next.
And no, road tripping isn't only fun in the United States. Road trips are possible in almost any country! If you don't believe us, we come up with 7 amazing road trip itineraries for you to choose from. Take your pick and venture forth!
Changi Recommends has recently launched their ChangiWiFi rental services in
13 new countries
– New Zealand, Cambodia, Laos, Russia, India, Brazil, Egypt, Sri Lanka, Mexico, Colombia, Morocco, Puerto Rico and South Africa. You can now stay connected wherever you're headed to in the world with
ChangiWifi
.
Get ready for your road trip adventure by making a reservation online and collecting it at the one of the 24-hour collection points at Singapore Changi Airport. It's that simple and hassle-free! What's more, the first day of rental is waived – another reason why you should choose ChangiWiFi to keep you connected!
1. New Zealand: Auckland to Bay of Islands
Day 1-2: Auckland
Start your trip in Auckland! Grab breakfast at the trendy Best Ugly Bagels then head to the Sky Tower – New Zealand's tallest man-made structure – for a breathtaking panoramic view of the city. After that, hop over to Auckland Domain, the oldest park in the city and soak in the tranquil atmosphere. When you're done, take a walk to the Auckland War Memorial Museum for a history lesson. Then, make your way to Mission Bay to take in some fresh air at the promenade.
The next day, sail to Waiheke Island and embark on a Wine Tour where you can vine, wine and dine! If that's not enough to fill your stomach, visit Ostend Market to tantalise your taste buds with some local delicacies.
Day 3-4: Whangarei and Matapouri
Set off early and make the scenic drive over to Whangarei, in approximately two hours. Stop by the magical Waipu Caves filled with glow-worms, before heading up Mount Parahaki for a jaw-dropping view of the city. Replenish your energy after at the Hatae Walkway and have a picnic at the Town Basin. Don't forget to visit the Whangarei Falls, a popular spot for photography.
Stay the night in Whangarei, then head towards Matapouri. Search for the crystal blue waters of Mermaid Pools before taking a stroll along the picture-perfect Whale Bay. For those looking to dive, stop by Tutukaka Coast and check out Poor Knights Islands Marine Reserve.
Day 5-6: Paihia and Waitangi
Finish the last leg of your trip by travelling further north to Paihia, the gateway to the idyllic sandy shores of the Bay of Islands. Take a half-day cruise to the iconic 'Hole in the Rock' at Cape Brett for dolphin-watching or kayaking. Stop by historic Russell in the afternoon and visit New Zealand's oldest church, Christ Church.
The next day, leave for the Treaty House at Waitangi Treaty Grounds to learn about how New Zealand's history. End off your road trip with a spectacular tour of the Waitangi River and spend the day immersed in the rich Maori culture!
Before embarking on your much-awaited road trip in New Zealand, be sure to make a
reservation online with Changi Recommends
for your portable WiFi router!
ChangiWiFi
will be your best companion during the road trip – providing you with the directions you need to plan your journey and the connectivity to keep your family and friends updated.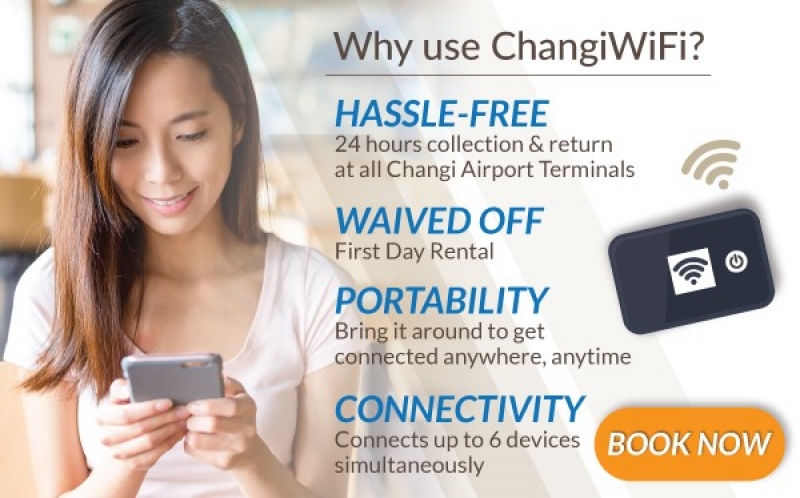 From just S$12/day, it is an affordable and convenient alternative to buying SIM cards and data plans in a foreign land. Plus, you can connect up to six devices simultaneously so you can share the cost with family and friends. That's only $2 per day!
2. Russia: The Golden Ring
Day 1-2: Moscow and Vladimir
Head to the Red Square in Moscow early to avoid the hordes of tourists and go cathedral hopping: check out St Basil's Cathedral, Assumption Cathedral, Archangel Cathedral and Annunciation Cathedral. After that, take a unique stroll in the park at Art Muzeon and cross the street to Gorky Park to get a taste of how local Muscovites spend their time.
Hit the road towards Vladimir next and watch an Orthodox service in the historic Assumption Cathedral, before admiring the gorgeous scenery at Oka river valley. We recommend going on a Friday or Saturday so that you can experience how the city parties at night as well!
Day 3-4: Suzdal, Ivanovo and Kostroma
After a good night's rest, it's time for Suzdal! Explore the city's Kremlin and have a taste of the local cuisine at Chainaya. Soak in Russia's culture and history at the city's many golden-domed churches and finish your day with an authentic Russian steam-bath experience at Helio Spa.
The following morning will see you heading towards Kostroma. You'll pass by the sleepy industrial town of Ivanovo on the way and if you have time, stop by for a snack. Otherwise, admire the enchanting landscapes as you pass the Volga river and visit the historic Monastery of St Ipaty. Make a stop at the Sumarokovskaya Moose Farm to try some moose milk, then go over to Susanina Square to learn about Kostroma's local hero.
Day 5-6: Yaroslavl, Rostov-Veliky and Pereslavl-Zalessky
About an hour's drive from Kostroma, you'll arrive at Yaroslavl, a UNESCO World Heritage site! Hopefully you're not tired of Russia's domes yet, because this city is home to St. John the Baptist Church, which has a whopping total of 15 domes! For beautiful walls and ceiling frescos, find your way to the Church of Elijah the Prophet.
In the evening, drive towards Rostov-Veliky. Stay the night at Hotel Selivanov, an actual merchant's house that dates back to the 20th century. When morning comes, go on a tour of the city's kremlin and listen to the Rostov bells chime, before following the white footprints from the kremlin to Khors House of Art and Enamel Art Gallery to appreciate some art.
Let your trip come full circle with a short drive to Pereslavl-Zalessky, a calm provincial town by the lake. Hop on a bike and cycle along the lake to different monasteries. The city is also the birthplace of the Russian Navy, and you can visit the Botik Museum to learn more about it.
You'll definitely need
internet connectivity for your road trip around Russia, so why not make a
reservation online with Changi Recommends
for a portable WiFi router? It's simple, easy and convenient.
From just S$12/day, ChangiWiFi will guide you through the winding coastlines and city roads. Plus, you can even share it with up to 6 of your travel buddies! No more scrambling through a foreign city trying to find SIM cards for everyone!
3. Brazil: Rio de Janeiro to São Paulo
Day 1-2: Rio de Janeiro and Ilha Grande
Start your day right with breakfast at Cafeína in Leblon, where they serve excellent pão de queijo (cheese bread). Then, spend your morning soaking in some sun on the sandy shores at Ipanema, Copacabana or Leblon. In the afternoon, scale the Corcovado and take in the sights at Cristo Redento (Christ the Redeemer). Finally, dance the night away at a samba club in Lapa, the part of Rio that never sleeps. We recommend Rio Scenarium!
If you manage to get some sleep the previous day, drive to Angra dos Reis and take a ferry to the tropical island of Ilha Grande. Hop on a water taxi or hike to the stunning Lopes Mendes, touted as one of the world's most beautiful beaches. Otherwise, dive into the crystal waters at Sitio Forte and swim with sea turtles! For those looking to do something edgier, explore the ruins of Candido Mendes – an abandoned maximum-security prison. Stay the night on the island and return to mainland by ferry the next morning.
Day 3-4: Paraty and Maresias
Journey past Angra dos Reis until you reach the picture-perfect town of Paraty. Delve deep into history at the colonial historical centre of the town, where you'll be able to explore museums, arts and crafts, and enjoy some local cuisine. Thrill-seekers can get their dose of adrenaline at the waterfall and naturally formed water slide at Cachoeira do Toboga, and end the day with a glass of cachaça (sugar cane liquor), a speciality of Paraty's!
On Day 4, arrive at Maresias – a spectacular coastal district where a large surfing community resides – and take a walk along Maresias beach or hit the massive waves. If you're up for it, take a 40-minute trek through the rainforest to the much calmer and quieter Paúba beach. Treat yourself to a fantastic dinner at Badauê, an impressive restaurant with million-dollar ocean views.
Day 5: São Paulo
And finally, you're in the mega city of São Paulo! Traverse through Cidade Velho in the morning, starting at Praça Republica, where you can wander through the Sunday markets and uncover hidden treasures.
While you're in the area, stop by Edificio Italia, one of the tallest buildings in the city, and Biblioteca Mario de Andrade, a magnificent art-deco building that is São Paolo's largest public library. Don't miss out the focal point of the city, Praça da Sé and Cathedral de Sé as well! For food, try something a little different and tuck into some Japanese fare at Liberdade.
Raring to visit the idyllic coastal beaches of Brazil? Remember to bring your swimsuits along, but don't forget your
ChangiWiFi
router for your road trip too!
From just S$14/day, it's all you need to ensure connectivity anywhere you go. You won't need to leech off a friend's hotspot or desperately search for free WiFi in a mall anymore!
4. Puerto Rico: Round Island
Day 1-2: Fajardo and Cayey
The first stop is Cabezas de San Juan National Park for stunning views of the Caribbean! Travel along Route 987 for a scenic drive to Seven Seas Beach, named after the water's seven shades of aquamarine. Enjoy a picnic lunch or an invigorating dip before heading to Las Cabezas de San Juan Nature Reserve. Board the open-air trolley and explore the reserve and its exotic animals, flora and fauna. Visit Laguna Grande at night for a magical experience as you watch the bioluminescent bay glow.
Follow the roads to the mountain town of Cayey next, and indulge in some delectable roasted pork at Los Pinos. After all that pigging out, you'll be in need of some exercise – so get trekking at Bosque Estatal De Carite.
Day 3-4: Ponce and Lajas
Less than an hour away is the second largest city in Puerto Rico, Ponce. A particularly significant landmark is the Parque de Bombas – a historic firehouse over a hundred years old  – located just a short walk away from the town plaza, Plaza de las Delicias.
Spend a lazy afternoon touring the town and learn about the rich history of the indigenous people at the Tibes Indigenous Ceremonial Center. Visit Kings Cream for dessert and sample some of their refreshing, tropical flavours.
Up next is Lajas! Along the coast is La Parguera, a fishing village with a beautiful bio bay! Also pay Playa Rosada a visit, a section of the beach that has been closed off and serves as a pool. For the more adventurous, you can also go scuba diving instead at the Paradise Scuba & Snorkeling Center.
Day 5-6: Rincón, Isabela and Vega Baja
The beaches of Tres Palmas and Domes in Rincón are where you want to go for surfing and other water sports. For an even better view (and perhaps the chance to see some whales), visit Punta Higuero Lighthouse.
Once late afternoon comes, head a little further north to the town of Isabela. Stay at Parador Villas del Mar Hau for luxurious views of the ocean at an affordable price. Relax, refresh and recharge before waking up for an early morning trek at Guajataca Forest Reserve, then go through the Guajataca Tunnel to reach another delightful beach. Another must-see is Pozo de Jacinto, a rock cavern that has eroded to reveal rough waves of the ocean below, resembling a looking glass.
Finally, your trip won't be complete without a stop at Vega Baja's awe-inducing Puerto Nuevo Beach, for a lazy float in the calm lagoon.
For a road trip that's truly off the beaten track, Puerto Rico is the place to go! Map out your route and research on the attractions you'll be visiting using
ChangiWiFi
!
From just S$12/day, reserve yours online with Changi Recommends today. Collect it right before your flight at Singapore Changi Airport, at any time of the day – collection is available 24 hours a day!
5. Mexico: Yucatan Peninsula
Day 1-3: Playa Del Carmen and Tulum
Stay at the Gran Porto Real Resort, an affordable and relaxing resort. Spend a day or two in Playa Del Carmen and lounge at the beach, sample local liquor or enjoy a spa. After that, drive for an hour out to Tulum where you'll not only be able to explore the Mayan ruins, but enjoy spine-tingling views of Playa Paradiso. Wander around Tulum and venture into Cho-Ha, a hidden sinkhole where you'll be able to take a dip in. Scale the Coba pyramid and be rewarded with a bird's eye view of the town.
Day 4-6: Rio Lagartos
Continuing on your great Mexican road trip, visit the charming fishing village of Rio Lagartos. Look out for the pink flamingos, the brightly coloured pink salt lake, La Coloradas, and the green lagoons. Try to travel between the months of November and March if you wish to witness the brightest pinks and greens in the lagoon. If you're lucky, you might even spot an alligator! Rent a mountain bike with Rio Lagartos Adventure Rentals to explore more of the scenic views, or kayak through the Rio Lagartos Estuary.
Day 7-9: Merida
End your trip in the capital of the Yucatan Peninsula, Merida. If you don't have time, the best way to experience the city is through the Free Walking Tour of Merida. Visit The Plaza Grande and pose with adorable pastel buildings that surround the plaza. Shop, wine and dine at Santa Lucia Parque, where you'll also get to enjoy live entertainment at night. History buffs will also be delighted to learn about the Mayan world at Gran Museo de Mundo Maya Merida (Museum of Mayan World)!
Excited to witness the spectacular Mayan ruins or Instagram yourself at the pink salt lake? To stay connected and update your social media on the go, all you need is ChangWiFi's portable router rental.
From just S$12/day, reserve yours online with Changi Recommends today. You can even share it with family and friends!
Changi Recommends also provides 24 hours customer care through its hotline or WhatsApp, so you're covered even when you're miles away from Singapore.
6. Morocco
Day 1-2: Casablanca and Chefchaouen
Make a quick stop at Casablanca and visit the second largest mosque in the world – Hassan II Mosque. If you have the time, be sure to visit the Casablanca Cathedral and Place des Nations Unies as well. Grab some grub at Sqala and rest up, because you'll be walking most of the next day!
Then, snap some pictures at the famed blue walls of Chefchaouen – the Blue City. Meander around the old town centre and shop for souvenirs or handicrafts at Plaza el-Majzen. While you're in the area, pop by Plaza Uta el Hammam for food and feast your eyes on the architecture of the Great Mosque.
Day 3-4: Fes
On your way to Fes, stop by Volubilis to view the Roman ruins and is also a UNESCO World Heritage Site. Then, be prepared to get lost in the city of Fes! Learn about the process of dyeing animal hide at Chouara Tannery, or walk around the souks (Arab markets) for souvenirs and gifts. Next, pamper yourself with a traditional Moroccan spa treatment at Spa Laaroussa.
Take a blast to the past and admire the mosaics and wood carvings of the old schools Medersa Bou Inania and Medersa el-Attarine. Then, visit Jardin Jnan Sbil, a tranquil garden that once was an imperial garden. Escape to the hills overlooking Fes at the Merenid Tombs – a great lookout point for both the sunset and sunrise.
Day 5-7: Merzouga and Marrakech
Feel the sand of the Sahara Desert underneath your feet at Merzouga. Take a camel trek to one of the many desert camps available, and stay overnight for a one-of-a-kind experience. Don't forget to visit the sand dunes as well!
Finish up your Moroccan road trip in Marrakech! Visit Jemaa el-Fnaa, the heart of the city, and soak in the hustle and bustle of the public square. Traipse through the Majorelle Garden, recognisable for its cobalt building and cactuses, then continue to the gardens of Bahia Palace. Speaking of palaces, the ruins of El Badi Palace is worth a visit too, once the most luxurious palace in Marrakech.
Can't wait to cross Chefchaouen, the Blue City, off your bucket list? Then remember to
reserve a portal WiFi router online from Changi Recommends
, so you can upload your Insta-worthy photos on the go!
From just S$14/day, take advantage of the convenience and WiFi router connectivity, which allows you to link up to six devices at once. Perfect for large families or large groups of friends!
Decided to extend your road trip in Morocco? Changi Recommends will not impose a late return fee. Simply pay as per the daily rental rates for every extra day!
7. South Africa: The Garden Route
Day 1-3: Franschhoek, Gansbaai and Oudtshoorn
Wine-lovers, rejoice! Begin your journey in Franschhoek by hopping on the Franschhoek Wine Tram. Have a lunch picnic against an amazing view of Mont Rochelle Nature Reserve, pop by the Huguenot Memorial Museum and then tuck in for some Italian cuisine at Allora.
Drive straight to Gansbaai the next day, and if you're visiting from July to November, be sure to make a stop at Hermanus for some majestic whale watching! But don't worry if you miss whale watching season, you can come face to face with a great white shark with White Shark Diving Company.
Though you might be a little tired after your dive, get back on the road to Oudtshoorn, the ostrich capital of the world! Visit Cango Wildlife Ranch and The High Gate Ostrich Farm and try riding an ostrich!
Survive the four-hour drive from Gansbaai to Oudtshoorn with
ChangiWifi
! Take advantage of their WiFi router connectivity, which allows you to
link up to six devices
. Everyone in the car will be able to entertain themselves, whether it's streaming movies or rocking out to some classic tunes!
Already shelled out too much money on your flights and accommodation. With ChangiWiFi, you only have to pay a $1 initial deposit and pay upon return! No exorbitant upfront fees or hidden charges.
From just S$14/day, you can stay connected and enjoy your South African road trip with a peace of mind!
Day 4-6: Knysna and Plettenberg Bay
Head to Knysna Heads, less than two hours away in Knysna, where you can take in the astounding scenery and views of the mighty sandstone cliffs. We recommend going to the Eastern Head, where you'll have an unobstructed view of the lagoon and the ocean. While you're there, indulge in a cocktail at Senza! Get to know the town better with a town ship tour by Emzini Tours, who gives 100% of their earnings back to the community.
Thereafter, navigate your way to Plettenberg Bay and take a hike at Robberg Nature Reserve. If you still have energy, try safe canyoning, waterfall abseiling, ziplining and swimming with Africanyon. Finish your trip with a grand finale – the world's highest bungee bridge jump at Bloukrans Bridge!
There you have it! 7 awesome road trip itineraries, all planned out for you! We did the homework so you don't have to. Feeling inspired to embark on a road trip of your own yet?
Changi Recommends
is now launching their ChangiWiFi router rental services for
13 new countries
! And yes, that includes all of the road trip countries mentioned above.
On top of their existing coverage within Asia, the ChangiWiFi rental service now spans all the way to Egypt, Brazil, New Zealand, Cambodia, Colombia and more!
So, equip yourself with ChangiWifi on your road trip and the possibilities are endless – you'll be able to search for directions, make bookings, update your social media, play the latest tunes from Spotify, and so much more!
---
Brought to you by Changi Recommends.