Learning about Russia always seems to be a perennial journey if you want to dig deep into its history. From the introduction of Orthodox Christianity by the Byzantine Empire and the era of Russian tsars, to the famous Russian buildings of different art movements, Russia's unique background is a lot to take in. 
But discovering the beauty of Russia is hardly a chore, not when it has awe-inspiring architecture throughout its vast nation. As Russia is the largest country in the world, it can get overwhelming figuring out where to start. Hence, make sure you list down these following famous Russian buildings that are said to be must-sees when visiting this magnificent land. 
Also read: 8 Incredible Reasons Why You Should Travel to Russia
1. St. Basil's Cathedral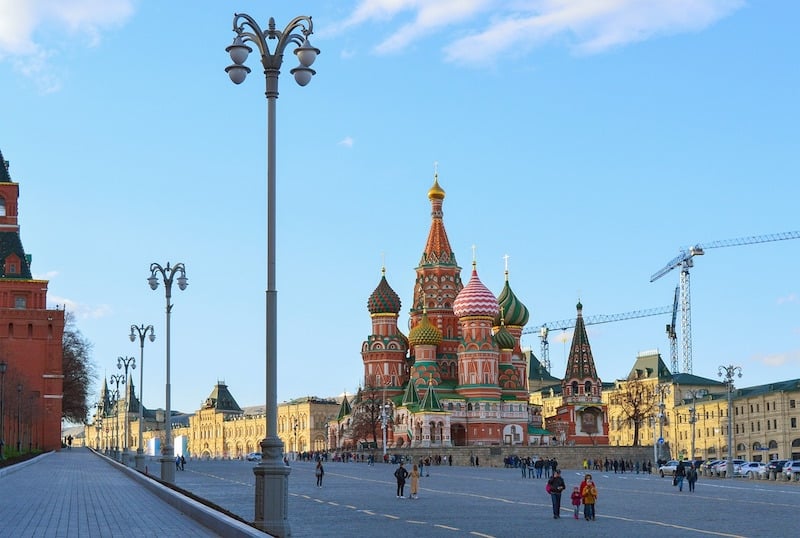 St. Basil's Cathedral is undoubtedly Russia's most recognisable attraction and it's located in Red Square, Moscow. There's a lot of history that surrounds St. Basil's, one that goes all the way back to 1555, when Ivan IV ordered the cathedral's construction to celebrate the defeat of the Mongol Empire.
This Orthodox church has seen plenty of turmoil; probably, the most frightening one was when Stalin threatened to demolish the cathedral because it stood in the way of his military parades. But with the passionate objection of architect Piotr Baranovsky, Stalin changed his mind and granted the architect years of imprisonment instead.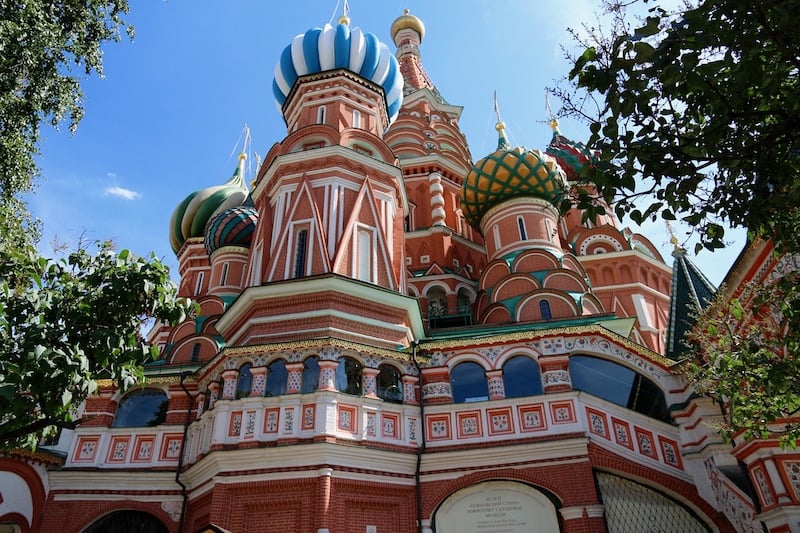 Grim stories aside, it's impossible not to marvel at the bonfire and onion-shaped domes that burst with colour. This artistic style is said to have come from Russia's inclination towards bright colours during the 17th century. Mostly a museum today, St. Basil's Cathedral houses more than 400 painted icons between the 14th and 19th centuries. 
2. Catherine Palace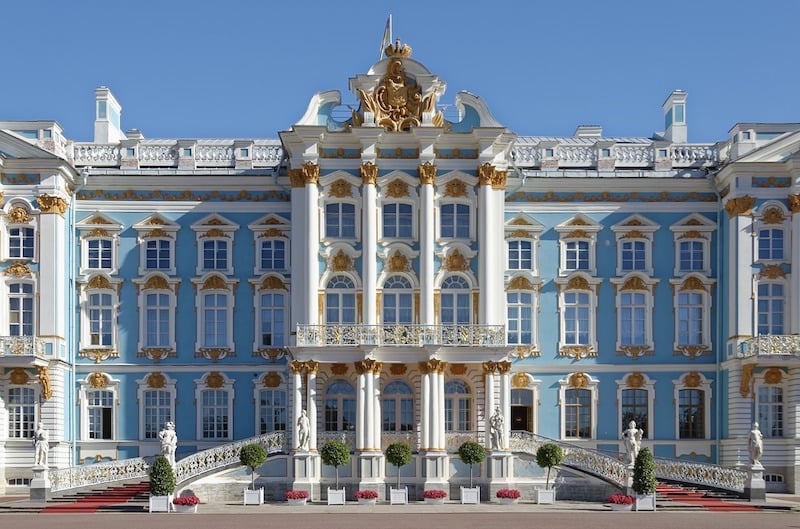 With its relaxing blue and white exterior, it's hard to find another palace in the world that looks as celestial as the Catherine Palace. This rococo Russian building is found in St. Petersburg and was the summer residence of the royal family. Named after Catherine I, who was gifted the estate by her husband Peter the Great, the palace initially took a humbler approach with only 16 rooms and two storeys to start.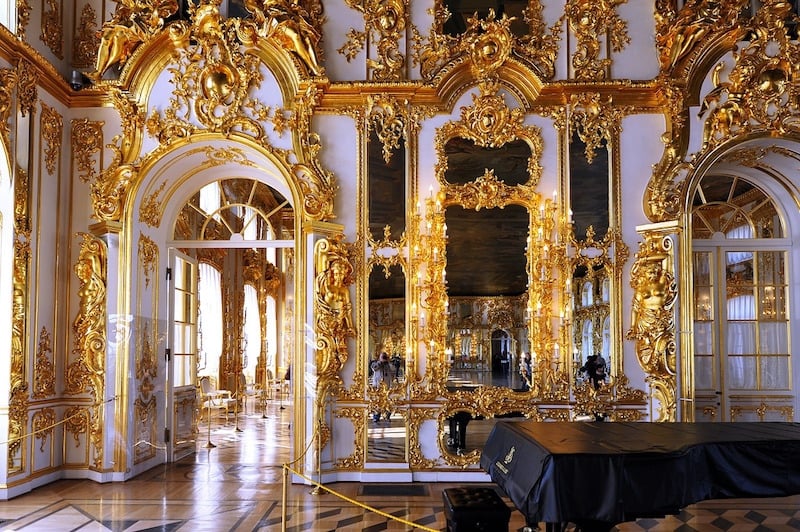 It wasn't until the rule of the couple's daughter, Empress Elizabeth, when the grandeur of the palace began to unfurl. Beginning in 1745, the empress started a series of reconstructions and commissioned four different architects. Finally, the chief architect named Bartolomeo Rastrelli was able to come up with a lasting design that would rival the grandeur of Versailles. 
Catherine Palace was finally completed in 1756 and gorgeously painted in blue and white, while gilded sculptures and columns added an air of luxury to the whole facade. This breathtaking exterior alone is said to have cost 100,000 kilograms worth of gold. Suffice to say, its interiors are equally stunning. 
3. Winter Palace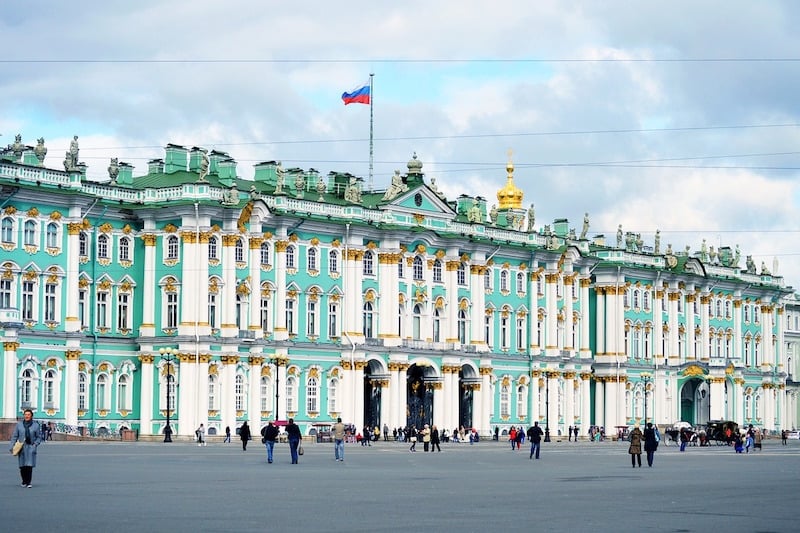 Yet another cool-toned palace in St. Petersburg is the Winter Palace, which used to be the main residence of the Russian tsars and tsarinas. Can you guess who commissioned and architected this nth version of the Winter Palace? The same duo behind Catherine Palace — Empress Elizabeth and Bartolomeo Rastrelli. After all, the green-and-white motif is all too reminiscent of Catherine Palace's exterior beauty too. 
It took Rastrelli two years to conceptualise a palace that Empress Elizabeth would approve of. After several declined proposals, he ultimately decided that he would rebuild the whole palace complex instead of simply improving the existing foundation. The design was approved in 1754 and nearly finished in 1762. Rastrelli, however, was removed from the project by Catherine II. But his efforts were never for nought as the palace exterior retains his concepts and calculations to this day. For his achievements, Rastrelli was officially considered the master of late Baroque in Russia. 
4. Palace of Tsar Alexei Mikhailovich
Among the many famous Russian buildings, this one is the only replica, so to speak. The wooden palace of Tsar Alexei Mikhailovich is located in Kolomenskoye Estate, Moscow. In 1660, Alexei Mikhailovich ordered a wooden palace to be built in an area that used to be a village. Pleased by the size and exotic decorations of the finished palace, the tsar made it his summer residence and it became his favourite one at that. With a structure that was created without any fasten materials, nails or hooks, the wooden castle looked straight out of a woodland fable. 
His descendants thought highly of the palace too — that is, until Catherine the Great had it demolished. What we see today is a replica of the tsar's original wooden palace, which the Moscow government completed in 2010. The replica was based on salvaged 18th-century sketches and situated about one kilometre south of its original location. It's not completely made out of wood this time but layered with logs over cement. Stepping inside, you'll notice that the palace is split into the male and female divisions, both of which are open for viewing. 
5. Peterhof Palace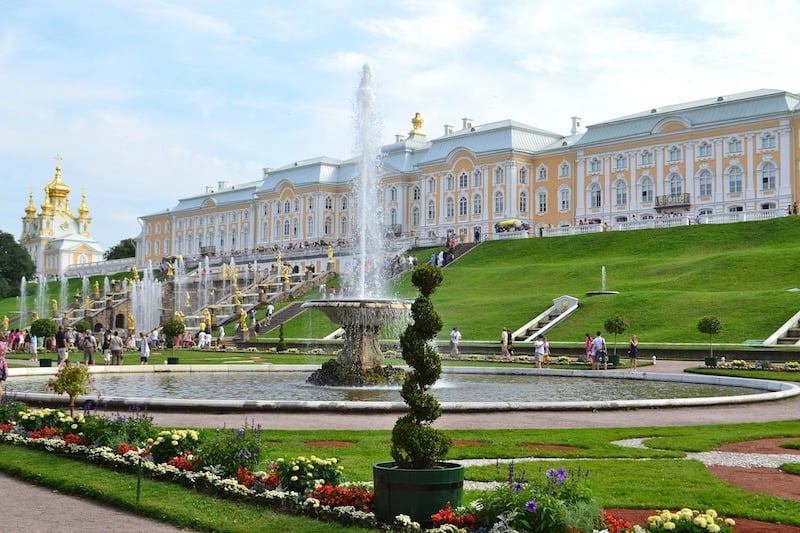 Before Empress Elizabeth manifested the splendour of Catherine Palace, her father Peter the Great brought his own architectural vision to life. The story goes that the tsar made a visit to France in 1717 when he beheld the magnificent Palace of Versailles. In direct response to that, he sought to expand his property in the town of Petergof, which is a 45-minute drive from St. Petersburg. 
Peter the Great commissioned a few architects of note. The first was Domenico Trezzini known for his Petrine Baroque style, second was Jean-Baptiste Alexandre Le Blond who designed the gardens, and unsurprisingly, Bartolomeo Rastrelli who completed the palace during Empress Elizabeth's reign.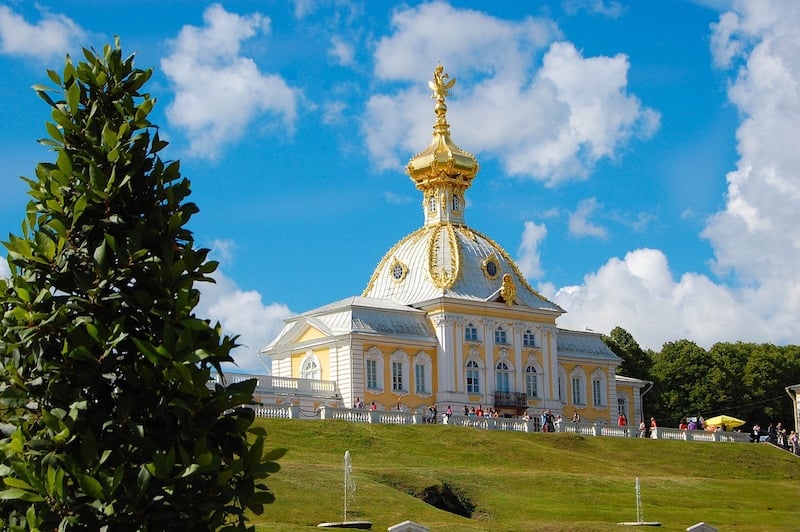 Inside, guests will find opulent chandeliers, tapestries made out of silk, a fantastic ballroom, and golden accents glamourising the castle. But perhaps the crowd favourite would be the fountains surrounding Peterhof Palace, one of which was designed by Peter the Great himself. Look for the Grand Cascade where Samson is depicted prying the mouth of a lion open!
6. Bolshoi Theater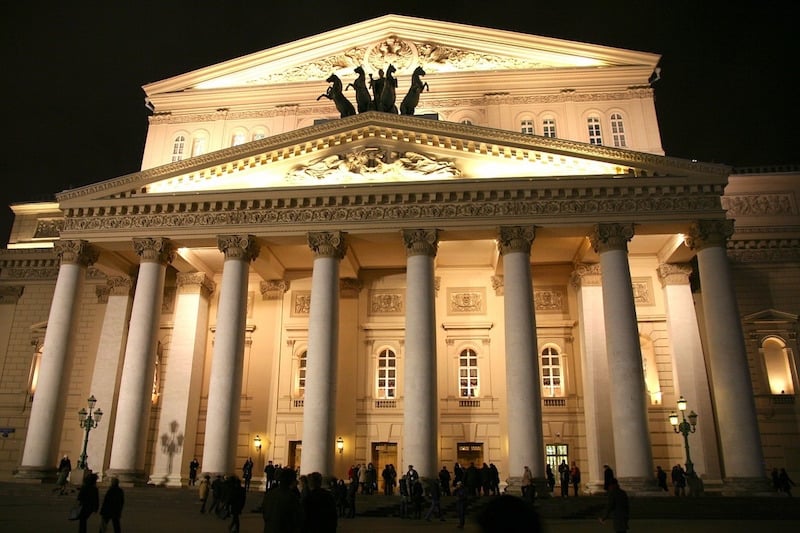 The Bolshoi Theater isn't only one of the most famous Russian buildings but it's also Moscow's crown jewel for ballet and opera performances. The opera was founded in 1776 by Prince Pyotr Urusov who Catherine II entrusted with the responsibility of manifesting Russia's love for stage performances, from theatre and operas to ballets and masquerades. 
Throughout history, the theatre suffered multiple fires and reconstructions. When the theatre reopened in 1856, it hosted the coronation celebrations of Tsar Alexander II. As Russia's main stage, Bolshoi Theater appears more extravagant beyond the neoclassical pillars and Apollo quadriga at its entrance. Inside, there are Beethoven halls equipped with legendary acoustics, bright crimson and golden seating, along with palatial chandeliers to match. 
7. Cathedral of Christ the Savior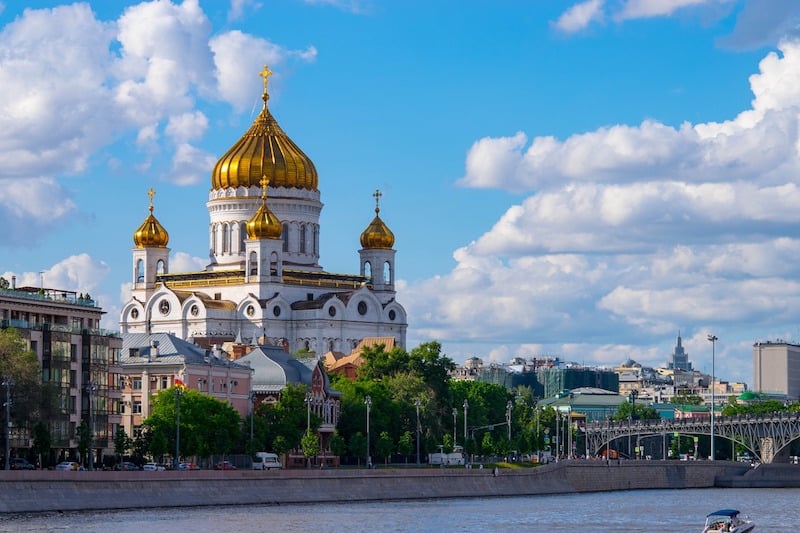 There are many reasons why this cathedral is Russia's most prominent. Yes, even more significant than St. Basil's. For one, it's the seat of the Orthodox Patriarch of all of Russia, making it an ideal place to hear an Orthodox mass. Visitors can also make their way up to the cathedral's domes to get a panoramic view of Moscow. This is, after all, the highest Orthodox temple in the world. The view will include a refreshing scene of the Moskva River as the cathedral sits near the Kremlin. 
It is said that when Nicholas I commissioned architect Konstantin Thon to create a new design for the cathedral, the Hagia Sophia in Turkey was his source of inspiration. The resulting cathedral therefore features the so-called Neo-Russian architecture, along with Byzantine designs. 
8. Kazan Cathedral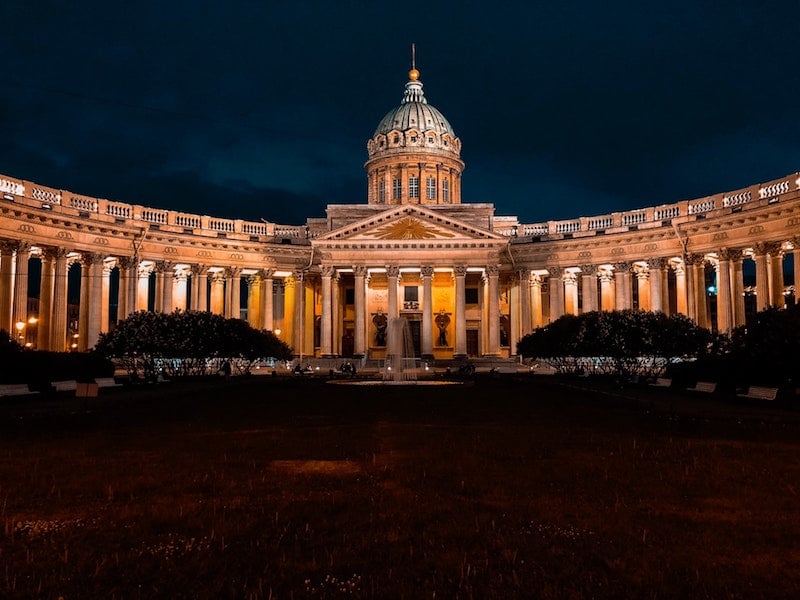 When in St. Petersburg, you'll undoubtedly find yourself taking a stroll in Nevsky Prospekt. As St. Petersburg's main street, Nevsky Prospekt is host to many of the city's most impressive buildings, including Kazan Cathedral. Its arresting stone colonnade is hard to miss, and you might even say that it looks familiar. That's because architect Andrei Voronikhin designed it with Rome's St. Peter's Basilica as the inspiration. 
The cathedral has also stood the test of time. In 1812 after Russia emerged victorious from the Patriotic War against Napoleon, Russians made the cathedral a monument of their victory as they hung captured enemy banners around the premises. Field Marshal Mikhail Kutuzof, who won the most important campaign during the war, was also buried inside the cathedral. Another fun fact to note and underscore Kazan Cathedral's renown — Finland even made the cathedral's neoclassical style the model for Helsinki Cathedral!
Also read: St Petersburg Russia Guide – What to Do, Where to Eat
Don't these famous Russian buildings just inspire you to see more of Russia for yourself? They're opulent, colossal, beautiful, and historic all at the same time. No doubt that a trip to Russia would prove a most memorable vacation!
---
Featured image credit: Helen Ast | Unsplash