One of the lesser visited countries in Southeast Asia, Laos retains a classical charm that is still relatively untouched by tourism. To revel in the splendour of the country, start your explorations in the picturesque old town of Luang Prabang!
Built on the intersections of two rivers, with jagged mountains as its backdrop, Luang Prabang has a compelling appeal. It oozes with character and is wrapped in a blanket of laid-back atmosphere. While there are those who would spend a week or two wallowing in the beauty of this city, for the rest of us who cannot: here is a feasible three-day itinerary to make the most out of a long weekend visit to Luang Prabang.
Make your trip happen and start booking your holiday to Luang Prabang! SilkAir flies to Luang Prabang three times weekly via Vientiane, giving you plenty of opportunity to hop on a flight there.

Bookmark this itinerary and if you're a lazy planner, you'll be delighted to know that you can also get an additional S$40 off flight + hotel packages, or an extra 10% off hotels.

Sit back, relax and have everything settled for you. Trip planning, check!
Day 1: Explorations in Town
Morning
Covering the main sights in town is the order of your first day! Luang Prabang has been the capital of Laos and its ancient kingdoms for over 700 years. As such, there are many culturally-rich sites in the city that are worth a visit to understand a little more about the history of Laos.  
The first of these sights is Haw Kham, which was the former Royal Palace of Laos before the royal family was overthrown by the communists. Built in 1904 during the French colonial era, it possessed architectural elements from both Laotian traditions and French design. The palace has since been converted into a national museum following the regime change, showcasing historical Laotian artefacts and artworks.
Entry fee: LAK30,000 (~SGD5)
Famous for its historic Buddhist temples, the ancient town of Luang Prabang is home to a number of ornate monasteries. From the beautiful Wat Sene to the archaic Wat Visoun, there is a wide selection of gorgeous temples for you to immerse yourself in the culture of Laos.
Another temple worth a visit is Wat Xieng Thong. Built in the 16th century, it is the oldest and most important Buddhist monastery in Laos, and remains a symbol of Laotian national identity. It is one of the most beautiful buildings in Laos, situated on the bank where the two rivers meet.
Entry fee: LAK10,000–20,000 (~SGD2-SGD3)
Afternoon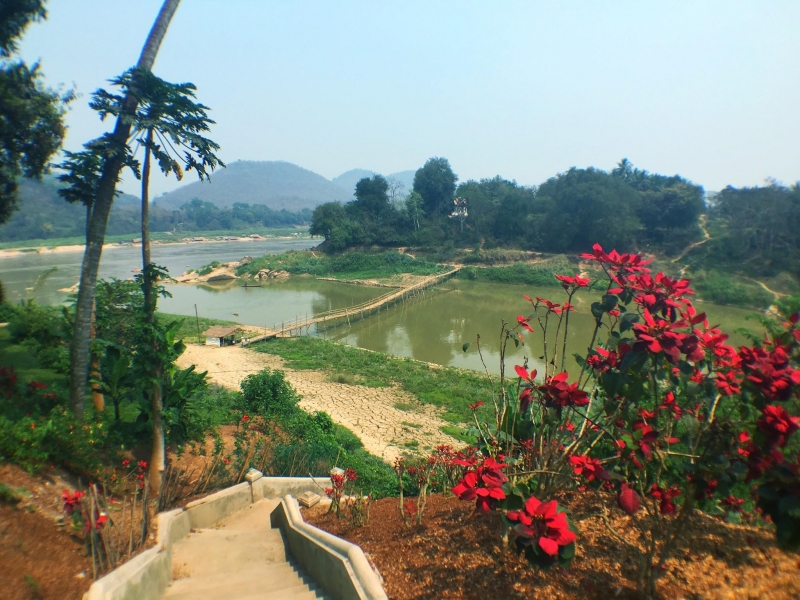 From Wat Xieng Thong, turn right at Khem Khong Road and follow the curve of the river into Kingkitsarath Road. A 15-minute stroll away is the picturesque Bamboo Bridge, which stretches across the Nam Khan River to the Garden of Eden. The bridge may look precarious in pictures but is truly sturdy and absolutely capable of holding your weight. Have a go, and check out the temple and restaurant at the other side. Lunch awaits!
Entry fee: LAK5,000 (~SGD1)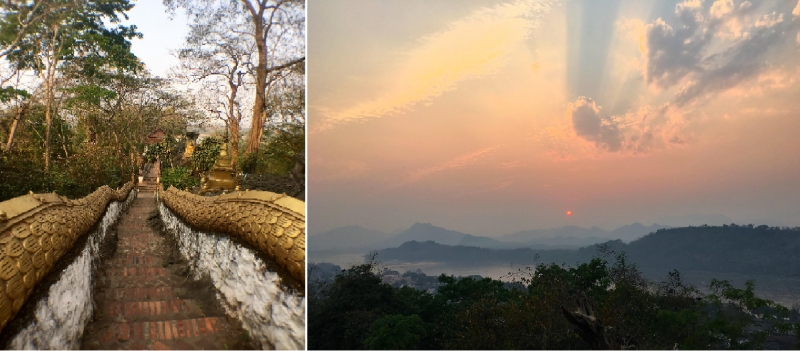 After your little exploration, fill up your bag with drinks and snacks, and get ready to climb Mount Phousi. The panoramic views from the top of the hill make this place one of the best lookouts in the country. It is a good 300 steps from the bottom – but nothing too difficult for most people! Do come early to snag a good spot as the viewpoint can be crowded with tourists during sunset.
Entry fee: LAK20,000 (~SGD3)
Night
As night falls, descend to the base of Mount Phousi and head to the Luang Prabang Night Market along Sisavangvong Road. This is where you can find ethnic handicrafts, woodcrafts, cushion covers and other souvenirs. You can also find numerous market stalls selling baguettes, local buffalo sausages and other street food to satiate your hunger pangs.
If you are looking for a drink, Beer Lao is available at (probably) every café in the area around the night market. Bars and restaurants along the river also provide relaxing river views while you have a slow end to the day. Some options include the bohemian-style Utopia Bar and the popular Redbul Bar!
But if you're not a fan of crowded areas and bustling bars, why not drop by L'Etranger Books & Tea, a whimsical book store cum café! Founded by a Québecois filmmaker in 2001, it screens a variety of movies – ranging from blockbusters to indie films – every night at 7pm. All you have to do is to order at least a drink or a meal and you'll get to cuddle up on the cosy couches!
Day 2: Waterfalls, Wildlife & Laotian Culture
Morning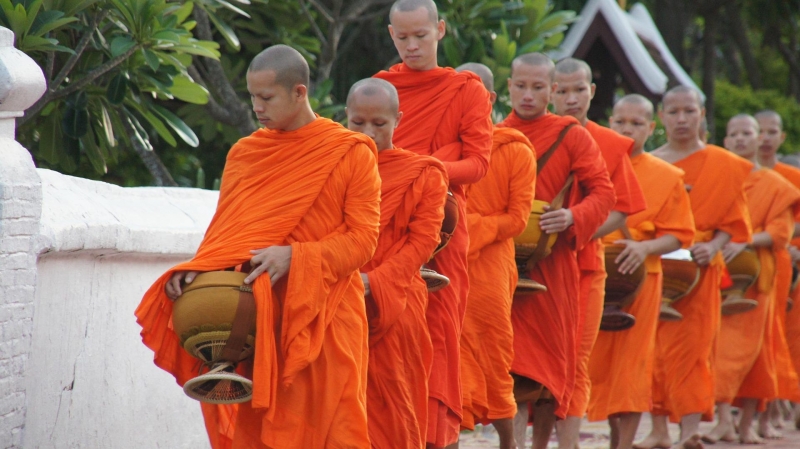 Wake up at dawn to watch the Buddhist Alms Giving Ceremony along Sakkaline Road near Wat Sensokharam, where monks from the monastery will collect alms from locals and tourists alike. While it may be an interesting experience, be sensitive to the culture and traditions of the Lao people, many of whom are devout Buddhists. Giving alms should not be done for fun but with sincerity and in the spirit of giving. If you are unsure of what to do, it is advisable to just watch from a distance without interfering in the ceremony.

The region around Luang Prabang is famous for its waterfalls, and the most popular among them is Kuang Si Falls. About an hour's drive from Luang Prabang, Kuang Si Falls is a tiered waterfall famous for its breathtaking scenery and beautiful emerald waters. Most of the pools are safe for swimming, so bring along your swimsuit! The easiest way to get there is to hop on one of the many tuk-tuks in town or ask if your hotel offers a shared minibus tour.
Entry fee: LAK20,000 (~SGD3)
Alternatively, if you're looking for a tranquil experience that's a little off the beaten path, consider heading to Tad Sae Waterfalls instead! Some 30 minutes away from Luang Prabang, this natural attraction is serene and relatively less crowded as it is not as spectacular to Kuang Si Falls. However, it is still a lovely place for a dip! Most visitors will stop at the main falls at the entrance but a little exploration further upstream will reveal more waterfalls. There is also a zip-line for those who are feeling a little more adventurous.
Entry fee: LAK15,000 (~SGD3)
Afternoon
As the midday sun rises in the sky, you can decide if you want to continue soaking in the cooling waterfalls or continue with your exploration!
If you're ready for new sights, head towards the Tat Kuang Si Bear Rescue Centre which rescues and protects endangered Asiatic bears from poachers and bile farms. Try to visit around 1pm, when these giants roam around in search for their food and treats. The facility relies on donations and sales of merchandise to operate, so do support them if possible!

Next, head to the Kuang Si Butterfly Park nearby and witness some of the most beautiful Laos butterflies. Opened in 2014, the park is an initiative to preserve nature and serves as a breeding sanctuary for the native butterflies in Laos. If you have a bit more time to spare, drop by the little café in the park for some great coffee and delicious baguettes! Take note: the park is closed on Tuesdays.
Entry fee: LAK 30,000
Evening
End off your second day with a fun activity! We are offering two options for you to take your pick from:
Option 1: How about trying your hand at traditional weaving? Renowned for its unique textiles, Luang Prabang offers a few weaving workshops and classes that will allow you to experience the intricate art of weaving. If you're interested, head down to The Weaving Sisters to learn how to do glass bead weaving using bamboo looms from two sisters from the Katu tribe in Laos. Plus, you'll get to bring back your very own headband or bracelet!
Cost: LAK300,000 (~SGD50)
Option 2: If you would rather sit back and enjoy a show rather than get hands-on with cooking, then it's time to discover the stories behind the founding of Luang Prabang. Garavek Traditional Storytelling Theatre performs a series of stories from Laotian folklore about the legends of Luang Prabang and the intersecting rivers. The stories are told in English and accompanied by live traditional Lao music. The show begins at 6.30pm every evening.
Cost: LAK50,000 (~SGD8)
After you're done, don't forget to head for a sumptuous dinner at Khaiphaen! This restaurant is named after a popular Laotian snack which is made from the unique combination of weed from the Mekong River and sesame seeds. They offer Laotian specials such as Kao Soi (miso soup with rice noodles, tomatoes and saw mint) and Or Lam (a stew with eggplant, pork, pepperwood and vegetables). Vegetarian options are available too!
Cost: LAK30,000-60,000 (~SGD5-10) per dish
Day 3: Rest and relax!
Morning
Still feeling exhausted from the series of activities the day before? Don't worry, today is all about rest and relaxation! In the morning, take all the time you need to wake up and stroll over to Phosi market, the biggest market in Luang Prabang. This is your chance to check out the local ways of life and also do some last-minute souvenir shopping! From local spices and fresh vegetables to colourful fabrics and adorable handicrafts, the market sells almost everything.
After which, head over to Luang Prabang Artisans Café for a relaxing and hearty brunch! Nestled in a quiet alleyway, this locally-owned café offers juices, flower teas and snacks like fresh spring rolls. The café is also attached to a handicrafts shop selling traditional textiles and handmade trinkets, so feel free to shop away!  
Afternoon
The Traditional Arts & Ethnology Centre is a private and non-profit museum dedicated to preserving the diverse cultures of the many ethnic groups in Laos. Other than showcasing precious cultural artefacts, the centre also has a museum shop selling village-made handicrafts made from natural materials. These items are all made by local ethnic minority artists, so don't hesitate to support this great cause!
And here comes your chance to transcend into ultimate relaxation! Head to Lao Red Cross Sauna and Massage for – as the name suggests – a comfortable massage and a great time at the herbal sauna! Affordable and armed with well-trained masseuses, this is for those who are seeking for a simple and no-frills experience. Plus, all proceeds go to the Lao Red Cross projects in the poor villages.
Cost: LAK10,000 (~SGD2) for sauna; LAK50,000 (~SGD8) for massages
Evening
End off your amazing vacation with a traditional Lao barbecue steamboat (also known as "sindad"), a must-try in Laos! Some popular barbecue spots are Dyen Sabai and Lao Lao Garden. Similar to mookata, the popular Thai barbecue steamboat involves grilling slices of meat in the centre of the pan while cooking other ingredients like noodles and vegetables in the surrounding broth. The juices of the meat will then flow down and mix with the vegetables to create an incredibly flavourful soup. Yum!
Cost: ~LAK60,000 (~SGD10) per person
Three days in Luang Prabang – check!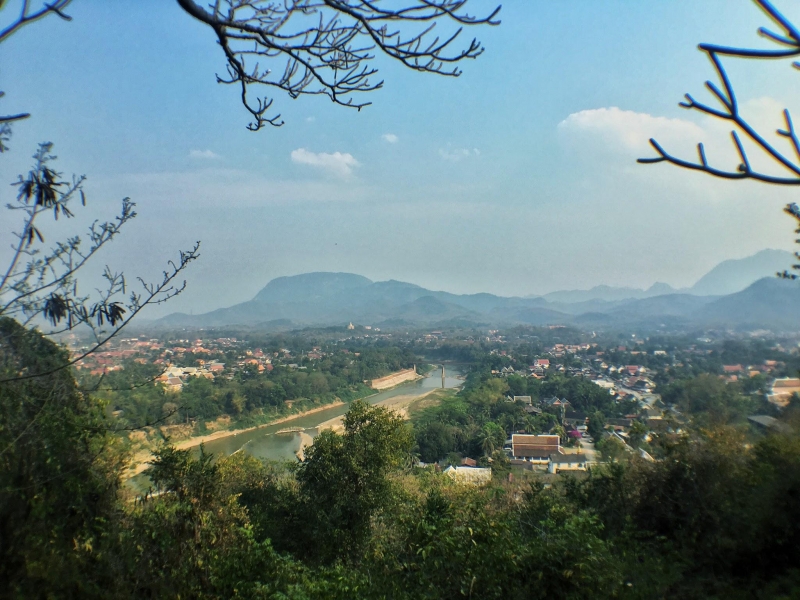 And there you have it! With this comprehensive itinerary, you'll be in for an eye-opening and fun-filled trip to the ancient city of Luang Prabang.
For more information and trip inspiration, check out the My Great Escape Campaign happening from now to 12 October 2017. With an extraordinary array of beautiful Buddhist temples, breathtaking natural sights and meaningful cultural activities, Luang Prabang is perfect for a getaway during a long weekend. If you have more time, feel free to go dancing in a Lao disco, stay overnight with the Hmong Hill Tribes or even embark on a rafting or mountain biking expedition. Otherwise, there's always a next time!  
---
Brought to you by the Changi Airport Group.