Contributed by The WANDER (FULL) LIFE
I wanted to do this post after I've documented the everyday adventure, but the thought of knowing how poor have we become won't let me rest. I didn't even want to go out since we arrived on Thursday because of it. But the husband was unusually restless. He went out on Friday and begged me to join him on a movie with friends on Saturday (Train to Busan). All throughout, I felt like I was there but not really there. All I wanted to do is just sit down and track our damage, which I did this dawn. I slept around 3:00 AM just to get it all laid out. (Yeah, OC!) I wanted to write a post immediately but I remembered piktochart. I can't make a post without it.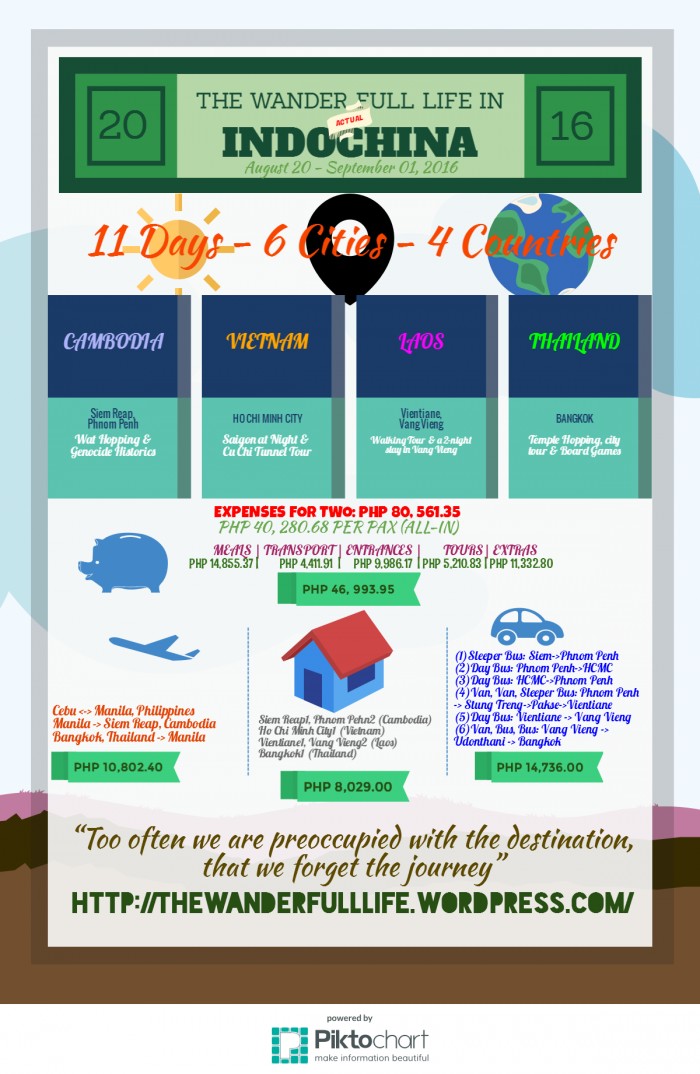 Image credit: The Wanderfull Life
Now everything is ready.🙂 I had an initial accounting on Friday while the husband was playing board games. I noted that we spent around ₱25,000 per person, almost the same amount with our Hongkong-Macau trip for 5 days but I forgot to include the flight fares and accommodations which were already paid, plus our expenses in Manila and some ATM charges.
All in all, we spent around ₱40,000 per person – that's everything already. ₱10,000 less than my estimated ₱50,000 pocket money only. I actually thought we spent bigger since we had some extra splurges like the souvenirs and shopping, which were not part of the estimates. See the details here. Everything is plotted – schedules, itinerary, expenses, transportation and accommodation.
Also read: The Essential Southeast Asia Backpacking List
Was it worth our money?
Of course! It was worth every penny. The joy of wandering is totally overwhelming. Much more to me because I loved everything about the trip since the planning. And being able to achieve everything that was planned is mind blowing. I attribute it all to God, to the good people of the place we've been to, especially to the husband who has been very supportive in everything. Once again, the Lord has shown me that nothing is impossible if you only put your mind and heart into it. People thought it was crazy – 4 countries in less than 2 weeks? Who'd do that? We JUST did. Crazy Couple, are we not?!
Where's the awesome pics?
Much as I wanted to share it now, this blog's storage is, unfortunately, full already. And it might take some time to select favourites with an almost 8 GB of pics from Day 0 to Day 12. The husband did post our Go Pro selfies on his Facebook. That would be for now, but I will find a way in the coming days. Stay tuned.🙂
The itinerary
I had a very detailed itinerary in our planning board but on our next trip, I think I will adapt the newly plotted itinerary found in our updated board. Putting in just the goals of the day is way better that OC-ing everything with time limits. Flexibility is much more fun. Also, I loved it that every time we arrived at a new place, the husband would just ask our target place to visit and then he will search it on his maps and find a way to get us there either by walking or riding a bus and train. Well, you could do this if you have a very reliable and direction-savvy husband or travel partner, especially if you are like me who is only good at planning but zero in directions and map reading.
Day 0 Cebu->Manila, Manila->Siem Reap
Flight to Manila (unfortunately Cebu Pac doesn't have Cebu->Siem Reap. Right now, there are only 5 international destinations that can be reached directly from Cebu: Singapore, Hongkong, Taipei, Incheon, Tokyo-Narita. Maybe, we'll have Singapore or Taipei next. The husband and I had a consensus not to do Korea and Japan anytime soon. Will blog about it in the coming days.)
8 hours of lay-over
Flight to Siem Reap
Late night hostel check-in
Slept at Khmere's Place
Day 1 Siem Reap, Cambodia (Currency spent: USD-cash on hand)
Sunrise @ Angkor Wat
Bayon, Baphoun, Royal Enclosure, Terraces of Elephants
Check out
Lunch
Bantay Kdei, Ta Phrom, Sunset @ Phnom Bakeng
Night bus to Phnom Penh
Day 2 Phnom Penh, Cambodia (Currency spent: USD-cash on hand)
Early arrival in Phnom Penh
SLA early check-in
Killing fields 9:00 AM -12:00 PM
Lunch
Toul Sleng 2:00-4:00 PM
Royal Palace
Independent Monument
Buy tix to PP & Laos
Slept @ SLA
Day 3-4 Ho Chi Minh City, Vietnam (Currency spent: VND-withdrawn)
Day 3:
Check out at SLA at 7:00 AM
Early departure to HCMC
Check in at Rich's Place
Afternoon and night in HCMC
City walk to riverside, etc
Book Cu Chi tunnel tour
Slept at Rich's Place
Day 4:
Check out at Rich's at 6:00 AM
Breakfast outside
Left the big packs at VietWay Tours
Cu Chi Tour 8:00 AM to 2:30 PM
Bus back to PPenh 4:00 PM
Arrive 10PM, slept at Village Hostel
Day 5 Bus from HCMC, Vietnam ->PP, Cambodia ->Vientiane, Laos (Currency spent: USD, LAK-withdrawn in Pakse, Laos)
Check out at Village Hostel
Van to Stung Treng 4:00 AM
Arrival in Stung Treng 12:00 PM
Van to Pakse 12:30PM
Arrival in Pakse 5:00PM
Dinner
Night bus to Vientiane 8:30 PM
Day 6 Vientiane, Laos (Currency spent: LAK)
Arrival in Vientiane 7:00 AM
Early check in @ Sing's
Rest & lunch after
Buy tix to Vang Vieng
Visit Buddha Park
Riverside & night market
Slept at Sing's
Day 7-9 Vang Vieng (Currency spent: LAK-withdrawn in Vang Vieng)
Day 7:
Check out @ Sing's
Breakfast at karenderia
Departure to VangV 9:00 AM
Arrival in VangV 1:00 PM
Check in at Nouth's
Rented a bike and do a tour
Slept at Nouth's
Day 8:
Free breakfast
Join a half-day tour w/ zip lining, caving & tubing
Rent a motorbike
Trek to Phon Ngern Mountain
Dinner & tried a Lao Massage
Slept @ Nouth's
Day 9:
Free breakfast
Motorbike to Blue Lagoon
Check out at Nouth's
Left VangV at 1:00 PM
Dinner while waiting for bus
Sleeper bus by 8:00 PM
Slept at bus
Day 10-11 Bangkok (Currency spent: BAHT-withdrawn in Nong Khai)
Day 10:
Arrive in Bangkok at 6:00 AM
Early check in not possible
Left bag and do an early temple visit at Royal Palace and Wat Pra Kaew
Check in at 3:00 PM, slept
Free dinner @ 7:00 PM
Visit a board game cafe
Slept @ Daniele's
Day 11:
Woke up late
Free brunch
Check out and left bag
Visit Wat Pho
Back to pick up bag
Dinner at airport
Left Bangkok at 12:00 AM
Day 12 Flight out of Suvarnabhumi Airport, Bangkok
Arrive in Mla at 4:00 AM
Check in at The Wings
Slept until 12:00 PM
Free brunch
Check out at 1:30 PM
Left Manila at 4:00 PM
Home by 5:00 PM
Dinner at Bigby's till 10:00 PM
Also read: Singapore to Bangkok: How to Make This Journey by Train
Highlights
Able to withdraw VND, LAK and BAHT
Affordable internet sim in Laos and Thailand
All bus tix were bought on the day, and we were able to pick a new sched, thus extending wander time
Tried a lot of means of transport
Eat at street foods and cafes alike
Able to bike and motorbike in Vang V
Able to trek in Vang V
Meet new friends in Cu Chi and Vang V tour
Achieved the 4 country target with no bus sked aberrations and etc
No bad experiences in people and etc
Able to navigate on our own via maps
Amazed by The Wings in NAIA 3
Awesome trip!!!
Total damage
Category
Cost
PRE-PAID (via credit card)
₱18,831.40
Ceb<->Mla;
Mla->Siem;
BKK->Mla
₱10,802.40
Accommodations
₱8,029.00
PAID DURING TRIP
₱61,729.95
Transport in between cities
₱14,736.00
Expenses*
₱46,993.95
TOTAL FOR TWO PERSONS
₱80,561.35
Per person cost
₱40,280.68
*Expenses include meals, transport, entrances, tours and others
Documents
Indochina in 11 Days (Cam-Vie-Lao-Tha) Infographic
Trip Details (Schedules, Itinerary, Expenses, Transportation, Accommodation)
Accommodations
Date
Place
Link to Stay
Cost /Person (US$)
Total Cost (US$)
Total Cost (₱)*
Notes
1
8/20 – 8/21
Siem Reap, Cambodia
Khmere's Place
US$10
US$20
₱942
Sat Night, Booked
2
8/22 – 8/23
Phnom Penh, Cambodia
Local Riverside Guesthouse
US$10
US$22
₱1,036
Mon Night, Booked
3
8/23 – 8/24
Ho Chi Minh City, Vietnam
Rich's Place
US$13
US$15
₱705
Tue Night, Booked
4
8/24 – 8/25
Phnom Penh, Cambodia
Khmer Village Hostel
US$10
US$20
₱960
Wed Night
5
8/26 – 8/27
Vientiane, Laos
Singsanti's
US$13
US$15
₱802
Fri Night, Booked
6
8/27 – 8/29
Vang Vieng, Laos
Lao Valhalla Bungalows & Restaurant
US$25
US$25
₱2,641
Sat,Sun Night, Booked
7
8/30 – 8/31
Bangkok, Thailand
Daniele's
US$15
US$15
₱943
Tue Night, Booked
TOTAL
US$96
US$132
₱8,029
*US$1 = ₱48
Transportation
Date
From
To
Transportation (Ticketing/Bus)
Travel Time (hrs)
Cost /Person (US$)
Total Cost (US$)
Total Cost (₱)*
1
8/21 (Sun), 22:30
Siem Reap, Cambodia
Phnom Penh, Cambodia
Night Bus (Cambodia Angkor Express)
7
US$18
US$36
₱1,728
2
8/23 (Tue), 08:00
Phnom Penh, Cambodia
Ho Chi Minh City, Vietnam
Day Bus (Phuong Heng (Sun Leang))
7
US$15
US$30
₱1,440
3
8/24 (Wed), 16:00
Ho Chi Minh City, Vietnam
Phnom Penh, Cambodia
Day Bus (Phuong Heng (Sun Leang))
7
US$15
US$15
₱1,440
4
8/25 (Thu), 4:30
Phnom Penh, Cambodia
Stung Treng, Cambodia
Van (Sun Leang)
7
US$65
US$130
₱6,240
8/25 (Thu), 12:30
Stung Treng, Cambodia
Pakse, Laos
Van
5
8/25 (Thu), 20:30
Pakse, Laos
Vientiane, Laos
Sleeper Bus
11
5
8/27 (Sat), 9:30
Vientiane, Laos
Vang Vieng, Laos
Day Bus (Yortdoy Service)
4
US$5.50
US$11
₱528
6
8/29 (Mon), 13:30
Vang Vieng, Laos
Udonthani, Laos
Van (Southchai)
6
US$35
US$70
₱3,360
8/25 (Thu), 20:30
Udonthani, Laos
Nakhon Ratcha, Thailand
Sleeper Bus
7
8/30 (Tue), 3:00
Nakhon Ratcha, Thailand
Bangkok, Thailand
Sleeper Bus
3
TOTAL
64 (2.67 days)
US$153.50
US$307
₱14,736
*US$1 = ₱48
Basically, above are the details that you will need if you ever want to do what we did. But maybe you can find a better option than do a crazy all day travel from Vietnam to Laos. You can also scrap Laos altogether like this itinerary.
When we booked this trip, we didn't really think about what we will do. We just booked the cheapest flight that we found. You can do better. That's if you are willing to gamble like what we did here since basically, I didn't find the same itinerary of what we did when we planned this. Laos was the odd one out but I really wanted to visit Vang Vieng. No regrets though because Vang Vieng is way better than what I have dreamed of.
Finally, this is it. I will try my best to continue writing the everyday happenings, but most of the non-personal details are already here. You can ask me anything if you have more questions about doing this adventure. If you ever thought about doing this, listen to that voice.
Also read: The Craziest Things I Found Myself Doing While Backpacking Asia
No matter what other people tell you, doing what you love is the best thing in the world EVER! Go and seize it. YOU ONLY LIVE ONCE so make the most out of it. You can't bring possessions to your grave but memories live forever.
Cheering on you,
Migo & Miga