ZUJI x TripZilla: Presenting to you, our nifty 'ZUJI Keeps It Real' series!
Straight up, no fluff: arm yourself with candid travel cheat sheets that contain authentic stories, real life experiences and insider tips for fellow travellers. We've been inspired and we hope you will be too!
---
Bangkok, Hanoi, Siem Reap – mention a vacation in Southeast Asia and these cities immediately come into mind. However, these places can be swarmed with tourists, especially during travel season. If you're looking for somewhere with authentic local cuisine and cultural attractions, yet without the need to tussle with the crowds, we've got just the place for you!
Introducing Luang Prabang, a city nestled in the heart of Laos. A designated UNESCO World Heritage Site, the city is renowned for its numerous Buddhist temples and monasteries. But there's more to the Luang Prabang than visiting its ancient religious sites! Allow me to show you the various attractions in and around the city, which would definitely make a visit to this place a unique vacation experience. If your interest is already piqued, why not consider a flight to Luang Prabang going from just S$277 all-in with ZUJI:
NOTE: THIS SALE HAS EXPIRED, BUT DON'T MISS THE NEXT ONE! FOR INSIDER INFORMATION ABOUT THE NEXT FLASH DEAL, JUST:
Thinking of hopping over to Luang Prabang? Grab a flight to this city from just S$277 with ZUJI from 13 March to 9 April 2017! And that's not all,  you also get to enjoy:
S$15 iShopChangi e-voucher with any flight booking to Luang Prabang

12% hotel coupon code for Luang Prabang hotels
Looking for more amazing deals? Book any flight with your Citi Credit Card for a 5% rebate on all flights/packages for travel by 30 September 2017!
Isn't that amazing?! Be quick and seize this deal to Luang Prabang with ZUJI today!

So prepare your pens and start taking notes on the things you can do in Luang Prabang:
Explore the Old Quarter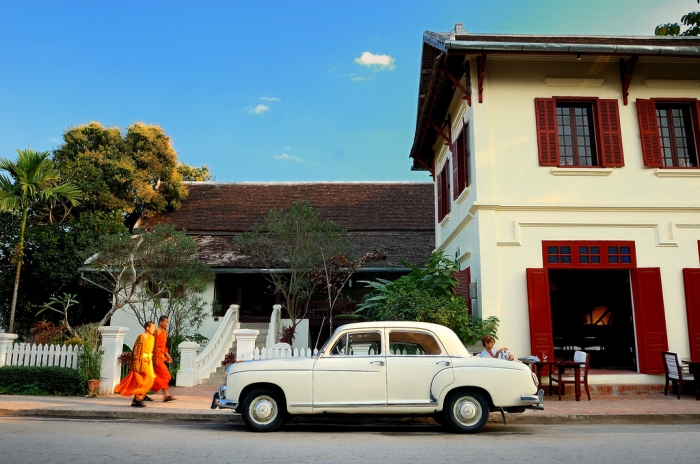 Image Credit: Mark Lehmkuhler
Luang Prabang's Old Quarter is a living testament of the city's ancient heritage and long history. Marvel at the intricate combination of colonial French and indigenous architecture in the area, or visit the numerous Buddhist temples such as the famous Wat Xieng Thong with its gold walls and entrance. What I loved best though, was the pervading atmosphere of tranquility in the Old Quarter. I enjoyed walking down the quiet streets, bereft of the hustle and bustle of modern cities. If you desire an escape from the cityscape, then Luang Prabang's Old Quarter is the place to visit.
Travel Cheat Sheet Tip: If you're not staying in the city for long, we recommend renting a bicycle to explore the streets of the Old Quarter. Doing so will allow you to cover more area in the same amount of time! Bicycles can be rented from many places in the city, such as the main street of  Th Sisavangvong, at an extremely cheap 8,000 – 16,000 kip (S$1.40 – 2.80) per day.
Enter the Pak Ou Caves
Looking for a reason to sail down the Mekong River? Look no further than the Pak Ou Caves! A two-hour boat journey from Luang Prabang, these caves are situated on a riverside cliff. The Pak Ou Caves are renowned for containing thousands of Buddha idols, that were left behind by pilgrims across the centuries. My favourite part was venturing deeper into the upper cave, away from the crowds, where I could feel the weighted silence all around me. A true cultural marvel, Pak Ou Caves is a must to visit!
Travel Cheat Sheet Tip:  The boat ride is not just for enjoying a lazy drift down the river! Most of the boat rides stop at one of the villages along the way, which often sell handmade crafts or local produce. Take the opportunity to explore these villages, or grab some of the handicrafts for sale as souvenirs.
Haggle at the Local Night Market
If you are seeking the best deals for traditional Laotian clothing or fashion accessories, check out the night market which opens from 5pm to 11pm daily. The night market sells a wide variety of local handicrafts, ranging from clothing to jewellery to trinkets, making it perfect for souvenir-shopping! There are also stalls selling fruit smoothies and local food, for you to snack on while you peruse the wares available. As the night market stretches from Wai Mai along Sisavangvong Road to the city's centre, it is an ideal starting point for a luxurious stroll across the city.
Travel Cheat Sheet Tip: Like most night markets in Southeast Asia, prices of the goods on display are open to haggling. Be bold and remember to bargain hard. I did get some good deals at the night market,  such as a bag that costs less than half its original price!
Speaking of shopping, what's the best way to satiate your inner shopaholic than duty-free shopping at Changi Airport! Grab the chance to stuff your bags full before and after your flight, or visit
ishopchangi.com
, Changi Airport's online duty-free store.
And what's the best way to shop than to shop with an e-voucher! Receive a S$15 iShopChangi e-voucher and shop whenever you feel like it when you book your flight to Luang Prabang
from S277 with ZUJI
from 13 March to 9 April 2017!
Visit Ban Xieng Mane in the Chompet District
The hamlet of Ban Xieng Mane, just across the river from Luang Prabang, holds its own secrets. A sharp contrast from the bustling tourist-centric Luang Prabang, this village in the Chompet District offers a glimpse into the slow, peaceful countryside life.  You can pay a visit to the handful of small temples around the area, or enter the nearby caves (which has its own Buddha images). As one of those who live and work in a busy metropolis, I felt that the serenity offered by Ban Xieng Mane was both soothing and surreal.
Travel Cheat Sheet Tip: For the hiking enthusiasts, or those who love picturesque views, trek up the nearby hill for an aerial perspective of Luang Prabang. You can also get a good view of the surrounding region, with its beautiful mix of paddy fields and untamed jungle. You can also take it a step further and have a picnic lunch there!
Whip Up Some Laotian Dishes at a Cooking Class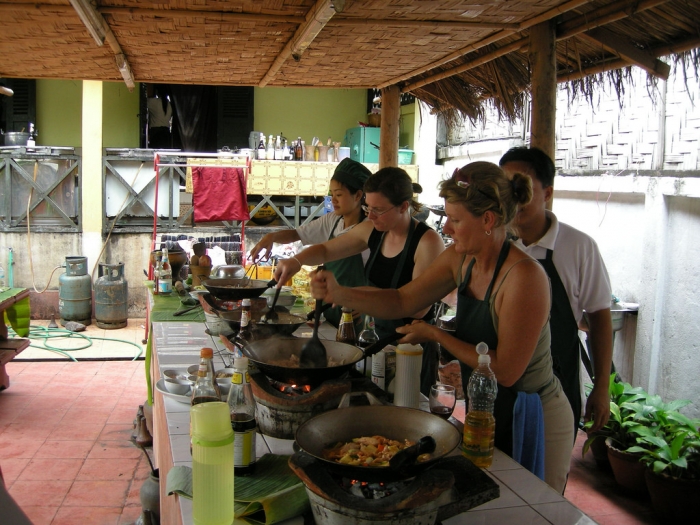 Image Credit: einalem
What's the best way to immerse yourself in Laotian culture? Learn to cook Laotian cuisine, of course! Luang Prabang has several restaurants that offer their own cooking classes, such as the Bamboo Tree Restaurant and Cooking School, Tamarind, and Tamnak Lao. Each restaurant's cooking class differs, with some being more hands-on than others (I would recommend those). Most classes would start with shopping at the fresh market for ingredients, and end with tasting of the exquisite food prepared. So get set for a day of culinary fun, and be rewarded with a sumptuous meal for your hard work!
Travel Cheat Sheet Tip: As cooking class sizes are limited, do place your reservations in advance! For example, Tamnak Lao only offers 12 slots per class, but allows you to book via their website. If you are worried that your time is Luang Prabang is too short to spend a day cooking, don't worry – most cooking schools offer 2 classes per day!
Become a Rice Farmer at Living Land Rice Farm
Swap the hours playing Farmville on your mobile phone with an actual farming experience! Living Land Rice Farm, next to Luang Prabang, offers you a chance to become a rice farmer for a day. Not only do you get to plant seedlings, but also make the equipment needed to harvest and store the rice! Pose with the water buffaloes against the backdrop of the sweeping rice fields as you learn about how rice is made. Be prepared to get dirty too – I was fortunate to be wearing shorts when I waded into the muddy rice fields!
Travel Cheat Sheet Tip: Planting and harvesting rice can be hard work, so pace and hydrate yourself often! If you have back problems or injuries, think twice before participating in any farming activities. All in all, it's all about having a comfortable and fun experience!
Flights to Luang Prabang might be going
from an amazing $277 with ZUJI
, but you can get more incredible discounts when you book with your Citi Credit Card! Get up to 5% rebate on all flights/packages with ZUJI for travels by September 2017 when you pay with your Citi Credit Card. Mindblown? Oh yes, we are!
Take a Swim in the Nearby Waterfalls
If you visit Luang Prabang, you must visit its waterfalls; the two are pretty much synonymous. The two most famous ones are the Kuang Si and Tad Se Waterfalls, which offer not only Instagram-worthy photos but also excellent pools for a soak. If you are thirsty for adventure, I recommend scaling up the waterfalls! The rocks may be slightly slippery, but standing at the top of the waterfall is definitely a rewarding experience. I noticed that more locals tend to congregate at Tad Se Waterfalls, so do remember to dress appropriately if you are intending to take a swim there.
Travel Cheat Sheet Tip: If you desire a quieter waterfall experience, head towards Tad Thong Waterfall instead! This series of small waterfalls lies approximately six kilometres from the city, but is totally devoid of tourists. You can take a tuk tuk to the waterfall or try the 45-minute hike through the jungle. Remember to go only during the rainy season, from July to December, where the pools are deep enough to wade in!
Immerse Yourself in Laotian Folklore at Garavek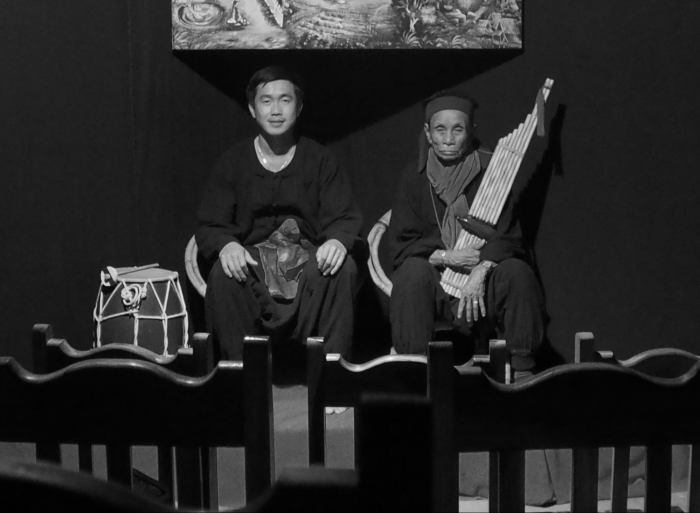 Image Credit: garavek
Laos is a country rich in culture and folklore, but sadly, these traditions of music and storytelling are slowly eroding away. Garavek, a small company based in Luang Prabang, strives to counter this and preserve the tradition of storytelling. With daily performances in the evening at a local theatre, be entranced by the various Laotian folktales that the performer recounts in English. I loved how simple the performance is – only a storyteller and a musician playing the khene (a local instrument) – and yet engaging enough to cast you back into ancient Laotian times.
Travel Cheat Sheet Tip: The theatre only seats 30 people, so do make reservations! Each ticket cost 50,000 kip (around S$9), and each performance lasts for an hour. As the theatre is situated in the heart of Luang Prabang's Old Quarter, you might want to combine your tour of the area with a performance at Garavek.
With rich cultural attractions, beautiful scenery and unique activities to do, Luang Prabang is definitely an excellent choice for a Southeast Asian getaway! So why not beat the crowds, and head towards Luang Prabang with flights going from just S$277 on ZUJI:
Luang Prabang might be one of Southeast Asia's most hidden gems for now, but that might change any time! Why not grasp the chance at get to this beautiful city as soon as you can, especially with flights going there from just S$277 with ZUJI from 13 March to 9 April 2017! Additionally, you get:
S$15 iShopChangi e-voucher with any flight booking to Luang Prabang

12% hotel coupon code for Luang Prabang hotels
Already itching to book your flight? Hold your horses! Stack those deals with this additional one: book any flight with your Citi Credit Card for a 5% rebate on all flights/packages for travel by September 2017!
You can drop your jaw now! Remember: it all starts with flights to Luang Prabang from just S$277 with ZUJI!
For first-hand information about ZUJI's upcoming deals and promotions, simply subscribe to their mailing list right here and have them delivered right to your doorstep: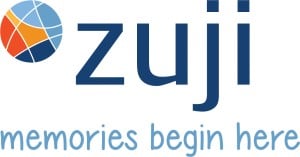 Thank you for your subscription.
By subscribing to ZUJI's mailing list, you will:
Be the FIRST to know about flash sales, special conditions, and exclusive airfares/promotions

Receive hints about flash sale timings – every minute counts!

Have first-hand information about ZUJI special promotions
Already dreaming of frolicking around the rice fields in Luang Prabang? As you mark your calendars and plan your itinerary with my recommendations above, stay tuned for the next instalment of our 'ZUJI Keeps It Real' series. Meanwhile, have a great visit to Laos!
---
Brought to you by Changi Airport Group & ZUJI.