Vang Vieng is Laos' most improbable party town. Located deep in Central Laos about four hours away from the dusty capital of Vientiane, this once-tranquil scenic farming village known for its stunning limestone cliffs, caves, and forests, has since turned into somewhat of a seething epicentre of backpackers gone wild.
Vang Vieng is where you come to get wasted. This town is a certified rite of passage for travelling youths passing through Laos, and tubing is its ultimate act of initiation. Tubing, which involves floating down the meandering Nam Song River in tractor-tyre tubes, brings you past riverbanks lined with ramshackle wooden bars and throbbing party music and very, very happy menus. Pizzas, shakes, tea, and basically anything else that can be consumed as food, are typically laced with anything from marijuana to mushroom to even opium if you know where to look. And rope swings, giant water slides and zip lines, are a few of the many river activities partaken by these happy people.
To put it simply, Vang Vieng is one toxic party that never ends. Many of the river bars have since been shut down following increasing deaths and public scrutiny since 2012, but nobody's putting Vang Vieng in a corner just yet. The blatant use of weed and other illegal substances is still widespread and done boldly, publicly, and fearlessly; and while its position on the rowdiness meter may have improved a fair bit over the past couple of years, one is still hard-pressed to use the words 'Vang Vieng' and 'family-friendly destination' in the same sentence – unless of course, that sentence includes the word 'not'.
These days, the one question most people ask when pondering over Vang Vieng, is whether it is still worth including in their itineraries. Well, if your intention is to get high and wasted, then maybe not  – especially if you've been collecting anecdotes from alumni backpackers who were here before 2012. If that scene is what you're looking for, you will be sorely disappointed.
But if you're up for appreciating one of the most spectacular backdrops and natural compositions in the whole of Southeast Asia, my only answer is, why not?
1. Go on that legendary tubing experience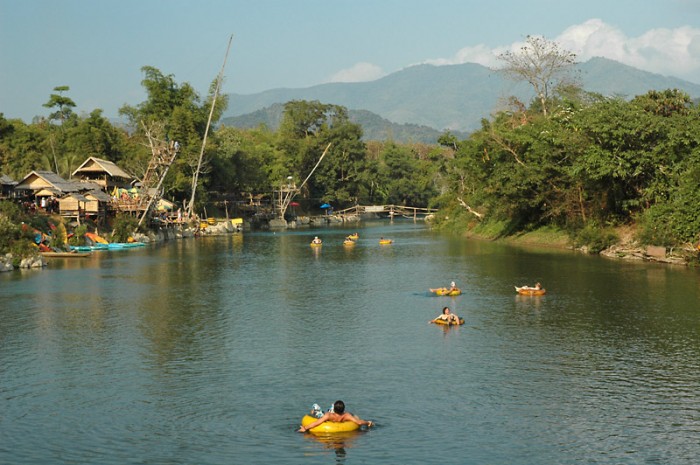 Image credit: R Stacker
Vang Vieng may have put it immense effort to clean up its act since 2012, but the party isn't exactly over. Despite what you hear, tubing hasnotbeen banned in Vang Vieng; it's the substances which make it life-endangering that have been. If anything, you probably just have less opportunities to kill yourself now as compared to before, and your full sobriety will also allow you to appreciate the countryside's stunning landscape a lot better than if you were under the influence.
By and large, much of the unadulterated fun still goes on after dark, but for the record, you won't see many drunken backpackers throwing themselves off ropeswings into the water anymore. And there certainly also haven't been any tubing deaths since 2011.
2. Embark on a caving adventure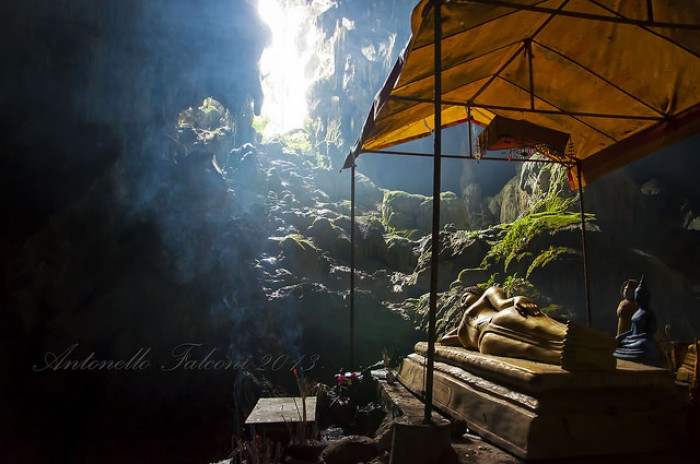 Image credit: Antonello Falconi
There are at least a hundred caves in the whole of Vang Vieng and you probably won't want to visit every single one of them, but their jaw-droppingly beautiful formations make at least a couple of them worth the visit. A notable one is Than Nam, a Water Cave made up of a network of rivers running through the mountainside which, incidentally, allows you to go tubing for up to 500m into the mouth.
3. Bliss out in the cold turquoise waters of the Blue Lagoon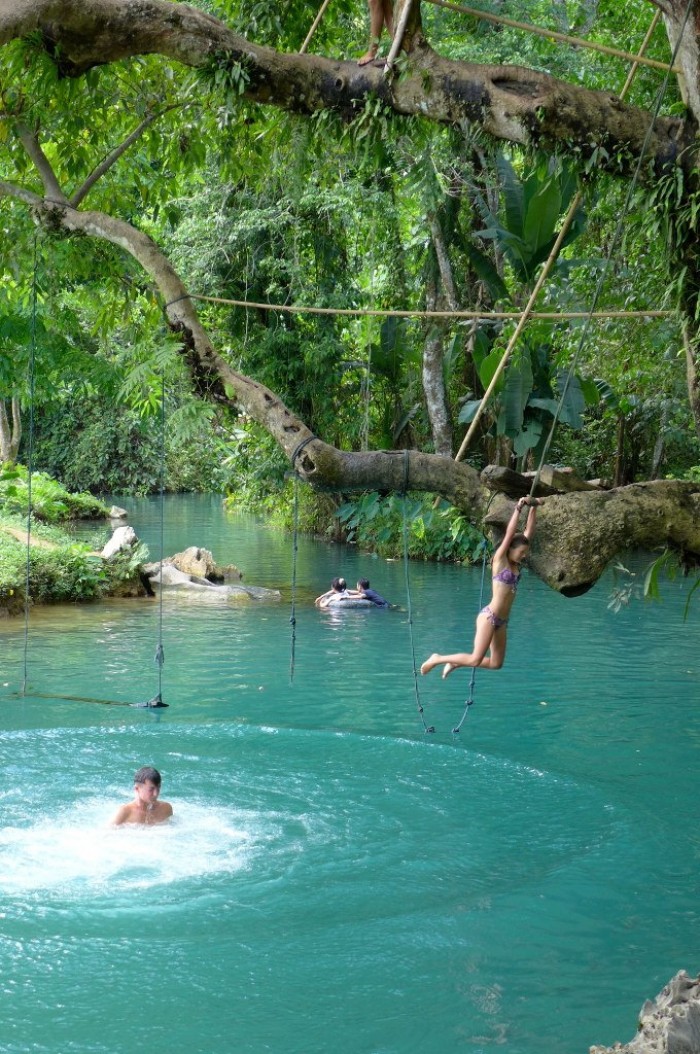 Image credit: Madeleine Deaton
Iceland isn't the only country with a legit Blue Lagoon – Vang Vieng's rendition gives it a good run for its money too, at 1/70th of the price.
The road to Vang Vieng's Blue Lagoon is quite an adventure in itself and requires a 'mini-trek' through a cave before you can even feast your eyes on its pool of soft delicate pale blue; but no one who has come out of this will ever tell you that the extra effort isn't worth the while. It's a great way to wile away the afternoon in a surreal, I'm-in-the-seventh-level-of-celestial-heaven sort of way; and can be exceptionally refreshing especially if you've just dropped in from dusty ol' Vientiane.
4. Explore the sweet calm of Vang Vieng in a hot air balloon ride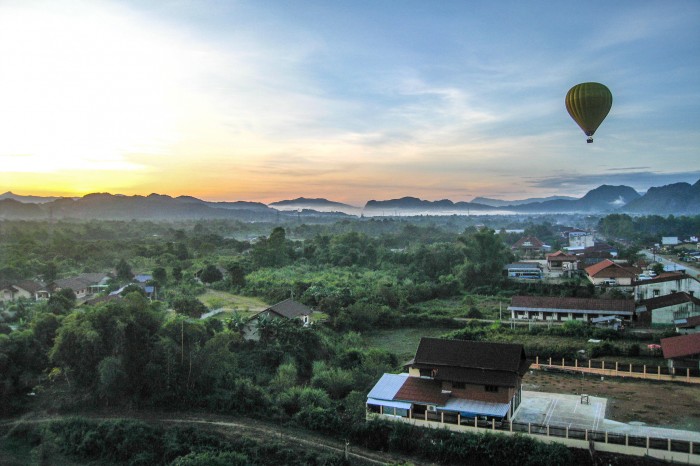 Image credit: Jeremy Foster
Everyone's always on a curiously tight budget when cruising through the span of Southeast Asia, but at $50-$80 for a 30-60 minute ride, hot air balloon adventures in Vang Vieng are a freakin' steal. Vang Vieng is as quaint and romantic a town as riverside towns can generally get, so what better way to explore it than by floating thousands of feet high in the air above? Don't expect Cappadocia, but Vang Vieng's blessed with beautiful rural scenery and gorgeous limestone formations that will make for a pretty darn good view all the same.
As with any other activity in Vang Vieng, be sure to check out the credibility of the company before settling on the lowest-priced deal. A quick Google search will provide you with the reviews you need to confirm its legitimacy; believe it or not, there are still companies who don't adhere to the basic safety standards despite the nature of risk in hot air ballooning.
5. Indulge in Friends reruns and, ironically, make some new ones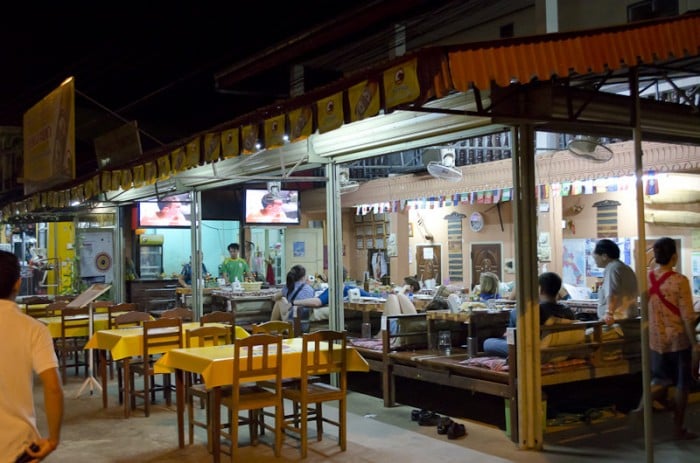 Image credit: Tyler Ingram
There is a weird phenomenon that goes around all of Vang Vieng, in which scores of uncannily similar bars, restaurants, and guesthouses play endless loops of Friends, Family Guy, and South Park on their overhead TV sets, from day all the way into night. It's a fantastic place to chill out with free wi-fi and feel a little more at home; not to mention that all that slapstick comedy going in front of you also provides for great conversation starters with fellow travellers and boarders. If you're unlucky (or lucky, depending on how you look at it) enough to be stuck in bad rainfloods while travelling through this riverside town, be prepared to be lulled into an ultimate couch potato fest, because chances are this is what you are going to spend the bulk of your day doing.