Beyond the handful of exotica-hunting wanderlusters, the road into Mandalay remains a largely untrodden mystery. In fact, your average traveller will probably skip past Myanmar altogether, much less the enigmatic and unassuming Mandalay. Google the city, and the sea of irregular sized buildings clustered in the dusty grid looks as nondescript as the boring beige that paints their walls. But if you stop at that, you're missing out on the chance to be blown away.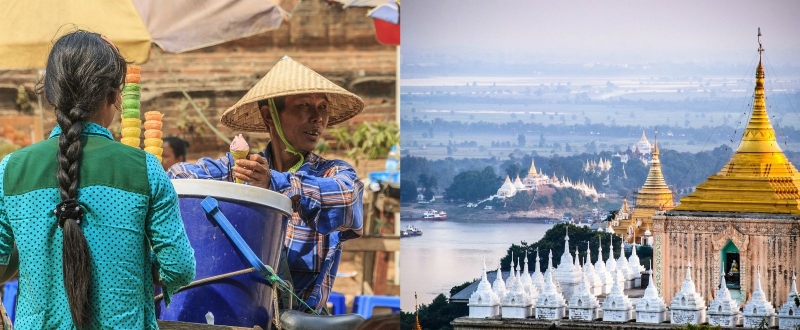 Stare more closely into the Mandalay skyline, and you'd find a brimming cauldron brewing with some of the best cultural experiences that Southeast Asia has to offer. Littered with monasteries, pagodas and traditional houses inked by Myanmar's illustrious Barma past, the whole city is a cultural epicenter.
From ethereal mountain-hidden shrines to satirical puppet masters, Mandalay is every bit the mouthpiece for what the freshly liberated Myanmar stands for: raw, daring, and a tangled heap of delicate history laced with buzzing modern metropolis hopes and dreams. Mystically rejuvenating and richly colourful, here are nine things to do that prove why Mandalay is the undiscovered gem in Myanmar you simply have to visit.
1. Explore the ancient ruins of Inwa
Like something straight out of a Tomb Raider movie, the outskirts of Mandalay contain the rustic ruins of the sleepy Inwa region. As you can probably tell from the ethereal, weather beaten walls of the complex in the photo above, this site is photography heaven. Flanked by far-stretching rice fields and other crops, the Inwa landscape is dotted with many a withered Pagoda or ruined stupa.
To make your journey here even more rustic, you can also charter a ride in a backwater horse-cart to be pulled through all the most photo-perfect spots the locals are familiar with. Snap away and you'd probably be able to trick your friends back home into thinking you wandered into some mysterious South American maze.
2. Try your hand at gold pounding
Time to put your muscles to the test. At one of the many gold pounding workshops that dress 36th Street, you can be offered the unique opportunity of smashing in some glittery gold. Wield a three-kg hammer that actually packs quite the punch, and try to echo along to the rhythmic pounding of the seasoned local professionals.
Have you ever seen the Japanese chefs pound their mochi symphonically as though they're a drum duo? Well this is similar, just instead of beating the obviously soft mochi gelatin, you're hitting away at solid gold. Gold is the offering of choice for many locals when they pay their respects at the many temples and stupas. As such, these shops specialise in beating the metal right to the pulp into fine golden leaves. Some shops even let you join in for free! When you've worked up a sweat and once you've made your leaves, be sure to purchase some from one of the many temples and shrines throughout Mandalay.
Because how often do you get to handle gold, let alone pound it into leaves? This novel experience is
just a flight away
!
3. Cross the world's oldest teakwood bridge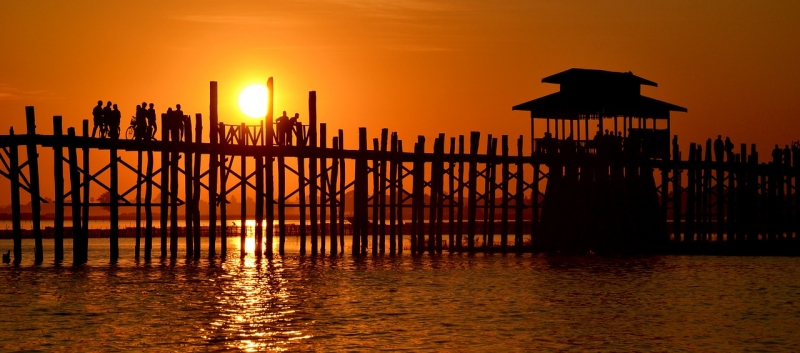 Stretching across the Taungthaman Lake in Amarapura lies what is supposedly the world's oldest and longest teakwood bridge. Dating back to the 1850s, the aged U Bein bridge is pieced together from tall poles of teakwood dismantled from a teak palace. If traversing this seemingly precarious bridge wasn't novel enough an experience, then the raw insight into the authentic Burmese way of life that it offers is even more alluring.
A cornerstone in the local community, troves of locals and robbed monks cross the bridge each day as fishermen cast nets into the fish-gorged waters below. U Bein bridge is a great place for avid shutterbugs and curious foreigners to get a glimpse into the daily life. Stay till evening and watch as the setting sun casts wilting rays that reflect immaculate, photo-worthy pink hues onto the glimmering water.    
4. Experience the delightful chaos of Flower Market
Okay, granted that this hole in the wall certainly is no vast Dutch Keukenhof or even Gardens By The Bay for that matter. But it is still every bit a kaleidoscope of lively colours and certainly oozes a warm, homely vibe that you'd be hard-pressed to find behind the glass domes at Singapore's Marina Bay. Visit in the morning, and you'd find the market hustling and teeming with a barrage of activity. Be aware of your surroundings, and revel in the sight of greasy motorcyclists weaving in and out of the haphazardly aligned street stores, frantically trying to buy or sell their most fragrant and beautiful flowers. Perhaps the Flower Market itself embodies what Mandalay is all about – an intriguing yet somehow seamless blend of bustling upmarket city living and the beautiful natural beauty.
Bouquets of flowers are sold in a multitude of sizes along 26th and Pulang Streets, with some too big to even fit in neat bundles. Stroll down the lane of lulling lilacs, bursting sunflowers, crimson roses and about every colour you can think of on the palette. With the perfume shop-like amalgam of aromas and smells to tingle your noses, Flower Market makes for a great destination for a soothing morning walk.
5. Celebrate satire with the Moustache Brothers
Seriously, this is just for laughs. Gaining notoriety in the 1990s with a series of anti-establishment jokes and rants that probably went a bit too far, the infamous Moustache Brothers in Mandalay will provide you with a dose of comic relief. It's one thing to watch a stand up comedy, but it gets to a whole new level when you watch one hosted by a classical a-nyeint who's dark humour have seen them thrown in jail cells before.
Combining traditional Burmese dances with amusing quips from funny bone-tickling jokers and a dash of corruption and soviet-era slurs, you'll be in for a daring show rarely replicated in anywhere throughout Southeast Asia's conservative quarters. This triumphant trio can be found on 9th Street in Mandalay, between 80th and 81st. Shows start at 8:30pm daily, lasting for about an hour and costs just USD7.75 (~SGD10). There's no doubting the wisecracking Moustache Brothers will deliver an entertaining, laughter-filled afternoon. The real question is: can you take a joke?
6. Trek up Mandalay Hill
For the large part of it, Mandalay remains a low-lying, pancake-flat land. But pan the surroundings, and you'd spot one sprawling hill along the horizon. Standing sentinel as though a watchful guardian over the city, Mandalay Hill is a popular destination for tourists and locals alike. It offers completely unrivalled vistas of Myanmar's second largest city from the verandah of the Sutaungpyei Pagoda some 790 ft. up.
Though it is possible not to break a sweat by scaling the hill via car before transiting to a lift that takes you to the summit, the climb to the top only takes just a bit more than 30 minutes of effort. Hardly the challenge for seasoned hikers but, as they say, the journey always trumps the destination. Although that doesn't mean to say the summit is anything less than amazing; the picturesque scenery captivates all who gaze upon it. Along the way up, you'd also find many photo spots with icons like an outstretched Buddha and the towering Myatsawnyinaung Ordination Hall. This is one sightseeing spot in Mandalay that is just crying out for you to explore.
7. Haggle for jewellery at Jade Market
Jade is the one piece of jewellery that makes many Asian women go green with envy. With a meagre entrance fee of just USD1 (~SGD1.40), stroll through the buzzing cackle of Jade Street, where every store boasts an overwhelming collection of shimmering jade ornaments. Everything from earrings and bangles to decorative but auspicious-looking dragon figurines, this place is where you'd find the brash, noisy, raw but all the more exciting face of Mandalay.
A far cry from sleepy hillside pagodas, every nook and cranny along Jade Street is smoldered with life. Haggling foreigners attempt to argue down prices against reluctant peddlers, and the air is a thick musk where you'd see billions of tiny rock dust carvings floating through the streaks of sunlight that penetrate through the awnings. Even if you aren't interested in building up your jade cabinet, this is an amazing place with an infectious atmosphere to soak in.
8. Roam the regal grounds of Mandalay Palace
These are palace grounds that completely befit the royal status that it proclaims. With pristinely groomed courtyards in the front chambers and vivid bright red and golden rimmed roofs sheltering most of its structures, Mandalay Palace was once the calming abode of the last Burmese monarchy. Stroll through the hallowed hallways and you'd find beautifully intricate shrines, charming statues and alluring architecture.
Though most of the original structure was lost in WW2, the government restored it with a brilliant symmetry in the 1990s. Enter through the eastern gates to explore this gargantuan remnant of Myanmar's rich historical past.
9. Tug at the heartstrings with a Mandalay marionette
Once a highly regarded aesthetic in traditional local culture, puppetry is now a dying art fading with each new modern skyscraper built in Mandalay and by extension, the rest of Myanmar. Whether it was to articulate current events, literature, history or religion, these stringed figurines were the instruments enjoyed by people throughout all classes in the past.
Head down to 66th Street between 26th and 27th street, and you'd find the Mandalay Marionettes Theatre championing the effort to restore this long lost art. With daily shows each evening from 8:30PM to 9:30PM (or even 10PM depending on the show), a meagre USD8 (~SGD11) affords you an intimate opportunity to be enthralled by, and contribute to the revival of what was once an integral part of, Myanmar's history.
10. Take multiple day trips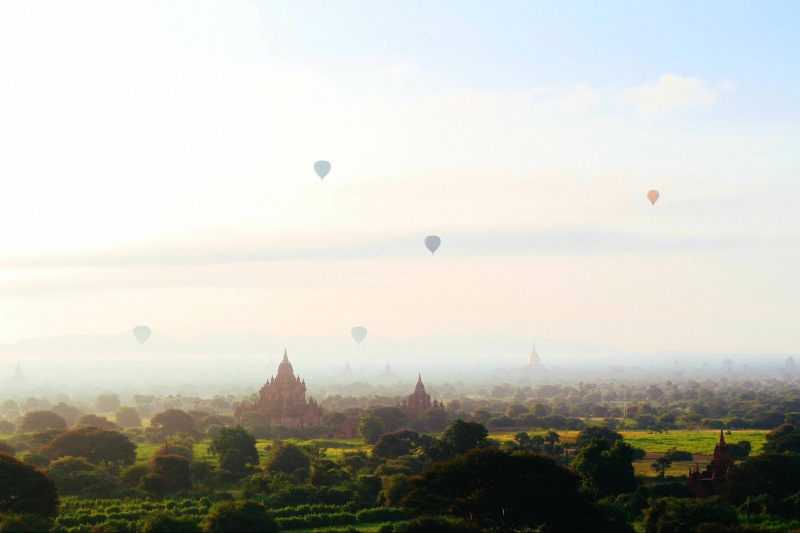 Visiting Mandalay also puts you within arms reach of other enchanting destinations that have special place in history. Make the trip over to Bagan or Pyin Oo Lwin and fall in love with towns that still store the rich cultural identity of Myanmar.
Though an unpolished gem, Mandalay is definitely a worthy destination to visit when you are in Myanmar. If Yangon is the lofty brain of a reinvigorated Myanmar, then Mandalay is its heartbeat. Though not without its own fair share of monetized modernisation, its blooming landscape is speckled with captivating ancient ruins, sprawling religious sites and dashed with an authentic local culture brimming with vibrancy.
For more information and trip inspiration, check out the My Great Escape campaign happening from now to 12 October 2017. The road to Mandalay is the road less travelled, but it's by far the more beautiful one. And it's just waiting for you to explore!
---
Brought to you by Changi Airport Group.