The only landlocked country in Southeast Asia, Laos is one of the most authentic countries in the world. Still relatively unspoilt by mass tourism, this gem of a country can't boast about gorgeous beaches, but makes up for that with ancient cities, ruins, spectacular natural scenery and some of the friendliest and most welcoming locals in the world. Laos is still a very laidback place — you will enjoy a stress-free atmosphere everywhere you go, an atmosphere that's getting harder and harder to find in other countries in the region. The following eight places to visit for your first trip to Laos are the major highlights in the country. Feel free, however, to leave the beaten path — if there even is such a thing in Laos — and do some more exploring. There's a lot left to discover!
1. Vang Vieng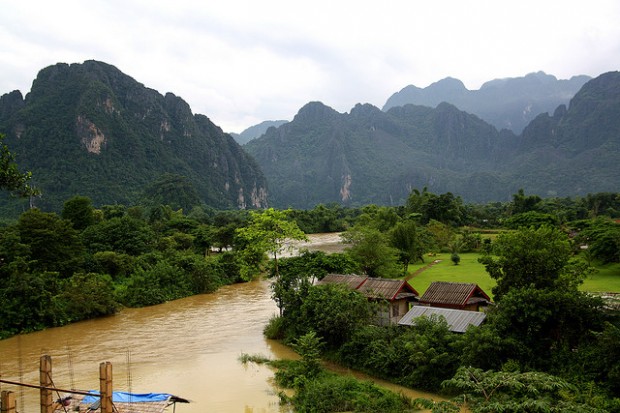 Image Credits: Kainet
Vang Vieng is the most popular destination in Laos among budget travellers and backpackers. It's situated in central Laos and is surrounded by gorgeous natural scenery of karst hills, limestone mountains, caves and tunnels, and rivers. It could be considered to be Laos' adventure capital. There are many tour companies offering adventurous activities, from kayaking and tubing to spelunking and hiking. The downtown bar scene is worth checking out as well.
Southern Laos' Bolaven Plateau is a landscape of thundering waterfalls, dense forests and tea and coffee plantations. Located more than 1,000 metres above sea level, the plateau is blessed with a milder and cooler climate than most of the rest of the country. The abundance of natural highlights, such as the Tad Fane and Dong Hua Sao waterfalls, invites visitors to strap on a pair of hiking boots and head into the jungle.
3. Luang Prabang
 Image Credits: Ahron de Leeuw
Luang Prabang, set on a peninsula at the confluence of the Mekong and Nam Khan Rivers, was the royal capital of Laos until 1975, when the communists took over. The city is the most visited destination in Laos and, home to several amazing sights, is also a UNESCO World Heritage Site. In Luang Prabang, you will see bald orange-robed monks, old temples with golden roofs and French colonial buildings.
Also Read: 3 Gorgeous Sites In Luang Prabang That You Must Visit
4. Plain of Jars
 Image Credits: David McKelvey
One of the most unusual sights in Southeast Asia, and also one of the world's main archaeological mysteries, the Plain of Jars occupies a large area around the city of Phonsavan. There are hundreds of stone jars or urns, spread out among several archaeological sites. No one knows their purpose. When you visit Laos, this is an absolutely must-see attraction.
Also Read: Plain of Jars: Mysterious Archaeological Landscape of Laos
Wat Phu, also known as Vat Phou, means 'mountain temple' and is a complex of ancient Khmer temple ruins. This complex of Hindu temples dates from between the 11th an 13th century and consists of tall trees, pavilions, pillars, courtyards, shrines, palaces and much more. The historical importance of this marvelous site is shown in the fact that it was declared World Heritage by UNESCO.
6. Pathet Lao Caves
Image Credits: fabulousfabs
This network of caves and tunnels that surrounds the town of Vieng Xai in the far northeast of the country is one of the most off-the-beaten track destinations in Laos. Yet, it's a major highlight. These caves used to be a base of the communist army during the Vietnam War, once home to more than 20,000 people. There were a hospital, homes, shops, military barracks and bakeries deep inside the caves. The caves were bombed by the U.S. army and are now being promoted as a tourist attraction.
7. Vientiane
Image Credits: Daniel Hoherd
Vientiane is the capital of Laos and features many fascinating sites and sights. It's a free-spirited city with a beautiful waterfront that lines the Mekong River. Other attractions are the stunning Phat That Luang stupa, the hundreds of Buddha statues in Wat Sisaket and the triumphal arc known as Patuxai. Additionally, you can also enjoy the incredibly relaxed atmosphere and the surprising mix of cultures—Chinese, Vietnamese, Lao, French and American.
8. Mekong River
Image Credits: dominiqueb
Southeast Asia's greatest river is more than 4,000 kilometres long, a large section of which lies in Laos. In a country that lacks proper roads and is covered with mountains and hills that aren't always easy to access, the Mekong River provides the major transportation route. An absolute highlight of any trip to Laos, or to Southeast Asia in general, is taking a cruise on the Mekong River.
Also Read: 5 Thrilling Outdoor Activities to do in Laos