If you are familiar at all with Laos, the landlocked country that sits between Thailand and Vietnam, you have probably either heard of or been to Vientiane, Luang Prabang, and Vang Vieng. They are all in northern Laos and are the most popular cities among backpackers and travellers. While these are great destinations and I do recommend them, today I am going to tell you about lesser-known southern Laos. In southern Laos, you will still see tourists, but not nearly as many, and the backpacker party scene is much tamer or even non-existent in most areas.
Pakse is the largest city in southern Laos and is also on the Laos-Thai border. If you are travelling overland from Thailand, it will likely be your first destination in the region (you can fly from Bangkok to Ubon Ratchathani, Thailand then take a bus to Pakse).
The 4,000 Islands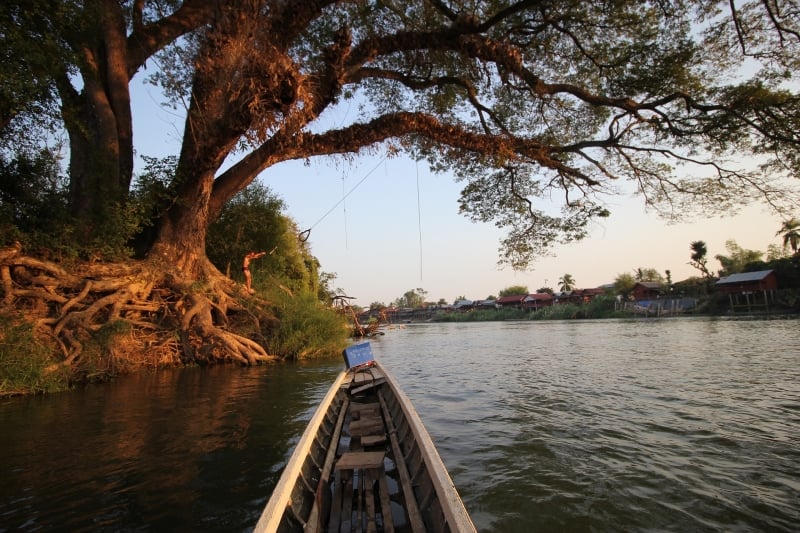 Right now you might be thinking "Emily, first you told us Laos is landlocked and now you're telling us that there are 4,000 islands. What's the deal?" Well, the famous and grand Mekong River runs through the country, mostly bordering Thailand. In the south, the river is so wide that there are literally thousands of islands, ranging in size from tiny (think bush-size) to huge inhabitable land masses.
The largest, Don Khong, is 18 kilometres long by 8 kilometres wide. Don Khong is huge, but there is not much there. One blog I read stated that this was one of the top tourist islands, but from my experience, I do not agree. There are a handful of homestays and small hotels around Muong Khong, the island's south-eastern city, but there is not much going on in this island. Visiting Don Khong and the smaller islands surrounding it will definitely give you a view into local life away from the tourist trail.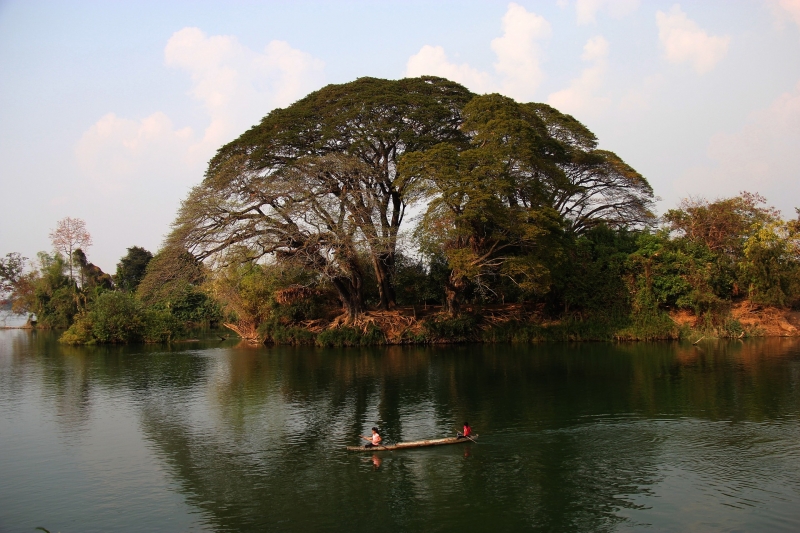 The most popular islands to visit are Don Det and Don Khon, and a bridge for motorbike and foot traffic connects the two. These islands are filled with hostels, hotels, and tour agencies. It is a nice area to stay in if you're interested in doing activities such as kayaking, tubing, and visiting waterfalls. It will feel less off the beaten path, but there is easy access to other, less popular islands, with local ferries.
The Bolaven Plateau
The Bolaven Plateau is a region east of Pakse with beautiful coffee plantations, tiny villages, and countless waterfalls. You can rent a motorbike in Pakse and, depending on how much time you have and how much you want to see, you can do anything from a day trip to a week-long tour. I recommend Miss Noy's Motorbikes in Pakse; the bikes are in good condition and they supply a map and great information on where to go and where to stay along the loop.
If you do the big loop, which takes four to seven days, you will see approximately twenty waterfalls. Some are popular attractions with tourists and locals, such as Tad Yuang and Tad Fane falls. An equally beautiful and much less touristy location are the waterfalls and hiking around Itou Falls (some signs say "E-Tu"). You can walk to the top of the large waterfall, as well as take a long staircase to the bottom to swim and hike around the area. There are also several smaller waterfalls with swimming holes.
Besides hiking and seeing waterfalls you can take free tours of coffee plantations, visit a minority village outside of Tad Lo, eat noodle soup for breakfast (no western breakfast here!), and interact with lots of local people.
Champsack and Thakhek
Other off the beaten path destinations are Champsack, about 30km south of Pakse, and the Thakhek motorbike loop in central Laos. Champsack boasts the ancient Khmer temple complex, which is a UNESCO World Heritage site. You would expect it to be a popular attraction, but I did not meet one tourist who visited, myself included. Thakhek is another motorbike loop, featuring caves instead of waterfalls. Again, it looks absolutely beautiful and I met very few people who made this trip; it is at the top of my list for my next visit to Laos!