The small Southeast Asian nation of Brunei, sandwiched between two Malaysian states on the huge island of Borneo, is often a mystery to travellers. Many people think that a trip to the oil-rich sultanate will be pricey. Of course, a trip to Brunei will likely cost more than, for example, backpacking around Thailand or Cambodia, but it is possible to plan a trip for perhaps less than you may have first thought.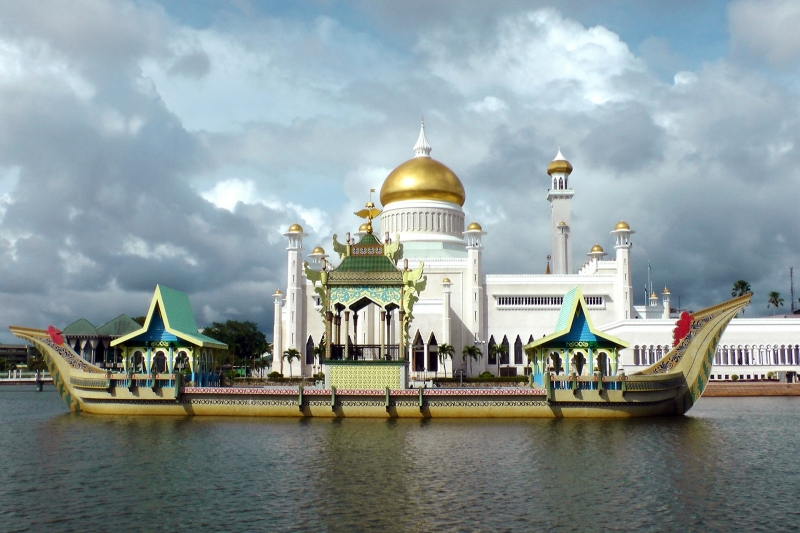 Here are some ways to visit Brunei without breaking the bank:
Compare flight options and consider a layover
If you have the time to spare and the patience needed for long transit times, it's possible to get some good deals on flights to Brunei. Transiting through the Malaysian capital of Kuala Lumpur or through the states of Sabah or Sarawak can yield much better deals than trying to get a direct flight to Bandar Seri Begawan from your home city.
As with most places, the early bird really does catch the worm when it comes to making flight savings; try to reserve your tickets in as far in advance as possible to snag the best deals.
As a side note, if you're planning to combine a trip with Borneo with a foray into the neighbouring Malaysian states, do keep in mind that it can sometimes be almost as cost effective to fly than to catch local buses across the border points.
Reserve accommodation in advance
Brunei is not a place to rock up to and expect to find a cheap hostel bed on the spot. It doesn't see many independent travellers and it doesn't have a whole heap of accommodation options. That's not to say you'll be left out on the streets if you do chance your luck. You will almost certainly find somewhere to stay, but it may one of the pricier options in town.
This is another time when being organised and planning ahead of time can help to save money. Reserving your room beforehand helps you find the cheapest places to stay. Leave it until the last minute, though, and you'll probably find that the most affordable options have already been snagged.
There is a hostel in the city, along with a few guesthouses. These are generally much more wallet-friendly than the larger hotels. Some of the smaller hotels can be quite competitive too. Look for including bonuses when comparing options; if somewhere costs a little bit more but includes breakfast and airport transfers, for example, it could be a better overall deal than a cheaper room with no added perks.
I personally stayed at the Jubilee Hotel in Bandar Seri Begawan. It wasn't the cheapest available option but it included airport transfers, breakfast each morning, a free mini city tour, and free transport to two popular attractions of my choice. It appears that some of these booking incentives are no longer offered, but at that time it made the slightly higher costs more than worth it in my book. See if you can find something similar for your stay.
Think about how to get from A to B
While there are some bus routes, the public transportation system around Brunei isn't all that great. The roads are, however, well maintained. And, thanks to the country's abundant oil supplies, fuel is cheap. This can make renting a car very cost effective if you are planning to visit beyond the capital. Try not to use taxis as these can be pricey.
Many places in the capital are within a relatively short walking distance from each other. Use your own two feet to get around, especially if you are staying somewhere centrally located, and you'll find that your travel budget goes a lot further.
Do check if your accommodation offers inclusive airport pickups and drop-offs too; why spend money unnecessarily?
Dine in local establishments
While Brunei has a number of swanky restaurants with high-class fare and high price tags to match, there is also an abundance of cheap eats to be found. Locals love to eat! Ask around for recommendations of the popular spots, or look for long lines and crowded restaurants.
Shopping centre food courts can be a great way to find a variety of dishes at reasonable prices. Food stalls and markets are also great for saving money at mealtimes.
Hit the free highlights
A lot of Brunei's major attractions are free to enjoy.
The popular Royal Regalia Museum does not charge an entry fee and it contains a huge collection of dazzling beauties. Ogle at expensive and eclectic gifts given to the Sultan, including decorative daggers, gleaming jewels, exquisite furnishings, ornate pottery, and more. The Brunei Museum and the Malay Technology Museum are also free to look around.
There are two particularly stunning mosques in Bandar Seri Begawan: Omar Ali Saifuddien Mosque and Jame Asr Hassanil Mosque. The former has a soaring minaret and a ceremonial boat floating on the lake in front of the mosque. The latter is a striking vision of blue and cream loveliness.
Tasek Lama Recreational Park is a popular spot for locals looking to relax and exercise in a natural environment in the heart of the city. It's free to enjoy, and you'll find a small waterfall, seating areas, walking trails, play equipment for kids, and areas for massaging your feet on smooth stones of varying sizes.
Dodge the boat trips to the Water Village
Brunei is home to the biggest complex of water villages in the world: Kampong Ayer. While taking a boat trip is a terrific way to appreciate the scale of the villages built over the water, if you're on a tight budget, you can walk across a narrow wooden bridge to explore the sometimes rickety walkways through the areas of housing and community amenities. Do keep in mind, though, that these are people's homes and respect boundaries of decency and politeness. That means no snapping pictures through windows of people's living rooms!
Brunei doesn't need to be such a pricey place to visit as long as you plan your trip in advance and keep these tips in mind.