Bitten by the travel bug? You're in luck as the Travel Revolution Fair 2018 is back, from 3-5 August 2018 at Marina Bay Sands Expo Halls 1 and 2! Head down to see the latest travel packages offered by leading travel agencies and cruise operators, and speak to representatives from tourism organisations for awesome holiday ideas!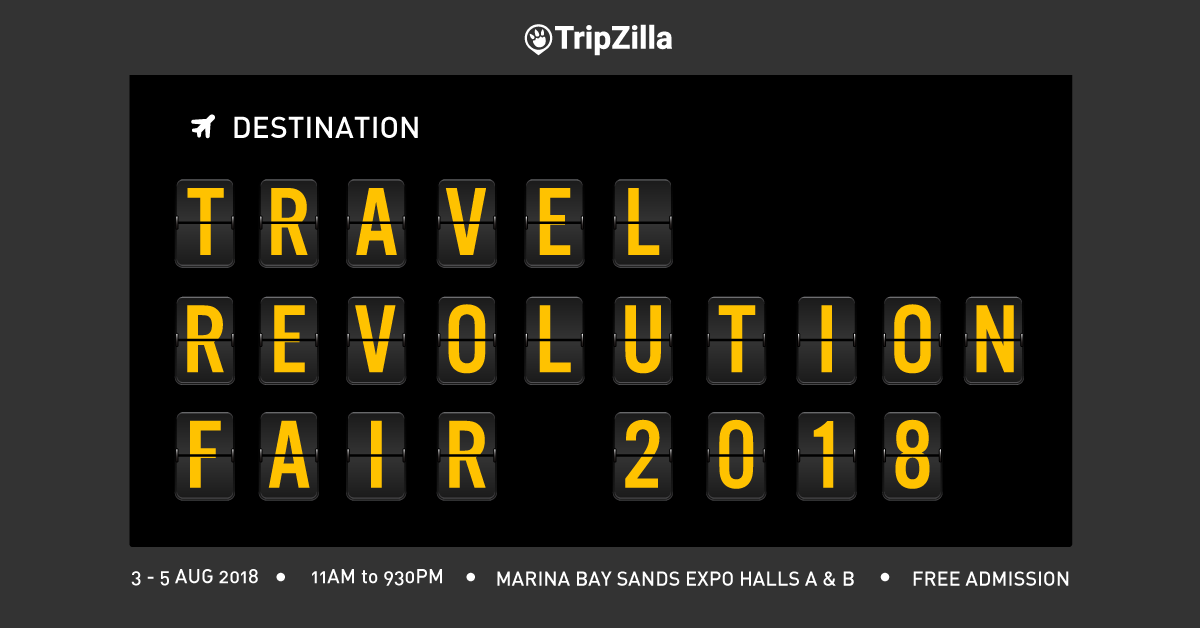 To get you started, here are some travel deals we've handpicked specially for you:
1. 10/12D Let's Go Spain Portugal + Golden Triangle of Andalucia   
Deal highlights:
✓ 1-For-1
✓ Sagrada Familia
✓ 10 UNESCO World Heritage Sites
✓ Olive Oil Tasting
✓ Flamenco Show
Go on a journey through Spain and Portugal with Nam Ho Travel's 10/12D Let's Go Spain Portugal + Golden Triangle of Andalucia tour packages! Opt for a 12 day tour to various cities like Barcelona, Madrid, as well as the 'Golden Triangle' cities of Seville, Cordoba and Granada, and the vibrant city of Lisbon. Along the way, you'll get to visit many historic sites such as the Sagrada Familia, which has been under construction since 1882, and the religious sanctuary of Fatima, so don't forget your cameras!
Alternatively, you can opt for a 10-day tour that will bring you to Gibraltar, a coastal city in the south of Spain, near the African coast. You'll be in awe at the Rock of Gibraltar, which dominates the landscape of the city. Furthermore, these tour packages are going at a very affordable rate with a 1-For-1 offer, so don't miss your chance and snap up these attractive deals before it's too late!
2. 12D9N Amazing Turkey   
Offered By: CTC Travel (Booth A3)
Package Name: 12D9N Amazing Turkey
Departure Dates: Now – October 2018
Price: From S$1,238
Deal highlights:
✓ Ruins of Acropolis
✓ Hidden Gem of Amasya
✓ Ancient City of Ephesus
✓ Hadrian's Gate
✓ Seasonal Fruit Picking
✓ Grand Bazaar
✓ Bosphorus Cruise
From historical ruins to grand markets selling cultural products, this 12D9N Amazing Turkey tour will show you the best of what Turkey has to offer. From the Topkapi Palace in Istanbul, the first Great Imperial Palace of the Ottoman Dynasty, to Hadrian's Gate, built in the name of the Roman Emperor Hadrian in the year 130, these stunning historical monuments will make you feel like you've gone back in time. Pick up some local handicrafts at the 500-year-old Grand Bazaar, which has more than 4,000 shops, and end your trip with a cruise on the Bosphorus Strait. If you've always wanted to visit Turkey, don't miss out on this irresistible deal!
3. 14D11N Best Of Italy/Switzerland/Paris And Amsterdam  
Deal highlights:
✓ Vatican City
✓ 5 Course Tuscan Dinner With Florentine Steak and Wine
✓ Leaning Tower of Pisa
✓ Venice
✓ Swiss Alps
✓ Eiffel Tower
✓ Windmills at Zaanse Schans
✓ Amsterdam Canal Cruise
If you've never been to Europe before, this 14D11N Best Of Italy/Switzerland/Paris and Amsterdam tour is for you! The 14-day tour will take you to 12 cities in 5 countries, where you'll get to see the most famous landmarks in Europe, like the Eiffel Tower in Paris, the Leaning Tower of Pisa, and the Colosseum in Rome. You'll also get to explore the romantic floating city of Venice and ascend Mount Titlis by cable car to enjoy stunning views of the Swiss Alps. Your tour will end in the lovely city of Amsterdam, where you can buy back some of their world-famous cheese and see their iconic windmills. Throughout the tour, rest assured that you can feast on European delicacies like Swiss fondue and Belgian mussels. Don't miss out on this great deal!

Has your travel appetite been whetted by these great deals? Then mark your calendars for the Travel Revolution Fair 2018 happening this weekend at Marina Bay Sands Expo Halls 1 and 2. We'll see you there!