Nothing is more pleasantly surprising than coming across unexpected beauty on your travels. And when it's in the form of the very streets you walk on, you're going to end up starry-eyed in a matter of seconds. From vivid houses down to cobblestone streets and historical architecture to sweet peculiarities, the most beautiful streets in the world captivate and inspire even travellers who are only passing by a day or two. 
Once you witness these places for yourself, I'm sure you'll agree that these colourful streets are far from banal. Instead, you'll be telling your friends all about them when you head home. So grab your cameras because "pictures or it didn't happen!" I jest. Nonetheless, your jaws will drop when you see the most beautiful streets in the world!
1. Agueda, Portugal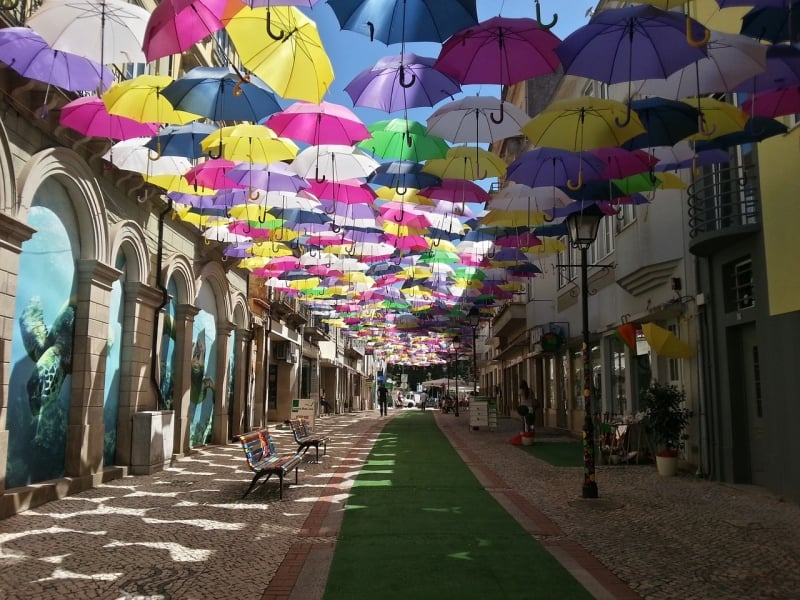 Let's start with the city of the coloured umbrellas — Agueda, Portugal! This vibrant attraction began as an exhibit in 2012 when an agency called Sexta Feira put up hundreds of colourful umbrellas along Aveiro district, with a mission to bring joy to the city. Due to the exhibit's success, the colourful umbrellas are set up every year from 1 July to 30 September. Come December, you can even catch the umbrellas illuminated with fairy lights!
Since then, Sexta Feira has spread the Umbrella Sky Project to different parts of the world, but nothing beats the original! Aside from this project, you can catch Agueda's ever so cool street art. The city changes up their featured street art every year, but you're sure to see the best ones in July, August, or September. I don't know about you, but I'm definitely in on Agueda's tasteful boho image!
2. Burano, Italy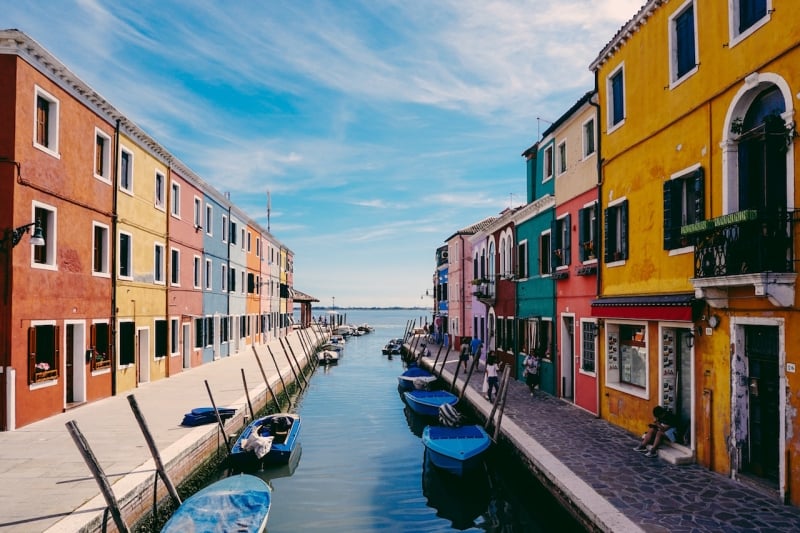 There's more to see in Venice than St. Mark's Square and the Rialto Bridge. Head to the Northern Venetian Lagoon and find the fisherman's island of Burano. As is the won't of waterfront cities in Europe, Burano is decked with colourful homes lining its quaint streets. Burano's tradition of painting its houses in bright colours has been going on for decades, and the local government is very strict on colour maintenance, so to speak. 
The island repaints its colour-studded establishments every two years to preserve the pretty streets. And get this — homeowners even need permission from the local government if they want to paint their property in a new colour! One important rule? Each house must be a different hue from its neighbour. This kaleidoscope effect is what boosts their tourism, after all!
#TripZilla Tip: Stay connected and update your Instagram with a no-fuss Travel WiFi!
Grab a pocket WiFi before you travel to make sure you stay connected to the online world! Not sure which is best? Pick Ready To Travel, the winner of the 'Best Travel WiFi' in TripZilla Excellence Awards 2019. Providing Internet access almost anywhere in the world, this pocket WiFi also features shared connectivity for up to five devices, long battery life, and unlimited data!
Also read: 10 Most Beautiful Islands To Visit In Italy!
3. Caminito, Argentina
"Caminito" is the Spanish translation of "little walkway", but as you can tell from the photo, Caminito holds a bit more relevance in the neighbourhood of La Boca in Buenos Aires.  This eye-popping area is considered a street museum where conventillo houses abound in a splash of colours. 
Conventillo emerged when Italian immigrants came pouring in Argentina. Because Argentina didn't have enough homes for them, conventillo houses were built using materials from shipyards. Around the same time, Argentinian painter Quinquela Martin had this idea of making La Boca's establishments burst in vivid pigments. Hence, the prismatic walkway of Caminito was constructed. Now it holds cultural relevance as a representation of the first immigrants in La Boca and even as the birthplace of tango. The best part is, the local government takes it upon itself to subsidise Caminito's colourful streets to preserve its cultural value!
4. Chefchaouen, Morocco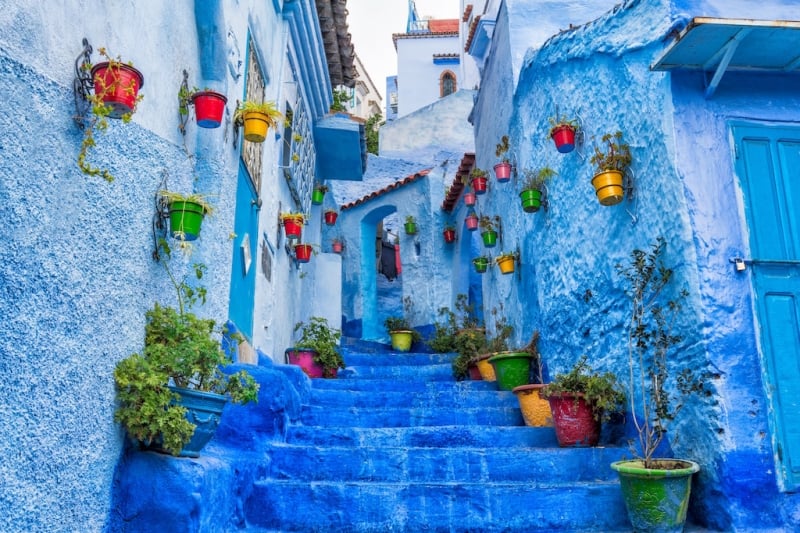 Dubbed as the "Blue Pearl of Morocco", Chefchaouen is a Moroccan city that bursts with cool shades of blue in every nook and cranny. Calming to the soul and soothing to the eyes, thousands of travellers flock to this city every year for a relaxing vacation and to share photos of its cerulean beauty on Instagram. But social media hype aside, there's still a lot of mystery as to why Chefchaouen's streets are actually painted blue. 
Some say the Jews coloured the city blue when they fled to Chefchaouen during WWII. Others claim that the locals painted it blue to shoo the mosquitoes away or to reflect the colour of the sea. But one thing's for sure, Chefchaouen consistently ranks as having one of the most beautiful streets in the world not only because of its blue identity but because it's widely known to be a peaceful city to explore. So go on photo walks, appreciate the quietness, and take in the surrounding mountain range to cap off your picture-perfect stay!
5. Dubrovnik Old Town, Croatia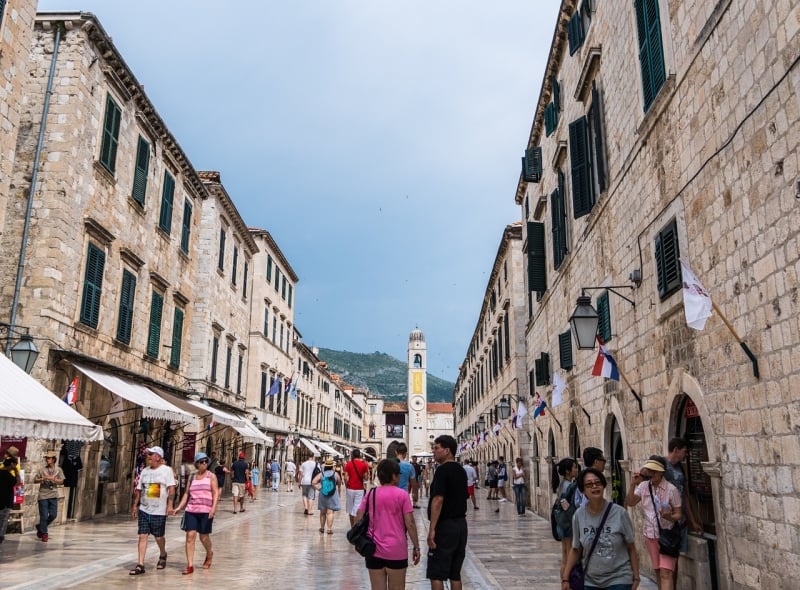 I don't think I have ever seen an Old Town as spotless and romantic as Dubrovnik's. Dubrovnik is one of the best-preserved medieval cities in the world.  You'll hardly see any bumps, cracks, or stains on the Old Town streets. The walkway is cemented with gleaming marble and the roads are vehicle-free. It almost sounds too good to be true. When was the last time you walked on a public road made of clean marble?!
But Dubrovnik makes it so, and that is why its city centre is considered a UNESCO World Heritage Site. Apart from having clean streets, its white-washed stone establishments, matched with terracotta roofs, is a striking image to behold against the sapphire waters of the Adriatic Sea. To top it off, this is also the filming location of Game of Thrones for King's Landing! Hmm. I foresee you geotagging "King's Landing" on your Instagram already!
6. Golden Lane, Prague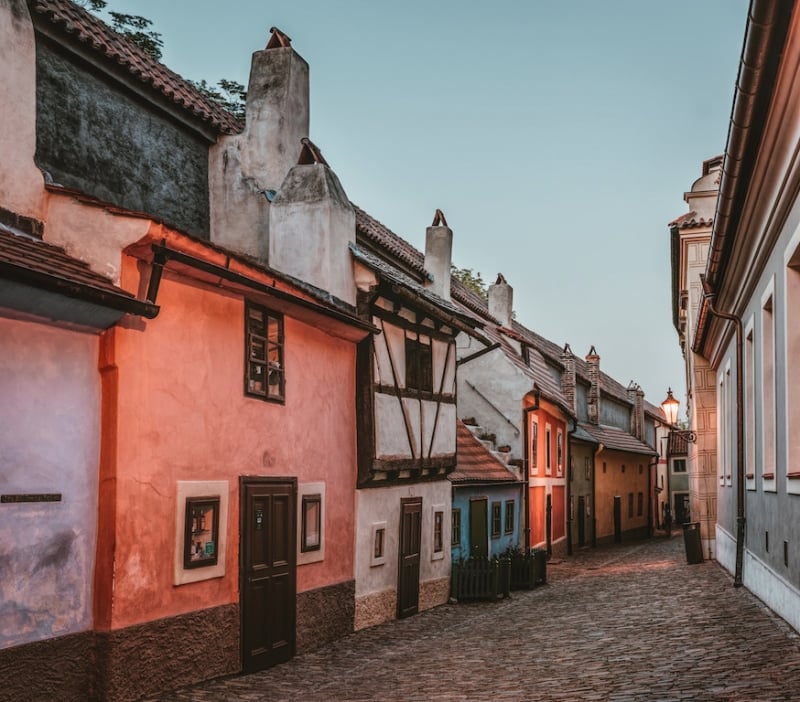 If you've heard about Prague Castle, then you've probably heard about Golden Lane too. You can actually find its colourful streets inside the premises of Prague Castle, although, it didn't always look the way it does today. Stemming from a glum side of history, Golden Lane used to be the dwelling place of castle guards, then of poorer citizens until World War II. After the war, the government made the decision to reconstruct the houses lining the streets, and elegantly paint them in shades of pastel. They even turned some buildings into shops and showrooms.
Inside these colour-studded establishments, you'll find artefacts that reflect different eras, small cinema theatres, and of course, a workshop for goldsmiths. Think of the goldsmiths as the OGs of Golden Lane. FYI, the locals named this the Golden Lane because of its resident goldsmiths!
7. Old Havana, Cuba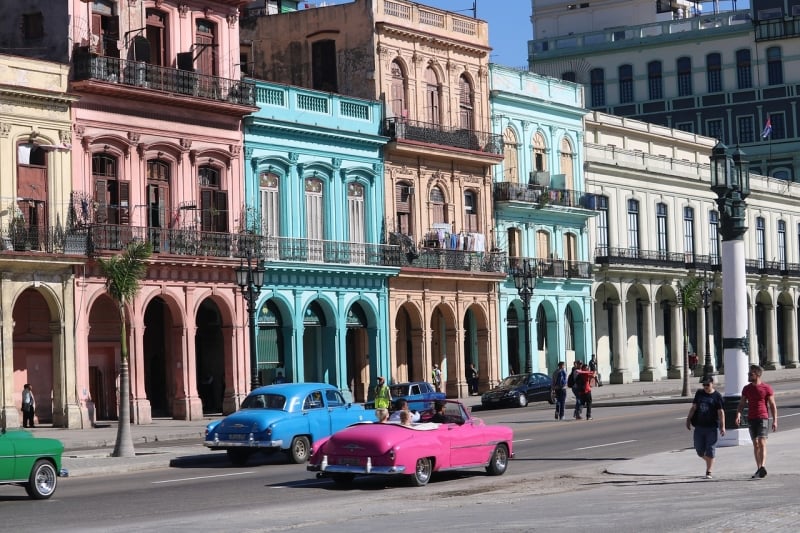 Among the many beautiful streets in the world, the pretty streets of Havana look the most vintage. They say that Havana, Cuba is one loud city. From its streets, you can hear music, shouting, bells, and singing. Travellers wisely never go to Havana for simplicity and tranquillity in the first place. It's a boisterous city, starting from its old American cars all the way to the Moorish-inspired architecture. 
Old Havana, in particular, bursts with life through the multi-coloured buildings brought about by Spanish colonists. However, the town also has touches of French and neoclassical influences in its establishments, which explains the column-like effect along the line of buildings. Hence, Havana is also dubbed the "City of Columns"!
8. Lindau, Germany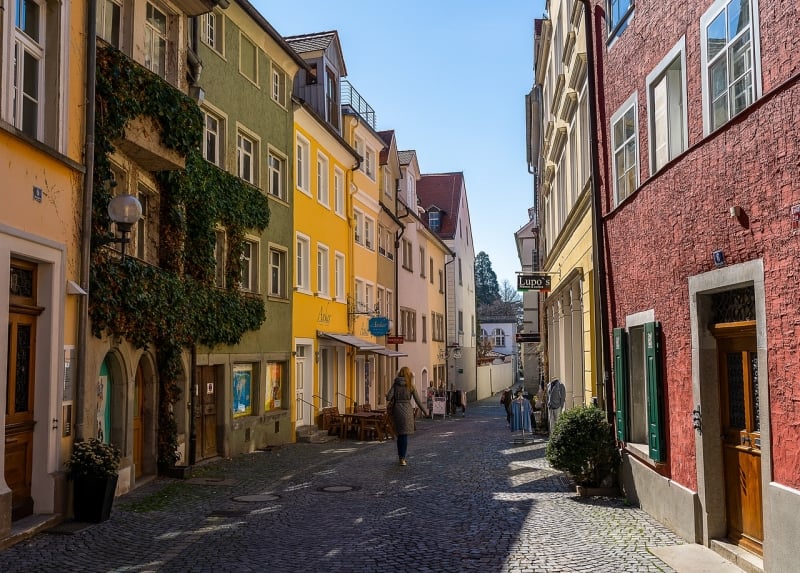 Looking for an underrated island in Germany? Lindau fits the bill perfectly! Situated in Lake Constance, this hidden gem actually has a magnificent view of the snow-covered Alps along with verdant green fields. What's as easily inspiring is the picturesque alleyways amidst Lindau's baroque townhouses and medieval city centre.
You can veer away from the usual tourist traps in the city and still find yourself surrounded by old-world establishments painted in tantalising pastels. Matched with flourishing gardens and crawling vines, the houses lining the streets almost seem like your old dollhouses coming to life! 
Also read: 19 Lakeside Towns In Europe You Have To See In This Lifetime!
9. Mykonos Town, Greece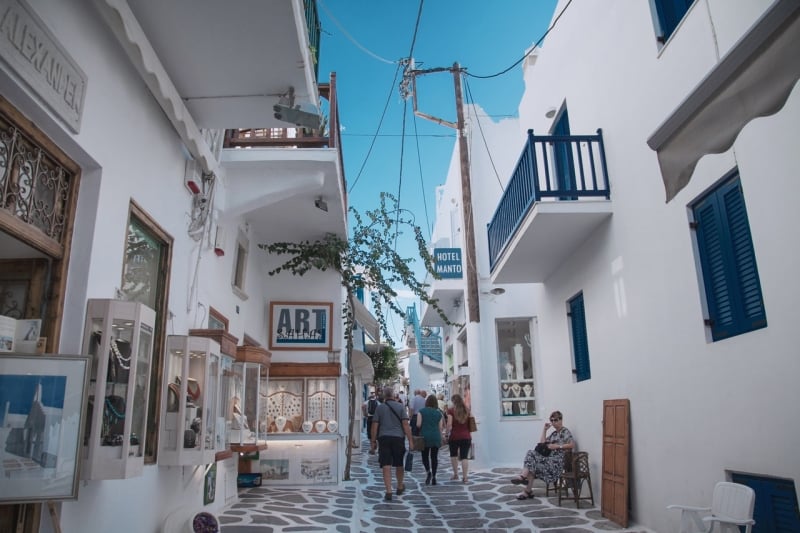 Among the many beautiful streets in the world, the streets in Mykonos, Greece are the most iconic, wouldn't you agree? Mykonos Town, also known as Chora, is marked by white concrete which cement cobblestone walkways. Shops and houses are awash in milky white paint while all the wooden balconies, windows, and doors are coated in blue. Such celestial tones can only make you feel as if you have a piece of heaven with you. And with pink bougainvillaeas bursting here and there, there is no excuse for you to let a photo opportunity pass. To make things more romantic, make your way to Little Venice in time to catch the Mykonos sunset!
Also read: Greece 10D Itinerary: Witness The Magic of Athens, Santorini, And Mykonos!
10.  George Town, Malaysia
George Town, the capital city of Penang,  is an intriguing marinate of Chinese shophouses, churches, temples, mosques, and British colonial buildings. If you're a history buff, you'd be quite excited because tourists can actually stay in these restored colonial establishments to get a blast from the past. Catch all these in the Lebuh Acheh historical enclave, a great place to have a DIY tour on foot. 
This mix of Asian and European influences has made George Town one of Malaysia's best Insta-worthy destinations, and not to mention, a UNESCO World Heritage Site. If you're a first-time visitor of these pretty streets, it's best to explore certain spots on foot as it'll lead you to cool street art and eventually the undeniably delicious street food Malaysia has to offer. 
11. Kyoto, Japan
Kyoto is one of the best places to escape from the concrete jungles of Japan's modernised society. Sure, this isn't exactly a "street." But Japan's natural sceneries scattered all over its cities are part of the nation's identity and culture. The Sagano Bamboo Forest of Kyoto embodies everything zen: nature, silence, neatness, and harmony with one's surroundings. The forest has a perfectly spaced pathway where you should take your time walking while breathing in the fresh clean air. On sunny days, rays of light penetrate through the thick bamboo trees to complete the stunning view of a rejuvenating walkway. You have to experience this at least once in your life.
Also read: Traditional Towns & Villages in Japan That You Absolutely Have to Visit
12. Old Town Phuket, Thailand
Pretty streets don't have to be long or massive, they just have to be charming and perfect in their own little ways just like Old Town Phuket. This town is lined with colourful Sino-Portuguese style shophouses and restaurants that any traveller would be itching to see with their own eyes. The old town is basically painted in blues, reds, yellows, and pinks.
Notable landmarks in these colourful streets include Thai temples, Chinese shrines, and Thalang Road which features the Sunday Walking Street Market. Treat yourself to a shopping spree in the market, from cool souvenirs to delicious street food to munch on while you're exploring the area. It's a sight for sore eyes and a haven for bargain hunters!
Also read: 10 Unique Things to Do in Phuket for a Beach Vacay Unlike Any Other
13. Salvador, Brazil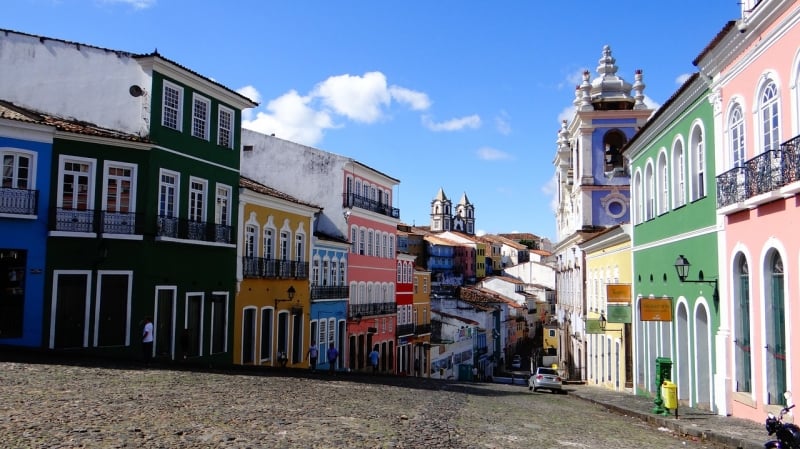 When in Salvador, Brazil, don't forget to take a trip down the UNESCO World Heritage Site of Pelourinho district. This historical street is laden with several establishments reflecting Portuguese colonial architecture. Painted in loud and distinct colours, these storied buildings become the ideal backdrop for the town's carnivals, ceremonies, and festivals. It's also the perfect opportunity for you to shop local textiles and chat with the artists to understand more of their Afro-Brazilian culture. 
Lastly, don't miss out on the magnificent church of Igreja de São Francisco, where you'll get to see an inspiring blend of Portuguese and Baroque architecture! 
Knowing that the most beautiful streets in the world are just lying in wait for people to see and know about them definitely makes me want to grab my camera and book a ticket at this moment! But I think I'll take it one step at a time. How about you, are you ready to take a walk?