Europa. Whenever I think of it, I think of unmatched fairy tale castles and deeply storied cities. Radiant flowers dot picturesque boulevards while art and music are omnipresent even in the smallest details. It's truly difficult to resist the pull of a continent that values charm and design! And if I've learned anything from my own European adventures, it's that these qualities are merely the beginning of what Europe has to offer.
Water. Pristine and glittering bodies of water. Without them, Europe's medieval realms would not be the same. The continent is not only flanked by the Arctic and the Atlantic Ocean along with the Mediterranean Sea. There are, in fact, beautiful mountain rivers (drink tap water straight from the Alps!), postcard-worthy beaches, and most especially, prosperous lake towns that are perfect for travellers who seek hidden gems. Trust me, you ain't seen anything yet if you haven't experienced lakeside towns in Europe. Want to know the best ones? Keep reading!
1. Angra do Heroismo, Azores, Portugal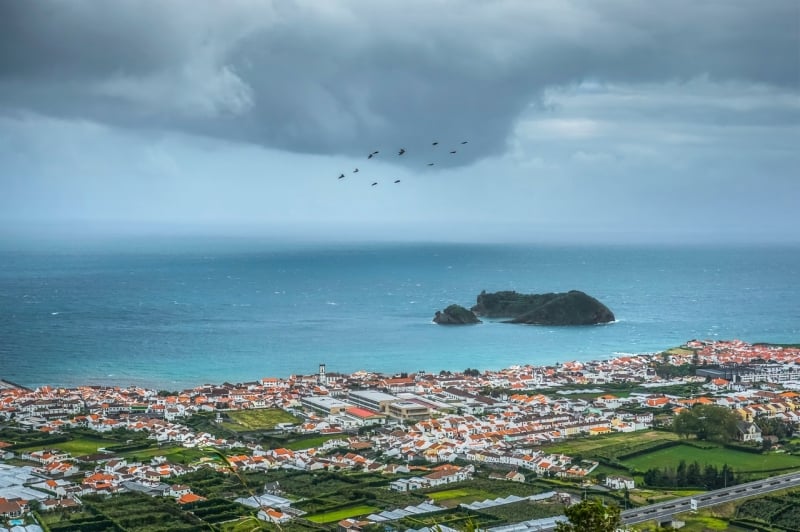 Among the numerous island nations in the Atlantic Ocean, the historical Terceira Island of Portugal has been under the radar for too long! Its capital city Angra do Heroismo, or Angra for short, has a treasure trove of historical anecdotes. Angra was the most important city in the Azores region and even became Portugal's capital city during the Liberal Wars. It also served as a crucial harbour for trading ships in the 15th and 16th century. However, due to Angra's strategic location, the island was prone to loots from pirates and European powers alike. Let's digress. 
This UNESCO World Heritage Site transformed from a renaissance to a Spanish medieval city with remnants of Baroque and Neoclassical designs. Today, tourists can safely enjoy leisurely walks down cobblestone slopes and admire Old World architecture. Though more like a coastal city than a lakeside town in Europe, Angra will no doubt offer travellers breathtaking views of the Atlantic Ocean from different parts of the island like Ponta das Contendas Lighthouse and the beach of Prainha da Praia da Vitória. Want to see one of the city's oldest attractions? Take a trip to Lagoa do Negro Lake, something that's been on the island since its first human settlement!
2. Assos, Cephalonia Island, Greece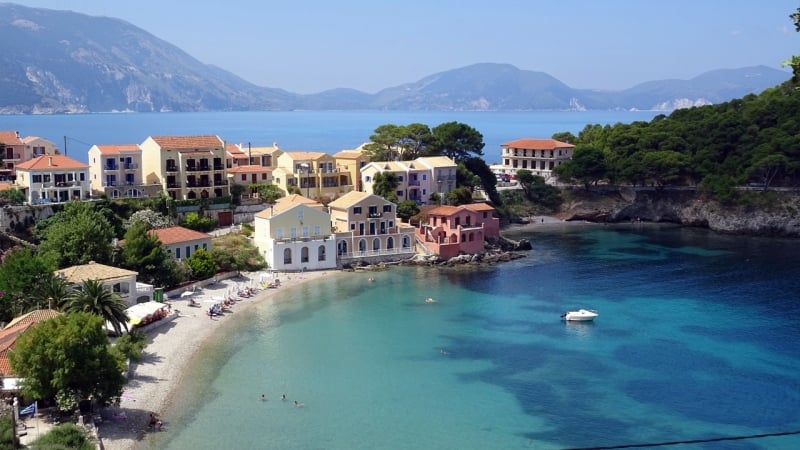 Here's an underrated Greek destination for you — Assos is the simplest yet most picturesque village you'll ever encounter in Greece! The village has approximately 100 inhabitants and is dear to travellers who have a penchant for everything peaceful and "secret". Lined with bright asymmetrical houses, matched with verdant foliage against the cerulean Ionian Sea, Assos is perfect for an intimate nature retreat. 
Like Angra, Assos' location notoriously attracted pirate raids and Turkish threat in the 15th century. This led the Venetian army to build Assos Castle — Cephalonia Island's finest stronghold, which overlooks the island of Agia Kyriaki across the bay. Hence, aside from the relaxing view of the sea and fun water activities, visiting the ruins of the historical Venetian walls and church of San Marco will complete your Assos experience!
3. Bled, Slovenia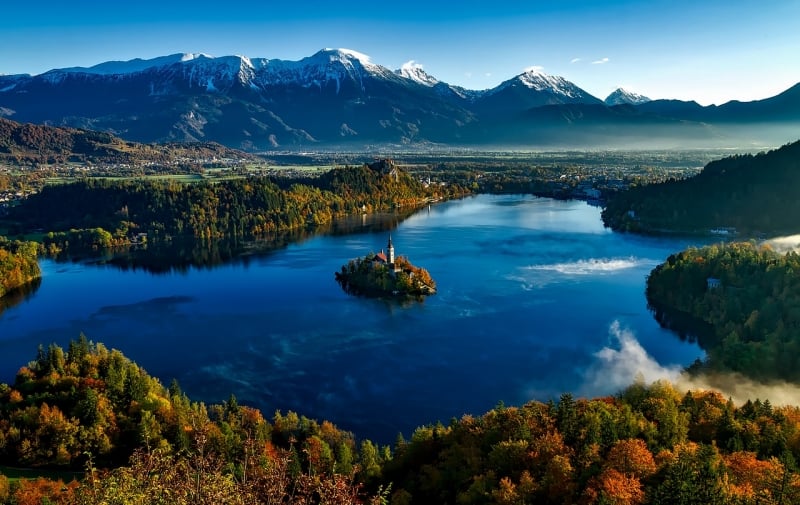 Warning: Bledception ahead!
Ever heard of the Slavic town of Bled  — that offers a view of Lake Bled — which has a tiny centrepiece called Bled Island — where Bled Castle is perched on a cliff? If not, then you must have unconsciously seen it in pictures (it's hard to miss)! Silly me, I even thought that the first photo I saw of Bled was an artistic render from a fictional storybook because of its otherworldly beauty. But it turns out, Bled is as real as you and me. 
The foundations of Bled have existed since the end of the Stone Age. Slavic settlement began in the year 600. Fast forward to the 19th century, Bled was only recognised as an official town in 1960. Its biggest tourist attraction today is, unsurprisingly, Bled Castle — the oldest medieval castle in Slovenia! 
Enjoy stunning views of Bled Castle from different angles, starting with therapeutic walks around the lake. Take your family on a picture-perfect pletna ride towards the castle, or rent a rowboat if you're looking for some alone time. When you've finally paddled all the way to the centuries-old Bled Castle, climb to the terrace and take a moment. This is where you'll find the best view of the lake against flourishing greenwood!
4. Cobh, Ireland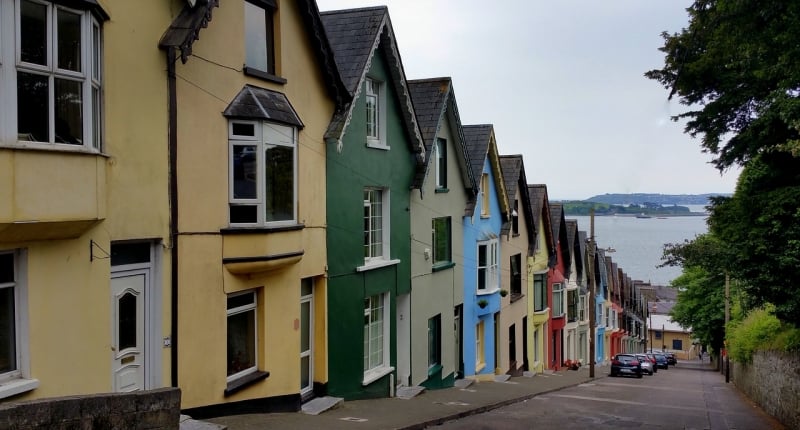 You should know by now that colourful establishments are a common denominator for coastal and lakeside towns in Europe. Cobh, Ireland is no exception. This vivid waterfront town might ring a bell to fans of the movie Titanic because it was at its port, Cork Harbour, where the real RMS Titanic made its final call in 1912 — before the ship embarked on its ill-fated voyage. Despite this grim history, Cork Harbour remains an important port for seafarers and travellers. In fact, it's the second-largest harbour in the world next to Port Jackson in Sydney, Australia!
Witness the town's vibrant glory from the water. The most popular way is to hire a self-drive boat from Cork Harbour Boat Hire or go on Ocean Escapes harbour tours. Either way, you'll be sailed around Cobh so that you can capture it in every colourful angle. If leisurely walks are more your thing, you can take the popular Titanic Trail Walking Tour which will bring you closer to the pastel buildings and fill you in on Cobh's culture and history — Titanic chronicles included!
5. Dinant, Belgium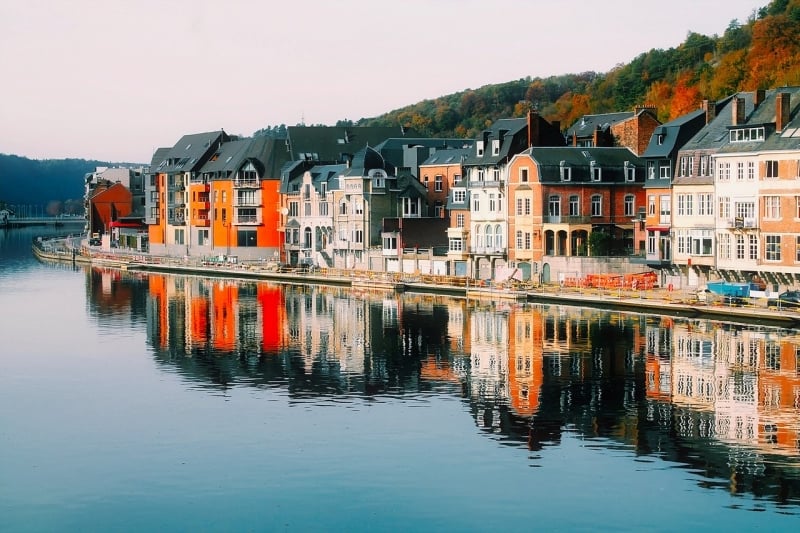 Thinking of visiting the best of Belgium? Well then, add Dinant to your list! Resting on River Meuse, Dinant is a perfect lakeside getaway for travellers who value tranquillity in teeming colours. It's also a smart way to beat the crowd in Brussels as it will only take an hour and a half's train ride from there to Dinant. Like most lakeside towns in Europe, this colour-studded municipality was an easy target for pillaging. Therefore, its historical fortifications, most notably Citadelle de Dinant, are staple attractions!
Aside from touring its fortresses, a holiday at this lake town wouldn't be complete without hopping on a day cruise. Getting a photo with Dinant's vivid houses from the calm waters of River Meuse is an experience you can't replicate anywhere else. If you visit Dinant in August, you can even witness the annual Régate de Baignoires — a fun contest where locals race in the river on bathtubs instead of boats. Oh, and did you know this is where the inventor of the saxophone was born? In tribute to Adolphe Sax, Dinant put up an assembly of hipster-themed saxophones on Charles de Gaulle Bridge!
6. Flåm, Norway
The term "fjord" is one of the few Norweigan words that has become international. In English, it means "where one fares through". Hence, when we talk about fjords in Norway, we usually pertain to a lake drain or u-shaped water valley formed by melted glaciers, where ships can now ferry through. Flåm is another one of the unsung lakeside towns in Europe that sits beside a magnificent fjord called Aurlandsfjord. 
Protected by an evergreen mountain range, Flåm, with a scenic view of Aurlandsfjord, will convince you that you've found your very own hideaway. Add the fact that this quaint village merely has 400 inhabitants, and you're in for a quiet and photogenic vacation! What's even better, another fjord branches out from the mouth of Aurlandsfjord. The iconic Nærøyfjord is a UNESCO World Heritage Site and one of the most beautiful fjords in the world. From Flåm, you can go on either a boat or ship that will take you cruising through its glimmering waters. Spot the colourful lakeside houses and take photos of the countless waterfalls along the fjord!
7. Giethoorn, Netherlands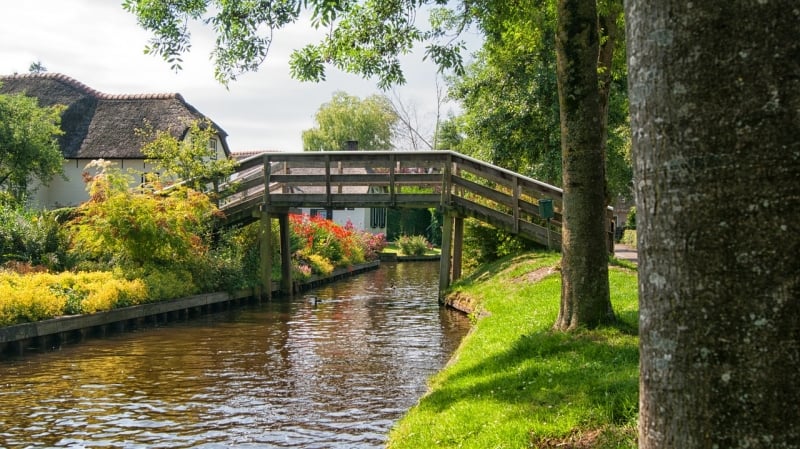 Imagine a village made out of small islands connected by a network of sturdy bridges. There are no cars nor roads. Everyone is required to traverse this nature-thriving haven with nothing but their bike, feet, or rowboat. Even the local mailman must travel the clean canals by punt. The village has no motor pollution, and the only noise you'll hear are birds chirping and water flowing. Can you picture just how dreamlike this place would be? With all these qualities, Giethoorn in Overijssel is the most blissful village in the Netherlands!
Explore this storybook destination by canoeing or paddle-cycling through its canals and vast lakes. You can also book a cruise if you'd rather sit back and silently take it all in while your guide educates you on the village culture. Sleep at cottage-like hotels or book a stay at a bed and breakfast for the optimum village experience. And if you get bored, you can always take a hike — yup, this tiny village has hiking trails, too!
8. Hallstatt, Austria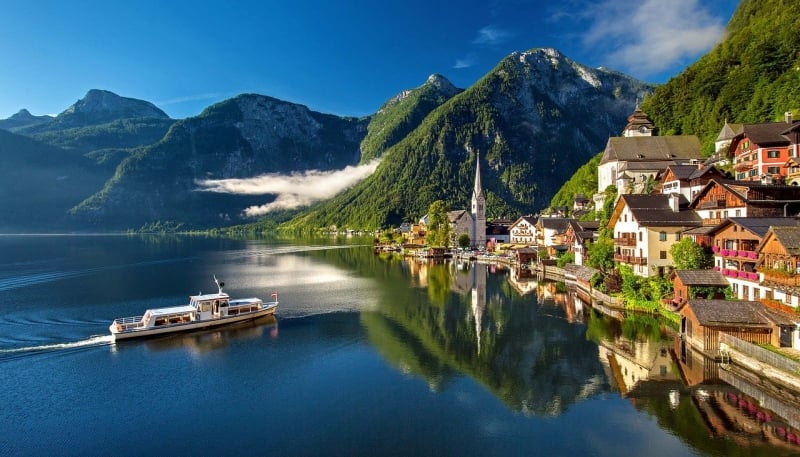 If you've been waiting to hear about the most beautiful lakeside town in the world, then here it is. Hallstatt, Austria is a medieval town found in the Austrian region of Dachstein Salzkammergut. This little town sitting quietly beyond Lake Hallstatt is one of the oldest settlements in Europe; ergo, it is one of Austria's first UNESCO World Heritage Sites. Of all the lakeside towns in Europe, Hallstatt bears the most arresting beauty. Witness the harmony between the serene lake and the medieval houses nestled below an Eden of salt mountains!
As the "Pearl of Austria", Hallstatt is best explored on foot, especially because there's very minimal vehicle pollution. In fact, cars are not allowed in Hallstatt from May to October, from 10am to 5pm. After savouring the cool breeze and rejuvenating view of Lake Hallstatt, take a tour inside the town's ice and salt caves. Hallstatt is considered the "World's First Salt Mine", so it's the perfect chance to see where the town gets its reputation! Don't underestimate the town's quaintness, either — it has many more activities that will make your holiday truly memorable, such as hiking, boating, and surfing!
Also read: Dachstein Salzkammergut: Top Activities for an Immersive Austrian Holiday
9. Hvar, Croatia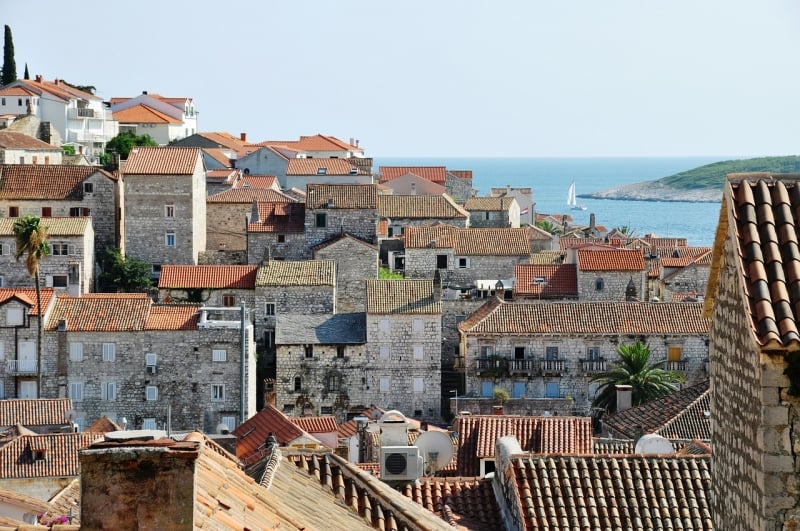 With VIP access to the Adriatic Sea, Balkan countries are must-visits if you want to experience the best of Old World island life in Europe. In my opinion, the most beautiful Balkan nation with a view of the Adriatic is Croatia. The Croatian island of Hvar, in particular, holds the title of the "Sunniest Spot in Europe". This is because it gets over 2,715 hours of sunlight in a given year. So if you're a beach party goer plus a Renaissance lover, Hvar is surely the paradise you're looking for!
Maximise your Croatian holiday at this coastal city by swimming, scuba diving, and sailing in the crystal clear waters of the Adriatic Sea. Looking for nightlife? You can party by day at Hula Hula Hvar and by night at Carpe Diem, both locations with a generous view of the Adriatic! The best part about this laid-back town is that you get to appreciate how Renaissance designs still permeate throughout Hvar's architecture and culture. Hvar was once the centre of Croatian literature during the Renaissance, FYI. Its churches in the municipality of Stari Grad still house art pieces of famous Renaissance painters such as Bellini and Veronese!
10. Lake Como, Italy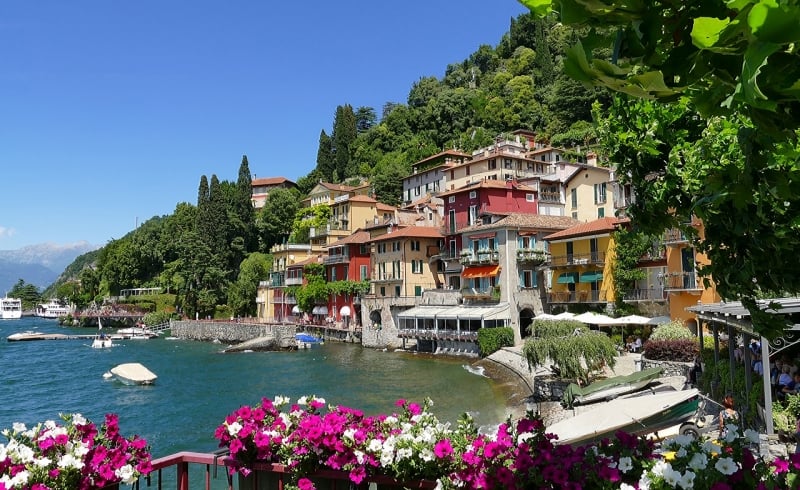 Lake Como in Lombardy, Italy is the third-largest lake in Italy and is popular for forming an inverted letter "Y" in its water flow. This destination isn't exactly a hidden gem. It has long been a favourite of aristocratic families in Europe and is now a go-to for celebrities and social media influencers alike. Commercialism aside, it still deserves a place on this list of must-see lakeside towns in Europe for its gorgeous natural surroundings!
Located at the foot of the Alps, the lake is dotted with several picturesque medieval towns, such as Menaggio, Lenno, and Tremezzo, to name a few. These towns are festooned with floral arrangements, pastel-coloured villas, matched with the soothing Lake Como atmosphere. Though a vacation in Lake Como comes at a hefty price, experienced travellers swear it's worth it. There are, after all, various activities everyone can bond over. Relax on the beach, sail to neighbouring towns, take Instagram-worthy photos against flowers and the Alps, ride a cable car, and just savour the feeling of strolling around fancy castaway villages!
11. Kotor, Montenegro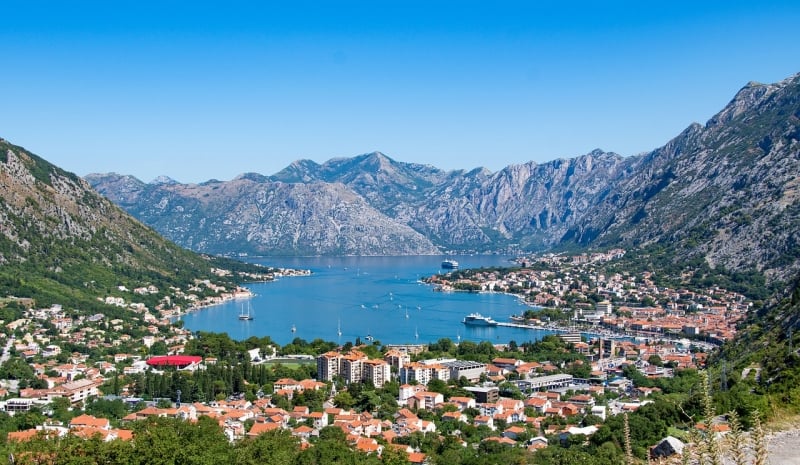 Yet another Balkan nation where you can admire the Adriatic Sea! Kotor, Montenegro is a simple yet sprightly coastal city. With one of the best Old Towns in the Adriatic and preserved Venetian architecture, Kotor was given two UNESCO World Heritage titles; one for being part of the Natural and Culturo-Historical Region of Kotor, and the other for the Venetian Works of Defence between the 16th and 17th centuries. Based on these accolades alone, you can easily deduce that this medieval realm holds much promise in terms of city attractions and gobsmacking views!
Like other Croatian cities, Kotor is a town whose houses are made up of sturdy stones, bricks, and orange roofs. Hike to San Giovanni Fortress to get the best bird's-eye view of the town colours complementing the verdant mountains and sapphire sea. Then, get up close and personal with the white-grey stone buildings of Kotor's Old Town. You won't realise just how much you appreciate stone-made establishments until you've seen how creatively Kotor builds their small homes. As one of the few places on this list that I've actually been to, Kotor is one for the books, I assure you!
12. Mikolajki, Poland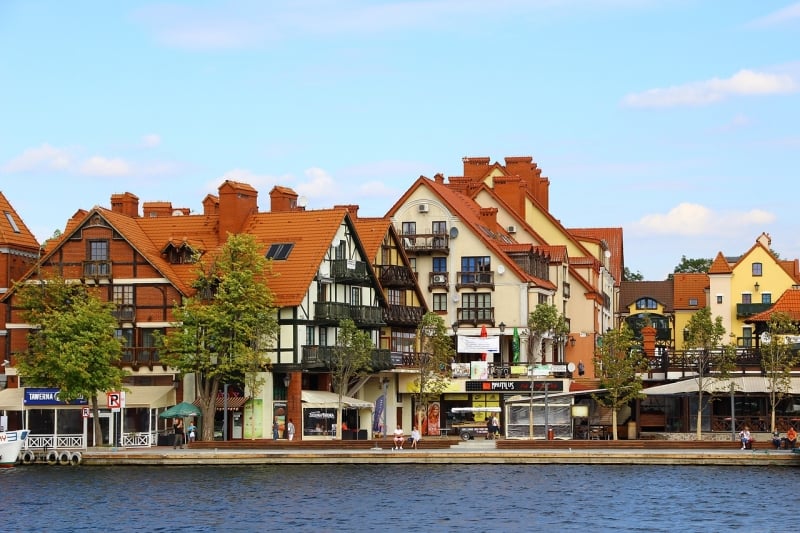 At the heart of the Great Masurian Lakes lies Mikolajki — a small town in Poland marked by red roofs and three bridges. Aside from its Instagrammable houses, you ought to know that it's a favourite boating place of Europeans due to the number of exciting regattas the town hosts every summer. Hence,  catch the docks parked with yachts of different colours when you arrive in the city. 
Among the many lakeside towns in Europe, Mikolajki is probably the most rooted in its love of sailing. Not only do sailing enthusiasts find their people here, but the town also features a Sailor's Village! Here, you can unwind at the taverns of Lady Mary or Pod Zlamanym Pagajem, chugging down a hearty beer with your fellow boaters after a fun day of sailing. Mikolajki even hosts an annual event called Festival of Sailors' Songs, where you can watch the best sailor performances at laid-back shanties. Definitely sounds like a once-in-a-lifetime experience, right?
13. Ohrid, Macedonia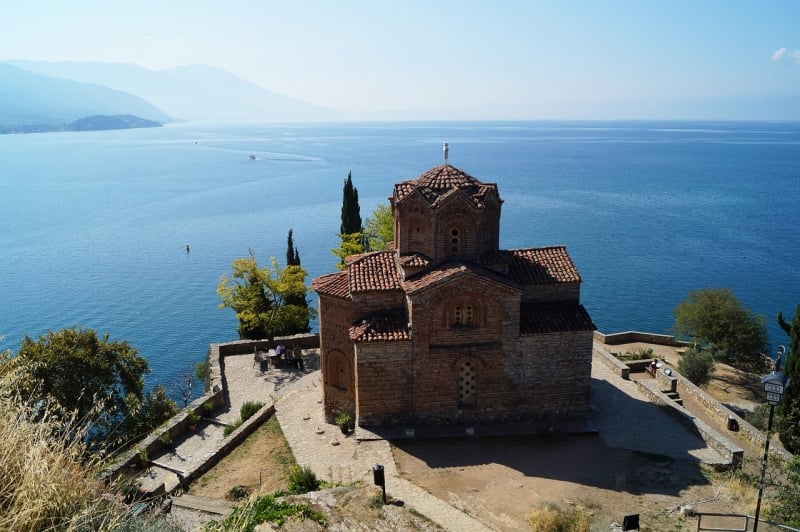 Estimated to be at least three million years old, Lake Ohrid is one of the world's oldest and deepest lakes. The lakeside town of Ohrid, Macedonia naturally follows as one of Europe's oldest settlements. Despite its ancient foundations, I can attest that the local government has kept the natural beauty of Lake Ohrid pristine. I've only sailed on its waters once and yet there was no denying how spotless the environment was — clear mountain silhouettes matched with cool lakeside villages only added to Ohrid's easygoing atmosphere. The lakeside quality is so ideal that anyone can readily dive into the water from different spots along the lake. 
Dubbed as the "Jerusalem of the Balkans", Ohrid is dotted with monasteries and castles, some dating as far back as 200 BC. Its most famous church is called the Church of St. John at Kaneo, which is of Orthodox origin. Tourists usually flock to this church by sailing from the main town. Upon landing on the island, they embark on a brief hike. The church sits on a hilltop overlooking Lake Ohrid. If you're lucky enough to visit the church, wait for the sunset and take a moment to bask in the lake's golden beauty!
14. Portree, Isle of Sky, Scotland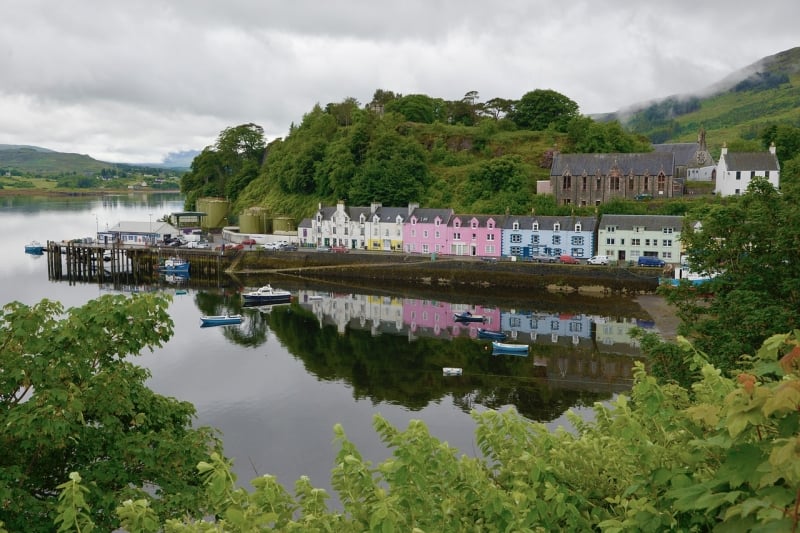 Portree is probably the most underrated among lakeside towns in Europe, even when it's the elegantly coloured capital of the Isle of Skye in Scotland! This quiet destination has its fair share of refreshing green surroundings. Its harbour, the town's signature attraction, is set against lush hills and scenic cliffs that make for an Instagrammable campsite. Thanks to Portree's natural harbour, the town also has a legacy as a go-to fishing village and terminal for seafarers.
But it's pretty apparent what tourists look forward to the most at Portree. The view of the harbour buildings, of course! The vivid establishments are mostly accommodations. The Pink Guest House, as the most prominent one, is a B&B with plenty of rooms that view the harbour. Take your time as you walk along the pastel buildings to get a whiff of that salty Portree air. There's also a souvenir shop and cafés nearby to complete your experience! 
15. Reine, Lofoten Islands, Norway
Here's another fishing village that's slowly making waves on Instagram. The hidden town of Reine in Lofoten Islands rests above the Arctic Circle, with the most unpredictable weather. The town can easily be shrouded in mist in one moment, then brightened up by sunlight in the next. One thing's for sure, you have to bring waterproof everything if you want to participate in all the outdoor activities Reine has to offer. 
From hiking to climbing and from skiing to Arctic surfing, there's an ideal activity for every season in Reine. Not to mention, jaw-dropping and snow-studded views of the mountains in winter, plus the possibility of seeing the Northern Lights! The picturesque shoreline is also dotted by red and white fishermen's huts, some of which have been transformed into accommodations for the town's rising tourism. You'd be remiss if you didn't book a stay at one of these cultural cottages!
16. Savonlinna, Finland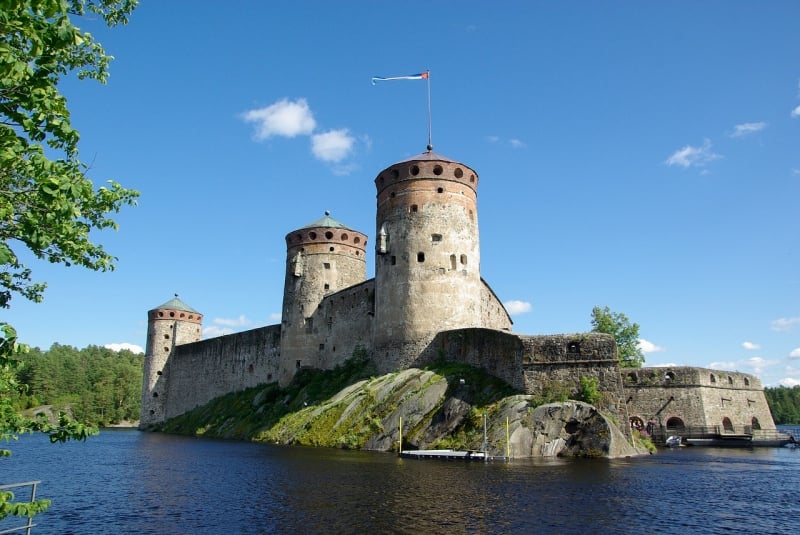 A stunning Old World city, Savonlinna is a municipality found at the heart of Saimaa Lake, Finland's largest lake system. Though Savonlinna isn't on a lot of travellers' bucket lists, there's surprisingly a lot of things to do in the town. First and foremost, you have to see Olavinlinna Castle, a fortress built in the 15th century, where gruesome medieval battles took place. Today though, it's very much a national icon in Finland. You can go on guided tours and delve deeper into the castle's history while admiring a view of the glimmering lake. 
Like many other lakeside towns in Europe, Savonlinna is best viewed from the water. Hence, avail of the city's steamboat cruises, which will take you past the town and give you a view of islets and small summer houses along Saimaa. Don't leave Savonlinna without visiting the Old Town, where cobblestone streets are surrounded by vibrant wooden buildings. It's only a few minutes walk from Olavinlinna Castle!
17. Titisee-Neustadt, Germany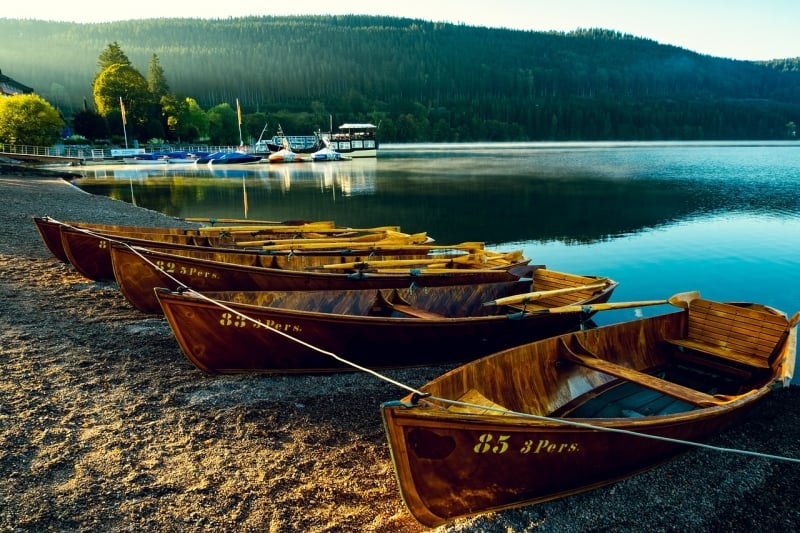 The communities of Titisee and Neustadt are nestled on the north and east shores of Germany's Titisee Lake, respectively. Titisee-Neustadt and its six communities have somewhat of a complex history, so let's just proceed to its common denominator, which is good ol' Titisee Lake. This lake was formed by the Feldberg glacier from the Pleistocene Era, ergo it's been around for ages, establishing itself as a consistent tourist favourite and one of the Black Forest's main attractions.
Needless to say, the idyllic elements of Mother Nature and the quietness between places have made Titisee a go-to holiday destination for families. It's the perfect place to bring your children if you want to spend some time in the great outdoors. Activities such as kayaking, swimming, skiing, and watersliding are readily available. If you'd rather stay on land, you can go hiking or even bike around the lake to the Black Forest. And for what it's worth, Titisee is roughly only two hours away by train from Switzerland and France!
18. Torshavn, Faroe Islands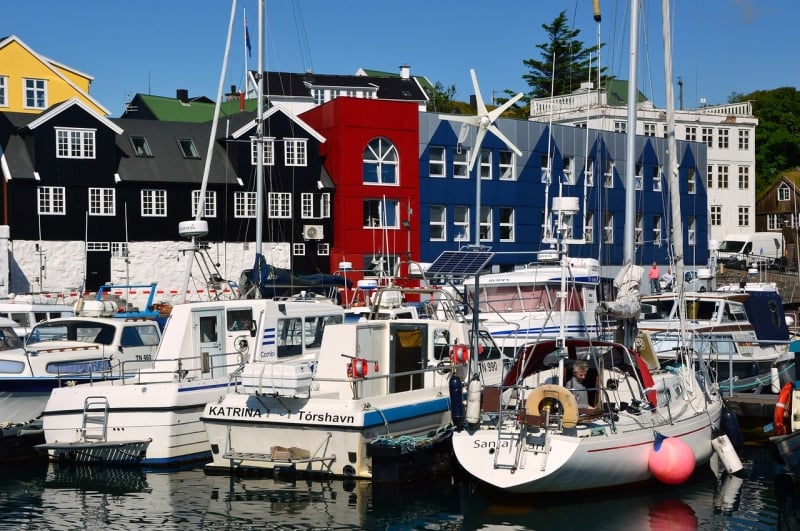 Meet one of the smallest capitals in the world — Torshavn in the Faroe Islands! Situated in the Norwegian Sea and North Atlantic Ocean, this city was once a trading post and a dwelling place of vikings (Norwegian and Scandinavian pirates). In fact, Torshavn translates to "Thor's harbour", pertaining to Thor the God of Thunder from Norse Mythology. Today, tourists can still visit Løgtingið, the viking parliament from 825 AD, which is said to be one of the oldest parliamentary sites in the world. 
That said, the town's architecture maintains remnants of viking-style establishments, such as wooden cottages topped with grass roofs. But what you can't miss is, of course, Torhsavn's colourful harbours. Decked with vivid boats that reflect on the clear water, matched with the kaleidoscope-hued buildings at the waterfront, the city's harbours look picturesque rain or shine. That's your go signal to snap away!
19. Vernazza, Italy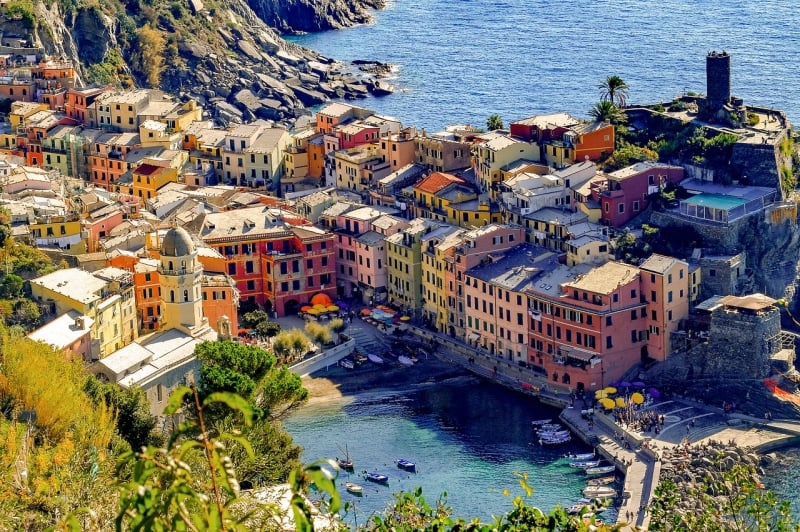 Last but not least, we have Vernazza, Italy! This town lies in the Cinque Terre region on the Mediterranean coastline. The region is known for five colour-studded towns situated on rocky beaches and towering cliffs. But among the five towns, Vernazza is said to be the crown jewel. Travellers have even dubbed it one of the most beautiful places in Italy. What's more, rural lovers are going to adore the environment! Not only because of the landscape but because Vernazza is a traffic-free village!
For a memorable Italian holiday, take a dip in the town's two beaches. You'll find one of them near the harbour, while the other can be reached from the city's main square. Other attractions you can check out include Castello or Doria Castle, the city walls and convent, and the Sanctuary of our Lady of Regio. None more striking, though, than a top view of vibrant Vernazza from various viewing decks you can reach after a fulfilling hike!
Also read: 8 Dreamiest Towns In Italy That Will Steal Your Heart!
And we're finally done with the list of the best coastal and lakeside towns in Europe! Most of them are underrated too. Take this chance to be the first of your friends to visit such stunning hidden gems. Where to first?