Bangkok is well known for their vast markets with endless rows of stalls, selling all manner of goods at unbelievable low prices. Famous markets like Chatuchak and Pratunam are a haven for shopaholics and have established themselves as the must-visit places in town. But what about the other markets, the lesser-known ones that are not thronged by tourists yet?
Overshadowed by the ones in the limelight, these hidden markets in Bangkok have plenty to be discovered – fashion bargains, yummy eateries, quirky goods and rich cultural handcrafts. Without further ado, here's a list of lesser known Bangkok markets for you to check out during your next visit!
1. Wang Lang Market
Image credit: John
The Wang Lang Market isn't exactly popular among tourists and foreigners, but they're a local favourite! Located at the Wang Lang pier, this market is known for the sheer amount of street food stalls. In fact, the market can get sweltering hot at times due to the radiating heat from the stoves and oil fryers surrounding the narrow street!
But don't let that deter you because an oasis of delicious food awaits those who brave through the tough conditions! A great fare of authentic Thai dishes are sold here, ranging from sweet little kanom krok (tiny cupcakes baked in a hot metal mold), to filling muu daeng yang (roasted pork). Visitors with an iron stomach can test their mettle with a plate of phad sataw muu tawt (stink beans with crispy fried pork belly), if they don't mind dealing with the odour afterwards!
When you've finally eaten your fill, then why not spend the last hour browsing through Talad Naew Naew? Loosely translated as the "market for cool, alternative people", you can browse through the huge collection of retro and vintage clothing at very affordable prices. Pick up a pair of jeans at an astonishing 200 baht or decent quality sunglasses at an even lower 50 baht!
Also read: 20 Fun & Free Things to Do in Bangkok
How to get there: A cross-river ferry from Phra Arthit pier, located near Khao San Road, can bring you to the market for only three baht. Otherwise, almost every Chao Phraya express boat makes a convenient stop at the Wang Lang pier.
2. Khong Lat Mayom Floating Market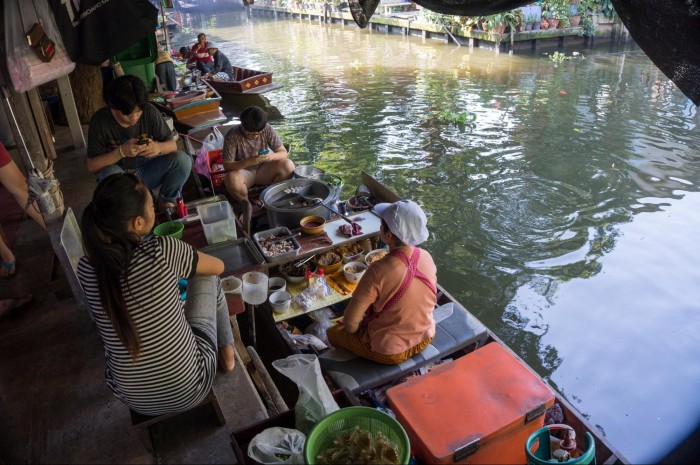 Image credit: jipe7
Khong Lat Mayom is often shunted aside by tourists in favour of popular floating markets such as Damnoen Saduak or Amphawa, but don't let that fool you! This floating market is a hit among the locals, and for good reason as well.
A paradise for food enthusiasts, Khong Lat Mayom offers a delectable range of local and international cuisine freshly prepared on the spot just for you! Sit on tiny stools and order a bowl of kuai tiew rua (boat noodles) or khanom chin (rice vermicelli), complete with a variety of sauces, fish or sweet coconut. Grilled seafood and Vietnamese-style dishes like kuai tieo yuan (wide noodles with pork) and Hoi Thot (oyster omelette) are top favourites.
After you're done stuffing yourselves, don't forget to breathe a little and walk around the market. Check out the beautiful fruits and produce on sale. Huge papayas, large green mangoes and massive pomelos will make you think solemnly on the tiny versions that you were so used to back home!
How to get there: Take the BTS Sky Train and alight at Bang Wa Station. From there, take a taxi or Bus 146 towards the market. The latter will require you to board a songthaew (red car) to complete the journey.
3. Srinakarin Train Market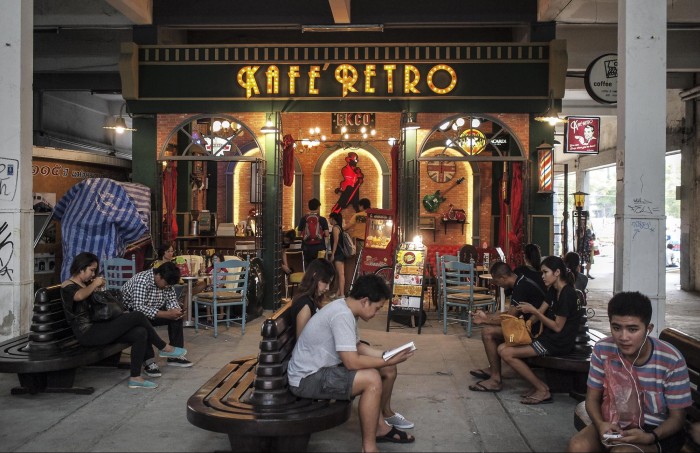 Image credit: Jonathan Lin
The Srinakarin Train Market, or Talat Rot Fai as the locals call it, is a rising hotspot for the Thai hipster scene. Old rusty train coaches, warehouses and nearby containers have been converted into captivating pubs, cafes and restaurants at where you can grab a bite and enjoy the laid-back atmosphere. If you'd rather eat and walk at the same time, there are three soi (alleys) nearby dedicated to the most scrumptious and affordable street food. Fill yourself up with grilled squid, a bowl of tom yum noodles, or some fried crickets!
Tons of makeshift stalls are also scattered across the market, with vendors plying a sheer variety of second-hand goods for sale. From old cameras, bikes, and action figures, you'll have a field day browsing through the selections, especially if you're an avid collector! Here, you can also find handmade souvenirs and vintage clothing.
How to get there: The Srinakarin Train Market can be found on Srinakarin Soi 51, just behind Seacon Square Shopping Mall. Take a taxi after alighting from the BTS Sky Train at On Nut Station. Alternatively, you can choose to alight at Udom Suk Station and take a songthaew (red car) at the corner of Sukhumvit Soi 103.
4. Phahurat Indian Market
Image credit: Wikitravel
The Phahurat Market represents a little slice of Indian culture in the heart of Bangkok. Originally founded by Vietnamese immigrants, the district fell victim to a major fire in the 19th century. Since then, the place was eventually reconstructed and saw an influx of Indian immigrants, who brought their families and settled in the area.
You'll be able to see imprints of the rich culture left behind by the early residents reflected in all manner of goods sold across the market. Their wide selection of traditional Indian silk and cotton is a fine example, with a variety of colours, patterns and textures sold at affordable prices. You'll be sure to find a deal or two when you're out hunting for that perfect fabric for a special occasion!
Food lovers will also be delighted here – Phahurat Market is the place to get your fix of delicious authentic Indian cuisine! Treat yourselves to a scrumptious time with samosas, momos and pani puri and other amazing Northern Indian fare. Once you're filled to the brim, wash it all down with a refreshing mango lassi!
How to get there: Located at the end of Sampeng Lane, Phahurat Indian Market can be reached by walking down Yaowarat Road, after taking the MRT to Hua Lamphong Station. If you're not keen on walking, however, then opt for a taxi or tuk-tuk ride from the station, which will only take 10 minutes.
5. Khlong Bang Luang Artist Village
Image credit: chezshai
It's understandable that you might've never heard of Khlong Bang Luang before since it's located at a very secluded location. Travelling by boat, you'll definitely notice the iconic Red Man sculpture hanging around the canal to greet visitors into the village. The renowned Ban Silapin (Art House) behind the carved figure is just as equally important, lasting for two hundred years and offering guests a chance to learn about traditional Thai mask making.
There are also art galleries, fashion boutiques and tiny cafes scattered around the area, which will entertain you for hours. However, the main reason on why you should drop by this quaint little place is to catch their famous Kham Nai Shadow Puppet Troupe. Performing on all days (except Wednesday) at 2.00pm, the free shadow puppet performance will have you entertained with their khon puppets. You might even be able to join in the show if you donate generously enough!
How to get there: The easiest way to get to Khlong Bang Luang is to take the BTS Skytrain and alight at Wongwian Yai Station. After that, grab a taxi and drop off at Charansanitwong Soi 3, where you can follow the alley to the footbridge, and eventually the canal itself.
6. Ko Kret Market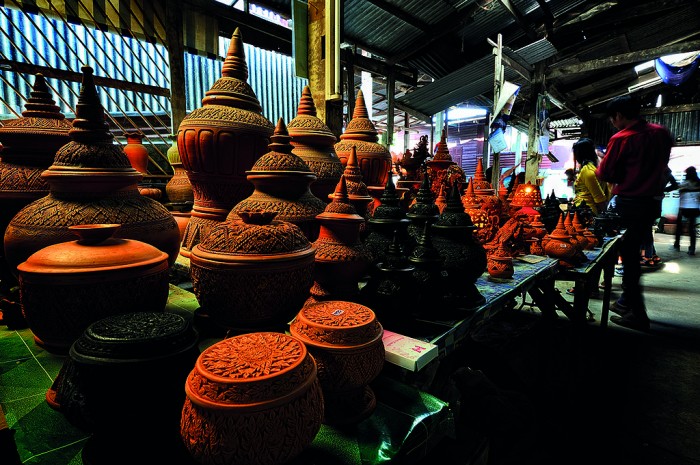 Image credit: Wikimedia
Nestled on Ko Kret, a tranquil island separated by the Chao Phraya river, the market isn't exactly the top spot for shopaholics. Instead, the Ko Kret Market draws a different crowd with their renowned kwan aman pottery and ceramics. This ancient crafting style was first introduced by the Mon Tribes when they first settled on Ko Kret, and has been traditionally passed down from generation to generation.
Also read: 15 Things to Do in Koh Chang – An Island Near Bangkok

Candle and incense holders with ornate patterns are bestsellers among the tourist crowd. But if you'd rather learn about the hard work that goes into each crafted souvenir and handicraft, then consider dropping by the Kwan Aman Pottery Museum. Featuring a large collection of ancient Mon relics, the museum will teach you a thing or two about their expert craftsmanship!
How to get there: A great way to reach Ko Kret is by the Chao Phraya River Express Boat. Drop off at Saphan Taksin BTS Station and go down below to the pier. On Sundays, the boat will depart at 9.30am and return at 3.30pm. Other river taxis also offer the same route on other days, at various timings. If you're not keen on going for a cruise, then taking Bus 166 from Victory Monument or a taxi would be good alternatives as well.
7. Yodpiman Market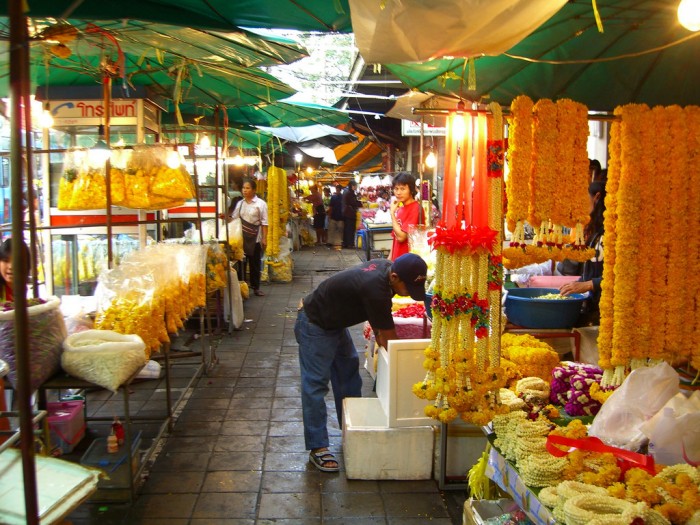 Image credit: eric molina
More commonly known by its local name, Pak Khlong Talat, the Yodpiman Market distinguishes itself from other markets by selling a kaleidoscope of brilliant flora to visitors. Deemed as "Bangkok's Flower Market", this narrow lane plays host to a number of shophouses and vendors that sell a diverse range of flowers in various arrangements. From locally grown roses, orchids and lilies, to imported tulips, snapdragons, and delphinium, you'll be hard-pressed not to find the perfect bouquet for that special someone!
If you'd like to get a different perspective of the market, then come on down during the wee hours of the morning, when you can catch the merchants and retailers busily restocking their supplies for the day. Although not exactly the best time to haggle for prices, it's still nice to see the Flower Market living up to its name as the alley slowly blooms with colourful plant life!
How to get there: The easiest way to reach Yodpiman Market is via the Express River Taxi, which stops at Yodpiman Pier by the Memorial Bridge. A direct taxi ride is also another option.
With this detailed list in hand, you won't complain about visiting the same old markets on your next trip to Bangkok! Bring your friends along for a day filled with shopping, eating and discovery!