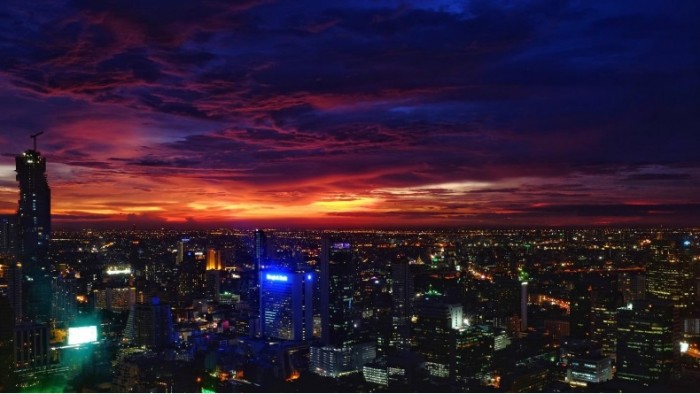 Image credit: Dragan Brankovic
Itching to travel to Bangkok for some rest and relaxation, but your bank account balance says otherwise? Don't worry! There are still plenty of fun things to do in the capital city of Thailand without going on a shopping spree.

Heads up, readers from Singapore! There's a great deal you should know about. From 9–15 Jan 2017, Thai Airways is having an early booking promotion. Fares start at only S$215 (inclusive of taxes) when you book at least 30 days in advance. On top of that, you can even get FREE BTS passes, massage vouchers, and also enrol in a lucky draw to win a trip to Chiang Mai. Find out more here.
Here's a list of FREE things to do and inexpensive places for you to check out!
1. Spectate an exhilarating Muay Thai match at MBK Shopping Centre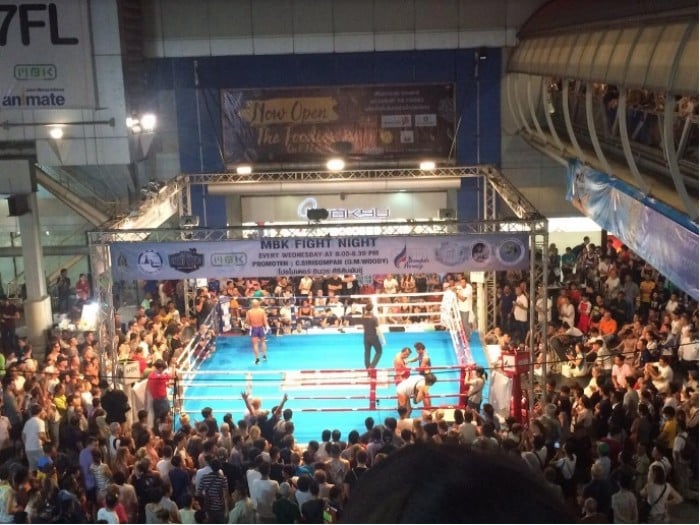 Image credit: MBK Center
Every Wednesday night, MBK Shopping Centre plays host to MBK Fight Night, where local and international Muay Thai fighters duke it out in a series of fights. The event is held in an open-air boxing ring, located at the front of the shopping centre, for anyone to spectate and cheer. With proper announcers, ring girls, lights and live commentary, it will feel exactly like you're watching a real match for free!
For those looking to experience traditional Muay Thai boxing, the MBK Fight Night is definitely a must-visit on your list.
Getting there: National Stadium BTS Station
2. Get spooked with a visit to the Sathorn Unique Ghost Tower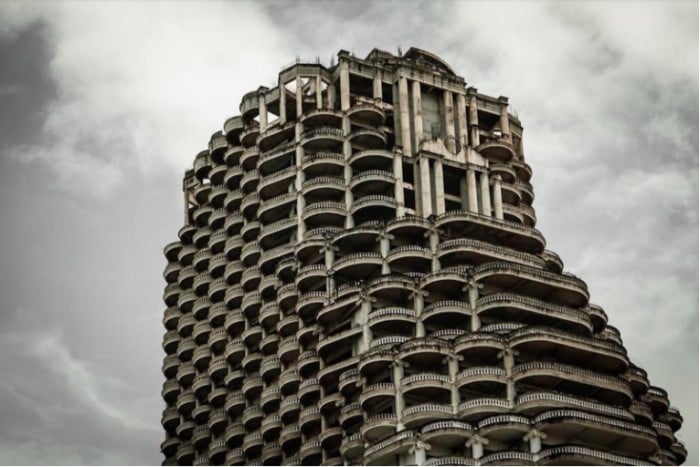 Image credit: Jonathan Burr
For those looking for a thrill, a visit to Sathorn Unique Ghost Tower is a perfect remedy. The abandoned skyscraper has gained popular reception amongst urban explorers and ghost hunters alike, with rumours of the land being a former graveyard, and the presence of the ghost of a Swedish tourist who committed suicide in 2014 haunting the 43rd floor.
Unfortunately, the authorities have declared the place off-limits to the public. Although there are "special" alternatives to enter the premises, it would probably be best to admire the Ghost Tower from a safe distance. It's not worth running afoul with the guards and, quite possibly, the paranormal!
Getting there: Saphan Taksin BTS Station
3. Seek an escape to nature at Lumpini Park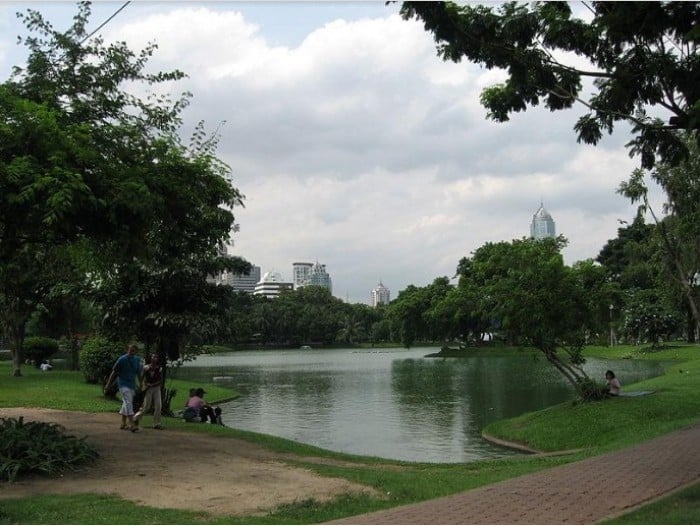 Image credit: Caspar
Named after the birthplace of the Buddha in Nepal, Lumpini Park is one of Bangkok's largest parks. It's a perfect place to escape the urban hustle and bustle, where tropical trees and flowering bushes set around a large lake provides a refreshing change of scenery. Many locals often frequent here for picnics, jogs or other leisurely activities.
Take a peaceful walk and enjoy the tranquillity, or if you're feeling a little active, sign up for one of their free public outdoor aerobics class at sunset!
Getting there: Sala Daeng BTS Station / Silom or Lumphini MRT Station
4. Go green with a visit to Siam Green Sky
Image credit: Blueprint CBRE
Located on the top floor of the Siam Square One shopping centre, Siam Green Sky is considered to be the largest rooftop garden in Bangkok. Implemented by Chulalongkorn University as an agricultural project, visitors can observe the process of making organic fertiliser and learn more about growing their own vegetables and plants.
A Green Market also springs up every third weekend in the month, where you can sign up for free eco-friendly workshops or sample their organic food. A haven for nature enthusiasts!
Getting there: Siam BTS Station
5. Admire the crocodiles at Wat Chakrawat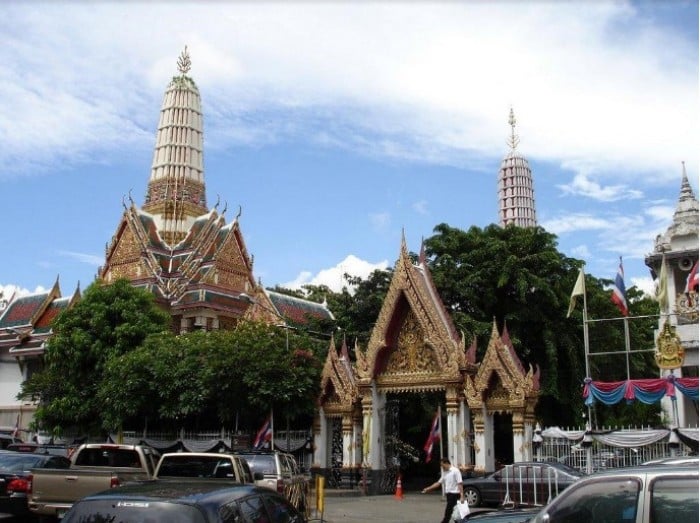 Image credit: Michael Braun
While you're out exploring Chinatown, why not drop by and visit Wat Chakrawat to see live crocodiles? The practice of adopting these reptiles began when they discovered one in the Chao Phraya River, just beside the temple. Now, three of them are fed and kept clean by the residing monks, which tourists can watch.
Just make sure to keep your distance, lest you end up as their next meal!
Getting there: Ratchawong Pier by boat, walk up Ratchawong Road and turn left at the first small alley. The southern entrance to the temple is where the alley makes a sharp turn to the right.
6. Mingle with other tourists at Khao San Road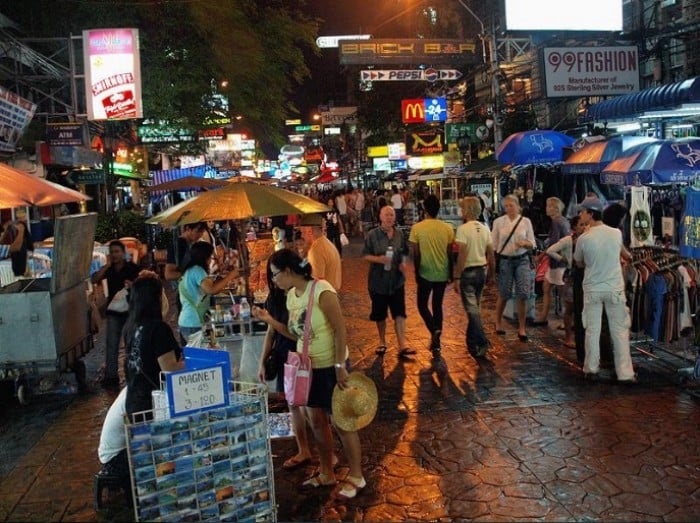 Image credit: Kevin Poh
Commonly associated with parties and backpackers, Khao San Road is a haven for budget travellers looking for cheap accommodations to rest their weary feet. The street is also home to massage parlours, travel agencies and restaurants. At night, the bars and pubs come alive for travellers to unwind and enjoy live acoustic music.
Khao San Road is a unique place with a carefree atmosphere where foreign guests feel welcome. You must visit this place at least once during your trip!
Getting there: Siam, National Stadium or Ratchathewi BTS Station. From there, taxis are the most practical choice, as there is no direct Skytrain connection to Khao San Road. Make sure that your taxi uses a meter to avoid being ripped off.
7. Get up close with passing trains at the Maeklong Railway Market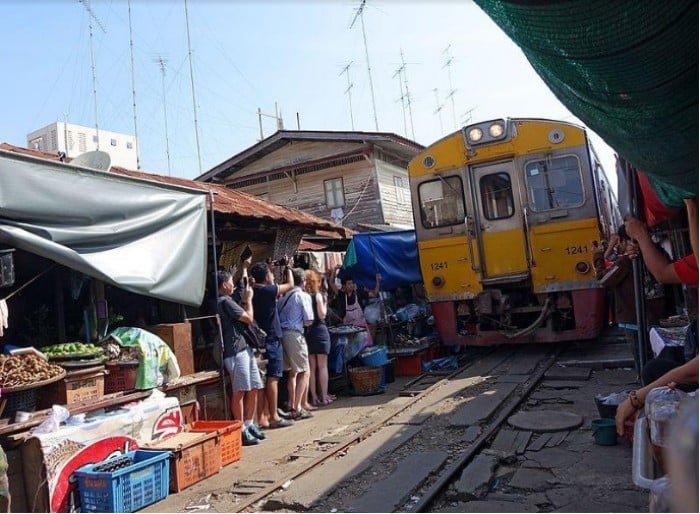 Image credit: Jason Goh
What makes the stalls at Maeklong Railway Market unique is that they're directly opposite an operational railroad. Visitors can walk on the railway and browse the displays of produce, clothing and other goods. When the train approaches, warning bells will sound, which will give ample time for vendors to gather their products and pull back their tarps. Once the train has passed, the merchandise will be replaced and business will resume as per normal.
The close-up sight of the train rolling through the market, such that you can reach out and touch it (we'd advise against it, though), is definitely a unique experience. Bring your cameras for the photos, but don't put your safety at risk just for the perfect selfie!
Getting there: Victory Monument BTS Station, Exit 4, walk out and board one of the mini-vans under the expressway for a 2-hour journey to the market
8. Fly away to the Bangkok Butterfly Garden and Insectarium!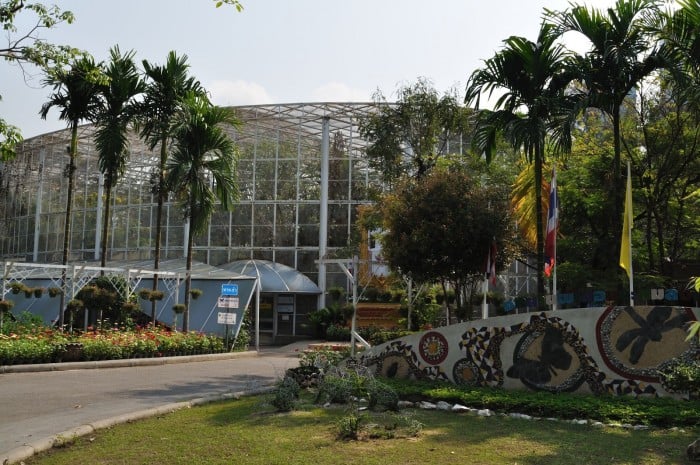 Image credit: Grawburg Family
For those who prefer the wildlife over green scenery, consider dropping by Bangkok's Butterfly Garden and come face-to-face with beautiful winged creatures! Nestled under a glass dome sanctuary, a few species of butterflies make their home amongst the ferns and exotic flowers. Visitors can explore, have picnics or even rent bicycles to navigate through their habitat.
As an added bonus, you can brush up your knowledge on these colourful insects at an indoor display which offers detailed information of their lifecycles. Surprise your friends back home!
Getting there: Mo Chit BTS Station / Chatuchak Park MRT Station
9. Wander around Chatuchak Weekend Market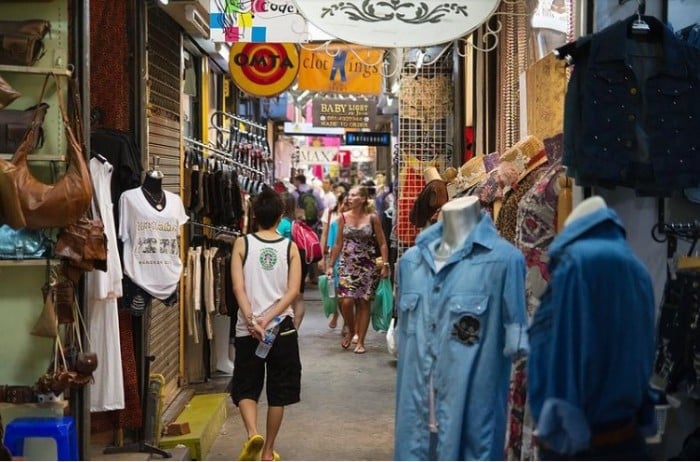 Image credit: JJ Harrison
Ask anyone who's been to Bangkok before about where to find the best deals, and  chances are, you will keep hearing about Chatuchak. Well, it's technically free to roam around Chatuchak and soak up the atmosphere, though you WILL be tempted to grab a bargain since there are more than 15,000 vendors selling a wide variety of goods
But if you're determined on keeping your spending habits in control, this popular flea market is a great place to grab a glimpse of the local lifestyle. Just be sure to set up meeting points when travelling as a group, as it is very easy to get lost while navigating through the sprawling maze of stalls and shops.
Getting there: Mo Chit BTS Station, Exit 1 or 3 / Chatuchak Park MRT Station, Exit 1 or Kamphaeng Phet MRT Station, Exit 1
10. Unlock your inner peace at Wat Mahathat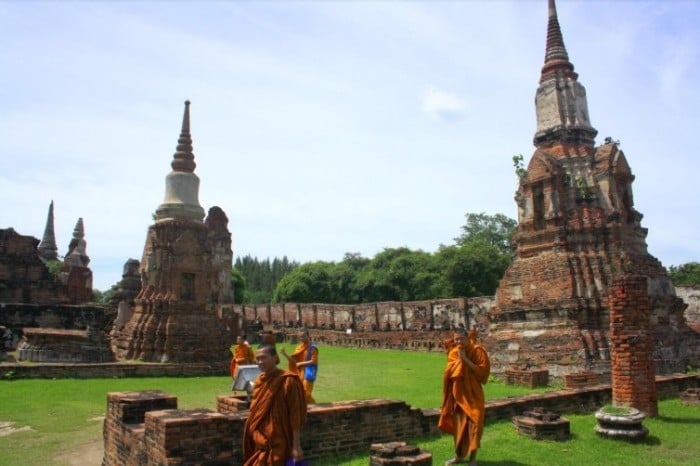 Image credit: Jaume Escofet
Ever wanted to pick up meditation? There's no better place to do it than at Wat Mahathat, one of Bangkok's oldest temples and the headquarters of Thailand's largest monastic order. There are free daily classes available to interested visitors, with English-speaking monks assisting those unfamiliar with the local lingo.
Try signing up for their popular Vipassana (insight) meditation, and let those troubles slowly fade away!
Getting there: Tha Chang Pier by boat, walk directly away from the pier into the courtyard. Turn left at the road and walk up Mahathat Road.
11. Stop and smell the flowers at Pak Khlong Talat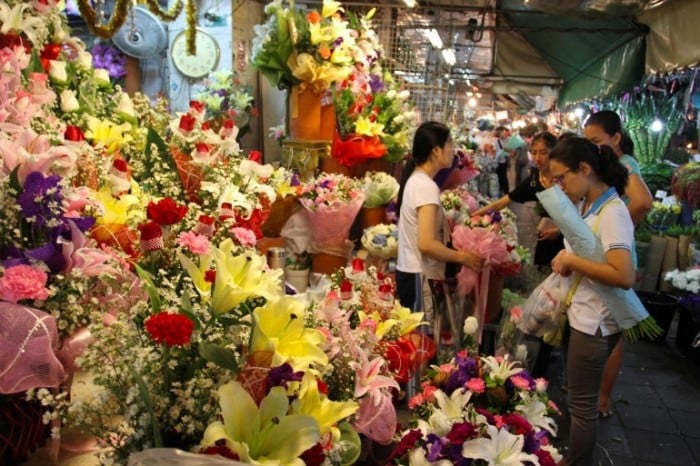 Image credit: Notesfromcamelidcountry
Consider dropping by Pak Khlong Talat, or the Flower Market, to whiff in the scent of fresh flowers. The Flower Market runs 24 hours, but it is best to drop by during pre-dawn, where the place turns into a garden of dazzling colours as the vendors receive their stock deliveries. Perfect if you're looking to brighten up your day!
If you have spare cash and are looking to surprise a special someone, this is where you can find an affordable bouquet of flowers. You can find a wide range of popular flowers here, from roses, orchids, and lilies, to imported ones such as snapdragons and tulips. They also specialise in selling pots, vases, and foam to place your flowers in as well.
Getting there: Saphan Phut (Memorial Bridge) Pier by boat, turn left out of pier and walk out
12. Take a climb up Wat Saket's steps and enjoy the view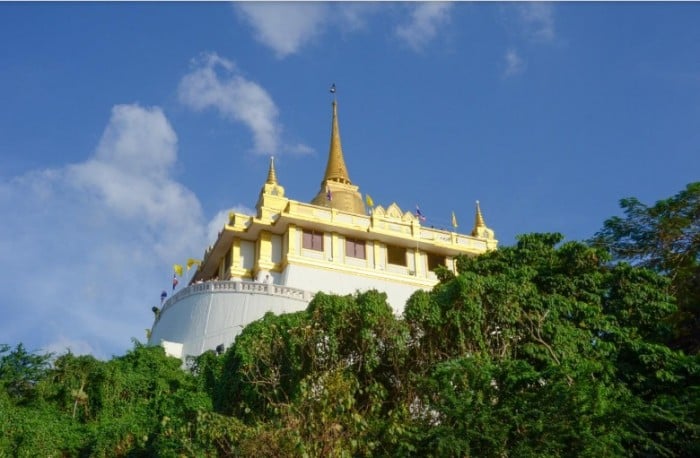 Image credit: cotaro70s
Wat Saket is often referred to as the "Golden Mount", and with good reason too. The iconic golden chedi standing out from the roof of the temple is usually the first thing visitors will notice. To get on top, you'll need to climb up some 300 steps that circle around the structure. The panoramic view of the city that awaits you at the top makes the climb worthwhile.
If you're visiting around November, you might be lucky enough to experience their temple fairs during Loy Krathong. Just be mindful of the crowd, as it will definitely be jam-packed during this occasion!
Getting there: Maharaj Pier by boat, walk out and take a taxi from there.
13. Learn the tragic history of the Giant Swing at Wat Suthat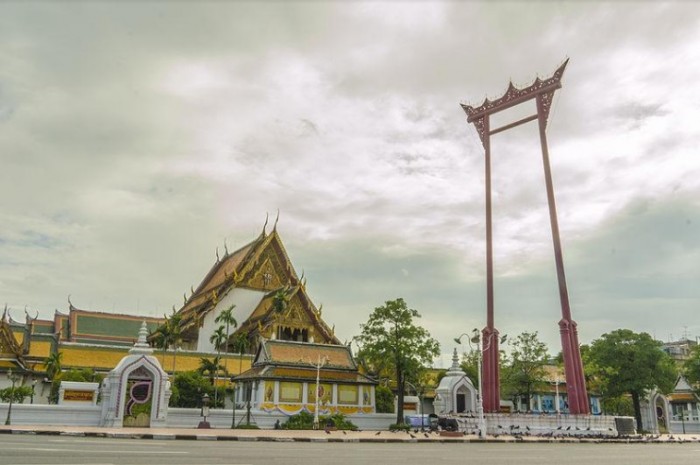 Image credit: Kenta Akutsu
The main highlight of Wat Suthat is not its grand interior design or its intricate Chinese stone sculptures (they're still worth checking out, though). That fame goes towards the red Giant Swing that stands imposingly at the temple entrance. Measuring 21.15 metres high, this swing was once used in festivals, where young men would ride it high in the air to grab a bag of silver coins with their teeth.
After many cases of severe injuries and a few deaths, the swing ceremony was discontinued in 1932. However, it still remains a popular attraction that's worth checking out!
Getting there: Tha Chang Pier by boat, walk out and take a taxi from there.
14. Feed your creativity at the Bangkok Art and Culture Centre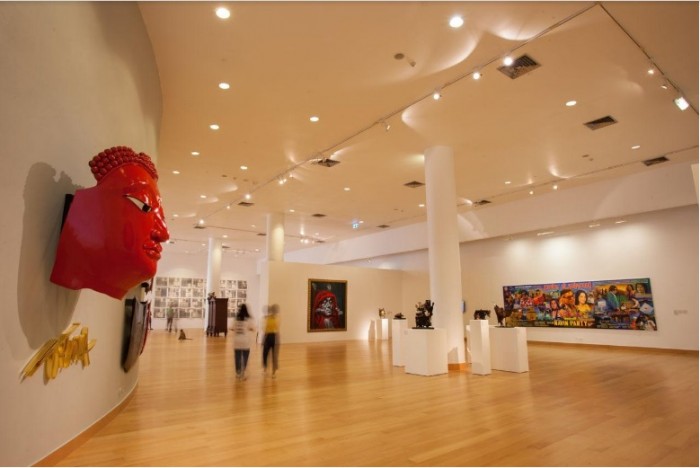 Image credit: The Artling
If you're tired of past stories, and in the mood for something modern, then the Bangkok Art and Culture Centre may have exactly what you need! Featuring numerous exhibitions and galleries from both local and international artists, visitors with a passion for the arts will find themselves right at home.
Even if you're not familiar with the arts scene, you can still enjoy the nice little cafes and shops that are housed in the same building. It offers a quiet change of pace from the hectic shopping malls!
Getting there: National Stadium BTS Station, Exit 3
15. Watch a traditional Thai dance at the Erawan Shrine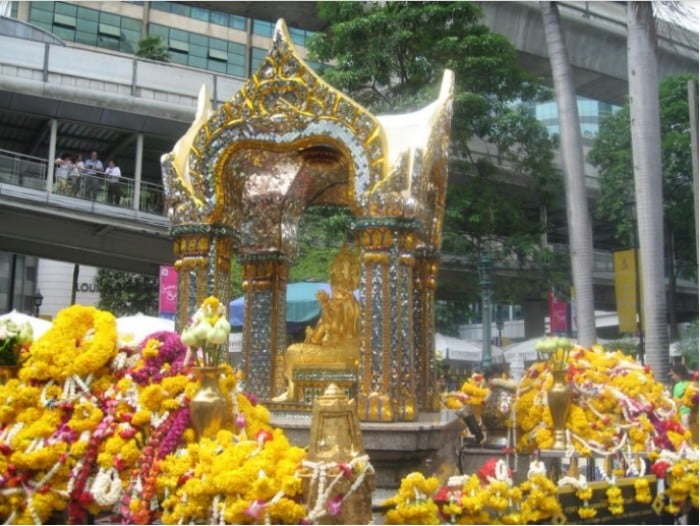 Image credit: Terence Ong
The Erawan Shrine was originally established in mid-1950 to appease the spirits that were thought to be plaguing the construction of the luxury Erawan Hotel. Now, it serves as a place of worship for the Brahma god, Phra Phrom.
It's a popular place for locals and tourists to pay their respects and make offerings, in hopes that their various wishes will be granted. You'll also be able to catch traditional performances of Thai dance troupes, as a cool bonus!
Getting there: Chit Lom BTS Station
16. Explore the wild streets of Patpong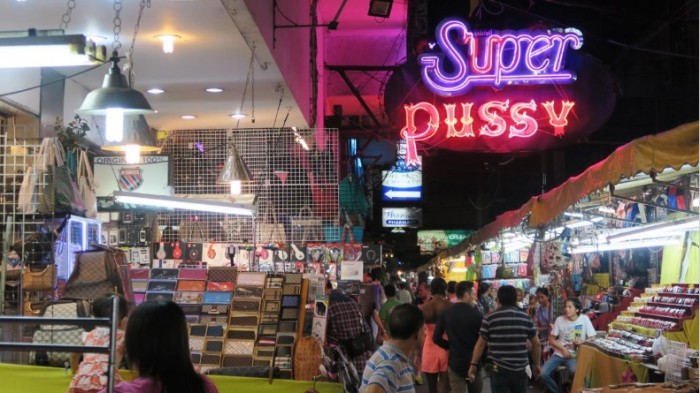 Image credit: Bangkok 112
If you look past the reputation of Patpong as a red-light district, your journey through this area offers a unique experience from your everyday tourist attraction. Their night market, catering towards the continuous flow of curious tourists, features a range of imitation designer goods while surrounding establishments go out of their way to attract customers, often towards the outlandish and bizarre.
If you're indifferent to prostitution and keen on exploring the nightlife, you'll definitely be in for an eye-opening experience! Just keep an eye on your belongings, as pickpockets often frequent the area.
Getting there: Sala Daeng BTS Station / Silom MRT Station
17. Walk down the riverfront at Asiatique Night Market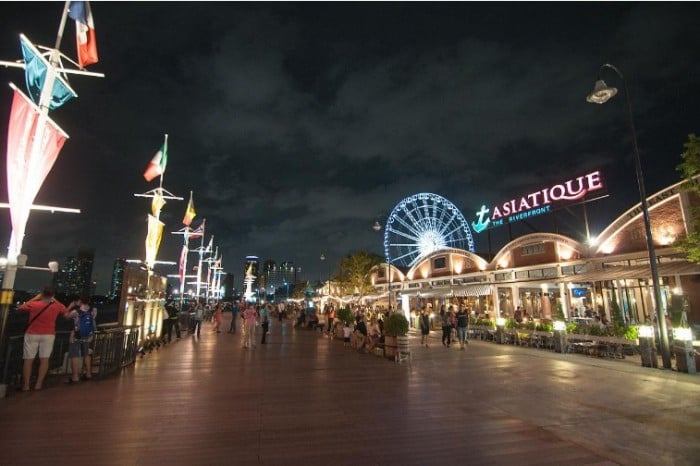 Image credit: Chee Hong
If you're feeling a little swanky, hop on a boat ride to Asiatique. This upscale riverfront night market blends European architecture together with Asian culture, bringing about an exclusive shopping and lifestyle experience. You'll find a decent amount of offerings here as well, ranging from fashionable local brands, handicrafts, souvenirs and design items. There are even cultural shows, with Thai puppetry and transvestite variety shows for those seeking entertainment.
Asiatique is a charming place that is worth spending the evening at, even if you're not intending to spend a lot. A calming stroll along the Chao Phraya River, as you take in the view of Bangkok's northern skyline, makes it worth the trip.
Getting there: Saphan Taksin BTS Station, board the free ferry shuttle
18. Enjoy a shadow puppet show at the Khlong Bang Luang Artist Village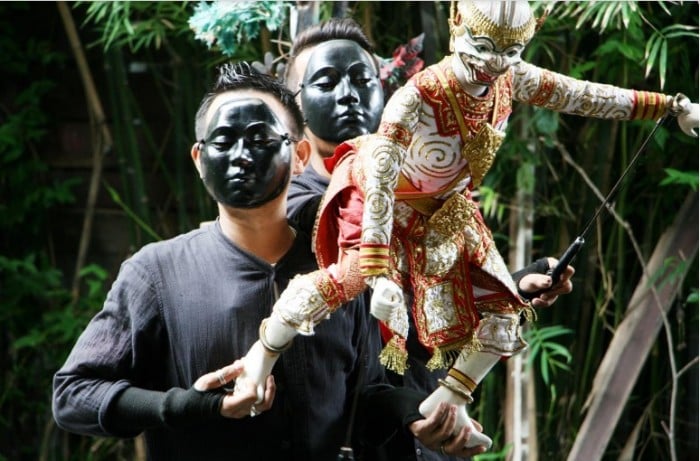 Image credit: The Localites, Bangkok
The Khlong Bang Luang Artist Village is made up of a community of artists and enthusiasts who are keen on promoting the place as a cultural centre. Sitting at the heart of the village is Baan Sinlapin, or Artist's House, which is a café and performance space. The house plays host to a number of paintings, drawings exhibitions and other works of arts by various artists.
The main highlight, however, is the traditional shadow puppet performance that happens on all days except Wednesdays. Dressed in jet black costumes, the performers bring their puppets to life to re-enact scenes from the epic tale of Ramakien. Viewers will be enthralled with the simple, yet excellent performance, especially when the acrobatics begin!
Getting there: Wongwian Yai BTS Station, walk out and take a taxi from there, mentioning Baan Sinlapin to your driver for a better route
19. Travel around the world at Terminal 21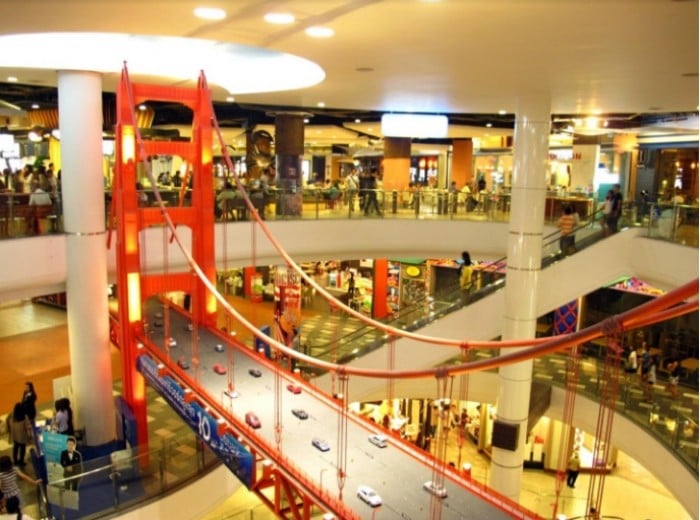 Image credit: Lifeisacelebration
This 9-storey shopping mall proudly displays its airport theme, with each floor designed after famous cities around the world. You'll see familiar landmarks from London, Tokyo and San Francisco as you navigate through the collection of shops, outlets and restaurants. It's like going on vacation, on your vacation!
There's no need to break your budget to enjoy your trip around Terminal 21; you'll be so fascinated with the design of the mall that you might forget to do some shopping!
Getting there: Asok BTS Station / Sukhumvit MRT Station
20. Soak up the culture blend at Chinatown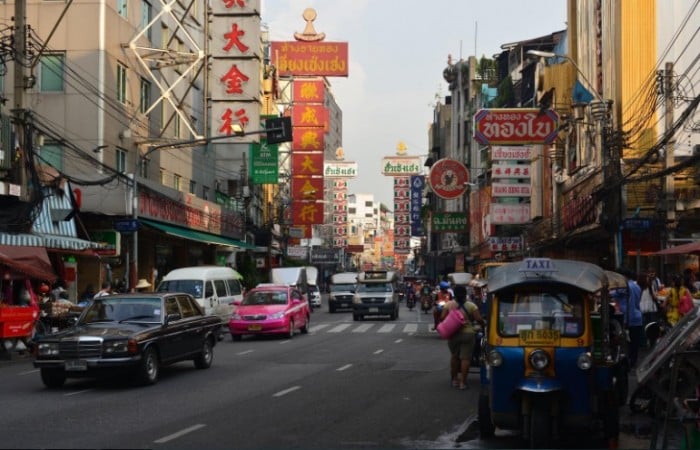 Image credit: Nicolas Lannuzel
Get a slice of Chinese culture in the heart of Bangkok when you drop by their version of Chinatown. Visitors will be delighted at the blend of Chinese and Thai culture, with temples, food and street scenery at its forefront. Sights such as the China Gate and Wat Mangkol Kamalawat (Dragon Lotus Temple) may leave you wondering if you're in the right country!
Getting there: Ratchawong Pier by boat, walk up Ratchawong Road to Yaowarat Road.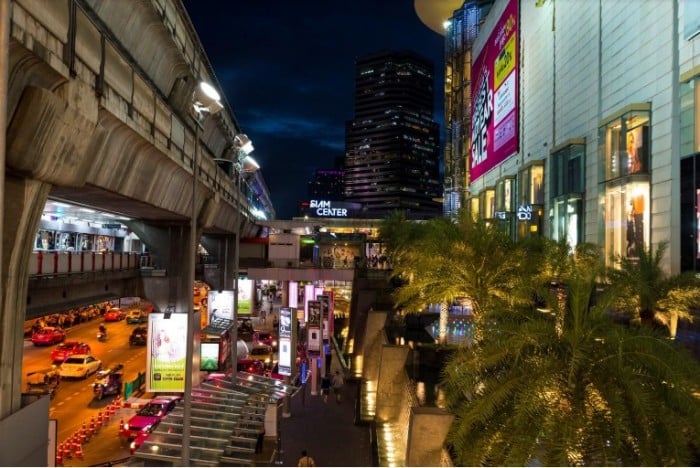 Image credit: Cho Shane
Also read: Things to Do in Bangkok: Visit The Grand Palace
Hopefully, this list has given you an idea on how to plan a proper budget trip for your next Bangkok trip. When you're out there having a blast and saving a bundle on travel expenses, don't forget to buy us some souvenirs as thanks!