When we are done with all the shopping, eating, and partying that we came to Bangkok for, what else is left for us to experience?
Well, fret not, my fellow Bangkok-lovers. Here I give you the top 10 day trips from Bangkok, guaranteed to nourish that nature-loving, cultural or history-obsessed side of you!
1. Ayutthaya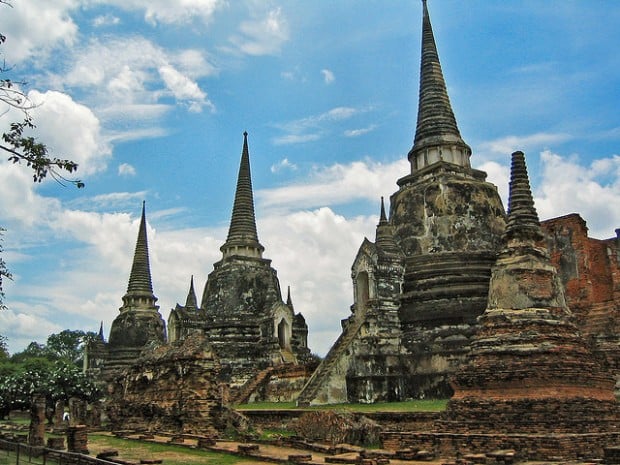 Image credit: Russ Bowling
Known to others as Siam's capital city until 1767 and a UNESCO World Heritage Site, the ancient city of Ayutthaya still boasts impressive and grand ruins of old temples and palaces of stone. There are also numerous stone Buddhas and stupas known as chedis, despite the area having been razed to the ground by the Burmese during the Burmese-Siamese War. While most of the temples enjoy free entry, the larger and more impressive ones may charge entrance fees of about THB 50 (SGD 2).
As the ruins are spread out over a vast area, the best and most popular way to explore the ruins would be by bicycle, which can be rented for about THB 40 (SGD 1.60) a day. If you don't know how to ride a bicycle or are travelling in a group, an affordable alternative would be to hire a tuk-tuk (motorcycle rickshaws) to take you around the main sights for about THB 1000 (SGD 40) for 4 hours.
How to get there
Your best (and cheapest) bet is to get there by train, which departs from Bangkok's Hualamphong Train Station and stops in Ayutthaya. The duration of the trip would take you 2 – 2.5 hrs which also depends on the type of service you select. Second class seats (with A/C) cost THB 245, third class is just THB 20 (but there are no reservations and seats are not guaranteed).
[fzPrice]bkk[/fzPrice]
2. Rose Garden, Nakhon Pathom Province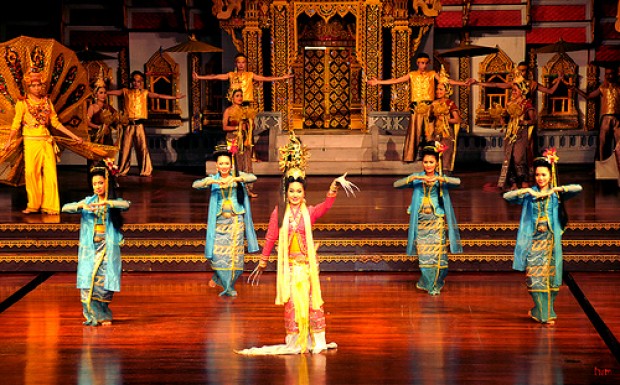 Image credit: Jason D'Great
Contrary to what its name suggests, the Rose Garden is not simply just a botanical garden. Located an hour's drive away from Bangkok, Rose Garden has evolved over the years, and it is now well-known as a cultural centre. It is home to an internationally acclaimed Thai Village Cultural Show, as well as an elephant show. The show itself introduces one to the main highlights of Thai culture, a great introduction to the uninitiated.
For those who are more for the activities and less of the viewing, there are many hands-on activities for you to learn and understand the Thai culture, such as planting rice in the rice paddy, or bamboo dancing, or carve a flower out of a carrot. Do remember that you might want to start your trip here at 10am to be able to experience the full range of activities available for you. Prices here start from THB 480 (SGD 19).
How to get there
Take a bus line number 123 (non-air conditioned) from Tha Chang and alight at the Rose Garden. Or you can take a bus from the Southern Bus Terminal (old route) on Petchakasem Road (Bangkok-Aom Yai-Sam Phran-Nakhon Pathom).
And if that's not enough to tire you out, then you might want to combine it with a trip to…
3. Damnoen Saduak Floating Market, Ratchaburi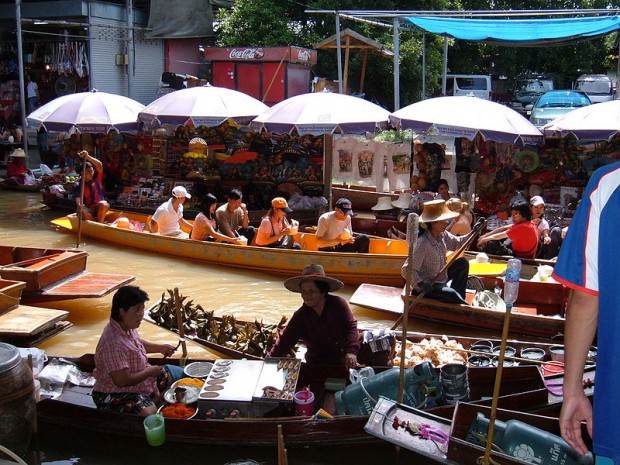 Image credit:BrokenSphere
Many day tour agencies sell the Rose Garden and Damnoen Saduak Floating market day tours as a package deal, and with good reason, as the market is only 40 minutes south of Nakhon Pathom. One of the best known of Thailand's floating markets, Damnoen Saduak's river hawkers are dressed in traditional costume, as they hawk their wares, fruits, and flowers to the many tourists that flock here in droves.
There is, however, a way to escape the tourist herds and actually see some semblance of Thai local living. It is recommended you either arrive very early, or stay overnight so that you can see the Thai locals going about their lives at the crack of dawn, way before all the tourists come and the markets become tourist traps.
How to get there
You can take public buses leaving from Bangkok Southern Bus Terminal to Damnoen Saduak at a 40-minutes interval starting from 6am. A one-way fare is around THB 50. But do check what buses to take when you are at the terminal and also find out where exactly you will need to alight.
The buses will usually alight you about 1km away from the main Damnoen Saduak Market.  From which, you will need to hire a boat to get to the market (and you have to exercise your bargaining skills to get a good price).
4. Koh Si Chang

Image credit: Sergey
This island may sound off the beaten track, or even not worth going, because after all, there are many islands in Thailand more well-known and with more amenities than Koh Si Chang. However, it is an island loaded with history and culture. Koh Si Chang was where King Rama IV, V, and VI all came with their wives and children for a getaway from the city when they so needed one. In fact, one of King Rama V's sons was born here! Today, you can still see the remains of the palace, including a teak wood mansion that was never completed due to the border invasion by the French in the 1890s. There is also a museum here, and you can even enjoy a meal in the restaurant nearby.
Buddhist devotees might also like to walk in San Jao Phaw Khao Yai, a multi-level Chinese temple situated up high on a cliff, and that has picturesque views of the mainland. After taking all the photos and exploring its many tranquil rooms and silent caves, take the stairs up to Buddha's Footprint and Lookout. No, Buddha did not really leave a footprint there. Instead, the "Footprint" in question is in reality a small lake that goes by the name, near a lookout with a shrine and a bell. Legend goes that if you'd like to inform the spirits of your visit, you can ring the bell 3 times.
And of course, on an island there are always beaches. While many of the smaller beaches on Koh Si Chang are pristine and as yet untouched, Taam Phang (Collapsed Cave) Beach is by far the most popular and commercialised, decked out in canvas deck chairs, umbrellas and water equipment. There are few, if not none, lifeguards on the island, so be careful when the young ones go into the water, although the drop-off is said to be very gradual.
How to get there
Take a government bus from Bangkok's Northern Bus Terminal (Mo Chit) or Eastern Bus Terminal (Ekamai). Either stations have buses that leave everyday, on the hour. The trip to Sri Racha takes about 2 hours. When you've reached Sri Racha, take a tuk-tuk (THB 50) to the Ko Loy pier. Ferries to Ko Si Chang leave hourly (or every two hours in low season) and would take about 40 minutes. The cost for the ferry trip is THB 50 per person each way.
5. Ancient City, Samut Prakan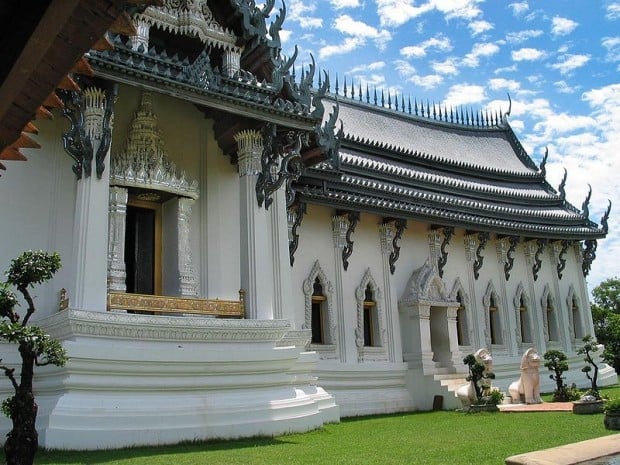 Image credit: Heinrich Damm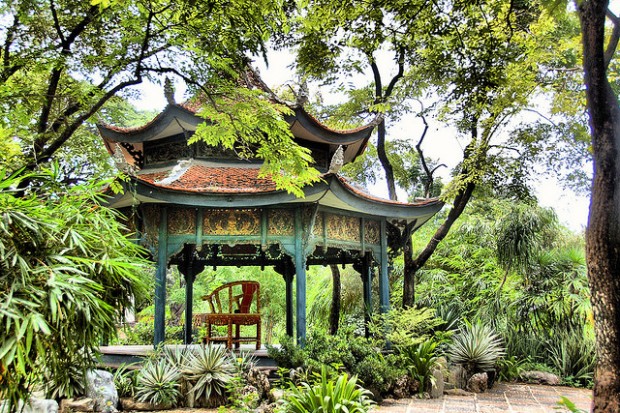 Image credit: Justin Gaurav Murgai
Khun Lek, owner of the Thailand Mercedes-Benz dealership, wanted to build a miniature historical Thailand. That manifested in the Ancient City you see today, many of them recreated in minute detail and without the modern tools of today. In fact, some of them no longer exist in their original locations due to wars and fires, and their re-creations may only be found in this Ancient City, such as the Sanphet Prasat Palace from Ayutthaya.
The painstaking lengths Khun Lek took to recreate these buildings and monuments! Somewhat like an open air museum, the Ancient City is a great quick introduction to the many facets of Thai history—architecture, important literary figures, markets. There are even 80 or so yoga positions on display throughout its premises.
Again, because of the sprawling premises and grounds, you might want to rent bicycles or golf carts, or even a tram tour, if you're short on time. Entrance fees for foreigners are THB 500 (SGD 20), most of which goes to maintenance and improvements of the sights.
How to get there
Taxis are probably the best way to get there. Tell the driver "Muang Boran, Samut Prakarn".
Also read: Here's Why You Should Stop Travelling to Bangkok
6. Crocodile Farm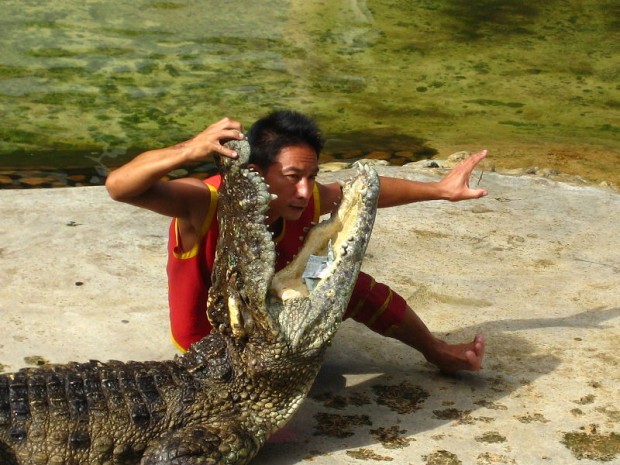 Image credit: Cameloctober
Reputed to be the world's largest, the Samut Prakan Crocodile Farm was built in the 1950s, and boasts more than 60,000 varieties of the huge green reptile. You can watch the trainers do a Steve Irwin during the hourly live shows, as they catch and wrestle with the crocodiles with their two bare hands. You can also watch the crocodile feeding in the late afternoons.
Scared of crocodiles? Never fear, there are other animals on the farm, such as chimpanzees, gibbons, boa constrictors, and even camels and hippopotami. Sounds more like a mini zoo, if you ask me.
As the Crocodile Farm is located very close to the Ancient City, just kilometres away, it is entirely possible to combine the two places in one day. In fact, many day tour agencies do just that. Admission fees are THB 300 (SGD 12).
How to get there
You can easily travel from Ancient City. But if you are coming from elsewhere, it's easier for you to get here by taking a taxi.
7. Erawan National Park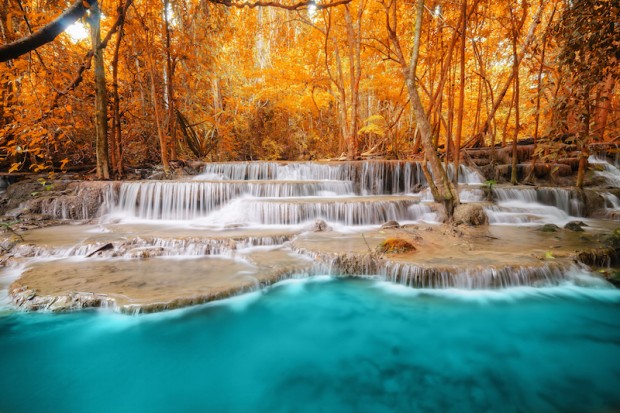 Its name drew inspiration from the mythical 3-headed white elephant of Hindu mythology. Founded in 1975 as Thailand's 12th National Park, the jewel, and major attraction of the park is the Erawan Falls, with its emerald green ponds. In fact, according to the locals, the topmost tier of the 7-tiered waterfall spanning 1.5km is supposed to resemble the elephant's head. A series of trails and foot bridges brings visitors all the way up to the 6th, or the second topmost tier, though to get up to the last tier one will have to scramble up several short cliffs. Most of the tiers run into ponds and are great for dipping and swimming, and though there are some great picnic spots at the higher tiers, food is strictly forbidden beyond the 2nd tier. Visitors will have to pay a refundable THB 20(SGD 0.80) fee per drink bottle that they bring in.
Ta Duang Cave is another attraction within the park. Located 700–800 metres into the forest from Tha Thung Na Village, the cave features rock paintings of trees and humanoid shapes. One can also take a closer look at the pottery and used tools that constitute the evidence of past human habitation.
Admission fees are THB 200–300 (SGD 8–12), though they do charge for you to bring in a motorbike. Bicycles are available for rent for THB 20 (SGD 0.80) a day.
How to get there
Minivans depart to Kanchanaburi from BTS Victory Monument and depart when they are filled or every 15 minutes. You can expect to pay THB 130 from Bangkok to Kanchanaburi and THB 120 from Kanchanaburi to Bangkok.
8. Koh Kret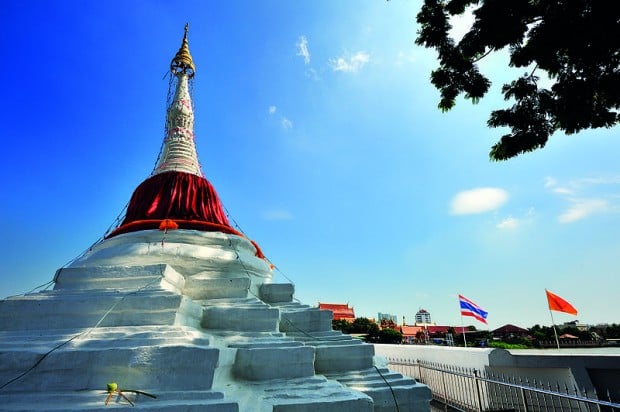 Image credit: Peerapong Prasutr
Home to the indigenous Mon people, Koh Kret is situated in the middle of the Chao Phraya River, in Nonthaburi Province. It is a man-made island, created when a canal was dug in 1722 to facilitate the sailing of ships from Bangkok to Ayutthaya. The Mon people, being a traditionally isolated minority, have a culture unique to themselves, in particular their pottery and their architecture. Most striking on the island is the Wat Paramaiyikawat, a Buddhist temple with a 200-year-old golden stupa, said to contain the Buddha's relics. Located on the northeastern tip on the island right next to the ferry landing, the old monastery is the venue of the daily prayers of the Mon people. Inside the temple is a reclining Buddha.
Visitors with an interest in pottery can also visit the Kwan Aman Pottery Museum, which houses the largest collect of distinctive Mon-designed ceramics—detailed patterns intricately carved on unglazed terracotta. And perhaps, if you're nice and the Mon potters are feeling very friendly, you might just be able to look in on one of the many pottery workshops and kilns on the island.
How to get there
From Nonthaburi, get tickets (THB 100) on the longtail boat to Koh Kret Island!
Also read: 10 Reasons Why I'll Never Get Sick of Visiting Bangkok
9. Floating vineyards, Samut Sakhon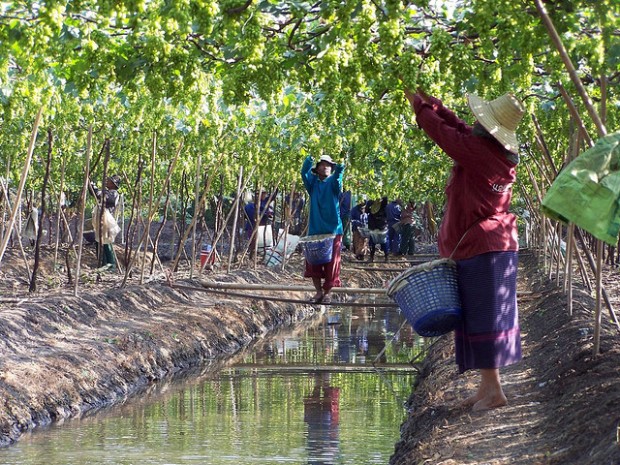 Image credit: Dominic Rivard
Ever thought you could see a vineyard in Thailand? No? How about a floating one, then?
Planted on little rectangular isles separated by deep irrigation canals, the grapevines create some sort of floating archway on the network of canals. Despite the rich and fertile soil in the packets of soil, these islets have to be reinforced every season to ensure that they do not collapse during the rainy days. And how do the pickers harvest their crops? Well, by floating by on a light wooden barge, and handpicking them in the early hours of the morning, of course! Doesn't it feel a tad of the most romantic blends of wine country Bordeaux and gondola Venice?
The winery runs 4-hour guided tours year round, but the best time to "stroll" in the vineyard is during the harvest months, from November to April.
How to get there
There are various tour operators that will bring you to all of the major wine growing regions. That might also include a vineyard or two, waterfalls and temples. Although the cost isn't exactly cheap, you wouldn't have to worry about convenience as the tour will collect you and drop you off at your door in Bangkok and all the other arrangements will be taken care of!
10. Death Railway, Kanchanaburi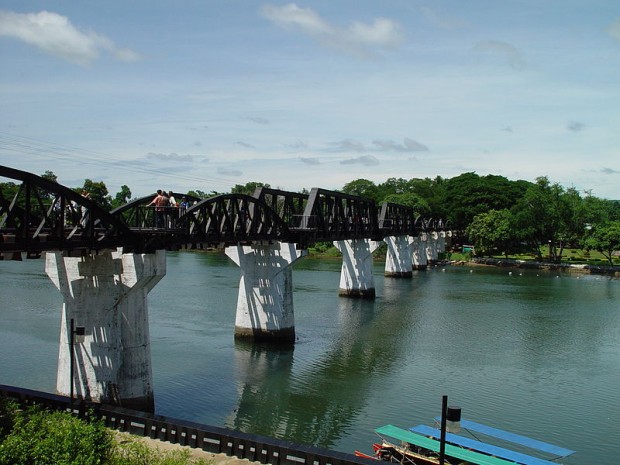 Image credit: Mjanich
For a bit of history and the grim consequences of war, head for Kachanaburi, a hotspot  for World War 2 history of the area. Visit River Kwai, the main setting of the 1957 Oscar-winning film The Bridge on the River Kwai by David Lean.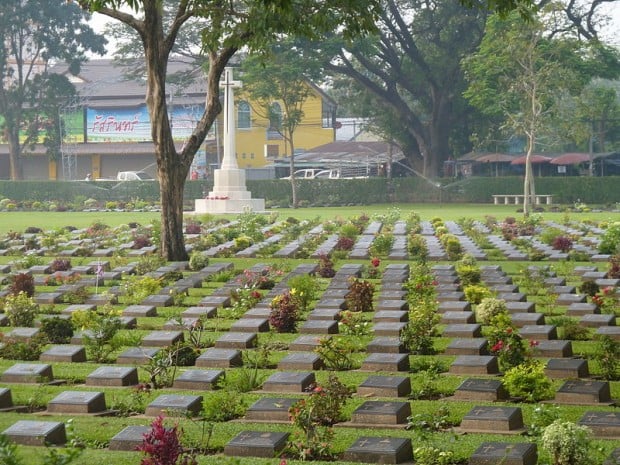 Image credit: Deror_avi
Then commemorate the 16 000 prisoners-of-war who died building the Death Railway at the Allied War Cemetery, with their graves organised by country. More than 100 000 people, mostly labourers and prisoners died building this railway.
To know more about the area's history and the trials and tribulations of the POWs, spend some time at the Thailand-Burma Railway Centre, and the JEATH War Museum, with JEATH an acronym referring to the countries involved in the war—Japan, England, Australia/America, Thailand, Holland.
And finally, after getting a comprehensive background of the construction of the Death Railway, what better way to round up the day trip than a train ride on the actual railway tracks?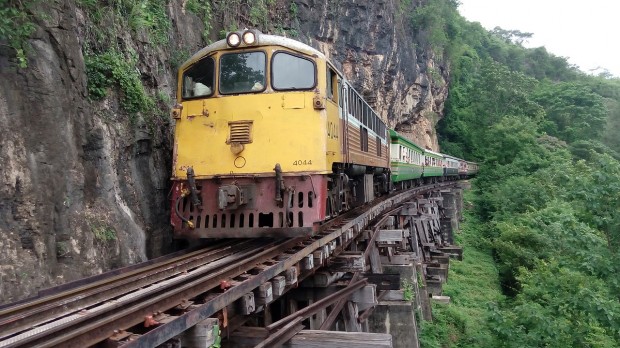 How to get there
In a day, there are two trains that leave Bangkok Thonburi station (a.k.a Bangkok Noi) on the West side of the river in Bangkok, for Kanchanaburi then River Kwai Bridge station, then crossing the Bridge itself & running alongside the scenic River Kwae over the Wampo Viaduct to Nam Tok.  You can expect to pay only THB 100 for the train ride! Do check the departure timings to avoid missing the trains!
Also Read: 8 Amazing Cafes in Bangkok Worth Getting Fat For
Well, there you have it. Now you know where to go to the next time you have a free day in Bangkok!