Contributed by withrachelle
This travelogue will not only bring back memories and times spent in Sydney but also hope to serve as a comprehensive guide for other travellers who are intending to explore Sydney. It will basically summarise these few main areas – Transportation, Accommodation, Attractions and Dining Places and how you can travel and explore around Sydney in four days!
Transportation
1. Free shuttle bus service for tourist
Sydney offers free shuttle bus route around the CBD area covering major main attractions like the Chinatown, Sydney Opera House, Queen Victoria Building and more. Here's the route map. It can help you save your transportation cost if you intend to spend a day exploring the main attractions within the CBD area. But one point to note is to plan your journey well as the free shuttle bus may end as early as 3:30 pm.
2. Public transport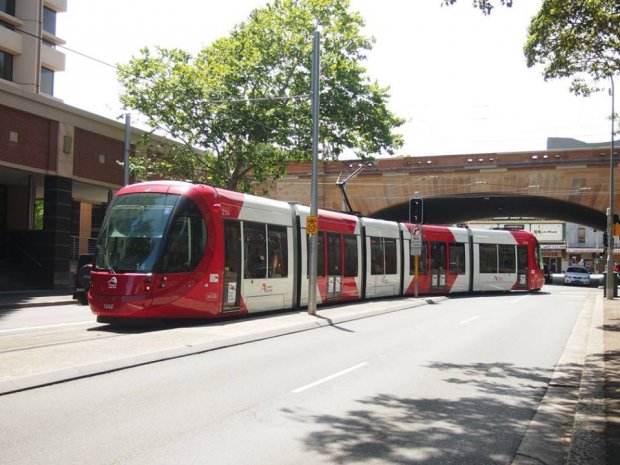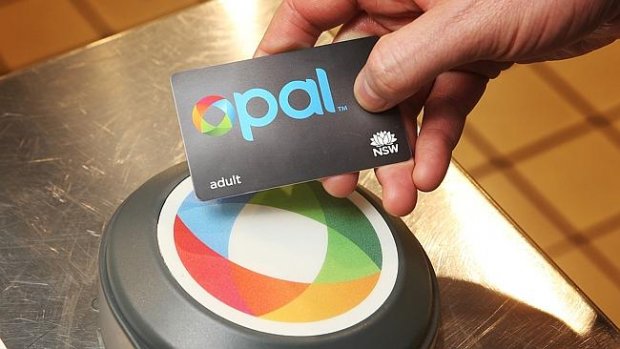 Another way of travelling around is via the public transport. There are various forms – buses, trams (light rails), trains and ferries. I totally love how the tram travels on the roads! That aside, the pricing can get a little confusing. Here's the full details on the fares via various modes of transport. To summarise, the fares are generally calculated by the distance travelled which is estimated to be around $2-$3 per trip and they have a daily cap of AUD12 for each day and AUD2.50 on Sunday. In addition, they have a 30% off the fare if you travel during their off peak period that is from 9-4 pm and after 6:30 pm which is basically avoiding their rush hours of getting to and knocking off from work. Getting their opal card will be cheaper compared to return paper tickets if you know you will be travelling on their public transport for quite a fair bit. The opal card can be reloaded conveniently at almost any of their convenience stores but do note that the amount remaining in opal card is not refundable, so do calculate the fares you required well to minimise the loss!
3. Explorer bus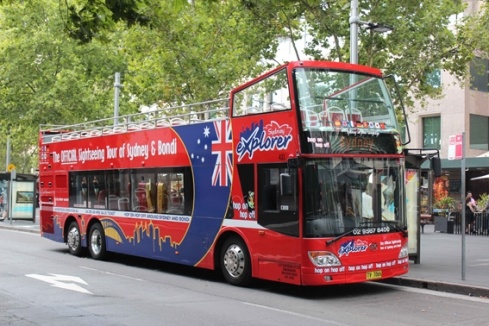 Another way of exploring the city is to hop on and off this explorer bus that links you up between Sydney and Bondi beach! There's two variations of it – 24 hours or 48 hours validity. For 24 hours, it will cost an adult around AUD40 or a student backpacker around AUD35. It starts its operation from 8:30 am (Sydney) or 9:30 am (Bondi) and end at 6:30 or 7:30 pm depending on the season. It covers major main attractions around Sydney and Bondi Beach and also some of the stops that bring you closer to the area within the main attractions. For example, the tourist free shuttle bus 555 will bring you to circular quay and you have to walk to the Sydney Opera House, but for this Explorer bus, it will bring you to not only circular quay, but it also has a stop nearby Sydney Opera House. So in a way it may save your time and bring you closer to the attractions itself. It is recommended for those who like to explore many different areas within a short time frame and not spending much time in one location, probably stop to just snap some photos and off to another destination!
Accommodation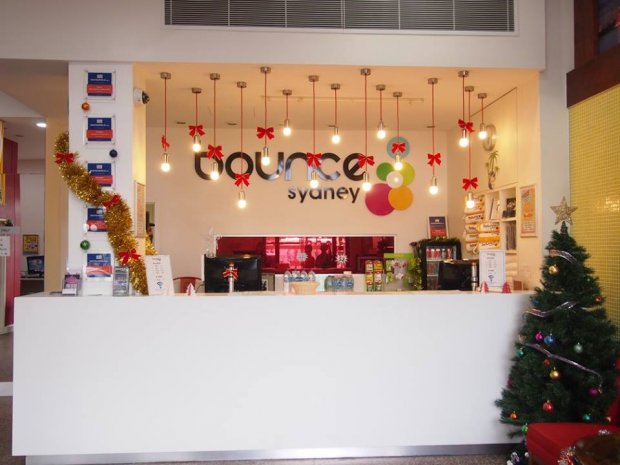 We decided to stay with Bounce Sydney after researching. As we are on a free and easy trip, we tried to save on those cost that we can. Accommodation was actually one of it. We just needed a private en-suite room that fits three. So instead of staying in a hotel, we tried to look for hostel that meet our needs and that's where we found Bounce Sydney! Each triple deluxe room was around AUD120-160 per night, so it's pretty much AUD40-55 per person per night for such a comfy room! Much savings compared to staying in a hotel where only sleeping hours are spent there! And actually it can fit up to in fact four people per room!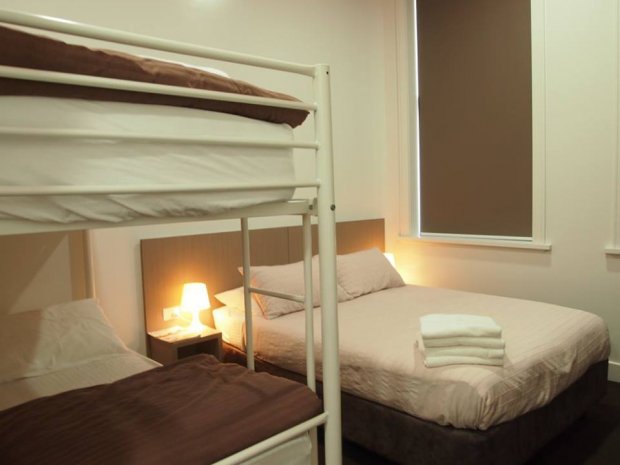 The room is fully air-conditioned and spacious and the toilet is clean. The facilities of Bounce Sydney are totally awesome. It has a sharing kitchen and big communal dining area on Level 4 and it comes with a rooftop terrace for one to enjoy Sydney skyline in the night. It's totally beautiful. It is easily accessible from the airport, just a short 15-20 mins train ride from the airport to its nearest train station – Central Station and just a 5 min walk from the train station and 10-15mins walk to the Chinatown! It is also near the Slurry Hills area that is filled with cafes and nice bars around. No breakfast is provided though, but as mentioned, you can easily head down to nearby cafes for breakfast.
Attractions
Here are some of the main attractions that you should go if you're in Sydney! Most attractions are easily accessible with their public transport. For some which are a few hours' drive from the city, you can either rent a car to explore or join one of their day tours! Both will be an equally good experience! Joining their day tour may not necessarily be much more costly than driving and in a sense, it really saves us a lot of hassle.
1. Blue mountains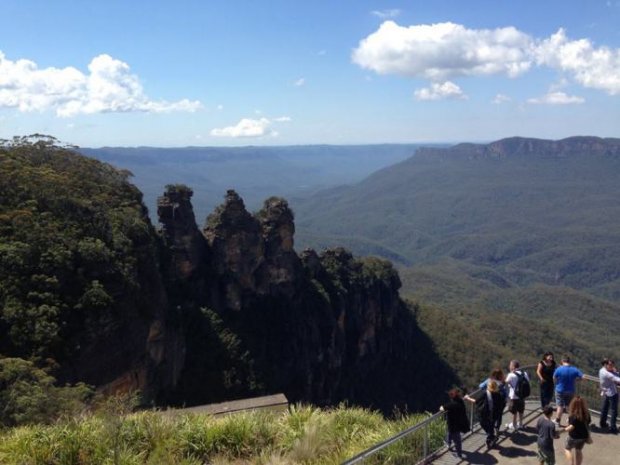 Blue mountains is around a 1.5 hours drive from Sydney. We decided to join a day tour with AAT Kings that costs us around AUD140 per person. It saves us the travelling time if we were to get there via public transport and so more time can be spent on the attractions itself. Furthermore, the tour-guide was very informative in sharing the stories of Sydney during the journey and at times cracked us up with his humour.
Also read: The Coast Track – That Epic Hike You Must Do In Sydney
The whole area of Blue Mountains is rather big and consists of several attractions but we chose to cover the few main ones that we are really interested in with the tour. One of the main attractions in Blue Mountains is the Three Sisters Rock Formation at the Echo Point. After which, we head down to Scenic World to enjoy the spectacular view of Jamison Valley and Wentworth Waterfall. The most enjoyable way to enjoy these breathtaking views is to hop onto their 3 rides – Steepest Railway, Cableway (Gradually climbing up/down) and Skyway or you can explore them via the Walkway. After which, it's some nature time at Featherdale Wildlife Park, where we get to meet the koalas, wombat, wallabies, kangaroos and more! For this tour, we opted for a Captain Cook cruise where we got to sail along the Parramatta river back into the Sydney Habour! Totally seeing the Sydney Opera House in another perspective.
However, if you are really keen on taking a train from Sydney to Katoomba Railway Station or Leura Railway Station, another alternative to explore the Blue Mountains is via Blue Mountain Explorer Bus. It will cost you AUD40 and it has a total of 29 stops covering the main attractions and some of the smaller towns.
2. Sydney Fish Market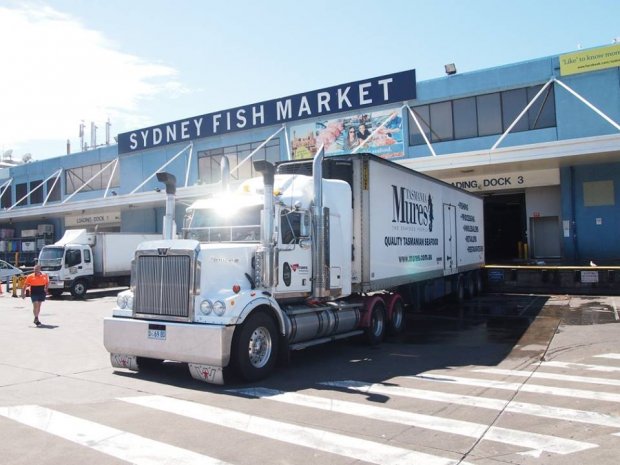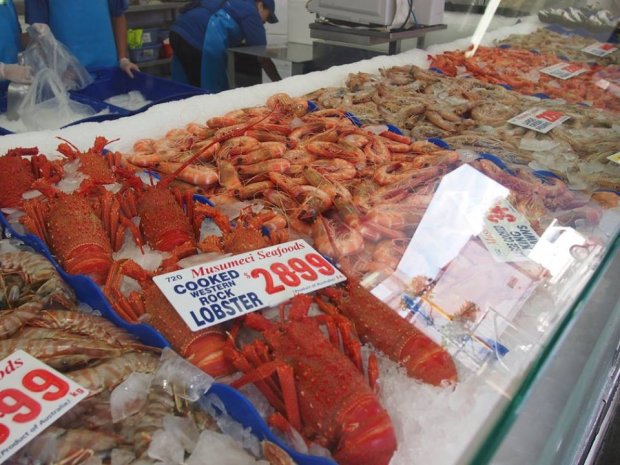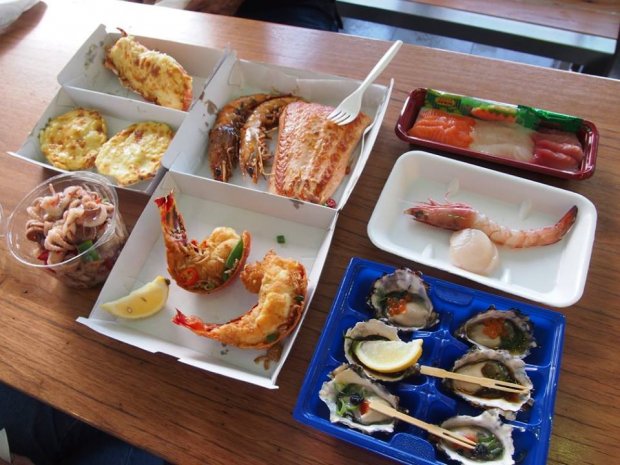 It's a totally must go if you are a SEAFOOD LOVER or SASHIMI LOVER or an OYSTER LOVER! There's no other place where you can get such fresh and cheap seafood! There's several food stalls that prepare readily cooked seafood for you if you do not like it raw. I had my share as seen above from Nicholas Seafood. Among all, I still love the raw ones best! That's where you can taste them at their freshest and sweetest! If you are going for the cooked one, I will advise to have it grilled instead of fried or cheese baked style where it masks the original taste of the seafood. They have it ala carte or platter style, but we find ala carte more worth it, as we can choose whatever seafood we like and do not have to waste our stomach space for the fries that come with the platter. So for us, we took the Sydney light rail from Central station to Fish Market station. You can alternatively stop at Wentworth Park too, they are both of similar distance to the fish market.
3. Beaches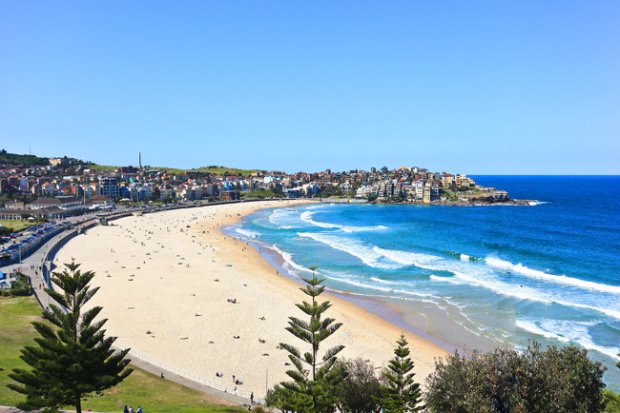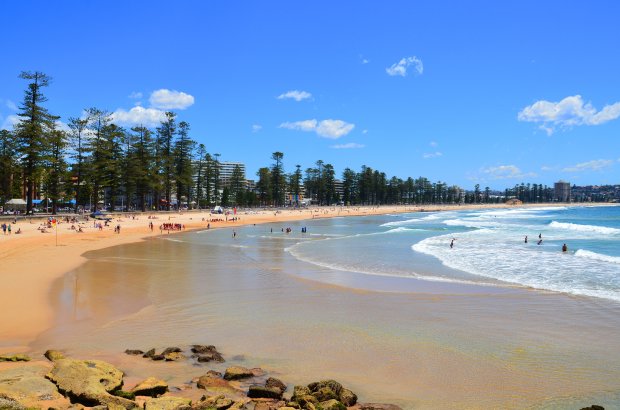 If you're in Sydney, you definitely have to hit one of their famous beaches – Bondi Beach or Manly Beach! I heard how awesome it was during the summer, but sadly while I was there, it just keeps on raining which totally prevents me from going. ): After having fun at Bondi Beach, you could head down to Bondi Junction which is around 15 mins bus ride away for some shopping before leaving the area. Also, I was told that, when you're at the beach, it's best to have a plate of fish and chips! Probably because you are overlooking the waves and sandy beach so you have much more feel eating the fish and chips? From the CBD area, you can take buses like 380 and stop at Campbell Pde near Hall Street. This will bring you to Bondi Beach itself. It is probably around 45-60 minutes journey.
4. Chinatown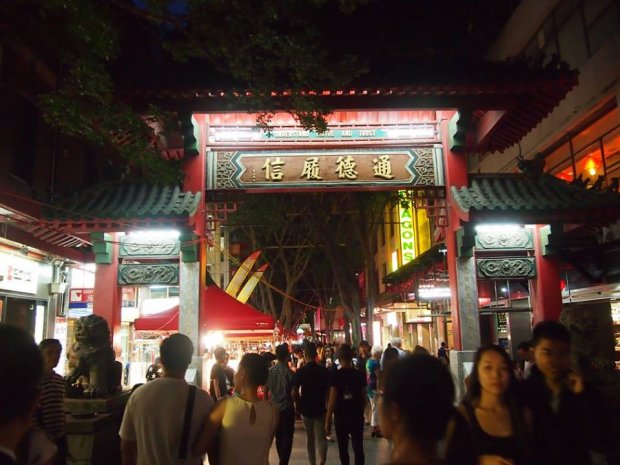 The Chinatown in Sydney has much more food restaurants compared to shopping. Even for their night market, it is just a few stalls selling some small trinkets or souvenirs. But the Market City that is located opposite the Chinatown provides us with much more shopping choices. Situated right at the ground level of Market city is Paddy's Market. Paddy's market has 2 areas, 1 area selling all the groceries needs like your fruits, vegetable and meats while the other side selling a wide range of clothing, accessories, bag, luggage, souvenirs and more. The things at Paddy's Market are much cheaper and more varieties to choose from. It resembles a little like Bangkok's Chatuchak but in much smaller scale. If you would like to get some souvenirs, I will advise you to get from Paddy's market if you see anything you like as you may not find it elsewhere for the same price! Paddy's Market is easily accessible from Paddy's Market or Capitol Square light rail stop.
5. Weekend markets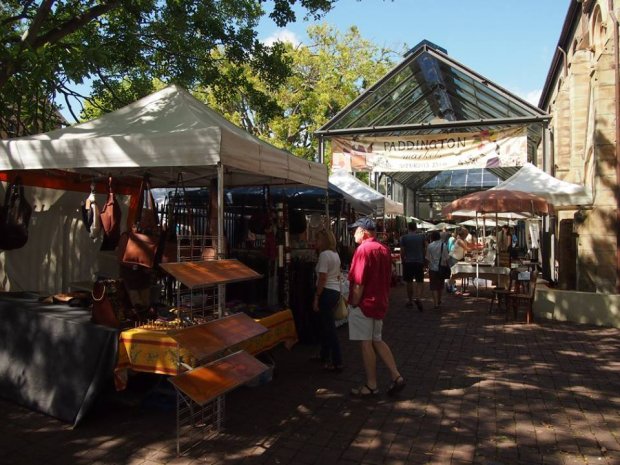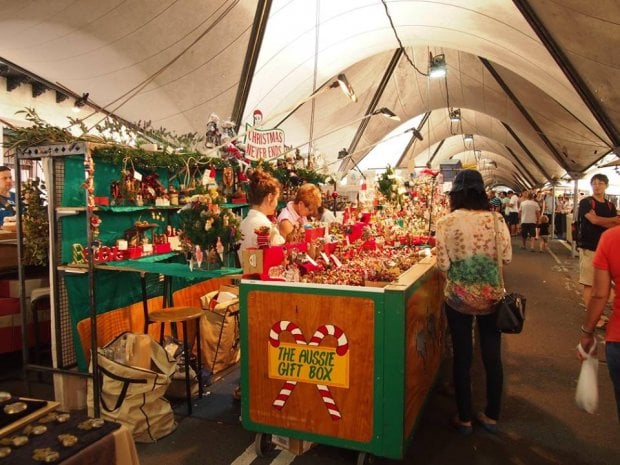 They really have different kinds of weekend markets ranging from farmers' markets to second hand markets to a typical Saturday market in the different areas. You really need to check out at least one of their weekend markets! One bad point about it is that, usually all of them are held on Saturday, so if you only have one Saturday in Sydney, you got to choose which one is of your interest! For us, we chose the Paddington Market located near Oxford Road and The Rocks Market which is near circular quay as we like to see how a localised weekend market is like before heading to a bigger scale and more touristy weekend market. You can find items like bags, wallets, clothing, accessories, soaps and few other food stalls in Paddington Market. Their items are a little more localised, exquisite and unique. Prices are quite reasonable too. While for The Rocks Market, their target group is a good mixture of tourists and locals, there are much more stalls in the Rocks Market, probably triple the scale compared to Paddington Market too. They sell a wider range of items from clothing to accessories to home decorations to personalized gifts etc. Prices are relatively more expensive here compared to Paddington market.
6. Circular Quay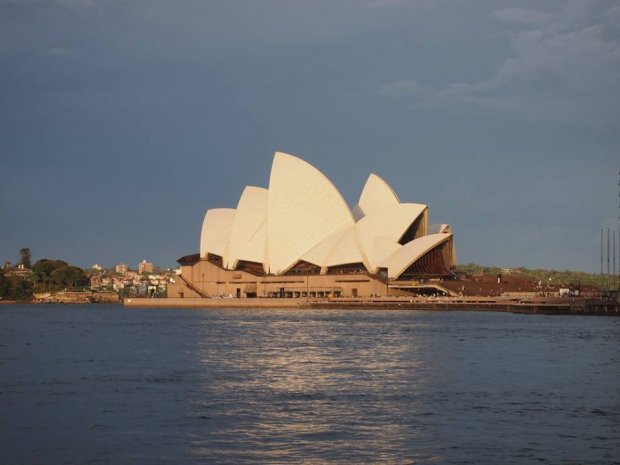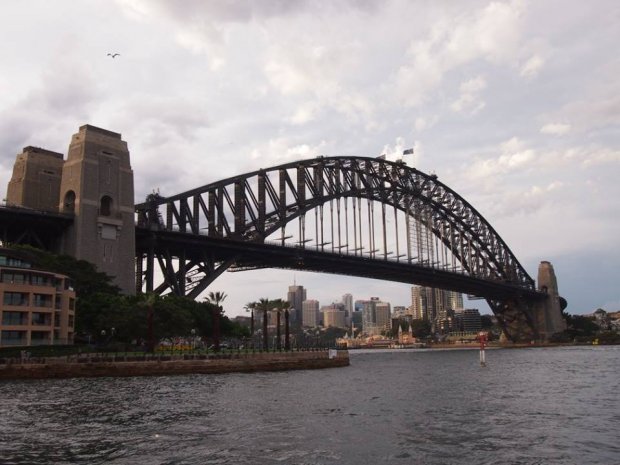 It's a must go attraction in Sydney as it houses their most famous and iconic architecture – the Sydney Opera House and Sydney Habour Bridge. And one of the most popular activities here at the Sydney Habour Bridge is their Bridge Climb! There are different rates for the different type of climb, but the most common is BridgeClimb Sampler at AUD148 which will bring you halfway to the summit where you get a spectacular view of the whole area from above. Other than that, restaurants and bars are lined up along the river. It is easily accessible via the free city tram or circular quay train station.
7. Darling Habour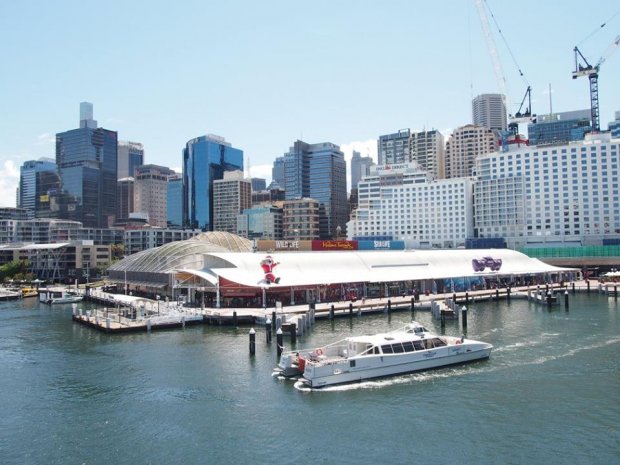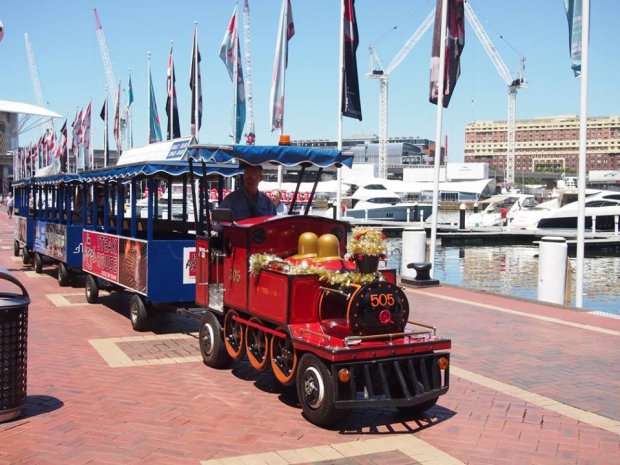 Darling Habour, with a spectacular habour setting, is one of the largest dining, shopping and entertainment precincts. If you are lazy to walk around, you can get onto the colourful mini trains for $5 that will bring you one round around Darling Habour. Hungry stomachs can be easily satisfied by popping by one of the restaurants and bars along the habour, after which, shopping can be done at the Habourside Mall. It also houses attractions like Sydney Aquarium, Madame Tussauds Sydney. Also, Chinese Garden of Friendship and Tumbalong Park are a stone throw away.
8. Queen Victoria Building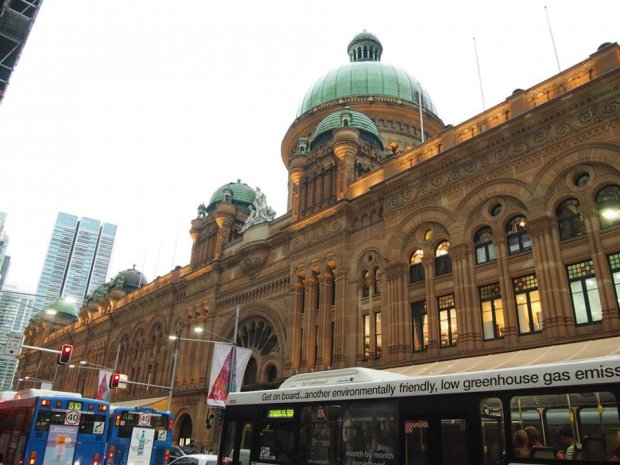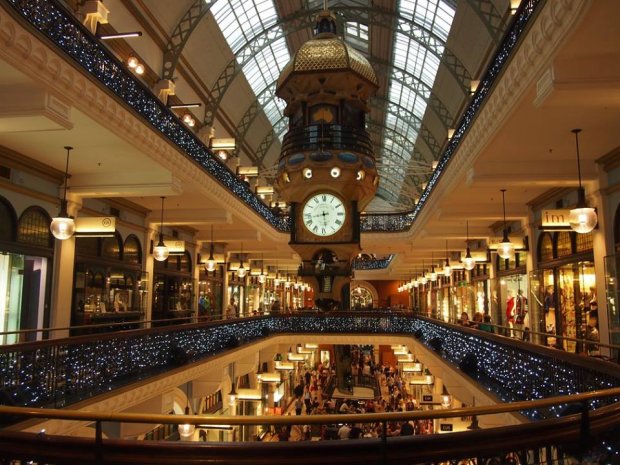 Another not to be missed place is the Romanesque Revival architect – Queen Victoria Building along George Street, nearest train station will be Town Hall. The interior is kind of majestic further with the xmas decorations. It consists of several fashion boutiques, jewellers, specialty shops and cafes. Shops here are a little pricier and of higher end products. Many people are either here for shopping or snapping some photos with the 2 big mechanical clocks hanging down from the building just like myself!
9. Parks and churches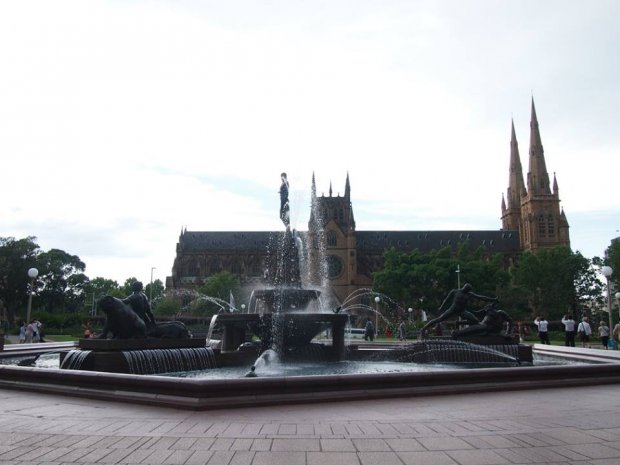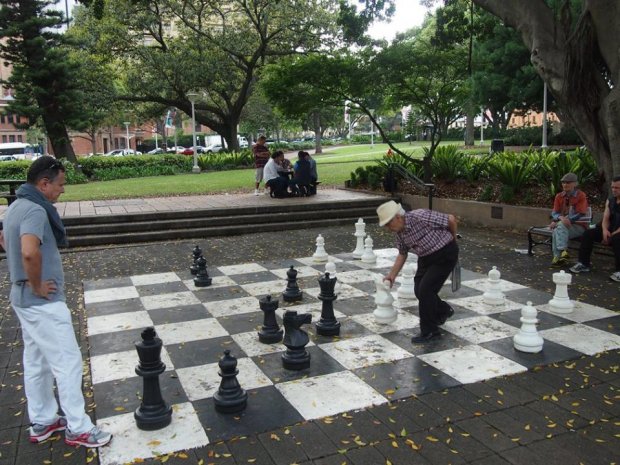 Beside the main tourist attractions, there are a few parks and churches that are worth a visit due to their architecture. Sometimes it's really relaxing to slow down your steps and have a stroll down the park with a cuppa. Couple of such places include Hyde Park, St Mary Cathedral. Within Hyde Park, lies the Archibald Fountain and in the near vicinity sits the famous Sydney Tower Eye. They are easily accessible from St James Station or via the free city tram.
Dining places
Unlike countries like Thailand which are famous for Thai food or Korea for Korean food, Australia does not have a particular cuisine that is unique to themselves but instead, variety of foods are recommended based on their prices, taste and quality. Following are some of the places I've tried personally and find it really good or rather unique. Anyway do note that, most of the food places are closed during the afternoon like 3pm-6pm for a break. Also, their servings are relatively bigger than Asian ones, but it's still quite okay for me, as I'm not a small eater to start off with, but for small eaters, you should consider sharing a main with another small eater instead.
1. Bourke Street Bakery – For your breakfast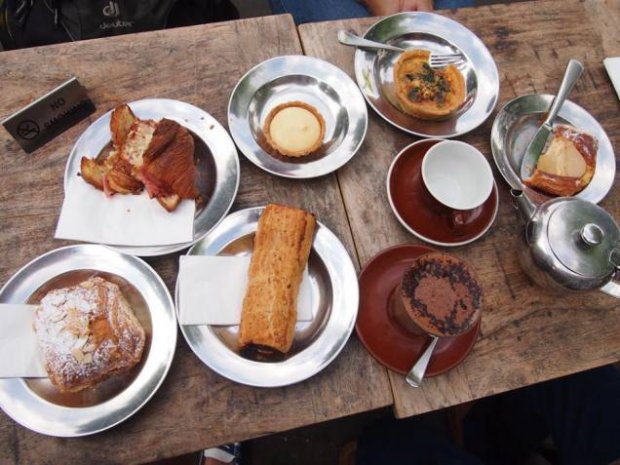 Bourke Street Bakery is quite a famous breakfast or tea break stop located at the corner of Devonshire & Bourke Street. It has a variety of breakfast choices ranging from tarts to croissants to sausage rolls to bread rolls to quiches to sandwiches, be it sweet or savoury, you name it, they have it. They are all freshly baked and do expect queues from time to time. Each tart or item seen in picture ranges from AUD3-5.
Address: 633 Bourke Street, Slurry Hills, 7am-6pm on weekdays and 7am-5pm on weekends.
2. Hurricane's Grill – For your meat cravings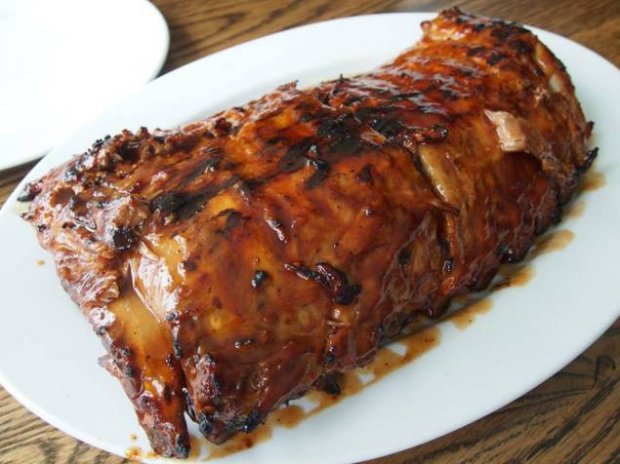 Has this made you start to salivate? Let me tell you, this full rack pork ribs not only looks good but tastes damn goood too! Well marinated and grilled to tender, served with chips. It's awesome beyond words and it's around AUD50 if I did not remember wrongly! It can serve up to 2 (big eater) -3 people. You can basically chew and swallow everything right to the bones. As I'm writing this, I'm missing the food now too! You ought to try one ribs dish when you're there! If you do not know which to try, try the ones at Hurricane's!
Address: Habourside Shopping Centre, Shops 433-436, Level 2, Darling Habour
3. Australian Heritage Hotel – For an adventurous you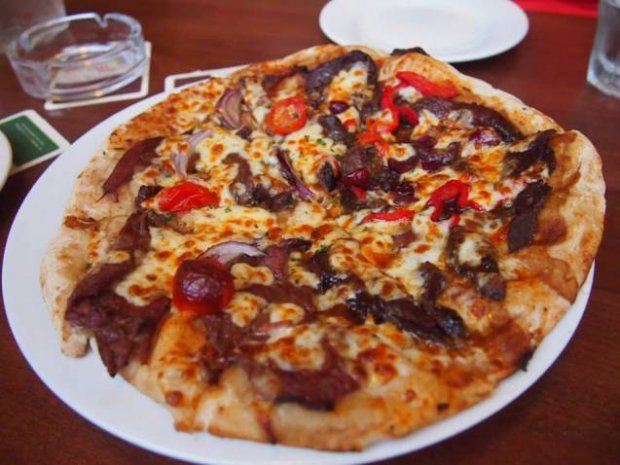 You must be thinking what's so special about this pizza right? This is called Coat of Arms – half emu and half kangaroo topped with red onion, bush tomatoes, cranberries and capsicums. It's a little exotic but I am kind of adventurous and like to try exotic food but that kind of excludes all the insects though. First time eating emu and kangaroo, their meat may be a little more tough compared to chicken, but still manageable not too chewy or rubbery. The use of cranberries on pizza is really special and I feel that it brings out the overall taste of the pizza pretty well.
Address: 100 Cumberland Street, The Rocks, Sydney
4. Pancakes on the Rock – For your sweet tooth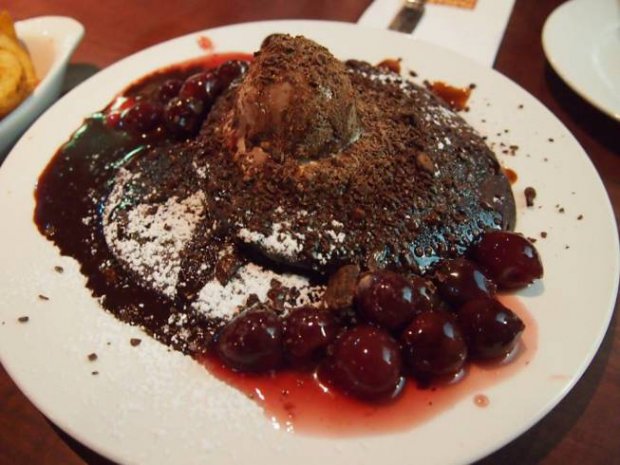 It's a to die for dish! This may look just like any other pancake dishes, but I tell you, it definitely does not taste like any other pancake dishes! The pancake literally melts in your mouth! I've ordered the Black Forest Cherries, so it came with 3 chocolate pancakes with cherries in cherry brandy sauce and topped with a scoop of chocolate ice cream with sprinkles of chocolate chips and drizzled with chocolate sauce. I am totally in love with the cherries and pancakes! It's sinful but it's heaven. Totally amazing, and guess what, most people have these pancakes as their mains!
Address: 4 Hickson Road, The Rocks, Sydney
This sums up my trip to Sydney! Hope you'll enjoy Sydney as much as I do!