Singaporeans, It's time to reignite your wanderlust! NATAS Travel Fair 2023 is taking place from 24 to 26 Feb at Singapore EXPO and there'll be plenty of awesome travel deals and packages to choose from!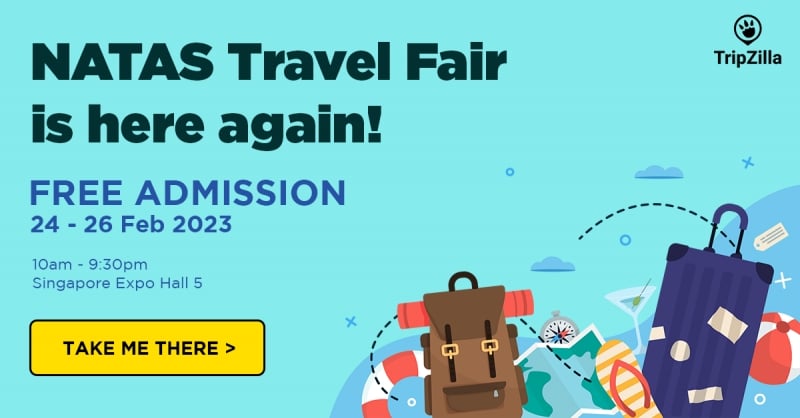 Whether it's a week-long trip to Korea, exploring the beautiful Kansai Region, or embarking on a magical trip to Japan's snowy alpine villages, there's a travel package that suits your needs for sure! Not sure which ones to look out for? No worries! We've compiled a list of our top picks for the best deals to Asia at this year's NATAS Fair. Check them out! 
Also read: NATAS Travel Fair Feb 2023: The Best Deals to Europe and Beyond!
Deal Highlights
✓ Stay at classy accommodations throughout the trip that are near top attractions
✓ Feast on fresh lobster, Jeju black pork, and more
✓ Visit Seoul, Busan, Jeju, and other popular destinations in South Korea in one go during cherry blossom season
✓ Enjoy horseback riding, fruit picking, dressing up in hanbok, and recreating popular Korean drama scenes at iconic locations
On this 8D7N trip to South Korea, be prepared to experience the most vibrant attractions in Seoul, Busan, Jeju, and more! From the moment you touch down in Incheon, you'll be visiting some of the most popular locations in South Korea. Think the Yeongjong Seaside Railbike,  Seongsan Sunrise Peak, Gamcheon Culture Village, Gyeongbokgung Palace, and more, all whilst enjoying the lovely sight of cherry blossoms! 
In addition to checking in at your favourite spots in South Korea, you'll have a chance to truly indulge in South Korea's mouthwatering cuisine! Be it the famous black pork of Jeju or freshly-caught sashimi, you'll be able to satisfy all your Korean food cravings. Plus, you'll also visit a fruit farm to pick seasonal fruit during the trip! 
With so much to see and do, this tour is perhaps the best way to immerse yourself in the sights and sounds of South Korea!
Deal Highlights
✓ Experience the magic of winter as you travel the Tateyama Kurobe Alpine Route
✓ Explore the beautiful Nikko and Nagano regions as well as enjoy a trip to Mount Fuji
✓ Visit Oshino Hakkai Village and fall in love with Japanese culture and tradition
This 7D tour of Japan is perfect for those who want to experience firsthand the magic of Japan's whimsical Tateyama Alpine Route, famous for its "snow walls" that surround the route, and for the scenic Tateyama Ropeway ride. 
In addition, you'll also be able to explore the lesser-known regions of Japan, such as Nikko, Nagano, Kanazawa, and the snowy winter wonderland known as Shirakawa-go. Add to that a visit to the ever-beloved Mount Fuji and what you have is a holistic trip that you won't soon forget! 
With so many different exciting experiences, this package offers the perfect getaway for those seeking to discover a different side of Japan in 2023!
Deal Highlights
✓ Hop aboard the Wine Train and explore the Hunter Valley Wine Country
✓ Onsite vineyard tour followed by a private wine tasting with
✓ Visit the underrated Ku-ring-gai Chase National Park and immerse yourself in nature
✓ An optional stay at a rustic cottage by the vineyards
Ever wanted to experience the beauty of Australia's famous Hunter Valley Wine Country? Then this short but jam-packed 3D tour from Sydney is just what you need. For starters, you'll be journeying from Sydney Central Station to Hunter Valley via the Wine Train, an express train that services that particular route with only seven stops. You'll arrive before you know it. 
Once you're at Hunter Valley, you'll be able to fully immerse yourself in the alluring scenery. Stop by Ku-ring-gai Chase National Park, the second oldest national park in Australia, where you can soak in the verdant scenery and visit oyster farms across the Hawkesbury River. Then, join an onsite vineyard tour and some private wine tasting. 
For those who want to experience a true break from the city, this short but wholesome tour has all you need! Plus, you can even hop on an optional hot-air balloon ride over Hunter Valley!
Deal Highlights
✓ Stay in an authentic ryokan with private onsen
✓ Hop around the best locations in the Kansai Region with the 5D Kansai Wide Pass
✓ Complimentary Wifi Router by Changi Recommend for communication
Discover the ambient Kansai Region in Japan with this 6D Kansai Highlights ! Upon landing at Kansai Airport, you'll collect your 5D Kansai Wide Pass which allows you to travel unlimitedly on trains servicing the region. Visit popular cities like Kyoto and Osaka and check out the many iconic attractions like Fushimi Inari and Dotonburi. 
During your trip, you'll also be able to visit the hidden gems of  Kyotango where you can tour an authentic Japanese fishing village, and head to Ogoto where you will spend a night in an authentic ryokan complete with your own private onsen! 
If you're planning to embark on a lovely trip to Japan this year and want to skip the hassle of planning your accommodation or transport, then this flexible tour package is definitely worth your while!
Deal Highlights
✓ Check out Hong Kong's newest attractions at your own pace
✓ Hop on a cable car ride to Ngong Ping or spend a day at Ocean Park
✓ Visit Hong Kong your own way without the hassle of planning your accommodation
With Hong Kong finally open to tourists again, the time has come to revisit this famous city! To make things easier, sign up for this 3D2N package which allows you to visit Hong Kong and (re)experience the city in your own way without having to go through the hassle of planning your accommodation and transport.
What's more, skip the queue when you pre-book tickets for popular attractions like Ocean Park, Ngong Ping, or Sky100 Observation Deck when you purchase the package. You'll also be able to visit K11 Musea, one of Hong Kong's newest art and shopping spaces as part of your trip!
Want even more incredible deals to enjoy at NATAS Fair 2023? Then make sure to stop by the Singapore Airlines booth where you can find even more mesmerising destinations to fly to, all whilst enjoying exclusive NATAS Fair offers! 
During the fair, purchase any travel packages from Singapore Airlines or air tickets from participating travel agents to enjoy a 45% discount off your next purchase to select destinations! Find out more here! 
We bet you can't wait to start travelling again! In that case, make sure not to miss the 2023 NATAS Travel Fair happening from 24 to 26 Feb 2023! We'll see you there!