With landscapes characteristic of a modern metropolis, Yeouido hardly seems to be a place one would think of visiting amidst the more reputable neighbourhoods in Seoul that are tourist magnets. This is no surprise, given that Yeouido is Seoul's main business and financial district, and the epitome of the fast-paced lifestyle in Seoul. Well, this list of activities that will reel you into unearthing Yeouido's allure is about to change your mind.
1. Visit Yeouido Park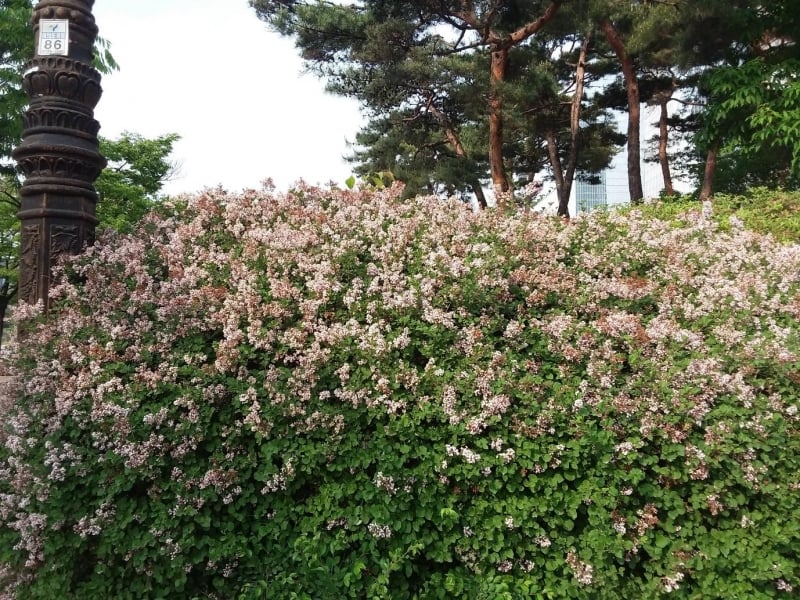 The small Yeouido Park is tucked away from the bustle of urbanity. Resplendent with lush hues of spring and autumn, it is perfect for meandering and cycling. Not only are there bicycle rentals available within the park, open spaces and basketball courts prove noteworthy as leisure spots too. There is also a military plane on display, so keep a lookout for it and snap some cool photographs!
The park is categorised according to themes, with sections such as the Traditional Korean Forest, Culture Square, and Nature's Ecosystem Forest. The Traditional Korean Forest features a pond, an octagonal pavilion, and a walking trail that imbues the forest with elegance parallel to a traditional Korean garden.
In spring, immaculate cherry blossoms bloom in abundance at Yeouido Park, so flock to Yeouido Park if the Han River Park is too crowded for your liking.
How to get there: Yeouido Station (Seoul Subway Lines 5 and 9) Exit 3. Walk for 5 minutes in the direction of the National Assembly building and you will see the park entrance in bold, white lettering.
2. Be an art connoisseur at the 63 Building
The tallest skyscraper in Yeouido, the 63 Building provides a splendid night view of the Han River with its medley of lights from the 'Sky Deck' on the 60th floor. Recently transformed into an art museum, this floor is a site for cultural appreciation. Various art exhibitions are held at any one time, with notable ones being the Hello Kitty exhibition and exhibitions of Andy Warhol's iconic masterpieces. How cosmopolitan!
Opening hours: 10am to 10pm (last admission at 9.30pm).
Admission fee required.
How to get there: Yeouido Station (Seoul Subway Lines 5 and 9), Exit 5. Board the free shuttle or bus number 11 in front of St. Mary's Hospital bus stop.
3. Shop at the IFC Mall
Need your dose of shopping? The IFC (International Finance Centre) Mall is a designer mall located next to Conrad Seoul. Although it is replete with international high culture fashion brands carrying vogue styles, the IFC Mall has plenty to offer for the average shopper. Head to H&M, Uniqlo, and Zara, then whet your appetite by walking along the row of restaurants lining the first floor of the basement.
How to get there: Yeouido Station (Seoul Subway Lines 5 and 9), Exit 3. Take the passage directly connected to the mall.
4. Beat the heat at Yeouido's Outdoor Pool
Visiting Korea during the summer may have you craving a cool reprieve in the form of bingsu (a popular ice dessert with fruits and other toppings) or a dip in a pool! When you're taking a trip to the famous Han River Park, don't just pack for a picnic, pack for a splashing good time in the outdoor swimming pool as well. Be sure to include your inflatable floats and sunnies, and it's fun for the whole family. Still not cool enough? Get a bingsu treat next!
How to get there: Yeouinaru Station (Seoul Subway Line 5), Exit 2 or 3
5. Bask in luxury with a meal or stay at Conrad Seoul
You can relish this view and more by checking into Conrad Seoul, where you can obtain unsurpassable views of the Han River and the accompanying skyline from the comfort of your room. Alternatively, take your pick from casual to extravagant gastronomic options — from the likes of the relaxing dining concept that 10G Urban Pantry offers, to the chic and snazzy 37 Grill & Bar located on the uppermost floor of the hotel. Regardless of your budget, Conrad Seoul will surely be a languorous experience of sophisticated enjoyment. The five-star hotel is connected to the Yeouido subway station and the IFC Mall, so convenience is definitely another criterion it meets.
How to get there: Yeouido Station (Seoul Subway Lines 5 & 9), Exit 3. Take the underground passage leading to Conrad Hotel.
6. Take photos in front of this unique statue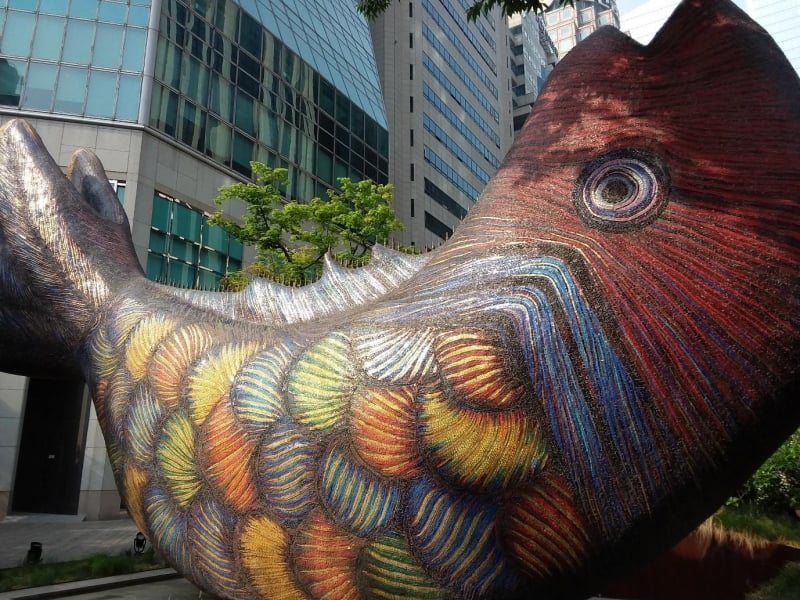 This giant statue can be found along the road leading to the Yeouido Park from the Yeouido subway station, and its textured palette ensures you won't miss it! Seemingly out-of-place among the steel and glass in the vicinity, this statue makes for an interesting subject to photograph. The eclectic rendering will also leave you pondering about its symbolism. Perhaps you'll be able to make a few good guesses after a visit?
How to get there: Yeouido Station (Seoul Subway Lines 5 and 9) Exit 3. Walk past Mapo Mandu (an eatery with a red signage), straight till the end of the lane.
7. Admire state-of-the-art architecture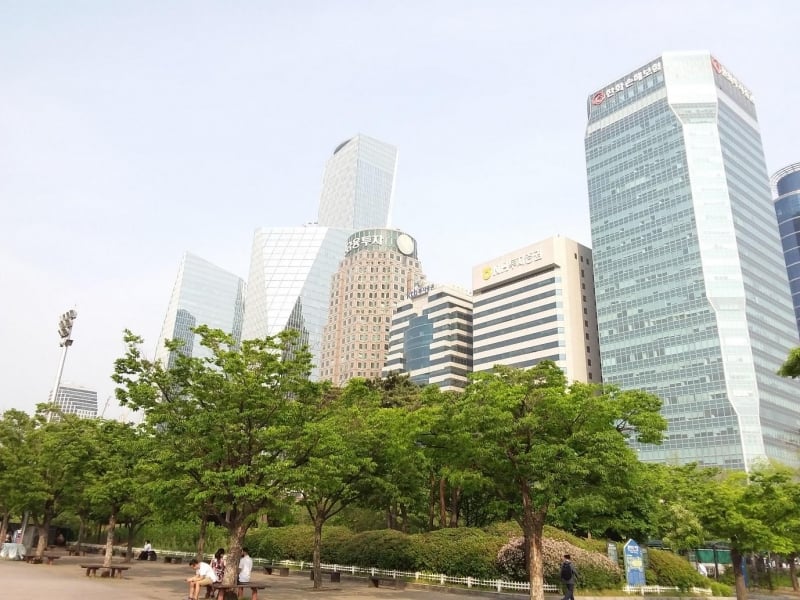 Yeouido boasts a number of Seoul's (as well as South Korea's) most impressive skyscrapers, including the International Finance Centre (IFC) Seoul, the Federation of Korea Industries Tower, and of course, the 63 Building. If you have an eye for geometricity and architecture, you'll be fascinated by some of the uniquely structured buildings in Yeouido. Lovers of Korea's pop culture and variety shows, here's some good news for you — visit the broadcasting stations, KBS and MBC, to glimpse your favourite idols and television personalities!
8. Visit one of Korea's most renowned fish markets
The Noryangjin Fish Market is the sliver of tradition you'll get in Yeouido among all the other activities described in this article. Seafood fanatics, make a dash for the restaurants on the second floor of the market! They serve up all kinds of seafood imaginable; crab, oysters, scallops, tiger prawns and sashimi are recommended as you can savour the freshest catches at reasonable prices. If you're really adventurous, challenge yourself to try live octopus (warning: this is not for the squeamish).
How to get there: Noryangjin station (Seoul Subway Lines 1 and 9), Exit 1. Cross the overhead bridge and you'll find the market located right beside the 63 Building and the Han River.
Yeouido has the semblance of a concrete jungle, but its shine as a tourist spot has not faded. Try out these suggestions on your next visit to Seoul, especially since a few of these activities are free-of-charge — a bonus if you're on a tight budget!