A city that literally changed the world – a city of culture; a city of food; a city of architecture – Florence is undeniably one of the world's great cities. It's one of those places that you simply must visit at least once in your life.
A popular destination for many centuries, Florence is the capital of Tuscany, arguably the most beautiful rural region on this wonderful planet. The city is a mandatory stop on any itinerary in Italy, a place that is able to transport visitors back into time – to the age of enlightenment, the Renaissance, which happens to have been initiated in this very city.
Also read: Why Italian Coasts Should Be Your Next Destination
It's a place of awe-inspiring architecture, mesmerizing museums, fine food and wonderful weather. In all honesty, you will be hard pressed to find another place in the world with such a tremendous concentration of artistic, scientific and architectural highlights. Florence is the city of Machiavelli, Michelangelo and the Medicis, of Dante, Donatello and da Vinci, of Ghiberti and Galilei, and of Brunelleschi and Botticelli. And that's just a small snippet of notable Florentines – the city's cultural heritage is mind-blowing.
Which brings us to actually visiting Florence. Although you could spend a full week or more in Florence and not see everything in detail, it is also quite possible to spend two days in Florence and get a sense of what this superb city is all about, including at least seeing – and often also visiting – its major landmarks and attractions.
So, let's dive in and explore Florence in two days with this itinerary, shall we?
Day 1
The historic core of Florence is relatively compact and easily walkable. It's also a fairly easy city to find your way around in. All its main sights are located either on the north or south bank of the River Arno in quite a small area. Those two banks are connected by an iconic bridge.
Duomo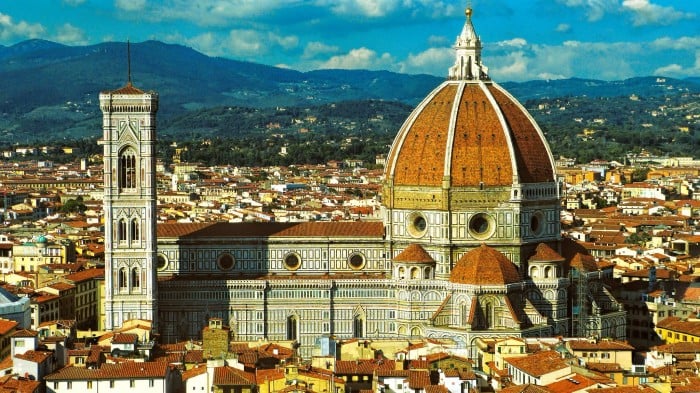 Image credit: Mariano Mantel
Start your first morning in Florence by visiting the city's number one architectural highlight. The Duomo, officially known as the Cathedral di Santa Maria di Fiore, is without question the most jaw-dropping building in the entire city, possibly even in Tuscany. This truly monumental structure boasts an exterior made up of red, green and white marble tiles and a typical red roof. It essentially consists of three buildings: the main cathedral building with the magnificent Cupola or dome, the 82-metre-tall Campanile or bell tower, and the beautiful Baptistery. You can visit all three buildings, but that would require some inconvenient queuing. Consider climbing the Campanile only, which offers great views of the Cupola, instead of both the Campanile and the Cupola. Additionally, the interior of the cathedral is not to be missed.
A visit to the enormous Duomo will take up the entire morning – it's suggested to do the climb(s) in the morning as it will most likely be an uncomfortably sweaty affair in the afternoon. Grab some lunch at one of the restaurants that surround the building, before heading southward to the next major sight.
Piazza Della Signori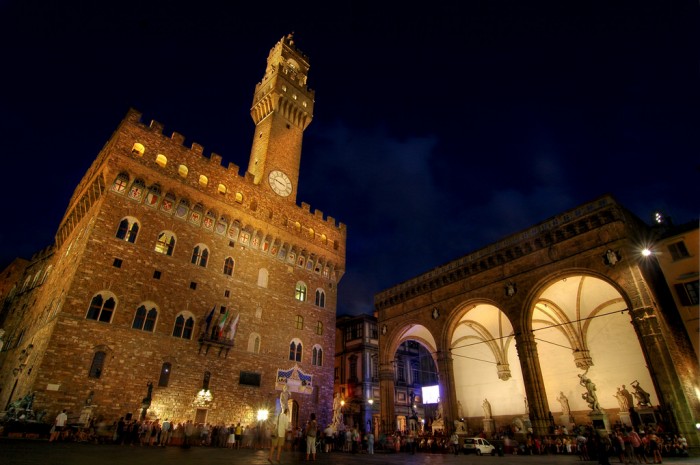 Image credit: Riccardo Cuppini
The 13th-century Piazza della Signori is Florence's landmark square, a gorgeous open urban space flanked by majestic buildings, the epitome of which is the Palazzo Vecchio. The Palazzo Vecchio is the seat of the mayor to this day, but it can also be visited and toured. The views from the tower are fantastic.
Another highlight at Piazza della Signoria is the Loggia dei Lanzi, a free open-air museum featuring sculptures from the 14th to the 16th centuries. Besides those sculptures, also check out the exact replica of Michelangelo's David and Cellini's Perseus.
Basilica di Santa Croce
After enjoying the charm of and admiring the architecture at Piazza della Signoria, head east along Borgo de' Greci until you arrive at Piazza Santa Croce, another pretty square, dominated by the Basilica di Santa Croce. Although this particular basilica might not always be considered to be one of Florence's absolute highlights, it is definitely a place worth visiting. And here's why.
As striking as its façade is, the real attractions of the Basilica di Santa Croce await inside. Nicknamed the "temple of the Italian glories", this is the very place where many notable Italians are buried, including such greats as Galileo Galilei, Michelangelo, Machiavelli, Gentile, Ghiberti and Rossini.
Ponte Vecchio
Retrace your steps toward Piazza della Signoria, turn left and continue until your hit the shore of the Arno River. Looking right, you will see the iconic Ponte Vecchio in all of its ochre-colored glory. This stone bridge dates from the Middle Ages and is the oldest bridge in Florence – its name means literally Old Bridge.
The bridge has always been characterized by its numerous shops and merchants' stands. Nowadays, the Ponte Vecchio is lined with jewelry, gold, silver and diamond stores. Window-shopping on Florence's Ponte Vecchio is an experience in itself. Beware of pickpockets, though!
Piazzale Michelangelo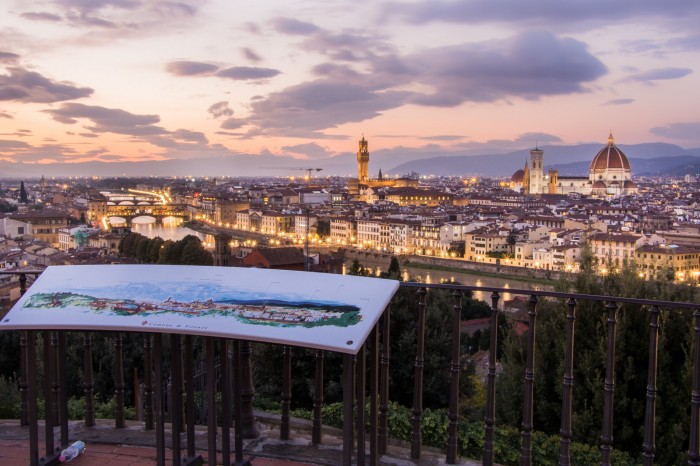 Image credit: Luftphilia
Having feasted your eyes on way-too-expensive jewellery on the way across the bridge, turn left and continue walking along the south bank of the River Arno. Walk past the Ponte alle Grazie until you see the first sign pointing up the hill to Piazzale Michelangelo. It's a pretty steep, yet short, walk uphill.
Piazzale Michelangelo is one of the most underrated places in Florence. Granted, there is hardly anything there – no architecture or even history – but there is one superb attraction: the views. This is the best vantage point in the entire city to catch a Florentine sunset. Grab yourself a beer or cocktail from one of the vendors, sit down and watch the sun go down behind one of the world's most stunning cities.
Day 2
You essentially walked all across historic Florence and saw many of the architectural highlights on Day 1, so you'll have a sense of direction by now. On day 2, it is time to focus on some art history. Florence is one of the top cities for art in the world.
Galleria dell'Accademia
The Galleria dell' Accademia is one of many superb art museums in Florence, but it's home to arguably the most famous work of art in the city. This is where you can see Michelangelo's David in real life – an absolute must-see, one of the world's most iconic sculptures. There will unquestionably by a large queue, but it's more than worth it.
This tall statue was inaugurated in 1504 at Piazza della Signoria (where, yesterday, you saw a beautiful replica) and was moved to the museum in 1873. Michelangelo's David is the number one attraction at this gallery, but also take some time to explore the neighboring rooms, which feature works by Lippi, Orcagna, Ghirlandaio and Botticelli.
Galleria degli Uffizi
Image credit:

Ernest
Florence's second world-class art museum – how many cities have more than one art museum? – is the Galleria degli Uffizi, a marvelous gallery that exhibits the private art collection of the Medici family. It boasts the largest collection of Italian Renaissance art in the world, its highlights including works such as Michelangelo's Holy Family, da Vinci's Annunciation and Botticelli's Allegory of Spring and Birth of Venus. It is suggested to set aside at least three hours for this unique museum. Having lunch there is probably a good idea.
Palazzo Pitti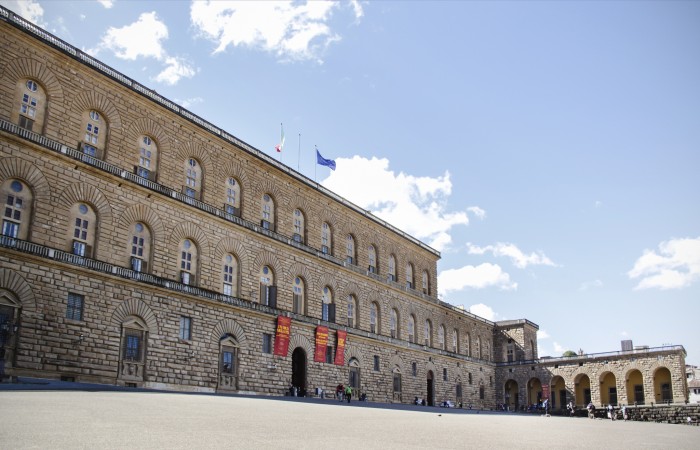 Image credit: Kotomi
If you're not yet "museumed out" after the two previous galleries, make your way across the Ponte Vecchio once again and pay a visit to the Palazzo Pitti, a former palace and a truly vast building that now houses no fewer than four museums, including another art museum, the Medici treasury and a costume gallery.
Boboli & Bardini Gardens
Image credit: Marc Buehler
If you are, indeed, "museumed out" and you would like to spend the remainder of your time in Florence outside, you are encouraged to visit the Boboli and/or Bardini Gardens, respectively located behind and adjacent to Palazzo Pitti. These large historic parks are dotted with sculptures and other ornamental features. Set on a hillside, they both offers pretty amazing views as well.
In addition to all these amazing highlights and attractions, Florence has even more to offer. There are a few other museums that are worth visiting, too, in case you have more than just two days in Florence. Road trips through the Tuscan countryside are, of course, an almost mandatory thing to do as well!
Also read: 12 Off The Beaten Track Destinations in Italy You Should Discover