On 14 Oct 2021, Italy's old flag carrier and legacy airline Alitalia ceased operations as it had finally gone bankrupt due to COVID-19; it was already drowning in debt before the pandemic began. But just a day after, the country's new flag carrier ITA Airways was launched via a live-streamed press conference from Rome. 
During the presentation of the new airplanes and staffing, the executives revealed that everything about the airline will be 100% Italian, aka cento percento italiano. The ITA Airways airplanes will be coloured sky blue, matched with accents of green, red, and white on the tail to depict the Italian flag. These colours are also a homage to Azzuri, Italy's national sports teams, which flaunts sky blue supremacy on its jerseys. 
In addition, the airline crew will be sporting uniforms designed by top Italian designers of today. Meanwhile, the interiors and airport lounges dedicated to the airline will be designed by high-class Italian firms. Even the minibuses will be Italian-made! 
Also read: There Are 250 Empty Houses Selling for €1 Each in Pratola Peligna, Italy
Why the rebranding to ITA Airways?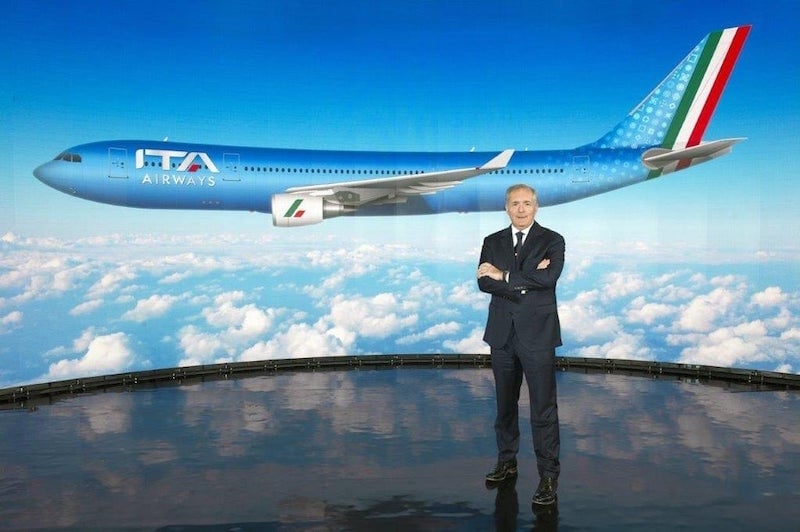 In the words of Alfredo Altavilla, president of ITA Airways, "We have been born as a new Italian brand, and we have chosen to work only with Italian companies." He also added that the sky blue motif of the new airline not only represents Italy's beloved soccer team but also the positive energy that they want to carry to the skies after the failure of Alitalia. "Today is the first day of a history that has yet to be written. The new branding and the new livery of our planes are a symbol of that change, of the start of a new adventure," he shared. 
Although they have yet to unveil the flight attendant uniforms, ITA Airways promises to deliver an authentically Italian design. According to Chief Marketing Officer Giovanni Perosino, the airline is currently negotiating with "a very important Italian brand." Until new designs are finalised, the flight attendants will wear the old Alitalia uniforms. The planes are expected to be repainted in the next few months.
Also read: Italy the Most Searched Country For Post-Pandemic Holidays, According to New Research
According to CNN Travel, the first new jets will join the fleet in early 2022; and by 2025, 70% of the fleet will be new-generation aircrafts. Are you excited to hop on in your future Italy travels?
---
All images credited to ITA Airways.