Between the crisp mountain air and the soothing landscapes of snow, it's no wonder that Gangwon Province in South Korea takes up the highest spot in our winter bucket lists. If you're missing the chilly breeze of the season right now, then we have good news for you. 
From the comfort of your home, you can catch the On:tact K-OST Concert Snow Festa — a special online concert that highlights the dreamy winter views of Gangwon Province and makes you wish you were there in person. It invites fans to enjoy the relaxing music from K-dramas, all while learning more about Gangwon from various tourism representatives and foreign attendees across Asia. 
Curious to learn about the digital event and winter activities in Gangwon? Check out our highlights below! 
The online concert begins with an introduction by South Korean emcee Boom. Joining him in the opening remarks are Choi Moon-soon, the Governor of Gangwon Province, and Ahn Young-bae, the CEO of the Korea Tourism Organization (KTO).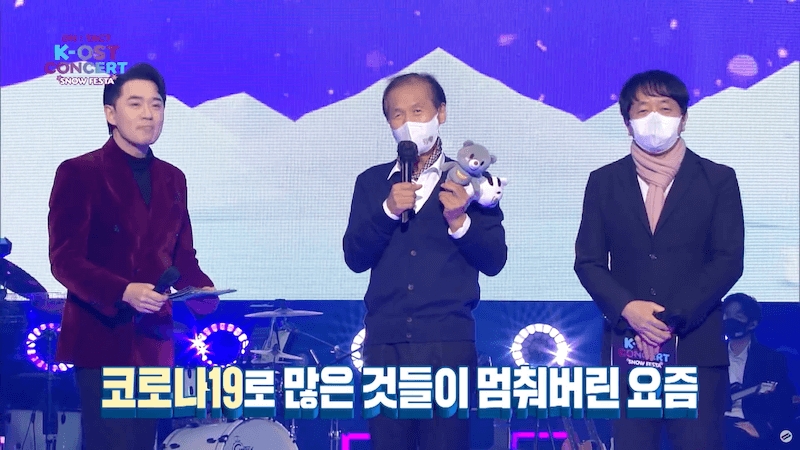 Governor Choi Moon-soon greeted K-drama fans from all over the globe while cheerily waving the mascots for the 2024 Gangwon Winter Youth Olympics. 
"We've prepared very fascinating videos and music for everyone. Let's enjoy them together, and I wish it treats all the pain and suffering COVID-19 has brought on us," said Governor Choi. 
Likewise, Korea Tourism Organization CEO Ahn Young-bae had a special message for international travellers who are missing South Korea more than ever. 
"Although you can't visit Korea right now due to COVID-19, I think you will fall in love with Korea and Gangwon Province's [charms] by watching the touching K-drama OST concert and the beautiful video of Gangwon-do," said Ahn before adding, "Soon, when we can travel again, I hope you can visit Korea and feel the Korean wave and the charm of Korea vividly. We are looking forward to meeting you in Gangwon Province." 
Key messages from tourism ambassadors and VIP guests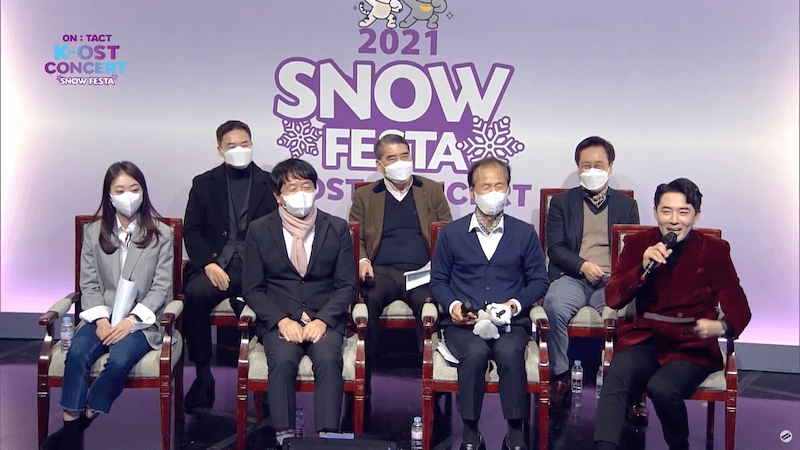 Aside from live performances by popular South Korean artists, the On:tact K-OST Concert Snow Festa also held a digital forum with foreign speakers, VIP attendees, and tourism ambassadors from Malaysia, Japan, Taiwan, and the Philippines. 
During the global virtual meeting, these public figures recalled memories of their past trips to Gangwon Province and spoke of their intentions to visit again when borders reopen.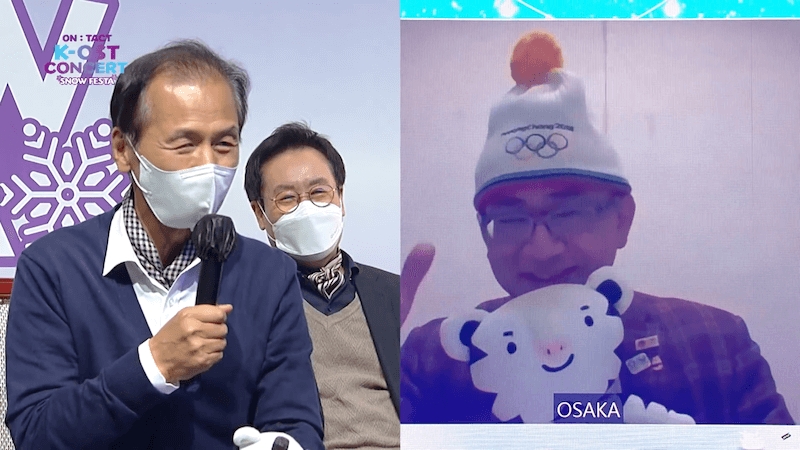 Hiroshi Mizohata, the President of the Osaka Convention and Tourism Bureau in Japan affirmed his love for visiting Gangwon Province and recalled his fond memories of participating in the torch relay during the 2018 Pyeongchang Winter Olympics with the audience.
"In Gangwon Province, there were wonderful meetings and discoveries. I hope that this year's tourism exchange between Korea and Japan will be reinstated so that I can visit Korea again for the 100th time," said Mizohata.  
Joining the forum from Malaysia is Hii Chang Kee, the Permanent Secretary of the Ministry of Tourism, Arts, and Culture in Sarawak. Despite the border controls that prevent people from travelling right now, Hii expressed hope of visiting Gangwon Province in the future, especially since Malaysia is quite humid by comparison.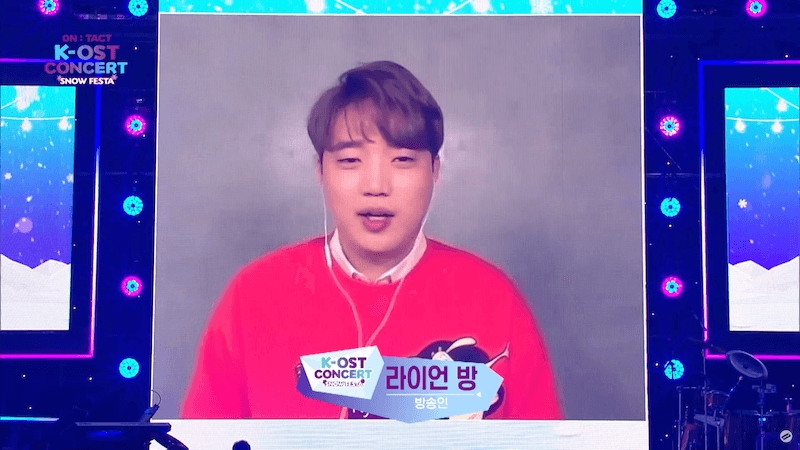 Ryan Bang, a famous South Korean host and celebrity in the Philippines, is another tourism ambassador promoting Gangwon Tourism overseas. Hailing from Hwacheon County, Bang also remembers being a torchbearer in the 2018 Pyeongchang Winter Olympics. 
"It was an unforgettable memory and an honour to my family, so I would love to attend the 2024 Gangwon Youth Olympics if I have a chance to carry the torch," said Bang.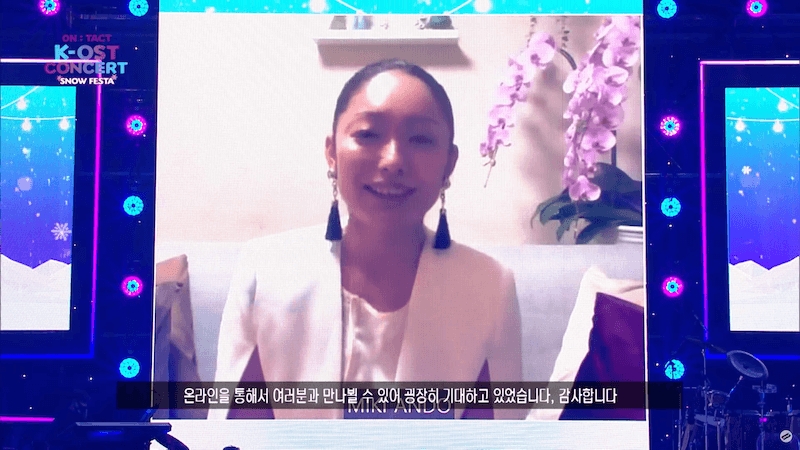 The On:tact K-OST Concert Snow Festa also invited prominent athletes to speak. Japanese competitive figure skater Miki Ando, who is also an ambassador of tourism in Gangwon, offered her best wishes for the 2024 Gangwon Youth Winter Olympics. Ando claims she is more inspired to train her junior skaters so they can participate in the games in the future. As for the COVID-19 outbreak, she is optimistic that the world can weather the storm as one. 
Malaysian competitive figure skater Julian Yee also joined the conversation. In the 2018 Pyeongchang Winter Olympics, Yee was Malaysia's first figure skater to represent his country. 
"I think all of us have to just sit tight and fight this COVID-19 pandemic together," said Yee. "And I also want to wish all the best for the 2024 Gangwon Youth Winter Olympics to be just like a success, like the Pyeongchang Winter Olympics in 2018." 
Closing the forum as the final guest is Tadashi Shimura, the President of the Japan Association of Travel Agents (JATA). 
To everyone watching online and longing to visit Gangwon Province, Shimura offered this message: "I hope you'll be able to go [to Gangwon Province] so we can all meet each other. Let's all cheer up to overcome COVID-19!"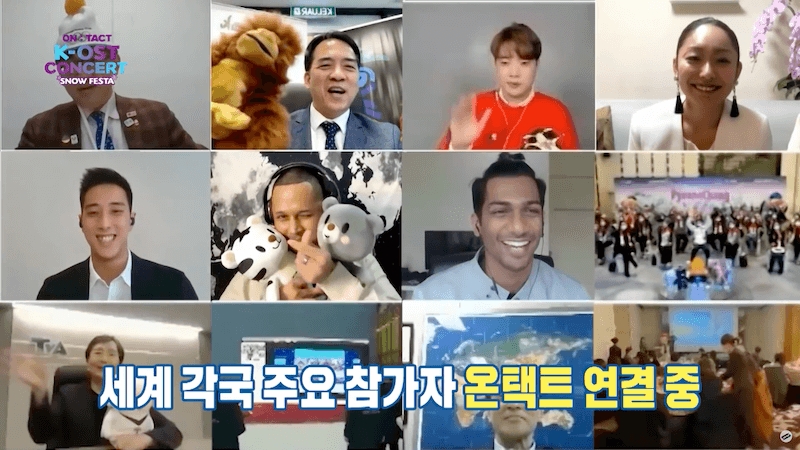 So, who else is itching to plan their next vacation right now? After listening to these hopeful messages from the On:tact K-OST Concert Snow Festa, it's hard not to feel inspired and ready to travel again. 
With these cheerful messages to visit South Korea after the pandemic, let's take a look at the winter activities that we can look forward to in Gangwon Province! 
Also read: Rekindle Your Love for Your Favourite K-Dramas With the On:tact K-OST Concert Snow Festa!
Visit the best ski resorts in the region
True to its nickname as "South Korea's Winter Wonderland", Gangwon Province is the top choice for many travellers to enjoy fun winter activities. Pyeongchang County in particular is famous for being home to some of the best ski resorts in the country, making it the top destination for skiing! One of the most popular resorts in Gangwon Province is the ambient Yongpyong Ski Resort. 
Situated at the foot of the majestic Balwangsan Mountain, Yongpyong Ski Resort is the largest ski resort in South Korea and enjoys plenty of snowfall (averaging 250cm). The resort is most popular among tourists between late November and early April, which also coincides with the ski season. Apart from skiing down the scenic slopes, visitors can also try snowboarding. There's even a 200-metre wide slope which you can sled down for some fun time in the snow. 
Don't worry if you're a total beginner either. Simply head to Dragon Plaza and you'll find that there are schools there which can teach you how to get the hang of it. As a bonus, you'll also be visiting one of the many memorable filming sites for the popular drama, Goblin! 
Other popular ski resorts in Gangwon Province include Alpensia Ski Resort, which hosted the 2018 Winter Olympics; and the romantic Sono Belle Vivaldi Park in Hongcheon.
If you're not a fan of skiing and would prefer to admire the snowy mountains at a leisurely pace, many of the famous ski resorts also offer gondola rides which you can use to truly appreciate the beauty of Gangwon's winter season. 
At Vivaldi Park, you can purchase a lift pass and hop aboard gondola and head straight up to the peak. The ride lasts about seven minutes as you traverse through rustic winter landscape and alluring scenery. At the top, you'll even be able to enjoy a panoramic view of the resort and the surrounding area! So even if you're not into skiing or snowboarding, you can still experience a piece of Gangwon Province's winter wonderland at Vivaldi Park! 
In addition, you could also hop aboard the Rainbow Gondola at Yongpyong Ski Resort to Dragon Peak. There, you can visit some of the filming locations of iconic K-dramas like Goblin and Winter Sonata! 
Admire alluring winter views and interact with adorable animals
Away from the glitzy ski resorts, you'll still find plenty of interesting destinations in the alpine areas of Gangwon. One high-altitude destination animal lovers will adore is Daegwallyeong Sheep Farm. Situated high in the Alps of Pyeongchang, this humble destination has the distinct reputation of being South Korea's first ever sheep farm, housing over 300 sheep. 
When you visit in winter, don't expect to see the sheep grazing in the snow-covered meadows. Instead, during this time, they usually stay indoors in the barn. That doesn't mean you won't get to interact with them though! During your visit, you can choose to feed hay to these cuddly sheep and may even have a chance to pet them (only if they let you!). 
If the sheep don't feel like  playing on the day you visit, you can still enjoy plenty of ambient scenery, including a view of the coastal city of Gangneung from the hill. What's more, at the sheep farm, you will also find a singular wooden shack that stands out on its own. While it may not look like much, it is actually a pretty popular location because it was featured in the 2003 Korean movie, A Man Who Went to Mars. 
Alternatively, animal lovers visiting in winter could also visit Hongcheon Alpaca World. As you might have guessed from the name, the main attraction at this expansive park is the pack of cuddly alpacas that call the area home! 
Located in a verdant mountain alley, Hongcheon Alpaca World offers visitors a chance to get up close and personal with its free-roaming alpacas. Apart from being able to feed and pet these adorable animals, you can also take the time to enjoy the amazing scenery in the area. The best way to truly immerse yourself is to sign up for the Healing Walk. It's basically a short stroll with the alpacas, in which you will also run into other animals such as deers and mules. 
If you really want to enjoy your time outdoors, you can opt for a quick stay at one of the ambient accommodation options too! 
Fall in love with whimsical snowy scenery
The more you explore Gangwon Province, the more you'll fall in love with its many scenic locations. This is especially true in winter after a snow storm! One such location that comes to mind in this scenario is Wondaeri Birch Forest. 
Located in Inje County, Wondaeri Birch Forest is a beautiful sanctuary that is home to over 700,000 birch trees. While it isn't the most famous destination in the area, it has actually been named one of the country's top 100 must-visit destinations! 
Even though you can enjoy some lovely sights in this hidden travel gem throughout the year (it is a popular trekking location in summer), it is during winter when it is most beautiful. After all, the snow-covered landscape makes Wondaeri Birch Forest look like a location right out of a fairy tale book! The best way to admire this magical forest is to trek along one of the main trails (the longest being 3.2km) and enjoy the serene winter scenery along the way. 
On the other hand, Chuncheon, the capital of Gangwon Province, houses one of South Korea's most famous tourist attractions: the ever beautiful Nami Island! While this famous destination is beautiful all-year round, winter brings with it swoon-worthy snow-covered paths that resemble iconic scenes from famous Korean dramas.
You can go on a leisurely stroll along the beautiful Gingko Tree Lane or recreate scenes from dramas like Winter Sonata, My Love From The Star, and Secret Garden with your friends. Trust us, those Instagram photos are going to make your friends so jealous! When it's not snowing, you can even rent a bike to explore the island. However, when the paths are covered by snow, you will unlikely be able to do that for safety reasons. 
Just remember to bring your camera! 
Indulge in some unique winter festivals
Since we're on the topic of snowy scenery, winter festivals like the Taebaeksan Mountain Snow Festival should also be on your Gangwon Province bucket list. Taking place in the picturesque Taebaeksan Provincial Park, the festival is a celebration of winter in the province, punctuated by massive snow sculptures created by both local and foreign artists! 
In addition to providing incredible backdrops for your #potd, the festival also features plenty of traditional folk winter games and even offers unique alpine dining experiences like an Igloo cafe. As night falls, head to Hwangji Pond to enjoy the beautiful starlight festival, where the area is illuminated by a plethora of colourful lights. 
You could also enjoy snow rafting, sledding, and even go on a therapeutic winter hike. Whatever it is you fancy, the Taebaeksan Mountain Snow Festival is certainly worth a visit! 
Another popular winter festival in Gangwon Province is the Hwacheon Sancheoneo Ice Festival. At the height of winter, Hwacheon Stream often freezes over on the surface. When this happens, ice fishing enthusiasts will carve out a hole in the ice, and begin fishing for sancheoneo (Masou salmon). 
Don't worry if it's your first time because there are more than enough eager locals there to help you learn the basics. Once you catch your first fish (congratulations!), you can savour the fruits of your hard work. The fish is best eaten raw and paired with gochujang (red chili-pepper paste). However, if you're not a fan of sashimi, you can also opt to have it fried too. 
Other similar ice fishing activities that you can also enjoy include the Hongcheonggang Ggong Ggong Festival, where you can fish for trout using your bare hands; and the Inje Icefish Festival, where you fish for icefish (locally known as smelt) over the frozen Soyangho Lake.
So much to explore in the winter wonderland of Korea
With so much to see and do in Gangwon Province during the winter, don't you wish you were already there in person? We know we are! 
While we eagerly await the opportunity to visit Gangwon Province ourselves to experience its magical winters, why not check out the awesome On:tact K-OST Concert Snow Festa? Not only will you be able to have a little sneak peek of what awaits you in Gangwon Province, you'll also be able to enjoy the wonderfully nostalgic OSTs of your favourite Korean dramas! 
CLICK HERE TO WATCH THE ON:TACT K-OST CONCERT SNOW FESTA 
---
Brought to you by Gangwon Province.