A trip to Busan is a reminder that there's more to South Korea than hanbok villages and high-rise skyscrapers. Coastal, clean and charming, South Korea's second-biggest metropolis has a few tricks up its sleeve which will keep you coming back for more.
One of Busan's main selling points is the vast array and quality of seafood available throughout the city. What better place to get an authentic South Korean seafood experience than at Jagalchi Market, perhaps the most famous fish market in the country?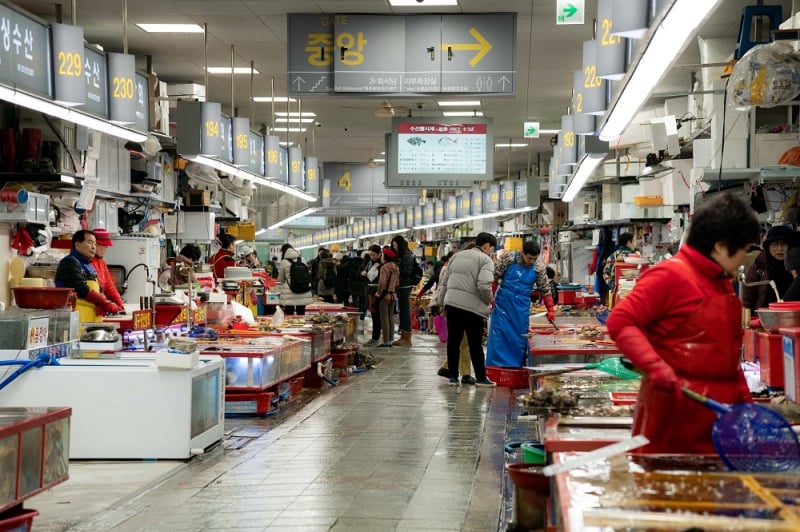 It's quite astonishing when you consider that almost half of South Korea's total seafood is shipped out from Jagalchi Market, the country's oldest and largest seafood-selling facility. Here, you'll find an epic selection of edible sea creatures. In this article, we'll show you how to find this treasure trove of seafood, tell you what's worth checking out, and give you some inside advice on scoring the freshest deals!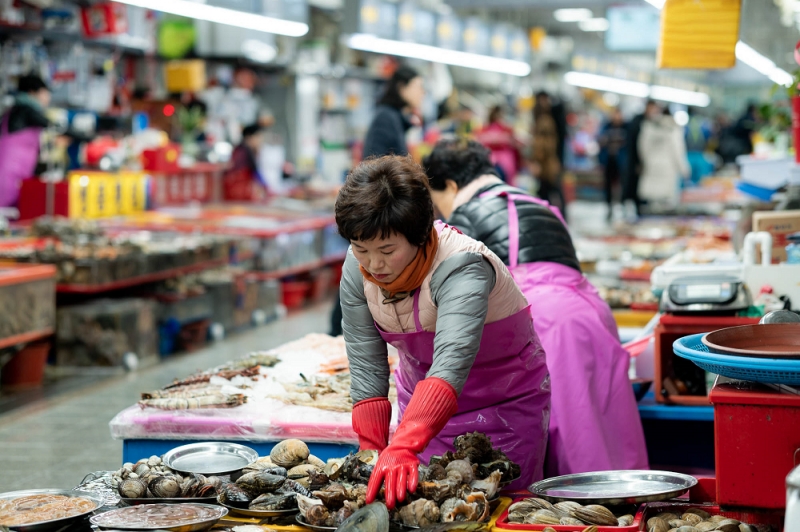 Location
For a fresh produce market, Jagalchi Market couldn't be more accessible. It's only a short walk from the bustling shopping district of Nampo-dong, all the more reason to put it on your Busan travel checklist. The market itself sits right between Nampo and Jagalchi stations, not more than a five-minute walk from either station. This also means it's not too far from Busan Station, the terminating point for the KTX which runs to and from Seoul.
Getting to the market itself can be a bit bewildering, what with the numerous street vendors hawking their wares outside but once you've made it through the slew of stalls, you'll see the five-storey building open up in front of you.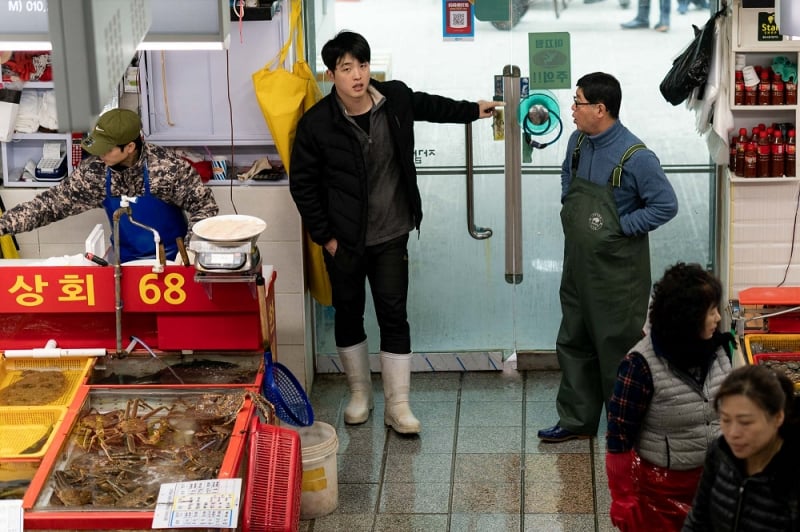 Once you've made it inside, you'll notice the many floors that make up the market. If you're intrigued by the different catches then feel free to take a stroll around the first floor of the complex. Here is where you'll find all sorts of weird and wonderful sea creatures being prepared for consumption.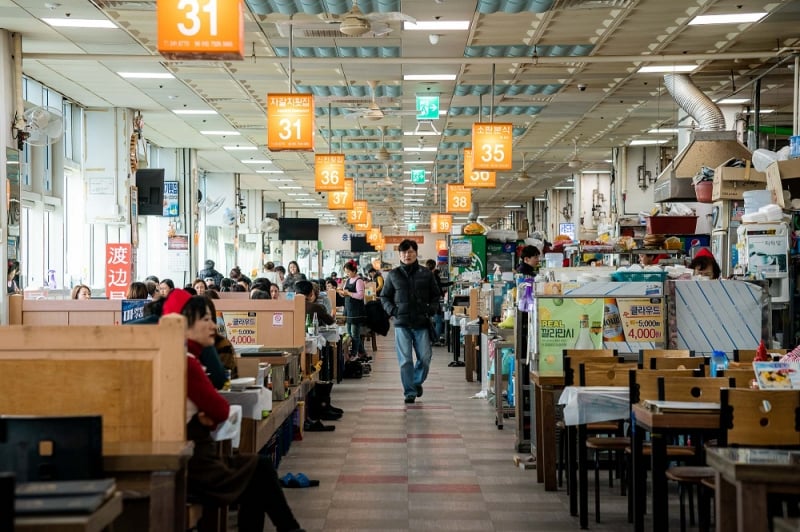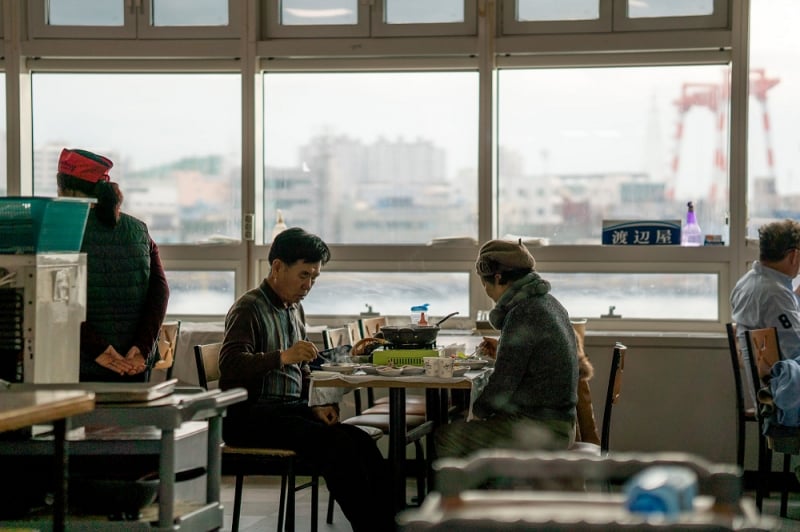 One floor up from the main market is probably where you'll spend most of your time, however. Take a stroll around and pick out a restaurant that tickles your fancy, ask the locals what's good, or simply choose from these following five dishes that you should try at Jagalchi Fish Market.
1. 산낙지 / Sannakji (Raw octopus)
How would you fancy a wriggling invertebrate squirming around in your mouth? If you're down for some daring Korean cuisine, then 산낙지 should be on your list. This 'live' octopus is chopped up on the first floor and then brought to you on the second floor, sprinkled with sesame seeds and oil. Make no mistake, the octopus is very much dead, but the nerve activity in the tentacles makes it seem like you're eating it alive. You'll need some deft chopstick skills to catch a tentacle before it wriggles away on your plate, and if you're feeling a bit squeamish then why not wash your sannakji down with some soju? Remember to chew well, because you don't want the tentacles clinging to the inside of your mouth.
2. 개불 / Gaebul (Phallic fish)
If you thought sannakji was weird, then you'd better brace yourself for this. There's no other way to describe gaebul (개불), other than phallic. This species of marine spoon worm is found around the mud flats of East Asia, and appears far more palatable once it's been disembowelled and cleaned. Gaebul is eaten in much the same way as you would sannakji, that is, raw and with sesame oil. You could also add some gochujang sauce to the mix if you're in the mood for something a little spicier.
3. 대게 / Daege (Crab)
Crab is another oh-so-tasty seafood that you should sample at Jagalchi, with the Snow Crab in particular coming highly recommended by diners. At around KRW70,000 per kg, this isn't cheap, so consider bringing a buddy along and going dutch. Eating this crustacean is quite an experience, as you'll have to lift out the sweet, white flesh from the crab legs using different utensils. In true Korean dining style, nothing goes to waste – even the leftover broth in the crab shell is mixed together with rice to create a bokkeumbap of sorts.
4. 장어구이 / Jangeo-gui (Grilled eel)
Often prepared in a marinade of soy sauce, sesame oil and sugar, the eel is deboned and diced into fairly chunky portions, then grilled on a cooker right in front of you. Legend has it that this fish not only guards against heat exhaustion, but also improves male stamina. This summer staple goes down a treat with a side of soju or beer, and is best eaten parcel-style, that is, dipped in a spicy sauce of your choice and wrapped in fresh perilla or lettuce leaves.
5. 전복 / Jeonbok (Abalone)
Abalone are considered endangered and overfished in many parts of the world, but in Korea, this delicacy can be found in abundance at Jagalchi Market – and at reasonable prices, too. Most of the abalone you'll find here is farmed on Jeju Island and is said to be rich in minerals that help with liver repair and blood circulation. It can either be eaten raw (sashimi style) or grilled. The texture can be a bit chewy if you go the sashimi route, so we'd suggest getting it grilled. No matter which way you choose to enjoy it, it's a novelty not to be missed.
As you watch the boats over the Busan Harbour with your spread of fresh, tasty seafood beside you, you'll soon realise that there are few better places to savour some of the best seafood in East Asia than Jagalchi Fish Market. With so many tasty catches to choose from, which will you be sampling first?