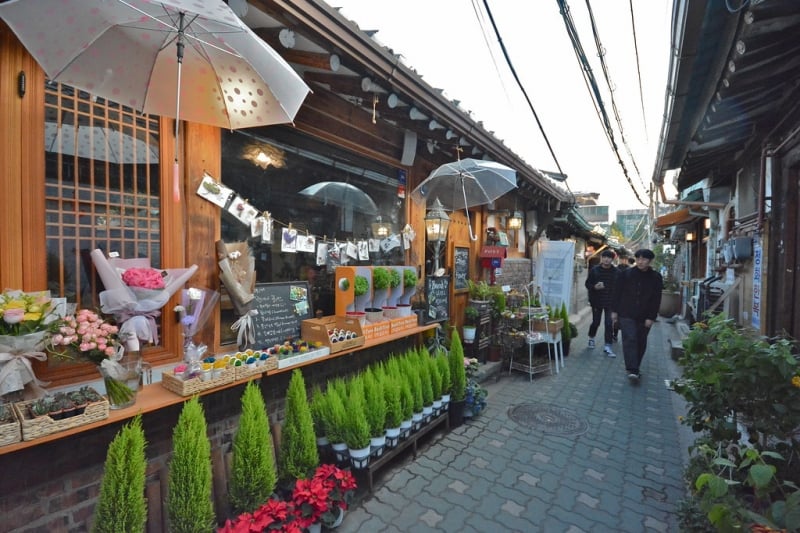 You know you've stumbled on a traveller's goldmine when the area is surrounded by locals. There's barely a tourist in sight, and other than the words that come out of your mouth, you don't hear a lick of English. 
Ikseondong is one of these places, with its narrow and charming alleyways offering hidden gems in every corner. Established in the 1920s, it is the oldest hanok neighbourhood in Seoul. As such, it predates even Bukchon Hanok Village and Seochon Village. Over time, the traditional Korean houses in Ikseondong have been converted into antique shops, vintage clothing stores, galleries, costume rentals, tea rooms, florists, and street art. Equally splendid are the cafés and restaurants framing the streets. That is to say, there are so many of them — it's hard to pick just one!
Without further ado, your search for the best local bites in Seoul ends here. Scroll through this list to discover why Ikseondong has some of the finest eateries in the city. 
Also read: Beyond Myeongdong & Hongdae: 7 of Seoul's Hippest Neighbourhoods You've Yet to Discover
1. Le Blanseu
Looking for a taste of France in Seoul? You absolutely can't go wrong with Le Blanseu! This restaurant shot to fame after having a cameo in Heart Signal, a popular South Korean series much like Terrace House. At this elaborately furnished hanok-style eatery, you can enjoy French home-style cooking. Rave-worthy dishes include the roast chicken, crispy pork belly, and steamed blue cheese mussels, for instance. On the other hand, you can also take your cue from the Heart Signal cast members, Peter and Wendy, who sipped delicious red wine and sangria at this restaurant. 
Address: 30, Supyo-ro 28-gil, Jongno-gu, Seoul, Republic of Korea
Hours: Tuesday to Friday, 11.30am to 3.30pm, 5pm to 10.30pm; Saturday to Sunday, 11.30am to 4pm, 5pm to 10.30pm 
2. Seoul Coffee
As effortlessly fashionable Koreans arrive in droves, one can't help but wonder if this spot is the gathering of cool. Seoul Coffee is definitely more than your average café. For one, it replicates the entrance of a traditional Korean house. Entering the coffee shop, one crosses a wide courtyard with a curved roof. Meanwhile, wooden doors and glass windows lead to a brightly-lit space that preserves the quaint, rustic atmosphere of Seoul in the 1980s and 1990s. 
Displaying a modern industrial twist, Seoul Coffee becomes the perfect symbol of Ikseondong: respecting tradition while interpreting Western influences. You can taste it in their injeolmi tiramisu, a fusion of a classic Korean rice cake and an Italian confection. Similarly, their signature Vienna Coffee is just as toothsome, topped with generous amounts of whipped cream. 
Address: 33-3, Supyo-ro, 28-gil, Jongno-gu, Seoul
Hours: Monday to Sunday, 12pm to 10.30pm
Also read: A Coffee Lover's Guide to the Hippest Cafes in Seoul & Beyond 
3. Mil Toasthouse
Running into the aroma of freshly baked bread, one can't help but squint in the air and look for a source. Certainly, this is why many people take a peek into Mil Toasthouse, a lovable and minimalist bakery in Ikseondong. From the street, it appears quite plain. Just a white sheet with a bread loaf print and an "OPEN" signboard in front. And yet, that wonderful smell. How can anyone resist? 
Their menu puts the spotlight on two items: steamed bread rolls and soufflé French toast. Both are incredibly fluffy, served hot enough to melt the homemade butter on top. The soufflé French toast, for example, is golden brown with a dusting of cinnamon, already presenting the perfect flatlay as soon as it arrives on the table. Try adding blueberry cream cheese or vanilla ice cream for a decadent finish! 
Address: 30-3 Supyo-ro 28-gil, Donui-dong, Jongno-gu, Seoul, South Korea
Hours: Monday to Saturday, 10am to 11pm; Sundays, 9am to 11pm
4. Yeoldudal Market & Dining
Yeoldudal Market & Dining is one of the essential go-to places in the neighbourhood of Ikseondong. "Yeoldudal" translates to "12 months or 12 moons" in English. Likewise, this Italian-Korean fusion restaurant encourages outdoor dining, complete with a glass ceiling that lets you enjoy your food under the moonlight. Naturally, this makes it quite a picturesque setting — and dare we say it, the backdrop of many romantic evenings, perhaps?
At this restaurant, you'll find belly-warming dishes such as the cream pasta with lotus root and the Jiri Mountain salad with smoked pork, just to name a few. Prior to your visit, be sure to reserve a spot well ahead of time. Especially because there are only ten tables available! 
Address: 17-6 Supyo-ro 28-gil, Ikseondong, Jongno-gu, Seoul, South Korea
Hours: Monday to Friday, 11.30am to 3pm, 5pm to 10pm; Saturday to Sunday, 11.30am to 10pm
5. Gyeongyangsik 1920
Retreat into the Roaring Twenties when you step inside Gyeongyangsik 1920! Straightaway, you can tell from the unique facade that this restaurant is going to be special. White-clothed tables and retro-style decorations — as seen in the blush-coloured pink sofas, table napkins, menus, and curtains — blend in with the original hanok structure. Moreover, this playful restaurant in Ikseondong serves authentic Korean comfort food, such as hamburg steak and the yummiest pork cutlets or donkkaseu. Truly, this food haunt is as dazzling as it is appetising! 
Address: 17-30, Supyo-ro 28-gil, Jongno-gu, Seoul, South Korea
Hours: Monday to Sunday, 12pm to 3pm, 5pm to 11pm 
6. Changhwadang
Expect a queue of locals outside Changhwadang, which is a fantastic place in Ikseondong to chow down on dumplings and snacks like tteokbokki. This restaurant has earned glowing recommendations from famous personalities like Lee Young-ja, a Korean comedian well-known for picking the best places to eat in Seoul. And while you're nibbling on beloved local dishes, why not try your hand at mukbang? Who knows, you might have a talent for it! 
Address: 23 Supyo-ro 28-gil, Ikseondong, Jongno-gu, Seoul, South Korea
Hours: Monday to Sunday, 11.30am to 9pm
Also read: Foodventure: 9 Street Foods to Eat in Myeongdong
7. Store With No Sign
Much of the mystique of this spot can be found in its name. Like what it advertises, the Store With No Sign presents an unassuming front. Still, it has a certain appeal. Even though it's standing in the alleys of Ikseondong without, quite literally, a sign, it manages to attract a lot of customers. Inside, the real treasure unravels: a rustic Italian restaurant that serves mouth-watering dishes like steak risotto.
Surprisingly, the nondescript facade makes it more alluring. Looking for this camouflaged eatery, you might do a double-take from the instructions on Naver Map, wondering if this is really the location. But once you find your seat, you'll find a haunt worth wandering for.
Address: 166-18, Ikseondong, Jongno-gu, Seoul, South Korea 
Hours: Monday to Sunday, 12pm to 3pm, 5pm to 10.30pm 
8. Dongbaek Yanggwajeom
Two words: soufflé pancakes. Say no more, we're already there! 
Once in a while, we long for saccharine delights that look like they will plunge us right into a sugar coma. Dongbaek Yanggwajeom, or Camellia Bakery, is home to the puffy, airy dessert creations that frequently show up in everyone's feeds. Now that the secret is out, don't pass up an opportunity to dig into these soufflé pancakes, which are lavished with loads of cream. Aside from best-selling flavours like strawberry and matcha, they also serve cookie banana pancakes and peach pancakes. Indeed, these desserts are almost too pretty to eat!
Outside, auburn brick tiles create a homey, pleasant ambience great for conversations with friends. Admittedly, it's a little hard to get seats at this bakery, so be sure to visit early in the day! 
Address: 166-73, Ikseondong, Jongno-gu, Seoul, South Korea
Hours: Monday to Sunday, 10am to 11pm
9. TTEURAN
Who wouldn't want to hole up at a tea house like TTEURAN? Since the name of this tea house means "inner garden," customers are encouraged to come here for a peaceful break with a cup of tea. Furthermore, they can also look out onto a courtyard filled with wild flowers and sunlight. In addition to being set in a 90-year-old hanok, this tea house is highly adored by locals, who take their pick from the signature herbal tea, chrysanthemum, green tea, and famous red bean porridge. Due to its old roof tiles and tranquil atmosphere, it is one of the most beautiful eateries in all of Seoul. 
Address: 17-35 Supyo-ro 28-gil, Ikseondong, Jongno-gu, Seoul, South Korea
Hours: Monday to Sunday, 11am to 10.30pm 
10. Ikseon Goro
After milling around the streets of Ikseondong, you're bound to run into a shop with tantalising pictures of ice cream. Not just any ice cream, but a lavender-coloured soft serve!
However, this colourful and special flavour is not the purple yam that you might find in the Philippines or the sweet potatoes in Okinawa, Japan. Instead, Ikseon Goro's purple berry ice cream bursts with a creamy blueberry taste — perfect for the scorching heat of summertime. Pair this smooth dessert with crispy tapioca churros, and you're off to sweet-tooth heaven! 
Address: 166-34, Ikseondong, Jongno-gu, Seoul, South Korea
Also read: 17 Dessert Places in Seoul to Stay Cool This Summer
If the tempting photographs shown above are any indication, Ikseondong is a foodie's dream come true. Unless you can finish scouring all of these cafés and eateries all at once, it is customary, and even encouraged, to make several return trips to this wondrous neighbourhood. 
At the end of the day, we can't help but seek out magnetic places like Ikseondong, where the past and present exist in harmony with each other. After getting off at Jongno 3-ga Station, the best way to discover these streets is to simply get lost in them, taking in the distinct character of each alleyway and corner.
With this in mind, it's probably best to hurry. In due time, it might not be a well-kept secret for very long!