The largest city in Northern Thailand, Chiang Mai is filled with ancient temples, markets and culture. Perfect for travellers, whether you're looking to try out some Thai cooking classes or want to experience the lively nightlife, the city is filled with personality. No matter your budget, there's a plethora of hotels, hostels, restaurants and cafes for everyone.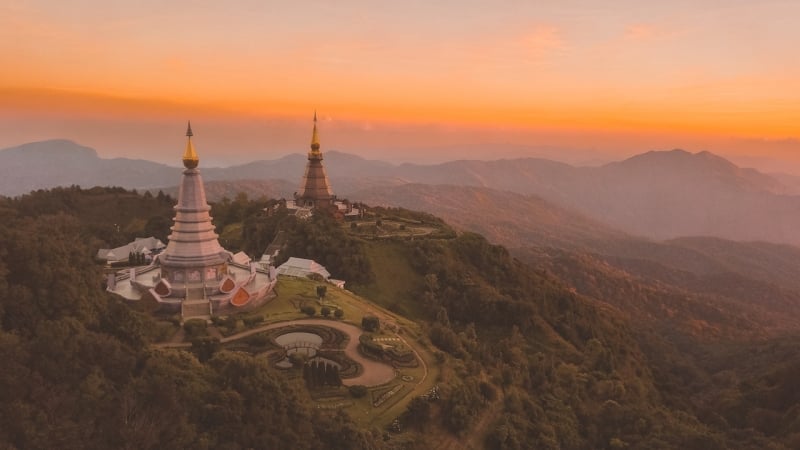 When it comes to vegan food, you won't come up short here. Chiang Mai has a number of vegan restaurants on offer so you can indulge in truly authentic Thai cuisine. Here are five must-visit restaurants for vegans whilst in the city.
1. Taste from Heaven
A vegetarian restaurant with plenty of vegan options available, Taste From Heaven has an extensive menu covering both Thai and Western dishes including a veggie breakfast, cauliflower chicken wings, mushroom satay and black bean sandwich.
Location: 34/1 Ratmakka Rd (at Moonmuang Rd)
2. Reform Kafe
Located in Chiang Mai's old city, this fully vegan restaurant is moderately priced and very popular. Reform Kafe has a great atmosphere and it offers both Thai and international dishes including hamburger, passionfruit lassi, pad thai and mushroom burger.
Location: 1/4 Sripoom Rd Lane 7
3. Free Bird Cafe
Another 100% vegan option in Chiang Mai, Free Bird Cafe is a small cafe where proceeds go to support Thai Freedom House. The NGO cafe serves up smoothies, sandwiches, salads and Thai dishes. A very extensive vegan menu with plenty to choose from and for such a good cause, this spot is definitely a must-visit for vegans.
Location: 116 Maneenoparat Rd (at Sanam Kila)
4. Ama Vegan Kitchen
Chiang Mai is stocked full of completely vegan restaurants and Ama Vegan Kitchen is another one of them. Located on the ground floor of Trams Square Wellness Resort Residency, this restaurant has mainly Thai cuisine with a few western dishes. It has a relaxing atmosphere with freshly prepared foods. Definitely try the pad thai here – it's delicious.
Location: 80/137 Trams Square Wellness Resort Residency, Super Highway Chiangmai-Lumpang, A.muang
5. Kin-Lum Vegetarian
With over 50 dishes available to choose from, this vegetarian restaurant has a vast choice and plenty of seating. It serves up traditional authentic Thai cuisine as well as a few western dishes at very reasonable prices, including the vegan burger, brown rice salad, and spring rolls.
Location: 199/36 Chang Klan Rd
Chiang Mai is truly a heaven for vegans. On top of these fantastic must-visit spots for vegans in Chiang Mai, honourable mentions include Vegan Heaven, Aum, and Ming Kwan. Traditional Thai dishes that do not contain meat are no longer out of reach; with so many plant-based alternatives, you can now fully indulge in delicious Thai food.