The coastal city of Pattaya has attracted hordes of visitors since the early 80s and remains one of Thailand's most popular destinations. Known for its four-kilometre crescent beach and excellent seafood restaurants, the city is a prime location for water sports like windsurfing, snorkelling, and water skiing. After dark, the streets transform into a vibrant nightlife paradise. 
In a very touristy place like Pattaya, choosing the right home can be overwhelming. Luckily, we're here to help you trim down your list with our favourite homes for couples, families, and even solo adventurers. No matter what kind of holiday you have in mind, there's an Airbnb in Pattaya for you. 
CHECK BOOKING OPTIONS IN PATTAYA
Also read: Experience the Best of Island Life at These 10 Tropical Airbnbs Around Asia 
Top Airbnb vacation homes in Pattaya
1. This glamorous pool villa for a luxury getaway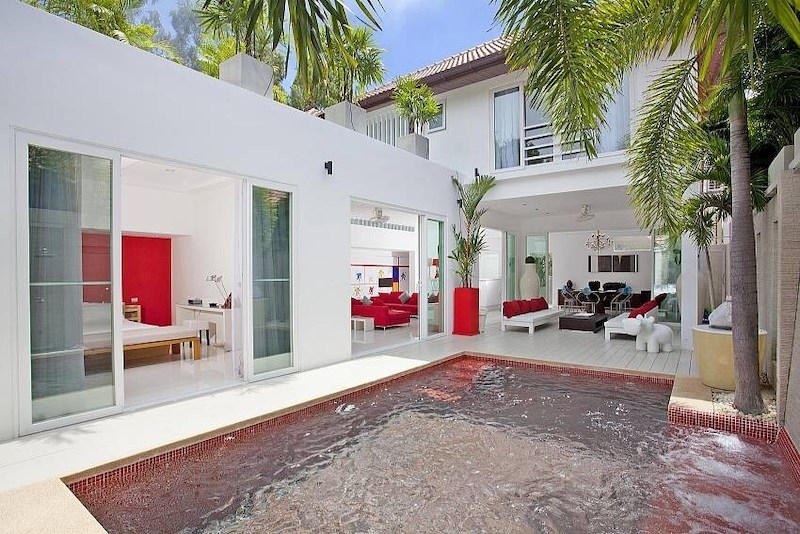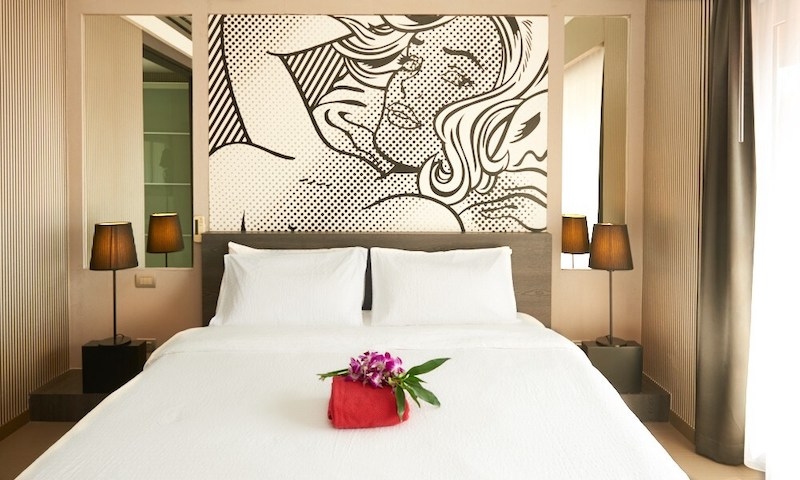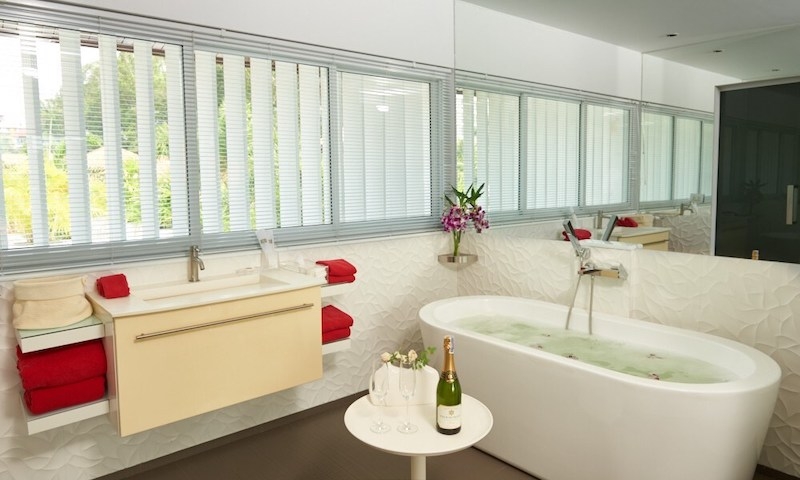 Listing type: Entire villa
Max. no. of guests: 6
No. of bedrooms: 3
Love the taste of luxury? We're sure your Pattaya trip will be a vacation to remember when you stay in this stylish three-bedroom villa in Pratumnak Hill. Everything has been designed for a luxurious and refreshing holiday, from the pop art-adorned rooms to the private swimming pool and lounge.
Beyond the eye-popping contemporary design, we love that this Airbnb in Pattaya is located in a peaceful and upscale residential neighbourhood — just a short ride away from the famous Walking Street. After a day at the nearest beach, you can cap off the night by taking a dip in one of the bedrooms' soaking tubs. 
2. This Scandinavian-style apartment with beach views and access to hotel facilities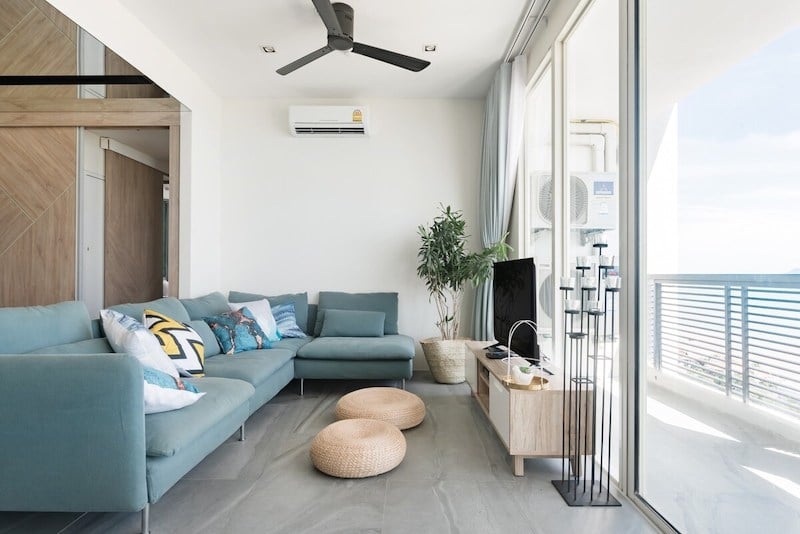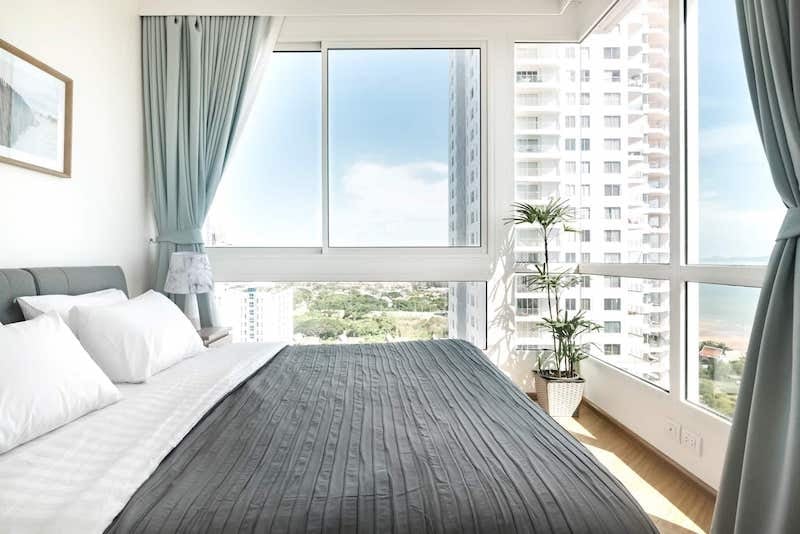 Listing type: Entire condominium
Max. no. of guests: 8
No. of bedrooms: 3
Imagine having all the luxuries of a luxury resort while staying in a self-contained apartment. That is exactly what this Scandinavian-style residence promises. Decorated in shades of blue-green, grey, and pale wood, the apartment offers calming interiors and scenic lookouts from a high-floor balcony. Throw in hotel-quality amenities and a view of the endless blue sea into the mix, and you won't want to fly back home. When you're done exploring the condo's swimming pool and fitness centre, you can also access the hotel facilities of the adjoining Veranda Resort, which flaunts a beachfront pool and a spa.  
3. This fabulous Thai villa perfect for large groups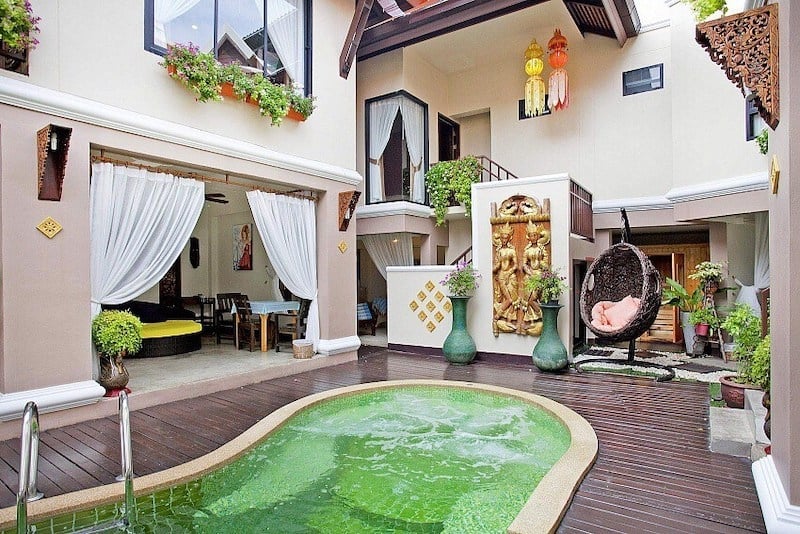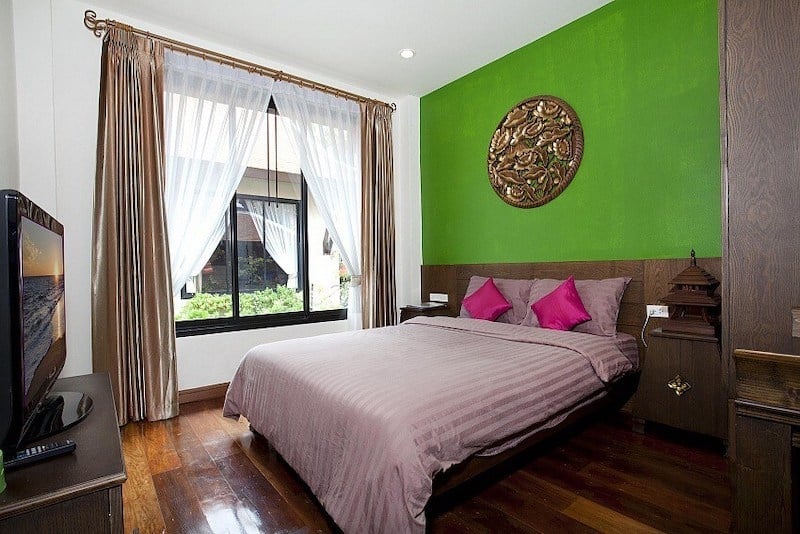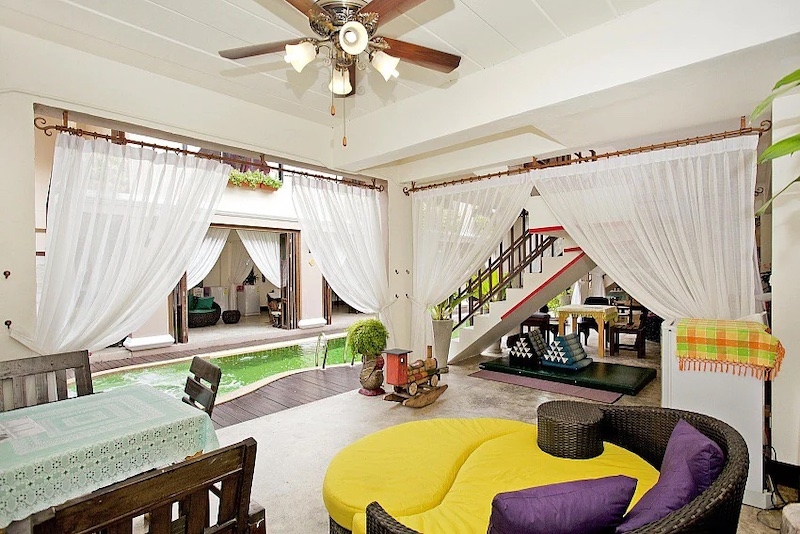 Listing type: Entire house
Max. no. of guests: 16
No. of bedrooms: 8
Planning a group trip with your family and friends? Devara Pool Villa is an excellent choice for a fun and restful holiday. This Lanna-style villa incorporates beautiful Thai design throughout eight residential units; each unit has its own bedroom and living room, which means the villa can host up to 16 people at a time. This way, you and your travel buddies are free to relax in the private residences or mix and mingle in the swanky saltwater pool by the garden. 
Aside from the well-maintained pool, this Airbnb in Pattaya also has a sauna, Jacuzzi, and a fully equipped kitchen where you can whip up delicious meals. And if exploring Pattaya's vibrant sights and sounds is on your bucket list, you'll be happy to know that popular tourist attractions such as Jomtien Beach and Walking Street are close by.
4. This budget-friendly apartment overlooking the Gulf of Thailand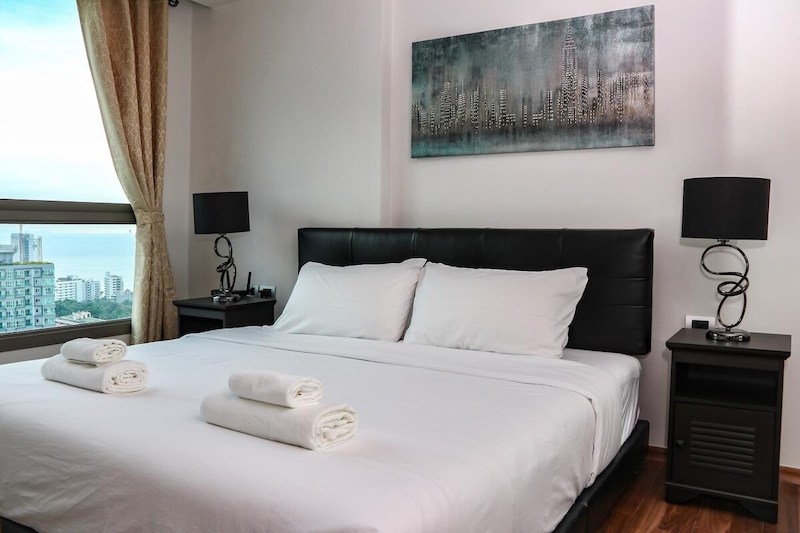 Listing type: Entire apartment
Max. no. of guests: 3
No. of bedrooms: 1
Fantastic sea views usually come at a cost, but not at this sleek apartment with a cosy balcony and a rooftop pool. This Airbnb in Pattaya offers awe-inspiring panoramic views of the horizon at an affordable price per night. It features a king-size bed, a fully equipped kitchen, a swimming pool, a gym, and a sauna. 
Thanks to this budget-friendly apartment, you'll have saved enough pocket money to splurge on food and drinks at nearby restaurants such as the Sky Gallery and The Chocolate Factory. Plus, you only have to take a short walk to get to the beach, while the downtown area is just a short drive away.
5. This industrial capsule room for solo travellers just a few steps from the beach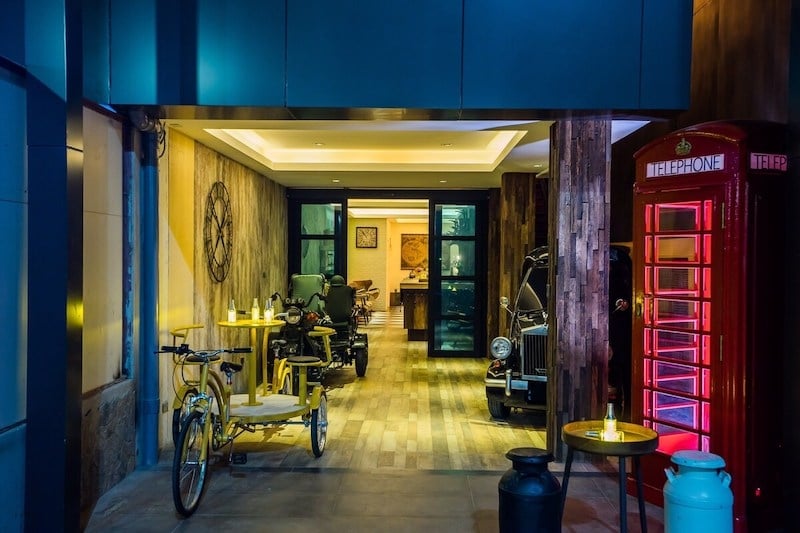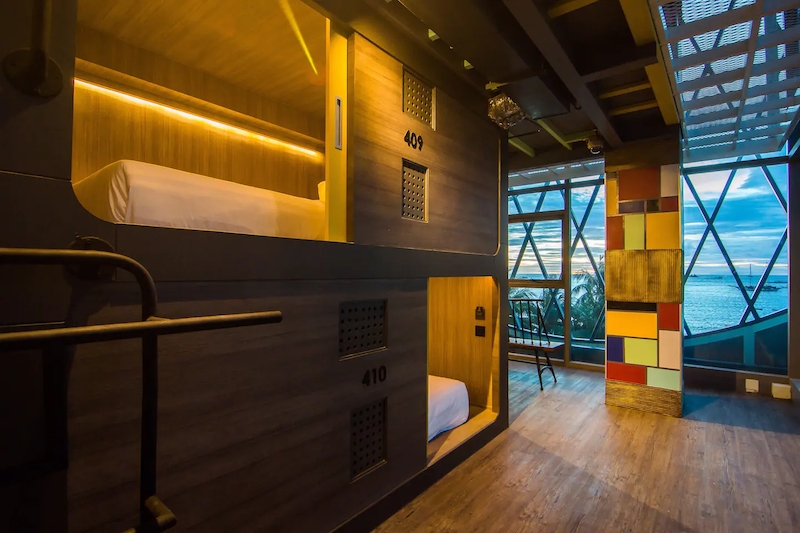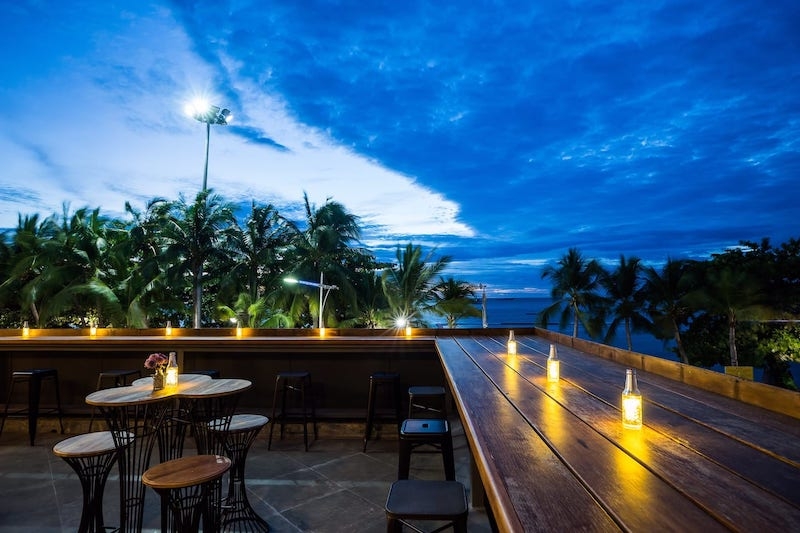 Listing type: Shared room in hostel
Max. no. of guests: 16
No. of bedrooms: 1
Booking budget accommodations for solo travel doesn't mean that you have to compromise on your comfort. With a chic "poshtel" like this, you can expect the same top-notch design and amenities that a boutique hotel can offer but within the price range of hostels. 
As soon as you enter this Airbnb on Pattaya Beach Road, you can't help but admire the vintage industrial interiors. Common areas such as the lobby and huge cafe offer solo travellers a chance to meet like-minded travellers, while the air-conditioned capsule rooms promise a comfortable sleep. Each bed pod comes with fresh linens and towels, a safety box, a USB wall socket, and a reading light. 
A stay in this poshtel also includes complimentary breakfast, free-flowing coffee, and occasionally, movie nights with free popcorn. The best part? The beach is right across the street, while top attractions like the Royal Garden Plaza and Central Festival Mall are a short walk away.
6. This rustic and elegant home in a quiet residential area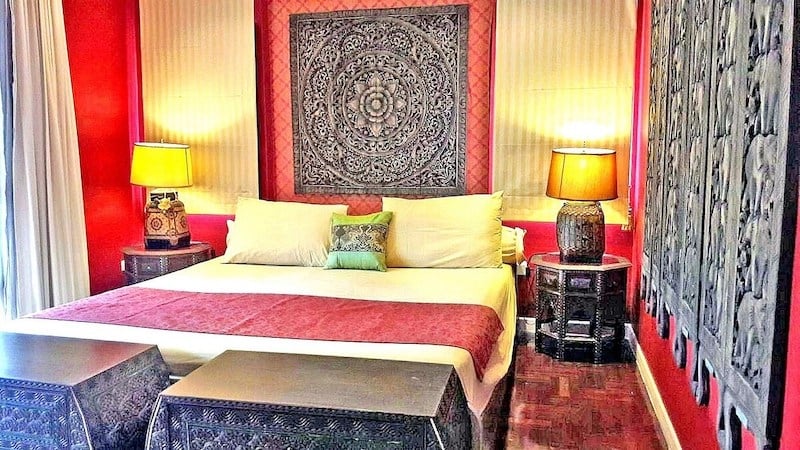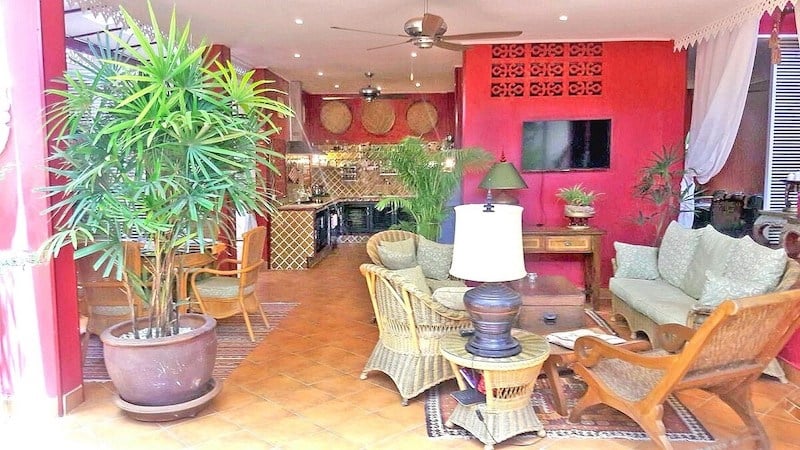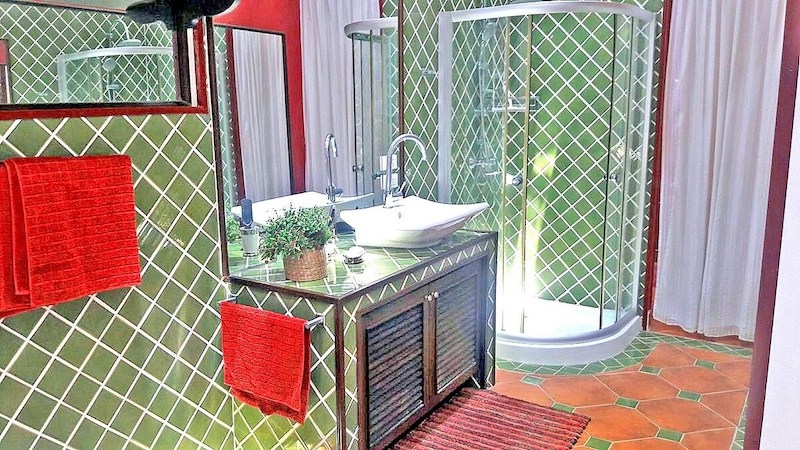 Listing type: Entire house
Max. no. of guests: 9
No. of bedrooms: 3
If you're looking for a traditional and authentic Thai experience, you're in luck because this secluded tropical Thai house offers exactly that. This fully-serviced 220sqm property offers a well-stocked kitchen, spacious bathrooms with a tub and Jacuzzi, and three massive bedrooms that can sleep up to nine guests. Your whole family can relax in the open lounge area, which is decorated with Thai folk art, teak wood carvings, and plants. 
Besides the antique furniture and magnificent interiors, we love that this Airbnb is located in a quiet location near the sunny Jomtien Beach and the buzzing Pattaya downtown area. Everything you might want to enjoy in Pattaya is nearby, but you can also still hang back in a serene and tropical environment if you like.
7. This romantic poolside apartment with striking sunset views for a couple's retreat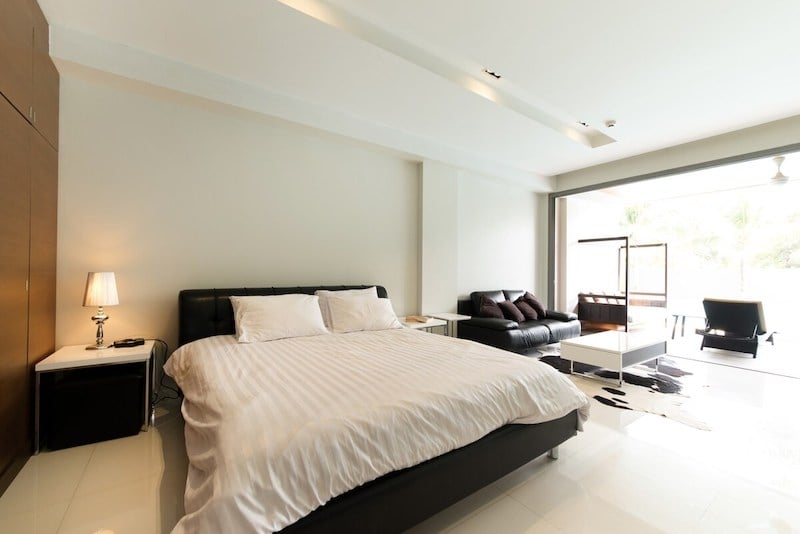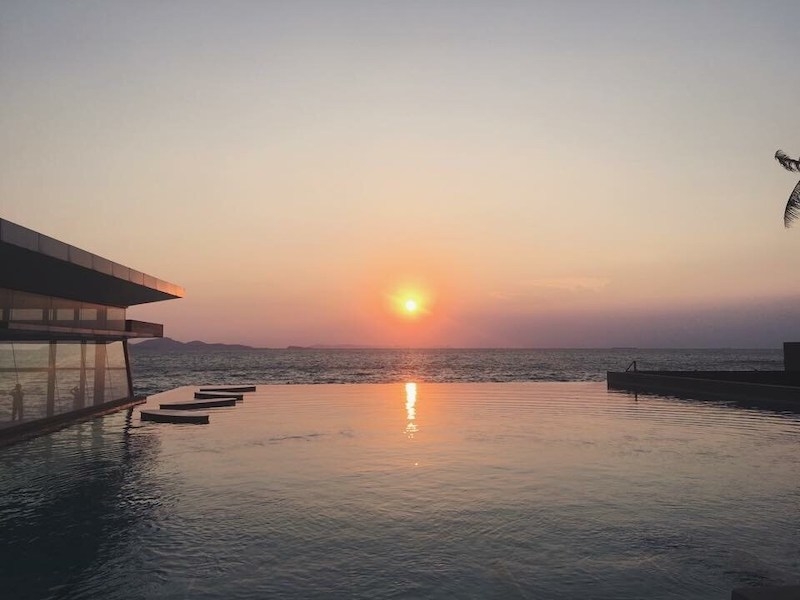 Listing type: Private room in condominium
Max. no. of guests: 2
No. of bedrooms: 1
A romantic couple's getaway with the Gulf of Thailand glistening in the background? That's exactly what's in store for you at this top-rated apartment with an infinity pool facing the vast blue ocean. 
The spacious bedroom with a king-size bed opens to a patio, where an incredible infinity pool awaits. Sip wine by the poolside while waiting for the lovely sunset over the beautiful Wong Amat Beach. You can even prepare a special dinner for two in the well-equipped kitchen, or sample the delectable Thai cuisine in one of the restaurants in the city centre, just minutes away from this condo. Now that's a #couplegoals kind of holiday! 
8. This sun-drenched abode close to Pattaya Viewpoint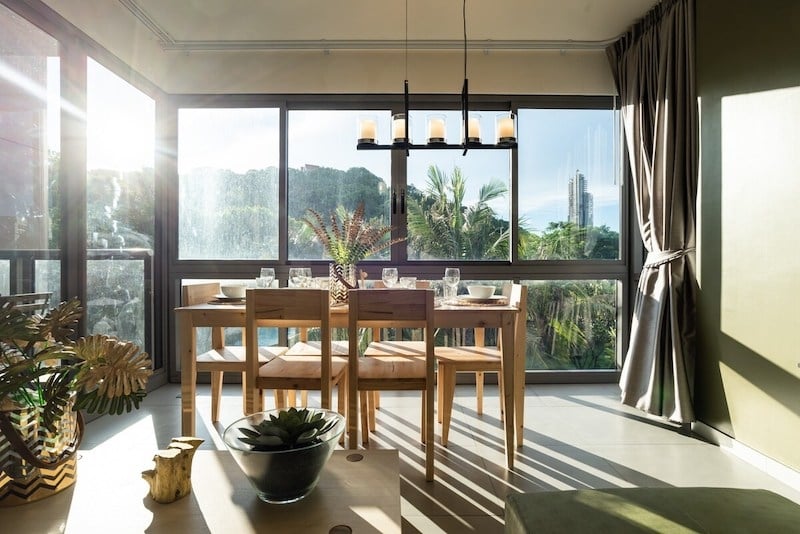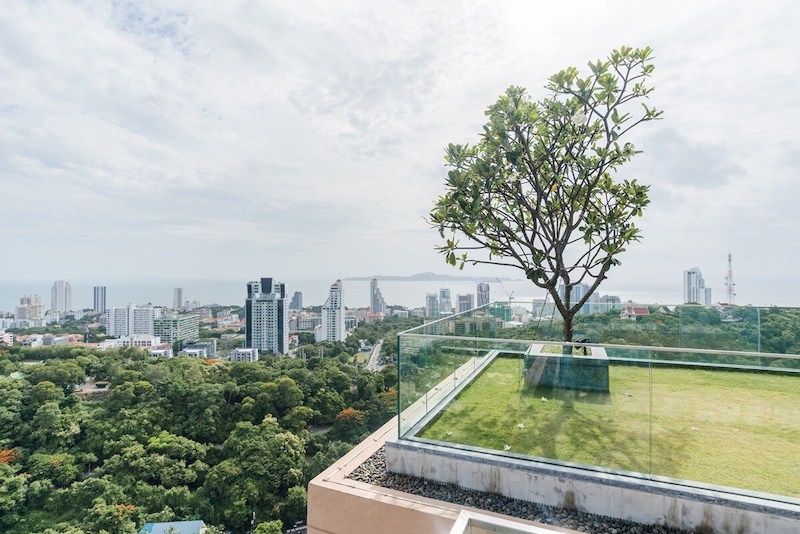 Listing type: Entire condominium
Max. no. of guests: 6
No. of bedrooms: 2
Soak up some vitamin D in this sun-filled, two-bedroom oasis at the foot of Pattaya Viewpoint. Filled with tropical embellishments, this refreshing and inviting Airbnb in Pattaya features huge windows and a balcony overlooking Phra Tamnak Mountain. Guests can also see the condo's rock climbing area and the large swimming pool with water slides. 
A stay in this lovely home includes access to sauna rooms, a swimming pool, a fitness centre, a playground for the kids, and two sky gardens where you can see panoramic views of the Pattaya cityscape. This Airbnb is close to frequently visited spots such as the Wat Khao Phra Bat (a Buddhist temple) and the Krom Luang Chumphon Khet Udomsak Shrine, as well as a variety of restaurants and the EasyKart go-karting race track.
9. This Instagrammable family home with a stunning living room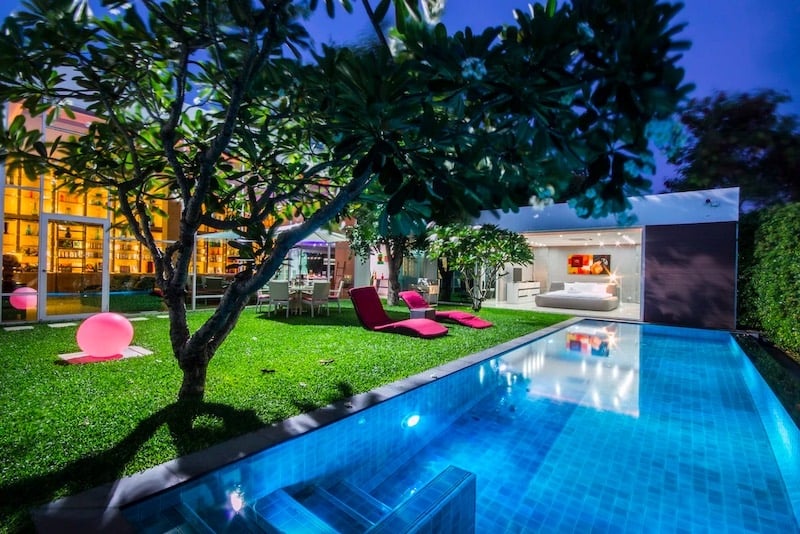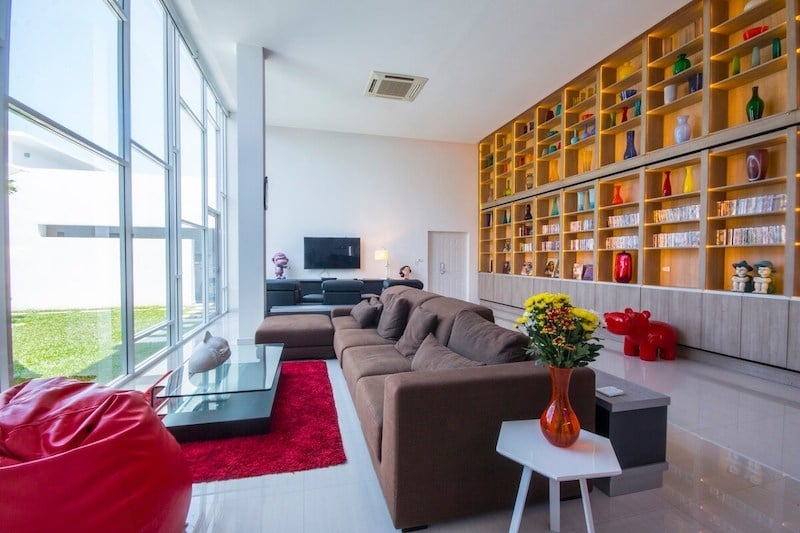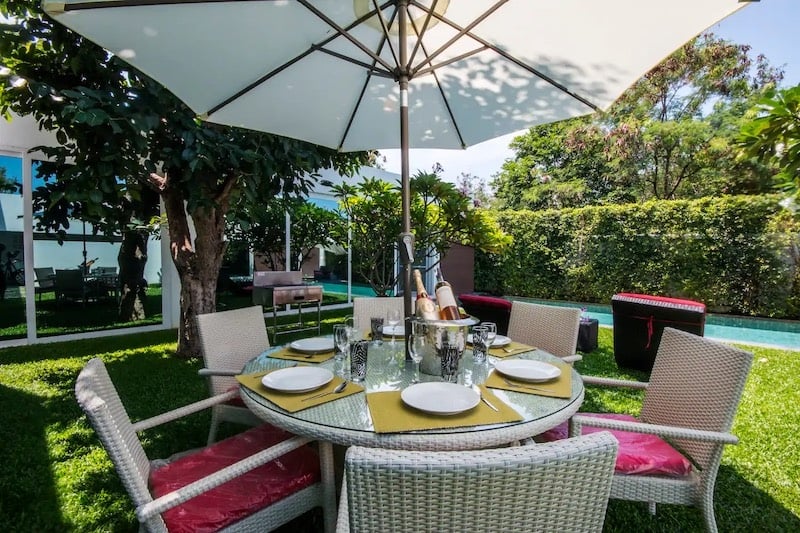 Listing type: Entire villa
Max. no. of guests: 6
No. of bedrooms: 3
It's an art gallery. Nope, it's a house. Well, this modern and classy residence is both! From its gorgeous exteriors befitting a contemporary museum to the eclectic collection of paintings and futuristic sculptures, the entire villa is begging to be photographed. Three of the villa's spacious bedrooms — two of which have access to the sizable swimming pool — can accommodate up to six guests. Meanwhile, the living room is a scene-stealer with its high ceiling, cinema seats, and quirky art pieces.
Chill on the couch facing the pool or bond over a barbecue party with your family on the lawn. While this family-friendly Airbnb provides complete privacy, you'll be surprised that the nearest beach is just 200m away!
10. This tranquil hideaway with a pool and lush garden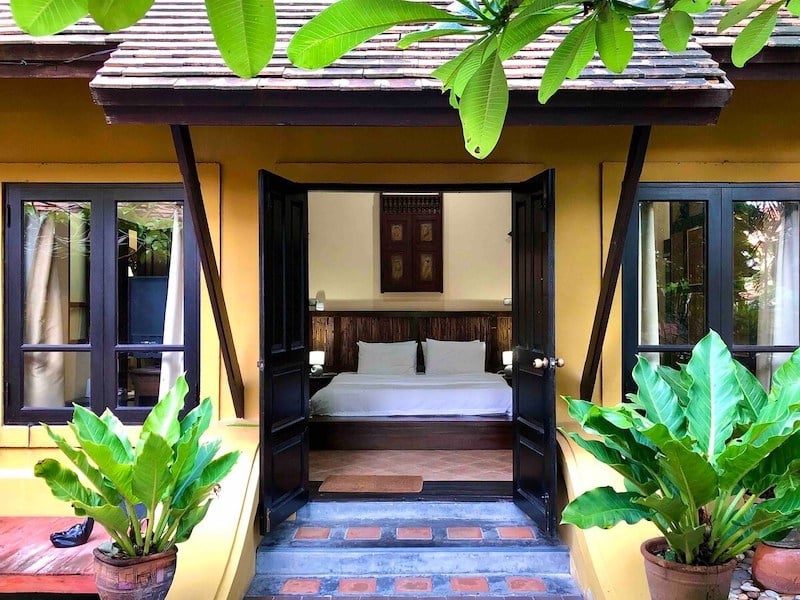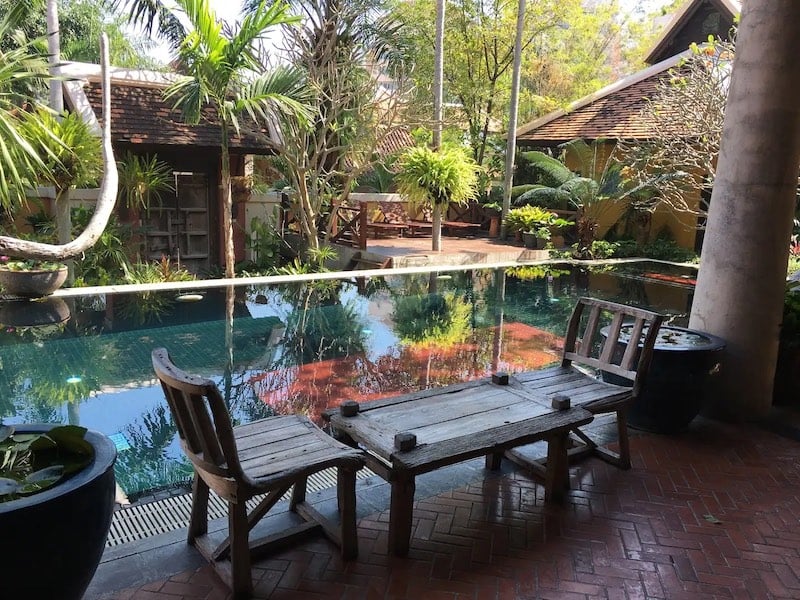 Listing type: Private room in guesthouse
Max. no. of guests: 4
No. of bedrooms: 1
Picture the lively scenes of the city and a tropical paradise. Luckily, you can have the best of both worlds in this traditional Thai bungalow in the Jomtien neighbourhood. This Airbnb in Pattaya stays away from the tourist crowds while remaining close to the beach and the city centre. Moreover, the bungalow itself is situated within a large complex that features lush greenery and a private swimming pool. 
Enjoy a free cup of coffee or tea any time in the garden or bask in the warm sunlight at the sundeck. Be sure to ask for their Thai massage service, which you can enjoy at the sala while surrounded by nature and the sound of birds. Or, you can have the massage in your room, where a comfy king-size bed awaits. It's totally up to you!
Also read: Gorgeous Bangkok Airbnb Apartments That Are Also Budget-Friendly
CHECK ACCOMODATION OPTIONS IN PATTAYA
So, there you have it. We hope this round-up of enchanting Airbnbs in Pattaya will get you even more pumped up for your holiday. Keep this list bookmarked in case you haven't made your choice yet!