We often plan our travel itineraries with goals of famous landmarks to visit, things to do and what food to eat. Yet, we rarely consider planning for an experience when we travel to another country. Sure, the whole vacation is an experience itself but what about being a part of something that only happens once a year — something exclusive to the country itself?
Cue in… Festivals! Not only do you get a closer glimpse at a particular culture's traditions, you'll also be able to forge unforgettable memories with both the locals and your travelling buddies as well.
Whether you are just looking to have a fantastic time and want to let loose in a new and foreign place, or eager to immerse yourself in a whole new culture, plan for your 2018 vacation with our curated list of festivals — it's time to take your next trip to a whole new level!
February: Battle of the Oranges, Italy
When: 8 – 13 February 2018
Where: Ivrea, Piemonte, Italy
Battaglia delle Arance (Battle of the Oranges) is an event that is essential to Storico Carnevale di Ivrea (The Historical Carnival of Ivrea) every year. Before you dismiss this as just another mindless, food wasting event, here is a bit of history behind the festival!
The Historical Carnival of Ivrea is significant because it embodies a sense of tradition and history for the people which has been passed down since Medieval times. It religiously involves the re-enactment of the legend of the city's liberation from brutal tyranny, when a baron who starved the city was successfully driven away by the Miller's daughter who spurred the people to revolt. The Battle of the Oranges is thus, symbolic of the spirit of the rebellion against tyranny.
In the battle, the role of the townsfolk are represented by people with oranges in hand and who don't wear any protective armour. The feudal lord's army, on the other hand, is personified by those who are clad in armour and throwing oranges from horse-drawn carts. Every year, this little city goes through 500,000 kilograms of fresh oranges to re-create their fight and the teams wage a full-on fruit war all for the sake of history and identity. What an interesting festival to witness, don't you think?
March: Holi, India | Pingxi Sky Lantern Festival, Taiwan
When: 1 – 2 March 2018
Where: Various parts of North India
For the most colourful experience that you will ever have, be sure to go to India to celebrate this festival! Known as the "festival of colours" or "festival of love", Holi is the celebration of the Spring festival in India and Nepal. Other than the arrival of Spring, the festival celebrates the victory of good over evil and also marks a period of renewal and rebirth. Hence for many, it is a festival for fun, laughter, peace, forgiveness and also provides an opportunity to repair broken relationships. Holi ultimately is symbolic for starting everything brand new.
The coloured powders were traditionally derived from plants such as turmeric, marigold flowers and dhak but have recently also come to include water-based commercial pigments as well. After the morning's frolics, everyone gathers around to exchange traditional delicacies and sweets as well as indulge in bhang, which is an alcoholic beverage that is commonly consumed during Holi. 
Pingxi Sky Lantern Festival, Taiwan
When: 2 March 2018
Where: Pingxi, Taiwan
Legend has it that the "sky lantern" was invented by Zhu Ge Liang during the era of the Three Kingdoms (AD220-265). At first created to help facilitate in military communication between different beacon towers, it is used today in festivals as vessels of prayer and good wishes. Brought to Taiwan in the early 19th century, people celebrated the Lantern Festival at the start of planting season by releasing "sky lanterns" into the air as prayers for the coming year. They would write their wishes and prayers for blessings on the lantern before releasing them to the heavens.
The Pingxi Sky Lantern Festival sure is a spectacular sight. In addition to marvelling at a night sky set gloriously ablaze with these lanterns, you can also enjoy folk performances, lantern riddle contests and street folk carnivals filled with festive food, fun and cheer! Why not write your own hopes and wishes on your very own lantern and watch it ascend to join the stunning spectacle? Whether or not they come to pass, this night will certainly be one that you will never forget!
April: Songkran, Thailand | Coachella, USA
When: 13 – 15 April 2018
Where: Most popular in Bangkok, Thailand
The Songkran festival is also Thailand's New Year Celebration and the Thai people celebrate the new year with a giant water festival! The word songkran translates to "astrological passage", which denotes transformation or change. Mornings of Songkran are spent doing merit-making where locals visit local temples and offer food to monks, or making offerings for blessings. Water thus, is significant because it represents purity and cleansing, as well as the washing away of bad luck — a clean self for a clean, new beginning!
For the water festival, major streets are closed off, thus creating wide spaces that are turned into temporary arenas for water fights! How can you participate, you ask? Simply grab a bucket and join in! You can even bring in water guns and garden hoses! Don't forget to wear your swimsuit underneath your clothes because you are SURE to get drenched! Oh and do bring a waterproof bag along to store your essentials too! Go on, splash away!
Coachella, USA
When: 13 – 15, 20 – 22 April 2018 
Where: Empire Polo Club in Indio, California, United States
Hear, hear, music lovers, this festival is for you! If you are a big fan of live music, then you would have definitely heard of Coachella. Located in the vast spaces of the Colorado Desert, Coachella is an event festival which features artistes from different genres of music, from pop to indie, rock and even EDM! Fashion is key as well and many come in their best dressed "festival outfits". So fashionistas, get your smashing outfit ready!
One of the largest and most famous music festivals in the United States, Coachella is known for its fantastic music lineup with established music artistes and reunited groups such as Death Cab for Cutie, Coldplay, The Kooks, Sia and The XX. This year's lineup will include Beyonce, The Weeknd and Eminem so get ready for an awesome music fest!
Raring to rave at Coachella this coming 2018? If you haven't settled your accommodations yet, hold up! Check out the latest deal by UOB Cards and Expedia, which offers
up to 50% OFF your hotel bookings worldwide on Expedia
, plus an
additional 10% OFF when you book with UOB Cards
! That gives you plenty of savings to splash out on more drinks or on your ideal festival outfit for Coachella!
Tempted already? Book by 31 March 2019 for stays till 30 June 2019. The most epic music festival in America awaits you!
May: Tulip Festival, Amsterdam
When: 31 March – 30 April 2018
Where: Keukenhof Garden in Lisse, Amsterdam, Netherlands
Amsterdam's annual Tulip Festival is held in Keukenhof Garden, and is easily one of the most beautiful festivals on this list. Located in the small town of Lisse in the South of Amsterdam, get ready to be wowed off your feet as you feast your eyes on vast tulip fields of different colours and varieties!
The Keukenhof Garden also hosts remarkable flower shows, inspirational garden displays as well as other art installations and events. If you can make earlier when the festival just opens, be sure to catch the Flower Parade that will happen on 21 April! There are even activities specially catered for the little ones such as treasure hunts, mazes and even a petting farm! With such fun activities and more than 7 million bulbs which includes over 800 species of tulips expected to bloom in spring, this festival will truly be an un-flora-gettable experience!
June: Haro Wine Festival, Spain
When: 29 June 2018
Where: Haro, Spain
For those who love a good tipple, look out for this festival, because it sure is a huge treat! Every year, on the day of the patron saint San Pedro, wine-lovers assemble at Haro, a town in La Rioja, Spain to have wine drinking competitions and Batalla de Vino — yup, you guessed it, a wine fight!
Get ready to literally soak in the atmosphere of the festivities where crowds of white shirts are stained purple as people attack each other with hoses and buckets of red wine. This annual mega fermented grape juice party is also held to celebrate the many wineries around the area. There will also be concerts in the main square and an abundance of inebriated merrymakers everywhere that spontaneously break into song and have concerts of their own.
July: Comic-Con International: San Diego, USA
When: 19 – 22 July 2018
Where: San Diego, California, United States
This one will surely delight the film and anime enthusiasts for sure! Being the largest event of its kind in the world, Comic-Con International: San Diego is an annual event which brings together celebrities, cosplayers, fans, producers, writers and creators across a plethora of pop culture and entertainment categories.
Events held at this convention include guest star panels which discuss various art forms, different exhibitions and sale of collectors' items, as well as the ability to cosplay characters that you've always wanted to be. Get up close and personal with the celebrities who bring your favourite characters to life! If you like you can even take it a step further and participate in cosplaying which involves dressing up as your chosen character from a beloved series.
From comic brand giants like Marvel Comics and DC Comics to popular entertainment movies such as The Avengers, X-Men and Star Trek, AND television series like Supernatural, Stranger Things and The Big Bang Theory — geek out with like-minded fans as you immerse yourself in a world where all your favourite characters and stars come together!
Comic-Con has grown from just focusing on comics and science fiction or fantasy related material, to other mainstream media and entertainment of all genres, which include video games, manga, toys, animation and even horror! So if you're not into comics, you'll still be thrilled to know that there is something for everyone at the Comic-Con! Children would love to meet their favourite superhero or characters such as the Disney princesses from Frozen, Snow White and Sleeping Beauty! More often than not, cosplayers are extremely friendly and would love to get their photos taken with you, so make sure to bring your camera and extra batteries to capture all these special moments!
August: La Tomatina, Spain
When: 29 August 2018
Where: Buñol, Spain
La Tomatina is an incredibly juicy food fight festival that is held every year in the town of Buñol in Spain. Crowds make their way here to get some action in what is known as the "World's Biggest Food Fight", where more than one hundred metric tons of overripe tomatoes are squished, squashed and obliterated in the streets.
To be one of the lucky 20,000 to get admission to this event, grab your tickets here!
The tomatoes are supplied from Extremadura, where they are much cheaper. When the fight starts, the mass chaos starts and everyone is pelted with tomatoes from every direction. Participants are strongly encouraged to wear protective goggles and gloves — tomatoes must first be crushed before they can be thrown at someone else.
If you're wondering which poor soul gets to clean this terrific mess, the town has its fire brigade to spray down the streets with water from a Roman aqueduct. How awesome is that? People find other ways to clean and wash themselves, with most heading towards the Buñol river for a hose down. To end the event, there is also an after party and drinks when all the excitement and tomato debris are washed away! Ready to be covered from head to toe in tomato?
September: The Braemar Gathering, Scotland
When: 1 September 2018
Where: Princess Royal and Duke of Fife Memorial Park, Braemar, Scotland, United Kingdom
Taking place on every first Saturday of September is The Braemar Gathering which is the annual gathering of the Scottish Highland Games. However, these games are not just your usual track and field or gymnastics! In fact, they are old military exercises that have garnered interest worldwide, since they encapsulate the spirit of the sports culture in Scotland.
From burly, masculine-laden events such as Tug-O-War and Weight Throws which involve weights of up to about 12kg being thrown to dance and music events, the Games give spectators a taste of the unique Scottish sports culture that has developed over the generations.
As mentioned, some Scottish-centric sporting events include hurling logs and weights as a testament of strength that has even become a traditional rite-of-passage event! Although sports is a huge part of the games, dance and music are essential to Scottish culture as well. No Highland Games is complete without a spectacular display of the iconic Scottish bagpipes via a bagpipe competition.
In addition, there are also fiddling and even Celtic singing soundtrack competitions too! What an engaging and exciting way to both learn and immerse yourself in Scottish culture and history. To round up that authentic Scottish experience, how about chowing down on a bowl of piping hot haggis (pudding made of sheep's heart, lung and liver) as you watch the games?
October: Oktoberfest, Munich | Concurs de Castells, Spain
When: 22 September – 7 October 2018
Where: Munich, Germany
Oktoberfest. You've probably heard of it before. But do you know what it's all about? Originating from Germany and significant to Bavarian culture, Oktoberfest is a folk festival or more colloquially termed as 'fairgrounds,' which revolves around mugs and mugs of creamy beer brewed in Munich and other 'funfair' type attractions such as amusement rides, game stalls and of course — a wide assortment of food stalls selling delicious local fare. From Hendl (roast chicken) to Schweinebraten (roast pork), Würstl (German sausage) and Brezen (Classic pretzel), these traditional delicacies will make your mouth water — visitors will definitely be spoilt for choice!
We can't think of a better way to learn more about the German culture than getting to mingle with the locals at Germany's most iconic festival! So, snag yourself a mug of beer and Prost! (aka bottoms up!)
Concurs de Castells, Spain
When: 25 September – 2 October 2018
Where: Tarragona, Spain
If you're looking beyond the usual music and flower festivals, here is an unconventional festival that would definitely knock you off your feet. Also known as the Human Tower Competition, Spain hosts the Concurs de Castells once every two years. Hundreds of participants, known as Castellers gather and climb on each other's shoulders to build a human tower that can go up to…10 stories high! It is no wonder that this event is recognized by UNESCO as a Masterpiece of the Oral and Intangible Heritage of Humanity. Your jaw will drop as you witness the human tower forming before your eyes. This is truly an event like no other, where one can witness the sheer grit, strength, teamwork and determination of the castellers themselves!
You'll find yourself holding your breath as the participants scale and climb over each other, slowly but surely forming the human tower. You'll be gripping on to the edge of your seat as you gape in awe with both excitement and fear. After the event is over, wander around the human tower exhibitions and learn more about the history and culture of this intriguing event. Did you know that the Concurs de Castells is such a significant cultural event of Spain that they even have a human tower school for kids? How novel is that?
November: Day of the Dead, Mexico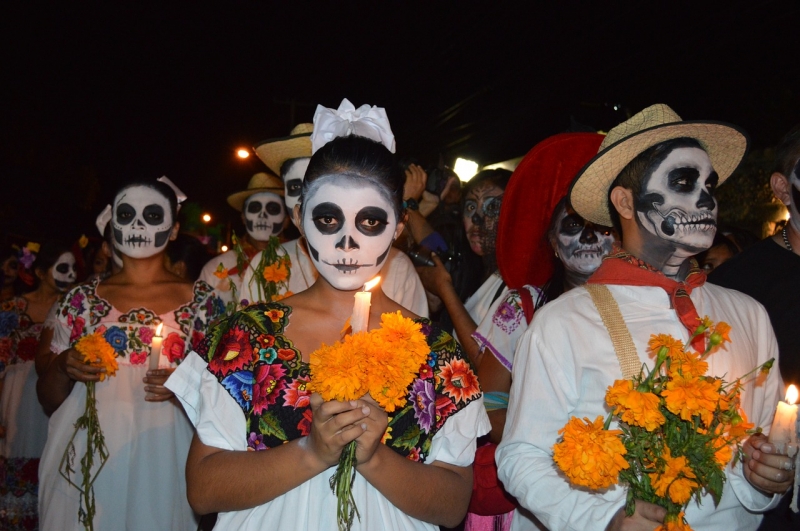 When: 31 October – 2 November 2018
Where: Throughout Mexico
Día de los Muertos or Day of the Dead is a Mexican holiday that is celebrated throughout Mexico and is most popular in the Central and South regions. Being so unique and significant to Mexican culture, this festival was also added to the Representative List of Intangible Cultural Heritage of Humanity by the UNESCO!
During this festival, people concentrate on remembering their deceased family members and friends and perform ceremonies to help them on their spiritual journey. For instance, people build private altars for the dead with offerings of the deceased's favourite food and drink as well as leaving other gifts of photos and trinkets at the altars to honour them. Flowers are also a huge part of the celebration as many bring traditional flowers like marigolds to leave at the altars.
Although one may expect it to be a somber event, the intent is to encourage the souls to come back and pay the living a visit. Hence, celebrations can take a light hearted and humorous tone as celebrants remember the celebrate the lives of their dearly departed.
December: Amsterdam Light Festival
When: Whole month of December (Estimated)
Where: Amsterdam, Netherlands
For a gorgeous light up during the winter months, take to the streets of Amsterdam during its annual Light Festival! Artists, architects and light designers from all over the world gather to create this dazzling light festival, which is filled with light installations and other artworks that come to life at night! As you walk down the cobbled streets and beside the river, marvel at the different themed installations and monumental pieces which are not only interactive but also spark imagination with its beautiful glow.
Apart from the installations, there are also light art, light shows and performances which involve LED related light displays that intersect between art and technology. From playful and innovative light up pieces to colourful holographic light displays — this festival will be without a doubt your most lit night ever!
December – January (2019): Harbin Ice & Snow Festival, China
When: 22 December 2018 – February 2019
Where: Harbin, China
If you're not quite ready to say goodbye to Christmas, winter, and snow, then this festival is definitely the one for you! Happening during the coldest months in Harbin, Harbin International Ice and Snow Sculpture Festival showcases amazing works of art sculpted from ice. Yes, ice from the local Songhua River! The gallery here will make your jaw drop (if your teeth aren't already chattering!) as you take your time to wander through this magnificent, icy wonderland that would put Elsa's castle to shame!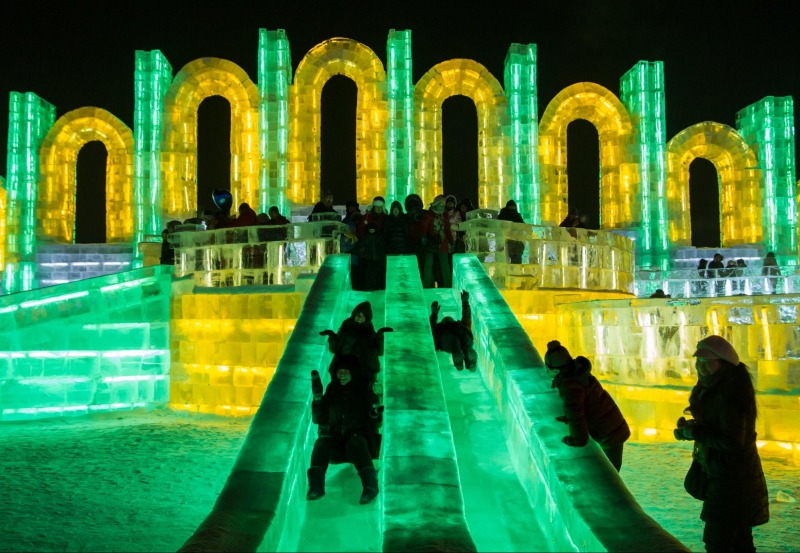 With over a few thousand works spread out over four primary parks and amusement zones, the ice architecture here is both stunning and engaging, with pieces like slippery ice slides which you can slide down! Choose to come at night instead for the stunning light illuminations!  You will get to admire the ice sculptures all lit up and blinking in a vibrant, colourful display! Apart from ice sculptures, there are also a variety of other activities you can try out, such as winter sports like skiing, winter-swimming and even ice lantern park touring! How cool is that?
Ready to go out and have fun? Pick and choose from this list, because 2018 is the time to live it up by checking these festivals off your bucket list! Going to a festival will truly add that oomph to any vacation, so…
BOOK YOUR STAY WITH EXPEDIA & UOB CARDS NOW!
After all festivals aren't just another landmark to sightsee or unique foodstuff to taste — they add dimension to your visit, because you get to blend in with the locals and soak in the atmosphere that is only present during that certain time of the year, in that particular place. Trust us, beyond memories of a fabulous holiday, we are sure that these festival experiences will be etched in your hearts for a lifetime.
Brought to you by UOB Cards.