When Marco Polo visited Hangzhou in his 13th century expedition, he described the city as "beyond dispute the finest and noblest in the world."
Hangzhou showcases the classical Chinese tradition of fusing natural landscape with man-made ornamental structures, creating truly harmonious and breathtaking sights to behold.
Modern travellers looking to recapture the same ancient charm which has inspired countless poets and painters should definitely make a voyage to Hangzhou to soak in the following sights:
1. Sunset Glow Over Leifeng Pagoda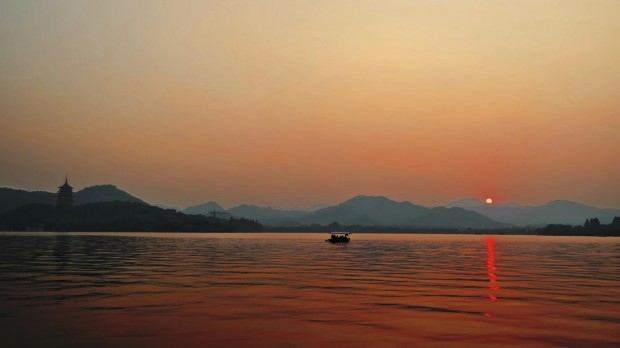 Definitely the best among the classic Ten Scenes of West Lake as compiled by Emperor Qianlong. The vista looks like it came right off a Chinese painting.
Where?
Above pictures are taken from Yongjin Park, but spectacular sunset spots can also be found at Changqiao Park or Xueshi Park.
2. C'hi Revitalization at Guo's Private Garden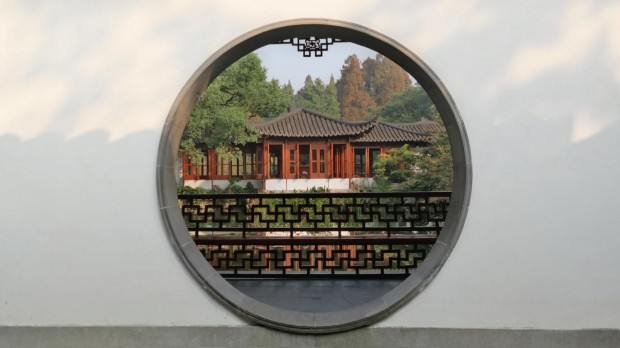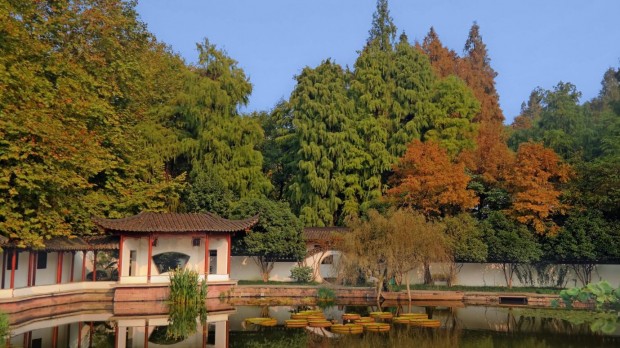 Hangzhou's landscaping aesthetic which is built from Tao ideology has greatly influenced garden designs across China, Japan and Korea. Skilfully juxtaposing yin and yang elements, a quick rest at Guo Zhuang will soothe and invigorate your soul.
Where?
28 Yanggong Causeway on the western shore of West Lake.
3. Seeking Tranquillity at Maojiabu's Dreamy Waterfront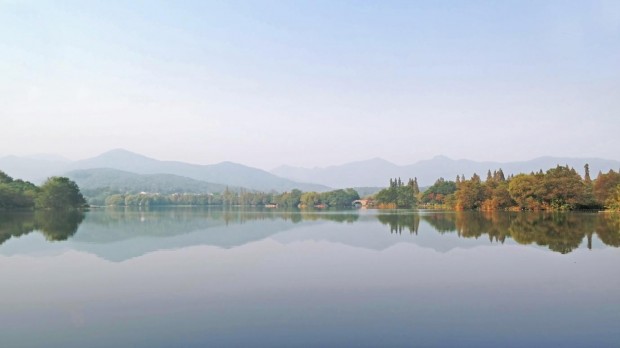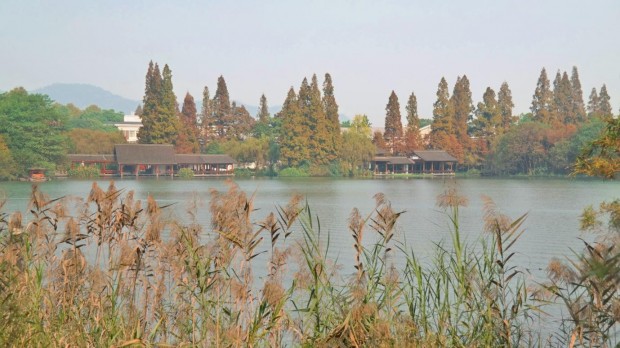 Like most world-class attractions, hordes of tourists and bustling shopping centres have unfortunately robbed West Lake off its serene quality. But the same old rustic charm can still be found at Maojiabu Scenic Area.
Where?
Hangzhou's well-kept secret is just a 5-minute walk from the intersection between Yanggong Causeway and Longjing Road.
Also read: Top 20 Tourist Attractions In China You Must Visit
4. Memories of Imperial China at Qinghefang Ancient Street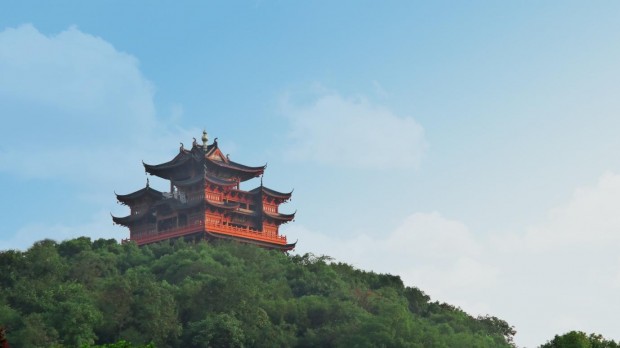 For those travelling to Hangzhou for culinary, shopping and entertainment, Qinghefang offers it all without the modern kitsch. Instead, you get to experience Song Dynasty's cultural atmosphere with folk houses, century-old stores and the iconic City God Pavilion.
Where?
Qinghe Lane, on the eastern shore of West Lake, right at the foot of Wushan Hill.
5. Nine Creeks Meandering Through a Misty Forest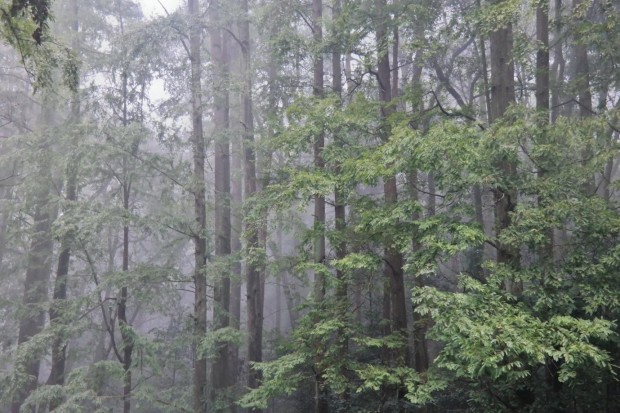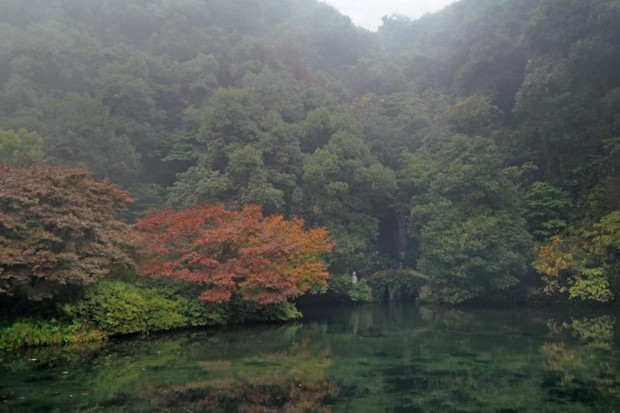 Don't worry about rainy days. They only enhance Hangzhou's romantic quality and double the beauty of the quaint Misty Forest.
Where?
You can start from Longjing Village or enter via Zhijiang Road, but I personally find the trekking down from Longjing Village easier and prettier.
6. Scaling Bamboo Path to Rosy Sunrise in Precious Stone Hill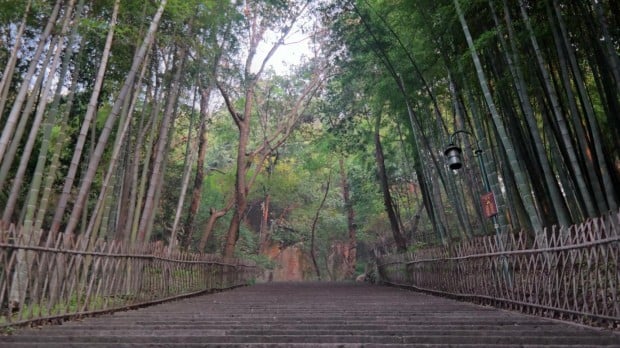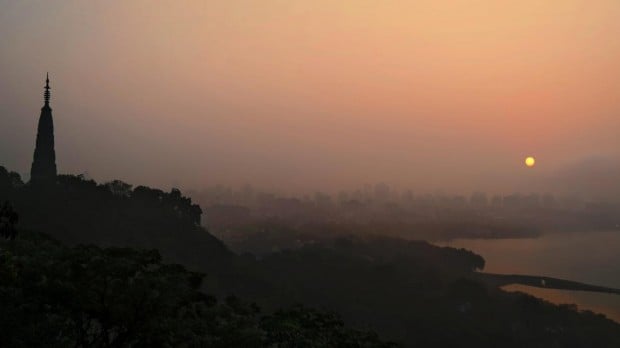 Snooze button be damned, we would willingly wake up and jog here every morning!
Where?
From Baochu Pagoda at the top of Baoshi Hill, head west and go through a narrow walkway made of giant stones, on your left side there's a set of narrow stairs leading you up to the viewpoint.
7. Xihu's Northern Coast Strolling at the Crack of Dawn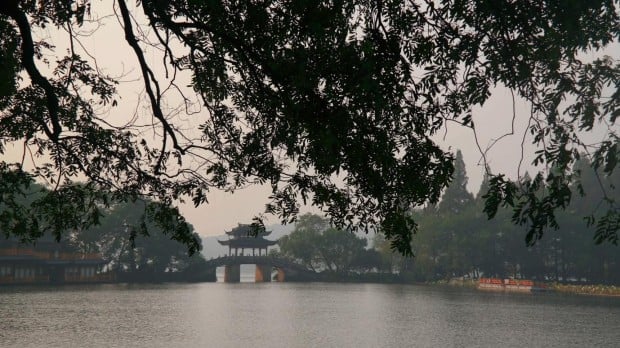 If these gorgeous views are what we get near the end of a chilly autumn, just imagine the sceneries at the peak of spring plum and summer lotus bloom.
Where?
Anywhere in Beishan Road, Su Causeway and Yanggong Causeway.
8. Three Pools Mirroring the Moon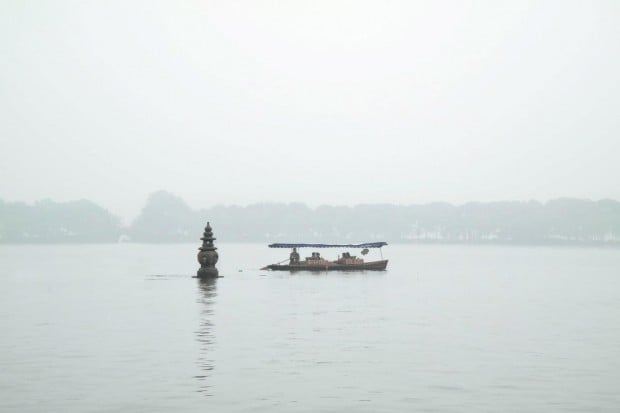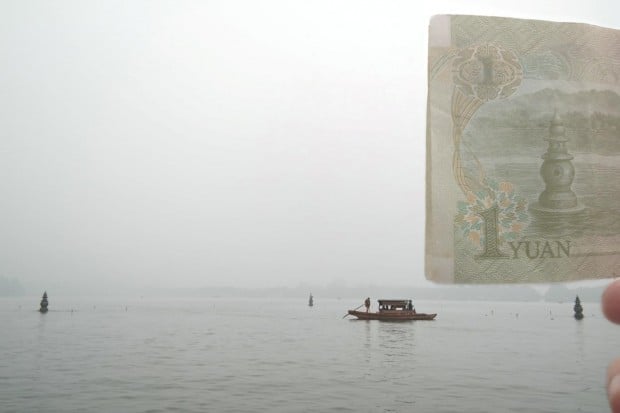 During Mid-Autumn Festival, candles are lit inside the mini-pagodas and full moon casts reflections on the water, hence the name. So famous it's printed on the one yuan bank note, you just can't leave Hangzhou without visiting this place
Where?
Take a boat from one of the many docks to this artificial island. We took from Viewing Fish at Flower Harbour Park Wharf and left via No. 1 Lakeside Park Wharf.
BONUS: Wuzhen, Venice of the East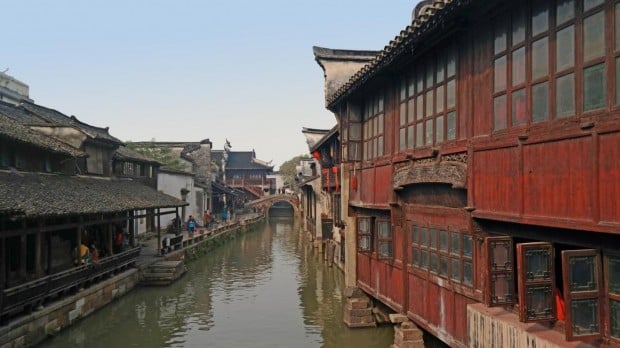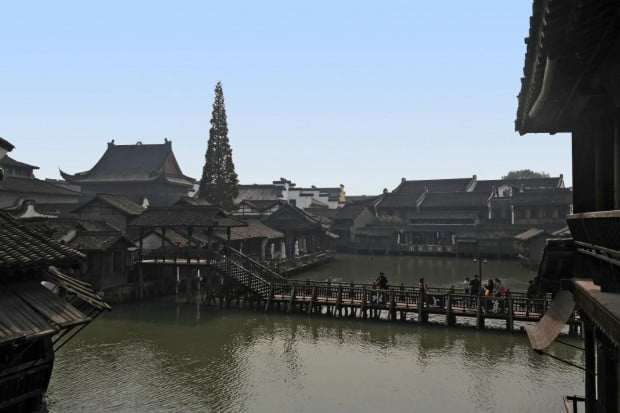 Though technically located outside Hangzhou, sparing a day to visit this archaic water town is easily a highlight which should not be missed on any Hangzhou itinerary.
Where?
Take a train to Tongxiang Station, then bus K282 to Wuzhen Bus Station. From there, you can either walk to the water town or take bus K350.
Also read: 10 Unusual Things You Will Encounter in China
Getting to Hangzhou
Scoot flies to Hangzhou 4x weekly. I had the opportunity to hop onboard ScootBiz and ScootinSilence on their brand new 787 Dreamliner.
ScootBiz is pretty good. While some may say that it's really just a Full Service Economy, I beg to differ. The spacious 38″ legroom with adjustable leg rest and in-seat power is more generous than any economy flight.
I mean, look at all that space!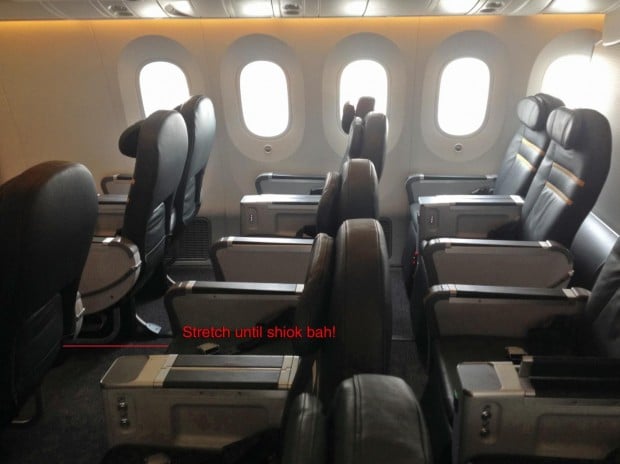 Plus, ScootBiz passengers receive priority check-in and boarding, so we got to beat the crowds! There's also 30kg check-in baggage and up to 2 cabin bags (total <15kg), which we didn't fully utilise, but would come in handy for avid shoppers.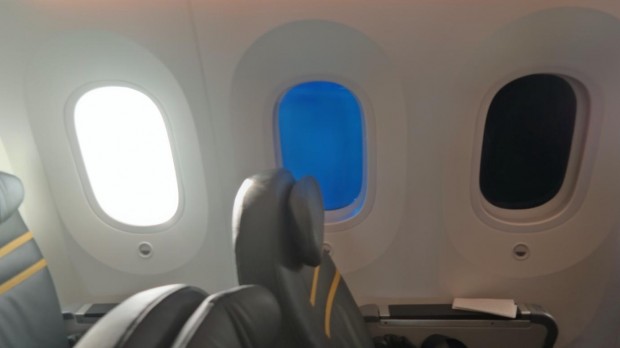 We also love 787's new window, which is #50ShadesofAwesomeness. I couldn't stop adjusting the shades like a child (haha) but we settled with the blueish one in the end because it gave us the beautiful sceneries without the glaring sun.
The Premium Meal (Sweet & Sour Fish Fried Rice) was satisfyingly warm, but it was the nice touch of Häagen-Dazs and free alcohol (we had Wolf Blass Cabernet & Chardonnay) that won us over! The salad was surprisingly crunchy and sweet, which means a lot coming from a certified carnivore like myself.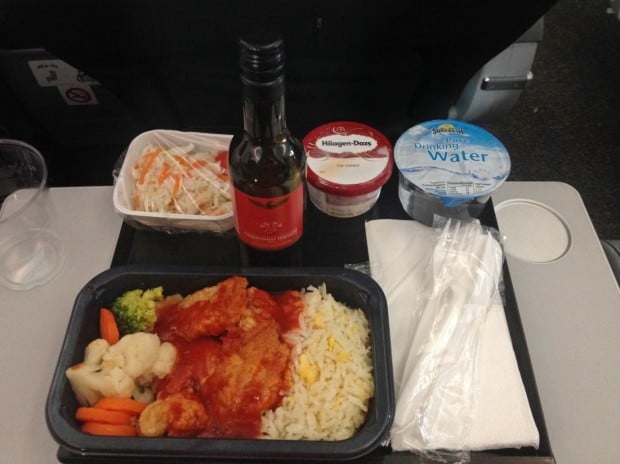 ScootinSilence, which are special rows catered to those who'd like a peaceful flight, is awesome. First of all, the under-12s are not allowed here, which means no crying babies and noisy children – that's like the secret #1 wish everyone has, but is too afraid to say. So Kudos to Scoot for having the #Scootitude!
I was initially quite worried because I'd arrive in Singapore around 5am and had to go to work that morning, but I had undisturbed beauty sleep and woke up feeling fresh! The comfortable headrest and wider 35″ legroom helped too. Just see how far my leg could stretch and how ready I was to start the day!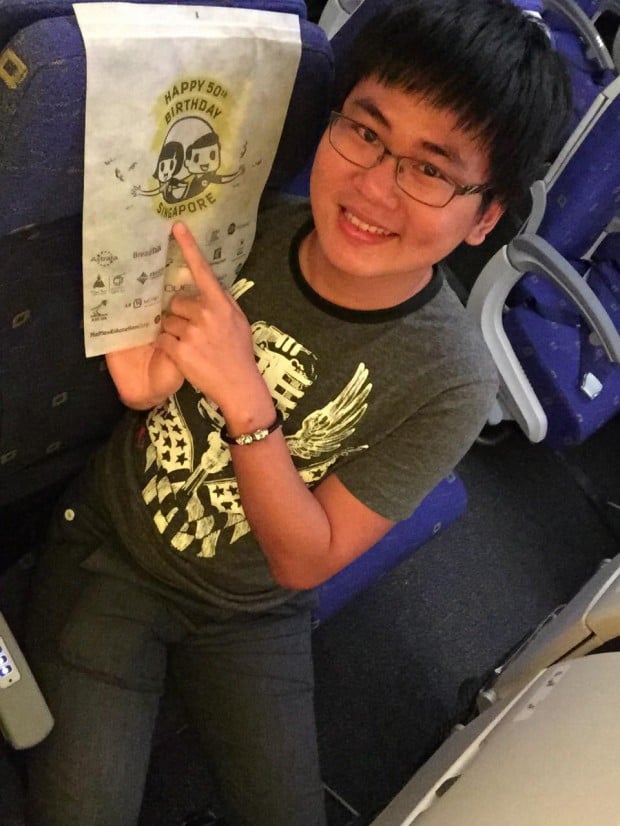 The Standard Meal (Braised Chicken Rice with Toblerone and Coke) was typical airplane frozen food standard; it was heated up well but even then, the rice was not fully softened. My travel companion had Beef Casserole which was just okay too. If you like to indulge, I'd say the S$4.99 difference for Premium Meal is a good bargain.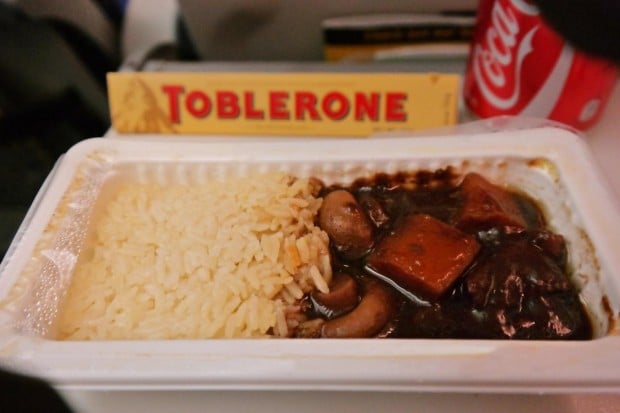 Final Verdict
For a reasonable S$14 extra, I heartily recommend ScootinSilence. ScootBiz is of good value when you have long-haul flights, and even more so when it's on promo. Overall, I had a pleasant experience and I'll definitely fly with Scoot again.
I extend my deepest thanks to Scoot for making this trip possible. I received two complimentary return flight tickets with meals from Scoot. All opinions in this article are my own.