Just across the Causeway Shoal in Johor Bahru lies a whimsical little street. Home to a myriad of delectable food options and numerous quaint boutiques, Jalan Dhoby is littered with hidden gems. Furthermore, it is just a 10-minute walk from the Malaysian customs! Despite being only 300 metres long, Jalan Dhoby is truly nothing short of extraordinary.
Have we piqued your interest? Let us tell you more about why this special Malaysian street deserves to be on your next JB itinerary!
1. It has a quirky café with yummylicious food.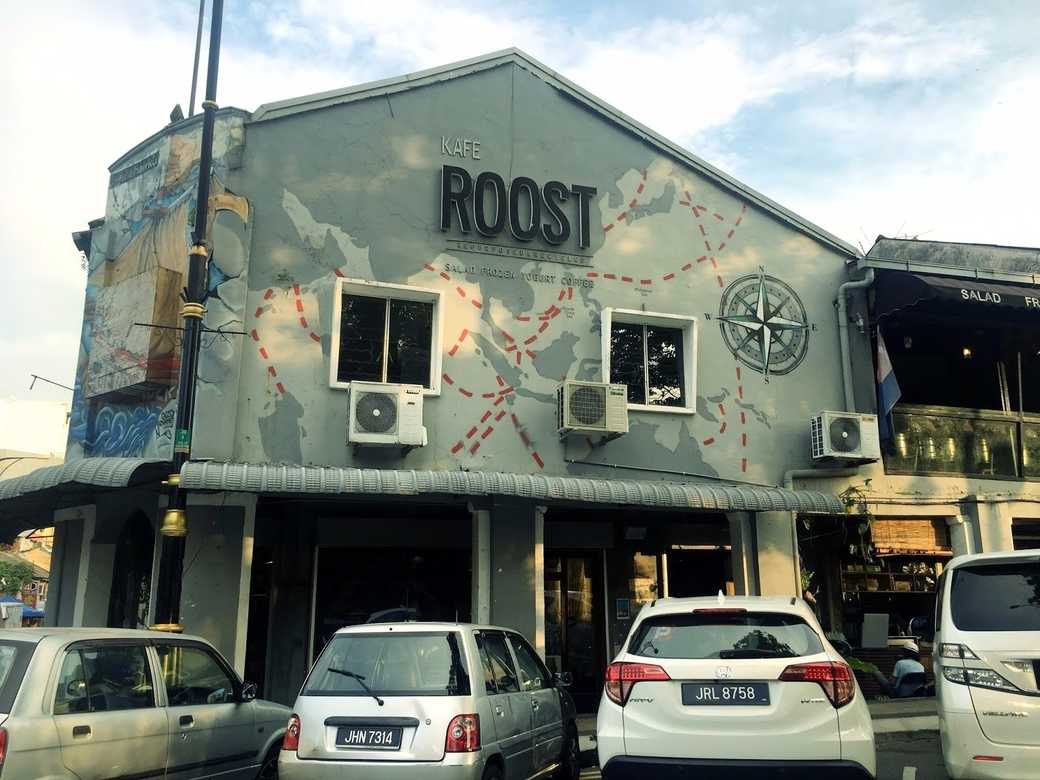 It's hard to miss Café Roost's prominence. Located at the junction between Jalan Trus and Jalan Dhoby, its massive sign and nautical motif mark the entrance to Jalan Dhoby itself.
Underlying the café's seemingly chaotic interior is a mission to repurpose and recycle. From oil barrels to cupboard, one can find furniture made from a variety of recyclable and environmentally materials. With such an thought-provoking theme, this café is like no other!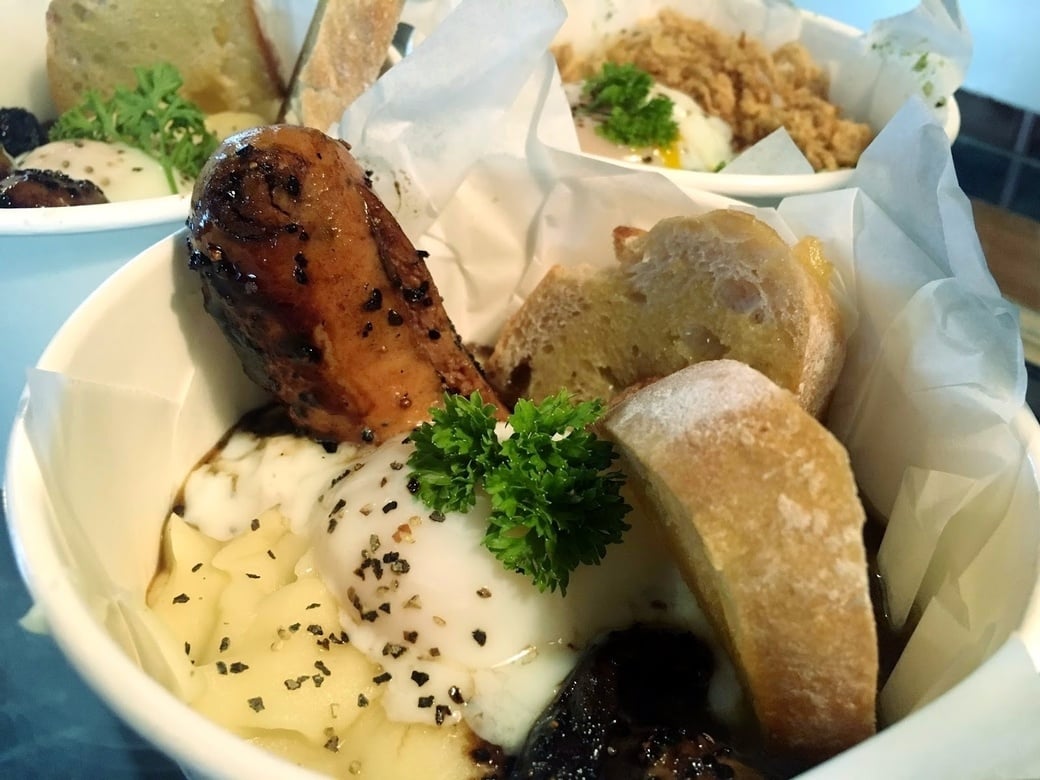 We don't know about you, but we've definitely not heard of a Mashed Potato Sausage Bowl before! This bowl of goodness contains an onsen egg, mushroom sauce, chicken sausage and sourdough – all of which sit nicely on a smooth creamy mashed potato base (yum yum)!
If you are a foodie just like us, you will surely love this delightful bowl of hearty mixture! Make sure you check this out when you visit Jalan Dhoby!
Address: 9 Jalan Dhoby, Johor Bahru 80000
Opening Hours: 10am – 12am
2. It has an indoor garden that serves exceptional cakes.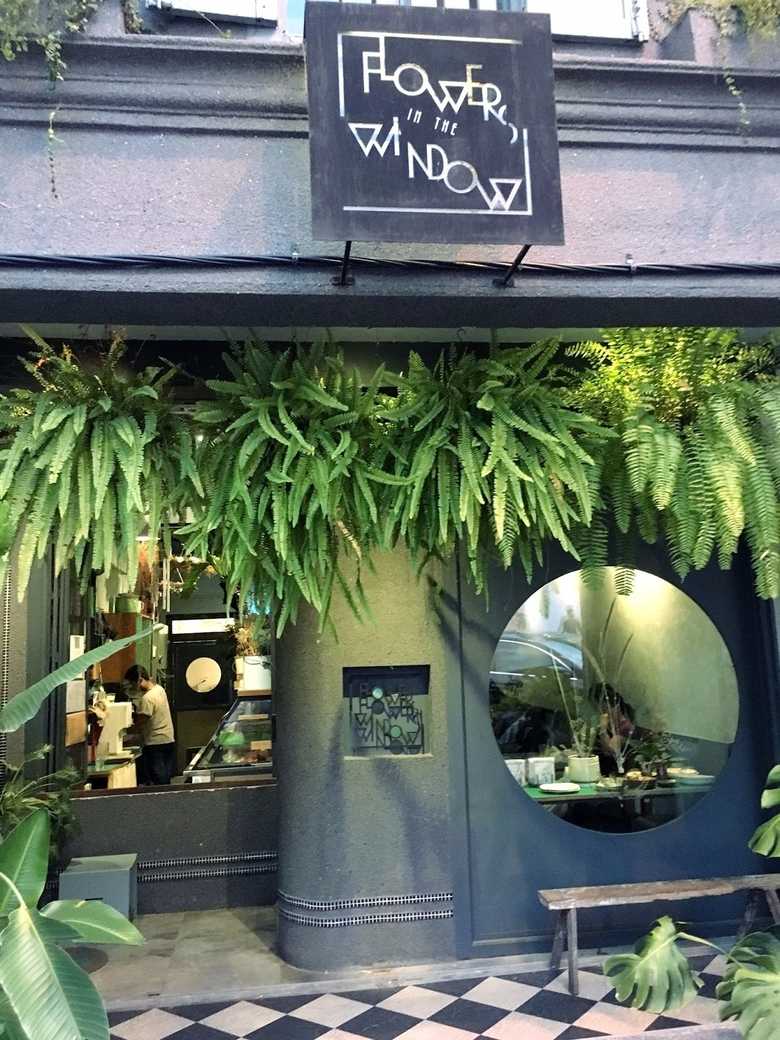 We've all had lofty dreams of enjoying a romantic afternoon tea in a lovely little garden with the best cakes and teas. Yet, the hot and humid weather in our hemisphere often dashes all our hopes. Fortunately, right here in Jalan Dhoby, there is a café that resurrects those dreams.
With potted plants and beautiful flowers hanging both inside and outside the coffeehouse, Flowers in the Window is, quite literally, a garden in itself!  
Plus, the garden theme of Flowers in the Window is also encapsulated by their beautifully plated cakes! Serving mouthwatering cakes with the most unique flavours, cake-lovers will simply adore this place. This is the perfect place for a tranquil afternoon to sit back, relax and do nothing at all. Indeed, this café belongs in an entire league of its own!
Address: 8 Jalan Dhoby, Johor Bahru 80000
Opening Hours: 10am – 9pm
3. There's also a Bed & Breakfast with the most gorgeous decor.
Situated across the street from Flowers in the Window is the boutique lodge cum café – The Replacement Lodge & Kitchen. With minimalistic decor and white washed walls, the hipster establishment exudes a relaxing and homely atmosphere. This is the place to take those 'grammable photos!
Its lodge consists of six rooms which are designed with Nordic elements. Although the design of each room differs, they are all decorated with the aim to provide an aesthetically pleasing and calming environment for patrons. In addition, room booking also comes with breakfast for two at its café. We really cannot think of a more perfect place to stay when visiting JB!
The Replacement Lodge and Kitchen is also renowned for its modern fusion European dishes. Dishes are also creatively made and named, with each having its own unique identity. Even if you aren't staying here at the 'Lodge', do check out the 'Kitchen' at The Replacement!
Address: 33-34 Jalan Dhoby, 800000 Johor Bahru
Opening Hours: 10am – 7pm (Monday to Sunday); 7pm – 12am (Friday to Sunday)
4. This street also has a hipster shop selling trendy goods.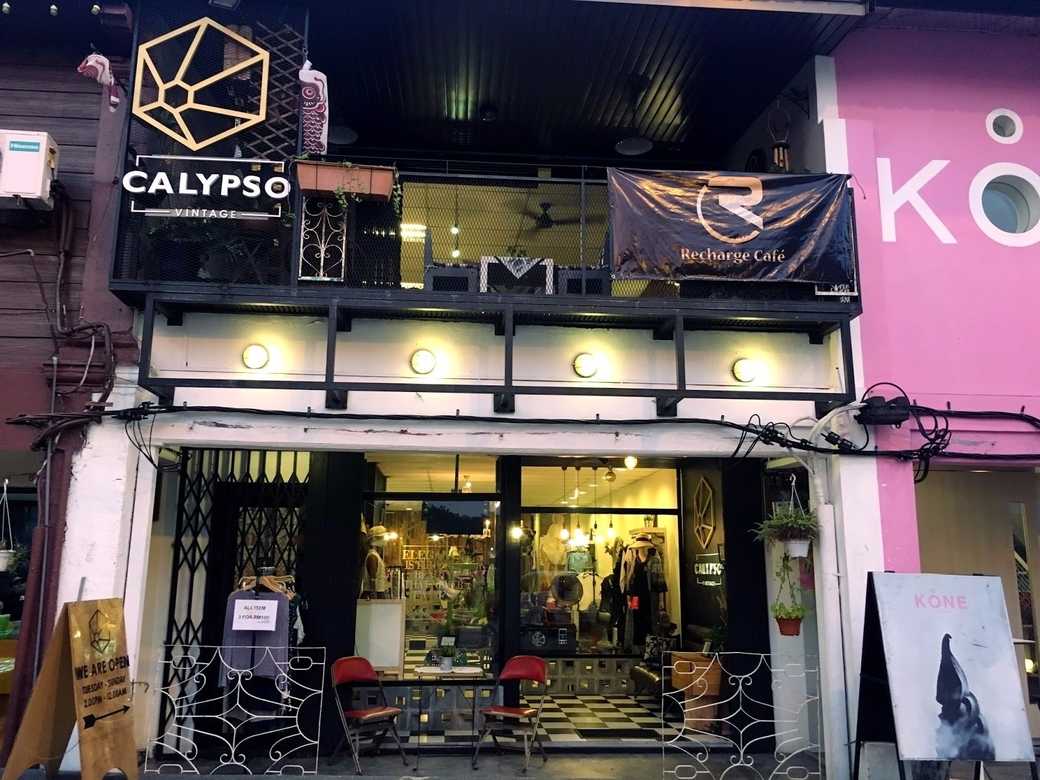 Fashionistas rejoice! Apart from all the gastronomical goodies, Jalan Dhoby is also home to Calypso Vintage, a curious boutique that sells a plethora of fashion items.
Most recently, it has also jumped onto the café bandwagon and opened one in its second storey. This allows shoppers to take a break and rest their tired feet after all that shopping… so that they can go for a second round!
Despite its name, Calypso Vintage sells both vintage and trendy goods. From tote bags to outfits, one will be sure to find something intriguing here. So ditch the big-name-high-street brand and go for this cooler, lesser-known label! These artisanal products will be sure to set your fashion statement apart from everyone else!
Address: 29 Jalan Dhoby, 800000 Johor Bahru
Opening Hours: 2pm – 12am (Monday to Friday); 1pm – 12am (Saturday); 3pm – 12am (Sunday)
5. The best ice cream in town is here.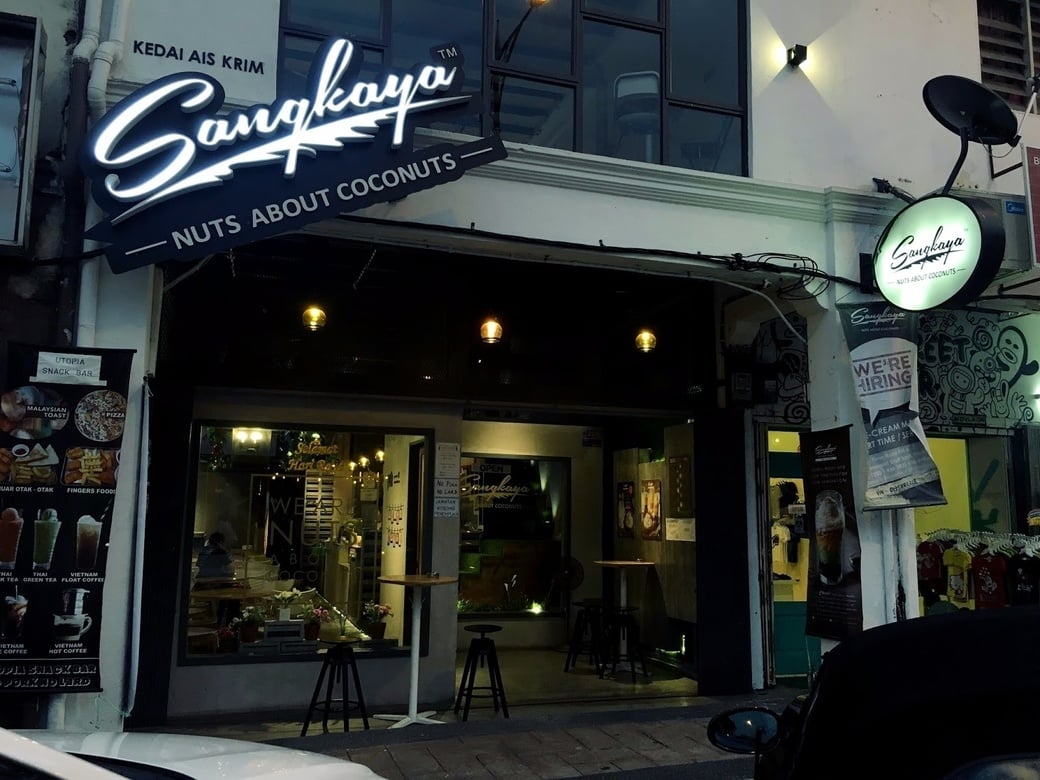 From an ice cream push cart to having an actual shop front, Sangkaya has come a very long way to be here in Jalan Dhoby. As its slogan "nuts about coconuts" suggests, Sangkaya is a local based coconut creamery that uses coconut milk as the foundation ingredient in all their ice cream. It is also one of the most popular ice cream shops in Malaysia, as evidenced by its 15 outlets all over the country!
Not only does it serve fantastic ice cream flavours (hint: the Gula Melaka is simply out of this world!), Sangkaya also presents its serving in an unusual manner – in a half coconut shell. This means that after you finish your ice cream, you also get to savour on the meat of an actual coconut!
At Sangkaya, much effort is really placed on continuous innovation so that customers will always get to enjoy a breath of novelty!
Address: 14 Jalan Dhoby, 800000 Johor Bahru
Opening Hours: 12pm – 11 pm (Monday to Thursday, & Sunday; 12pm – 12am (Saturday)
6. Not to mention the best Chicken Chop too!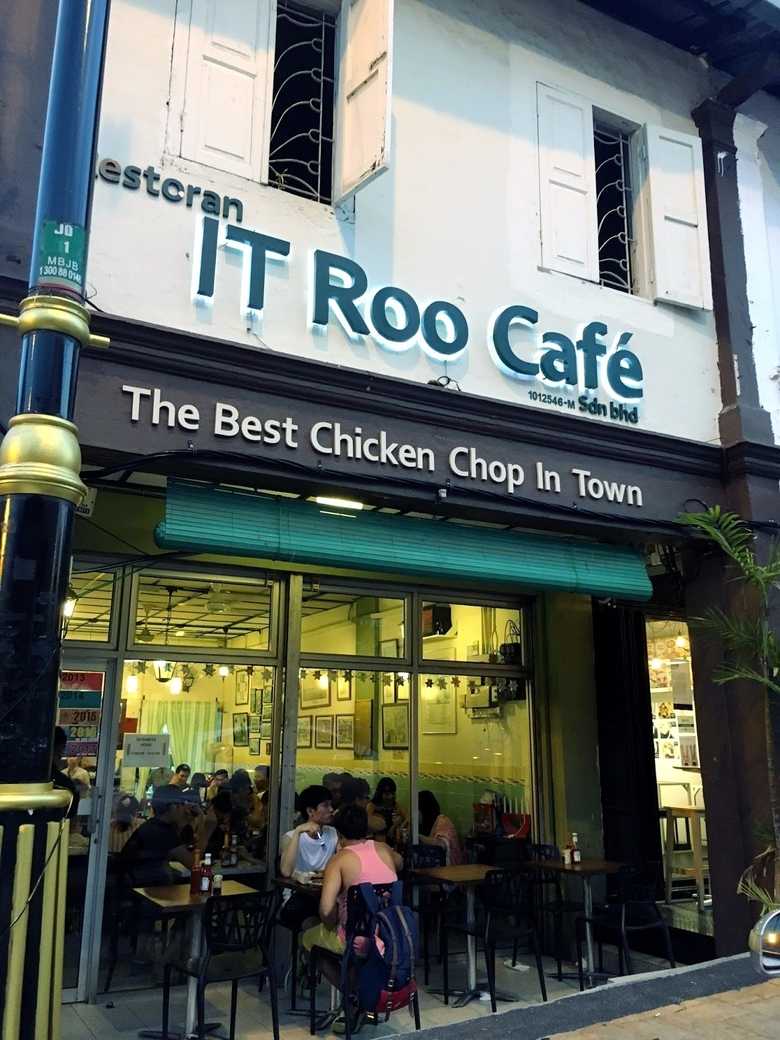 Unlike all the hipster cafés and trendy shops along Jalan Dhoby, IT Roo Café looks more like an old coffeeshop. Its exterior screams simplicity and the eatery is as modest as it can get. The only decor inside are framed black and white photos or yellow newspaper clippings. Talk about traditional!
Yet, beneath that unassuming surface, IT Roo Café boasts of the BEST chicken chop in town. It's not made up – they were really awarded "Best Chicken Chop in Malaysia" by a local newspaper in 2003!
Even after over a decade, IT Roo Café's Deep Fried Chicken Chop doesn't fail to impress! The juicy and thick chicken thigh, coupled with a thick mushroom sauce, will send you into a deep food coma immediately after you polish off your plate. Experience it for yourself on your next trip to JB!
Address: 17 Jalan Dhoby, 800000 Johor Bahru
Opening Hours: 10am – 9.30pm
7. Malaysia's first ever cereal bar is right here too!
Mind you, it's CEREAL bar, not serial bar! Yes, you heard right! Right at the end of Jalan Dhoby towards Jalan Duke is Let's Get Cereal, an eatery that's dedicated to cereals!
With over 20 types of cereal from all over the world, this place will be sure to unleash the inner child in you. There's Cheerios, Reese's Puffs, Honey Stars, Fruity Pebbles and Coco Crunch – hands up if all of these were your childhood favourites!
Enjoy the thrill of putting together your very own cereal bowl, with as many toppings as you want! We promise not to tell your mum even if you decide to add ice cream and chocolate drizzle over your cereal mix. This wacky shop is not to be missed, for these colourful and nostalgic munchies will surely bring a smile to your face.
Address: 19 Jalan Dhoby, 800000 Johor Bahru
Opening Hours: 9am – 10pm
And there you have it, these amazing establishments are precisely the reasons why Jalan Dhoby should be on your next JB itinerary! There's just so much to eat, see and do, a day may even be insufficient to fully experience the wonders of this fascinating street. So wait no more and hop over to Jalan Dhoby on your next weekend getaway!