It's no secret that the Philippines has many different destinations that cater to pretty much all kinds of travellers! The usual go-tos are white sand beaches, heritage sites from the Spanish Era, and sky-high mountains. And while these are exciting in their own way, you might be wondering if there's more beyond the usual tourist spots in the Philippines. Well, to be upfront — yes, there definitely is! 
Whether you're a first-time tourist or a born-and-raised local, we've rounded up some of the best underrated things to do in the Philippines. Some you might have vaguely heard of, while others you probably didn't know until now! We also made sure that this covers all three island groups: Luzon, Visayas, and Mindanao. So, shall we get started?
Also read: 17 Things Foreigners Shouldn't Do in the Philippines!
1. Rent a private island in the middle of a lake
Private islands are often a financially daunting idea for many, but wait — hear us out. Did you know that you can rent one (with a house, of course) for just ~US$100 a night? Sundang Island is a small, secluded isle in the middle of Lumot Mahipon Lake (otherwise called Sierra Lake). You can find this in the town of Cavinti, Laguna, which is about a three-hour drive from Metro Manila. 
2. Wade in fascinating swimming holes
No need to go all the way to Mexico to experience swimming in a cenote. By definition, cenotes are deep sinkholes in limestone with a pool at the bottom. In the Philippines, you can find a similar one in the town of Anda: the Cabagnow Cave Pool. Doesn't it look a lot like the ones in the Yucatán Peninsula? Definitely one of the best underrated things to do in Bohol! 
There's also one in Siargao Island. This tourist spot in the Philippines is obviously better known for surf spots and clear lagoons. But believe us, the Tayangban Cave Pool is also worth a visit! The water is mostly shallow, so swimming there is definitely a lot easier. 
3. Go on a wildlife safari
While animal sanctuaries are quite common around Palawan, Calauit Safari Park in Busuanga stands out for its residents that aren't really native to the Philippines. We're talking about African animals, such as giraffes, zebras, elands, and gazelles! These foreign critters live alongside endemic species like the Calamian deer, Palawan peacock-pheasant, and the Palawan bearcat. 
Also read: 16 Stunning Places in the Philippines That Look Like Foreign Destinations
4. Spend the night at the ledge of a cliff
Live on the edge — literally! — at the Kiokong White Rock Wall in Quezon, Bukidnon. After rock-climbing, you can camp inside an opening on the cliff that's 400 feet above the ground! And instead of a tent, you'll have a rope attached to keep you safe. (We can already hear most of you thinking, welp!)
For the adrenaline junkie, this tourist spot in the Philippines is definitely a must-visit! The view when you wake up in the morning is every bit breathtaking — making that über-extreme climb worth it. 
5. See real-life mummies!
Did you know that there's an indigenous tribe in the Philippines that practised mummification since pre-colonial times? Up in the mountain town of Kabayan, Benguet, you'll find man-made burial caves made by the Ibaloi tribe. The most famous of these is the Timbac Caves: a tourist spot in the Philippines known for the Kabayan Mummies. 
Up to this day, locals still pay respects to these mummies with food offerings! This is part of a centuries-old tradition that ensures the dead are having a good, comfy time in the afterlife.
Also read: 13 Notable Sites in the Philippines Every History Buff Must Visit
6. Shop around a floating market
When it comes to Southeast Asian floating markets, it's countries like Thailand, Indonesia, and Vietnam that often come to mind. But there's also one in Tawi-Tawi — A.K.A. the southernmost province of the Philippines! Head over to the sword-shaped island of Sitangkai, where a wide canal serves as a main gateway to the municipality. 
As you go further, you'll see a floating market where you'll find an abundance of dried seaweed, freshly caught fish, and even rare fruits! There are also fewer crowds, compared to its foreign counterparts, so this is definitely one of the best-underrated things to do in Mindanao. 
7. Visit the other 'Chocolate Hills'
Many a traveller would know that the Chocolate Hills in Carmen is one of the top things to do in Bohol. But did you know that you can find similar ones in Albay and in Coron, Palawan that are just as picturesque?
The former is called Quitinday Hills, or the 'Pili Nut Hills' — as pili nuts are one of the top produce in the Bicol Region. Situated in the town of Camalig, what makes this spot even lovelier is the view of the famous Mayon Volcano on the horizon. 
Meanwhile, in Coron, you'll find many mini-Chocolate Hills lookalikes (like the photo above). If you want a more panoramic view, we recommend hiking up Mount Tapyas, where you'll see some hilly islands along Coron Bay. 
8. Sleep inside a treehouse
From beach glamping to farm resorts, such notable accommodations have become fast-rising tourist spots in the Philippines. But how about an actual treehouse? For sure, most of us found these fascinating, especially when we were kids. (Personally, I credit my treehouse obsession to Barney & Friends!)
If you know where to look, there's actually a handful of treehouse accommodations scattered around the country. But for now, let's limit it to our top three picks! Up north in Baguio — A.K.A. the 'City of Pines' — there's a cool glass treehouse in the middle of the forest. 
Meanwhile, in the beach town of Calatagan, Batangas, there are treehouses styled like native nipa huts. And then there are the hanging nest-like baskets in Busuanga, Palawan, which make for awesome napping spots! 
Also read: 10 Airbnbs in the Philippines That Will Make You Fall in Love
9. Have a photo op and pretend you're in Bali
There's a reason why Villa Jovita in Agoncillo is dubbed as the 'Bali of Batangas.' This home-turned-resort has its very own Bali Corner, where you can probably spend half the day snapping IG-worthy photos. It features lookalikes of famous attractions from the Bali Swing theme park: a giant swing facing the rice paddies, hanging nest-like pods, and a human-sized flat nest.  
10. Zipline over six waterfalls!
You read that right — six waterfalls! The 7 Falls Zipline in Lake Sebu offers a bird's eye view of the town's majestic waterfalls. Though there are really seven, as the name suggests, only six of these can be seen from up top! Enjoy the adrenaline rush as you swing through the jungle à la Tarzan. Clearly, this one of the best things to do in Mindanao. And if you could only try one zipline in the Philippines, then you should definitely choose this! 
11. Pray (or meditate) inside a cave
A limestone cave is not exactly a rare tourist spot in the Philippines. But one with an actual chapel inside? Now that's more interesting! Whether or not you're the religious type, the Callao Cave in Peñablanca, Cagayan is a sight to behold. It has seven chambers, and the first one was turned into a chapel by locals, what with its cathedral-like dimensions. But first, you need to climb 184 steps to get inside the cave! 
12. Bike around the city (without worrying for your life!)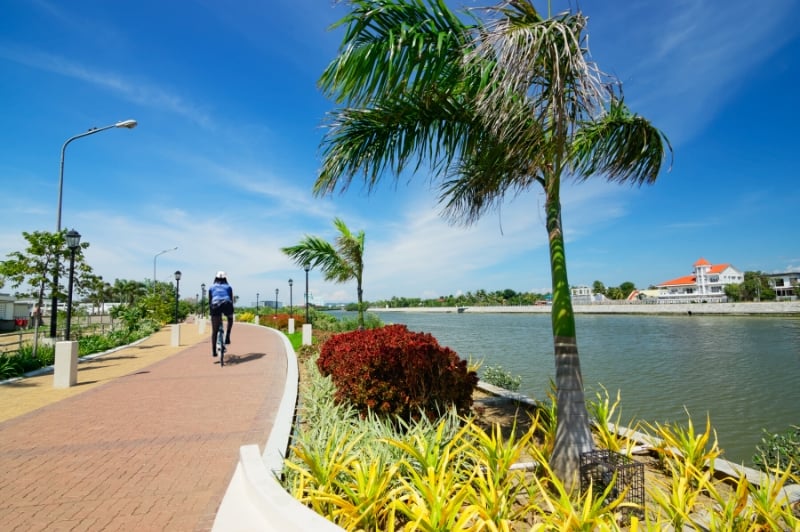 Ask anyone who's lived in the Philippines long enough, and they'll probably tell you that it's not exactly the most bike-friendly place. This is especially true in metropolises — with the exception of Iloilo City! Apart from heritage churches and mansions, it also boasts several protected and elevated bike lanes in different parts of the city. 
Though, if you had to pick just one, we recommend the seven-kilometre lane along Sen. Benigno Aquino Jr. Boulevard. It runs from the Jaro District all the way to the Iloilo Esplanade. Best to do this late in the afternoon, so that by sunset, you can unwind and stroll along the banks of the Iloilo River! 
13. Stay in a Hobbit House
Calling all Lord of The Rings fans! You can fulfill your dream of seeing a real-life Hobbit House… without going all the way to New Zealand. El Patio Razon in Tanay, Rizal — about an hour drive from Metro Manila — has its own adorable rendition. And unlike the OG one in NZ, you can actually rent this overnight. While you're there, don't forget to have a second breakfast! (Why? Because Peregrin Took said so.) 
14. Go paragliding!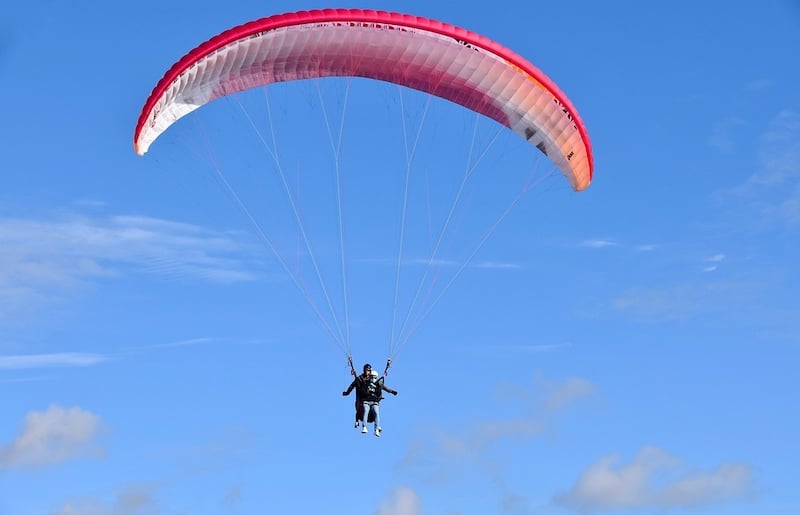 When it comes to adrenaline-filled things to do in the Philippines, the common picks are surfing, ziplining, and rock-climbing. But guess what — you can also try paragliding! (Just don't expect to crash-land on a Captain Ri lookalike…) 
Head over to Carmona, Cavite between November and April, for optimal wind conditions. This paragliding site was founded in 2009, when paragliding enthusiasts observed the prevalence of northeast winds coming from Laguna Lake nearby. Each paraglider is assigned a professional tandem pilot, who will be maneuvering the aircraft all throughout. 
15. Get up close and personal with a giant crocodile
And not just any giant crocodile, mind you, but the world's biggest crocodile in captivity! At the National Museum of Natural History, you'll find the taxidermied body of Lolong: a saltwater crocodile who was captured in a creek in Agusan del Sur back in 2011. 
He was estimated to be at least 50 years old and over 20 feet long! He was then certified by the Guinness Book of World Records in 2012. Oh, and in case you were wondering — Lolong was named after a veteran crocodile hunter who led the search for this dangerous fella! 
Also read: A First-Timer's Guide to Travelling the Philippines + Local Tips!
Suffice to say, there's never a shortage of new, fun things to do in the Philippines! You'd know this to be quite true, especially if you're a frequent tourist or a full-fledged local. That said, have you tried any of these underrated activities already? We'd love to hear all about it!