If you're wondering why people visit Cancun, then you're probably missing out on one of the best sides of Mexico. We're talking gorgeous beaches, year-round sunshine, stunning resorts, and vibrant nightlife! Located on the northeastern coast of the Yucatán Peninsula, this beach-goer paradise is also known for its ancient ruins and nature reserves. Whether you're going there for spring break holidays or summer vacation with your loved ones, there will always be something for everyone. And finding the best Cancun Airbnb is the first step to getting the best Mexican holiday in the city.

Read on to learn more about the top stunning Airbnbs in Cancun that will elevate your stay in this coastal destination.
Also read: 12 Best Airbnbs in Cabo San Lucas for Your Next Mexican Holiday
Splendid Cancun Airbnb homes to add to your bucket list
1. This gorgeous penthouse blessed with an airy rooftop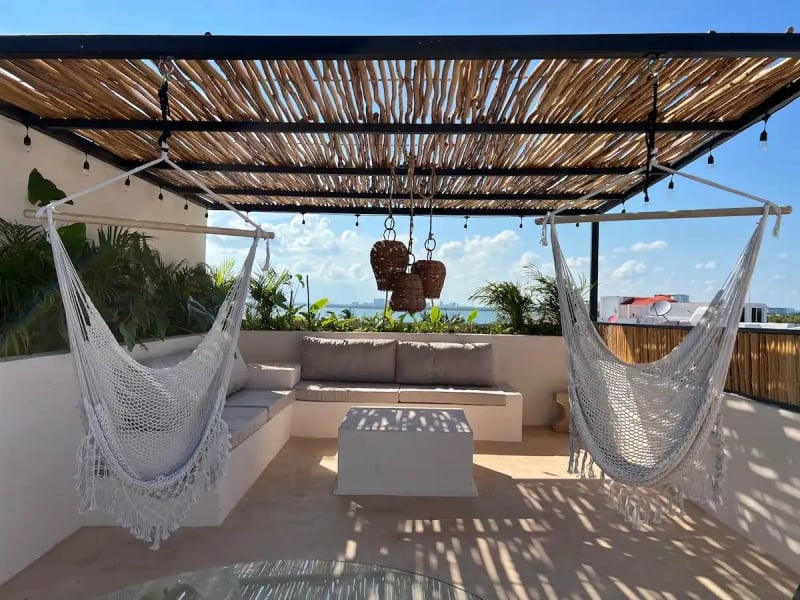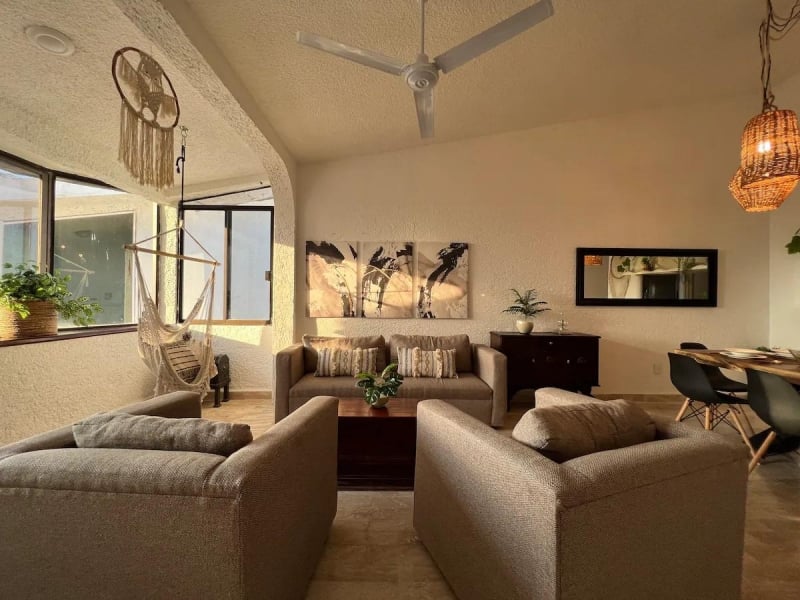 Listing name: Dream penthouse with private rooftop & best views
Listing type: Entire condo
Max. no. of guests: 6
No. of bedrooms: 3
Looking for the best Cancun Airbnb that lets you spend quality time with your family? This stunning abode with a private rooftop will give you just that. The beige-filled interior with sunshine coming through the windows exudes a relaxing ambience to the space. So, laze around the sofas as much as you want or read a book in the loft swing in their living room.
Most top reviews mentioned how they ended up spending more time on the rooftop with the best lagoon vista. And you should do that too. Or better yet, have a refreshing breakfast or dinner in the moonlight every chance you get!
FYI, this penthouse nestles in the tranquil neighbourhood of Pok Ta Pok near Zona Hotelera. So, expect some quiet time with your loved ones throughout the stay. When you're ready to explore, Playa Forum is only a five-minute drive from this place. Definitely the most convenient Airbnb near the Cancun Hotel Zone that you should check out!
2. This spotless Cancun Airbnb on the beach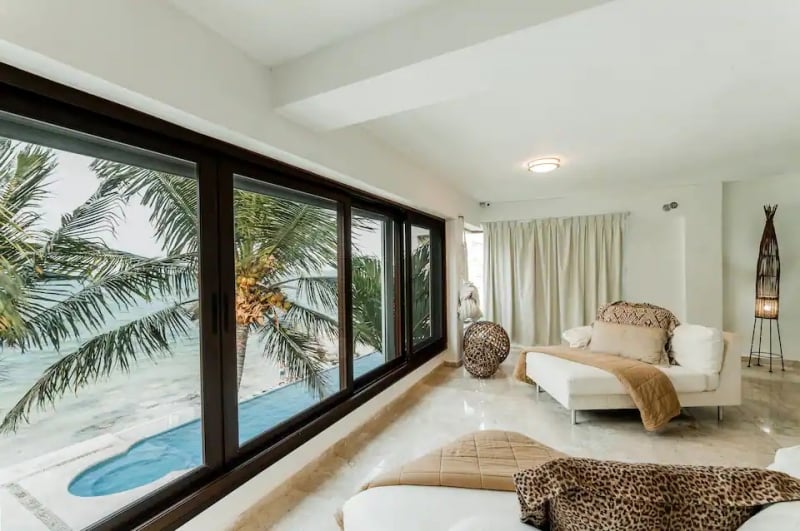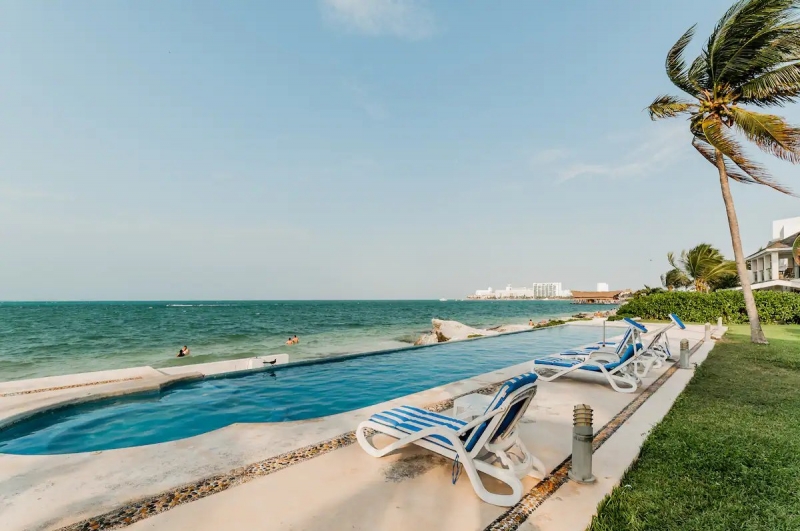 Listing name: LUXURY RESIDENCE ON THE BEACH
Listing type: Entire condo
Max. no. of guests: 8
No. of bedrooms: 3
Want to live right next to a white-sand beach? This luxury Cancun Airbnb for eight will be your best stay yet. The spacious condo is blessed with natural light penetrating through the huge windows. So, don't miss the chance to capture your best sun-kissed shots to add to the 'Gram!
Dine in with a backdrop of an endless sea while listening to the sound of waves crashing. If that's not enough, bring yourself to the balcony and take in spectacular views of Isla Mujeres. And when the blue waters call for you, answer it by snorkelling to your heart's content at the private beach. 
Psst — be sure to explore the local markets, restaurants, and shopping centres nearby. These are easily accessible by bus and are only 10 minutes away from your stay!
3. This high-end Cancun Airbnb with a private pool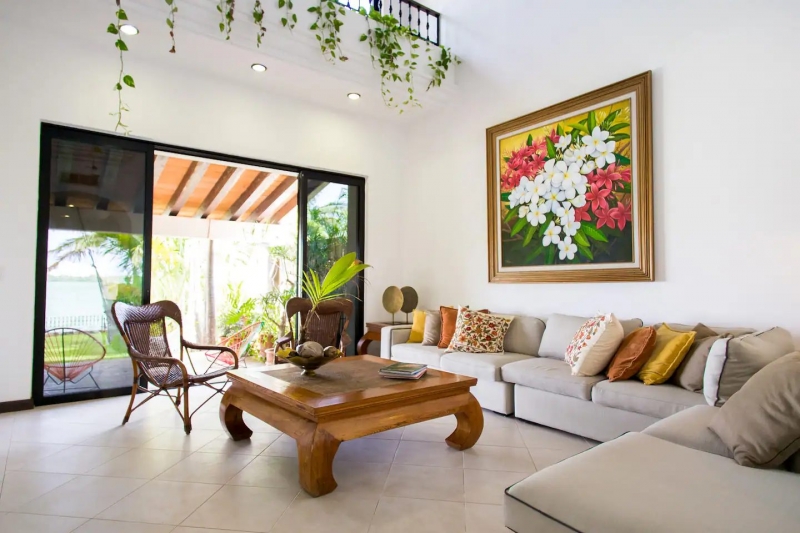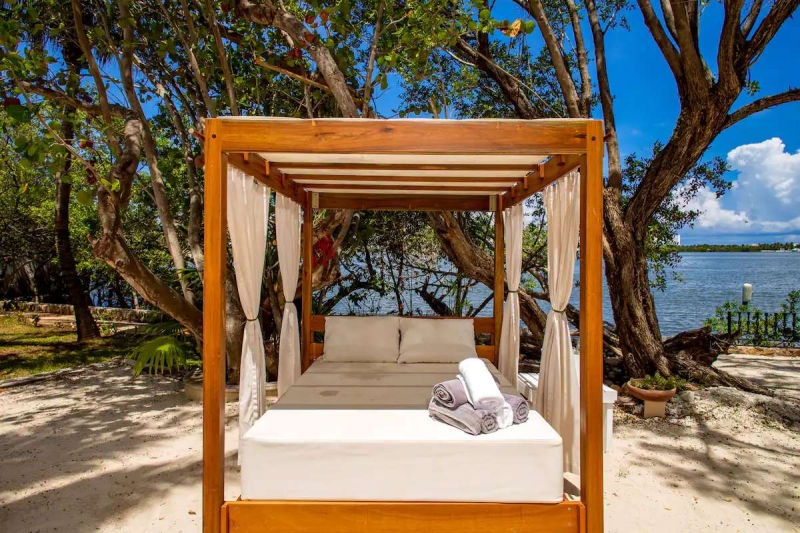 Listing name: 7 BR Mexican Mansion Villa Cancun
Listing type: Entire home
Max. no. of guests: 16+
No. of bedrooms: 7
For the best huge gatherings with your fun bunch, this four-storey Airbnb in Cancun, Mexico has everything you're looking for. Its colourful tropical interior will surely enhance your beach holiday thanks to its peaceful vibe.
Take a relaxing dip in their private pool, and if you're not up for anything that day, feel free to lie around the deluxe day beds outside. Yes, you can laze around comfortably in a sheltered bed under the sunny Mexican skies!
Savour a hearty meal prepared by their chef in the open space dining place as you immerse yourself in the breathtaking views. One of the top reviews praised the host for crafting fun activities, such as a foam pool party and a fire dance for his bachelor party. So, take this chance to plan the best getaway with your friends in the most hospitable Cancun Airbnb with a chef. 
4. This pristine loft in the heart of Cancun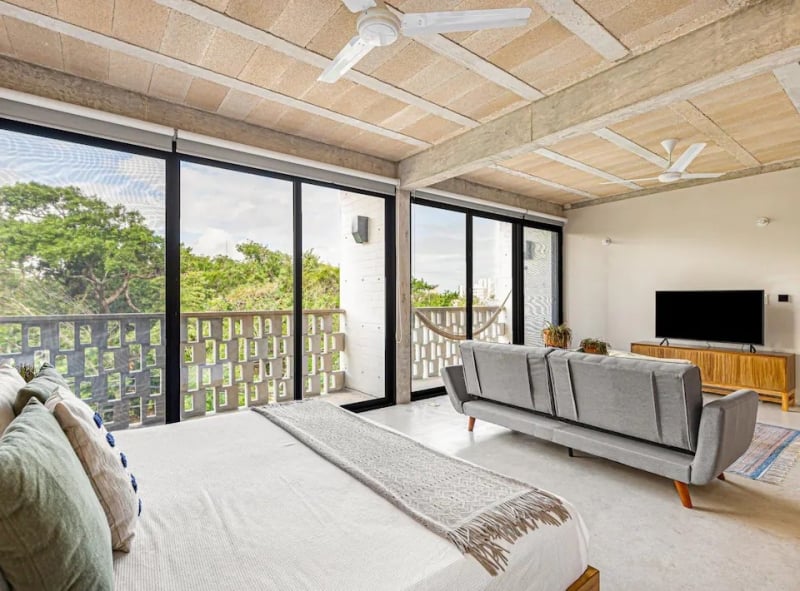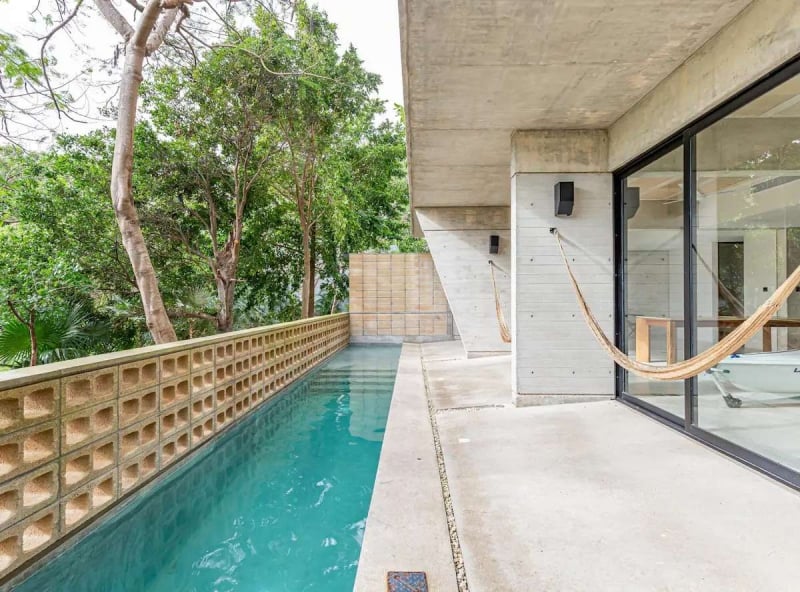 Listing name: Spacious Large Loft With Pool
Listing type: Entire loft
Max. no. of guests: 4
No. of bedrooms: 1
Instead of ocean views, this chic apartment with eco-minimalist interiors offers lush greenery outside the window. Enjoy watching your favourite Netflix series on the smart TV, or spend some time swinging on the balcony hammocks. Afterwards, take a refreshing dip in the plunge pool right by the living room. 
Ready for some adventure? Restaurants, supermarkets, bars, and Parque de las Palapas are accessible on foot. Most of the top reviews also agree that catching a bus to go to the nearby Hotel Zone is extremely easy. So if you're looking for a top-rated Cancun Airbnb that nestles in a quiet street yet in a prime spot near top attractions, then this place is for you!
5. This charming suite for two near downtown Cancun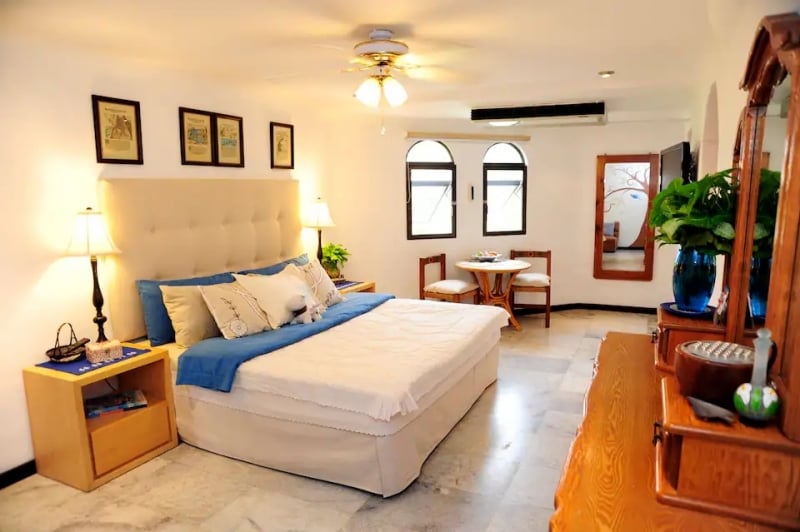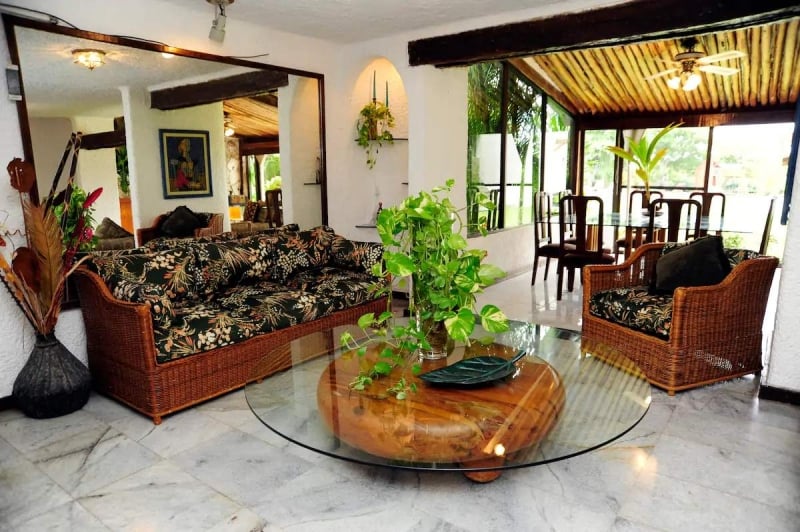 Listing name: Beautiful suite in the Cancun Hotel Zone
Listing type: Entire room
Max. no. of guests: 2
No. of bedrooms: 1
This lovely room in a townhouse is all you need for an unforgettable stay with your partner. A spacious room with a cosy king-size bed and a well-lit ambience awaits you as soon as you walk in. If you need to get your work done, be sure to make full use of their dedicated workspace in the common area. Did we mention high-speed wireless WiFi too?
We assure you there's plenty of stuff to do in this Airbnb in the Cancun Hotel Zone area! You can prepare some breakfast with your loved one in their shared kitchen, fully equipped with a fridge, coffee maker, cooking utensils, and microwave oven. When you feel like taking in the fresh air, look for their garden, shared pool, zen deck, and cute palapa-inspired gazebo on a small canal beach.
6. This pleasant abode near airport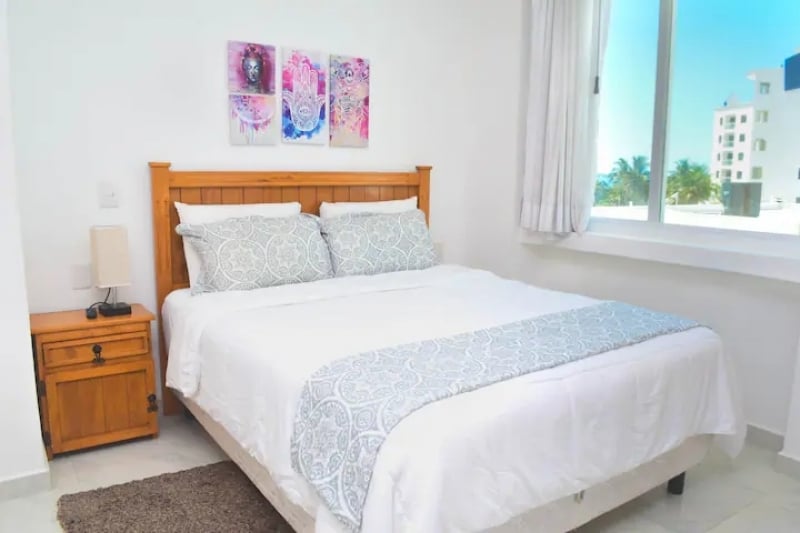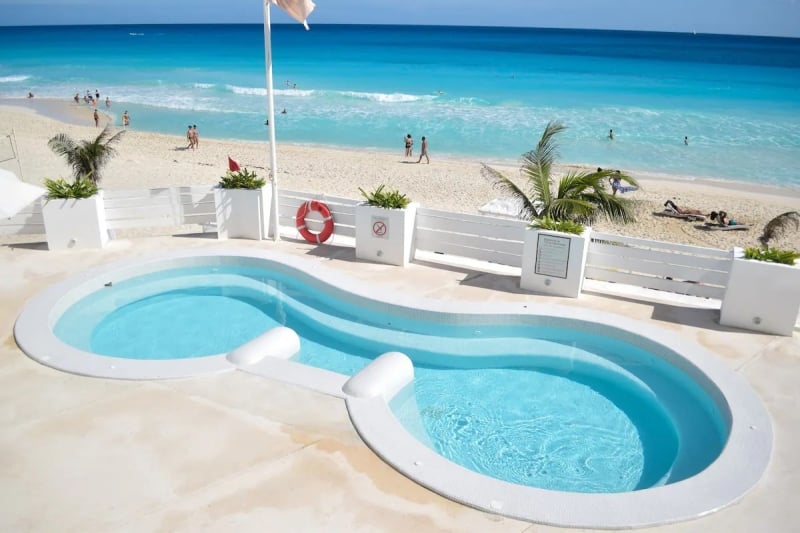 Listing name: STUDIO AT THE BEST BEACH OF MEXICO
Listing type: Entire studio
Max. no. of guests: 2
No. of bedrooms: 1
Nothing's better than booking this comfy stay on a beautiful beach for your next holiday with your BFF. The white-themed interior with a hint of brown, thanks to the wooden furniture, exudes a homely vibe to the space. So, snuggle in their queen-size bed as much as you want while you stream Netflix for free from the comfort of your bed. 
Don't forget to explore outside, where you'll find a tennis court, a gym, and a coffee shop in the lobby. Make sure to spend some time in their pools by the beachside, where you can take in the stunning ocean views from afar (not too far, actually). Know what makes it better? This Cancun Airbnb by the beach is only a 15-minute drive from the airport and is close to the malls and the Hotel Zone!
7. This delightful dwelling that screams "comfort" all over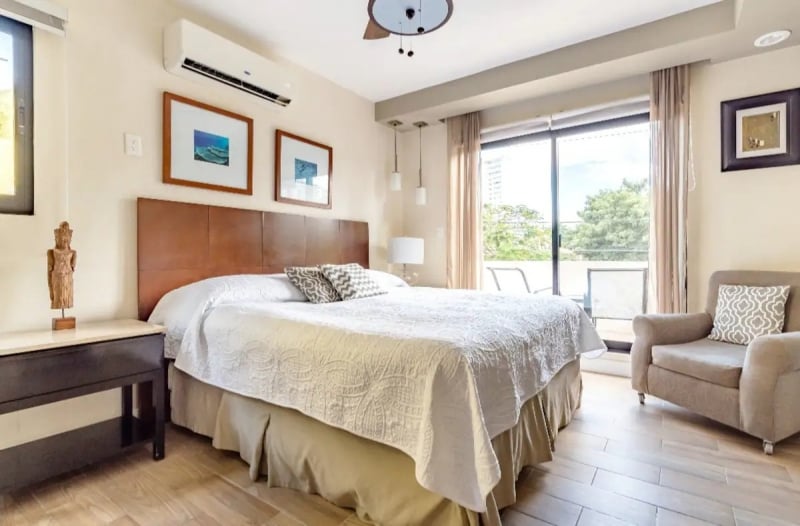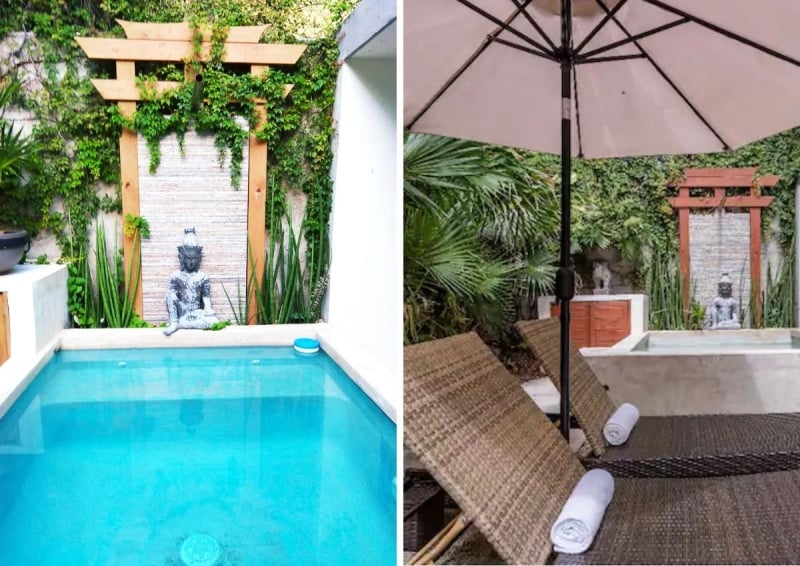 Listing name: Preciosa amplia la mejor zona del centro turístico
Listing type: Entire home
Max. no. of guests: 12
No. of bedrooms: 4
For a big family (or friend group) looking for a comfortable stay, this pleasant abode is among the best Airbnbs in Cancun to bookmark. Expect an elegant interior with a blend of Mexican culture to welcome you, especially in their dining and living areas and private pool space. 
Plus, you will also find patches of greenery in several nooks and corners of the house. Talk about a tranquil environment that helps you relax throughout your stay. Psst — you will also get full access to a private gym!
Prep a lovely dinner with your loved ones in the fully equipped kitchen, or better yet, have fun BBQ-ing on the spacious terrace. Afterwards, jump into the plunge pool before you start exploring outside. FYI, you can use the bikes (which the host provides for free) to get you to the famous Hotel Zone nearby. Hands down the best Cancun Airbnb with a private pool to add to your bucket list!
8. This luxurious residence that lets you sunbathe all day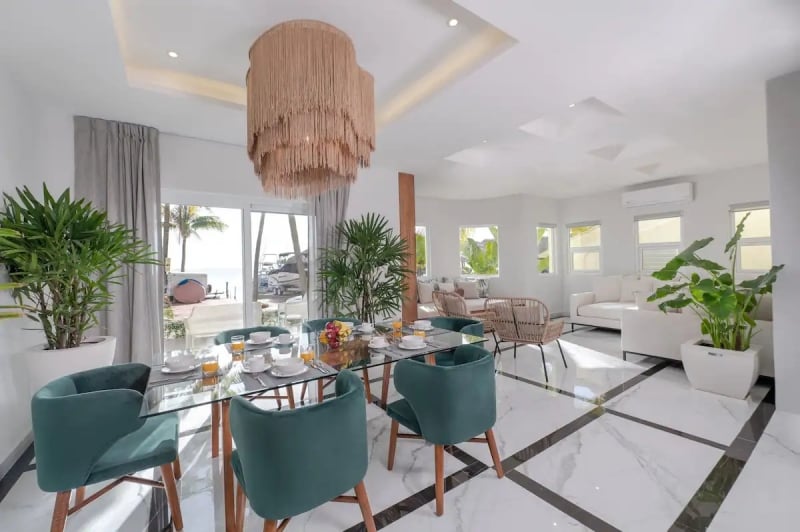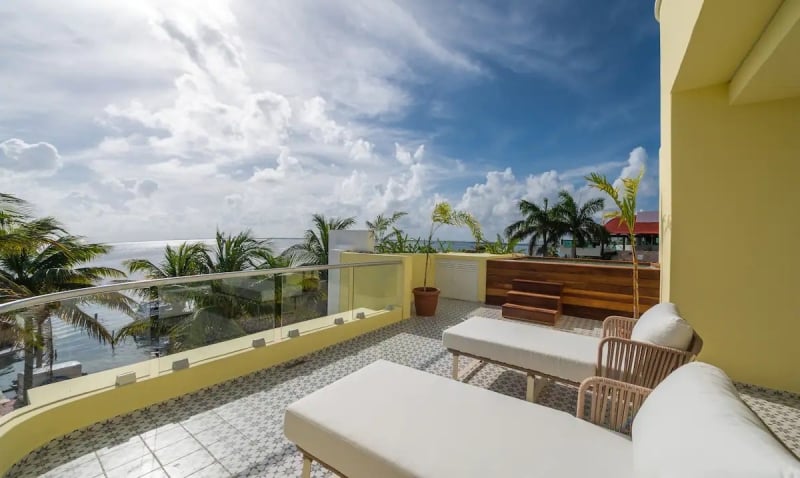 Listing name: Villa Cenzontle in Hotel Zone Breakfast included
Listing type: Entire villa
Max. no. of guests: 10
No. of bedrooms: 4
Residing in the heart of Hotel Zone is this attractive Cancun Airbnb that values privacy and comfort over anything else. The contemporary interior paired with natural lighting and living indoor plants gives a refreshing yet luxurious feel to the space. Did we mention each room has its own bathroom? Yup, all four of them.
Take your complimentary breakfast before you sunbathe by the pool. From the spacious balcony, you can take in the spectacular view of the lagoon all to yourself. FYI, you can even rent a yacht from the owner to get to Isla Mujeres! And if you time it right, you can enjoy the sunset view on the Nichupte Lagoon.
If you're looking for someplace to explore with your pals, you can always go partying at Coco Bongo or go shopping at Boulevard Kukulcan nearby. Definitely one of the most convenient Airbnbs in Cancun that's worth the splurge!
9. This stylish modern apartment connected to a mall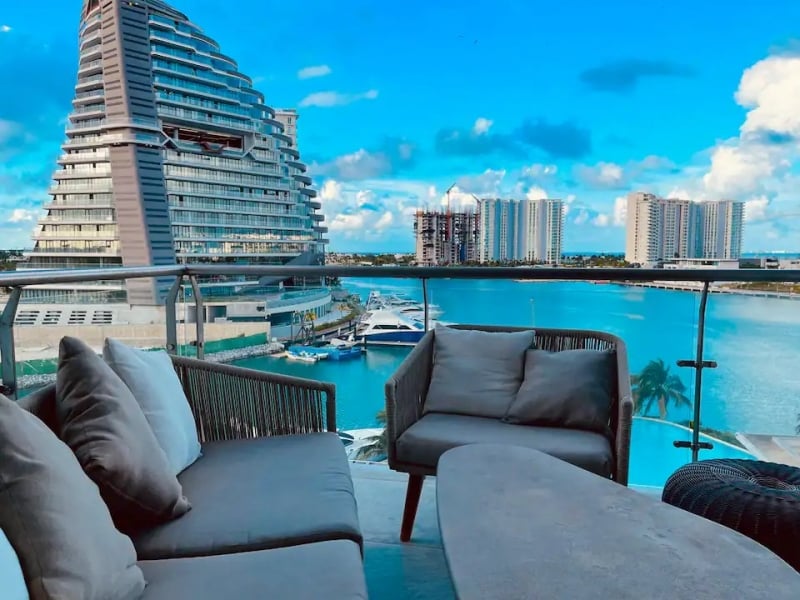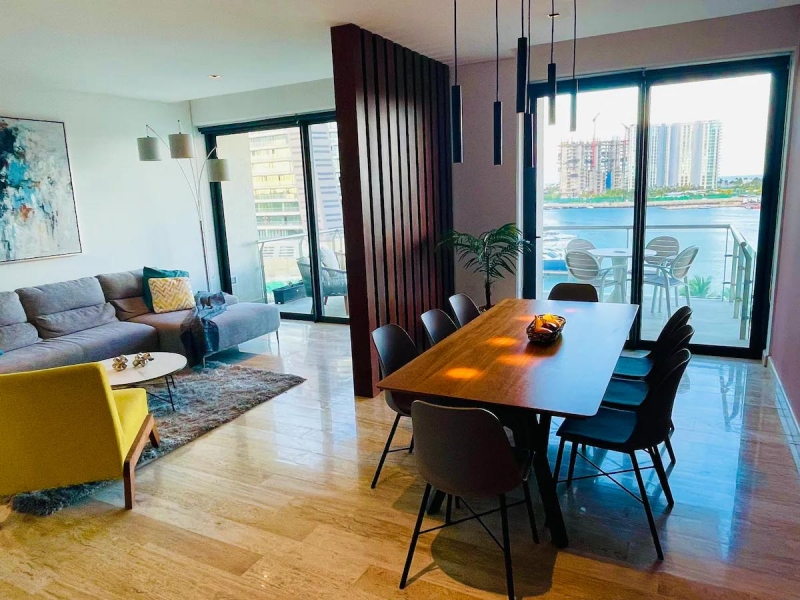 Listing name: Beautiful apartment with Ocean View
Listing type: Entire condo
Max. no. of guests: 5
No. of bedrooms: 2
This sleek Cancun Airbnb has more to offer than just stunning ocean views. Not only is it located in Puerto Cancun (an area within the Hotel Zone), but it is also connected to the Marina Puerto Cancun Marina Town Center! So, don't worry about where to spend your leisure time when you book this modern apartment.
Enjoy the refreshing vista of the blue waters of the Caribbean Sea from the space's balcony. Afterwards, indulge in the best meals with your family in the dining room across the living area. FYI, a washer and dryer are available in this apartment, which will come in handy for longer stays. Guests also get an exclusive parking space in the indoor parking lot!
Not much of a shopaholic? Go for a walk or bike around the scenic Puerto Cancun Complex to your heart's content. Undoubtedly the best luxury Airbnb in Cancun that's located in an enviable area worth checking out. 
10. This serene home fit for a group of five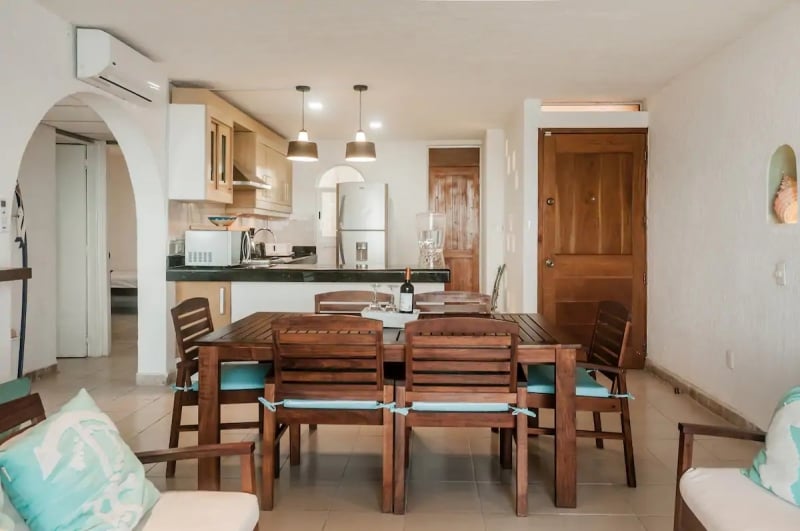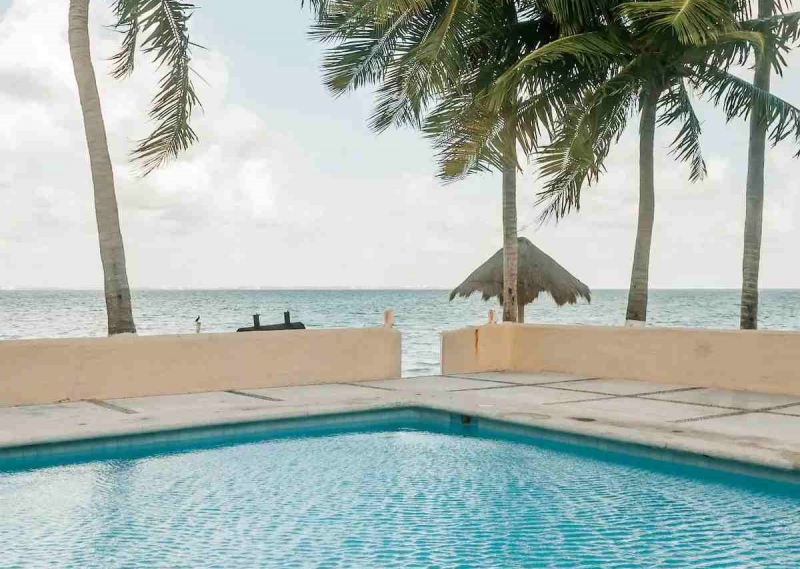 Listing name: *Beachfront house* with private beach
Listing type: Entire house
Max. no. of guests: 5
No. of bedrooms: 2
Dreaming of waking up to a beautiful sunrise with the sound of waves crashing? This exquisite home (that's also one of the best Airbnbs in Cancun) with the best beachfront view offers just that and more! It's also strategically located in front of Isla Mujeres and Isla Contoy.
The top reviews also mentioned how excellent the ventilation is and that there's no need to turn on the aircon thanks to the sea breeze. Plus, you'll get a free parking spot paired with a top-notch 24-hour security service provided by the host.
Ready to take on the city? The ferry terminal to Isla Mujeres and local restaurants are within walking distance from this place! Definitely the best Airbnb in Cancun when it comes to security, comfort, and proximity to various attractions. 
Also read: 18 Best Beach Houses to Book on Airbnb, From California to Hawaii
And that concludes our list of the most gorgeous Airbnbs in Cancun that will enhance your beach holiday in Mexico. So, book the stay of your choice today and get ready for an unforgettable vacation!
Got a property you'd like TripZilla to feature? Inquire with us here.
---
This article contains affiliate links. When you book through these links, we may earn a small commission at no additional cost to you. All images courtesy of the respective property listings.