Home to a staggeringly beautiful natural landscape, Bali is often called paradise on earth. Indeed, the Island of the Gods looks carved out of a tropical dream. There are remote beaches and vibrant surf spots, pristine rice fields and lush rainforests, ancient temples and a hip art scene. And when you want to hole up in a private piece of paradise, the island delivers like few destinations can, with breathtaking Airbnb rentals against the postcard-pretty backdrop of Bali.

Making plans for your dream tropical escape? These stunning Airbnbs in Bali are waiting.
Also read: 21 Insta-Worthy Spots in Bali for Memorable Pictures
Best Airbnb villas in Bali for an unforgettable luxury escape
1. This gorgeous treehouse in a secluded forest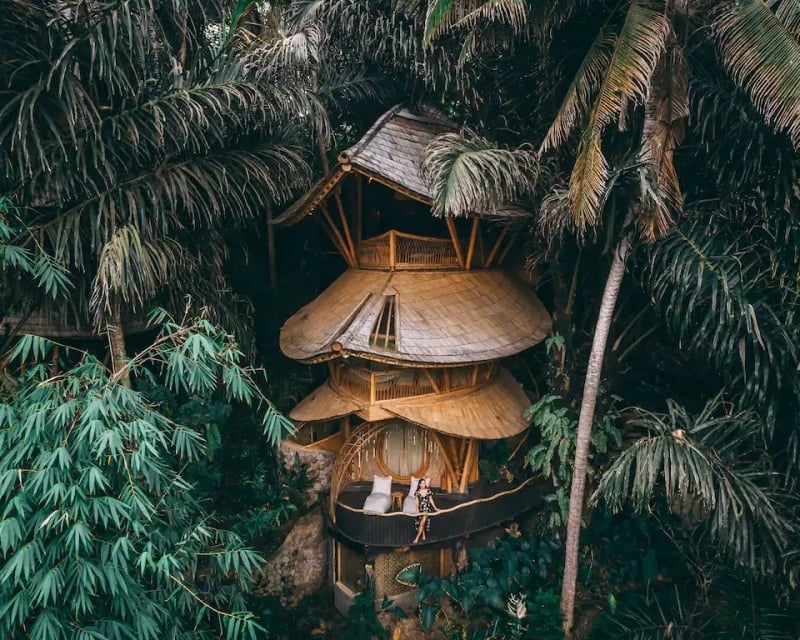 Listing name: Aura House 2bds Eco Bamboo House, Pool, River View
Listing type: Entire villa
Max. no. of guests: 4
No. of bedrooms: 2 
Hidden in the forests of Abiansemal by the Ayung River, this gorgeous bamboo house feels like a tropical fantasy come to life. The open-air escape is surrounded by nature, away from the buzz of busier Bali destinations. Every day, wake up to a stunning sunrise, then take a dip in an outdoor pool overlooking lush forest views. Plus, it's relatively accessible; Aura House is just a 25-minute drive from Ubud and a 35-minute drive from Canggu.
2. This serene Zen retreat in Ubud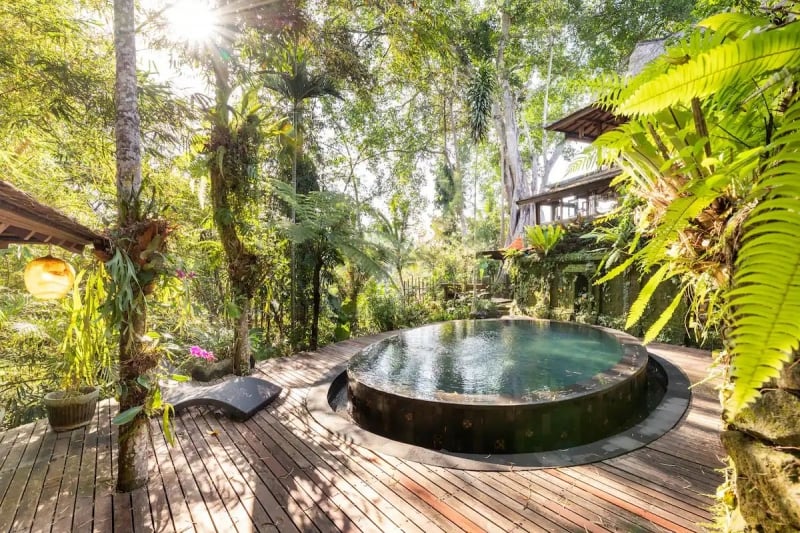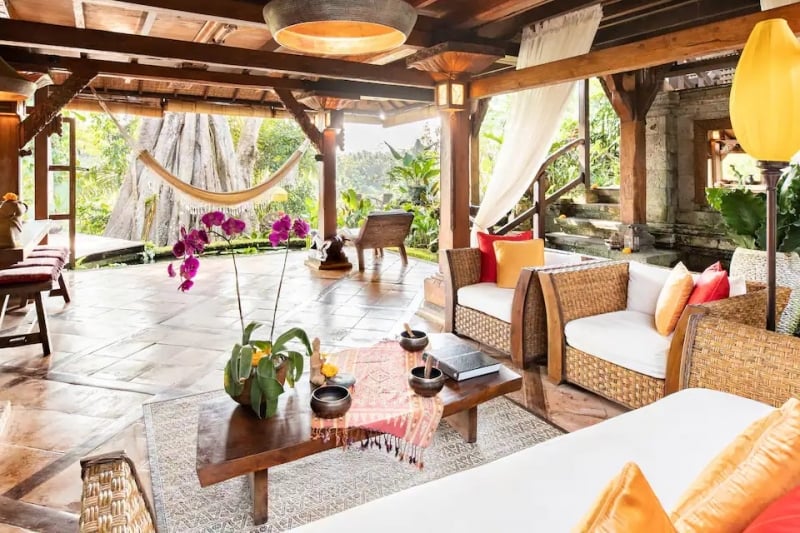 Listing name: Ki Ma Ya Retreat, Zen Sanctuary
Listing type: Entire villa
Max. no. of guests: 4
No. of bedrooms: 2 
Nature and design merge in this serene Ubud escape that channels the healing energy of the island. From this open-air sanctuary, travellers will discover the best Ubud has to offer: tranquil views of nature, easy access to the city centre, and nothing but the sounds of nature to soothe you to sleep. Simple but elegant, this Airbnb in Bali is brimming with features, including a saltwater private pool, a dry wooden sauna, a meditation room, a home theatre, and a yoga deck, among many others.
3. This honeymoon-worthy villa that's a short stroll from central Ubud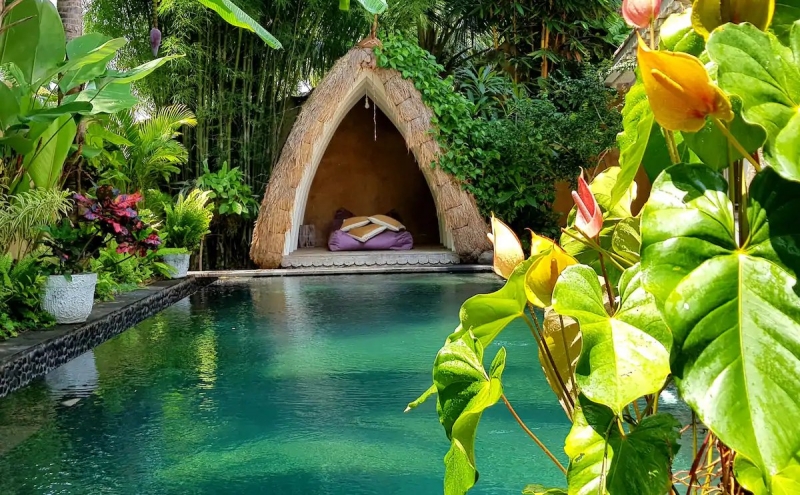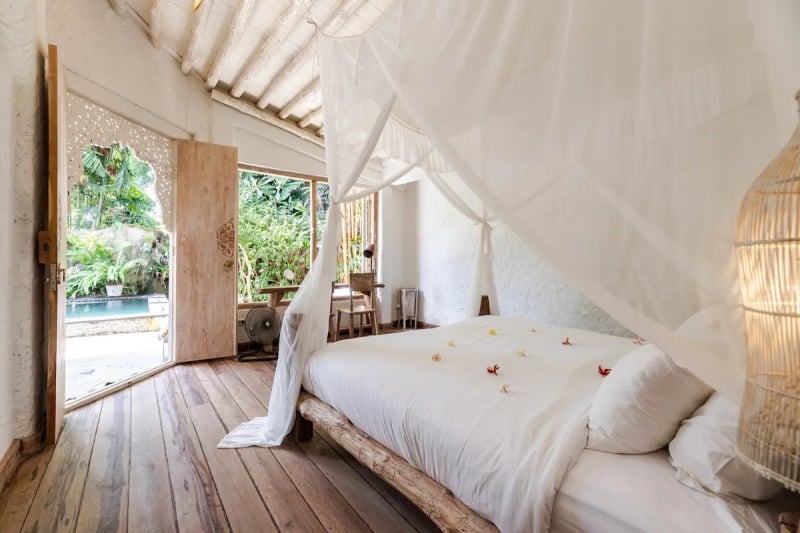 Listing name: Luxe Villa in Tropical Oasis, Ubud. Walk to town.
Listing type: Entire villa
Max. no. of guests: 2
No. of bedrooms: 1 
Perfect for couples on a romantic trip, this stylish abode in Ubud is one of the Airbnbs with all the essentials for a relaxing Bali holiday. If you're here for a special occasion, Superhost Budi can even arrange additional touches like flower petals in the bath or a floating breakfast in the pool. And when it's time to explore, Ubud's chic galleries, cafes, restaurants, and yoga studios are easily accessible on foot.
4. This authentic homestay with a local Balinese family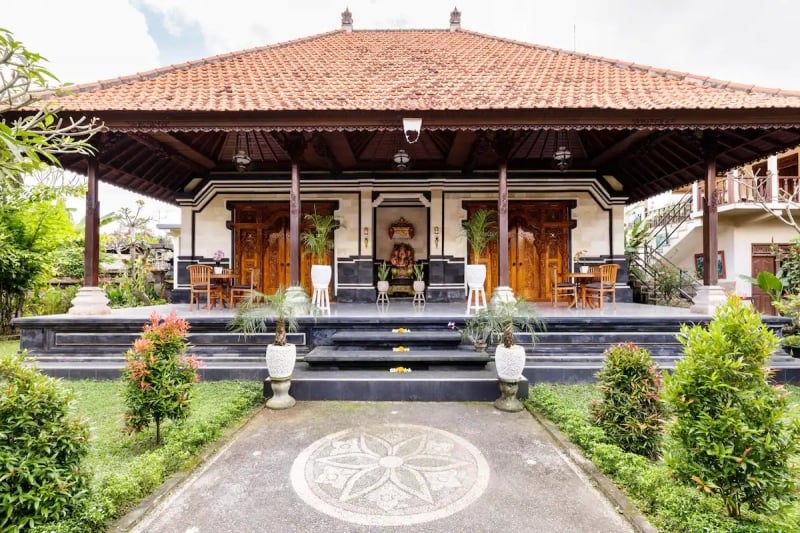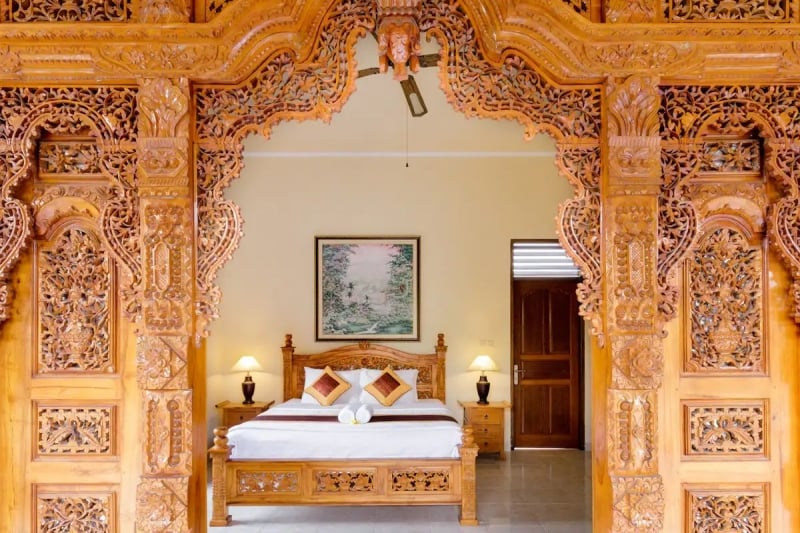 Listing name: Experience Your Stay with Local Balinese Family
Listing type: Entire home
Max. no. of guests: 4
No. of bedrooms: 2 
For some travellers, a journey to a new destination is never complete without a distinctly local experience. Beyond the clean, comfortable, and classically designed interiors, this Ubud home offers an authentic Balinese experience in a local family compound. 
And it goes beyond the sumptuous food — previous guests share that the host family even invited them to join in local cultural and religious events. If you're looking for something more than the typical Airbnb experience in Bali, then staying at this beautiful residence may be the right choice for you.
5. This exquisitely decorated residence in Seminyak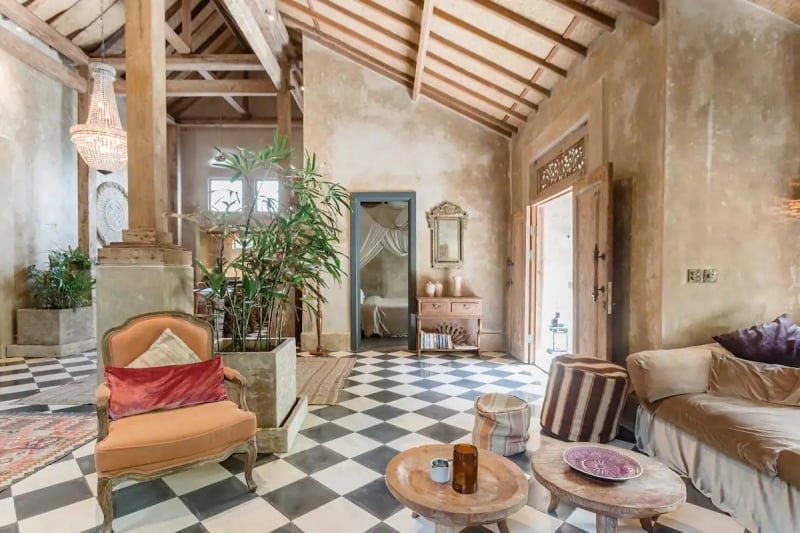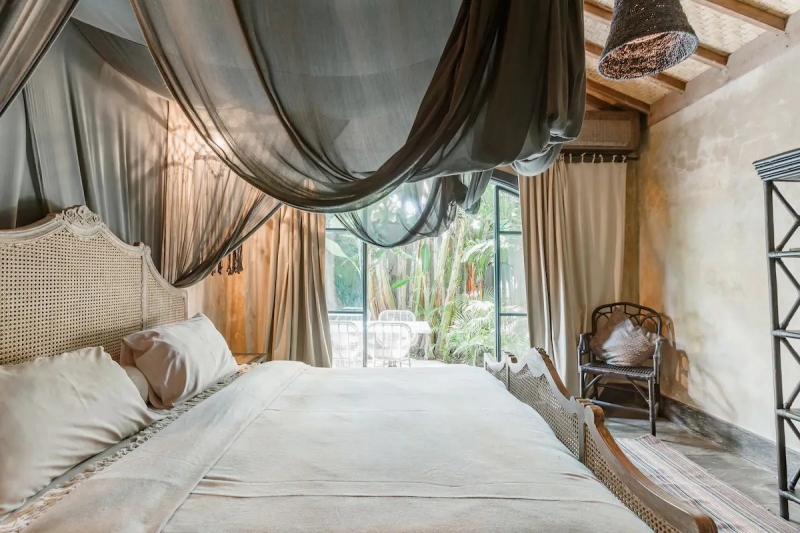 Listing name: Desu House and Its Renowned Interior with Outdoor Pool
Listing type: Entire villa
Max. no. of guests: 4
No. of bedrooms: 2 
Travellers won't want to leave this refined retreat at all, even though it's smack in the middle of the hip Seminyak neighbourhood. The space is equipped with everything a tropical vacation needs, after all, including immaculate interiors, a private pool, and a breezy courtyard. Still, you'll have to step out of the Airbnb and enjoy some of the Bali sights at some point. Luckily, most of Seminyak's top spots are close by, with the beach only five minutes away on foot.
6. This breezy home in Canggu perfect for indoor-outdoor living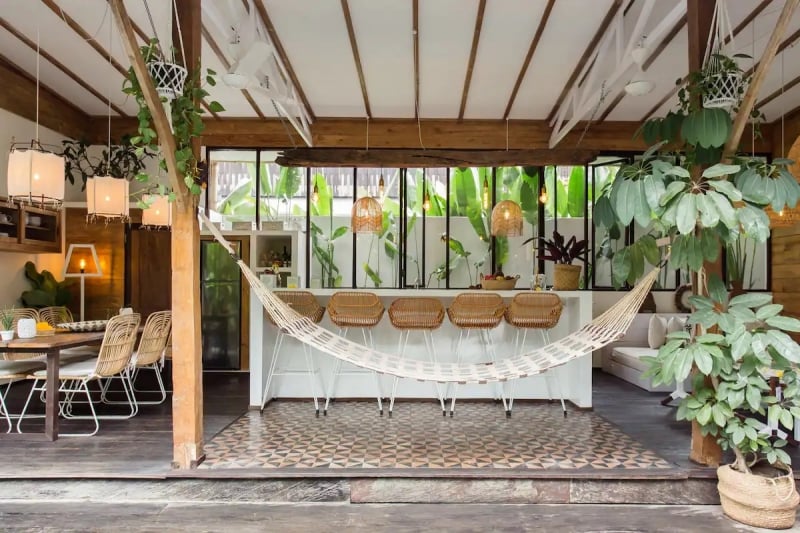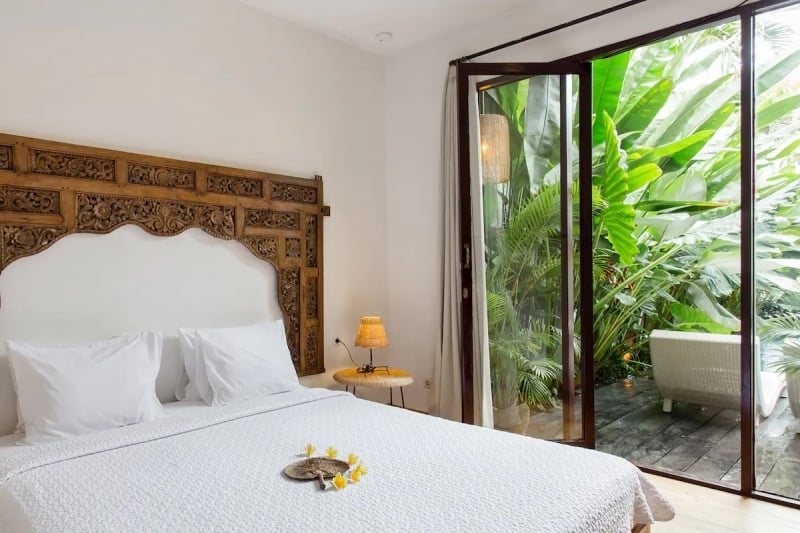 Listing name: Swim at Famous Beaches near a Villa
Listing type: Entire villa
Max. no. of guests: 6
No. of bedrooms: 3 
A hip enclave of surfers and digital nomads, Canggu is one of the most popular places to stay on the island. This chill home away from home keeps you close to the action, with shops, yoga studios, cafes, and restaurants just minutes away. Beaches such as Echo Beach, Batu Bolong, and Berawa Beach are also easily accessible.
Relax after surf sessions and sightseeing trips at this Airbnb that embraces the open-air lifestyle of Bali. Big enough to host six guests with plenty of space to spare, it's a great pick for groups who want their own space in Canggu.
7. This luxe villa with a scenic infinity pool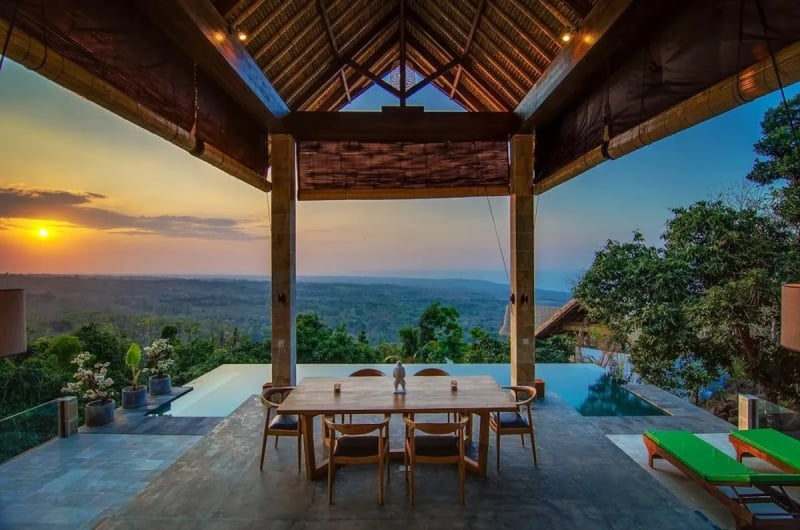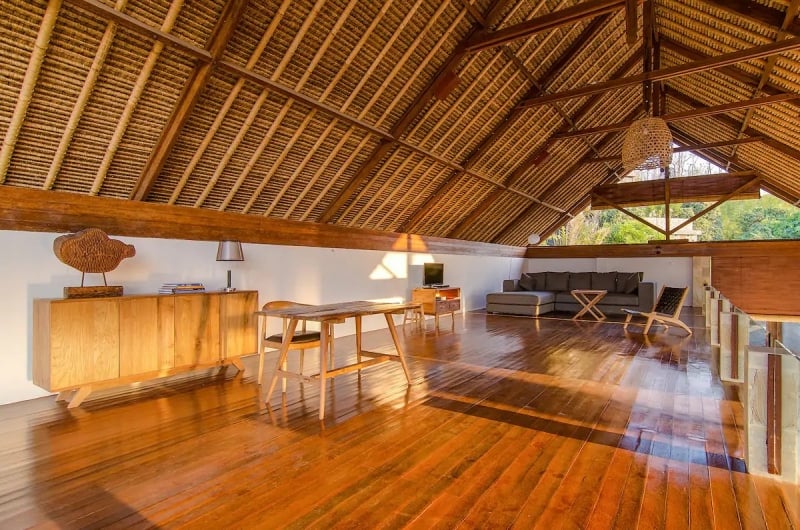 Listing name: 180° VIEW, PRIVATE POOL VILLA..
Listing type: Entire villa
Max. no. of guests: 8
No. of bedrooms: 2 
Taking the whole family or all your friends on a Bali getaway? This sprawling pool villa in North Bali promises a comfortable and luxurious stay for up to eight guests. Plus, the sweeping views of the sea offer a stunning backdrop to all your holiday photos. While this tranquil Airbnb is tucked in the more remote area of North Bali, there are a number of uncrowded tourist spots nearby, including waterfalls, temples, snorkelling spots, and dolphin-watching sites.
8. This stunning riverside hideout in Selat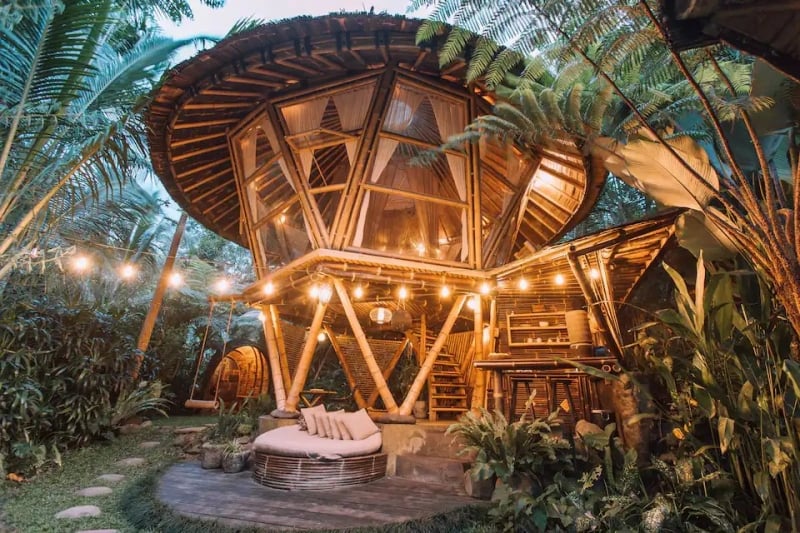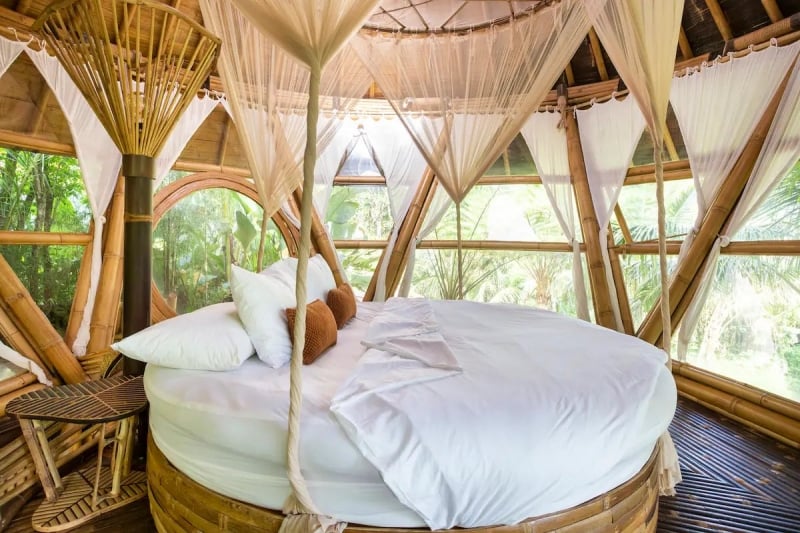 Listing name: HIDEOUT BEEHIVE – Eco Bamboo Home
Listing type: Entire villa
Max. no. of guests: 4
No. of bedrooms: 2 
Here's another one of the nature-inspired Airbnbs in Bali that are making waves on the Instagram scene. Stylish yet feature-rich, this imaginative eco-bamboo home packs a punch with facilities like a heated pool, a full kitchen, and free WiFi. There's even free breakfast and one free scooter included for each stay. For an aesthetic stay that's definitely more than its looks, this is an exceptional pick in charming Selat.
9. This quiet sanctuary on Badian Beach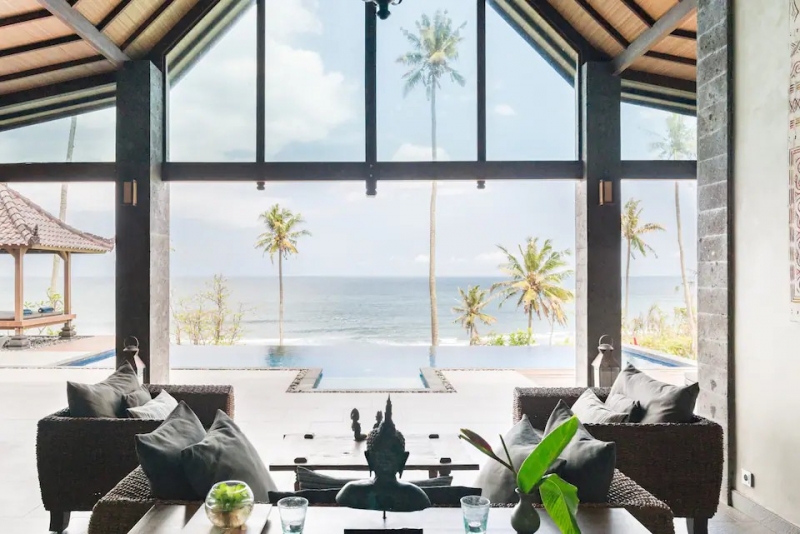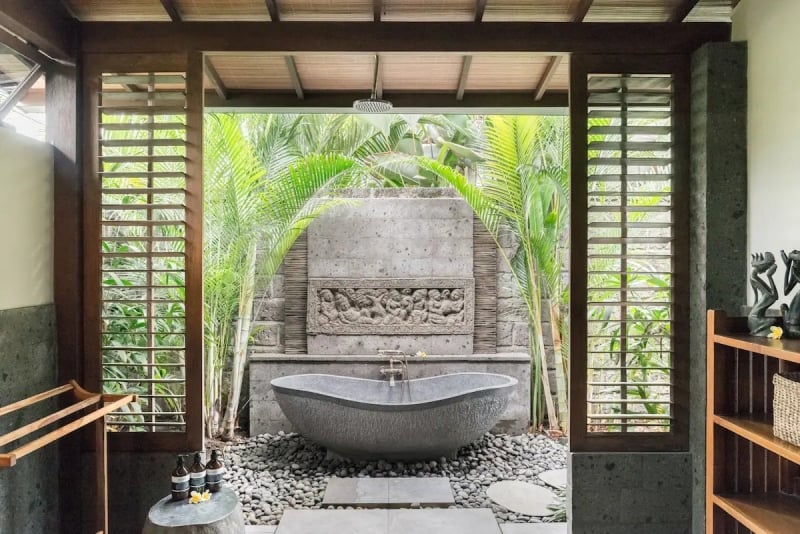 Listing name: The Ocean View at Balian Beach
Listing type: Entire villa
Max. no. of guests: 4
No. of bedrooms: 2 
Escape the tourist circuit and unwind at this newly built beachfront villa that combines classic Balinese elements with modern comforts. From the koi pond to the awe-inspiring views of the Indian Ocean, this Airbnb is designed for utmost relaxation. Daily breakfast and maid service are included, while massages and other spa treatments are available upon request. Just steps from the pristine black-sand Balian Beach, it's truly the perfect place to disconnect.
10. This ultra-luxe estate near Batubelig Beach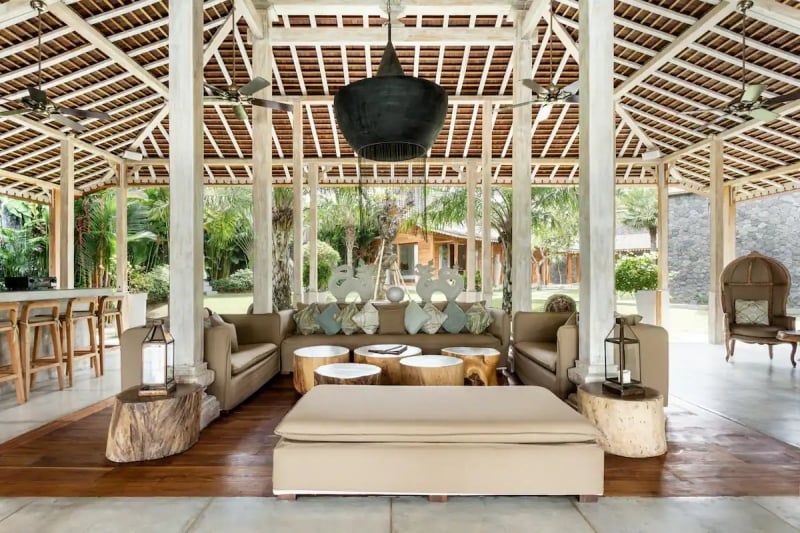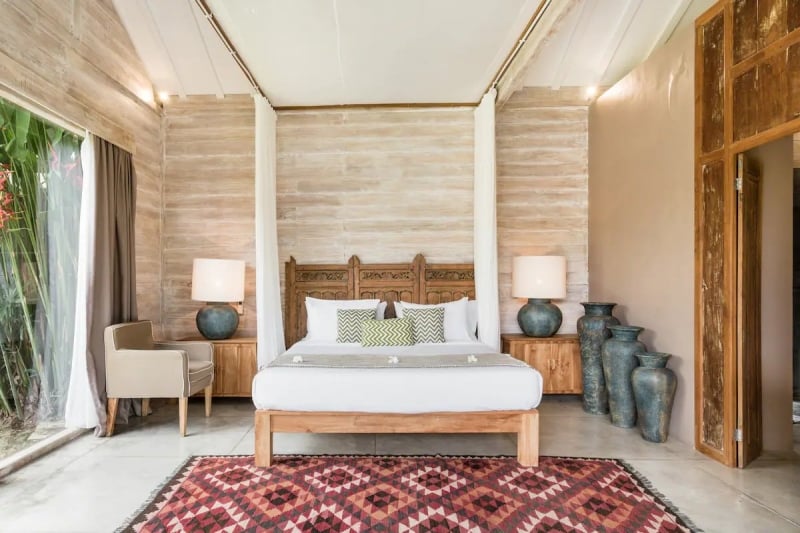 Listing name: Villa Mannao
Listing type: Entire villa
Max. no. of guests: 16+
No. of bedrooms: 8 
Travellers ready to splurge can indulge in an extra-luxurious experience at Villa Mannao. Trust us, this Airbnb Luxe villa in Bali is a showstopper. Blessed with eight spacious bedrooms, beautiful common areas, two swimming pools, and a full staff, it's perfect for pampering all your loved ones. Pricey? Sure. But with room for up to 16 guests, this luxury stay still feels like a steal! Beaches and other Seminyak hotspots are a short drive away.
Also read: 10 Airbnbs in Sydney for a Taste of Life as a Local
If a luxe island vacation is on your bucket list, this list of hideaway Airbnbs in Bali won't disappoint. Have a specific island destination in mind? Check out our picks of Airbnbs in Bali hotspots Ubud and Kuta.
Got a property you'd like TripZilla to feature? Inquire with us here.
---
This article contains affiliate links. When you book through these links, we may earn a small commission at no additional cost to you. All images courtesy of the respective property listings.