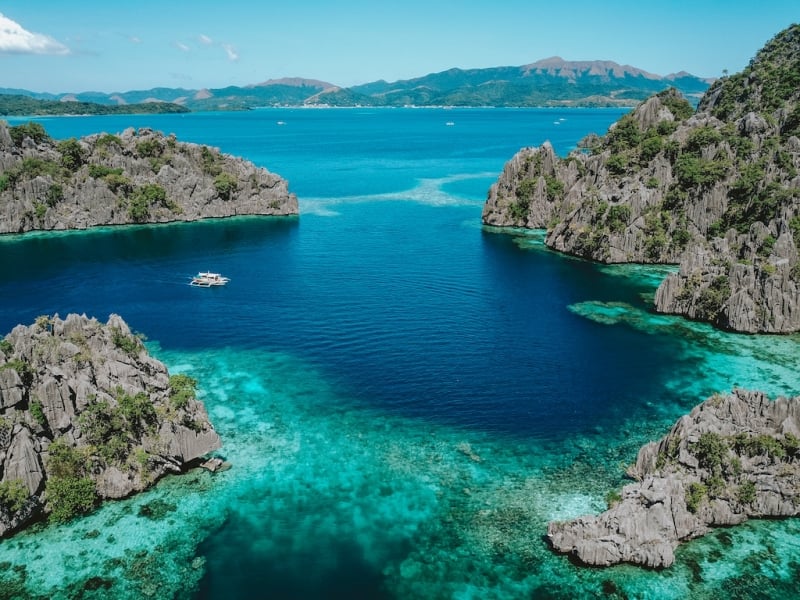 If you're reading this, chances are you WANT to visit the Philippines too — like many of these foreign travellers who fell in love with the country. We can't blame them! The pristine beaches, breathtaking natural wonders, well-preserved cultural sites, and the food here perpetually beckon many travellers. But you're probably wondering, with more than 7,000 islands, where do you even begin? Luckily, we've crafted an ultimate guide for first-timers travelling the Philippines, plus insider tips from the locals!
Ready to explore the Philippines? Book your flights with Cebu Pacific! They have the most extensive flight route for inter-island connectivity in the Philippines. With their year-round low airfares, you can easily achieve your island-hopping goals in one visit. The hospitable locals and fun activities will surely make your experience all the more special — so no time to waste! 
What to consider before travelling the Philippines
Research is key, and we've made it easier for you. Here are a few essential things to consider before travelling to the Philippines:
When is the best time to visit the Philippines?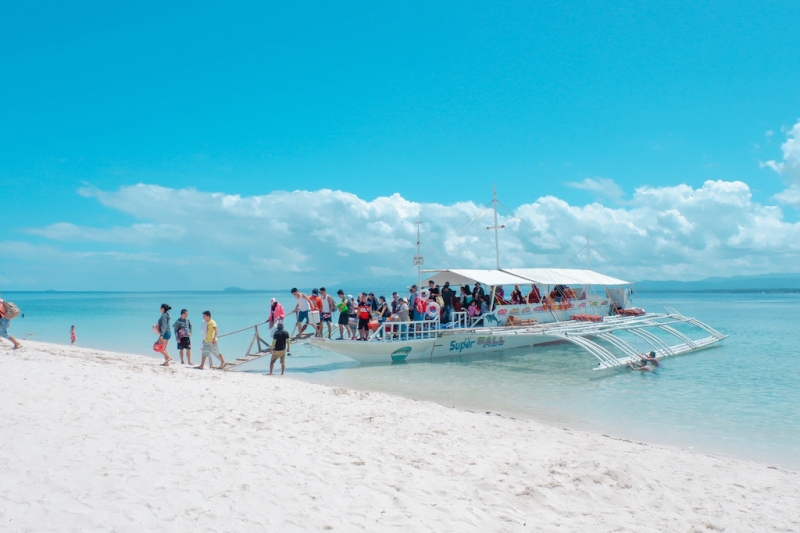 The best time to visit the Philippines actually depends on what you're after. If you prefer to do island-hopping and sightseeing when the sun is showing in all its golden glory, visit from March to May when it's summertime. On the other hand, you may enjoy a subdued cool breeze in December to January. Do note that travel costs can vary during these peak months, but every penny will be worth it no matter what time of year you visit!  
Tip: If you plan to island-hop, two weeks or even a quick weekend getaway would be an unforgettable experience for first-time visitors!
Do I need a Visa?
Good news! Tourists travelling the Philippines from ASEAN countries don't need a Philippine Visa as long as the visit is within the 30-day limit.  If you're from other countries, you may refer here to know if you'll need a Philippine Visa. But chances are…you won't!
Money matters: currency and ATMs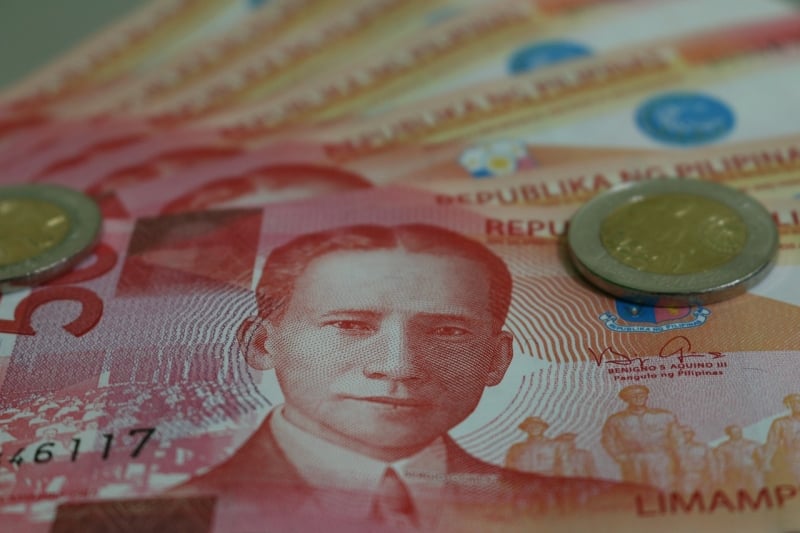 The currency in the Philippines is the Peso. No, not the Mexican Peso — the Philippine Peso (Php or ₱)! It's always better to exchange your money from your country of origin. You'll be caught in a bind comparing where you can get the best exchange rates in the Philippines. It can change in any given day, and even the rate of different branches from the same money changer can vary. Are you giving it the side-eye? Here's our two cents: Try the money changers in malls for reasonable exchange rates!
But how about ATMs? Well, there's no shortage of them in Metro Manila. You can literally find them anywhere like in malls, banks, near restaurants, etc. International banks represented in the Philippines include HSBC, ANZ, and Citibank. If you use a different card from these banks in a Philippine ATM, you'll be charged with an extra fee.
Tip: When flying to rural areas and beaches, it'll be harder to access ATMs, so make sure to withdraw cash in a city beforehand.
Official establishments, like retail stores and restaurants, luckily accept cards powered by Visa and Mastercard, but some will have a minimum spending requirement. If your bank has a maximum daily cash withdrawal back home, it will also apply in the Philippines. You can't be short on cash when you're dying to taste that sisig and pancit, can you? Avoid any mishaps that might make you "hangry" and call your bank for further clarifications before travelling in the Philippines!
Is connectivity an issue when travelling the Philippines?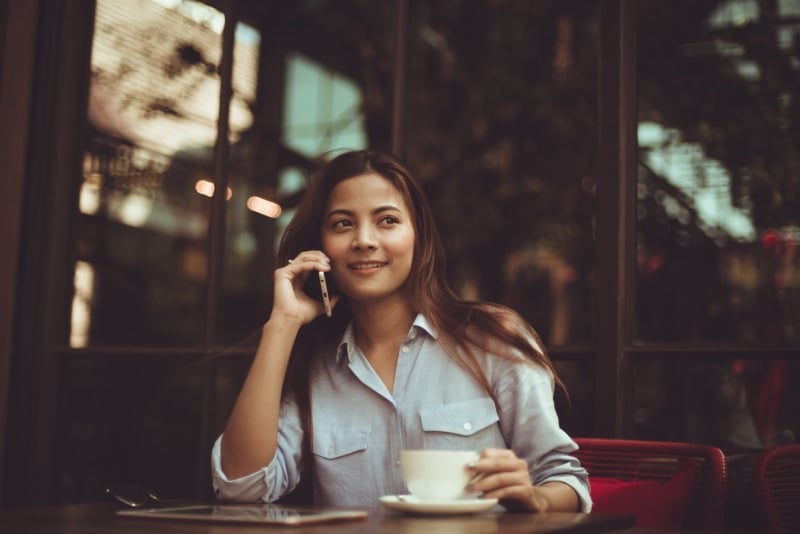 Connectivity in the Philippines can be challenging, but you can solve all your worries by getting a free SIM card (as long as you present your foreign passport) and buying data packages from kiosks at the Ninoy Aquino International Airport (NAIA). SIM cards are also accessible in supermarkets, malls, local shops, and even from street vendors!
How do I travel to the Philippines?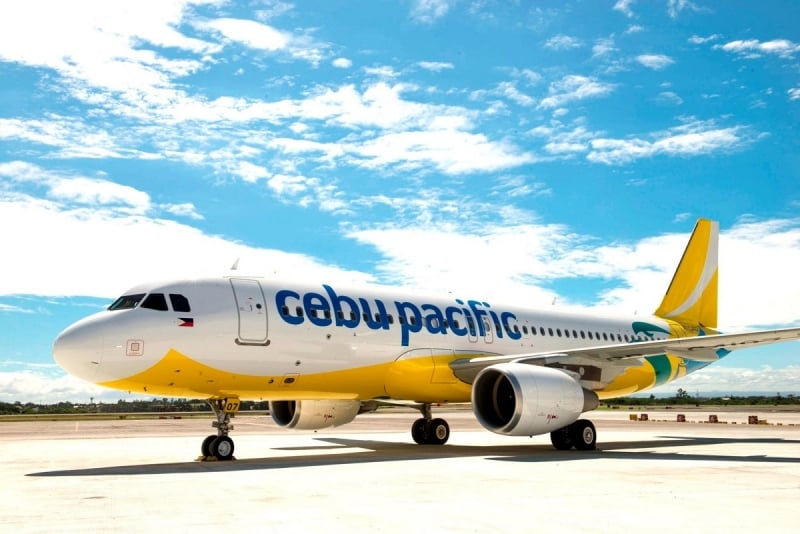 Start your fun adventure in the Philippines by flying with Cebu Pacific! Year-round low fares are available from Singapore, Malaysia, Indonesia, and Vietnam (a round-trip flight from Singapore to Manila can go as low as US$366, but you'll get more bang for your buck if you catch the seat sales!). What's more, maximise the wide selection of flexible flight schedules thanks to Cebu Pacific's numerous destinations for island-hopping. After all, they do fly to the most number of destinations in the country!
You can also enjoy Halal food on these flights because the airline has a convenient meal selection for all passengers. They even provide a customisable baggage allowance in case you want to lug your surfboard or other packages and equipment along.
What's the best way to transfer from one island to the next?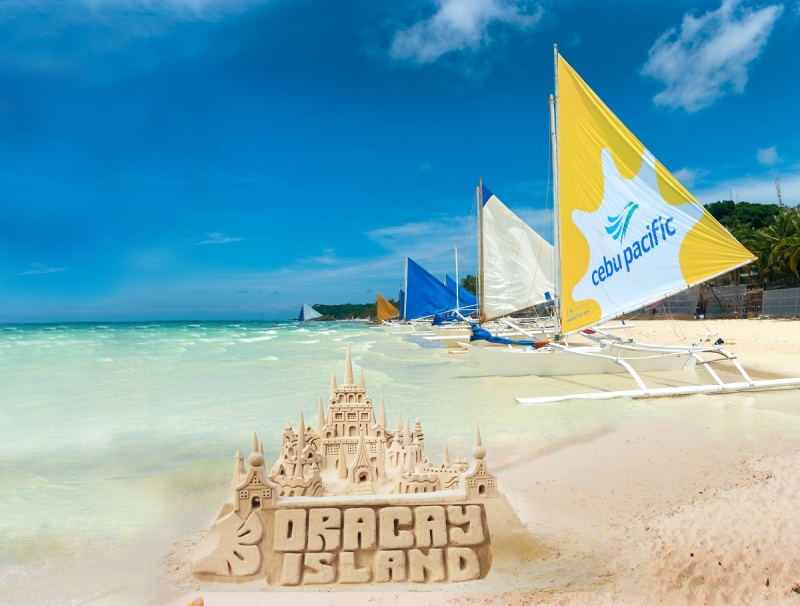 Wouldn't it be great to see and experience all the activity-packed destinations while travelling the Philippines? Think about all the souvenirs you can buy from each place! You can best appreciate inter-island connectivity by flying from one island to another with Cebu Pacific too. There are available flights to and from all the destinations we've listed below so keep reading!
Also read: 5 Perfect One-Week Itineraries for Your Ultimate Vacation in the Philippines
Where to go, things to do & more tips!
Now let's go over the Philippine destinations that tourists typically visit. These destinations are a good start in understanding where the country gets its reputation of island getaways and cultural heritage. Here's what you need to know about the top places to visit when travelling the Philippines!
Cebu
Cebu is famous for many things! Let's start with beaches. There's Bantayan Island and Malapascua up north, then Moalboal and Sumilon Island down south.
Moalboal features the magnificent Pescador Island where you can go diving to witness Cebu's rich marine life, from coral reefs to the sardine run. Sumilon, on the other hand, is known for its pristine and picturesque sandbar where you can sunbathe, spot some starfish, and snap memorable photos to your heart's content. You should know, though, that we still recommend Cebu City as the base area for your Cebu island-hopping.
Transportation tip: You may hop on and off jeepneys at designated stops to explore the city. You can also use the Grab app in Cebu City in case you want to travel fast. Hire a boat or book a tour package to beach-hop!
Tour tip: Book local island tours to be properly advised of dos and don'ts, beach and environmental fees, and operating hours. If you're following a tight schedule, it's better to book a Grab for short rides within Cebu City. Remember: Taking a jeepney may be cheaper but it will consume more time.
While in the city, take the time to explore the Celosia Flower Farm, famous for its bright yellow, pink, and red celosia flowers, landscaped to charming perfection. You can also head to the Taoist Temple to quietly observe its artistic appeal through the intricate symbols that pique the interest of local and foreign tourists alike. And for the best gastronomical experience, don't ever skip on Lechon Cebu — it's the best roasted pig in the country!
Palawan
Palawan teems with natural wonders. Simply sailing to and from an island will already give you a picture-perfect view of unique limestone cliffs and crystal-clear, turquoise water. There are three main areas where you can have the best Palawan experience!
The first is Puerto Princesa City. Puerto Princesa is proudly home to the Underground River National Park which is a UNESCO World Heritage Site. We hope you don't mind wearing helmets — because this subterranean river leads to a cave full of bats! But don't be scared, because the unique stalagmite and stalactite formations you'll encounter are worth the boat ride (and bat droppings).
The second area is Coron town proper. Coron's most famous snorkelling area is Siete Pecados where you can spot colourful coral reefs and vibrant marine life. If you're not into underwater activities, make your way to Kayangan Lake where you can forget all your worries and peacefully float amidst pristine waters!
The last area to stay during your visit is the ever famous El Nido. While El Nido is known for luxury resorts, there's still much snorkelling and kayaking that can be had. Kayak in the three lagoons, namely, Small Lagoon, Big Lagoon, and Hidden Lagoon to see rock formations and experience secluded swimming areas! After a full day of vitamin sea, indulge in Palawan's seafood specialities like tuna, lobster, and squid!
Transportation tip: Rent a boat at the town or resort docks to island-hop in Palawan, or better yet book an island tour. If you want to explore a town by yourself, ride tricycles, jeepneys, or rent a motorbike. Renting a motorbike isn't at all bad at ₱700/day, considering you get to personalise your day tour!
Siargao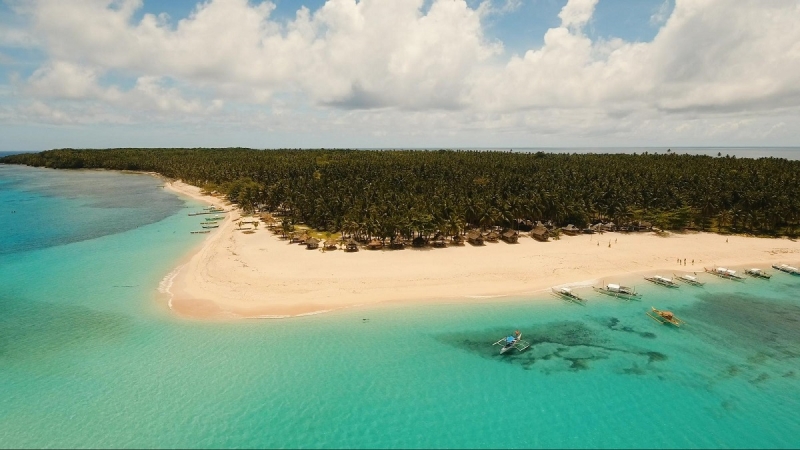 Looking for some R&R? Go kayaking in Siargao's Sugba Lagoon, take photos with the iconic palm trees, join a weekly beach cleanup (travel responsibly!), and taste the island's culinary specialities. It has its own version of pan de coco, and you can get refreshing smoothie bowls at Shaka Cafe. You don't have to break the bank in Siargao either; there are plenty of dormitories and airbnbs for budget travellers. But we heard the resorts also have an awesome party and food culture in General Luna!
For those looking to catch the best waves while travelling the Philippines, Siargao is the epitome of a surfer's paradise! Its most notable surfing spot is Cloud 9 where annual surfing competitions are held around September and October. But if you're a beginner, you can also take classes at different surfing areas like G1 for only ₱500/hour.
Tour tip: The best time to surf in Siargao is from August to September when the weather conditions are ideal to catch crazy waves. Ain't that gnarly?
Also read: Siargao Island: The Ultimate Travel Guide With Insider Tips!
Transportation tip: You can easily go around Siargao island by riding a habal-habal (a motorcycle with extended seats) or big tricycles. Riding these two modes of transportation in General Luna will only cost ₱20/ride. You can also rent a bike which costs ₱150/day.
Boracay
Once known for its party scene, Boracay is now more famous for its recent rehabilitation. And yes, the Boracay you'll experience today is a very different one. No more beachfront parties, no more drinking, smoking, and eating on the beach! The shores are clean, the water is back to its crystal clear state, and there's a newly imposed maximum carrying capacity of 55,000 people. Truly, a spotless and tamed island paradise!
But don't fret, Boracay is still very much an island food hub and a place of fun water activities like banana boat riding, paddle boarding, jet skiing, cliff diving and so much more! The biggest beach in Boracay where you can milk your stay is the White Beach.
Transportation tip: The commonly used mode of transportation in Boracay is the tricycle taxi, which is a bit bigger than the tricycles in Manila. It's only ₱60/ride in White Beach.
The beach is comprised of three "Stations". Boracay's food scene can be enjoyed the most in Station 2 as it's filled with restaurants and shopping areas. We recommend you take calamansi muffins home as souvenirs and try Boracay's oyster sisig and chori burgers!
Also read: The New Boracay: What To Expect When Returning To The Island Paradise
Tour tip: Try exploring attractions outside of White Beach like Puka Beach, Mt Luho for sweeping views, Ariel's Point for cliff diving, and nearby islets for snorkelling and diving.
Manila
Ah yes, the capital of the Philippines — where the mall culture is insane, tiangges (shopping bazaars) bear a perennial charm, and food options are endless. But before we get to that, a trip to the modern city of Manila wouldn't be complete without visiting Intramuros.
Intramuros was the seat of government during the country's Spanish colonisation. Its most notable attraction is Fort Santiago which houses the Rizal Shrine, where you'll learn more about the country's history and national hero, Jose Rizal. Intramuros also houses the San Agustin Church, which is another UNESCO World Heritage Site.
Tour tip: You can ride a kalesa (horse-drawn carriage) to tour you around Intramuros. It usually costs ₱500 per 30 minutes good for 6pax.
After finishing the educational trip down at Intramuros, experience modern Manila through the malls and eating hubs. Manila doesn't run short of low- to high-end brands, whether local or foreign. Your inner bargain hunter will also thank you for the neat haggling experience to be had in tiangges. And food lovers, rejoice! The city is a melting pot of diverse cuisines as long as you know where to look. The most strategic area to stay in Manila is Ortigas Center, the middle ground between north and south. Trust us, you'll need to be based in the middle if you want to spend your time wisely exploring the metro!
Transportation tip: Grab, jeepneys, and small tricycles are available everywhere in Manila. Be sure to give some leeway and have patience when commuting in Manila as some parts can get congested especially during rush hours.
The FUN never stops!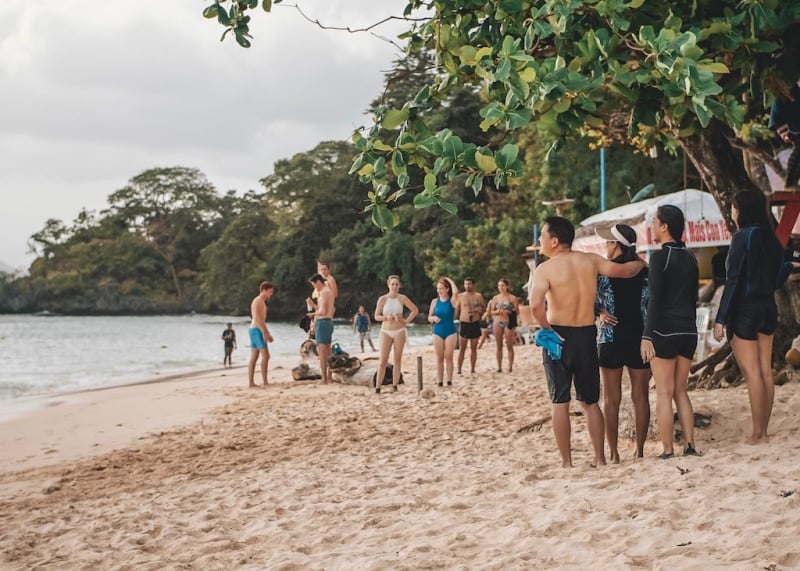 We assure you, one flight is all takes to enjoy the multitude of things to do while travelling the Philippines. Watch this video for a visual peek into the fun:
What are you waiting for? Grab your friends, mark your calendars, and kickstart your getaway by checking out flight schedules to any of these awesome Philippine islands! Have fun travelling the Philippines!
For more information, please visit Cebu Pacific's official website, Facebook, Instagram, Twitter and Youtube.
---
Brought to you by Cebu Pacific Air.