Layovers aren't the most fun parts of travel. Sometimes, a simple meal at the airport is enough to get through an hour's wait or two, but long waits can take a toll on one's patience. But when hours turn to days, one is presented with a great opportunity to leave behind boarding gates and heavy luggage, and head out to experience the country.
Doing so, however, presents a rather big risk of getting lost and ultimately missing one's flight, and this can be quite real in Tokyo, where the airports are rather far away from the city centre. So, what can you do with 12 hours in Tokyo? Quite a bit actually.
From and to Narita Airport
The no-frills route
If you prefer a quick getaway with minimal planning required, the Narita Airport Transit and Stay Program should be something to consider. Free volunteer-guided tours around Narita are generously organised for travellers by the airport, each lasting between three to five hours. The only expenses you would have to pay for are the food and souvenirs you can buy along the way. Cycle through the country-side, snap photos in a yukata at a historic town — there's a good variety of tours for you to try out. If you fancy some time by yourself, there are also self-guided and bus tours where you can explore areas around Narita.
Check out the program here: https://www.narita-transit-program.jp/
Heading out to the capital city – Transport Options
Narita Airport is, as its name suggests, located in Narita City, which is a considerable distance away from Tokyo, where all the iconic attractions of the bustling city can be found. If you're up for visiting them, getting to the capital city would probably be your main challenge.
If finances aren't a concern for you, there's the JR Narita Express (which is covered by the Japan Rail Pass) and the Keisei Skyliner, both of which take 60 minutes and 41 minutes respectively to get you to various stations around the city. Like all trains in Japan however, these two lines run on tight schedules so you might want to take note of the trains' time slots to catch a ride back to the airport or you'd risk waiting a long time for the next one (or worse, missing the train back altogether, which would leave you with a two-hour waiting time between the airport and the city on the regular train lines). Trust me, you wouldn't want to do this.
Cheaper options include the airport limousine bus (rides are around 90 minutes on average to and from various hotels and locations) and other low-cost bus services (Keisei Bus, The Access Narita), the latter of which may offer discounts if rides are booked ahead of time.
Of course, there are also taxis available to and from the airport, but they are expensive and should be your last option if you're on a budget.
From and to Haneda Airport
Haneda Airport is considerably nearer Tokyo, and is located just half an hour away. You can grab the Tokyo Monorail for a 20-minute ride to Hamamatsucho Station on the Yamanote Line, or the limousine bus that reaches Tokyo Station in 50 minutes. While the former option is cheaper, the bus is a fuss-free alternative that can take you straight to specific areas and even neighbouring prefectures.
Exploring the big city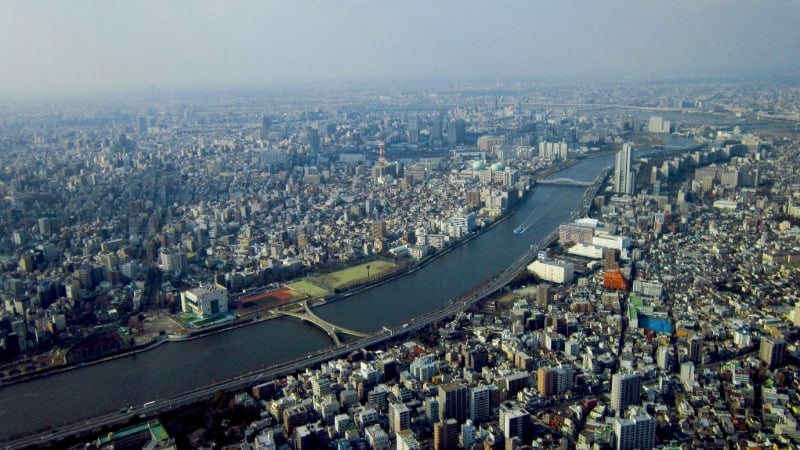 While I'd recommend getting a train/bus pass to save some money as you get around, different companies operate different parts of the subway and bus system, so there isn't a one-pass-fits-all solution to this. That said, getting an IC card (Suica or Passmo) is recommended to ease moving through stations, plus they give a slight discount from the original rate, which is a nice bonus. You can obtain one of these cards from any station via their automated ticketing machines, which also have multiple language options.
With limited time to get around, the key is to reduce commuting time and head to spots that strike your fancy first. I'd personally recommend touring along the Yamanote Line which stops at most of the popular spots of Tokyo such as Shinjuku, Shibuya, Akihabara, and Ueno, to name a few. The line is directly accessible from Tokyo Station, which you can reach from both Narita and Haneda airports. Here's a breakdown of what you might find in some of Tokyo's iconic spots.
Asakusa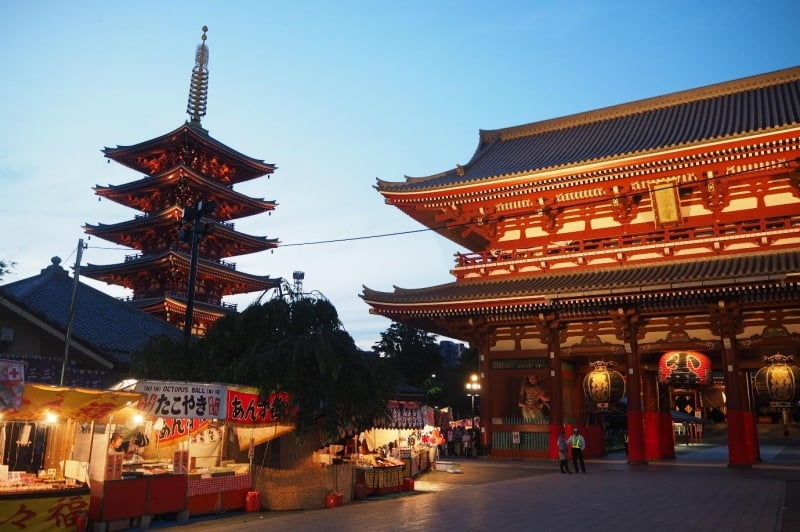 This is the place to head to for a cultural taster in Tokyo. The iconic giant paper lanterns of Tokyo can be found bordering rows of souvenir and confectionery shops which will bring you to the foot of the famous Sensoji Temple. Merchants have been setting up shop for centuries around the temple and this enterprising spirit continues even today. Look around for a kimono or grab delectable street snacks before getting around on a rickshaw tour.
Also read: Celebrating Sanja Matsuri 2018 in Asakusa, Tokyo
Ueno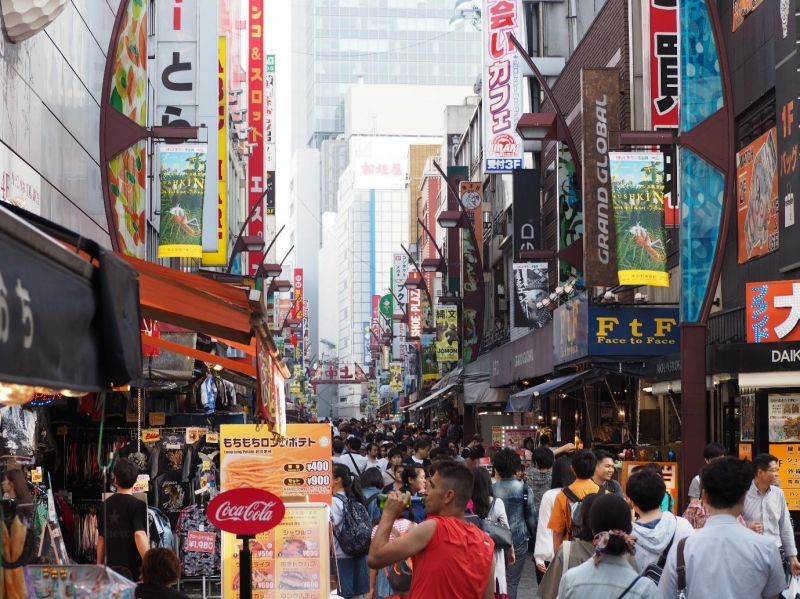 Ueno Park and Ameyoko alone can take hours to explore. The expansive park is not only home to various flora and fauna, but also houses several museums and religious sites. I'd recommend the Shitamachi Museum, which gives you a glimpse of what life was like in Japan through the ages, and the National Museum of Science and Nature, which is a must-see for science and nature buffs (check out their occasional special exhibition). If food and cheap finds are your thing, Ameyoko is the place to go. Grab fresh seafood, kebabs, or head into one of many restaurants there before looking around for shoes, bags, and various dried goods. This former post-war black market still retains its festive nature, and it's not difficult to get caught up in it.
Shibuya
The world-renowned scramble crossing is situated just outside of Shinjuku Station, and so is the Hachiko statue, Japan's most famous statue. Beyond these, Shibuya offers a mix of mid-range eats and various shopping options. The massive Tokyu Hands shop is easy to get lost in and offers countless lifestyle products, as do the nearby LOFT, whose top floor houses several character goods as well. If you're looking for traditional souvenirs here, Maruara Watanabe is a cosy store that houses hidden treasures.
Harajuku
A short walk away from the heart of Shibuya, Harajuku is made for fashionistas and luxury shoppers. Stroll down laidback Cat Street, catch a glimpse of colourful eccentric Harajuku Fashion, and jostle with the young crowd at Takeshita Street. If you're looking for souvenirs, Oriental Bazaar will have you spoilt for choice with two floors of traditional souvenirs and an interesting floor dedicated to antiques.
Akihabara
Pop culture geeks and otakus know this place as the mecca for anime and manga fans, but Akihabara is also known as Electric Town, and historically has been a place locals head to for electronics. Today, pop culture thrives with cutting-edge technology, and it's definitely a place to get your hands on both new and second-hand electronics, and anime collectibles.
Shinjuku
Scale up the Tokyo Metropolitan Government Building to catch a panoramic view of the city (it's free!), stroll through seasonal flora at sizeable Shinjuku Park, or get lost in one of many malls and electronic department stores in Shinjuku. Shin-Okubo Koreatown is also an interesting place to visit (unless you're transiting to Korea), while Omoide Yokcho (Piss Alley) offers several food options through its narrow alleys from a bygone time.
Tip: If you're still lost as to where go to, you can always leave yourself in the hands of a capable volunteer guide who can bring you around. Several organisations offer this service (some for free, others for a small fee) and are just a short web search or telephone call away. Do take note that guides usually meet at designated areas or hotels, so you won't be able to get one straight off at the airport.
Want to leave your baggage behind?
There are both manned baggage services and coin lockers at Narita and Haneda Airport, and various stations where you can leave your baggage, allowing you to travel load-free around the city. Don't forget to use them!
Head back early!
Don't forget to set aside one to two hours to head back to the airport (depending on which airport you're returning to). If you're still regretting not being able to pick up any souvenirs or snacks, don't worry as the airport has got you covered with shops that offer goods at a tax-free rate.
There you go, 12 hours in Tokyo! Told you; you can do quite a lot. It all boils down to budgeting your time and taking the smartest public transport options. Good luck!
Also read: 24 Fun Things to Do in Tokyo on Your Very First Visit