It was the end of spring when I found myself in Tokyo — a little too late to catch any of the spectacular spring blooms.
Being in the city for the next three months meant that I had a whole checklist to tick things off from. I had grand plans of visiting various attractions during my free time. That all went out of the window, though, when in my first weekend in Tokyo, I learned about a festival that was happening down in Asakusa.
Thus, began my summer of chasing after matsuri.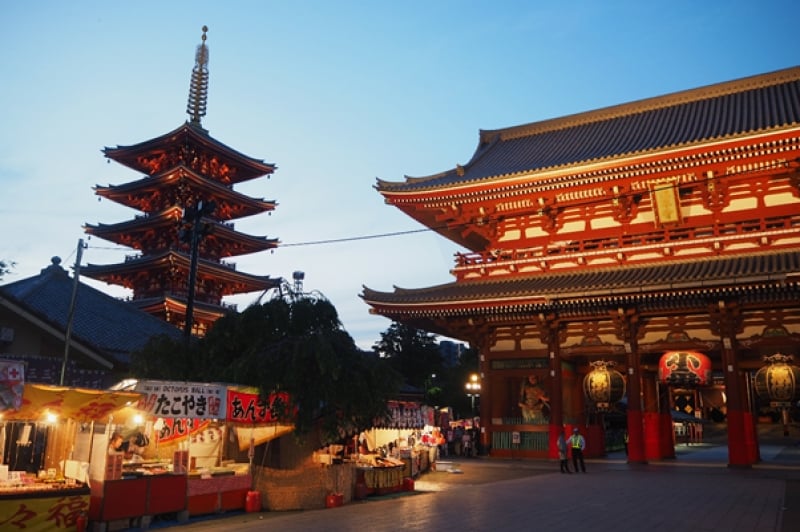 That afternoon, I found myself heading over to Asakusa to visit Sanja Matsuri. Sanja Matsuri is one of the biggest festivals in Tokyo. So it didn't come as a surprise when I arrived at the station only to see a throng of festivalgoers. I had little trouble figuring out where to go next as there was a large crowd of people that I could follow to Sensō-ji, where the festival was already in full swing. There, a large crowd had already gathered and soon, several mikoshi (or portable shrines) were being carried out.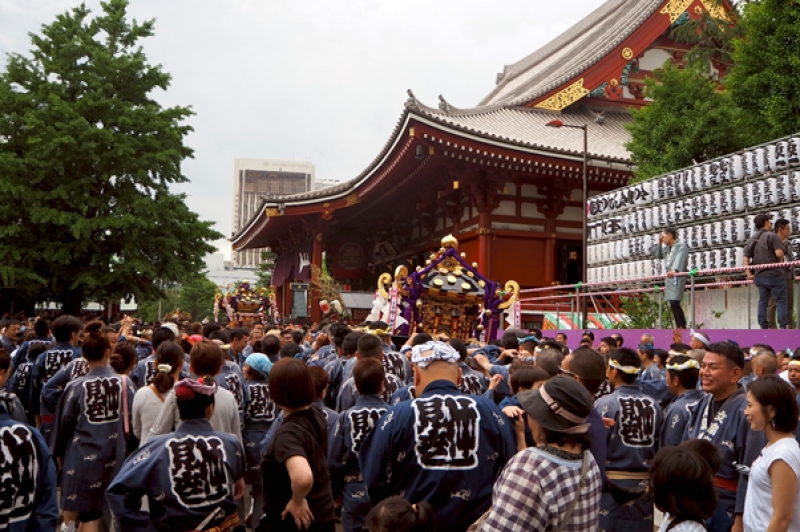 Minutes after jostling with the crowd for a good glimpse and shot of the procession, I soon remembered that it was time for lunch. So I pushed through the crowd after the third mikoshi passed by and headed for the yatai (mobile food stalls). Heavy tarps with colourful text greeted me, inviting me to take a look inside, where food and wares were sold by vendors. On the way, I came across another crowd. It seemed that the mikoshi had already made it to this area of the temple grounds, so I again set aside my quest for food to snap a few shots of the action.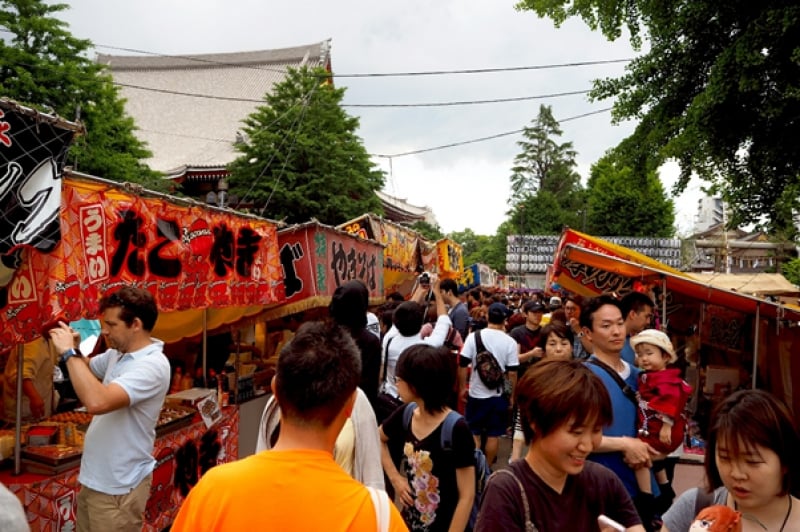 My hunger soon won over and I finally left the crowd in search of some yakisoba or okonomiyaki. I soon found a yatai selling Hiroshima-style okonomiyaki, and after buying one, headed over to the seats to enjoy my meal. While there were some festivalgoers in their yukata, it was still too early in the season to wear one so most weren't. I found a place to sit after some time — the place was very crowded — and savoured the tasty dish I bought.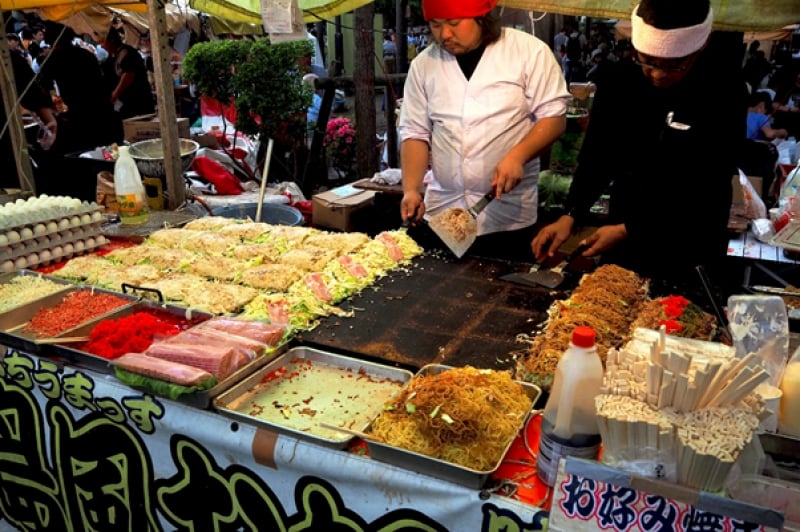 I should have known the overcast sky was an indication of impending rain. Soon, stray droplets of rainwater began to fall. Picking up my half-eaten meal, I joined a pre-emptive few and headed over for the nearest shelter. Spring was ending and with summer just around the corner, tsuyu, Japan's rainy season was almost upon us. As I continued to eat my meal, I overheard some people saying that it was time to go home. No one wanted to be around when it rained, for tsuyu rains are long and miserable.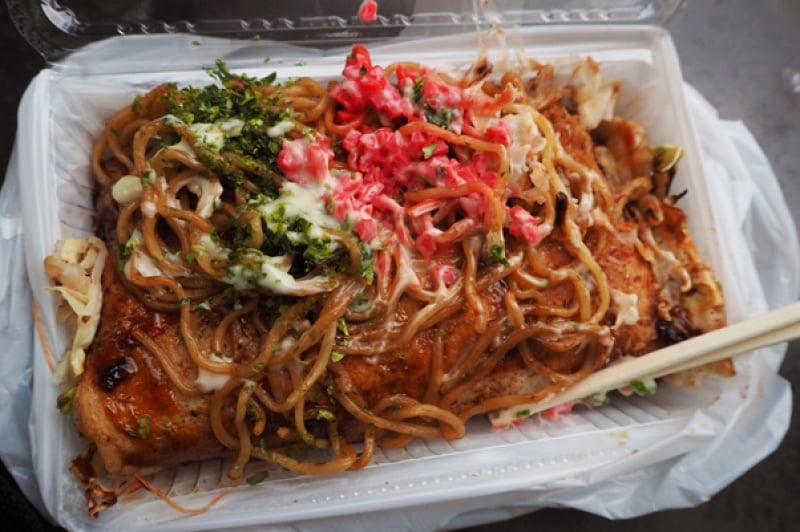 My fears of a ruined festival were soon abated, however, when the slight drizzle failed to get heavier and soon stopped. By then, I had finished my meal, so I disposed of the empty container in a bin designated for garbage.
I continued to explore the rest of the festival and soon came across a noh stage, where a small crowd had gathered. A group of dancers donning kimonos with their faces powdered white had just left the stage. They stepped out to the audience, who were anxious to get a photo of and with them. A whiteboard tied to the front of the stage indicated more performances the next day, so I made a mental note to come back. Nearby, a long line stretched out from Asakusa Shrine. These people were all waiting for their turn to pray.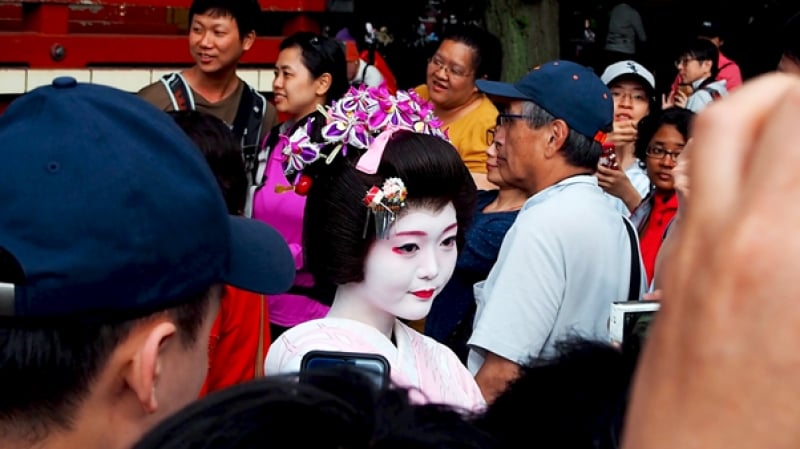 The next day…
With my mind made up to catch a performance at the noh stage, I returned to the festival again the next afternoon. The roads around the vicinity had been turned into hokuten, vehicle-free pedestrian paradises where leisurely strolls and timed photoshoots were possible. This was in preparation for the massive throngs that would crowd around the mikoshi as they made an appearance that night.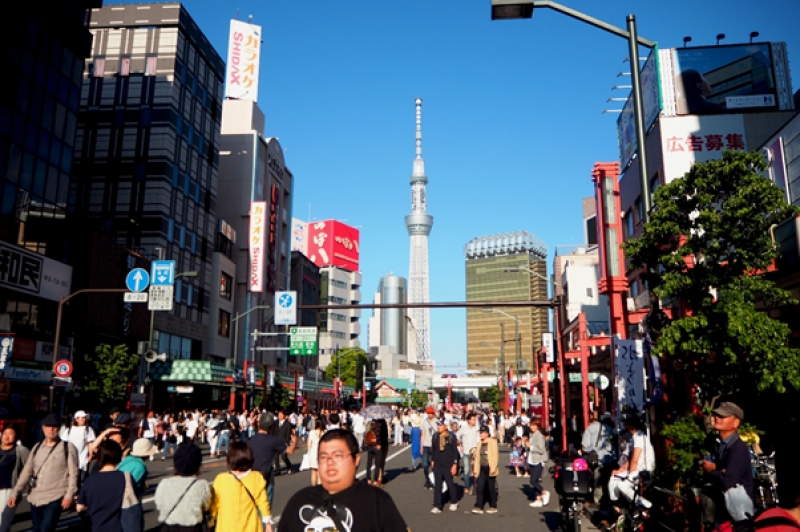 The temple grounds were as crowded and lively as the day before, and I headed straight for the noh stage I saw yesterday. As expected, a performance was on. But instead of dances, it was some form of silent comedic noh theatre between two characters. Shortly after the performance, however, we were all told to vacate the shrine grounds. Barriers were set up to prevent people from crossing over. I didn't quite understand what was happening but I left the temple grounds with the rest of the audience.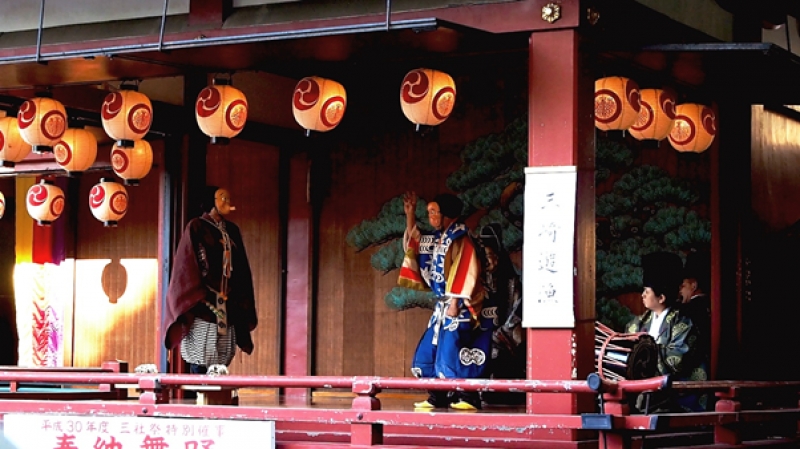 People already gathered behind the barriers. Some said another event might be starting so I joined them while waiting (you're starting to see a trend here, aren't you?). I caught conversations around me and I heard that the mikoshi was making its way through the neighbourhood. It would soon arrive back at the temple, where it belongs. Half an hour of standing shoulder to shoulder with an expectant crowd and all we saw were some police officers and temple patrons. It seemed that the procession wasn't that close yet so I decided I'd rather get some food and head home. It was already getting dark and I wanted to head back before the madness started.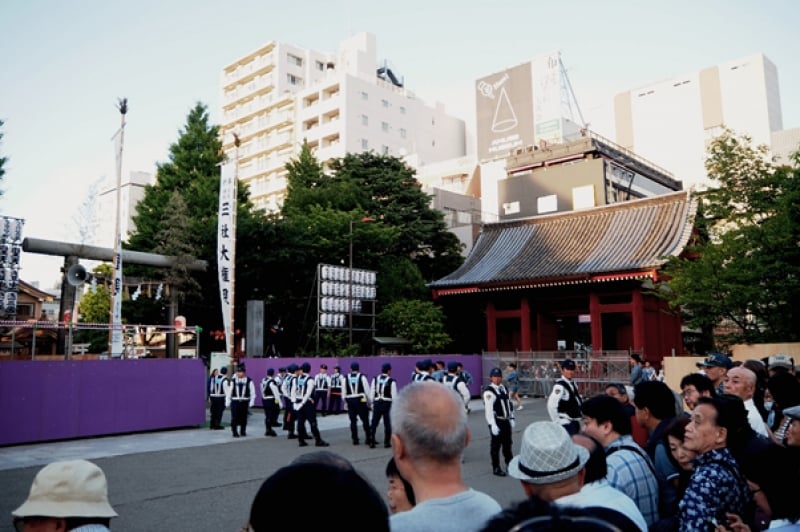 Large parts of the temple grounds were already cordoned off at this point. Although I feared that I was going to be trapped in the vicinity, I soon found my way to the Nakamise Shotengai, which was the famous arcade of souvenir and confectionery stores that led up to Sensō-ji. Most of the shops were closed, and I would later learn that metal bars were installed across their front to prevent the rowdy crowd from damaging the stores and their wares when they jostled with each other to get a touch of the mikoshi. Shop-owners in the past had to hold themselves in their shop and push against the shutters so that festivalgoers wouldn't push through.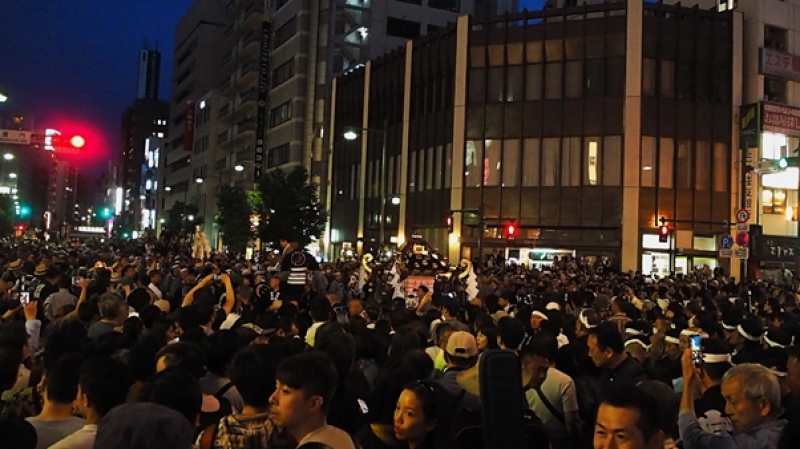 Being in the midst of such a crowd wasn't something I wanted to do on a Sunday night, and as I headed out towards the station, the struggle was already in full swing with the mikoshi slowly but surely making its way to the temple. For that weekend, my matsuri experience had ended, but it was only but just the beginning, with many more to come.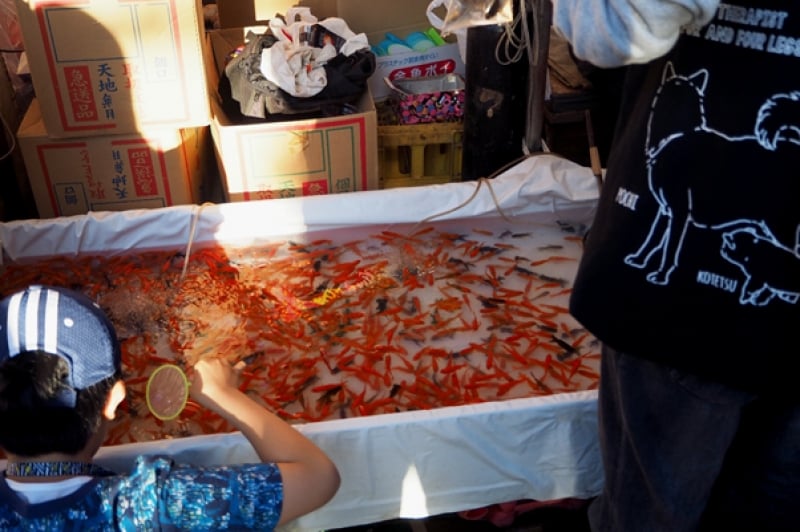 Matsuri: the embodiment of summertime Japan, one of the few things people can look forward to in the sweltering humidity of the summer. It's not hard to get swept away by the numerous festivities that happen throughout the few days that a matsuri lasts. The heat and aroma from yatai food sizzling on a grill, the many toys and trinkets on display at colourful game stalls, the performances and parades that spontaneously happen — this is a side of Japan that's off the travel guides. It's a facet of Japanese tradition that's still as enjoyable today as it was many decades ago.
Also read: Tokyo's Biggest Fireworks Festival is Coming Up & Here's What You Can Expect