A peaceful outdoor destination by summer and a snowy wonderland by winter, Niseko is the ideal getaway for travellers looking for the best alpine vacation on this side of the globe! FYI, the town boasts world-class skiing destinations in Japan, thanks to its heavy-falling powdery snow that can mount up to 14 metres high yearly. Those into skiing can visit this winter paradise between the end of November and early May. If you like it thick, the heaviest snowfalls start in late December until mid-February.
That said, it's best to enjoy this winter haven and its entirety by booking the Niseko Airbnb of your choice for an unforgettable frosty getaway! So, read on to learn more about these gorgeous vacation rentals in Hokkaido's scenic town. 
Also read: 10 Best Winter Destinations in Asia for Your Next Holiday 
Best Niseko Airbnb homes to enjoy the cold season
1. This classy home with a gourmet delivery service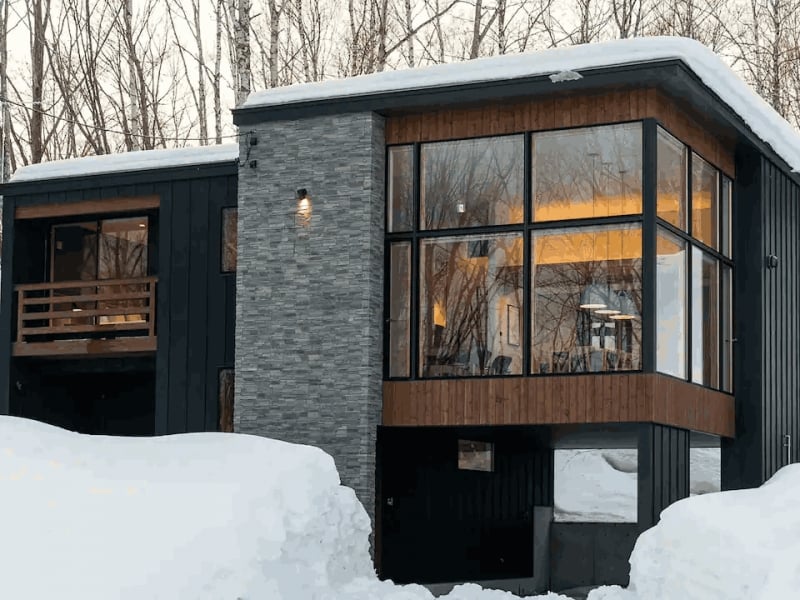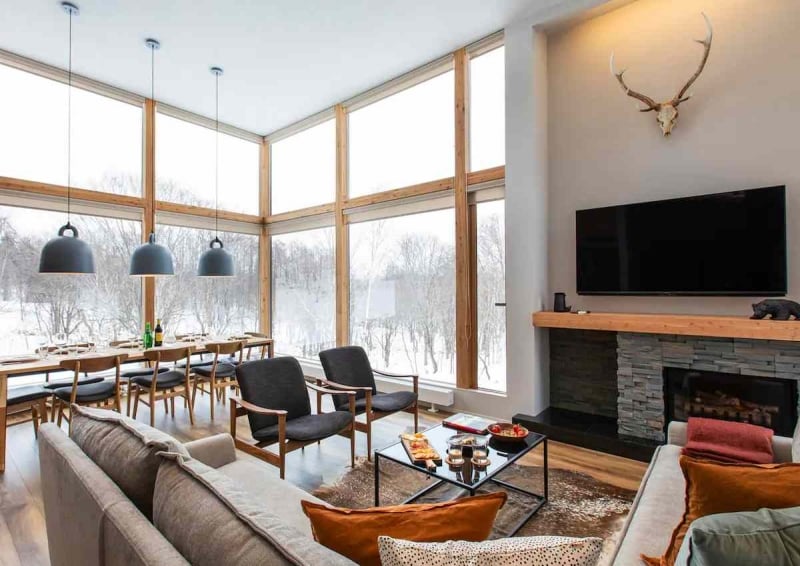 Listing name: Ukiyo Chalet -Trendy 3BR mountain lodge in Niseko
Listing type: Entire chalet
Max. no. of guests: 8
No. of bedrooms: 3
Merging stylish modern details with a hospitable spirit is this Airbnb in Niseko that stands proudly amidst the snow pile. The modern cubic chalet can comfortably accommodate up to eight guests and is equipped with a fully stocked kitchen. If you don't feel like cooking, you can opt for an in-house chef. Or better yet, order your meals through their excellent gourmet delivery service at an extra cost. 
While you're inside, take some time to admire the beautiful wintery landscape from the huge glass windows in the living area. And when you're tempted to touch the snow, you can book a shuttle to the famous Niseko Tokyu Grand Hirafu or Annupuri Gondola Station for the best snowy experience!
2. This charming Niseko Airbnb that comes with a rental car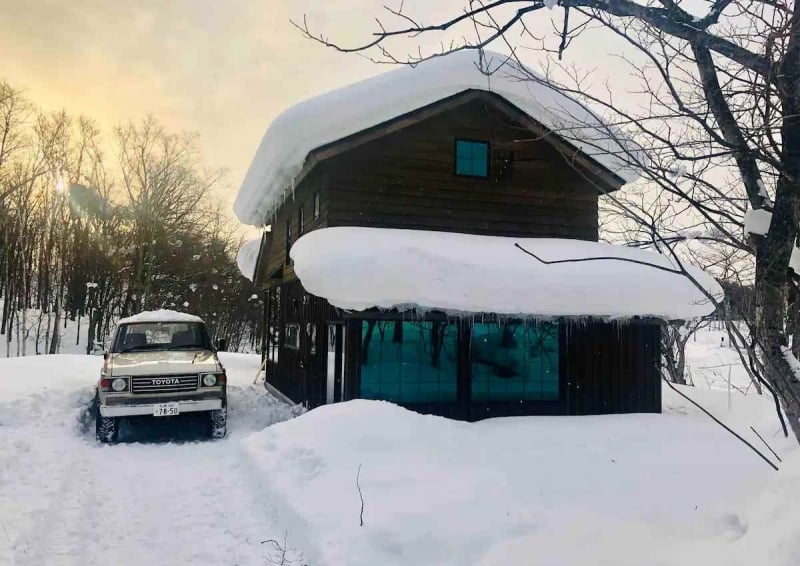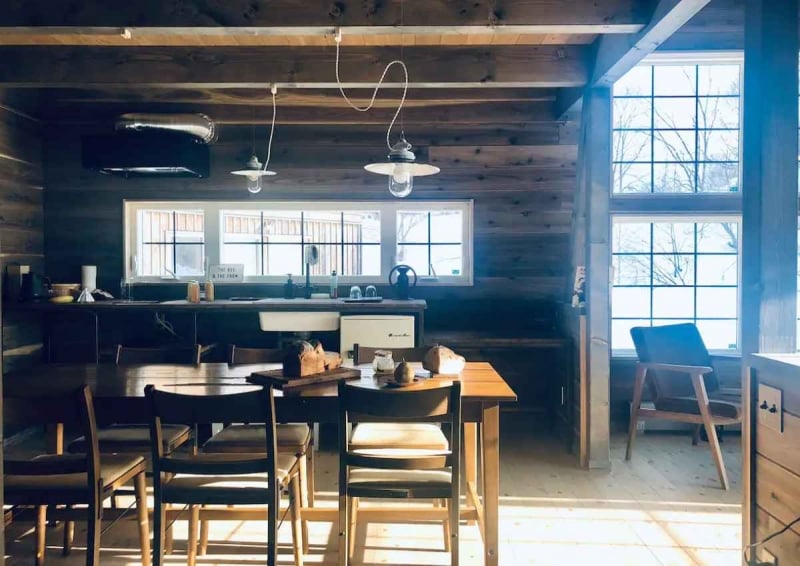 Listing name: Snow Shack Niseko
Listing type: Entirehome
Max. no. of guests: 5
No. of bedrooms: 1
Beautifully standing out with its iconic gabled roof is this lovely lodge in Abuta District. Step inside and you're greeted with an interior filled with natural light and stunning views of the snow-gobbled forest. Snuggle in the comfy futon of your loft-style bedroom and enjoy a coffee or two before you head out for some adventure!
What kind of adventure, you ask? The kind that lets you thrust the powdery snow as a ski resort is only a 15-minute drive from this place. If you're up for some brunch, drive the rental car provided by the Host (¥5,000 per day) to nearby cafes, bakeries, and soba shops. 
Afterwards, steer your wheel to any of Niseko's hot springs in the area for a warm bath amid the freezing season! Definitely one of the best Niseko Airbnb homes that lets you enjoy all the good things in winter.
3. This tranquil dwelling amidst lush greenery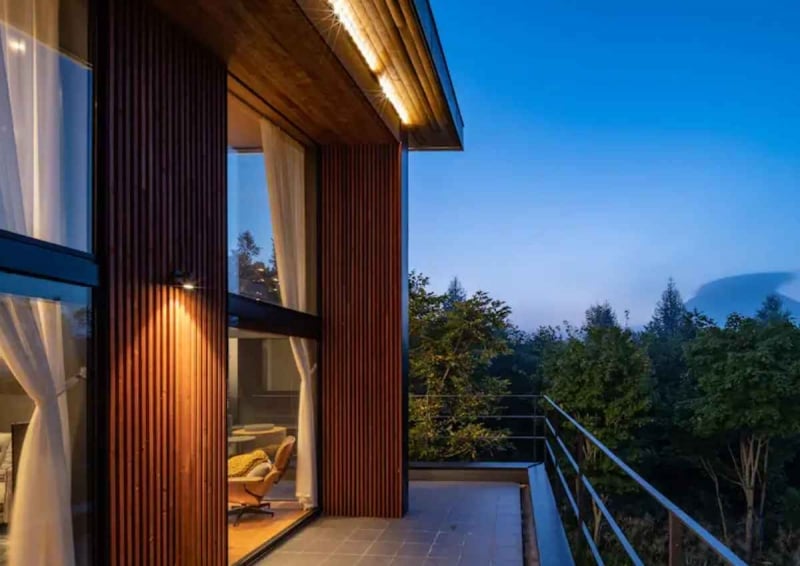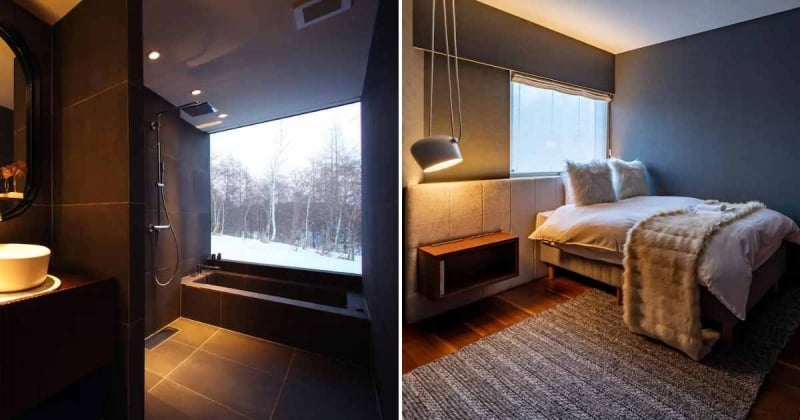 Listing name: Niseko椿 最大5名様 上質な空間で過ごす、心穏やかな休息
Listing type: Entire home
Max. no. of guests: 5
No. of bedrooms: 3
Still looking for where to stay in Niseko for skiing? This stylish home should be on your list! Blending clean lines with perfectly placed warm lights, the abode will tempt you to stay inside for a longer bout thanks to the urban aesthetic it exudes. While you're there, check out the open-air balcony that offers you unbeatable scenery of the forest and mountains ahead. Or better yet, soak in a warm bath while you enjoy the beautiful scenery from the picture window right by the tub!  
The private homestead also comes with three spacious bedrooms, each with its own dressing table, and can accommodate up to five guests comfortably. Need to cook a light meal? Its well-equipped kitchen has all that you need. Now comes the fun part: Niseko Village Ski Resort and Niseko Tokyu Grand Hirafu are just a 10-minute drive from this stay! So, be sure to pay these famous attractions a visit while you're there. 
4. This harmonious abode with Annupuri's White Avenue views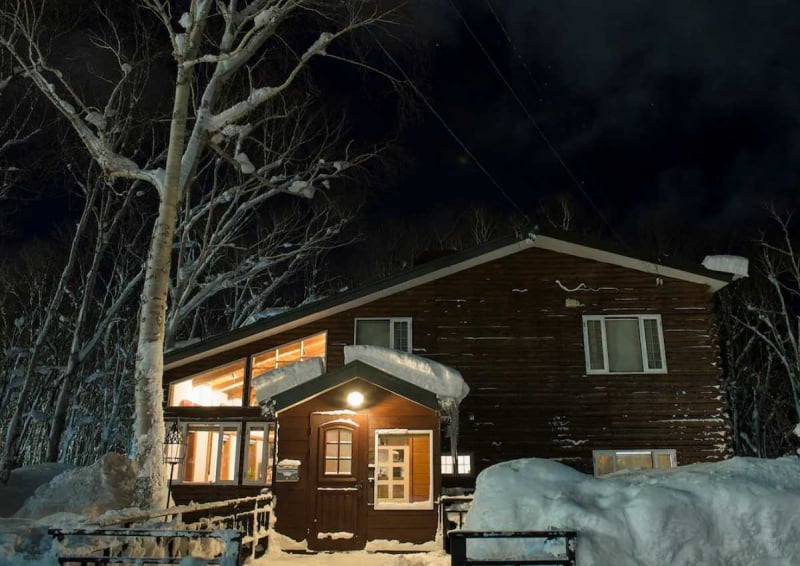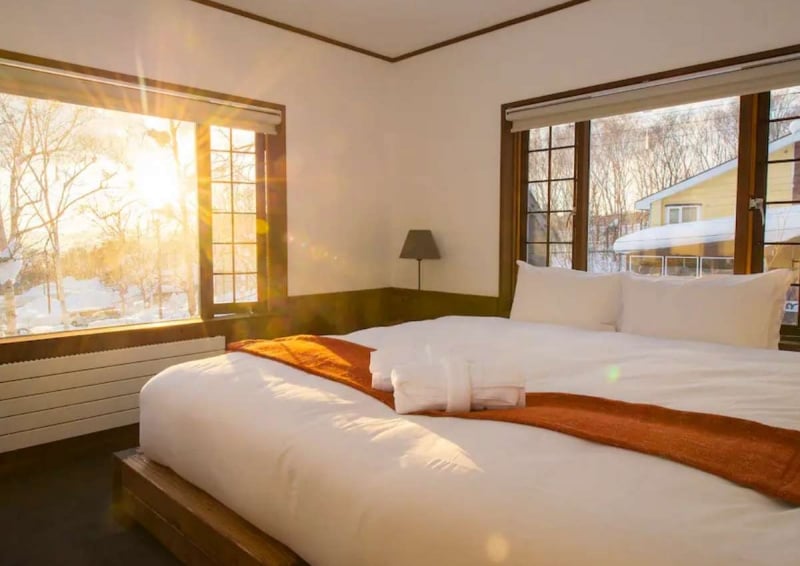 Listing name: Lodge 401 Niseko. King /Twin Room 202
Listing type: Entire nature lodge
Max. no. of guests: 2
No. of bedrooms: 1
For couples searching for the cosiest stay in Niseko, this homey lodging with brand-new bedding and modern furnishings is it! The bedroom's windows are built overlooking the spectacular vistas of Annupuri's White Avenue. So, this is your chance to wake up to the glistening snow bathed in golden sun rays before you get ready to take on the day. 
Some of the perks you'll be getting include a complimentary breakfast and laundry service, as well as a home bar. For some romantic time with your partner, head to Annupuri Gondola Station within walking distance of this place. The cable car ride blessed with the heavenly sights of winter is to die for; take our word for it!
5. This hard-to-miss red homestead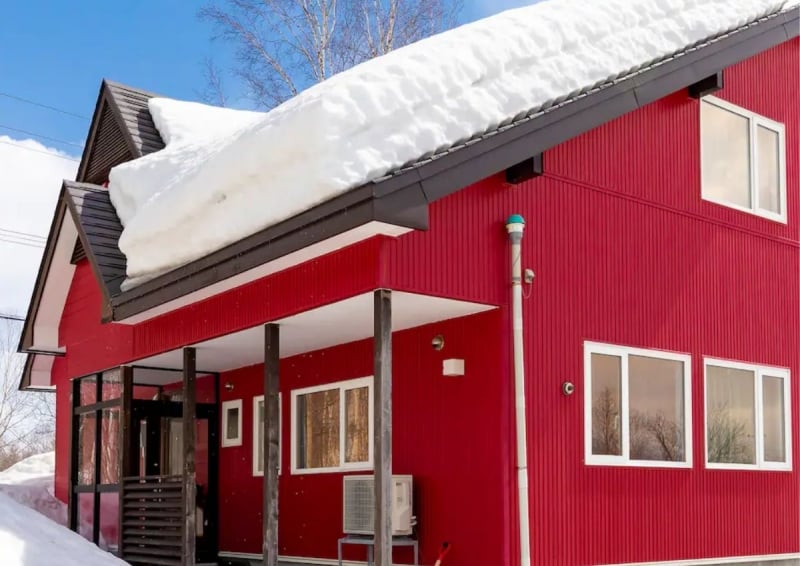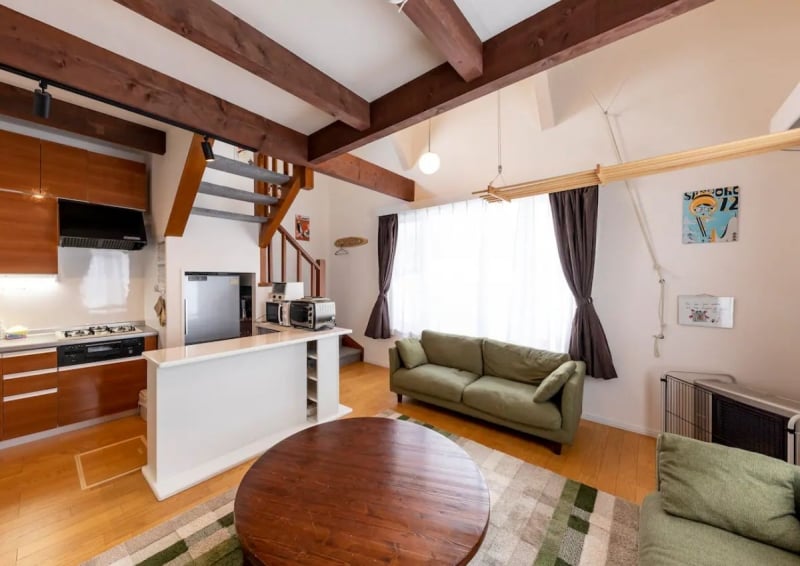 Listing name: Niseko Red House – near ski resorts, whole house
Listing type: Entire home
Max. no. of guests: 10
No. of bedrooms: 4
This striking residence is the perfect getaway for a large group visiting Niseko. Boasting a bold colour that gives off an energetic vibe on the outside, the stay is more relaxing on the inside. I mean, just look at the patches of olive green in the living area that add a verdant pop of tranquillity to the space. 
This Japanese-Western-style home also comes with two living spaces, one of which is equipped with floor heating. Plus, you can have a fun movie session with your family and play Mario Kart all you want! When there's nothing left to do inside, Niseko Ski Resort is just a short drive away from this place. Talk about the best Niseko Airbnb for a big fam on vacay in the calming side of Hokkaido.
6. This gorgeous Niseko Airbnb with a private onsen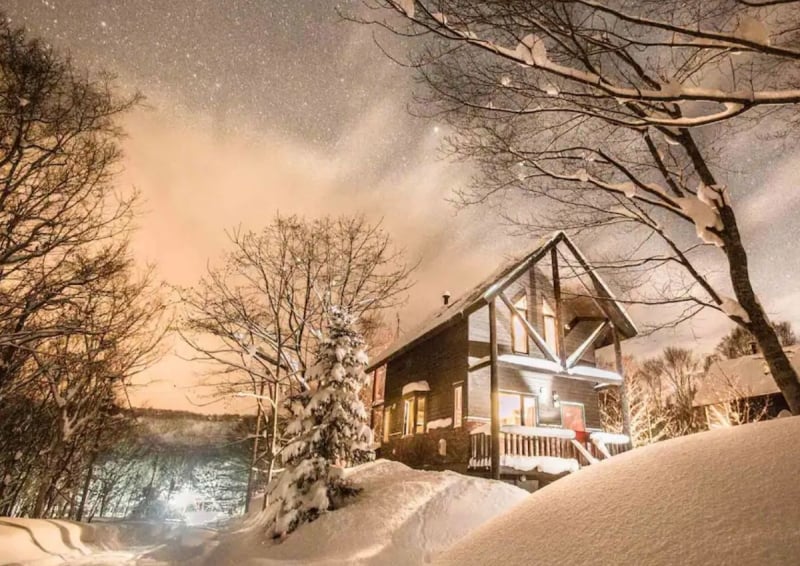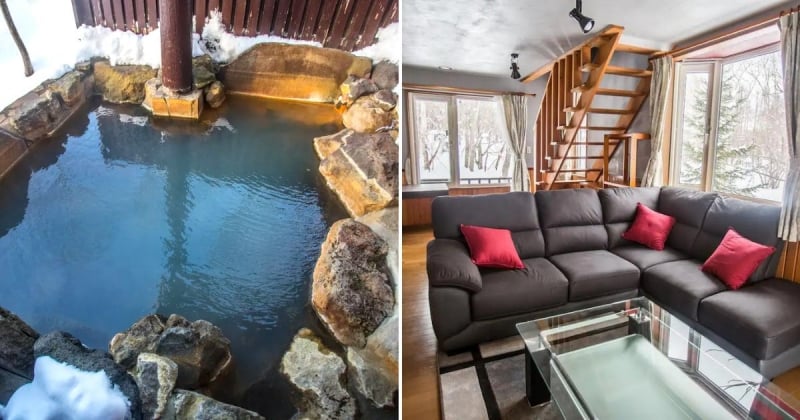 Listing name: Moiwa Onsen House
Listing type: Entire cabin
Max. no. of guests: 8
No. of bedrooms: 2
Blending rustic charm with contemporary design is this lovely Airbnb in Niseko, Japan, just behind the Moiwa Ski Resort. Upon arrival, don't forget to take your complimentary breakfast starter pack that includes instant miso soup, coffee/tea, bread, butter, and milk to kick off the day. One thing you can't miss while staying here is the private onsen for six. Take a relaxing dip, and you'll instantly get that much-needed zen you're looking for.
After a long day of exploring the town, you can plunge into one of its bunk beds or double beds, or better yet, get a futon and sleep like a local in your cosy bedroom. Can't sleep at night? Walk outside, stargaze to your heart's desire, or build a snowman (or two) with your loved ones!
7. This serene escape that's close to two ski resorts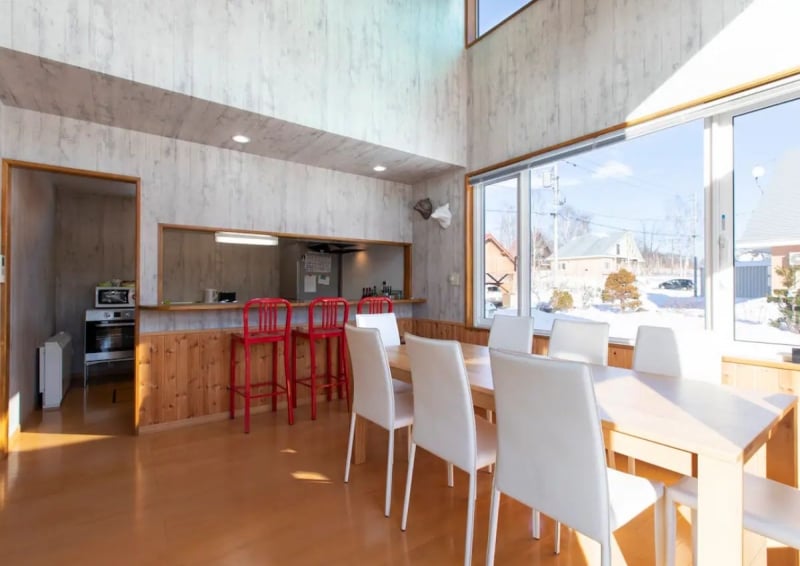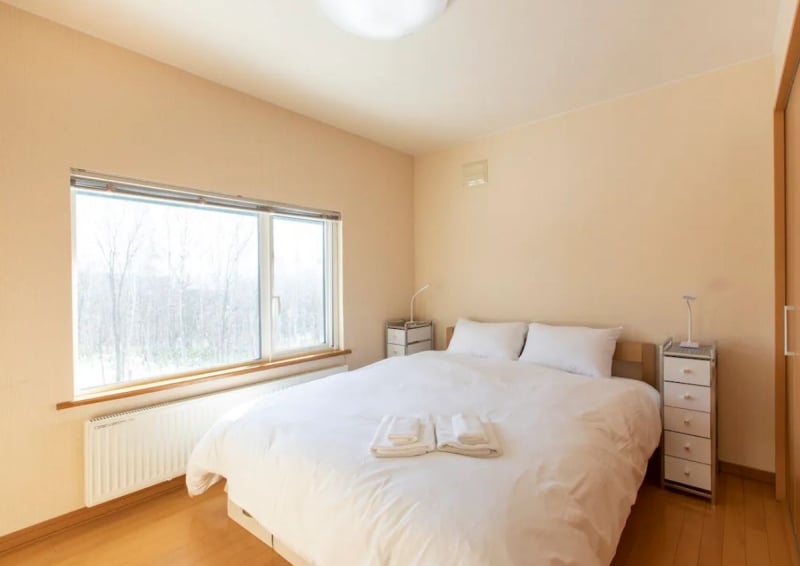 Listing name: Powder Blue 3Bdrm
Listing type: Entire home
Max. no. of guests: 6
No. of bedrooms: 3
When in Niseko, where to stay should no longer be the question — not with this comfy retreat between Hirafu and Niseko Village. Tucked away from the hectic city life, here's where you can get a quiet time of your own. What's more, the property offers a breathtaking view of Mount Yotei from its living room. And come nightfall, you'll be able to witness a magnificent starry night sky from the comfort of your bed! 
Psst — a fluffy snow pile is just outside your door and it calls for a much-anticipated snowboarding sesh with your buddies! Suddenly have the urge to explore the nearby areas? Drive your way to Hirafu and Annupuri, located seven to 10 minutes away from this place. Hands down the perfect Airbnb in Niseko for a peaceful escape in Hokkaido.
8. This fully-furnished, rustic cottage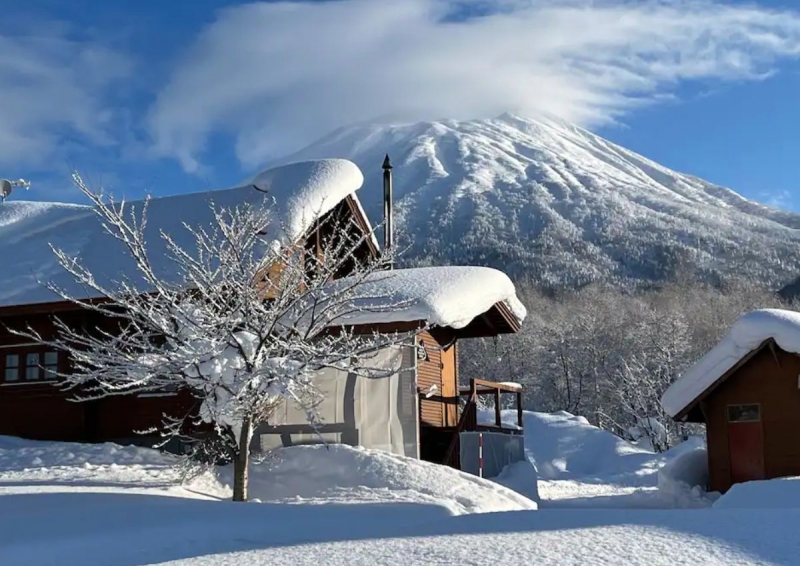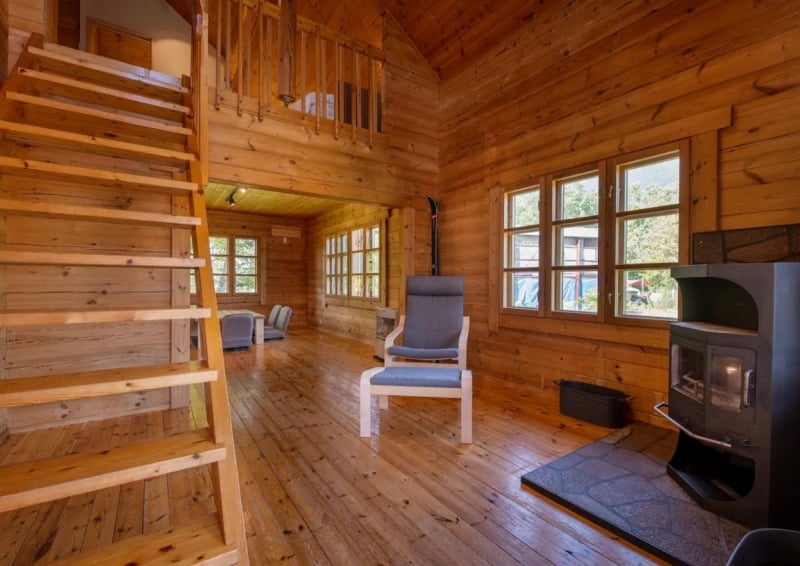 Listing name: Niseko Mountain Guides Lodge
Listing type: Entire home
Max. no. of guests: 6
No. of bedrooms: 3
The list is incomplete without mentioning this spotless Airbnb in Niseko, located at the base of Mount Yotei. The perfectly installed wainscoting with minimal furniture placement makes the space look roomy enough to accommodate six people comfortably. 
You can have a fun board game session or a late-night chit-chat with your BFFs by the wood-burning stove for a warm moment you won't soon forget. For a fun-filled skiing experience, the Niseko United Resorts and Rusutsu are just a 30- to 40-minute drive from this abode!
Also read: 10 Scenic Stays Near Mount Fuji for the Best Views
9. This adorable log house that gives off bucolic vibes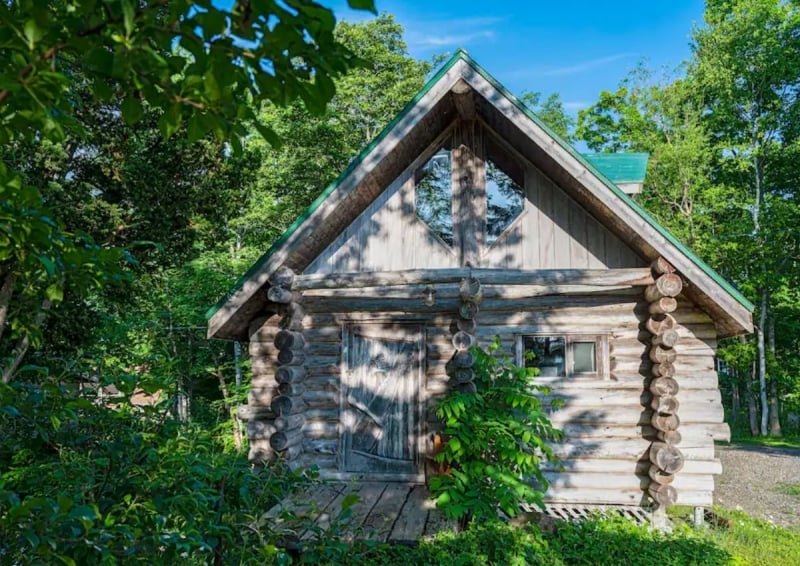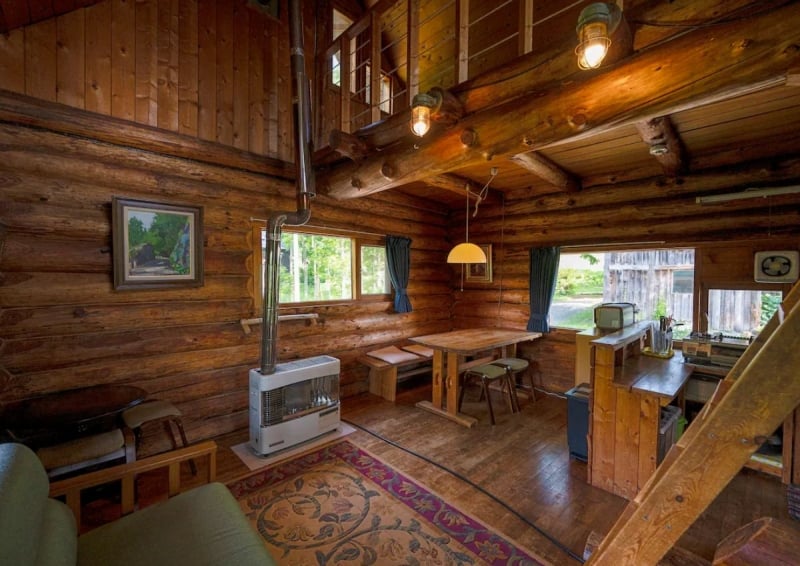 Listing name: Niseko log house cottage「KARAMATSU」
Listing type: Entire cabin
Max. no. of guests: 6
No. of bedrooms: 3
What better way to spend the year-end holiday with your loved ones than staying in this enchanting Niseko Airbnb that looks like something out of a countryside-set film? Sit in a circle on the first floor and enjoy a fun bonding session with your fam or besties over some card games or gossip. When it's time to sleep, the second floor is where you should head to. It is equipped with futons for six, and yes, you'll be sleeping together on the same floor. 
You can cook together in the space's fully-furnished kitchen for some breakfast or light meal. And when it's time to shower, you can either use the shared bathroom within the space or head out to the nearby hot spas for the best experience. Psst — make sure to get tickets at a discounted price from the Host before going to the spa!
10. This pristine Airbnb in Niseko that screams "luxury" from every corner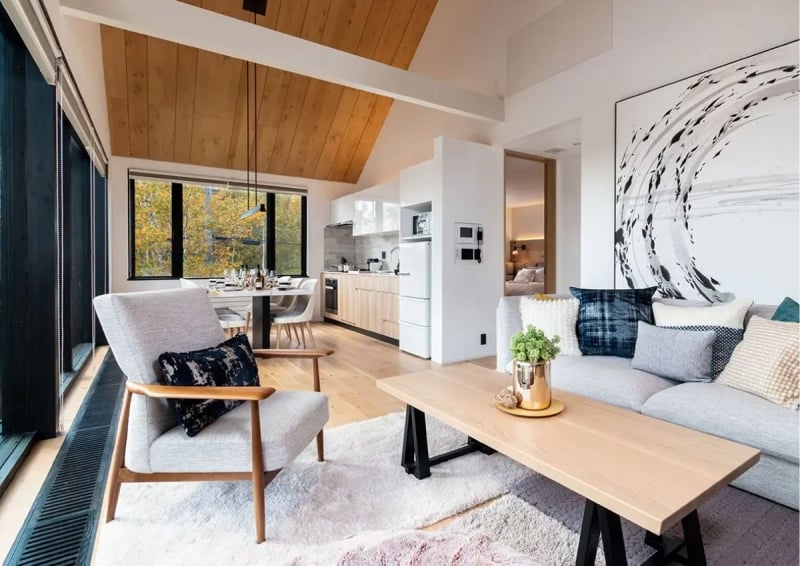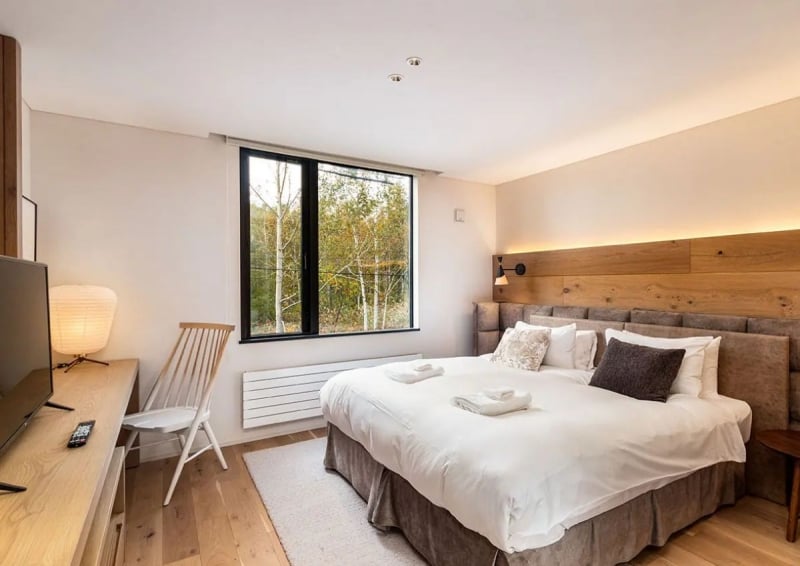 Listing name: Koa Townhouse by H2 Life
Listing type: Entire townhouse
Max. no. of guests: 4
No. of bedrooms: 2
Your search for where to stay in Niseko, Japan better end with this luxurious townhouse that calls for the perfect family getaway in Higashiyama! What's more, the quality craftsmanship that carefully melds traditional Japanese and modern Scandinavian aesthetics truly enhances the interior tenfold.
Plus, both the living space and your bedroom will give you a live view of the outside snow. In fact, you can even have a warm dinner with a snowy backdrop in its spacious dining area! Did we mention this sleek Airbnb in Niseko has an indoor garage to park your car? That's right! So, there's no need to clear snow on your car's windows before hitting the road. 
Also read: 12 Traditional Airbnbs in Japan for a Unique Travel Experience
That concludes our list of the best Niseko Airbnb homes for the perfect winter vacation in Japan's snow paradise. So, stop searching for where to stay in Niseko when you have a complete list of the town's best dwellings. All that's left to do is clear your schedule and book the tickets now!
Got a property you'd like TripZilla to feature? Inquire with us here.
---
This article contains affiliate links. When you book through these links, we may earn a small commission at no additional cost to you. All images courtesy of the respective property listings.