There is a common perception that Japan is an expensive country to travel to, with pricey lodging rates and unaffordable shopping options. That is not true! Beginning with flea markets in Tokyo, I will show you how affordable the capital city of Japan, Tokyo, can be.
The recycling culture in Japan is very strong and the locals turn to flea markets every season, selling everything at incredibly cheap prices. You will see a wide variety of items, ranging from home wares, clothes and accessories to branded items, books and so on. Most of the items are of excellent quality and are priced about 100 yen (SGD 1.10).
Also read: How to Travel Tokyo On a Budget
Check out the full list of flea markets and details below:
1. O-I Race Track Flea Market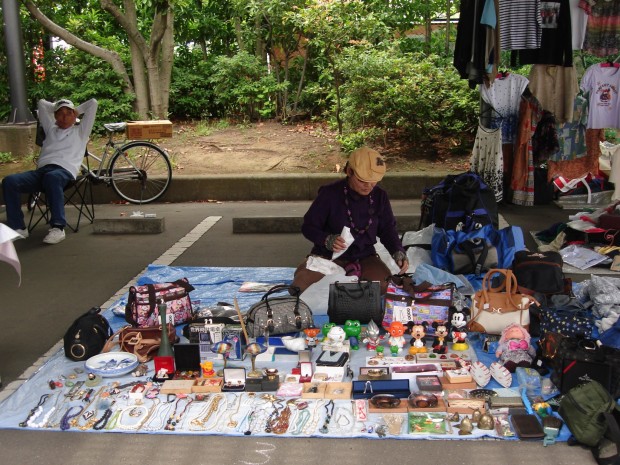 Image credit: TokyoCheapo
One of the biggest and most popular flea markets in Tokyo, the O-I Racecourse Flea Market is held twice or thrice every month on weekends. The range of items sold there is one of the largest, and the bargains are excellent! One of the regular shops sells second-hand (and some brand-new) items for just 100 yen. In total, there are about 600 vendors there each time, whether rain or shine. Make sure you bring a large bag to store all your shopping! Find out the dates here.
Good for: clothing, antiques, vintage items.
Nearest station: Ōi Keibajō-mae Station (Tokyo Monorail)
2. Oedo Antique Market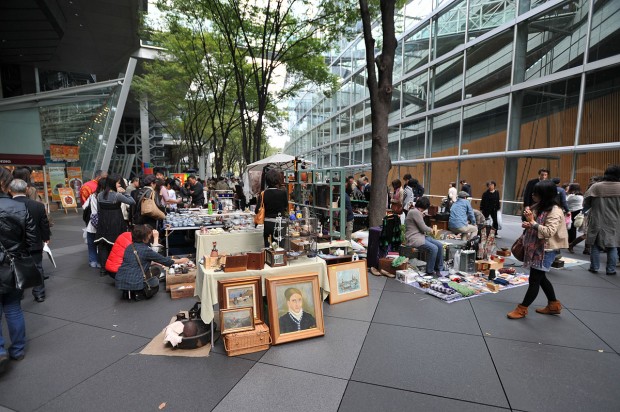 Image credit: Tokyobling
One of the most popular antique markets in Tokyo, the Oedo Antique Market has up to 250 shops each time. The items on display and sale are extraordinary, with pre and post war items such as war armor and propaganda material. Some of them date back to the 1300s. You might chance upon an old kimono or painting, a unique souvenir for your trip! Held at the International Forum, it is accessible and close to other shopping areas, such as Ginza. Find out the dates here.
Good for: antiques
Closest station: Yarakucho station (JR Yamanote Line)
3. Meiji Flea Market
Image credit: Sekihan
The Meiji Flea Market is perhaps the most famous flea market in Tokyo, held twice a month near Shinjuku. Vendors park their vehicles and lay out their goods in the space around it. The range of items is massive; I have seen exotic insects like scarab beetles being sold there before. Odd items like musical instruments, bowling balls, and surfboards are also a common sight. It is also a treasure trove of clothing and household items! Be prepared to find a coat at 80% off retail price. With up to 600 sellers, you are bound to find something you like. Find out the dates here.
Good for: clothing, accessories, household items
Closest station: Kokuritsu Kyougijou Mae station (Toei Ōedo Line)
4. Yoyogi Flea Market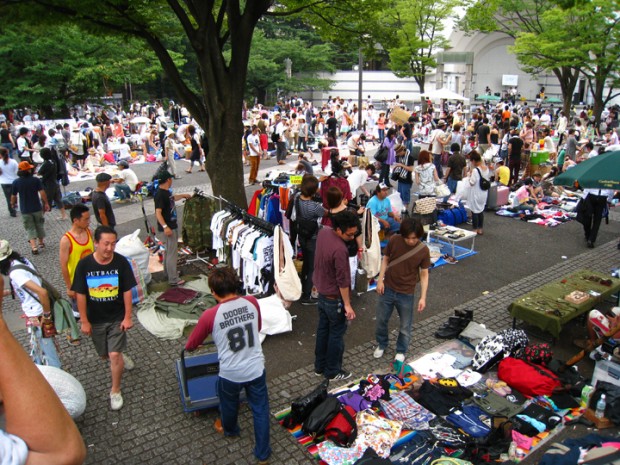 Image credit: Jennifer Pickens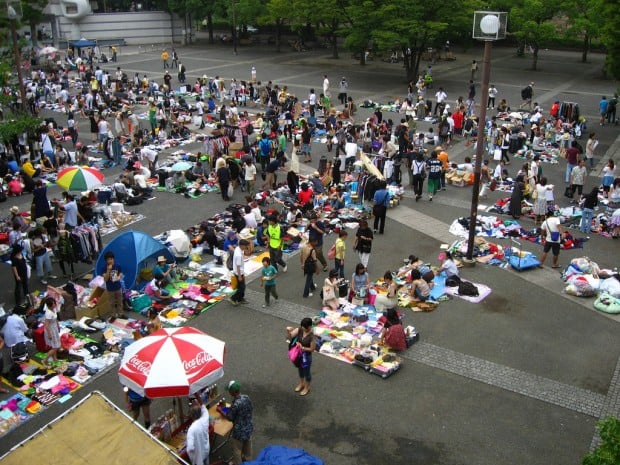 Image credit: Ryan McBride
Despite being one of the oldest flea markets around in Tokyo, the Yoyogi Flea Market has been dubbed the hippest one of them all. Brimming with youngsters and trendsetters, the event draws the younger crowds, with more focus on recycled fashion items. My best find here was a Jil Sander coat for a steal of 1000 yen (SGD 11). Every once a month, the park organizes an Earth Day market, where it is specific to environmentally friendly items and produce. Find out the dates here.
Good for: clothing, accessories
Closest station: Harajuku Station (JR Yamanote Line)
5. Shinjuku Nomura Flea Market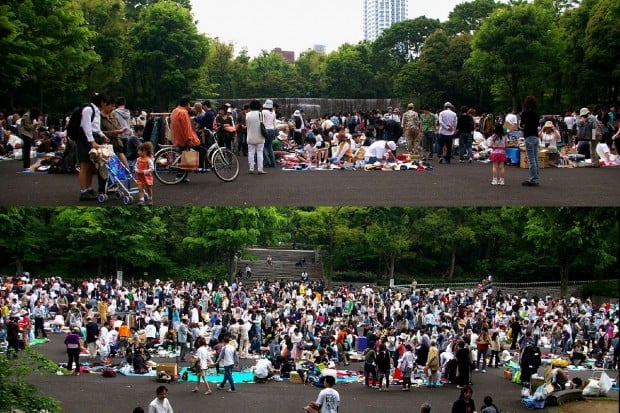 Image credit: Kenji Oka
Being relatively smaller than the other options, the Shinjuku Nomura flea market is still a favorite due to its prime location. The flea market draws crowds in with their offerings of home wares, toys, electronics, and wide vintage selection. There are also convenience stores in addition to the 300 stalls. One downside to this market is the entry fee of 300 yen (SGD 3.30), but it is worth a visit given the proximity to Shinjuku!
Good for: household items, electronics, vintage
Closest station: Shinjuku station (JR Yamanote Line – West Exit)
6. Ajinomoto Stadium Flea Market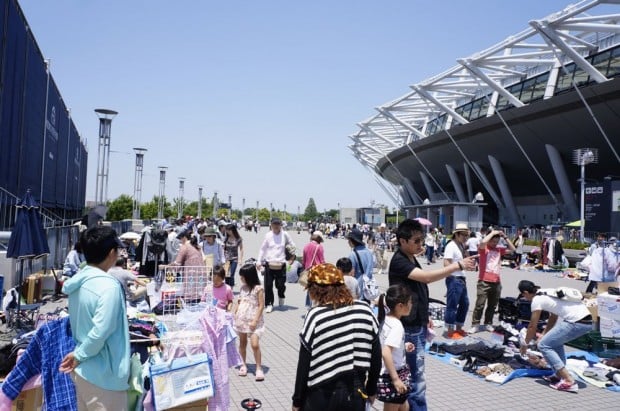 Image credit: Pantip
Deemed as a national event, locals and tourists alike flock to the Ajinomoto Stadium for the flea market for its sheer size (800 stalls) and shopping options. If you can name it, someone is probably selling it. Buy organic produce, or beautiful dinner bowls, or intricate handicrafts, for a fraction of what you have to pay in the retail shops. Despite the nominal fee of 300 yen (SGD 3.30), some actually fork out 1000yen (SGD 11) to get early bird entry at 8am.
Good for: everything
Closest station: Tobitakyu station (Keio line)
Tips and tricks
Not all flea markets are rain-or-shine; it is best to check out the organizers' websites a day or two prior to the event and read reviews. Some might be cancelled last minute due to unforeseen circumstances. A useful guide will be to check out this website and plan your itinerary beforehand.
Bargaining is possible, and the locals are very polite and courteous about it. Do not push their limits, and ask for a lower and reasonable price kindly (Yasuku naranai?).
You will see branded bags touted for sale. Some are a great steal; I bought a limited edition Gucci handbag for 10,000yen (SGD 110). However, keep your eyes peeled for any counterfeits and always ask for the origin of the bag. If it is genuine, the seller will be patient.
Bring your own shopping bags. You will not want to carry 1001 plastic bags, and not all vendors will provide a bag. If I know I will be doing some heavy duty shopping, I bring along my small carry-on for ease.
There are plenty of food options at almost all the flea markets, selling snacks, drinks, and bentos!
Bring a hat/umbrella. In the spring/summer, it is bound to get sunny and hot as you shop out in the open. Slap on sunscreen and make sure you do not go home with a burn.
Also read: Tokyo Bucket List: 20 Challenges For Your Next Trip
There are always new and upcoming flea markets, as the culture grows in popularity in Japan. These are just some of the crowd favorites! One thing for sure, a bargain is always around the corner. Shop away!