Welcome to Singapore- the land of hot sunny weather all year round, and one of the smallest city-states in the world. Now that you've landed here in our world-class airport with your 30kg backpack, all you want to do is get down to business and explore this beautiful garden city—on a shoestring budget. "Is that even possible?"  You think.  Well, to the untrained eye, yes, Singapore looks like an expensive place to travel, especially when you take in all the lists that Singapore is always one of the top in—education, gini coefficients, GDP per capita etc.
Why not let this local tell you the most affordable way to explore Singapore and all it has to offer?
1. Transport
Getting to Singapore
Singapore alone is highly accessible from within the region and all around the world, with more than 6,500 planes landing in or departing from Changi Airport every week, connecting this sunny island to more than 300 cities in 70 countries worldwide. Within the region, most budget airlines such as Tigerair, Scoot, AirAsia, and Jetstar also have flights to Singapore, making it very desirable as a transit location.
Getting around
Singapore's public transport system is extensive and reaches out to all ends of Singapore, from the east, where the airport and mainland beaches are, to the west, where the industrial areas are. The MRT (Mass Rapid Transit) metro network is also very accessible, connecting the suburbs and heartlands to the major tourist attractions and town areas in an hour or less, depending on where you are. As for the buses, the frequency is relatively higher and much more predictable than many other countries', with a bus coming by every 5-10 minutes or so. No need to time your arrival at the bus-stop with the buses' hourly arrival timings! If you are a night owl, there are also night-rider buses, distinguishable by their NR service code to cater to the late night crowd. These buses run from 11pm to the wee hours of the morning, so there is no need to take a cab back to your accommodation after experiencing Singapore's nightlife.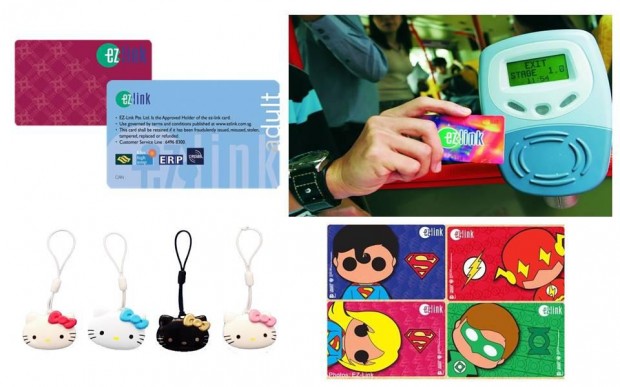 Photo Credits: Where's the Moolah?, Today,Channel NewsAsia, AsiaOne
Public transport
On your arrival in Singapore, be sure to get an Ezlink card—our contactless payment system for the public transport here. Similar to London's Oyster card or Taiwan's EasyCard, the card can be used for both buses and the metro (MRT), and even to make purchases in some places. There are multiple benefits to getting this awesome card. Not only do you save time by storing value in it first, you also get to enjoy discounts when you take the trains and buses, which cost more if you're paying cash. This will definitely offset the SGD5.00 non-refundable fee for the card.
Second, you don't have to keep an entire pocket of loose change and slowly count out the coins every time you take a bus or train, holding up the entire queue. And finally, it makes for a great souvenir to commemorate your trip to Singapore; you don't even have to spend extra money to get mementos! Some shops even sell Ezlink card stickers, which means you can even personalize them to your liking.
Insider tip: These cards don't ever expire, so if you intend to return here in the next couple of years, keep them in a safe place and you save even more on your next trip, since you won't need to get a new card!
Singapore's public transport runs on a distance-based fare system, so depending on where you'd like to go and how far it is, the fare differs. Fares start from about SGD0.70. As a clue, a trip from the airport, which is in the far east of Singapore, into town, will only set you back about SGD1.74. In fact, since we're on the topic of budget, here's a website that'll help you with calculating the fares you'll incur to go from place to place, whether by bus or train.
2. Accommodation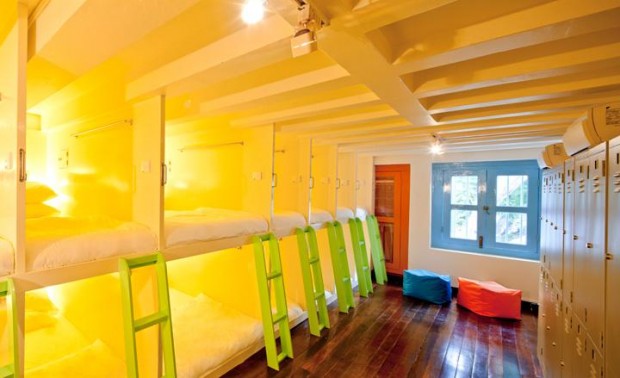 Photo credit: Wallpaper
Accommodation is undeniably one of the highest costs you'll incur in Singapore. Because of land scarcity and high population density, property prices are high, and this translates to high accommodation costs. A decent hotel room in a favourable location could set you back a couple of hundreds a night.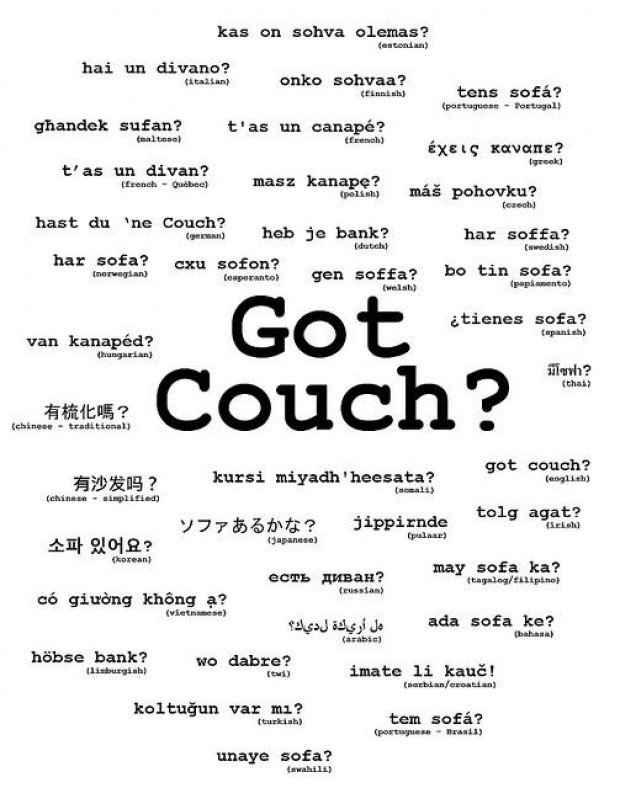 Photo Credit: John Britton
Budget accommodation options
The braver of you could try Couchsurfing, but be warned—it may be difficult to even find a couch, as for the same reason, many Singaporean adults live with their parents until they get married, and the older generation may not be used to the idea of strangers coming to live in their homes.
Personally, I think your best bet would be a backpacker's hostel. And to save even more on transport so that you can afford a little more for accommodation, choose somewhere that is only a train station or two from the major tourist sights.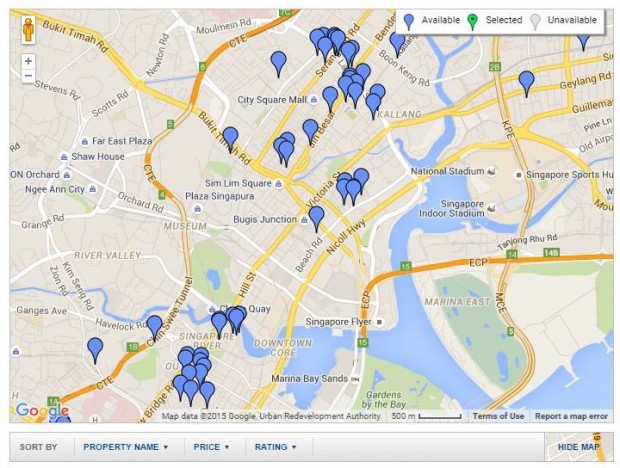 Photo Credit: Hostelbookers
Bugis, Chinatown, Little India—these places are hotspots for backpackers, for their proximity to town and the chill eclectic vibes they give off, with the colourful and quaint shophouses these hostels are housed in. A bed in these areas might cost anything from 20-50 per night, still way cheaper than a night in a hotel. Besides, if you're out travelling the entire day, all you need is just a comfy bed to rest in for the night!
3. Things to do and places to visit
Of course, every traveller will have his/her own list of must-sees, and I won't interfere with that list you have. I'm just going to suggest some places you might want to consider if you're really on a tight budget. As they say, some of the best things in life are (almost) free!
Enjoy the sunny weather at Sentosa's beaches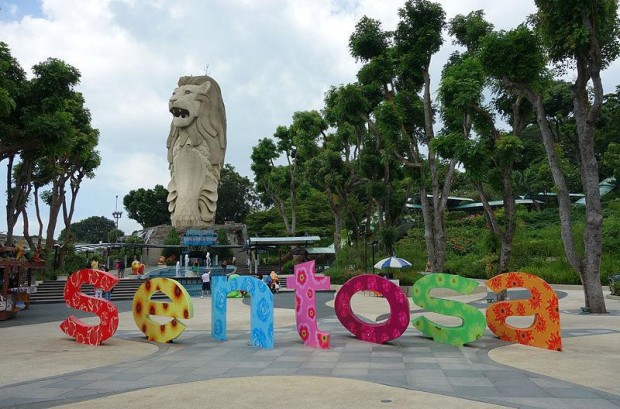 Photo Credit: Haakon S. Krohn
Yeah, this is a no-brainer. And yes, the place is a tourist trap, with expensive food and even more expensive activities, from Universal Studios Singapore to the Sea Aquarium. But the beaches are free for you to frolick around, and the entrance fee, if you walk into Sentosa via the boardwalk, is only SGD1.00, payable via Ezlink card.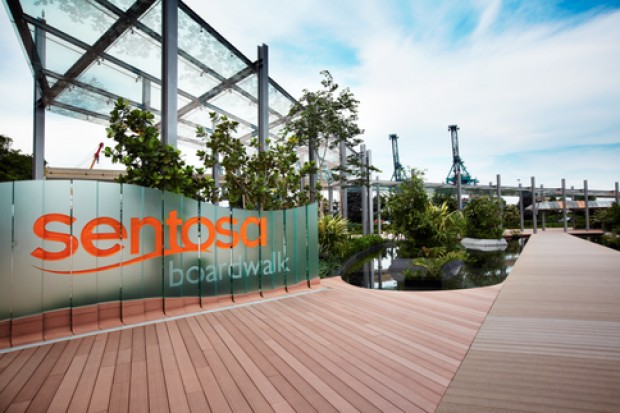 Photo Credit: Eco-Business
A ride on the monorail would set you back at least 3 times that amount. And who says you can't ride the monorail without paying?
Insider tip: I walk into Sentosa, but take the Monorail to get around in Sentosa, and to exit Sentosa. For free!
Think about it this way: you enter Sentosa all energetic and raring to go, so what's a short walk along the boardwalk, where you can enjoy the sea breeze (when there is one)? You don't even have to walk, technically. There are travelators there, so all you have to do is step on it and glide along. And since you only really want to take the monorail when you're all exhausted and tired out, do it on your way back to the mainland! That way, you only pay SGD1.00 for the best of both worlds—cost-saving and enjoying the quick air-conditioned shuttle back.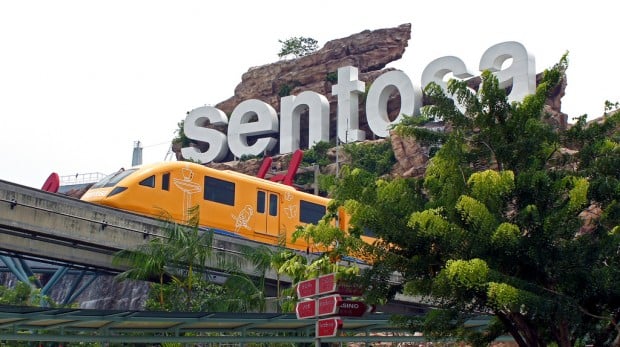 Photo Credit: Alan Tan Keng Hoe
Nearest MRT Station: Harbourfront
Have a cozy picnic at Singapore Botanic Gardens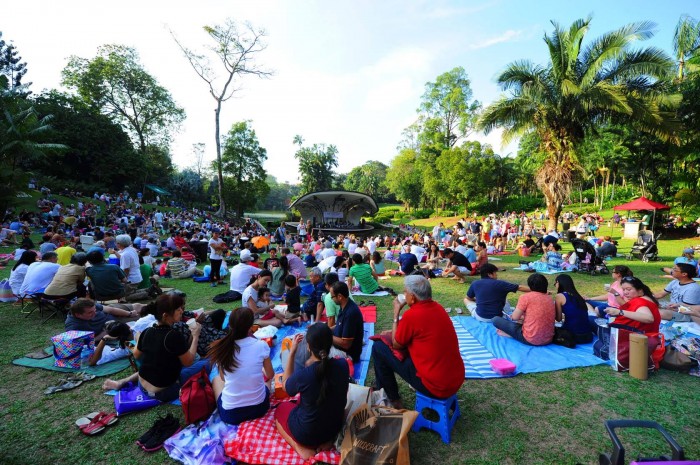 Photo Credit: Singapore Botanic Gardens Facebook Page
Pack a picnic, slather on some suntan or sunblock, and head down to Singapore's first and only UNESCO World Heritage Site, the Botanical Gardens. On certain weekends, the Gardens even has free concerts put up either by internationally-renowned acts or local home favourites, and these concerts are well-attended by locals and tourists alike, so go early to grab a good patch of grass! Immerse yourself in Singapore's lush greenery and have a hearty meal at one of the cafes within the gardens for a unique dining experience. Come, and experience all the flora and fauna that Singapore has to offer!
Insider tip: Food and drinks are allowed in the garden, so pack some yummy food and wine and have a picnic while you watch these free concerts! Just make sure you bring along your rubbish with you when you leave to keep the gardens clean for every one to enjoy.
Nearest MRT station: Botanic Gardens
Take a relaxing night stroll in the Marina Bay area
Photo Credit: Chen Si Yuan
I love bringing my foreign friends on this relaxing walk; the night lights of Singapore's busiest district always make them stop and whip out their cameras. You don't have to pay a bomb to take a good look at Singapore's night scene! Simply take a walk after dark around Singapore's business district. Start at the Fullerton Hotel,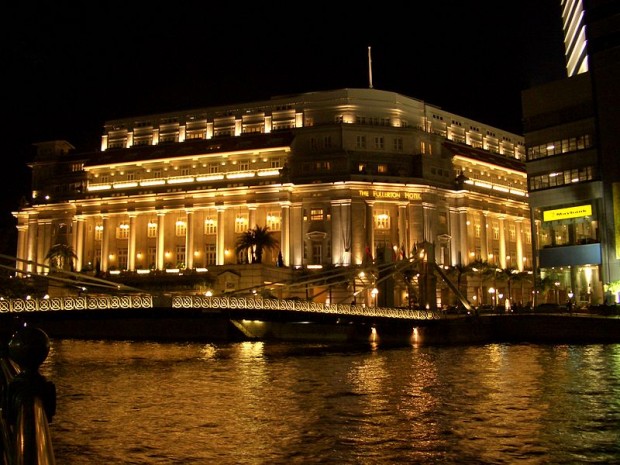 Photo Credit: René Modery
where the original Merlion is,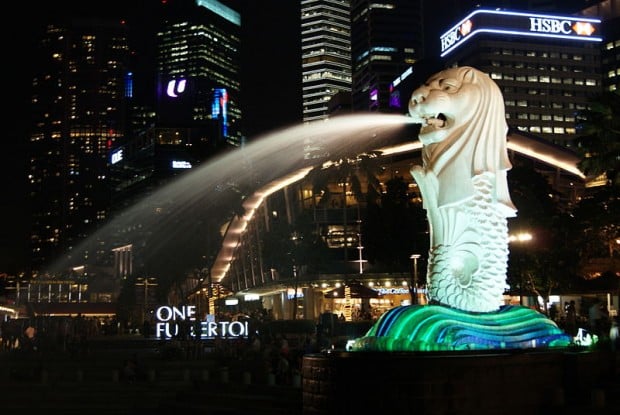 Photo Credit: Smuconlaw
stop for a short break to watch the light and water show happening across the river against the back drop of Marina Bay Sands and the Art Science Museum,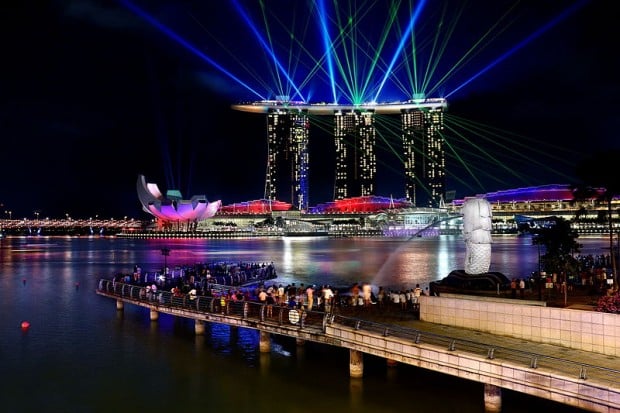 Photo Credit: Erwin Soo
then walk along the River to the Esplanade, or more affectionately nicknamed "the Durian",
Photo Credit: Jackl
past the Singapore Flyer,
Photo Credit: Merlion444
hit the colourfully-lit Helix Bridge, a favourite place for couples,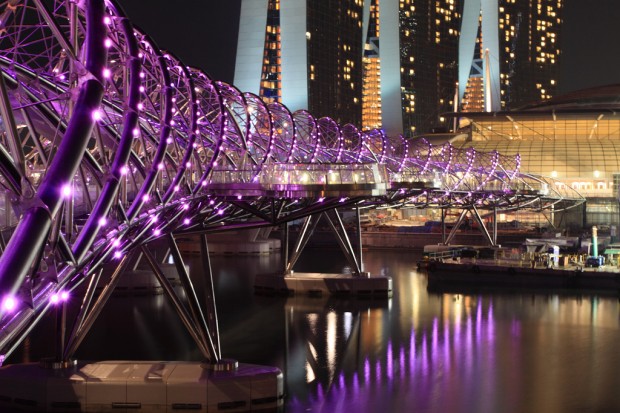 Photo Credit: Jeffery Wong
and finally Marina Bay Sands.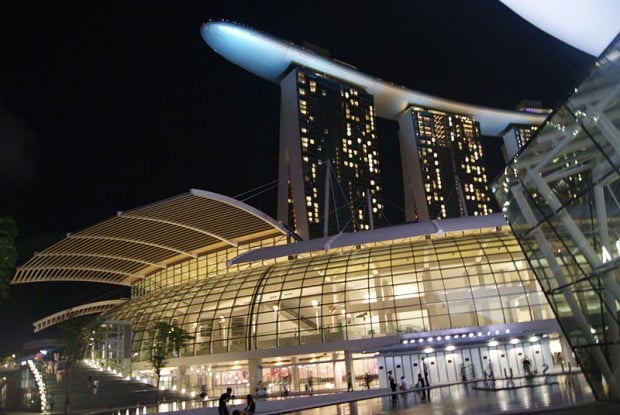 Photo Credit: Jack Lee
You'll get a stunning panoramic view of the night lights.
And when you need a short break from all the walking, just sit by the Singapore River in front of the Singapore Flyer with your travel partner, or a friend you've just made, and bond over heart-to-heart conversations, with a refreshing drink in hand.
Nearest MRT Station: Raffles Place/Bayfront
Also read: 12 Perfect Spots to Catch the Sunset in Singapore
Explore the 12 levels of Hell at Haw Par Villa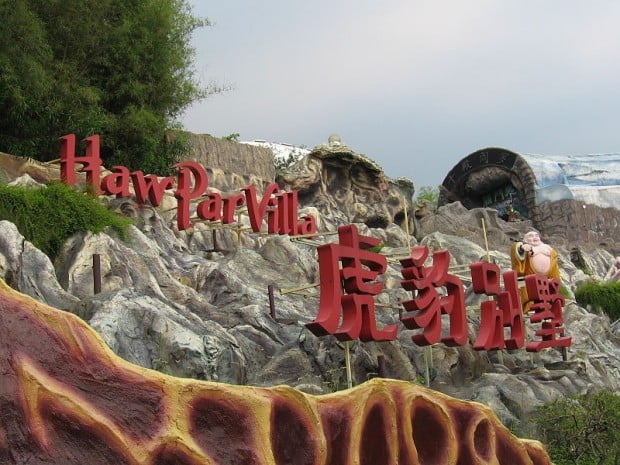 Photo Credit: Sengkang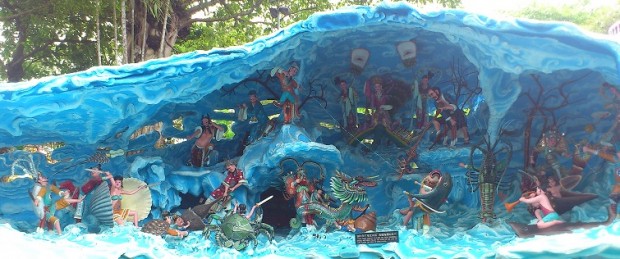 Photo Credit: Lds
The developers of Tiger Balm (a type of heat rub medicinal ointment) built this theme park in 1937, as their contribution to the teaching of traditional Chinese values. Housing more than 1000 statues and 150 giant dioramas, they depict well-known scenes from Chinese mythology, folklore, legends, history, and Confucian values. It's a great place to spend an afternoon to learn a little more about Chinese culture and its history, though some of the sculptures and statues may be a little too gory for children. The park is open from 9am to 7pm, and admission is FREE! I knew you were waiting for it.
Nearest MRT Station: Haw Par Villa
For more Haw Par Villa fun, also read: Haw Par Villa: Where Fairytales Go to Hell
Nurture your artistic self with free museum exhibitions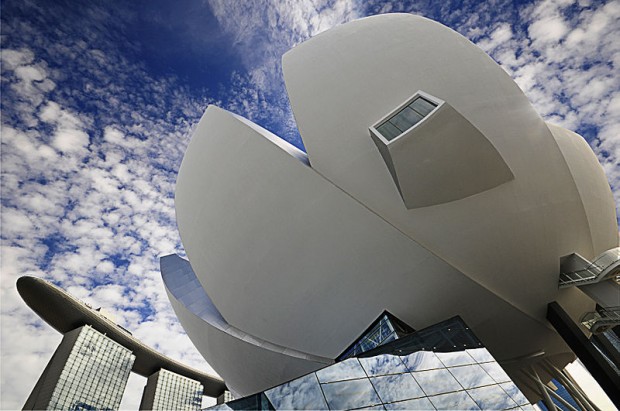 Photo Credit: William Cho
Contrary to popular belief, not all museums in Singapore charge for entry, only the blockbuster and principal ones. There are several smaller exhibitions that do grant free entry. Over at Singapore Art Museum, tourists enjoy complimentary entry on Friday nights from 6-9pm.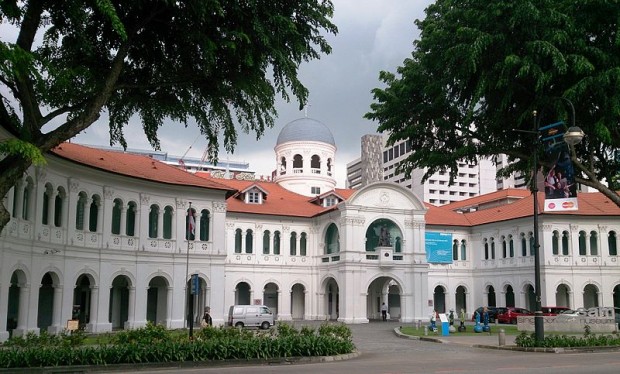 Photo Credit: Project Manhattan
Insider tip: Everyone enjoys free entry for all museums under National Heritage Board on public holidays and Open House Days, so research and plan well and you definitely won't go over budget!
Be amazed by a kaleidoscope of lights at the Singapore Night Festival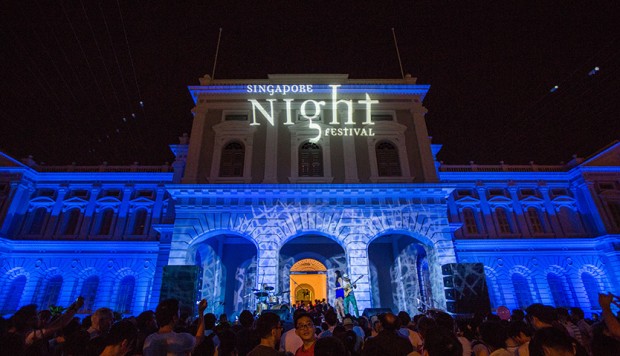 Photo Credit: Singapore Night Festival
It's gained quite a following since its inaugural run 8 years ago, and is now one of the most anticipated street festivals in town every year. Roads in the vicinity are closed for pedestrian-only purposes. In addition, aerial shows, light-ups, street and music performances, transform the festival grounds, usually the area stretching from the National Museum of Singapore to the Armenian Church and Singapore Philatelic Museum, into one of revelry and wide-eyed wonder at the pulsing arts and culture beats of both local and international entertainment.
Insider tip: Be prepared to brave the crowds and long waits though—it's a game of strategy and time management. And a test of heat endurance but well worth the while.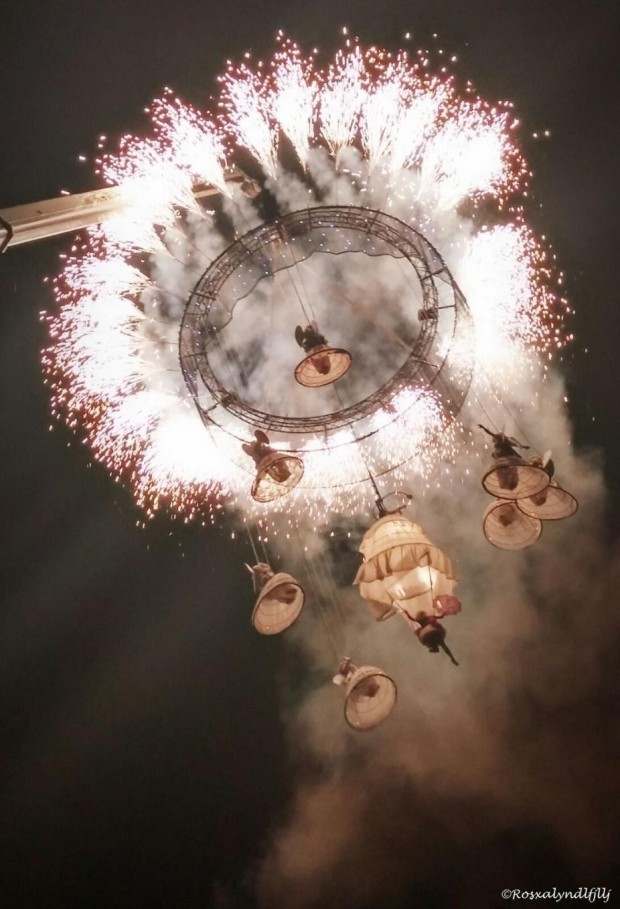 Wander around the heartlands and discover Singapore's hidden beauty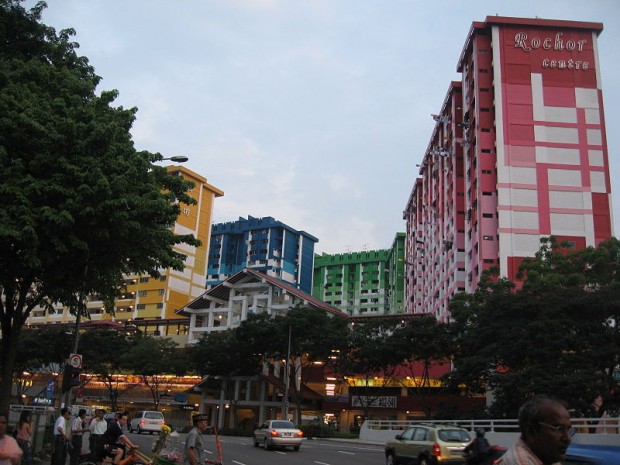 Photo Credit: Terence Ong
What better way to explore a city than by the way its people live? Hop onto the buses or train and journey out to the heartlands for a dose of good-natured suburban insights! Hit up the wet markets in the mornings to see the housewives and maids going about their daily grocery shopping. Get lost in the maze of our colourful, picturesque HDB blocks, which house 70% of Singapore's population. Be careful of the bamboo poles of clothes sticking out from kitchen windows!
Insider tip: Most HDB estates have little eateries (what the locals call 'coffeeshops') at the bottom of some of the blocks. More information on coffeeshops below. This is where the locals eat and get their daily dose of coffee (kopi). Stop for some 'kaya' toast and a good ol' kopi-O (black coffee). And who knows, if you catch me in the area, I might invite you for a cup of tea or two, in the spirit of making friends!
4. FOOD FOOD FOOD
Singapore is a food PARADISE and food is a vital part of our national identity. Hunting down and eating delicious food can be considered our national hobby. One can find all kinds of cuisine here, from hummus to dim sum to pizza. But for backpackers, the go-to places for food are the hawker centres, coffeeshops, and air-conditioned food courts, in ascending order of price.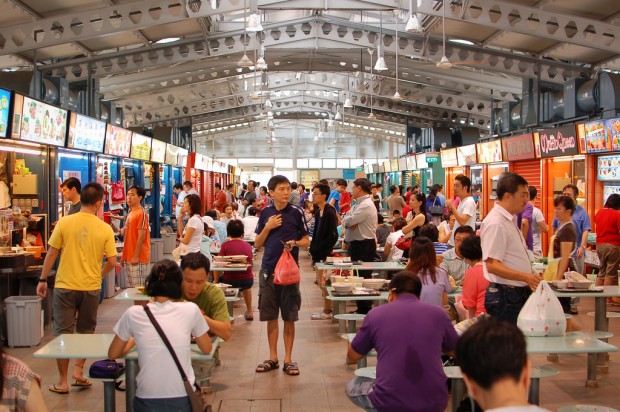 Photo Credit: Tiberlu Ana
Hawker centres
Hawker centres are huge, sheltered, open-air complexes. They house rows of cooked food stalls, selling a huge variety of local cuisine. One can say it is a one-stop shop for Singaporeans' local favourites. The food sold here are at inexpensive prices, only a fraction of those you get at restaurants, as long as you don't fall into tourist traps. Old Airport Road Food Centre is an authentic favourite—many locals bring their foreign friends here for a night of seafood and local delights. Other notable hawker centres include Chomp Chomp Albert Food Centre, People's Park Food Centre, East Coast Park Lagoon Food Centre, and so on. Gobble down a huge plate of sambal stingray, Hainanese chicken rice, or good old oyster omelette!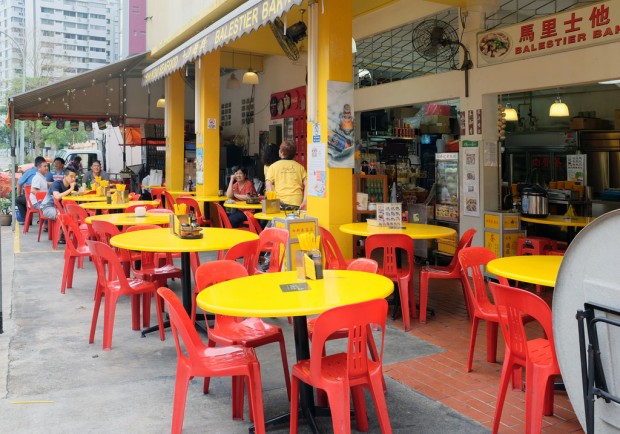 Photo Credit: Jnzl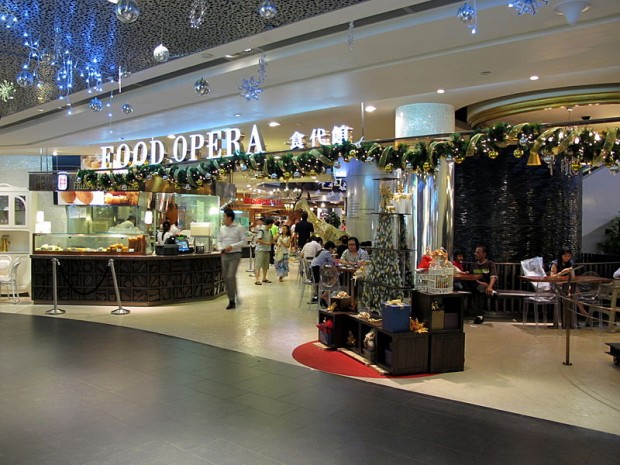 Photo Credit: WiNG
Coffeeshops
Coffeeshops and food courts can be addressed in the same breath. The only differences between them are that coffeeshops are not air-conditioned, while food courts are, and while coffeeshops are usually located on the ground floor of HDB blocks, or void decks, food courts are usually situated in shopping malls, both in the heartlands and town. The food they sell are largely the same local favourites, with a couple of exceptions here and there, such as more regional cuisine to cater to the international crowd in downtown food courts, and their correspondingly higher prices.
As long as one eats at these places, food shouldn't set one back considerably.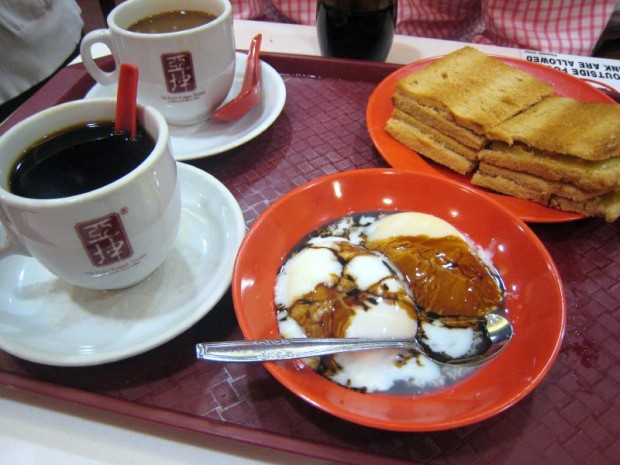 Photo Credit: J Milburn
Cost of food
A traditional breakfast of toast, eggs, and coffee can be had for about SGD2.50-4.00. Need something more filling? A packet of nasi lemak, constituting steamed coconut rice, fish, cucumber, egg, and some chilli can go for as low as SGD 2.00, depending on where you buy it from.
Lunches and dinners in Singapore can be had for about the same price or a little more: Budget about SGD3-5.00 for rice or noodles, and SGD1.50-3.00 for drinks and/or desserts. Do be prepared to pay 1-2 dollars more for famous renditions of these local delights, and even more for seafood dishes. Again, these prices depend on where you eat at; food inevitably costs more in town, whether or not you eat at a food court, and lesser when you're in the heartlands.
Insider tip: If you want more noodles/rice in your portion but do not want to pay extra, ask for "a little bit more", not "add more". Singaporean hawkers are a friendly bunch and will give you that little bit more if you ask for it!
Also read: 8 Fantastic Supper Places in the East of Singapore
What to try
And if you have no idea where to start in this paradise of street hawker food, here are some must-tries to get you started:
1. Chilli Crab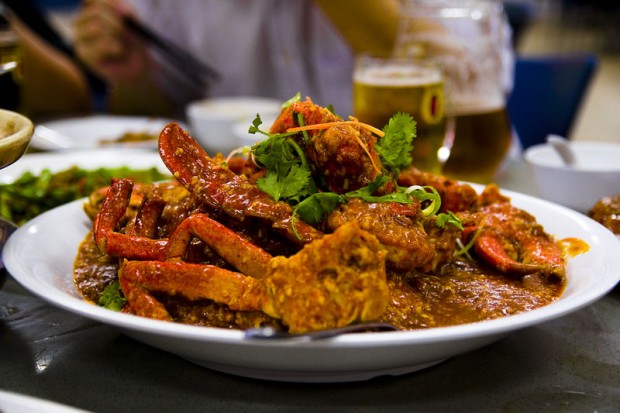 Photo Credit: Megawatts86
2. Laksa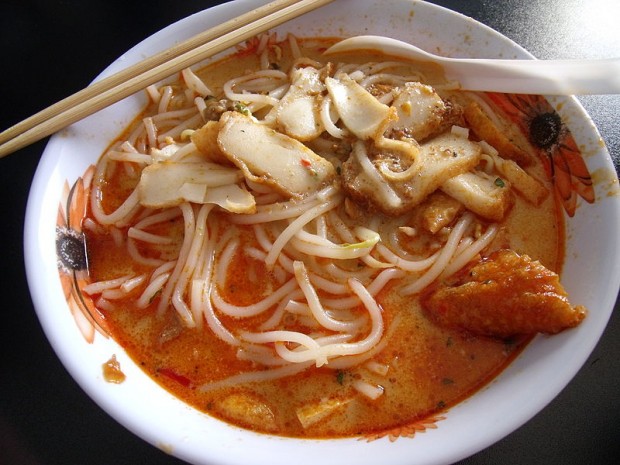 Photo Credit: Kcdtsg
3. Fried Carrot Cake
Photo Credit: Ruth Ellison
4. Nasi Lemak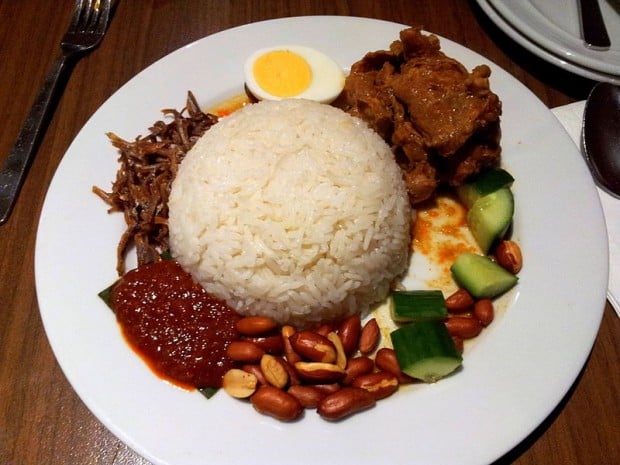 Photo Credit: Mw12310
5. Rojak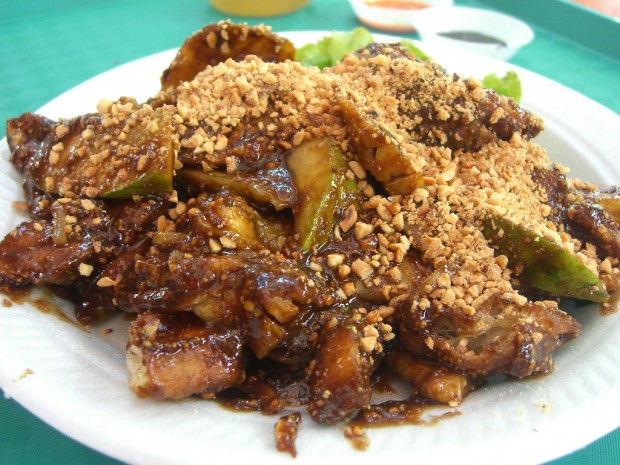 Photo Credit: Alpha
6. Sambal Stingray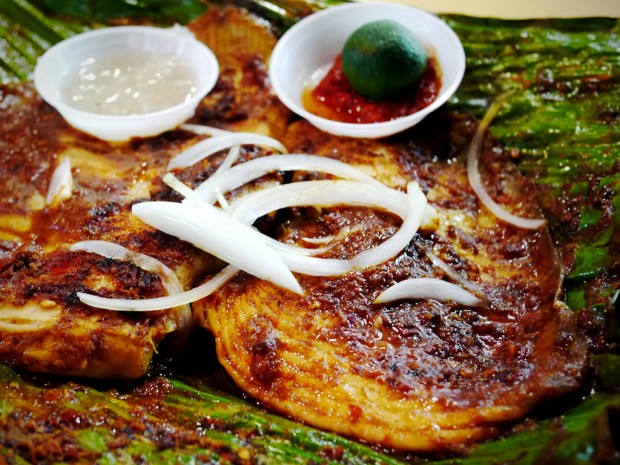 Photo Credit: Kyle Lam
7. Tissue Prata
Photo Credit: Ljoo
8. Hainanese Chicken Rice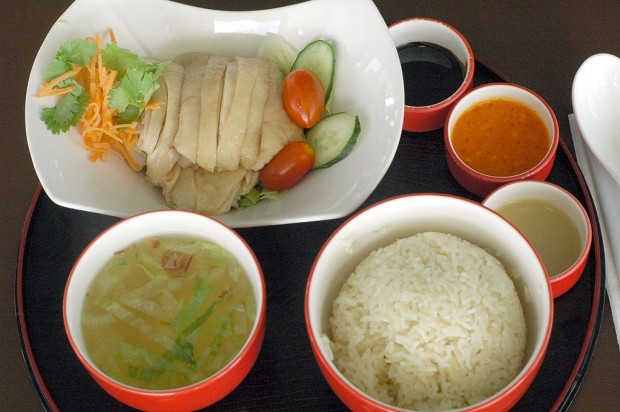 Photo Credit: Jpatokal
9. Satay
Photo Credit: Project Manhattan
10. Prawn Noodles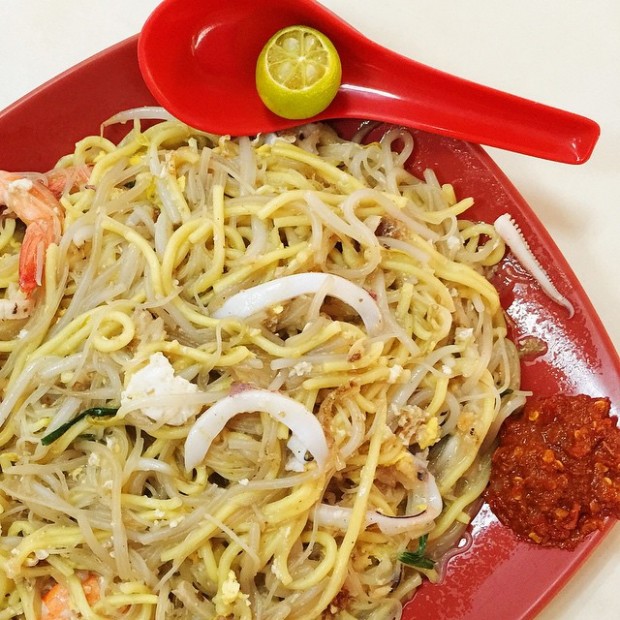 Photo Credit: Soon Koon
Don't you worry, your list will get longer the more you visit. After all, our food has even won over Gordon Ramsay and Anthony Bourdain! In addition, our hawker stalls have also been the first in the world to attain Michelin stars, so you're definitely in for a good treat!
5. Connectivity
Free Wi-Fi
As long as you don't have to call anyone, I'm of the opinion that a SIM card isn't required. In Singapore, that is especially the case. As one of most wired nations in the world, Singapore is highly connected to the Internet. We have in place this Wi-Fi hotspot network known as [email protected], and these hotspots can be found in numerous places all over the island, from train stations to shopping malls and even libraries. Most shopping malls now have their own free Wi-Fi networks. Cafes and restaurants, such as the likes of Starbucks and McDonalds, also have free Wi-Fi. After creating an account—this can be done using your phone number—you'll be able to enjoy unlimited connectivity in nearly all of Singapore, including the heartlands. No worries about getting lost then—just pop into one of the many shopping malls with a Starbucks outlet, and you'll be able to map your way back to your accommodation or destination.
SIM cards
If, however, you do require a SIM card, then know that there are 3 major service providers in Singapore—Singtel, M1, and Starhub, each with differing SIM card packages to cater to all kinds of travellers. Singtel has launched a new tourist SIM card a $50 to be shared amongst 2 people, which is perfect for couples or friends to keep in contact locally!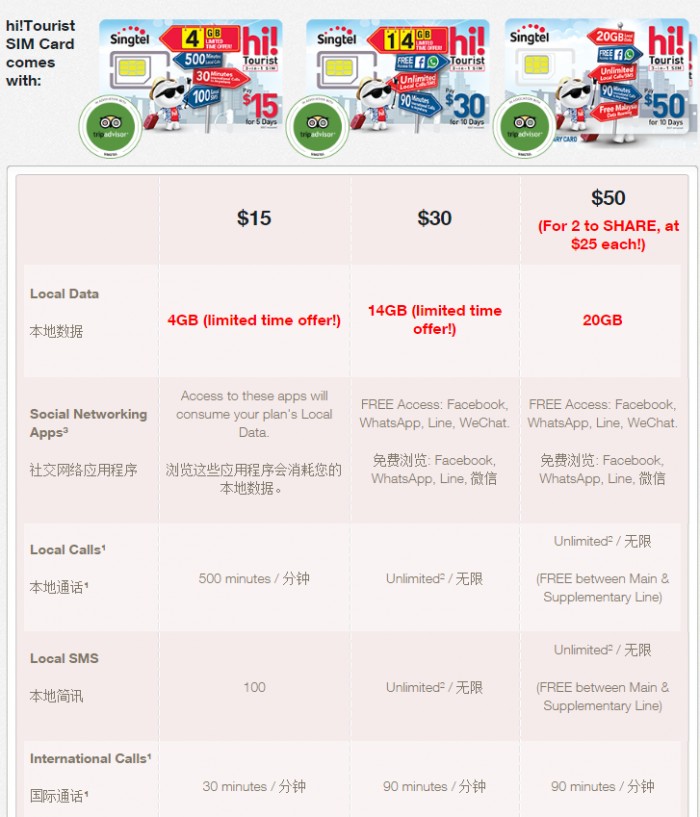 Photo Credit: Singtel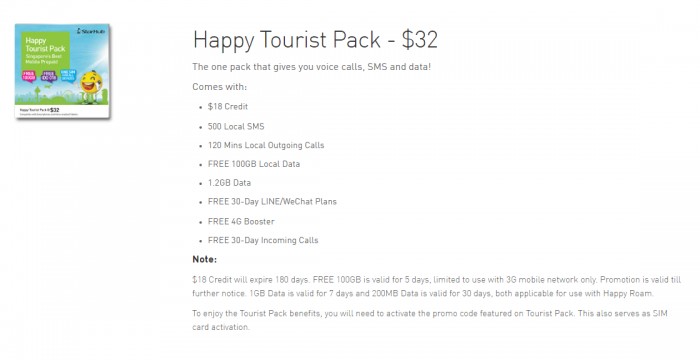 Photo Credit: Starhub
You can purchase this at any UOB Currency Exchange Counters at Changi Airport, or Starhub stores around Singapore.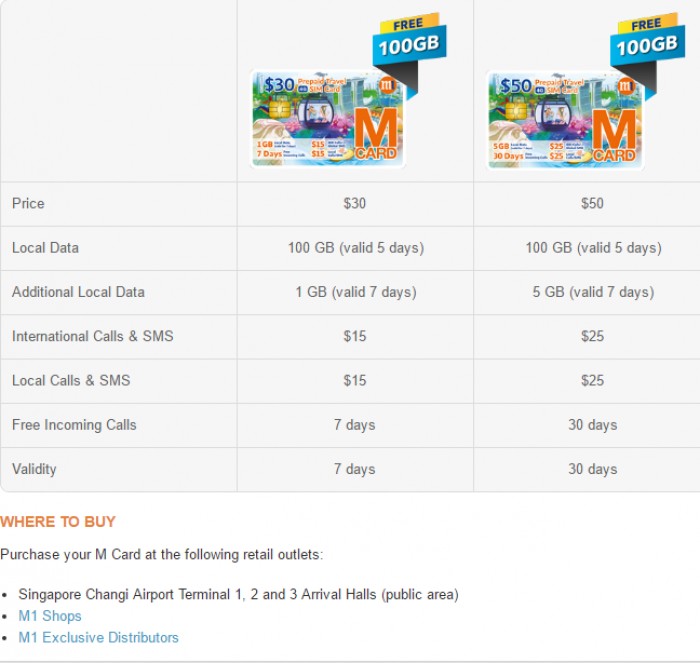 Photo Credit: M1
One thing to note though, do make sure your phone is unlocked, so that your phone will be able to read the SIM card.
6. Bargain shopping
Orchard Road is the shopping strip that comes to mind when Singapore shopping mentioned. But the things here are mostly way out of budget for the cost-conscious, so where to go for the best bargains?
Bugis Street
Photo Credit: Aloys Dharambure
For the cheapest clothes bargains, head down to Bugis Street, a half open-air, half air-conditioned complex, and Singapore's largest street shopping location. On weekends and school holidays, it's a meat fest, but the clothes here are cheap, and the closest you can get to thrift store prices, minus the second-hand part. Fashion designs here come from within the region—Thailand, Korea, Taiwan. For SGD8-10.00, you'll be able to grab a top or two. Bottoms start from SGD12.00, whilst shoes can range anything from SGD5.00-50.00.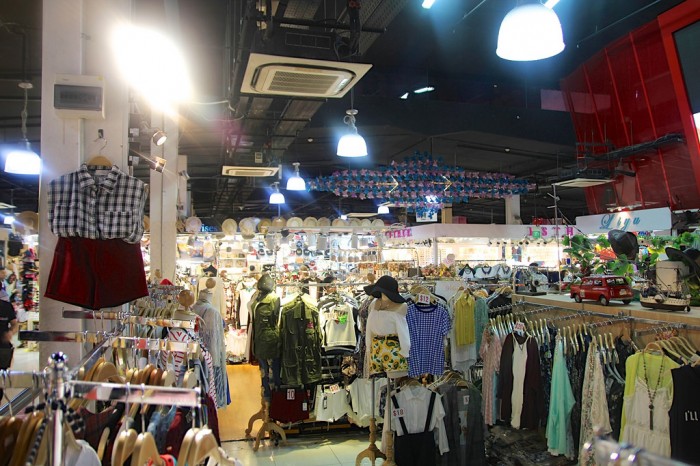 Image credit: David Yap
Insider tip: The cheapest clothes are almost always on the ground floor, as it charges the lowest rent. Note that there is no air-conditioning here, so be prepared to brave the heat if you want the best buys.
As many tourists descend upon this area by the busload, shops selling tourist-targeted souvenirs have also entered this shopping paradise, but sometimes the prices here are a little more expensive than what you can get them for at…
 Chinatown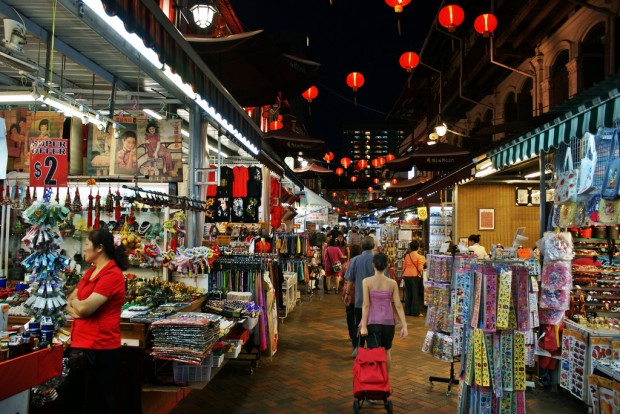 Photo Credit: Kalzuri Yazid
Ahhh… the place of tourist-targeted souvenirs. To get tongue-in-cheek souvenirs such as keychains making fun of our fine city, Merlion soft toys, or those cheesy "I heart SG" T-shirts, this is the place to go. Make your rounds at the makeshift stalls and compare prices for the things you'd like to buy before purchasing from the most value-for money stall; the price difference can be as wide as SGD2-3.00. You can try to bargain with the stall owners if they look friendly, but don't push your luck if they refuse; bargaining isn't usually done in Singapore.
Also read: A Guide to Shopping for Clothes On a Budget in Singapore
Night markets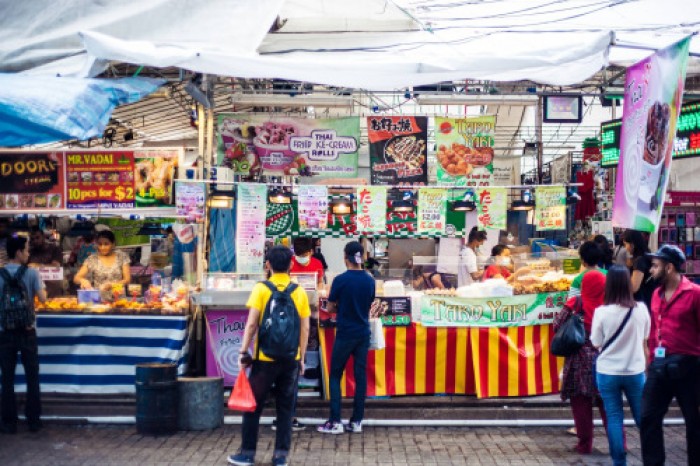 Photo Credit: Nurulazliah
Singapore's nomadic night markets, known as "pasar malams", are largely commercialised and stock mostly the same wares, but if you're looking to grab some much needed daily necessities like a nail clipper or colourful plastic cutlery reminiscent of the ´60s, then this is your place. Besides those, they also sell delicious street food, household commodities such as mattresses, some furniture, clothes, and tech accessories under the harsh fluorescent lighting. Pasar malams can be found in the residential areas, and open from 5pm to midnight or so. Sink your teeth into a juicy Ramly burger and let it wash all your sweat away with its deliciousness.
Nowadays, Pasar malams have also been attracting more young entrepreneurs selling novel and unique food items not usually seen there, such as coloured fizzy drinks, churros, grilled spicy squid, watermelon ice kachang and more. It has become a trendy place for teenagers to hang out and indulge in cheap and good food!
Flea Markets
Flea markets sell everything from antique watches to gadget accessories to art to vintage pre-owned pieces, making it some sort of chapalang (jumbled up) marketplace. If you're into scouring for great buys and unique finds, I give you 3 flea markets and their details: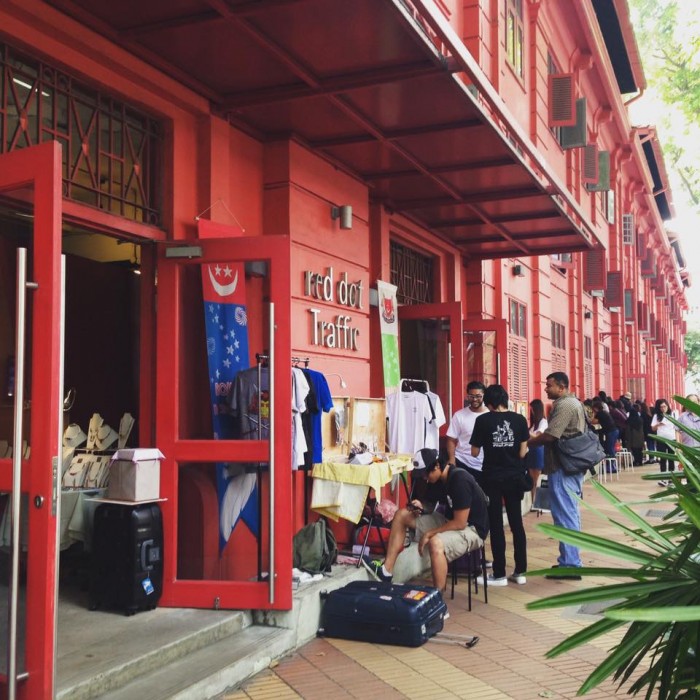 Photo Credit: Red Dot Design Museum 
Where: Red Dot Design Museum
When: First or second Friday of the month, from 5pm to midnight.
What: Original creations by local artists, crafters and designers. Look out for hand-painted ceramics, notebooks, earrings, temporary tattoos.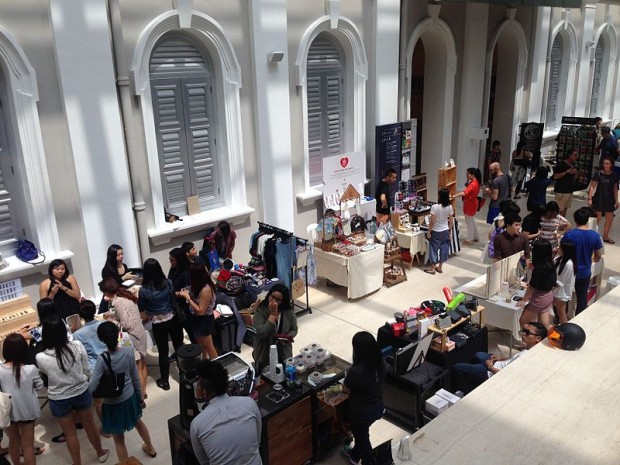 Photo Credit: Smuconlaw
Where: Various venues. Past venues include School of the Arts, National Museum, F1 Pit Building. etc.
When: Varies. This is one very whimsical flea market.
What: Local indie businesses and creative brands showcase their wares and works at their markets. The organisers also work with these retailers to conduct workshops in the nature of crafting and making. Look out for vintage clothes, art pieces, collectibles, toys, accessories, and independently printed magazines and books.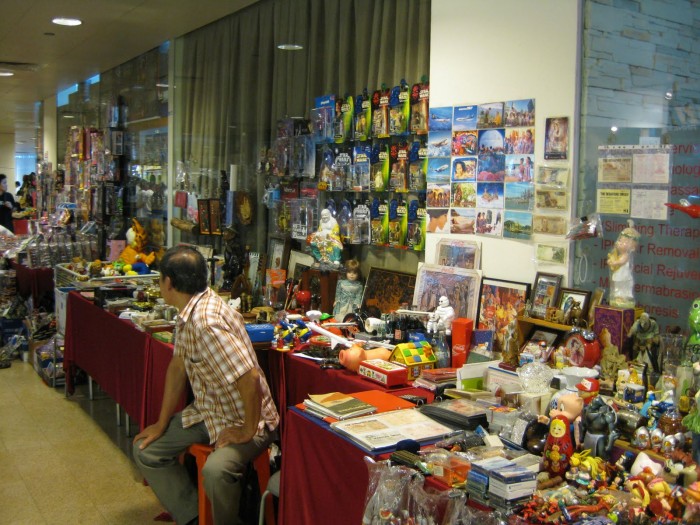 Image credit: Desmond Yoong
Where: China Square Central, an air-conditioned open space area in Chinatown
When: Every Sunday, 11am-5pm
What: Centrally conveniently located near many backpackers' hostels, I imagine this will be a hot favourite with all you backpackers and budget travellers. Look out for old records, chinaware, stamps, comics, photographs, movie posters, CDs, all going for a couple of dollars. It's also perfect for avid toy lovers and collectors.
Of course, this guide is just for starters, to whet your appetites for budget travel in Singapore. I could go on and on, but why do that when you can do this for yourself, and then share your tips with me? That's the joy of budget travel, isn't it—to uncover gems in a city, untainted by commercialism and the tourist industry!
So the next time you're in Thailand and decide to hop on the next flight out of the country, why not try this little sunny island?