Fans of the dinosaur world will be thrilled to hear that these majestic beings are taking over the Changi Airport. This is a part of Changi Airport's year-end festive event, Changi Festive Village, which was launched last week. Large replicas and motifs of the dinosaurs will be a part of this unique and exciting carnival!
It's not just about the festive dinosaur displays at Changi Airport. The carnival features a series of thrilling adventures and activities that are sure to entertain the entire family. What's more, you can also enjoy Dino Fest, located at Changi Aiport Terminal Four. This unique festival designed by Invade is Singapore's first-ever dinosaur-themed fest! 
Dino Fest
The perfect year-end finale for family and kids, this concept features a range of exciting activities, hands-on craft workshops, and uber-cool photo spots for dinosaur-loving kids. Adults can enjoy the dino-themed spirits with unique souvenirs, handcrafted jewellery, scrumptious street food delicacies, and other lifestyle products by local artisans!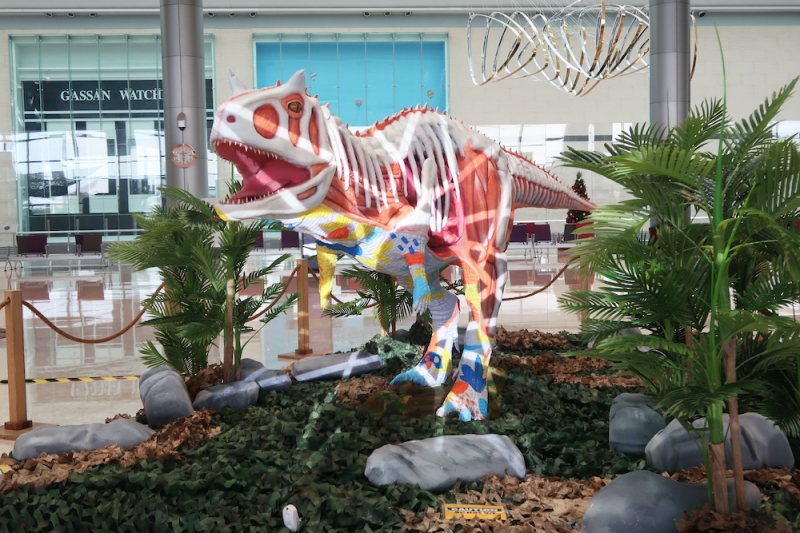 Delicious dishes at Dino Dine
Satiate your tingling tastebuds as you choose from a special menu prepared by Taste Asia. Tuck into a Truffle Mushroom Beef Burger or crispy golden-brown chicken, deep-fried to perfection. Enjoy mouth-watering desserts like Deep Fried Salted Egg Custard Bun or combine the flavours of popcorn and milk tea with a luscious cup of Popcorn Milk Tea! As if this weren't enticing enough, there are 14 other stalls for you to choose from.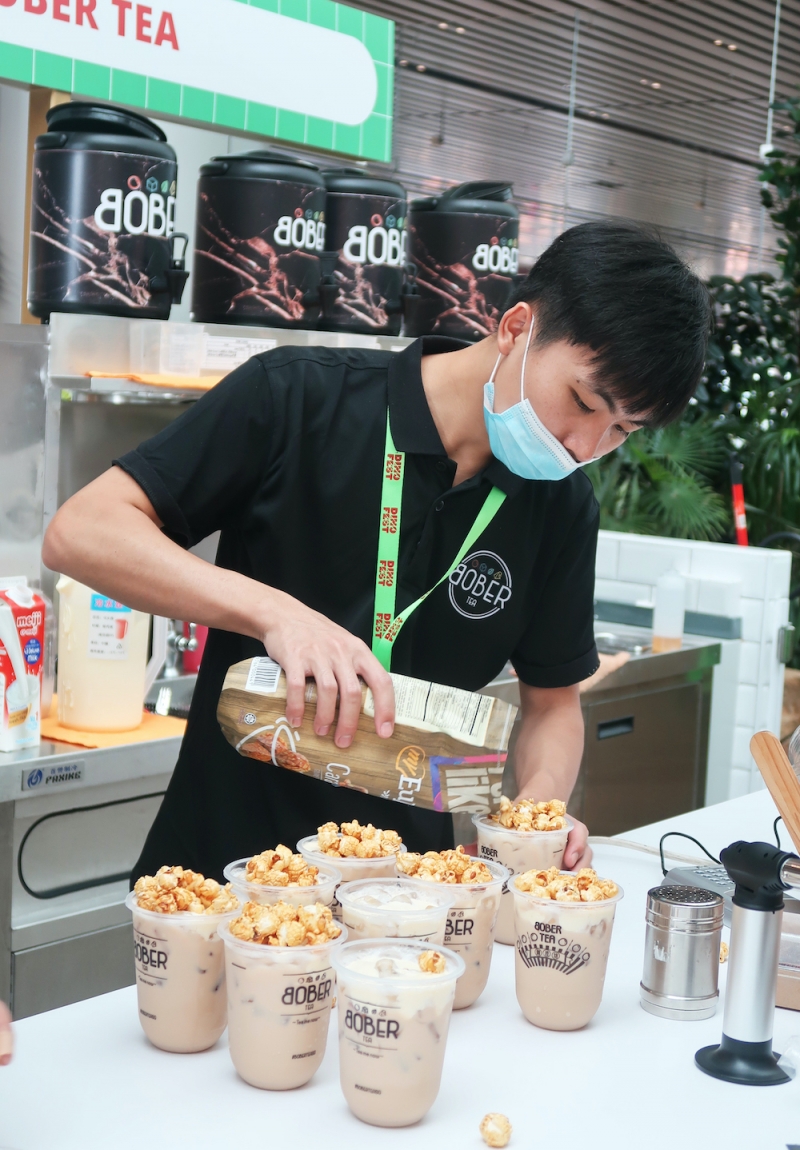 Befriend a baby dino at Dino Score
Enter your very own world of Dinosaurs at Changi Airport with a prehistoric adventure at Dino Score. Kids can pose in Giant Dino Eggs, and even get up close to a baby Parasaurolophus. At the Dino Lab, kids can enjoy exciting arcade games and grab their very own dinosaur stuffed toy at the claw machines. Be sure to check out the ferocious yet tamed roving Velociraptors at Dino Stop and catch the Dino Fest keepers walking these creatures on a leash every hour! Now doesn't that sound like a terrific adventure?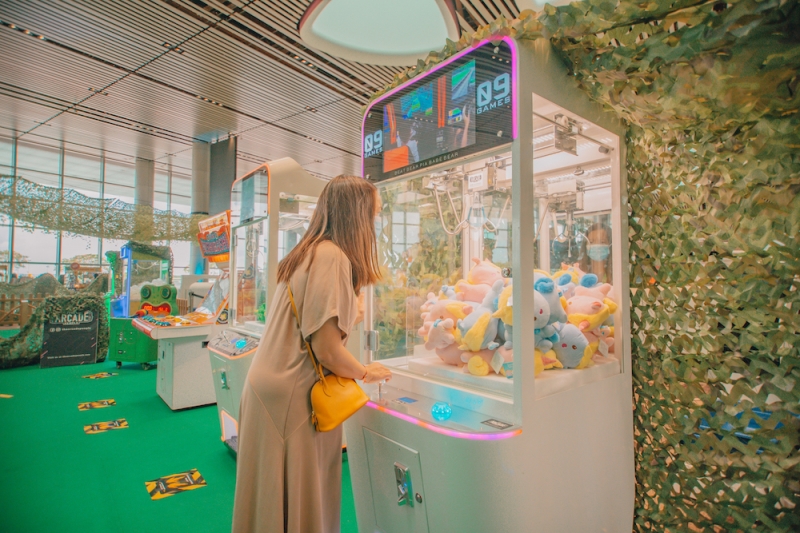 Shop for handmade dino mementos at Dino Shop
Take home a piece of your memorable dinosaur adventure when you shop at the Dino Shop. Grab quirky lifestyle products and unique handmade crafts by local artists. These lovely mementos are sure to make adorable Christmas gifts for your dinosaur-loving relatives and friends!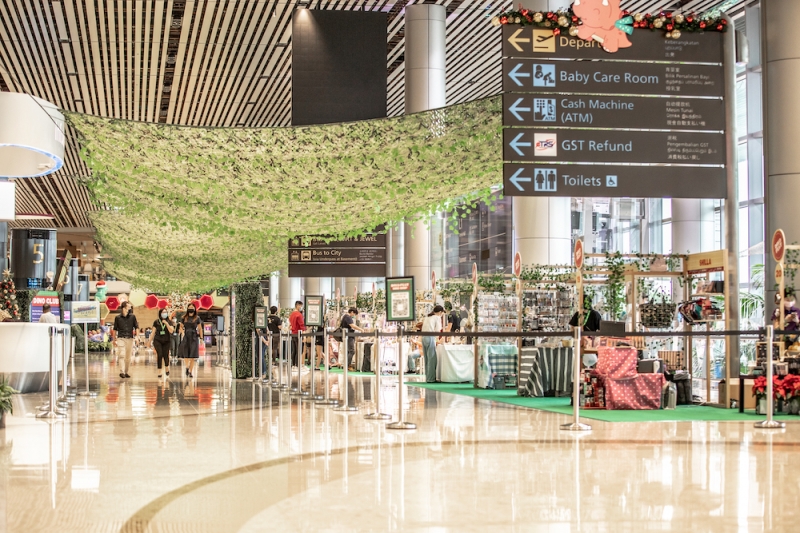 The Dino Fest will be open from Thursday to Sunday, 03:00 pm to 11:00 pm at Changi Airport from now till 27 Dec 2020. Tickets can be purchased from the Fave platform or the Global Tix platform.
Dino Kart adventures at Changi Airport
Ever wanted to play a game of live Mario Kart? Well, now's your chance! The Dino Kart adventure is a must-try go-karting experience for adrenaline junkies. Drive Go-Karts that go up to a speed of 24 km/hr and maneuver them around bends and turns along the 200-metre track.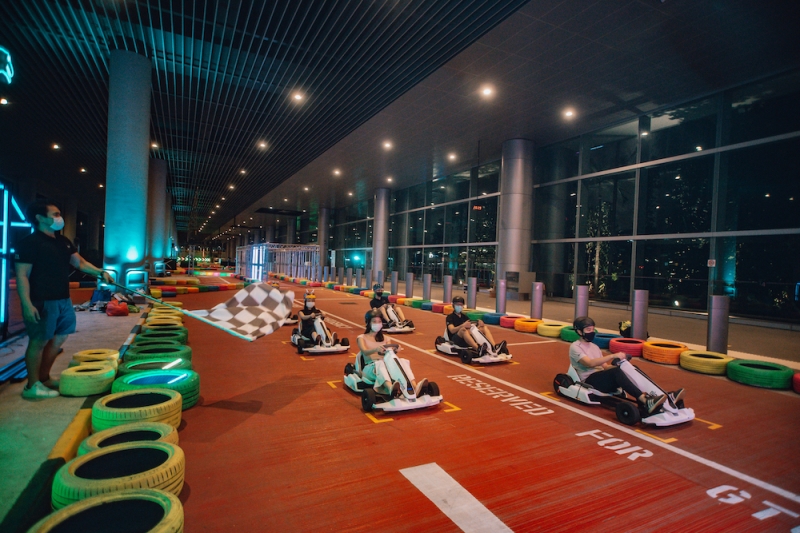 Even the younger crowd can enjoy this riding experience on specially designed tracks. At dusk, racers can zoom past psychedelic neon blinking lights along the circuit path and even speed through a lighted tunnel. 
This dinosaur-themed experience at Changi Airport is eligible for all those above the age of nine who are at least 1.3 metres tall. This adventure doesn't come with a hefty price and stands at just $12 for kids and $15 for adults.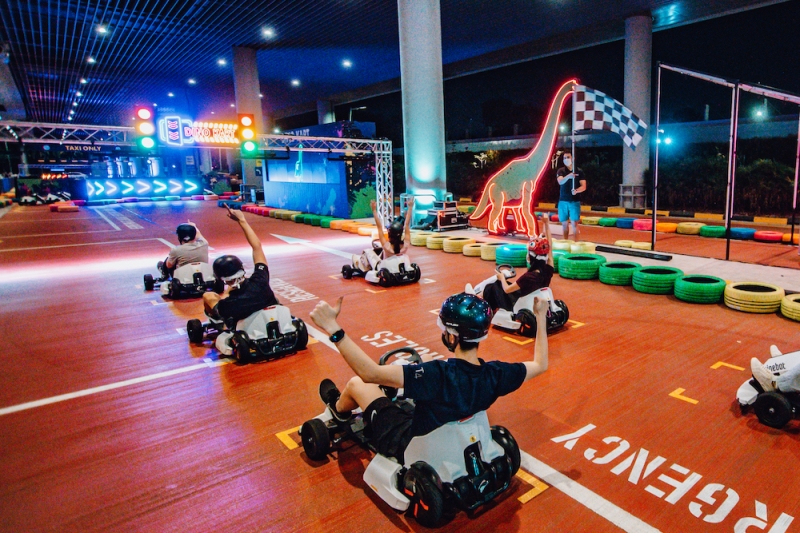 Thinking of shopping for the holidays at Changi Airport and Jewel? With every $30 spend, you can redeem a pass to the carnival at a discounted price! For additional information, visit their website. 
Jump with joy at Dino Bounce
Dinosaur-loving juniors can bounce their hearts out at the 30-metre long bouncy castle, Dino Bounce! Children between the age of five and twelve with a minimum height of one-metre can enjoy this feature.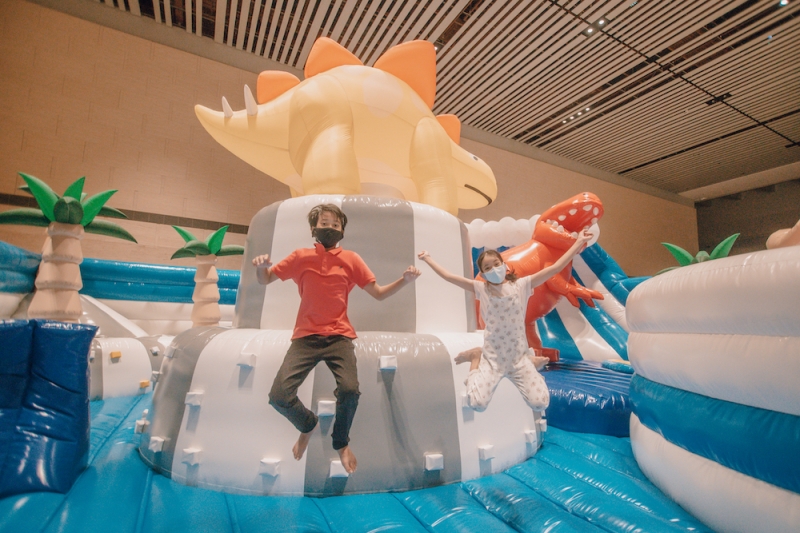 This jumbo inflatable will be divided into two zones — Dino Bounce Land and Dino Bounce Sea. Whizz down the back of the Brontosaurus on a four-metre long slide, conquer the bouncy wave while escaping the deadly T-Rex, and even scale a climbing tower in search of the Stegosaurus! 
Also read: Canopy Garden and Changi Experience Studio Opens at Jewel Changi Airport
From conquering multiple obstacles to bouncing around with their favourite dinosaurs, the Dino Bounce at Changi Airport is truly an exciting play area to be at! Activity passes for this joyful activity are available at $8.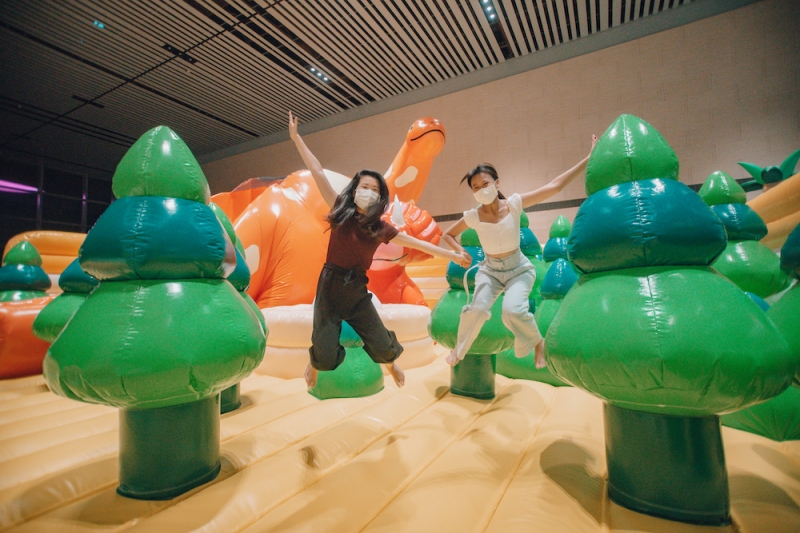 To round off your experience, you can walk around Terminal 3 and treat your eyes to a magnificent display of dinosaurs in a winter wonderland. Who's ready for a day filled with discovering and playing around with dinosaurs at Changi Airport? Sure sounds like dino-mite fun to us. 
---
Information extracted from a press release issued by Changi Airport Group and Invade.